56-17


OhioState Rutgers Highlights Source:The Lantern TV

Urban Meyer Postgame Rutgers
Buckeyes Smother Rutgers In First-Ever Meeting: Afterwards, OSU coach Urban Meyer was asked if the Buckeyes are deserving of a top-10 ranking. "I think we are," said Meyer, whose team improved to 5-1 overall and 2-0 in Big Ten play. "I'm sure someone will blog it out and say, 'Here's Coach Meyer ranting and raving again.' I'm not. I don't really watch the other teams, but I think we're playing at a pretty high level right now." ...




Barrett runs, passes Buckeyes past Rutgers, 56-17
October 18, 2014 Source: OSU Official Site - Buckeyes dismantle B1G newcomer Rutgers for their 5th win in 2014

J.T. Barrett completed his first nine passes, ran for 107 yards and two touchdowns and threw for three more scores to lead No. 13 Ohio State past Rutgers 56-17 on Saturday.

The Buckeyes (5-1, 2-0 Big Ten) have averaged 56 points in a four-game win streak since losing at home to Virginia Tech.

Eli Apple, a New Jersey native, added a fumble return for a score.

The victory was Ohio State's 18th in a row in the Big Ten, drawing within two of tying the conference mark set by the 2005-07 Buckeyes.

It was the worst loss in 12 years for Rutgers (5-2, 1-2), which had a three-game winning streak end. The Scarlet Knights played before their largest crowd ever (106,795).

Barrett carried just seven times and scored on runs of 33 and 5 yards. He completed 19 of 31 passes for 261 yards and three scores without an interception before departing midway through the fourth quarter.

The win marked the first time Ohio State has scored at least 50 points in four games in a row.

The teams - Rutgers in its 145th season and Ohio State its 125th - were meeting for the first time.

Gary Nova completed 17 of 28 passes for 192 yards with an interception for the Scarlet Knights, who beat Michigan 26-24 in their last game before a bye last week. Desmon Peoples carried 15 times for 83 yards and touchdowns of 1 and 12 yards.

Ezekiel Elliott totaled 69 yards on 12 carries and had a TD for Ohio State, also coming off a bye week. Rod Smith added a score on the ground as the Buckeyes - averaging 614 yards per game over their win streak - amassed 585 total yards.

The Buckeyes scored on their first three possessions - with Barrett going 8 for 8 passing - and the outcome was never really in doubt again.

He hit Nick Vannett on scoring tosses of 12 and 31 yards, the latter on a perfect lead pass over the middle before the backup tight end lumbered to the end zone. In between, Elliott carried four times in a 74-yard march that he capped with a 1-yard plunge.

The Scarlet Knights got on the board on Peoples' 1-yard run and were still in it at 21-7 midway through the second quarter before a defensive strike by the Buckeyes.

Nova flipped a first-down pass to Janarion Grant in the left flat. Grant was hit by linebacker Darron Lee and then really got cracked by backup defensive end Rashad Frazier. Grant lost the ball as he was hitting the ground, with Apple - who almost went to his home-state school - scooping up the loose ball and trotting the final 4 yards to make it 35-7.

Nova was picked off by Doran Grant in the end zone near the close of the half.

Ahead 45-7 at the break, the Buckeyes then ate up 79 yards in just four plays after taking the second-half kickoff, with Barrett scrambling the last 33 up the middle. After a Rutgers punt, Barrett spun out of the pocket on fourth and goal and raced the final 5 yards to make it 49-7 before the third quarter was half over.

Rutgers hadn't lost in such a landslide since a 42-0 defeat to Notre Dame in 2002.

The largest previous crowd to witness the Scarlet Knights in action was 103,925 at Tennessee in 2002.

Ohio State vs. Rutgers - Postgame Quotes
Source: OSU Official Site - Players and coaches talk with media members following Ohio State vs. Rutgers

Ohio State Gameday Magazine - Rutgers
Source: OSU Official Site - Go inside the game with today's Gameday Magazine







Rutgers vs Ohio State (Oct 18, 2014) Source: OSU Official Site
Scoring Summary, Team Statistics, Individual Statistics, Drive Chart, Defensive Statistics, Game Participation,
Box Score, Play-by-Play, Play breakdown






Buckeyes line passed its newest test against Rutgers
October 18, 2014 Source: Mansfield News Journal - If you hadn't heard of redshirt freshman Kemoko Turay, you still haven't. He came in with 5.5 sacks and left Columbus with 5.5 sacks. In fact, you won't find his name anywhere on the post-game defensive stat sheet.

He made zero plays, matching the number of sacks his team had despite ranking third in the nation with 24. The Scarlet Knights had only two tackles for loss as Barrett's uniform looked the same way after the game as it did when he slipped it on — just a little wetter from the rain.

"They had all kind of things schemed up (blitzes, twists), and we knew it would be challenging, but we repped a lot of that (in practice), especially coming off a bye week," Decker said. "A lot of it was communication and using the right technique so J.T. could make plays."... ...






Star of the game: It was quarterback J.T. Barrett again, even if the coaches might have left him in one series too long. He accounted for five touchdowns, including three passing, while completing 19 of 31 passes for 261 yards and rushing seven times for 107 yards.

Turning point: At 9:50 of the second quarter, Rutgers' Gary Nova flipped a pass in the left flat to Janarion Grant. Grabbed first by linebacker Darron Lee, the ball was knocked loose by defensive end Rashad Frazier. Cornerback Eli Apple picked it up at the 4 and strolled to the end zone.

Repercussions: Rutgers had lost only to Penn State, but who knows whether that will hold weight with poll voters. Ohio State appears to be improving on both sides of the ball and can showcase that in the next three games — at Penn State, against Illinois and at Michigan State — all in prime time.

It was over when... Rutgers ended the first quarter with a touchdown to pull within seven, but Ohio State scored the next 35 points.

Gameball goes to... J.T. Barrett threw for 261 yards and three touchdowns. He also ran for 107 yards and two more touchdowns.

Ohio State has won 18 straight regular season Big Ten games, two shy of the conference record that the 2005-07 Buckeyes already hold.



J.T. Barrett ranks second in the FBS since the start of Week 3 with a 75.3% completion percentage. During that time, his average pass distance is 5 yards shorter than in his first two games.



Ohio State averages a Big Ten-high 6.5 yards after the catch per reception this season.

In its last 4 games since losing to Virginia Tech, Ohio State is averaging 35.3 points per game... in the 1st half

•Coach Urban Meyer's teams improved to 38-3 overall and 7-1 at Ohio State when having more than one week to prepare for an opponent.

•The 56-point game marked the fourth-consecutive game of 50 or more points for the Buckeyes, setting a school record.

•Ohio State finished the game with its fourth-consecutive contest of more than 500 yards of total offense, tying a school record. The 1998 team first accomplished the feat.

•Rutgers finished the game with 345 yards of total offense after coming into the game averaging 426.7 yards per game.

•With the touchdown on the opening drive Saturday, Ohio State has scored a touchdown on its opening drive each of the last four games.

•Nick Vannett's two-touchdown game marked the first multi-touchdown game of his career.

•Vannett became the first Buckeye tight end with two touchdown catches in a game since Jake Stoneburner against California in 2012.

•Quarterback J.T. Barrett completed his first nine passes Saturday after tallying three-consecutive completions to end the Maryland game. The 12-straight completions tied an Ohio State record last accomplished by Craig Krenzel in 2002.

•Barrett rushed for a career-high 107 yards on seven carries. His previous high was 79 yards earlier this season against Cincinnati.

•Barrett's 33-yard touchdown run in the third quarter marked a career long gain on the ground.

•Barrett was responsible for five touchdowns Saturday against the Scarlet Knights. He has been responsible for at least four touchdowns in each of the last four games, marking the longest streak in the country.

•Barrett became the first Buckeye to pass for more than 200 yards and rush for more than 100 yards in the same game since Braxton Miller Oct. 19 of last season against Iowa.

•Devin Smith's 42-yard catch in the third quarter marked the 100th reception of his career. He became the 16th Buckeye to tally 100 or more career receptions.

•Doran Grant had the sixth interception of his Buckeye career, and his second this season, in the second quarter vs. Rutgers.

•Ohio State was 5-for-6 in the red zone vs. Rutgers and is 28-of-34 (.824) this season.



Sources: Columbus Dispatch, ESPN, OSU Official Site









Buckeyes collect good grades in beating Rutgers
October 18, 2014 Source: Mansfield News Journal -

OFFENSIVE LINE
Rutgers sack-happy defense against OSU's rapidly-improving front five was a total mismatch. J.T. Barrett's jersey was practically spotless thanks to excellent protection for OSU's redshirt freshman quarterback. DE Kemoko Turay came in leading the Big Ten with 5.5 sacks and the Scarlet Knights had 24 as a team, third-best in the nation. But Turay and his team's pass rush in general were non-factors. The Buckeyes scored five touchdowns on six trips inside the red zone. Urban Meyer voiced his displeasure this week with OSU's 68 percent TD conversion rate inside the 20, so he's got to be happier now, especially since the only failure was on a fourth-and-3.

GRADE: A

RUNNING GAME
J.T. Barrett ripped off a 33-yard TD run and had 107 yards rushing on just seven carries. He may not be as explosive a runner as Braxton Miller, but he's certainly effective and shows good instincts when it comes to deciding when to pull the ball down and run. The best part about Barrett as a dual-threat is that, unlike No. 5, he keeps defenses honest with his legs but doesn't rely on them at the expense of reading through his progressions. Not a bad day for the young man: three TDs passing, two rushing, 354 yards total offense.

GRADE: A

PASSING GAME
Barrett opened the game with nine straight completions, which combined with his finish at Maryland allowed him to tie a school record with 12 straight completions. He again did a great job of distributing the ball, hitting seven different receivers and going 19-for-31 for 261 yards. Barrett hit tight end Nick Vannett for two scores, including a beautifully-thrown 26-yarder over the middle that hit Vannett in stride. Devin Smith seemed to tip off one "go" route by stretching both legs before the play and Rutgers still couldn't stop him from making a 42-yard catch to set up a TD. Play of the day went to Evan Spencer on a leaping, one-handed, 11-yard TD grab. Spencer never did secure the ball with two hands before falling to the turf.

GRADE: A

DEFENSIVE LINE
If Joey Bosa played on the Rutgers' DL, they'd be the Dark Knights not the Scarlet Knights. Bosa spent another afternoon camped in the opposing backfield, with two sacks and a tackle in the backfield. Fellow end Rashad Frazier, one of the guys picking up the slack at that spot for the suspended Noah Spence, forced a fumble that cornerback Eli Apple scooped up for a 4-yard TD. Hopefully, tackle Adolphus Washington starts getting noticed more for his play than "extra-curricular" activity. CB Doran Grant bailed Washington out for his personal foul penalty by picking off a pass in the end zone.

GRADE: A

LINEBACKERS
Josh Perry and freshman Raekwon McMillan were two of the leading tacklers in the game and Darron Lee had an 11-yard sack as the Buckeyes did a nice job of shutting down the Scarlet Knights after their first quarter score made it 14-7. Rutgers had scored over 30 points four times this season, twice on the road, but did very little beyond that 10-play, 66-yard TD drive. Of Rutgers' 102 yards rushing against OSU's first team, 48 came on two plays.

GRADE: A

DEFENSIVE BACKS
Doran Grant had a leaping interception in the corner of the end zone to deny Rutgers at the end of the first half and Eli Apple scored on a 4-yard fumble return. That's a 14-point swing that didn't change the outcome, but certainly didn't hurt. And this defense needs all the good news it can get. The biggest play by the visitors was a 40-yard pass from Gary Nova to Leonte Carroo, but backup cornerback Gareaon Conley had good coverage on the play. He just get out-jumped on the jump ball. Nova wasn't the quarterback who threw five interceptions against Penn State, but he also wasn't the guy who threw for more than 400 yards and four TDs in Rutgers' last game against Michigan.

GRADE: B

SPECIAL TEAMS
Still waiting for Dontre Wilson to break a return. He had a 33-yard return and Jalin Marshall had a 14-yard punt return, but the Buckeyes remain a little quieter in this department than Urban Meyer would like. Cameron Johnston's only punt went 53 yards and was downed inside the 20. We've come to expect no less. Rutgers' longest return on six kickoffs was 25 yards, but the Buckeyes lost a key member of that unit in Devan Bogard. The oft-injured junior left the field on crutches.

GRADE: B

COACHING
Urban Meyer probably made a few fans (and media members) uneasy by sticking as long as he did with Barrett in a blowout. But I guess we all have to remember that there's 13 people to impress and they're all on the College Football Playoff committee. It was the second time this season the staff clearly had the team ready coming off a bye week.

GRADE: A





Ohio State Stock Market Report: Rutgers
October 19, 2014 Source: Land-Grant Holy Land -

Blue Chip Stocks:
J.T Barrett, QB: It's getting difficult not to stray too far into the superlative when talking about OSU's freshman phenom quarterback. He's been putting up video game numbers week after week, and doesn't seem to be showing any signs of slowing down. Barrett looks more comfortable running the offense with each passing week. His ability to make plays while keeping his eyes downfield has made him stand out as one of the best offensive players in the country this year, and today we heard the first respectable endorsement of Barrett as a potential Heisman Trophy candidate (courtesy of Sean McDonough). He accounted for 368 all-purpose yards and five touchdowns on the day. Barrett's got this spot locked up in the Report until further notice.

Ezekiel Elliott, RB: The workhorse back in Ohio State's stable finished Saturday with a 5.8 YPC average and a touchdown. That performance was pretty much par for the course from Elliott, who has strung together an impressive season so far. Elliott (and his half-jersey) has been an incredibly tough out for defenses this year. Things don't get any easier for opponents when Elliott takes a breather, as Curtis Samuel and the rest of the Buckeye backfield have been excellent in relief.

Joey Bosa, DE: Look, Joey Bosa is a terrifying human being. The EDM enthusiast has been a force of nature in 2014, and didn't deviate from the script against Rutgers. Bosa wreaked havoc in the Scarlet Knights' backfield all afternoon. The defensive end, along with linemates Michael Bennett and Steve Miller, gave the Rutgers offense all they could handle on Saturday.

Solid Investments:
Darron Lee, LB: Darron Lee is a bad, bad man. While the freshman linebacker acts his age on occasion -- he has been pulled several times for misreading play action calls -- he has mostly been a consistent playmaker who is good for one or two "wow" moments a game. Lee stood up Rutgers' Janarion Grant deep in Scarlet Knight territory long enough for Rashad Frazier to pop the ball loose, which Eli Apple scooped and scored. The play was emblematic of Lee's style -- fast, consistent, and hard-hitting.

Junk Bonds:
Run stopping: Okay, so this isn't really a "junk bond." Still, the only area in which the Buckeyes looked weak on Saturday was when Rutgers decided to run the ball. Part of that was schematic--OSU dropped a lot of guys into coverage to prevent the home-run plays that have plagued the secondary all year--but the Buckeyes didn't look sharp trying to bring down Rutgers' ball carriers. Desmon Peoples and Justin Goodwin were good for 147 yards on 26 carries, including two scores by Peoples. There's no need to panic, obviously, as the D looked more than capable on Saturday. But Jeremy Langford is coming on November 8th, and the Buckeyes will need to do a better job bringing him down if they hope to get revenge for last season's loss.

Buy/Sell:
BUY: Raekwon McMillan's learning curve. The much-hyped freshman linebacker really seems to be hitting his stride. McMillan, who has been senior Curtis Grant's understudy for most of the year, took the majority of snaps on Saturday, and made the most of them. It seemed like we were hearing his name on every other play, and seeing that No. 5 jersey involved in every gang tackle. McMillan's growth has been fun to watch.

BUY: Jalin Marshall's gamebreaking ability. Marshall was Ohio State's leading receiver on the day, with three grabs for 58 yards. He's yet to bust a game wide open, but there's little doubt that he has the chops to do so. Marshall, who is also used on sweeps and punt returns, showed good hands and good vision on Saturday. It's good to see Meyer and co. putting the ball in the hands of such a capable playmaker.

Sell: Urban's personnel decisions. It's hard to find many gripes with how the game went on Saturday, but Coach Meyer's decision to keep J.T. Barrett in the game as long as he did is cause for some mild concern. The game was effectively over by halftime, and Barrett didn't need to keep playing into the fourth quarter. Little things like that always stand out. They're even more apparent on a day like Saturday, in which the Buckeyes saw Cam Burrows, Rashad Frazier, and Devan Bogard all go down with injuries.






WR Evan Spencer Awesome One-Handed TD Grab


TBDBITL Halftime Show 10/18/14





Rutgers

Oct 18, 2014


Source:
CBSSports.com



WHAT'S AT STAKE
The visiting Scarlet Knights have gotten off to a fine start in their new conference. They only lack a signature win to prove to everyone that they belong. What's more, they could accomplish that before the largest crowd ever to see a Rutgers game. The Buckeyes, like the Scarlet Knights, have won three in a row but have run up the score against inferior teams and have yet to beat this good of an opponent.

KEY MATCHUP
Rutgers pass rush vs. Ohio State's offensive line. The Scarlet Knights, led by DE Kemoko Turay, are third in the FBS in sacks with 24. Ohio State, which began the year with four new starters up front, is 101st in sacks allowed per game at 2.6.

PLAYERS TO WATCH
Rutgers: QB Gary Nova is throwing for 267 yards a game, with 13 TDs and seven interceptions. His top target is WTR Leonte Carroo with 29 catches for 548 yards and five scores. MLB Steve Longa has 41 tackles, 2.5 tackles for a loss and two sacks.

Ohio State: QB J.T. Barrett has thrown 14 TD passes with only one interception in the past three games, wipeouts of defenseless Kent State, Cincinnati and Maryland. RB Ezekiel Elliott has 462 net yards, 92 ypg. The fearsome D front of Joey Bosa, Michael Bennett, Adolphus Washington and Steve Miller need to give Nova happy feet in the pocket.

FACTS & FIGURES
Rutgers is 2-0 on the road. ... Both teams have played Navy, the Buckeyes winning 34-17 and the Scarlet Knights 31-24. ... Ohio State has won its last 17 Big Ten regular-season games, just three behind the record set by the Buckeyes 2005-07. ... Both teams are coming off bye weeks. ... The Buckeyes picked off four passes against Maryland two weeks ago, their most in a game since early 2010. ... A crowd of at least 105,000 is expected at Ohio Stadium. The largest crowd to ever see Rutgers play is 103,925 at Tennessee in 2002. (Source: Associated Press)





Five key factors for OSU victory
October 17, 2014 Source: Columbus Dispatch -

1. Harass Nova
Gary Nova has been less mistake-prone working with new offensive coordinator Ralph Friedgen, but the Rutgers quarterback remains turnover-prone. The Scarlet Knights haven't faced a defensive line as formidable as Ohio State's, and linebacker Darron Lee is developing as a blitzer. If Nova is allowed to become comfortable in the pocket, he can pick defenses apart. Ohio State can't let that happen.

2. Communicate on O-line
Rutgers' defensive linemen are undersized, but they are active and play well as a group. The Scarlet Knights don't want to take on Buckeyes blockers man-to-man. If the Buckeyes can identify where Rutgers' linemen are going to be, they have the beef to move them. But their communication must be sound and their coordination in sync.

3. Control Carroo
Rutgers has several capable receivers, but Leonte Carroo is the headliner. Carroo and Nova went to high school together and have great chemistry. Carroo already has 29 catches for 548 yards and five touchdowns. The Buckeyes' secondary had only one major breakdown against Maryland after having several against Cincinnati. Carroo and the other Rutgers receivers are good enough to make them pay if they backslide.

4. Jump on Rutgers early
Rutgers will be playing in front of the largest crowd in its 145-year history. With a 5-1 record, including a win over Michigan and a close loss to Penn State, the Scarlet Knights should be brimming with confidence, even though those traditional Big Ten powers aren't what they used to be. A quick start against Ohio State would add to their momentum. But if the Buckeyes jump on Rutgers early and get the crowd into the game, the balloon could deflate quickly.

5. Win red-zone battles
Rutgers has scored on 19 of 21 trips inside the red zone. The Scarlet Knights rank 25th on offense and 26th on defense in the red zone. Performance inside the 20 has been a weakness for Ohio State, both on offense and defense. The Buckeyes rank 70th in red-zone offense nationally and 106th on defense.



5 reasons Ohio State will beat Rutgers: J.T. Barrett 'can't go broke taking a profit'
October 17, 2014 Source: Cleveland Plain Dealer - 2. Meyer is pumping up the Scarlet Knights: Rutgers was picked to finish last in the East Division of the Big Ten in our preseason cleveland.com poll that serves as the closest thing to an official Big Ten prediction. The Scarlet Knights got 33 points to finish seventh. Indiana, in sixth place, had 78.5 points.

But at 5-1 now, with wins over Washington State and Michigan, Rutgers at least has the record to not be overlooked. In the coach's constant quest to motivate his team against lesser opponents, Meyer referred to Rutgers as the most improved team in the nation and said the Buckeyes were treating the Scarlet Knights as undefeated, since they were so close to winning in their 13-10 loss to Penn State.

"What caught (the Buckeyes') eye is what they did (against Michigan)," Meyer said. "It caught their eye. To watch people storm the field, it caught my eye."...




FBS Rankings Ohio State & Rutgers Source:
ESPN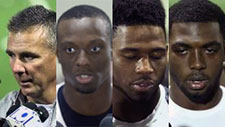 Head Coach Urban Meyer, Freshman CB Eli Apple, Senior RB Rod Smith and RS Freshman QB JT Barrett spoke with reporters following practice on Wednesday.



Two-Minute Drill: Post-Practice Updates from Wednesday Oct 15
October 15, 2014 Source: The Ozone - Urban Meyer Updates

+ Meyer said that he is pleased with how well the Buckeyes have come out early in games of late, and that is another big key to Saturday's game against Rutgers.

+ He said they must be aggressive on their pass rush. They have to knock quarterback Gary Nova down.

+ Meyer said that Rutgers brings a lot of pressure with their pass rush because they also send the guy who is supposed to be defending the back or tight end who stays in to pass block.

+ He said the offensive line is playing better than they were early in the season.

+ Meyer said that he is somewhat surprised by how far along J.T. Barrett is, but not a lot because he saw the preparation.

+ Meyer said cornerback Eli Apple no longer has the wide eyes that a young player starts out with. He is much more focused now than he used to be.

+ Asked about kickoff coverage and the kickoffs out of bounds, Meyer said it was a risk they are willing to take in order to pin opponents inside the 20 with their coverage unit.

J.T. Barrett Updates

+ Barrett said that despite the bye week, the team is very focused for Rutgers.

+ Barrett said that he is calm and cool because that's the nature of being a quarterback. That's how he's always been.

+ Barrett said he tries not to be too greedy as a quarterback. If the first or second read isn't there, there's no harm in taking off and getting yards.

+ He said he enjoys playing fast. It gets the defensive line worn down and the pass rush lessens, which the offensive line likes.

+ Barrett said he's still learning on the fly in terms of all of the different defensive coverages that he sees from week to week.

+ He said life has definitely changed for him. He gets recognized a lot on campus now, but added, "I'm not anybody special."

Barrett says life has changed since becoming the Buckeye starter and since putting together impressive performances week after week.

"The teacher calls your name to see if you're here and everybody turns around and says 'J.T's in this class?'" Barrett said of adjusting to his new-found fame. "Around campus walking to class (people now say) 'Hey, J.T...what's up?'...and I'm like 'What's up man?'...So it's different but I try to talk to (fellow students) and be like, 'I'm a normal person just playing quarterback at Ohio State...I'm not anybody special.' I'm not trying to be a celebrity...I'm a normal guy." Source: 610 WTVN Matt McCoy's Sports Blog...



Michael Bennett Updates

+ Bennett was asked about the stories about the autograph signings in the news and how to avoid getting into that situation. He said players shouldn't break rules. "It might sound harsh" but they can't break rules. He said players have to make sacrifices like that, but it's worth it in the end.

+ He said that Rutgers has a big offensive line and they run the ball well. They will focus on stopping the run first in order to force the drop-back passing game.

+ Bennett said the key is to hit Gary Nova early and pressure him constantly. When he is pressured he has made mistakes in the past. They have a set number of hits that they want to get on him which they believe will be enough to get him to make more mistakes.

Eli Apple Updates

+ Apple said that he is very comfortable right now. He notices things about receivers that he never did before, such as their splits and how they line up. It gives him an advantage due to his film study.

+ He said that he is always taking notes, which is encouraged by Kerry Coombs. "It's helped me tremendously."

+ Apple said they are focused on eliminating the big plays. They have to keep Nova in the pocket and pressure him. + He said Rutgers recruited him harder than any other school, but he wanted to be a Buckeye for a long time. + Apple said pressure can rattle Nova, which is generally when his interceptions have happened. They plan to pressure him and they'll need to capitalize on that pressure.

Rod Smith Updates

+ Smith was asked about being a short-yardage back and he said that the Buckeyes have three or four guys who would be good in that role.

+ He said the team worked on redzone and short yardage over the last two weeks in practice. They are focused as a team on execution. He said they have also worked on the offensive line chemistry, which helps the running backs as well.

+ Smith said J.T. Barrett is a good quarterback, but he gets helped by a lot of weapons around him. He said that Barrett has the offense rolling, however.

+ Of Barrett: "He's a quiet dude, but he's not afraid to be loud."





Two-Minute Drill: Updates from Urban Meyer's Oct 14 Teleconference
October 14, 2014 Source: The Ozone - Urban Meyer spoke on the Big Ten coaches teleconference, covering a number subjects regarding his Buckeyes and their upcoming opponent. Here are the highlights...






Two-Minute Drill: Urban Meyer Updates from the Oct 13 Media Luncheon
October 13, 2014 Source: The Ozone - Urban Meyer spoke with the media on Monday, providing updates on the Buckeyes and their upcoming opponent. Here are the highlights.

+ Meyer said the team has to re-stake their momentum. They will crank it up today.

+ "We're a young team that's getting older." He is starting to see maturity occur. Freshmen are intercepting passes and a freshman quarterback is emerging as a leader. "I enjoy coaching this team right now."

+ Meyer said they will have a team meeting today to discuss getting their momentum back. He doesn't expect it to be a difficult talk.

+ "I like our team. We're certainly no where near where we will end up. We're a much better team than we were two weeks ago."

+ Meyer said they still need more depth on the defensive line. They need the depth to contribute. They are putting pressure on them this week.

+ He said his offense adapts to their personnel. "As long as there is good quality of players to work with." The offense is different than last year because the players are different.

+ The Rutgers performance against Michigan caught everybody's eye, especially the OSU defense.

+ Meyer said he voted Mississippi State #1. "I think they've earned it with what they've done."

+ Meyer said he would like to play more true freshmen. They still haven't been able to pull the trigger on Sam Hubbard. "A guy like that you don't want to play just a handful of snaps."

+ He said for what they expect, their redzone offense is not very good. It's not the players' fault, it's the coaching. They will continue to work on it this week. Defenses are loading up the box against them.

+ Meyer said this team didn't have two of their offensive captains to start the season and they got hit in the face by Virginia Tech. The positive thing, however, is the number of young players who have stepped up.

+ "That's a good sign for the future here." - Meyer on the large number of freshman and sophomore starters.

+ Meyer called J.T. Barrett a "move the chain quarterback", saying he's not the "wow" guy on the ground that Braxton Miller was, so they need to get their big hits from other players, and they've gotten that from their receivers so far. They expect that to continue. Curtis Samuel will be good to go this week as well.

+ They found out the "why" on the big play given up at the Maryland game and have fixed it. It was a signal issue that has been addressed. "We're actually pretty pleased with where we're at."

+ Meyer said Curtis Samuel is in a battle with Rod Smith for carries. "A street fight." Rod Smith has "been a pleasure to coach. I really like where he's at."




Chris Ash, Tom Herman, Curtis Grant, Tyvis Powell, Jeff Heuerman, Taylor Decker and Evan Spencer met with reporters on Monday within the Woody Hayes Athletic Center practice facility.



Two-Minute Drill: Monday Updates from CoordinatorsTom Herman and Chris Ash
October 13, 2014 Source: The Ozone - Ohio State offensive and defensive coordinators Tom Herman and Chris Ash spoke with the media on Monday. Here are the highlights...




Two-Minute Drill: Player Updates from Monday Oct 13
October 13, 2014 Source: The Ozone - Buckeye players Tyvis Powell, Curtis Grant, Evan Spencer and Taylor Decker spoke with the media on Monday. Here are the highlights...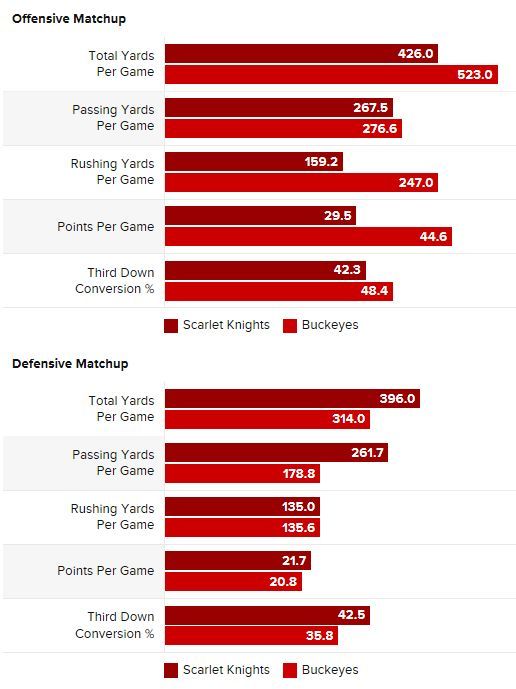 Source:
CBSSports.com



No. 13/13 Ohio State vs. Rutgers Game Notes
October 13, 2014 Source: OSU Official Site - Game to be televised on ABC at 3:30 p.m. ET...



First and 10

• Ohio State enters the game having won 17 consecutive Big Ten regular season games. The B1G record is 20, set by the 2005-07 Ohio State teams.

• Ohio State ranks fifth in the NCAA in scoring with 44.6 points per game.

• Ohio State and Rutgers rank second and fourth, respectively, in the NCAA in pass efficiency.

• QB J.T. Barrett has thrown 14 TD passes -- with only one INT -- in the past three games, an Ohio State record over a three-game stretch.

• Barrett leads the Big Ten and ranks 15th in NCAA in total offense (326.0). He also ranks second in the Big Ten in passing yards (270.8).

• Sophomore RB Ezekiel Elliott has 321 yards rushing over the past two games.

• Senior WR Devin Smith needs one more reception (99) to reach 100 for his career.

• Sophomore DE Joey Bosa (7.0 TFL, 3.5 sacks) has three forced fumbles this season, all of which have led directly to Buckeye points (23 total).

• Head coach Urban Meyer has not lost a game in the month of October since the 2010 season.

• Coach Meyer's teams are 37-3 all-time with more than a week to prepare for an opponent

FIRST COACHING MATCH-UP
The game will match an Urban Meyer-coached team vs. a Kyle Flood-coached team for the first time. Meyer is in his 13th season as a head coach while Flood is in Year 3 as a collegiate head coach. A 22-year coaching veteran, Flood has been at Rutgers since the 2005 season, working as Greg Schiano's offensive line coach for seven seasons and serving as assistant head coach for four seasons before being elevated to head coach when Schiano departed for the Tampa Bay Buccaneers for the 2012 season.

OHIO STATE LEADS BIG TEN WITH 9 INTS
Ohio State has played at least one, and in some cases two, fewer games than every other Big Ten school, but the team is currently leading the league with nine interceptions (six-gamers Minnesota and Northwestern also have nine). The nine interceptions through the first five games this year represent the most at this point of the season in eight years, or since the 2006 team had 11 through five games.

More at Ohio State vs. Maryland Game Notes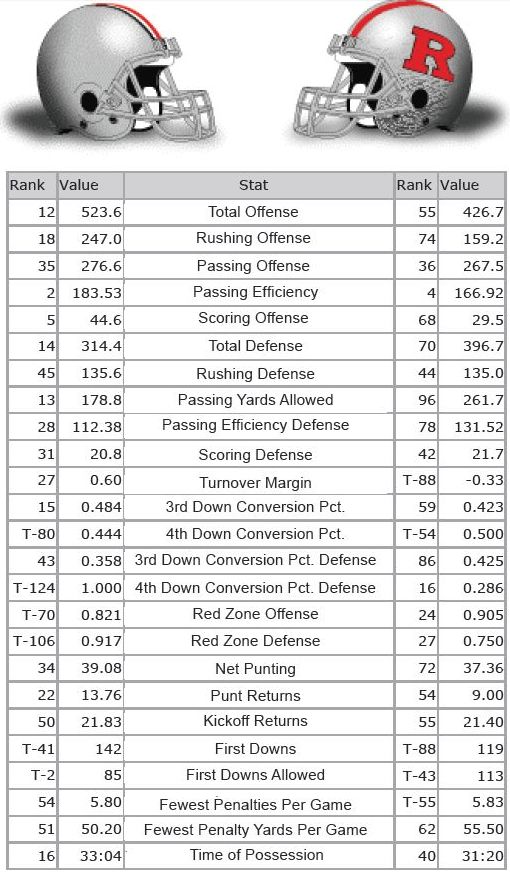 Game Data: Rutgers at Ohio State
October 15, 2104 Source: Bucknuts.com - Below is our Game Data page as No. 13 Ohio State hosts Rutgers in the schools' first-ever meeting...


Columbus Weather Forecast







Game Matchup: Ohio State Vs. Rutgers
October 17, 2014 Source: BuckeyeSports.com - Our game breakdown returns with stats, facts, matchups and a game prediction as Ohio State gets ready to host Rutgers for the first time ever in Ohio Stadium...




OSU Game Day: Preview of Saturday's game against Rutgers
October 18, 2014 Source: Canton Repository





Preview: No. 13 Ohio State vs. Rutgers
October 17, 2014 Source: Eleven Warriors





Ohio State vs. Rutgers 2014: Preview, odds, predictions
October 17, 2014 Source: Land-Grant Holy Land





Ohio State Buckeyes vs. Rutgers Scarlet Knights Complete Game Preview
October 13, 2014 Source: The Bleacher Report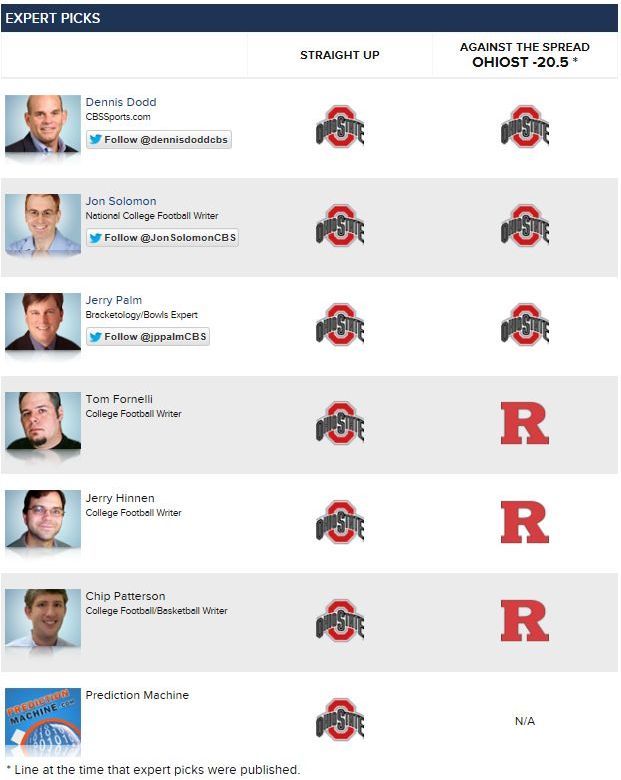 CBSSports.com




5 reasons the Rutgers Scarlet Knights will beat the Ohio State Buckeyes
October 17, 2014 Source: Cleveland Plain Dealer - 1. Ralph Friedgen: The first-year Rutgers offensive coordinator, and former head coach at Maryland, was called one of the most respected offensive minds in the business by Urban Meyer.

He was just what the Scarlet Knights needed.

Rutgers is currently averaging 426 yards of offense per game, which ranks 57th in the nation. Last year, Rutgers averaged 365 yards per game, which ranked 96th in the country. That's the Friedgen effect.

The Scarlet Knights are trying to have confidence in their running game, but without top back Paul James, who is out for the season with a torn ACL, that might be foolhardy. The best combo for the Knights is quarterback Gary Nova making plays to some decent receivers off some great play calls by Friedgen.

We've seen what a great coordinator can do. Virginia Tech wouldn't have beaten the Buckeyes without the gameplan of veteran defensive coordinator Bud Foster. For Rutgers to have a chance, Friedgen has to get his offense to play that well...




5 things to watch in the Rutgers-Ohio State game
October 17, 2014 Source: NJ.com - Rutgers will need a lot of things to go right to pull off the upset. Here are five things I'll be watching that will have a major impact on the outcome:...




Rutgers' Kemoko Turay is turning heads
October 16, 2014 Source: ESPN - The back story for the player who has 5.5 sacks and a national-best three blocked field goals is as unconventional as it gets. Born in the West African country of Guinea, he played one year of organized football -- as a ninth-grader -- before Rutgers offered him a scholarship in the summer of 2012. Now, the redshirt freshman enters this week's game at Ohio State as a feared tormentor of opposing quarterbacks and placekickers...




WATCH: Rutgers coach Kyle Flood expresses confidence in ability to run vs. Ohio State
October 16, 2014 Source: NJ.com - It won't be easy against Ohio State's defensive line, which coach Kyle Flood said is perhaps the stingiest that he's seen in the decade that he's spent at Rutgers.

"They are the best defensive line that we've seen in the three years since I've been the head coach,'' Flood said. "As the offensive line coach for seven years prior to that, I don't know that we faced a group as talented and as deep. They are very good up front and it's not because of one guy. They have got a collective group that's very talented.''

Still, Flood expressed confidence in his team's ability to run the ball against Ohio State, which has yielded just 47 rushing yards per game in winning its last three outings.

Watch the video above to hear why Flood believes Peoples and Goodwin could have success if they RB tandem stick to the game-plan that offensive coordinator Ralph Friedgen installs...




Rutgers practice report: Scarlet Knights continue to draw motivation from 'disrespect'
October 14, 2014 Source: NJ.com - Despite all of their success in the first half of the season, Rutgers players still don't feel like they have earned respect around the Big Ten.

"We know that every game we're not going to be respected," wide receiver Leonte Carroo said. "It's been like that since we entered the Big Ten. Everybody just said, 'Rutgers is in the Big Ten now, that will be a joke, blah, blah, blah.' We're just going to continue to do what we do and that's go out there and give everybody our best shot and play hard and play together."...




Two-Minute Drill: Updates from Kyle Flood's Oct 14 Teleconference
October 14, 2014 Source: The Ozone - Rutgers head coach Kyle Flood spoke about his Scarlet Knights team as well as the Ohio State Buckeyes on the Big Ten coaches teleconference on Tuesday afternoon. Here are the highlights...




WATCH: Rutgers coach Kyle Flood calls traveling to storied Ohio State 'one of the bonuses of the Big Ten'
October 13, 2014 Source: NJ.com - Rutgers coach Kyle Flood said Monday he is "really looking forward to getting back on the practice field tomorrow, continuing our preparation for what is a tremendous challenge for us, to go out to Columbus, Ohio and play against a really talented Ohio State football team, a team that has not lost a Big Ten regular season game in about in two and a half years now.''...