42-20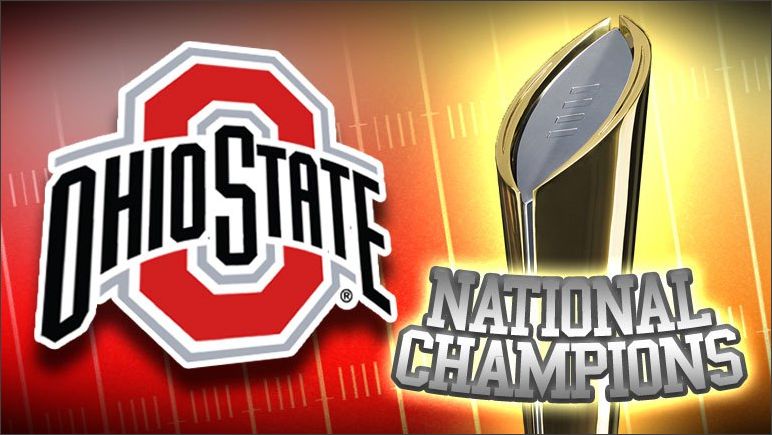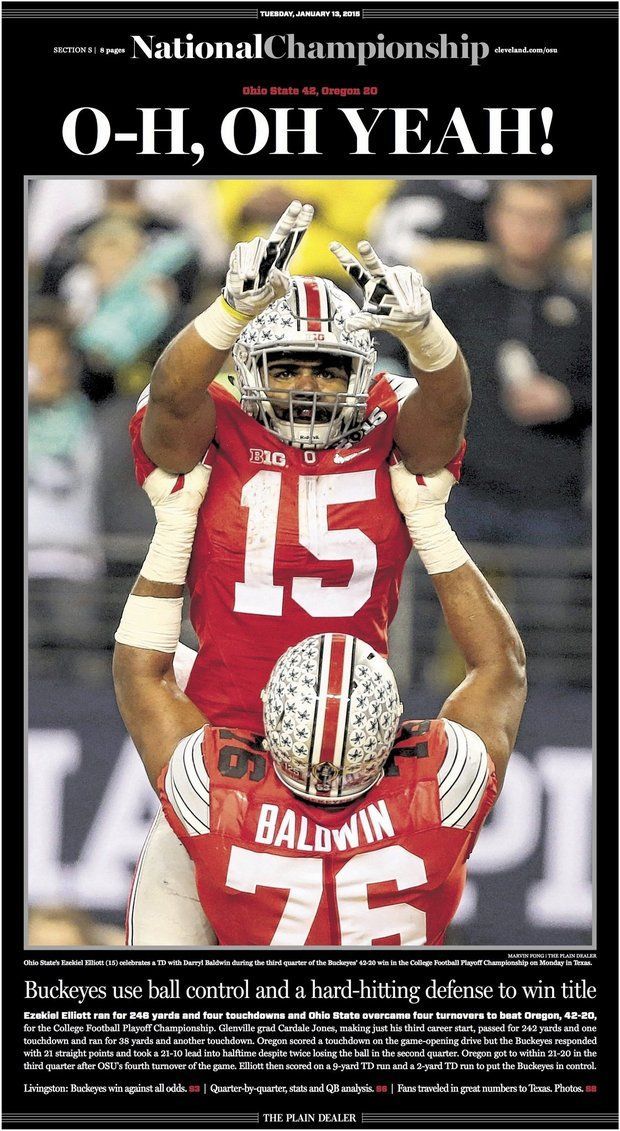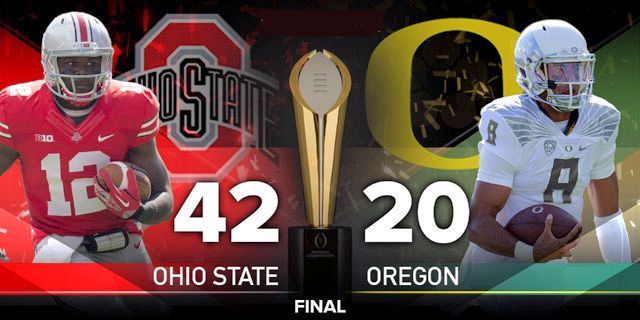 Oregon Ducks - Ohio State Buckeyes Complete Game

2015 National Championship in 30 minutes - Ohio State vs. Oregon
• • •

2015 National Championship Celebration - January 24 2015

2015 National Championship Game - Megacast Film Room - January 12 2015

2015 National Championship Game - Megacast Voices - January 12 2015
• • •


Jon Spencer's Final grades are in for national champs
January 19, 2014 Source: Mansfield News Journal - During the summer of 2012, before his first season as Ohio State football coach, Urban Meyer gave us a hint of that underdog psyche he nutures in his players. He talked about relishing a chip-on-the-shoulder attitude, how he hoped to groom an "angry" team.

Turns out "hungry" works just as well.

A story has been making the rounds, trumpeted by ESPN personality Colin Cowherd, that part of Meyer's preparation for the national championship game with Oregon was taking defensive linemen and linebackers to Weight Watchers for 10 days to help them shed pounds.

Some of them reportedly lost five pounds. Some lost 10 pounds. Some didn't lose any weight at all, but that wasn't the point.

Meyer, the college psychology major, was trying to instill a psychological hunger. If you think you're lighter and faster, you'll play like it against high-speed Oregon.

"You're not going to get in better shape in 10 days," defensive coordinator Luke Fickell told the Wall Street Journal. "But you lose a couple of pounds, you think: 'I'm leaner, I'm lighter, I'm faster."

Whether they were or not, the Buckeyes certainly looked faster on defense, holding the Ducks to nearly 100 yards under their season average and to just 2-of-12 on third down, despite a season conversion rate of 52 percent.

This crash diet stuff is just one tasty nugget from a championship season that will feed the passion of Ohio State fans for years to come.

My final grades for the 2014 season should go down easy as well.

OFFENSIVE LINE GRADE: A minus
Meyer said he's never seen a player do a 180, as an athlete, student and person, like quarterback Cardale Jones. How about a collection of players? By the end of the year, the offensive line bore no resemblance to the crew that allowed seven sacks in the week two loss to Virginia Tech. Undersized center Jacoby Boren is the poster boy for a front five that overcame its limitations — most glaring, a lack of starting experience — to excel as well in the trenches as any that came before them. The holes were so big, Ezekiel Elliott could have taken what was left of his half jersey, turned it into a blindfold and still rushed for over 200 yards against Wisconsin, Alabama and Oregon. Cardale's jersey could have gone right from the playing field to the College Football Hall of Fame without a trip in the spin cycle. Who needs Orlando Pace?

RUNNING GAME GRADE: A
Maurice Clarrett, fallen hero of the 2002 national championship team, tweeted that Elliott is on his way to becoming a better back than he. Hey, Mo. He's already blown right past you. And, sorry, Archie; sorry, Eddie. Zeke just had the greatest season ever by an Ohio State running back. Go ahead and count the three Heisman Trophies between Archie Griffin and Eddie George. I'm counting the three-straight 200-yard games by Elliott when the stakes were the highest, the eight post-season touchdowns. And if not dealing with a broken hand earlier in the season, he might have become the first Buckeye to rush for 2,000 yards. Since Clarett brought it up, let's compare: Clarett had great vision and was not easy to bring down. Post-contact hits, Meyer said he's never had a back better than Elliott. And as for his vision, he cut twice on his breakaway TD against Oregon and hit a different gear each time. Elliott, who won four gold medals at the Missouri state track meet as a high school senior, would trounce Clarett in a footrace. Almost forgotten is that quarterback J.T. Barrett probably would have rushed for over 1,000 yards had he not broken his ankle against Michigan.

PASSING GAME GRADE: A
Jones is a great story, a tall tale unlike anything we've ever seen in the sport. But with everyone jumping on Cardale's bandwagon, it's easy to forget Barrett was authoring one of the great seasons ever by a college freshman before he got hurt. He set a Big Ten record by accounting for 45 touchdowns, completed 65 percent of his passes for nearly 3,000 yards and made fans forget that the only reason he was playing was because two-time Big Ten Player of the Year Braxton Miller suffered a season-ending shoulder injury in fall camp. Overshadowed by Jones and Barrett was senior wideout Devin Smith, who was incredible in the post-season and probably played himself in the first round of the NFL draft. Evan Spencer did the dirty work as the perfect complement to playmakers like Smith, Michael Thomas and Jalin Marshall, and we're not likely to miss him until he's not there next fall. The best news is that the one-time "clown show" has long since packed up its tent and left town.

DEFENSIVE LINE GRADE: B plus
With Noah Spence, the front four probably lives up to preseason acclaim as the best in the nation. Even without Spence, they lived up to their billing down the stretch. Joey Bosa and Michael Bennett had All-America seasons, Adolphus Washington had spurts where he was their equal and Spence replacement Steve Miller, steady if unspectacular, picked the perfect time to get noticed. His 41-yard interception return for a touchdown all but cinched the victory over Alabama in the national semifinals at the Sugar Bowl. And don't forget the play of guys like Rashad Frazier and Tommy Schutt. With the Buckeyes rotating linemen, something we really hadn't seen during the regular season, Wisconsin's 2,000-yard rusher Melvin Gordon never got to the second level in a 59-0 Big Ten title game rout and Heisman winner Marcus Mariota of Oregon was reduced to a mere mortal. If this unit — the entire defense, really — doesn't take it up another notch in the post-season, there's no national championship.

LINEBACKERS GRADE: B
Josh Perry led the team in tackles with 124 and sidekick Darron Lee was second only to that beast, Bosa, in tackles for loss (16.5) and sacks (7.5). And while impact plays were sorely missing from everyone on this unit but Lee, Curtis Grant and future superstar Raekwon McMillan combined for 126 tackles in the middle. The depth here isn't great and the run defense, despite post-season success, needs to tighten the screws after giving up over 100 yards rushing to three straight backs in November. There will be plenty of time to analyze those faults going forward. For now, the entire defense deserves to be saluted for doing an about-face and holding No. 1 Alabama and No. 2 Oregon to 6-of-29 on third- and fourth-down conversion attempts. Remarkable.

DEFENSIVE BACKS GRADE: B
Talk about doing a 180. Last season, the defensive backfield was the Buckeyes' Achilles heel. Historically bad. This year, OSU was third in the Big Ten in pass defense efficiency and led the way in interceptions (which also would have been the case had it played two less games). Part of the improvement can be traced to coach Chris Ash, who was hired largely for that purpose. Part of it was the development of Eli Apple and Vonn Bell, kids Meyer admits should have been on the field more last season. Safety Tyvis Powell likes to talk — a lot — and his game is starting to catch up with his mouth. He led the Buckeyes with nine tackles against Oregon, but defensive MVP in the national championship game should have gone to Apple, who had seven tackles and shoved an airborne receiver out of the end zone on a play that would have given Oregon the lead in the third quarter. Doran Grant never developed into the next Antoine Winfield or Nate Clements, but he pulled everyone together with his senior leadership.

SPECIAL TEAMS GRADE: B
Jalin Marshall has brought excitement back to the return, for better or worse. He had one punt return touchdown, but his hands and aggressiveness when trying to field the ball in traffic also got him in a world of trouble. Thanks to excellent coverage units and punter Cameron Johnston — who was uncanny at placing his kicks inside the 20 — the Buckeyes led the nation in field position differential for most of the season. It's a good thing Ohio State doesn't settle for field goals in the red zone because the last thing the Buckeyes needed was a game coming down to the erratic foot of freshman Sean Nuerenberger. He's working on his follow-through after a season of punching at the ball with his foot. Which may explain why he was only 13 of 20 and just five of 10 beyond 40 yards. He attempted only two field goals in the post-season and one of them was blocked. Mike Nugent also had a forgettable freshman season before becoming the greatest kicker in OSU history, so maybe there's still hope.

COACHING GRADE: A
It's amazing how winning a national championship with a third-string quarterback — and needing to go through No. 1 Alabama to get there — has changed the narrative. Urban Meyer, supposedly chased out of Florida and back to Ohio by Bama coach Nick Saban, is now being lauded in many corners as the best coach in America.. He just turned in the greatest coaching job the collegiate game has ever seen, overcoming not only injuries at the most important position on the field but a bad second week loss at home to unranked Virginia Tech that seemingly left OSU for dead. Meyer and his staff have not only recruited great young talent but taught it to play beyond its years. He's pulled to within one national championship of Saban (4 to 3) and, had he been given the chance, might have won another one with 12-0 Utah in 2004. A BCS buster, Meyer's Utes went 5-0 against power 5 conference teams and trounced Pittsburgh 35-7 that season in the Fiesta Bowl. The commitment offensive coordinator Tom Herman made, to see things through with the Buckeyes after being named head coach at Houston, paid huge dividends. There can't be a better offensive line coach in the nation than Ed Warinner and Meyer bolstered his defensive staff with the addition of Larry Johnson and Chris Ash.




Buckeyes Celebrate
Postgame Presentation
National Champions: Buckeyes Clear Last Hurdle
Source: Bucknuts...

• • •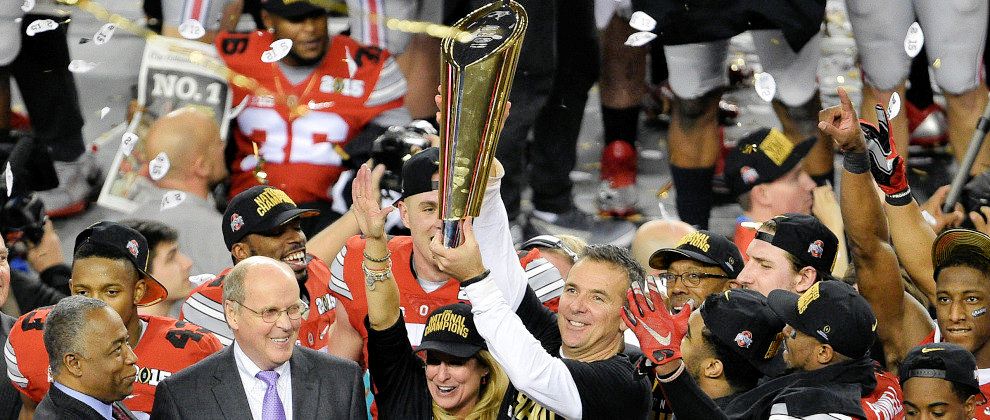 Buckeyes win eighth national championship in program history and the first since the 2002 season.




Champions Press Conference Transcript - Jan. 13, 2015
January 13, 2015 Source: OSU Official Site - Head coach Urban Meyer, Cardale Jones and Tyvis Powell met with the media the morning after winning the National Championship





National Champions! Ohio State Wins First College Football Playoff
January 13, 2015 Source: OSU Official Site - Ohio State beats Oregon 42-20

Ohio State can add the newest version of the national championship trophy to a case that already has a bunch of the old ones.

The Buckeyes' third-stringer matched Oregon's Heisman winner as Cardale Jones led Ohio State past Marcus Mariota and the Ducks 42-20 in the first College Football Playoff national championship game Monday night at the $1.2 billion home of the Dallas Cowboys.

Behind their bullish backup quarterback and the relentless running of Ezekiel Elliott, the Buckeyes (14-1) completed a remarkable in-season turnaround with a dominating performance against the Ducks (13-2).

''The chase is complete,'' Ohio State coach Urban Meyer said. ''It's done. It's over. They accepted their final mission, their final assignment and their final directive, and they did it. That was our whole mantra this last couple of weeks. A job well done, and we're very grateful.''

Ohio State began the first major college football playoff as the fourth and final seed, and as a team that faced questions about whether it belonged at all. It was a team that never would have had a chance to win a title under the old postseason system.

No question about it now: Ohio State is the truest champion big-time football has ever crowned, showered by golden confetti as its band played ''Hang on Sloopy'' when the clock hit 0:00.

Meyer's Buckeyes overcame two injured Heisman contenders and one awful early season loss at home to Virginia Tech to win their first national title since 2002. Back then, the Bowl Championship Series decided the top team at the end of the season - usually.

Before that, it was up to The Associated Press and coaches' polls to sort out which team was best, with a little help from the bowls. The Buckeyes have three of those championships, too.

And Meyer now has three, adding this one for his home state team to the two he won for Florida. He matches Alabama's Nick Saban as the only coaches to win national championship at two schools. It's taken just three seasons in Columbus for Meyer to put the Buckeyes - and the Big Ten - back on top, with a team that looks built to last.

Elliott, a sophomore, was the offensive MVP and ran for 246 yards and four touchdowns on 36 carries. In the last three games against Wisconsin, Alabama and Oregon, Elliott had 696 yards rushing.

''It was our dream. It came true,'' Elliott said. ''With all the stuff we went through to get here, it's just crazy. It doesn't feel real.''

Jones, who took over three games ago for the injured J.T. Barrett (who had taken over at the start of the season for the injured Braxton Miller), passed for 242 yards and a touchdown and ran for score. The 250-pound third-year sophomore proved he could keep up with Mariota - at least on this night.

Mariota passed for 333 yards and two touchdowns, but the Ducks' warp-speed spread offense missed too many red-zone opportunities and couldn't unleash its running game against linebacker Darron Lee and an Ohio State front seven stacked with future NFL draft picks.

''We fought through a lot of stuff,'' Mariota said. ''We ended up short tonight, but that shouldn't take away from what we were able to do this year.''

Even with the benefit of four Ohio State turnovers, the Ducks were held to their lowest point total of the season, four touchdowns below their average coming in.

Oregon has done just about everything as it has blossomed into a national power over the last two decades, but it will likely continue the search for its first national championship without Mariota. Barring a major surprise, the junior is likely to turn pro - though he wouldn't talk about his upcoming draft decision after the game.

Elliott scored the game's last three touchdowns, finishing off the rout with a 1-yarder with 28 seconds left.

While Elliott slipped and darted through the Ducks, Jones pushed them around and shook them off.

When Jones surged and spun his way into the end zone with 4:49 left in the second quarter it was 21-7 Ohio State and the O! H! I! O! chant made the dome in North Texas sound like the horseshoe in Columbus. The Ducks were facing their largest deficit of the season.

If there was any concern that fans wouldn't travel to the championship game in the new postseason system, the packed house at the home of the Dallas Cowboys, awash in Buckeyes' scarlet and Ducks' yellow, put that to rest. The crowd of 85,689 was as charged as any BCS national championship game.

The Ducks' fans awoke early in the third quarter.

Ohio State was driving on the first possession of the second half toward more points when Jones' pass bounced off Jalin Marshall's chest and into the arms of Danny Mattingly for Ohio State's third turnover. Unlike the first two Oregon takeaways, the Ducks turned this one into points in a hurry. Mariota hit Byron Marshall on a slant and he streaked 70 yards for a touchdown, barely breaking the goal line before nonchalantly dropping the ball.

Moments later, another Ohio State turnover. Jones looked a little bit like Florida State's Jameis Winston in the Rose Bowl as the ball just slipped from his hands trying to throw under pressure. Oregon recovered in deep in Ohio State deep territory.

The Buckeyes held and this time the Ducks sent Aidan Schneider out to kick a 23-yard field goal to make it 21-20.

In the first half Oregon, which goes on fourth down - especially near the goal line - more than most teams, passed on the field-goal attempt on fourth-and-goal from the 3 and Thomas Tyner was stopped a yard short of the goal line.

Suddenly, an extra three points looked as if it could come in handy for the Ducks.

But by the time Elliott went in from 2 yards out with 9:44 left in the fourth to make it 35-20, it was moot.

The rest of the night turned into a Buckeyes Bash.



• • •



Postgame Quotes From 2015 National Championship Game Source: OSU Official Site



• • •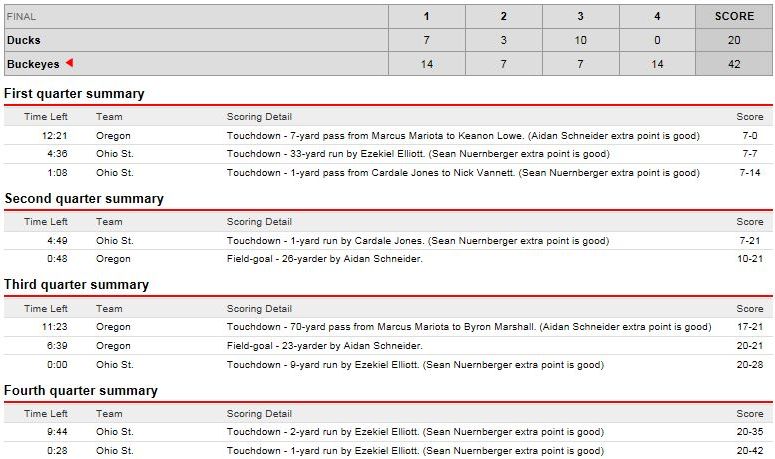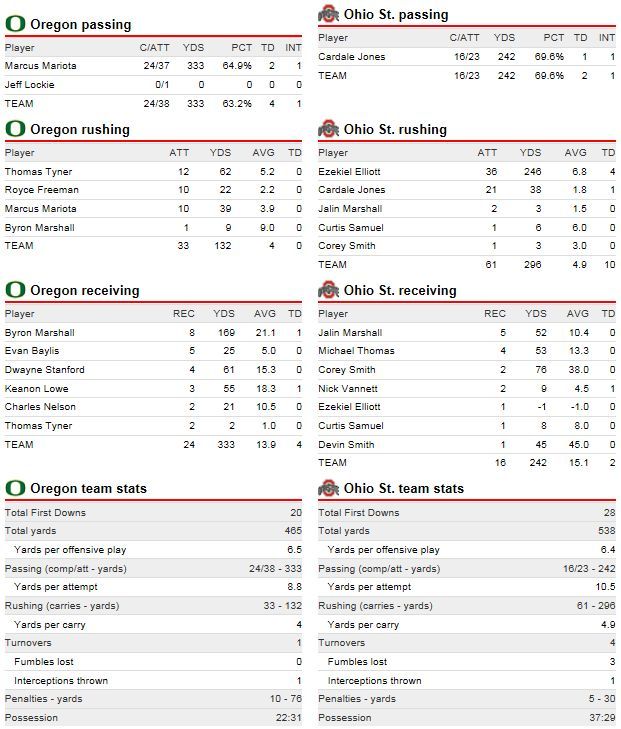 Source: USA Today



#4 OHIO STATE vs #2 OREGON (Jan 12, 2015) Source: OSU Official Site
Scoring Summary, Team Statistics, Individual Statistics, Drive Chart, Defensive Statistics, Game Participation,
Box Score, Play-by-Play, Play breakdown






2nd Quarter Ohio State leads 14-7.
4th and goal at OSU 3 yd line. Adolphus Washington, Tyvis Powell
& a host of Buckeyes stop Thomas Tyner at the 1!

OSU drive starts at 07:05 2nd quarter: 3 and 12 at OSU 49
Cardale Jones pass complete to Devin Smith for 45 yards to the ORE 6.
Buckeyes go on to score and lead 21-7
• • •

2015 National Championship: #4 Ohio State vs #2 Oregon Full Game Highlights



Jones, Elliott Lead OSU To National Title Game Win
January 13, 2015 Source: Bucknuts - Ohio State's dynamic duo of running back Ezekiel Elliott and quarterback Cardale Jones came through one again...






It was over when... After Ezekiel Elliott's third touchdown gave Ohio State a two-score lead, Oregon came up empty on each of its two ensuing offensive possessions.

Gameball goes to... Elliott. The Ducks simply could not contend with the speed and power of the Buckeyes' sophomore RB, who finished with 246 yards and 4 TDs.

Stat of the game... 2-for-12. Dropped passes plagued Oregon, but the Ducks were more often stymied by Ohio State's defense and unable to convert third downs.

Ohio State is 9-0 against Oregon, its best record against any school in program history.

Ohio State joins Alabama, Notre Dame, USC, and Oklahoma as the only schools with six national titles.

Oregon looked like it was off to the races after its first drive of the game, an 11-play, 75-yard touchdown drive. But the Ducks scored just 1 touchdown and averaged fewer than 5 plays per drive the rest of the game.

Ezekiel Elliott (OSU): 1st player in school history with 3 straight 200-yd rushing games

Ezekiel Elliott set a career high in rushing in each of his last 3 games of the season. Elliott also set Championship records in rushes, rush yards, and rushing touchdowns.

Urban Meyer joins Nick Saban as the only coaches in the poll era to win a national championship at multiple schools.

Cardale Jones completed 4-of-6 passes thrown 20 yards or longer against Oregon, the most completions the Ducks allowed in a game this season. Since Jones took over as Ohio State's starter, the Buckeyes have gained 55% of their passing yards on throws of 20 yards or longer; they had gained 25% of their passing yards on deep passes in their first 12 games, primarily with J.T. Barrett at quarterback.

Ezekiel Elliott ran for 246 yards in the inaugural College Football Playoff National Championship, the most by any player in any national title game.

Ezekiel Elliott rushed for 246 yards against Oregon, most for any player in a Championship Game. Elliott also joins Eddie George as the only Ohio State players with three 200-yard rushing games in a season.

Ohio State has now defeated a pair of Heisman Trophy winners - O.J. Simpson and Marcus Mariota.

Ohio State is the first school in college football history to defeat the top three Heisman vote-getters in the same season. 1967 Oregon State is the only other squad to go unbeaten against the top three - beating O.J. Simpson and Leroy Keyes and tying winner Gary Beban.

With his win over Oregon, Urban Meyer became the fourth head coach to win a national championship at Ohio State, joining Paul Brown, Woody Hayes, and Jim Tressel. That's tied for the most by a single school during the poll era.

Marcus Mariota is the sixth Heisman winners to lose in the national championship game, the last three of which came at the hands of an Urban Meyer-coached opponent.

Marcus Mariota had a season-low 4.9 third-down Total QBR. Entering Monday, Mariota ranked 2nd in the FBS with a 91.9 third-down Total QBR.

Ohio State rushed for 227 yards inside the tackles, 64 more than its Big Ten-leading average of 163.

Devin Smith leads all Power 5 players in receptions (16) and touchdowns (10) on passes of 20 yards or longer downfield.

Ezekiel Elliott finished the season with 1,878 yards, the second-most in any season in Ohio State history. Only Eddie George had more - 1,927 en route to the 1995 Heisman Trophy.

Ezekiel Elliott's 246 rushing yards are tied for the 3rd-most in any game in Ohio State history and the most for an OSU player in a bowl game.

Oregon converted a first down on 17% of its third-down plays, its worst conversion percentage in the last three seasons. The Ducks are 4-4 since the start of the 2009 season when they convert on less than 25% of their third-down plays and 66-6 in all other games.

Oregon converted a first down on 2-of-12 third downs and a touchdown on 1-of-4 red-zone possessions. Both were season lows.

Ohio State now has 4 touchdown drives of at least 95 yards this season, tied for the most such drives in the FBS.

Oregon does everything fast, but Ohio State can move too. Among Power 5 teams, Oregon and Ohio State rank 1st and 3rd in touchdown percent on 4-minute drives this season.

Ezekiel Elliott's 33-yard rushing score was the longest rush TD Oregon has allowed all season.



• • •



•Ohio State extends the nation's longest winning streak to 13 games with the victory.

•The 14 wins by the Buckeyes ties a school and NCAA record for the most victories in a season.

•The 42 points scored by the Buckeyes gives Ohio State a total of (672) on the season, breaking the previous record of 637 set last season.

•Ohio State is now 9-0 all-time vs. Oregon.

•Head coach Urban Meyer is 3-0 in his career in national championship games and 17-5 all-time in neutral site games.

•Meyer is now 40-3 in his career with more than a week to prepare for a game.

•Meyer is now 14-5 in his career against Top 10 teams and 10-3 vs. the Top 5.

•The Buckeyes are now 17-6 all-time indoors and 46-23 all-time in night games (games starting after 5 p.m. local time).

•Ohio State is now 38-3 (.926) overall under Meyer, the second-highest winning percentage among FBS teams since the start of 2012.

•With a career-high 246 yards rushing, RB Ezekiel Elliott moved into second place on Ohio State's all-time single-season rushing list with 1,878 yards. He passes Archie Griffin (1,695 in 1974) and Keith Byars (1,764 in 1984). His 246 yards also ties him for third on Ohio State's single-game list.

•Elliott's 4 rushing TDs also marks an Ohio State bowl/postseason record, breaking the previous record of 3 held by Raymont Harris.

•In his last three games, Elliott has rushed for 696 yards with 8 TDs.

•Per ESPN Stats and Info: Elliott's 246 yards sets a championship game (BCS and CFP) record for rushing yards, breaking Vince Young's record of 200 yards vs. USC in the 2006 BCS championship game. Elliott also broke his own record for rushing yards in an Ohio State bowl/postseason game.

•Elliott has now rushed for 200+ yards in the last three postseason games, an Ohio State record for consecutive 200+ yard rushing games.

•Elliott scored on a 33-yard scamper in the first quarter, his fifth TD run of at least 30 yards this season.

•Elliott rushed for 63 yards and a TD in the opening quarter, giving him 277 yards and 2 TDs in the opening quarters of the past three games - all vs. Top 15 teams in Wisconsin, Alabama and Oregon.

•TE Nick Vannett caught his fifth TD of the season and the sixth of his career in the first quarter, a 1-yard pass from Cardale Jones.

•Ohio State's 97-yard scoring drive was the second-longest TD drive of the season (98 vs. Kent State).

•Per ESPN Stats and Info: Ohio State is now 91-1 when leading by 14+ points in the past 10 seasons.

•Ohio State held Oregon to nearly 100 yards below its season average. Oregon had 465 and came in averaging 552.9. Ohio State also held Oregon to 132 yards rushing, more than 100 yards fewer than its season average of 241.9 entering the game.

•Ohio State converted on 11 of 18 3rd/4th down conversions while holding Oregon to 2 of 14.



• • •



Star of the game
Ohio State running back Ezekiel Elliott gained a personal-best 246 yards rushing, his third straight game of at least 220. Elliott's 33-yard touchdown run, the first of four on the night, got the Buckeyes going, and they never looked back, despite four turnovers.

Turning point
After Ohio State went up 28-20 on the last play of the third quarter on a 9-yard run by Elliott, the defense forced a punt by the Ducks. The Buckeyes went on to score again on a 76-yard drive, with Elliott gaining his third TD on a 2-yard run.

Repercussions
The Buckeyes make history with the first national championship of the four-team playoff in major college football. Given up as an also-ran after losing to Virginia Tech in September, they reeled off 13 straight wins as Urban Meyer won the third national title of his coaching career.

Numbers for dummies

6-0: Urban Meyer at OSU when the Buckeyes are underdogs.

36: Carries for Ezekiel Elliott, which was one less than Mariota pass attempts.

12/24: Oregon gained 103 yards on its first 12 plays and just 96 on its next 24.



Sources: ESPN, OSU Official Site, Columbus Dispatch






The incomparable Script Ohio from Dallas





•Marcus Mariota became the first player in Pac-12 history to reach 5,000 yards of total offense in a season. He finishes a remarkable junior year with 5,224 (4,454 passing, 770 rushing).

•Mariota passed for a touchdown for the 41st straight game - every game of his career - which is the second-longest streak in FBS history. He's the first player to do so in his first 41 games played.

•With two more total touchdowns (2 pass), Mariota extended his own Pac-12 single season record for total touchdowns to 58 (42 pass, 15 rush, 1 rec). He's the first player in FBS history to have a plus-50 touchdown to turnover ratio (+51). He's also the only player in FBS history to pass for 40 and rush for 15.

•Keanon Lowe caught the first TD pass in College Football Playoff Championship Game history. It was Lowe's fifth TD of the season, but first score in 10 games, dating to the loss vs. Arizona Oct. 2.

•Thomas Tyner started at running back for the fourth time this season and first since Week 3 vs. Wyoming. Tyner had a team-high 62 yards on the ground.

•Byron Marshall became the first player in Oregon history to have a 1,000-yard rushing season (1,038 in 2013) and a 1,000-yard receiving season (1,003 in 2014).

•Marshall had eight receptions to move into 3rd place on the UO single-season list with 74. Marshall had his third 100-yard receiving game of the season (and career), with a career-high 169.

•Mariota has passed for multiple TDs in 15 straight games - the longest active streak in the FBS. It was also his 24th consecutive game with 200 or more passing yards.

•Danny Mattingly recorded his first career interception.

•The Ducks trailed after the first quarter (14-7) for the fifth time this season, at the half (21-10) for only the second time, and after three quarters for the first time (28-20). The 11-point halftime deficit was UO's largest of the season (trailed by six vs. Michigan State).

•Oregon lost for the first time in Mark Helfrich's two seasons when winning the turnover battle (17-1). It was also the first time UO was defeated when scoring first (15-1).

•The Ducks are now 60-8 this decade, which still ranks as the most wins in the FBS during that span.

•UO was making its second trip to an FBS championship game (BCS/CFP) in five seasons.

•Ohio State was the sixth top 25 opponent for the Ducks this season. Oregon went 5-1 in those games.





Ducks Lament Miscues In Title Game
January 13, 2015 Source: Oregon Official Site - This wasn't one of those games where the Ducks battled to find some rhythm early, then blew the doors off the opposition. This was quite the opposite.

Less than six minutes into Monday's College Football Playoff National Championship, Oregon had an 11-play, 2:39 touchdown drive under its belt, while the Ducks had forced Ohio State to punt after averaging 3.4 yards per carry on five runs.

A few hours later, Oregon ended the evening with just one more touchdown, while the Buckeyes averaged nearly five yards per carry in a 42-20 victory for the national title in AT&T Stadium.

"That's what everybody wants — to start fast," UO defensive end DeForest Buckner said. "But we just weren't able to keep it up. We had self-inflicted wounds, and you can't have that against a team like that. They played a really good game, and that's why they're No. 1."...







Oregon

CFP Championship

Jan 12, 2015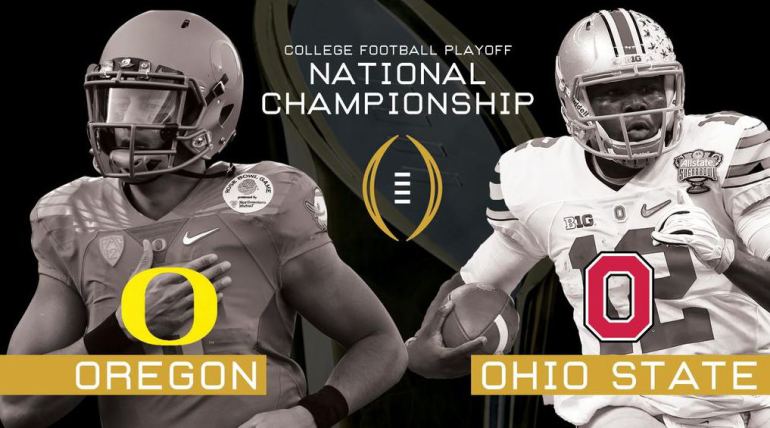 Ohio State Football: National Championship Trailer






College Football Playoff Championship will feature a great matchup on the field & fan events. College Football Playoff HOME






Five key factors for OSU victory
January 12, 2015 Source: Columbus Dispatch -

1. Have a short memory
Oregon quarterback Marcus Mariota runs the up-tempo offense like a conductor — and makes few mistakes. Ohio State defenders have to accept that plays will be made and points scored against them. The key is to avoid a tidal wave, which is what happened when the Ducks swamped Michigan State early in the season and Florida State in the Rose Bowl. The Buckeyes have to forget about bad plays and line up quickly for the next one. And, when they make good plays, they can't afford to waste time celebrating — or they won't be ready for the next snap.

2. Stop Freeman
Like OSU's Ezekiel Elliott, Ducks running back Royce Freeman has flown under the radar most of the season. But the true freshman is a key to the Oregon offense, which is more run-oriented than most people realize. The 229-pound power runner has been able to put Mariota in favorable passing situations. If the Buckeyes stuff Freeman and force Oregon into second- and third-and-long situations, they'll have a much better chance of getting off the field.

3. Avoid turnovers
Oregon has forced 30 turnovers and lost only 10 — the second-best turnover differential in the country. Mariota has thrown only three interceptions. If the Buckeyes are unable to force the Ducks into turnovers, they cannot afford to commit any/many themselves.

4. Sustain drives
Because of Oregon's fast tempo, the Ohio State defenders need rest. The best way to do provide that is through the OSU offense, which needs some longer drives. Ohio State has run the ball on almost every team this season, and Oregon isn't as stout against the run as Alabama was. There's no reason that Elliott can't have another big game. In addition, Jones must convert third-down passes — something he managed to do well against the Crimson Tide.

5. Cash in
Simply moving the ball against the Ducks — who pride themselves on a bend-but-don't-break defense that stiffens in the red zone — won't be enough. The Buckeyes can't settle for field goals; they have to punch the ball into the end zone.




• • •



On the edge: Ohio State vs. Oregon
January 12, 2015 Source: Columbus Dispatch -

When Buckeyes run . . . Edge – OHIO STATE
Ohio State is ninth nationally in rushing offense (262.2 per game) and averages 5.8 per carry. Ezekiel Elliott has taken his game to a different level of late, running behind an offensive line that consistently has moved defenders off the ball. If the Buckeyes run the way they did in the Sugar Bowl against a stout Alabama defense, they should be able to do it against a Ducks defense that yields 4.2 yards per carry, third worst in the Pac-12. * * *

When Buckeyes pass . . . Edge – OHIO STATE
If anything, the passing game has improved since Cardale Jones took over. His big arm has allowed Ohio State to stretch the field, with Devin Smith the main beneficiary. Oregon ranks 108th in passing yards allowed (265.9 per game). The Ducks, though, are on the field a lot because their offense scores quickly and opponents usually are throwing because they're behind. * * *

When Ducks run . . . Edge – OHIO STATE
The triple option is at the heart of Oregon's spread offense, run by Heisman Trophy-winning quarterback Marcus Mariota. Mariota is dangerous on the keeper and the scramble — he's the second-leading rusher on the team (731 yards, 15 TDs). Freshman Royce Freeman (1,343 yards, 18 TDs) has provided a between-the-tackles presence, and receiver Byron Marshall is dangerous on the wide pitch. Ohio State is 34th nationally against the run (142.0-yard average) and appears capable of clogging the middle and chasing to the edge. * * *

When Ducks pass . . . Edge – OREGON
Mariota won the Heisman primarily because he was the most-efficient passer in the nation. He passed for 4,121 yards and 40 TDs with only three interceptions. Marshall (66 catches, 834 yards) has been the primary target, but Mariota spreads it around. Ohio State had three interceptions at key moments in the Sugar Bowl, but Oregon is expected to press the issue downfield. * * *

Special teams . . . Edge – OHIO STATE
Oregon's special teams rank in the middle of the pack of the Pac-12 in most categories, though Aidan Schneider has made 9 of 10 field-goal tries since taking over the job during the season. His long is only 42 yards. Ohio State punter Cameron Johnston is a weapon with his strong leg and knack for getting balls to die near the goal line.





5 reasons Ohio State football will beat the Oregon Ducks: An offensive gameplan 3 years in the making
January 12, 2015 Source: Clevelnd Plain Dealer - 1. A gameplan ready to outscore the Ducks: Three years, 40 games and 37 wins into their time together, the Ohio State offensive coaches know each, know their players and know how they want to attack their chance to win a national championship.

In their final time with this group, the Buckeyes will roll out a gameplan Monday night that is three years in the making, one that should be ready to compete with the high-flying Oregon offense that has helped define the modern era of college football.

On Tuesday, offensive coordinator Tom Herman will leave to become the head coach at the University of Houston. The offense will go on. They hope this incarnation of Ohio State goes out on top...

2. Handling running backs: In Wisconsin's Melvin Gordon, Indiana's Tevin Coleman, Minnesota's David Cobb and Michigan State's Jeremy Langford, Ohio State faced four of the top 21 rushers in the nation this season. Add in Alabama's two-headed attack of T.J. Yeldon and Derrick Henry, and the Buckeyes have been tested on the ground repeatedly this year.

And they've survived. What was a question mark late in the year, especially after Coleman went for 228 yards with two big runs, has become a fact of life...

3. Handling tempo: In the Sugar Bowl, Alabama's defense was worried about handling Ohio State's tempo. Now it's Ohio State that has to concern itself with a Duck offense that will go even faster than the Buckeyes' offense does.

It's different. But it's not foreign. There will be a challenge for Ohio State, especially on the defensive line, to not wear down. But Alabama defensive coordinator Kirby Smart was most worried about just getting lined up against the Buckeyes. That shouldn't be a problem for Ohio State, which has been working on getting ready in eight seconds in practice during numerous hurry-up periods.

4. Coaching: Urban Meyer has been here. Second-year Oregon head coach Mark Helfrich, at least as the boss, has not...

5. Destiny? Lots of teams think it. Only one team winds up winning it. And people lose track of all the times that "teams of destiny" don't win...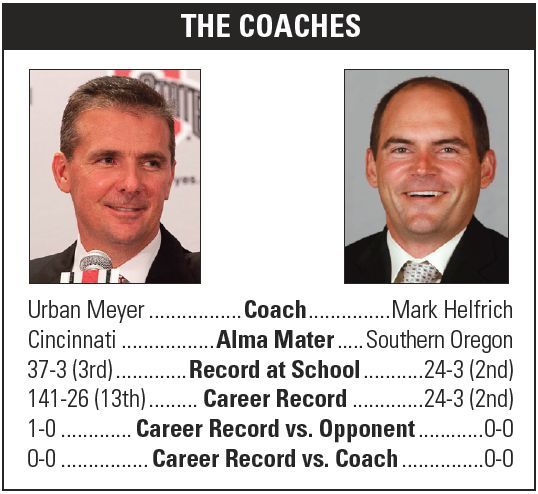 Butch Davis and Mark May discuss whether Ohio State's Urban Meyer or Oregon's Mark Helfrich has the coaching edge in the College Football Championship Game.



• • •



Head Coach match-up: Urban Meyer & Mark Helfrich
January 12, 2015 Source: Men of the Scarlet and Gray - Both guys are also known as offensive head coaches. Both run spread attacks and love getting their athletes out in space in one-on-one opportunities. Don't be fooled though, both understand the importance of running the ball and what it means for their offenses long term success...




College Football Championship Media Day Quotes: January 10, 2015 Source: OSU Official Site
Cardale Jones
Ezekiel Elliott
Joey Bosa
Michael Bennett



• • •





Urban Meyer At Media Day: 'It's very uncharted waters now'
Source: Bucknuts with transcript







Five Keys to a Buckeye Win Over Oregon
January 10, 2015 Source: The Ozone -

1. Tackle the first time...



2. Feed Ezekiel Elliott until he can be fed no more...



3. Protect the football...



4. Get stops on first down...



5. Win the field position battle...




Three X-factors for the National Championship
January 11, 2015 Source: CollegeFootballTalk - 1: Arik Armstead and Joey Bosa (and their friends). In a game that boils down to quarterback vs. quarterback, the team that makes the other guy's signal caller most uncomfortable will likely win. Oregon pass rusher Armstead will look to get to Jones before he can get ahead of steam in the run game (or fire a 60-yard bomb to his plethora of speedsters on the outside). On the other side, constant pressure is the only proven antidote to beating Mariota in his three years as a starter.

2: Tyler Johnstone, Ifo Ekpre-Olomu, Bralon Addison, Darren Carrington, Devon Allen and Pharoah Brown. Oregon obviously has fantastic depth to make it this far without the four listed above, but could there be a moment late in the game, with Ohio State fans joyous, Meyer cracking a smile and Puddles showing a longer face than normal, that you start to think, "Man, it'd be nice the Ducks had their top left tackle, top cornerback, top three wide receivers and/or top tight end, wouldn't it?"

Chris Seisay did a fine job filling in for Ekpre-Olomu, and the Ducks limited Florida State's Rashad Greene to six grabs for just 59 yards, but Ohio State's receiving corps is better than the 'Noles. The Oregon offensive line has charged along well without Johnstone this season, but they haven't faced a defensive front as multi-faceted as Ohio State's. Evan Baylis set career highs in the Rose Bowl with six receptions for 73 yards in the Rose Bowl, proving a capable replacement to Brown. But without Carrington, Allen and Addison (who hasn't played at all this season), Oregon's top remaining receiver is Dwayne Stanford, a sophomore who averaged 4.5 receptions for 44 yards in 13 games this season.

3: Sean Nuemberger and Aidan Schneider or Matt Wogan. These three anonymous gentlemen are your title game kickers. Ohio State has ridden with Nuemberger all year, to mixed results. The freshman has knocked in 13-of-20 field goals this year; he hit both of his tries in the Sugar Bowl but is just 5-of-10 from beyond 40 yards this season. Oregon has alternated between Schneider and Wogan this season, leaning on the former in the Rose Bowl. Schneider is 9-of-10 on the year, while Wogan is 7-of-9. Neither has been used a lot this season, and each squad's dominance throughout the season means none of the three has been asked to make a game-on-the-line kick. Now there's a greater than zero chance one of them will face that situation for the first time with a national championship on the line.





Three Keys to the Game: Cardale Jones, Royce Freeman, and a crucial 10 minutes
January 8, 2015 Source: Wall Street Journal -

Cardale Jones
The Ohio State quarterback is the game's great wild card. In midsummer, he was a third-string QB. He became the second-stringer after Braxton Miller went out for the season, and the starter after J.T. Barrett broke his ankle in late November.

"Inexperienced quarterbacks are snowballs on top of a mountain," said Joel Klatt, the former Colorado quarterback and Fox analyst. "They go down one side and pick up speed. You just have to hope they go down the right side. Either way, the momentum becomes unstoppable."

Jones isn't just any third-stringer. This is his third season in Columbus, and second year on the team after he redshirted his first year. "Usually a third-stringer is a freshman," said Chris Spielman, the former OSU linebacker. "This guy has had three years to learn the system."

He's also 6-foot-5, 250 pounds, and oozing with confidence after a 59-0 win against Wisconsin and toppling the top-ranked Crimson Tide.

Royce Freeman
Heisman Trophy winner Marcus Mariota gets most of the attention in Oregon's blazing offense. Freeman, however, makes Oregon nearly impossible to stop.

The freshman from Imperial, Calif. has gained 1,343 yards this season and scored 18 touchdowns. He also tossed a touchdown pass to Mariota against Arizona in October. He lacks great speed, but since opposing defenders are usually huffing and puffing, he can get to the corner and turn upfield.

"The guy is Eddie George," said former Oregon quarterback Joey Harrington, referring to the retired OSU and NFL star. "He is a 6-foot, 230-pound back that is going to run through you for sport, and when you hesitate he will run around you."

Last Five, First Five
In both the Big Ten championship and the Sugar Bowl, Ohio State capitalized as halftime approached.

Against Wisconsin, the Buckeyes recovered a fumble for a touchdown with 36 seconds left to stretch the lead to 38-0 and put the game away. Against Alabama, OSU looked dead with eight minutes to play in the second quarter, then put together drives of 71 and 77 yards to close to 21-20 by halftime, the final play a catch by Michael Thomas with 12 seconds left. Before three minutes were gone in the third quarter, OSU had a 27-21 lead and never looked back.

That wasn't an accident. Meyer convinces his teams the most important momentum comes in the last five minutes of the first half and first five minutes of the second. At the Sugar Bowl, he said his players knew they'd start the second half with the ball and were fired up. "We're aggressive on both of those drives," he said. "Those are momentum-changing moments of a game, the last five and the first five."



• • •



The Power of Ohio State's Positive Thinking
January 8, 2015 Source: Wall Street Journal - How a Formula Taught by Ohio State's 'Leadership Coach' Sums Up a National Championship Run...







Urban Meyer Pre CFP NC On-Campus Media Day Q&A Source: The Ozone



Highlights Urban Meyer Media Day Press Conference
January 6, 2015 Source: The Ozone -

+ Meyer said he rejected Darron Lee for an offer probably four times, but Luke Fickell convinced him to finally offer him and it has worked out. Meyer joked that this tells you the kind of talent evaluator that he himself is. "That's a great story."

+ Meyer has watched the Oregon offense and has made suggestions to his defense because they run similar offenses. He is a big fan of Marcus Mariota. Mariota is the biggest challenge the Buckeye defense has faced this year.

+ "He is a tribute to the family. Every Boren I've met is like that." Meyer said he didn't foresee Jacoby Boren being as good as he is. The first time he saw him he thought he might be able to be a blocking fullback.

+ Meyer said he was impressed by Oregon's alignment as a culture when he spent time with Chip Kelly in 2011. He said Ohio State is a lot like that now as a program.

+ Meyer said that even though some people think up-tempo and no huddle isn't the future of future, it absolutely is. It's an advantage for the offense.

+ There have been more downfield throws with Cardale Jones, but that has been as much a product of what the defense is doing than anything else.

+ On Evan Spencer: "He's the MVP. He's the leader of our team. He's, to me, what football is all about."

+ Cardale Jones is a better pocket guy than the other two quarterbacks because he is big and can see the entire field over the offensive and defensive line.

+ Meyer was not happy with the punt and kick return teams against Alabama and they will need to spend more time on it this week. Field position leads to wins and it's imperative that they have better field position this time around.

+ Regarding the travel of players' families and their $800 stipend, Meyer said he would like to see administrators and executives travel for $800. They couldn't do it.

+ Meyer said there are a lot of similarities between Ohio State and Oregon's tempo on offense, which will make it interesting considering the defenses see it every day in practice.

+ Meyer said he likes that he's had 1,000-yard rushers, but now says he'd love to have a 2,000-yard rusher as well.

+ They had a lot of confidence in what Ezekiel Elliott could do in this offense, but are still a bit surprised. "He's a little tougher than I thought he would be."

+ The concern is getting up for another game and then also dealing with Oregon's tempo.

+ Meyer said it's great news that there is legislation in place to get funds for parents/guardians of players. "I'm really fired up over that. That made my day. That's outstanding."

+ Practices are much different than national championship games of the past for Meyer. They have four practices in pads this time around, as opposed 37 days of practice before the playoffs were implemented.

+ He doesn't think he's ever had a player come as far as Cardale Jones has. "He could have been a statistic."

+ They'll push the underdog angle closer to the game. "It depends on the team, it depends where we're at. What kind of team you've got. Who you're playing." They didn't really play it up much against Alabama. He saw the team walking and standing taller after Wisconsin's win over Auburn.

+ They made it very clear leading up to the Wisconsin and Alabama games that the defenses needed to stop Melvin Gordon and Amari Cooper, and this game will be no different with Marcus Mariota.

+ Meyer on Ed Warinner: "He's a hell of a coach." There will be a plan moving forward for Warinner but Meyer will announce that at a later date.

+ He said Joshua Perry will be a captain next year. "He's a guy that I'd hire in a minute if he wants to coach." Meyer said he's already had multiple job offers during "Real Life Tuesdays".

+ "That's when this all started." Meyer on when the seniors didn't leave prior to the 2012 season. Their leadership made the 2012 season possible.

+ The biggest fear and challenge leading up to this last game is player health because 15 games is a lot for the players. After that it would be the distractions of being at another bowl destination.

+ Meyer said there isn't much of a difference in the play calling between J.T. Barrett and Cardale Jones.

+ Jeff Heuerman is probable and Dontre Wilson is probable.



• • •






Sophomore QB Cardale Jones, Sophomore RB Ezekiel Elliott, Sophomore DL Joey Bosa and Senior WR Devin Smith spoke with reporters during the on-campus media day for the inaugural College Football Playoff Championship Game Tuesday in the Woody Hayes Athletic Center.





#4 Ohio State takes on #2 Oregon in National Championship
January 6, 2015 Source: OSU Official Site - College Football Playoff National Championship will be televised on ESPN Jan. 12 at 8:30 p.m. ET ...



First and 10

• Ohio State earned its way to the CFP National Championship with a 42-35 win over No. 1 Alabama Jan. 1 in New Orleans.

• Ohio State enters the game having won 12 in a row, the longest active streak in the nation.

• Ohio State is looking to claim the eighth national championship in school history.

• Ohio State is playing in its fourth national championship game in 13 years (2002, 2006 and 2007 seasons).

• Ohio State won its 35th Big Ten championship Dec. 6 with a 59-0 win over No. 13 Wisconsin.

• Ohio State finished 8-0 in conference play and became the first team in Big Ten history to win every game (undefeated and untied) in regular season play three consecutive years.

• Ohio State ranks in the top 10 nationally in scoring (45.0), total offense (509.7) and rushing (262.2).

• Joey Bosa, a consensus All-American, Big Ten Defensive POY and Lombardi, Hendricks and Bednarik finalist, leads the B1G with 20.0 TFL & 13.5 sacks.

• Urban Meyer is 8-2 in bowl/national championship games and 16-5 all-time in neutral site games.

• The Buckeyes, 37-3 (.925) overall under Meyer, have the second-highest winning percentage among FBS teams since the start of 2012.

COLLEGE Football PLAYOFF NATIONAL CHAMPIONSHIP
The two hottest teams in college football, the Ohio State Buckeyes, a winner of 12 consecutive games, and the Oregon Ducks, victorious in nine consecutive games, meet for the first College Football Playoff National Championship Monday, Jan. 12, at AT&T Stadium in Arlington, Texas. Kickoff is set for 7:31 p.m. Central Standard Time on ESPN.

TEAMS MET IN FIRST NCAA HOOPS CHAMPIONSHIP
Interestingly enough, Ohio State and Oregon also met for the first NCAA basketball championship, in 1939. The teams played for the title in Evanston, Ill., with Oregon claiming a 46-33 victory. SEEKING TITLE No. 8 Ohio State, in its 125th season of football, is seeking to add national championship No. 8 to its rich and storied history and the school's first since the 2002 season.

Ohio State National Championships
2002 - 14-0 (Jim Tressel) 1970 - 9-1 (Woody Hayes) 1968 - 10-0 (Woody Hayes) 1961 - 8-0-1 (Woody Hayes) 1957 - 9-1 (Woody Hayes) 1954 - 10-0 (Woody Hayes) 1942 - 9-1 (Paul Brown)

OHIO STATE vs. OREGON
The Bucks and the Ducks have met eight times previously with Ohio State winning each of the previous games. The teams last played in the 2010 Rose Bowl, with No. 8 and 10-2 Ohio State victorious, 26-17, over No. 7 and 10-2 Oregon. That was the first meeting in 22 years between the teams, or since 1987 when Ohio State claimed a 24-14 victory over Oregon in Columbus in the second game of the season and the final season under head coach Earle Bruce.

Bucks & Ducks Series
1955 - Ohio State 10, Oregon 7 (Rose Bowl)
1961 - Ohio State 22, Oregon 12
1962 - Ohio State 26, Oregon 7
1967 - Ohio State 30, at Oregon 0
1968 - Ohio State 21, Oregon 6
1983 - Ohio State 31, Oregon 6
1987 - Ohio State 24, Oregon 14
2010 - Ohio State 26, Oregon 17 (Rose Bowl)

OHIO STATE vs. OREGON II
Ohio State and Oregon have regular season games scheduled in 2020 and 2021. The teams will meet Sept. 12, 2020 in Eugene, Ore., and again on Sept. 11, 2021 in Columbus. The series was announced in October 2012.

MEYER. HELFRICH.
This will be the first coaching matchup between Ohio State third-year coach Urban Meyer (37-3 at Ohio State; 141-26 in his 13th season) and second-year Oregon coach Mark Helfrich (24-3 at Oregon and overall). Helfrich represents the 97th different head coach that Meyer will game plan against. Meyer is 81-15 in first-time coaching matchups.

SPARTANS: COMMON OPPONENT
Ohio State and Oregon each played Michigan State in the regular season. The Ducks hosted the Spartans in Week 2 at Autzen Stadium, outscored them 28-3 in the second half and went on to a 46-27 victory. The Spartans led 24-18 at the half. MSU's Connor Cook threw for 347 yards but was intercepted twice, with both INTs resulting in Duck TDs. Marcus Mariota threw for 318 yards and three scores to complement a 173-yard, three-TD rushing game.

Ohio State defeated Michigan State in a rare Big Ten November night game in East Lansing, 49-37, behind a flawless performance from J.T. Barrett, who completed 16 of 26 passes for 300 yards plus rushed for 86 yards and two touchdowns. Cook had 358 yards passing for the Spartans. Two Barrett touchdown passes inside of four minutes to play in the second quarter - 79 yards to Michael Thomas and 44 yards to Devin Smith - brought the Buckeyes back from a 21-14 deficit and into the lead for good. Ezekiel Elliott rushed for 154 yards and two touchdowns.

Taft's Buck and Duck
There is but one set of teammates playing for Ohio State and Oregon. Ohio State junior defensive tackle Adolphus Washington and Duck red-shirt sophomore wide receiver Dwayne Stanford played throughout high school together at Cincinnati's Taft High School. The dominant duo helped Taft reach the state football playoffs for the first time in 2010 and the state basketball final four in 2011.

Season Stats:
Adolphus Washington: 36 gms/18 starts; 90 TT, 17.5 TFLs, 8.5 sks
Dwayne Stanford: 26 gms/12 starts; 50 Rec., 684 Yds., 6 TDs

Player Quotes From Ohio State Media Day - 1/6/15
January 6, 2015 Source: OSU Official Site - Ohio State players met with the media to discuss the upcoming CFP National Championship Game ...



More at #4 Ohio State takes on #2 Oregon in National Championship Game Notes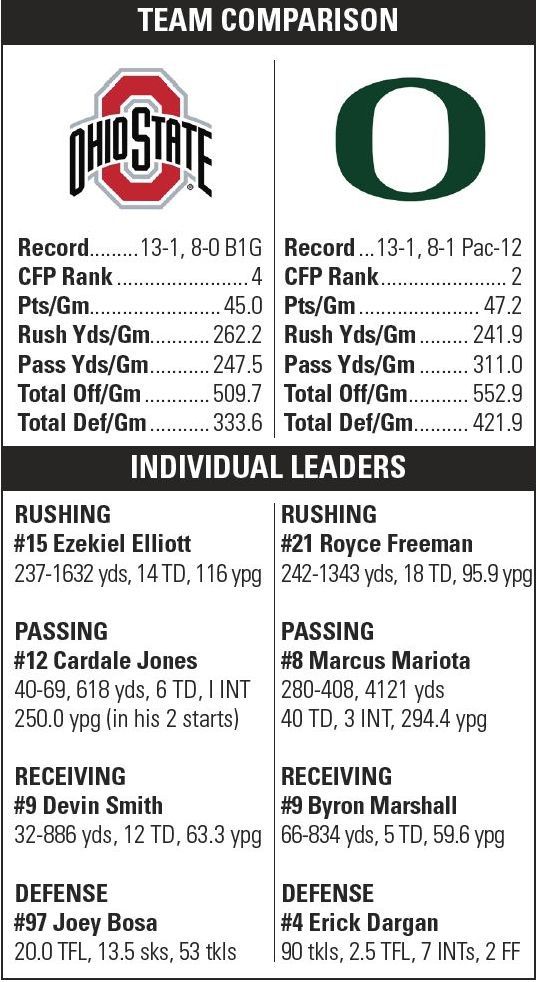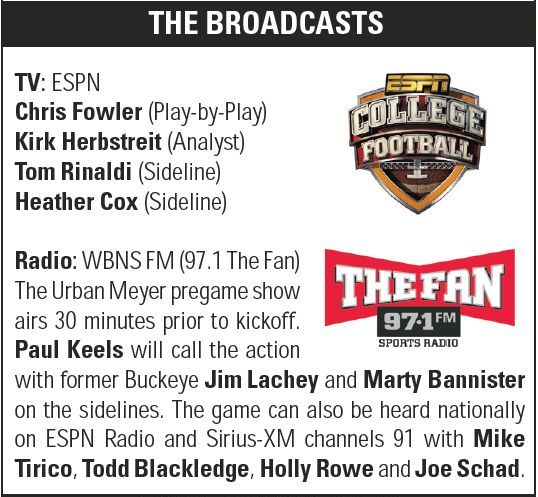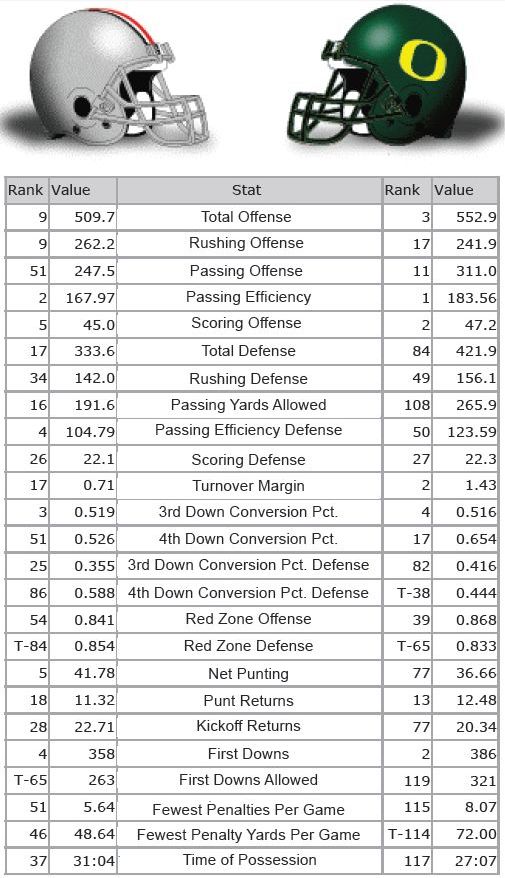 Kirk Herbstreit breaks down the College Football Playoff National Championship game where the play of Ohio State's Cardale Jones and Oregon's ability to score in the red zone will be some of the biggest factors in the game.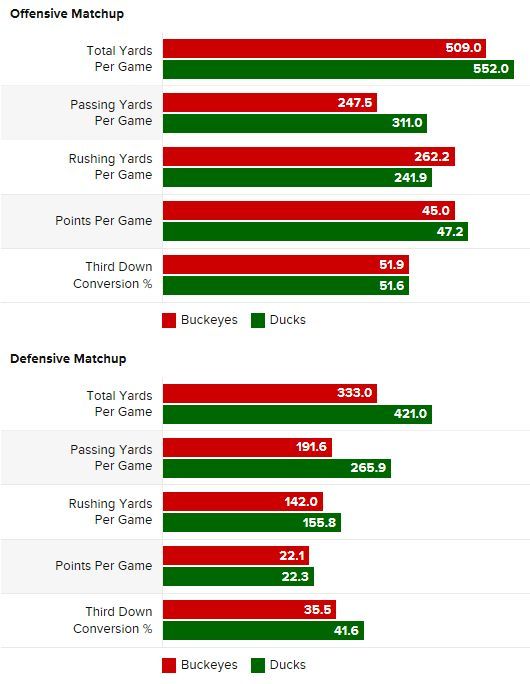 Source:
CBSSports.com



Lou Holtz and Mark May discuss the quarterback matchup in the championship game between Oregon's Marcus Mariota and Ohio State's Cardale Jones.



• • •



Marcus Mariota vs. Cardale Jones Source: Land-Grant Holy Land
Marcus Mariota is this year's Heisman Trophy winner and most likely No. 1 overall pick in this year's NFL Draft. Mariota has all of the intangibles and tangibles you want in your QB. Mariota's arm is certainly what garners a majority of the attention, but it is perhaps his scrambling ability which poses the biggest threat to Ohio State. Mariota ran eight times for 62 yards and a TD against Florida State and completed 26-of-36 passes for 338 yards, two TDs and an INT. Without turnovers from Mariota, this game will be very difficult for Ohio State to win. If Mariota has 0 turnovers, Oregon will most likely win this game.

On the local radio station in Cleveland, I heard a fan from Akron call in and say that Cardale Jones should be drafted and could lead an NFL team (specifically the Browns) to the Super Bowl next year. A couple of things are wrong with that, but the most glaringly obvious is the fact that his sample size is just two games, albeit two critical games.

Against a far superior defense, Jones completed 18-of-35 for 243 yards, a TD and an INT. Jones also added 43 hard fought yards on the ground on 17 rushes. Cardale Jones was able to defeat Alabama, whom many analysts in the country considered to be the nation's best all-around defense. I don't know if anyone in the country would argue that Oregon is more physical than Alabama, but Alabama certainly had its fair share of struggles stopping Jones on the ground. Jones must start fast, not only in terms of the time of the game, but OSU needs positive yards on first and second down. OSU will not be able to count on its freakish performance (10-of-18) on third down conversions in this one. The key for Jones will be to limit his turnovers, start fast, and be a key part of the rushing attack. Jones will have at least two deep balls for TDs in this one, but he will also have two costly turnovers.

Edge: Oregon ...

Ohio State vs. Oregon, 2015 College Football Playoff National Championship breakdown: A few key matchups will determine the outcome of this one: Royce Freeman vs. Ezekiel Elliot, Oregon's WRs vs. Smith, Marshall and Thomas, Ohio State Pass Rush vs. Oregon OL, Oregon Red Zone D vs. Ohio State Red Zone O, Ian Wheeler vs. Jalin Marshall, Mark Helfrich vs. Urban Meyer, No. 2 Oregon vs. No. 4 Ohio State (with prediction)...




The "College Football Live" crew points out what Ohio State's defense needs to do to slow down the most efficient offense in the country.





Ohio State vs. Oregon: 7 things to know about Ducks defense for College Football Playoff National Championship
January 4, 2015 Source: Cleveland Plain Dealer - 1. Oregon is 77th in the country in total defense, allowing 406.3 yards per game, but the big yardage numbers don't always mean points for the opposition. The Ducks are 27th in the nation in scoring defense, giving up 22.3 points per game.

The Ducks have been stingy down the stretch. In the last four games, Oregon has allowed 10, 19, 13 and 20 points.

2. Where's the weakness? It would appear in the pass defense. Oregon is 111th in the nation in pass defense, giving up 265.9 yards per game through the air. Now, that number is likely inflated a bit when you consider that their opponents have the ball a lot and are often trailing.

Florida State quarterback Jameis Winston threw for 348 yards, one touchdown and one interception against Oregon in the Rose Bowl.

But Ohio State still has to like its matchup there, even with Cardale Jones at quarterback.

3. Why should Ohio State like the matchup? Jones likes to throw the deep ball, and Oregon has been susceptible there all season. The Ducks have allowed 44 passing plays of 20-yards or more this season. That's good for 91st in the nation, tying them with Ohio State's Big Ten opponents Maryland and Rutgers.

The Buckeyes are 28th in the nation with 51 passing plays of 20-yards or more. The big play could be there for Ohio State.

4. You don't get to this point without doing some things well on defense. The Ducks have one of the best turnover margins in the country, and the Oregon defense has forced 30 this year. Only Michigan State (34) has forced more among Ohio State's opponents.

You saw what happened when Ohio State turned the ball over against Alabama. It's probably better not to give Oregon's offense extra possessions and short fields.

5. The Ducks are missing their best defensive player. Cornerback Ifo Ekpre-Olomu injured his knee during practice before the Rose Bowl and will miss the entire playoff. The first-team All-American is considered one of the top cornerbacks in the country, and had 63 tackles and two interceptions before suffering the injury.

6. As we did with Oregon's offense, let's see what the Ducks defense did against Michigan State, the only common opponent they share with Ohio State:

Michigan State racked up 466 total yards on the Ducks, but didn't score a touchdown in the second half of a week two loss in Eugene. Spartans quarterback Connor Cook threw for 343 yards, two touchdowns and two interceptions. Spartans running back Jeremy Langford had 86 yards and a touchdown on 24 carries.

The Spartans finished with 536 total yards in a loss to Ohio State on Nov. 8. Cook threw for 358 yards and two touchdowns, while Langford had 137 yards and three touchdowns.

7. Here's a look at Oregon's defensive leaders
Tackles: Erick Dargan, FS, 90
Sacks: Tony Washington, OLB, 6
Interceptions: Dargan, 7



• • •



Ohio State vs. Oregon: 7 things to know about Ducks offense for College Football Playoff National Championship
January 3, 2015 Source: Cleveland Plain Dealer - 1. Get a stopwatch, because Oregon's offense is fast. You probably knew that. But exactly how fast? The Ducks ran a play every 20.2 seconds against Florida State in the Rose Bowl according to ESPN Stats & Info.

The Buckeyes haven't seen anything like this.

As it has with just about every other team its played in the last six years under Chip Kelly and now Mark Helfrich, the Ducks wore down Florida State's defense to the tune of 639 yards.

2. There was a lot of talk in Ohio State's last two game about facing Heisman Trophy finalists Melvin Gordon of Wisconsin and Amari Cooper of Alabama. Drop the word finalists. The Buckeyes are now dealing with the real deal.

Oregon's Heisman Trophy winning quarterback Marcus Mariota leads the nation in quarterback rating, is third in passing yards, second in passing touchdowns, has the fewest number of interceptions of quarterbacks with at least 400 pass attempts ... The guy is good.

Oh, and he has 731 rushing yards and 15 touchdowns.

Really good.

3. Oregon is third in the nation in total offense, averaging 552.9 yards per game. By comparison, Ohio State is ninth (509.7), and the Buckeyes best opponent when it comes to total offense has been Michigan State (13th, 500.8).

The Ducks are second in the nation in yards per play (7.39).

Oregon is second in the country in scoring offense, averaging 48.2 points per game. The next best team Ohio State has faced this season is Michigan State, which is seventh with 43 points per game.

Nobody has scored more touchdowns (88) than the Ducks this season.

4. When the teams meet in North Texas, you might see an offense that looks eerily similar to Ohio State's. Urban Meyer and Chip Kelly have had a relationship since Meyer was at Florida, and have talked about everything from plays to how to run a program.

Kelly is gone from Oregon, but his offense still exists in some capacity in Eugene. Kelly and Meyer bounced offensive ideas off each other, and there's bound to be some overlap in concepts and philosophy. It will be interesting to see which offense wins out.

5. Oregon's offense is fast (thought that bears repeating), but could be without its fastest player against Ohio State. Receiver Devon Allen injured his knee returning the opening kickoff against Florida State and is expected to miss the national title game according to FoxSports.com's Bruce Feldman.

Allen, dubbed by some as the fastest man in college football, was the NCAA 110-meter hurdles champion. Allen is second on the team with 41 catches for 674 yards and seven touchdowns.

6. Let's take a look at what the Ducks and Buckeyes offenses did against their only common opponent: Michigan State.

Oregon had 491 total yards in a 46-27 win over the Spartans on Sept. 6. Mariota threw for 318 yards and three touchdowns. The Ducks outscored the Spartans 28-3 in the second half.

Ohio State had 568 total yards in a 49-37 win over the Spartans on Nov. 8. J.T. Barrett three for 300 yards, ran for 86 yards and had five total touchdowns in what was his most complete game of the season. The Buckeyes had 268 rushing yards.

Let the flawed applications of the transitive property begin.

7. Here's a look at Oregon's offensive leaders:
Passing: Marcus Mariota 280-408; 4,111 yards; 40 TD; 3 INT
Rushing: Royce Freeman 242 carries; 1,3434 yards; 18 TD
Receiving: Byron Marshall 66 catches, 834 yards, 5 TD





Keys To The Game: Ohio State
January 5, 2015 Source: College Football Scout - Ohio State's Three Biggest Keys

1. Pass rush, pass rush, pass rush
It's far easier said than done against an Oregon offense that allowed just 18 sacks on the year, but Ohio State can't let Marcus Mariota roam free and be Marcus Mariota. He gets the ball out of his hands in a hurry, and the offense is designed to keep defenses on their heels and get the speedy stars in space, but Joey Bosa and the rest of the Buckeye defensive front have to at least create a presence. If Mariota is comfortable, and the Oregon offense is dictating the tempo – and everything else – it's going to be a long night.

2. Attitude, attitude, attitude
Ohio State is one of college football's monster programs with one of the greatest coaches in the history of the sport. It's bound by absolutely nothing, and it's right and fair to get into every season demanding national championship-or-failure expectations. However, it really has been possible to use the "no one believes in us" mantra and come in with a chip on its shoulder. The Buckeyes were on the outside of the top four of the College Football Playoff rankings all year long, they were underdogs against Wisconsin, they weren't supposed to be on the same field as Alabama, and now they're not expected to beat Oregon.

The team came into the road game against Michigan State jacked up and looking for revenge for the 2013 Big Ten championship game loss, and it got it. It came into the Wisconsin game looking to make a statement for the playoff types – and to make amends for losing the title game the previous year – and they did that and then some. Don't discount the underdog mentality for a team with more NFL talent and skill than its opponent.

3. Stop the bad momentum before it starts
There will be mistakes, there will be turnovers, and there will be times when Oregon scores a splashy, amazing touchdown off a drive that goes 81 yards in three plays and 29 seconds, but the Buckeyes can't let the game get out of hand. They can't let a close battle turn into a blowout – like the Rose Bowl did for Florida State – by getting flustered when things aren't going right. Fortunately, they did just that in the Sugar Bowl against Alabama after getting down early, but they can't afford to get down so quickly this time around, or at all. Oregon can turn 20 points on the scoreboard into 52 in a snap – OSU has to go on long, sustained scoring drives at times to keep that from happening.

More: Keys To The Game: Oregon, Ohio State Players To Watch, Oregon Players To Watch, Ohio State's Biggest Strengths, Oregon's Biggest Strengths...



QB J.T. Barrett out; TE Jeff Heuerman & WR Dontre Wilson are probable.


Arlington Weather Forecast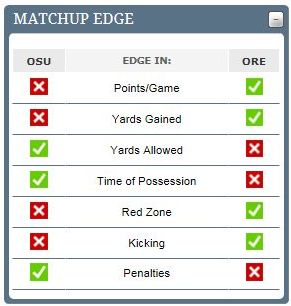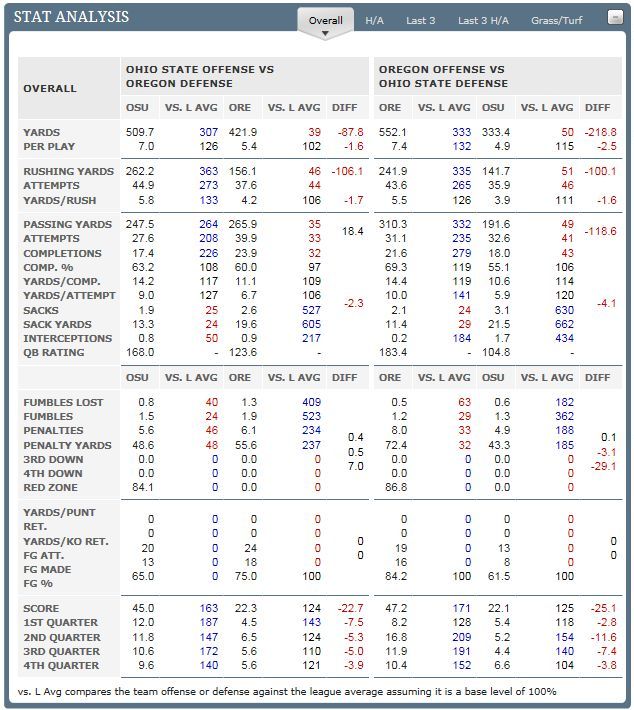 Source:
Covers.com

Better Traditions: Oregon or Ohio State?
Campus Insiders' Doug Chapman and Pete Fiutak break down all facets of the College Football Playoff National Championship, including the mascots, cheerleaders and uniforms.

Ohio State's Coke Zero Guest Insider
We know what the experts think, but what do the fans think. Our Coke Zero guest insider Sonny Gill discusses everything from superstitions before Monday's big game to what it will take for the Buckeyes to stop Marcus Mariota and the Ducks' high powered offense.

Can Ohio State defeat Oregon?
Keith Arnold and Dan Woike join Jim Rome to discuss if Ohio State can take it to the next level and defeat Oregon in the College Football Playoff National Championship.







Ultimate Preview: Oregon vs. Ohio State
January 11, 2015 Source: Bucknuts





Game Matchup: Ohio State Vs. Oregon
January 12, 2015 Source: BuckeyeSports.com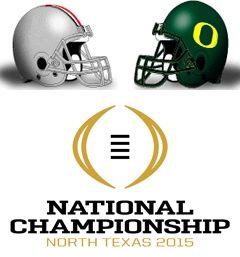 CFB Playoff National Title Game Data: Ohio State vs. Oregon
January 9, 2015 Source: Bucknuts.com - When Oregon Has The Ball: This is the ultimate test for Ohio State's defense. This is the final exam. There is no tomorrow. (Insert any other cliché that indicates the defense has its back against the wall.)

Oregon QB Marcus Mariota had an amazing season, throwing for 40 touchdowns and rushing for 15 more. Plus, he only threw three interceptions. He was very deservedly the Heisman Trophy winner. He uses his feet to keep plays alive and, if given time, could pick the Buckeyes apart. His array of receivers is very strong, led by emerging freshman Darren Carrington (seven catches, 165 yards, two TDs vs. FSU), Ohio native Dwayne Stanford and Byron Marshall.

The key will be for the rush ends and blitzers to keep Mariota in the middle of the field. If he breaks contain, it will likely either be a first down or touchdown. The good news is Ohio State's defense is built to play against teams like this. The linebackers and secondary will be on the firing line all day. That's not a bad thing given the way LB Darron Lee, LB Joshua Perry, CB Doran Grant and safety Vonn Bell have been playing of late.

RB Royce Freeman, also a freshman, can be a load at nearly 230 pounds. He is a tough runner between the tackles as the Ducks try and combat their reputation as a finesse team. Oregon uses a fast-tempo offense, so the Buckeyes must get their call, get lined up and do their best to slow the Ducks down...




Preview: No. 4 Ohio State vs. No. 2 Oregon in the 2015 National Championship Game
January 12, 2015 Source: Eleven Warriors





Ohio State vs. Oregon, Championship Game 2015: Preview, odds, predictions
January 11, 2015 Source: Land-Grant Holy Land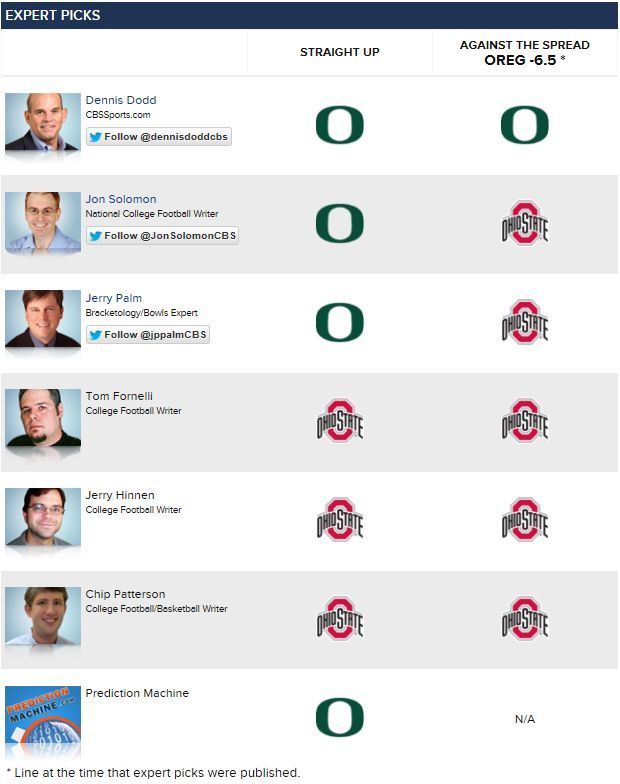 CBSSports.com




Inauguaral College Football Playoff National Championship Game pits Ducks against Bucks: Game Notes Source: Oregon Official Site

QUICK HITS

•Oregon's average margin of victory when playing top 25 teams this season is 26.5. The Ducks average against non-ranked teams is 24.1.

•Marcus Mariota has taken home the MVP award in all four postseason games of his career: 2012 Fiesta Bowl, 2013 Alamo Bowl, 2014 Pac-12 Championship Game, 2015 Rose Bowl.

•Mariota has passed for 300 or more yards in 16 of 40 career games played. That number - an Oregon record - is one more than Joey Harrington (6), Akili Smith (5), Dennis Dixon (3) and Dan Fouts (1) combined. v•Freshman have scored 299 of Oregon's 661 points, 45.2 percent, this season. True freshman RB Royce Freeman leads the team with 114 points thanks to his 18 rushing touchdowns and one receiving TD, while two more true freshmen -- K Aidan Schneider (65 points) and WR Charles Nelson (42 points) -- and one redshirt freshman -- Devon Allen (42 points) -- rank fourth and tied for fifth. Overall, freshman have scored 38 of Oregon's 88 touchdowns, while making nine of the team's 16 field goals.

•The Ducks sport the best overall record in college football this decade at 60-7 (89.6%). UO's 81% success rate vs. top 25 opponents (17-4) is also the best in the land.

•Fifty-three of UO's 60 victories since 2010 (88.3%) have been by 14 or more points.

NON-CONFERENCE SUCCESS

Since 2000, Oregon is 37-6 in regular season, out-of-conference contests, earning notable victories against the likes of Oklahoma, Wisconsin, Michigan (x2) and Michigan State. During that stretch, the Ducks are 3-1 against the SEC, 6-2 vs. the Big Ten, 1-1 vs. the Big 12, 5-0 against the Mountain West, 12-2 vs. the WAC, 2-0 against Conference USA and 7-0 vs. FCS teams.