34-17


Ohio State Navy Highlights



Ohio State vs Navy (Aug 30, 2014) Source: OSU Official Site
Scoring Summary, Team Statistics, Individual Statistics, Drive Chart, Defensive Statistics, Game Participation, Box Score, Play-by-Play, Play breakdown




Urban Meyer Talks Win Over Navy Source: BTN

J.T. Barrett, Buckeyes talk about season-opening win vs. Navy. Source: BTN





Here are some highlights from Meyer's postgame press conference:
August 30, 2014 Source: Cleveland Plain Dealer - On Barrett's play: "J.T. I thought did OK. We'll evaluate the film. Every new player is gonna have a certain amount of mistakes. We wanted to open it up a little more in the first half and we couldn't. It wasn't because of him, it was because of our offensive line. We had a couple mistakes in there — a penalty, a sack — and we just can't do that. Obviously with a team we have playing next we have a lot of work to do. But we'll take this win. I'm very proud of our guys for fighting through the second half and doing what they did."

On offensive line play: "Very disappointed. There's a standard set of offensive line play for many, many years and it's really been enhanced by our line coach Ed Warriner the last two years, and that didn't resemble an offensive line at Ohio State for the first two quarters. I'm being hard on them, but I think they played much better in the second half. We have to settle in on a starting five, we'll have to play much better if we're going to make a dent in the Big Ten Conference. I just think we expected them to play much better."

On playing Navy: "A lot of respect for Navy. Best thing about this game is we won it and it's in the rearview mirror. It's seems like we've been working on this thing forever. What you saw a little bit throughout the course of the game is what I saw during practice, every once in a while they're gonna get one on you because they execute so well. That quarterback is a heck of a player."

On the turning point: "The turning point I think is the Darron Lee fumble return. The fact that our defense kept everything in check when I went for it on fourth down and didn't get it. We just were playing defense and giving us a chance to go take the lead."

On Cam Burrows, Von Bell and rotating players: "I think they're co-starters. It's a little bit like our group of receivers. You see a steady stream of guys running in and out. Like, who's our starting H? Is it Jalin or Dontre? It's both of them. Same thing at the wide receiver, Michael Thomas, Evan Spencer, Corey Smith and Devin Smith. We have a lot of confidence. We have to spread the ball a little bit more around than we did today."

On playcalling challenges with some many new players: "First half was tough. We only ran about four or five plays in the second half. One of them was that little hand sweep to one of the H-backs. We faked a sweep to the H-back and the downhill run. The playaction pass we hit a homerun on one. That was the same pass we called earlier to Dontre Wilson."

On if he misses Braxton Miller: "A lot of times, great players like that will pull out of something. I didn't physically think about that during the course of the game, but you miss great players and Braxton is a great player."

On the atmosphere: "Awesome. We won, so you can enjoy it. I've coached against Navy for along time. I thought their uniforms were great. I had my son take a look at all the white-clad men and women who represent the Naval Academy. I thought it was awesome. Best thing about this one is it happened, we won, show great respect and get out of Dodge fast before they change their mind."





Too Conservative Offensively? Herman Responds
August 30, 2104 Soure: Bucknuts - It's no surprise that Ohio State took a conservative offensive approach against Navy. It makes sense to do that with a redshirt freshman quarterback making his first career start and the Buckeyes did emerge with a win.

However, were they too conservative in the first half? Navy led 7-6 at halftime – and it would have been 10-6 if not for a missed field goal – and the Midshipmen were daring OSU to throw the ball. With literally 11 defenders crowding around the line of scrimmage, was OSU offensive coordinator Tom Herman tempted to use more play-action passes than he did? (When he did call them, they were extremely effective – with obviously the best example being Devin Smith's 80-yard touchdown pass from J.T. Barrett.)

We asked him that very question after the game.

"Well, you never want to get talked out of running the football when you need to run it," Herman said. "But the kid was 12-of-15 for 226 yards. When we felt like we needed to back them off and throw the ball over their head a little bit, I think we did a good job of that.

"But we certainly weren't going to live in that world and just throw it every snap, either. So, we had to figure out ways with their pressure and all those guys stacked at the line of scrimmage to run the ball a little bit."





No. 5 Ohio State pulls away to beat Navy 34-17
August 30, 2014 Source: OSU Official Site - Redshirt freshman J.T. Barrett threw for 226 yards and two touchdowns

BALTIMORE (AP) - Redshirt freshman J.T. Barrett threw for 226 yards and two touchdowns in his college debut, and No. 5 Ohio State beat Navy 34-17 Saturday for its 25th consecutive regular-season victory.

Elevated into a starting role after senior Braxton Miller injured his right shoulder on Aug. 18, Barrett went 12 for 15 - including an 80-yard TD pass to Devin Smith that put the Buckeyes up 20-14 with 4:10 left in the third quarter.

Ohio State (1-0) won despite allowing Navy (0-1) to gain 370 yards on the ground, including 118 by Ryan Williams-Jenkins.

Barrett became the second freshman since 1950 to start a season opener at quarterback for Ohio State. He ran nine times for 50 yards, did not throw downfield often and relied heavily on a ground game that finally wore down the Midshipmen in the fourth quarter.

After Navy closed to 20-17 with 13:54 remaining, the Buckeyes launched a 10-play drive that featured just one pass. Ezekiel Elliott converted a fourth-and-1 from the Navy 45 and Barrett threw a 19-yard completion before Elliott ran in from the 10.

Barrett's 9-yard touchdown pass to Mike Thomas made it 34-17 with 2:09 left.

Navy held a 7-6 lead and was driving on the opening series of the second half when Joey Bosa hit Keenan Reynolds as the quarterback was tossing a pitch to Demond Brown. The ball went awry, and Darron Lee took it 61 yards the other way for a touchdown.

The Midshipmen responded immediately. Williams-Jenkins ran 67 yards to the Ohio State 17, and Reynolds scored from the 1 to put Navy up 14-13. That gave Reynolds a touchdown in nine straight games, tying the school record.

Ohio State then turned the ball over on downs, when Elliott was stuck for a 2-yard loss on fourth down from the Navy 45.

But the momentum turned when Smith got behind the Navy defense on the right side, broke a tackle and scored on the longest touchdown against the Midshipmen since an 87-yarder by Tulane in November 2004.

Navy drove to the Ohio State 18 on the final possession of the first half before Nick Sloan missed a 36-yard field goal, keeping the Buckeyes' deficit at 7-6.

Throwing mostly short, safe passes, Barrett went 8 for 11 for 96 yards and an interception before halftime.

Barrett's first play at Ohio State was a pass completion for 14 yards. Although he appeared comfortable in the no-huddle offense, the Buckeyes quickly punted.

Ohio State's next possession began with four straight runs, followed by a sack. A shovel pass on a third-and-21 gained 16 yards to set up a 46-yard field goal by freshman Sean Nuernberger.

Navy answered with an 11-play drive, 10 of them runs, capped by a 1-yard touchdown sweep by DeBrandon Sanders.

Midway through the second quarter, Barrett went 4 for 4 for 54 yards to bring the Buckeyes to the Navy 8. But he hurried a first-down pass and was intercepted by Parrish Gaines.

Barrett's inexperience showed again on the next series, when Ohio State had to settle for a field goal. On a third-and-2 from the Navy 4, Barrett rolled right and pitched too late to Elliott, who was smothered for a 7-yard loss.







IT WAS OVER WHEN ... Ezekiel Elliott converted a fourth-and-1 on the Navy 45, and he later ran 10 yards for the TD that put the Buckeyes up 27-17 with 8:54 left to play.

GAME BALL GOES TO ... J.T. Barrett. In his first game replacing Braxton Miller, Barrett started slowly but was 4-for-4 for 130 yards and 2 TDs in the second half.

STAT OF THE GAME ... 370. The number of rushing yards Navy had against Ohio State and its highly touted defensive line. Navy averaged 5.9 yards per carry.

• With the win, Ohio State extends the nation's longest regular-season win streak to 25 games.

• The Buckeyes improve to 5-0 all-time against Navy.

• Ohio State is 34-2 in its last 36 season openers. Its last defeat was in 1999 to Miami, Fla.

• Redshirt freshman J.T. Barrett made his first career start at quarterback in his first collegiate game. He is only the second freshman (true or redshirt) to start an opener for the Buckeyes since 1950. Barrett finished the game 12-of-15 for 226 yards, 2 TDs and 1 INT, hitting six different receivers. He also rushed nine times for 50 yards.

• Senior WR Devin Smith hauled in an 80-yard TD pass in the third quarter, the 19th of his career. He is now averaging 41.7 yards per score in his career. Smith finished the game with 2 catches for 94 yards and 1 TD. The Buckeyes are now 15-0 when he catches a TD.

• Head coach Urban Meyer is now 13-0 in his career in season openers and 48-4 in games played in August/September.

• True freshman kicker Sean Nuernberger kicked his first career FG, a 46-yarder in the first quarter to put Ohio State up 3-0.

• Ohio State failed to score a touchdown in the first half for the first time since the 2011 game at Illinois, snapping a streak of 32 consecutive games.

• Ohio State scored its first TD of the season on a 61-yard fumble return by Darron Lee in the third quarter - Lee's first career score. The last time Ohio State returned a fumble for a TD was during the 2012 season opener vs. Miami, Ohio - a 1 yard return by Bradley Roby.

• Sophomore safety Tyvis Powell led the Buckeyes on defense with a career-high 13 tackles.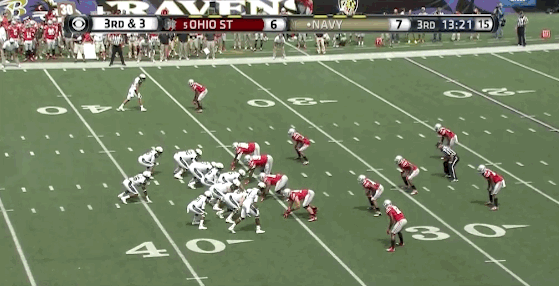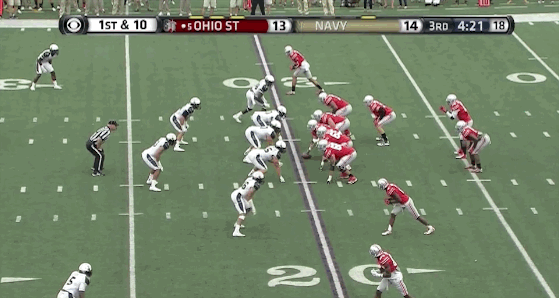 More: Ohio State's 34–17 Win Over Navy in GIFs Source: Eleven Warriors






OSU-Navy report card
August 31, 2013 Source: Mansfield News Journal - Jon Spencer gives his season-opening grades for the Buckeyes.

OFFENSIVE LINE

Shaky debut for this revamped unit. Navy was one of the worst in the nation at sacking the quarterback last year, but guard Pat Elflein got beat on a sack and tackle Darryl Baldwin got beat on third down, killing another drive. A holding call on guard Billy Price on the same drive where Elflein surrendered a sack forced the Buckeyes to settle for a field goal. I have faith in coach Ed Warinner to get this unit squared away. We already saw improvement in the second half.

GRADE: C

RUNNING BACKS

We saw the quantity of backs, but only flashes of the quality. It was nice to see the braintrust make H-backs Dontre Wilson and Jalin Marshall a big part of the attack. But after one game, Ezekial Elliott hasn't made anyone forget Carlos Hyde. QB J.T. Barrett (9 carries, team-high 50 yards) isn't a totem pole back there, but he won't provide the sizzle of Braxton Miller. With his supporting cast, the fastest and deepest in Urban Meyer's three years, he shouldn't have to.

GRADE: B-

RECEIVERS

Can't quarrel with the high-percentage passing game, breaking in a rookie quarterback, but it would have been nice to see the Buckeyes take a few more shots downfield against a secondary that had its problems, like OSU's, last season. When they did go over the top, it resulted in an easy 80-yard TD strike from Barrett to Devin Smith. Barrett will be able to tell his grandkids that his first TD pass was a scoring bomb. Now I wonder if we'll go two or three weeks without hearing from the maddeningly inconsistent Smith again. Barrett threw a red zone interception, but all in all a solid debut.

GRADE: B

DEFENSIVE LINE

Delivered as advertised. Michael Bennett and Adolphus Washington dominated the middle and end Joey Bosa was draped all over QB Keenan Reynolds on the errant pitch that led to a 61-yard fumble return TD by Darron Lee. Nothing against end Steve Miller, but it will be nice to see what the front four does when its back to full strength with the return of Noah Spence in two weeks.

GRADE: A-

LINEBACKERS

Disappointed by the way the defense allowed Navy to drive right down the field after Ohio State's first two touchdowns in the second half. The Midshipmen went right through the middle of the defense for a go-ahead score. Curtis Grant wasn't in for the 67-yard run by Ryan Williams-Jenkins that set up that TD, but he didn't do much and you wonder how long it's going to be until OSU turns to ballyhooed freshman Raekwon McMillan.

GRADE: C plus

DEFENSIVE BACKS

Buckeye fans will have to wait for the unveiling of the new, improved Chris Ash secondary. ln Navy's triple-option offense, the forward pass is like the sixth option. But I will say this: In general, I was not impressed with the tackling of the back seven. Some of the credit goes to the Navy. The Middies do one thing and they do it well.

GRADE: C

SPECIAL TEAMS

Cameron Johnston picked up where he left off last year, when he led the Big Ten in punting average and the nation in percentage of punts downed inside the 10. His first punt was downed at the 1 and his second traveled 58 yards. Dontre Wilson is a threat to go the distance every time he touches the ball, which is why it was an egregious mistake not to bring out the opening kick. Next time he doesn't return a kickoff he fields in the end zone he should be sent to bed without dinner.

GRADE: A minus

COACHING

Forgetting for a moment that Urban Meyer is now 13-0 in openers as a head coach, this was a first game for him and his staff too. They didn't mismanage the clock and timeouts like the Navy sideline, but Meyer didn't challenge a call that replay showed would have given OSU a huge first down in Navy territory and that third-and-one option in four-down territory was a head-scratcher, losing seven yards and forcing the Buckeyes to kick a field goal. Lesson learned. When he went for it on fourth down near midfield in the fourth quarter, Meyer played it straight and OSU went on to score a TD that pushed its lead to 27-17.

GRADE: B







Navy

Aug 30, 2014


Where to watch: Channel Finder or for $9.95 on Buckeye Vision





Biggest questions for Ohio State vs. Navy
August 30, 2014 Source: Cleveland Plain Dealer - When Ohio State kicks off its season against Navy in M&T Bank Stadium on Saturday afternoon, it will look like an entirely new entity.

But the Buckeyes aren't alone in having a new look. Cleveland.com's Ohio State coverage team officially became a three-person unit again, just in time for the season opener.

So in the above video we formally introduce the newest victim of Doug's tyranny while providing a preview of what to expect from Ohio State.

• How will J.T. Barrett look in his first career start?

• Will there be offensive players who are advanced enough to lift him up?

• Can Ohio State's linebackers flow to the ball and make plays the way Ryan Shazier did last year?

Enjoy the video and stay tuned with us throughout the game for complete coverage on the Buckeyes.

Live updates: Ohio State Buckeyes at Navy Midshipmen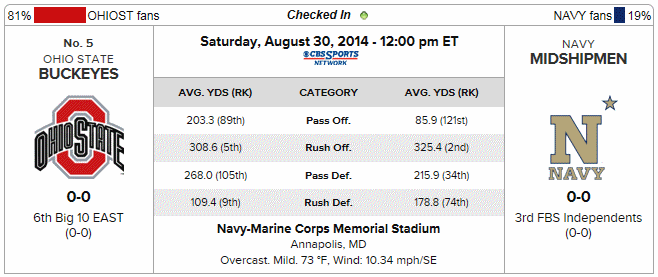 Source:
CBSSports.com



Five key factors for victory
August 29, 2014 Source: Columbus Dispatch - 1. Get Barrett comfortable
No matter how poised and confident quarterback J.T. Barrett is said to be, the butterflies will have to feel like bats for his first college game. It would be wise to let Barrett throw some high-percentage passes early to soothe the nerves, then ride the running game as much as possible. It's more important that Barrett avoid the big mistake than put up gaudy numbers.

2. Figure out triple option
The Buckeyes have spent the offseason installing a much more aggressive defensive scheme. They'll have to put it on the shelf for this game, at least partially. Defending the triple option depends on players being disciplined and staying in their gaps. Navy has run this offense for a long time and does it with precision behind quarterback Keenan Reynolds.

3. Dominate the line
Navy is small, particularly in the front seven on defense. The Midshipmen have one 300-pounder in the middle and no one else over 250 pounds. Ohio State is confident that its reconstituted offensive line is ready to go. The Buckeyes need to prove it.

4. Don't ease up
As a service academy, Navy prides itself on its relentlessness. It won't be deterred if it falls behind and it will play hard for 60 minutes. The Buckeyes were almost burned in 2009 by a Navy comeback in Columbus. That was a good Ohio State team that would go on to win the Rose Bowl. This is a different group of Buckeyes, but for their sake they need to have been told about that scare.

5. Start to establish roles
The Buckeyes entered the week still unsure of who would start at several positions. They are likely to rotate players at several positions. That's a good idea in an opener, especially with temperatures expected to be hot. But it also would be beneficial to have players emerge as bona fide starters. For players such as running back Ezekiel Elliott, hybrids Dontre Wilson and Jalin Marshall, cornerbacks Eli Apple and Gareon Conley and safeties Vonn Bell and Cam Burrows, this is a huge opportunity to establish themselves.





Scouting report: Ohio State vs. Navy
By Associated Press Published: August 28, 2014

No. 5 OHIO STATE (0-0) vs. NAVY (0-0)
When: Noon Saturday at Baltimore
TV: CBS Sports Network
Line: Ohio State by 14.
Series Record: Ohio State leads 4-0.

WHAT'S AT STAKE
The Buckeyes head east for a matchup against a Navy team that nearly pulled off an upset at Ohio State in 2009 before falling 31-27. This time, the Buckeyes must overcome the loss of QB Braxton Miller to a season-ending shoulder injury if coach Urban Meyer is to improve to 13-0 in season openers. Navy, meanwhile, hopes to sustain the momentum created by a 9-4 season that ended with a 24-6 victory over Middle Tennessee in the Armed Forces Bowl.

KEY MATCHUP
Navy's triple-option attack against Ohio State's big, physical defensive line. With quarterback Keenan Reynolds leading the way, the Midshipmen ranked second in the NCAA in rushing last season with 325.4 yards per game. The unit will be facing an experienced OSU front led by senior tackle Michael Bennett (7 sacks) and end Joey Bosa (7.5 sacks).

PLAYERS TO WATCH
Ohio State: With Miller out, the Buckeyes turn to J.T. Barrett, who will become just the fifth freshman since 1950 to start a game at quarterback for Ohio State. Barrett, who received a redshirt last year, hasn't played in a game since high school in 2012.

Navy: Reynolds rushed for 31 touchdowns last season, an NCAA record for quarterbacks. The junior also has five game-winning drives in the fourth quarter since becoming a starter five games into his freshman year. Although Navy prefers running the ball, Reynolds has thrown for 1,057 yards and eight touchdowns.


FACTS & FIGURES
Ohio State enters with the nation's longest regular-season winning streak, 24 games. ... Navy's last victory over a Top 25 team came on Nov. 7, 2009, against No. 19 Notre Dame. ... Navy coach Ken Niumatalolo seeks his 50th career win. He's 49-30 over six years. ... Meyer is 47-4 in his career in games played in August and September.





Where are Ohio State's weaknesses? Breaking down the Buckeyes entire roster before the Navy game
August 29, 2014 Source: Cleveland Plain Dealer - A position-by-position overview of Ohio State's roster as the Buckeyes head into their season opener against Navy on Saturday in Baltimore's M&T Stadium:...








Urban Meyer and assistants Luke Fickell, Tom Herman and Ed Warinner all spoke with the media on Wednesday night, as did captains Doran Grant, Curtis Grant, Michael Bennett and Jeff Heuerman.
August 27, 2014 Source: The Ozone - Here are the highlights.

Urban Meyer Updates

+ Meyer said there is no plan to have a designated series for Cardale Jones.

+ He said his message to J.T. Barrett will not be the same as other messages to other quarterbacks. They are all different. He referenced Alex Smith not being able to recite a play back to him in his first game. To this point, however, Barrett has handled things properly. But Meyer said he is anxious to see Barrett's demeanor these next few days.

+ Meyer said they've been working on Navy for a while now. "I think we have a handle on it." But added that this Navy team is really, really good at running the option. OSU has worked on it since day one of training camp.

+ Freshman cornerback Marshon Lattimore is out for the season with hamstring surgery. He will redshirt but be back for the spring. It's a three-month recovery.

+ Meyer said he heard from Braxton Miller this morning.

+ "I feel really good about our running backs." He said he's excited to watch them play. He said Rod Smith and Bri'onte Dunn were written off a bit, "but they're not written off anymore."

+ Meyer said the youth on his team doesn't make him nervous "because they're good players." He said what's keeping him up at night is avoiding going three and out against Navy.

+ Asked about the "ORs" on the depth chart he said he thought it was a positive, but he'd know for sure after the game whether it's a positive or a negative.

Luke Fickell Updates

+ Fickell said they showed the defense the two-point conversion against Navy in 2009 as a reminder that they cannot let up this week. He said they got too comfortable in the fourth quarter in that game.

+ He said this is going to be a very big test for how disciplined the defense is. He said Joey Bosa could have 25 tackles on the fullback and never record an actual single tackle, but as long as the tackling the fullback was his assignment, then it's a good play. He said stats don't matter in this game.

+Fickell was asked about the number of "ORs" on the depth chart. He said part of it is the amount of talented players who deserve to play, and some of it — as in the case of the cornerbacks — is due to youth and the fact that you just don't know how they will react in front of a live crowd.

+ He said he's not sure there's another quarterback in the nation who is as important to his team as Navy quarterback Keenan Reynolds is to the Midshipmen. He said he runs the Navy offense extremely well.

+ Fickell said Tommy Schutt had a great camp and has lost weight. He will play quite a bit on Saturday.

Tom Herman Updates

+ Herman said he is very confident in J.T. Barrett this week and added that Cardale Jones had his best week of practice as a Buckeye. He said a lot of schools would take OSU's quarterback scenario right now over their own.

+ Things will be kept relatively simple for J.T. Barrett. "We don't ask our quarterback to be a rocket surgeon."

+ Herman said Barrett is an efficient runner who is deceptively quick and has great change of direction with deceptive burst.

+ On Barrett: "He's got that 'IT' factor, whatever that 'IT' is."

+ Herman said that Barrett will audible if the situation presents itself. "He's plenty capable of that. He has to."

Michael Bennett Updates

+ Bennett said there will be a three-man rotation in the middle with him, Adolphus Washington and Tommy Schutt. Bennett said he is perfectly healthy.

+ He said he thinks the defensive line is the backbone of the defense, but every unit is pulling their own weight. He said the pass defense has improved and everybody is playing faster.

+ Bennett said Navy's offense is very hard to pick up, but he thinks the coaches have prepared them well and he is confident they'll be okay.

Doran Grant Updates

+ Grant said he wouldn't be surprised if Navy throws some wrinkles in their offense. But said it's all about focusing on your assignment. That's also the same with defending their play-action.

+ He said Navy has some fast slot players. 10.7 100M guys.

+ He said he is fully confident in Gareon Conley and Eli Apple because of everything that he has seen from them in practice.

+ Grant said after the Orange Bowl he made it his purpose to become a leader of this team. "I basically had to grow up."

Jeff Heuerman Updates

+ Heuerman said J.T. Barrett has prepared for this moment since his arrival. He told Barrett just to be yourself. He said Barrett has taken control of the offense. He did say that sometimes Buckeye Nation will get after you, so you have to prepare for that.

+ He said he's not sure if he'll be limited on Saturday due to his recovery from foot surgery. It was a six-month recovery and he's at month five. He said he is definitely playing on Saturday.

+ He said you can't run this offense with just one tight end, which is why it's nice that Nick Vannett has excelled in the spring and fall camp.

+ Heuerman said that Barrett is always on top of things and immediately knows what he does wrong when he makes a mistake.

+ Heuerman said he had no idea that Navy almost beat Ohio State back in 2009.



Head Coach Urban Meyer talks with reporters about the upcoming Navy game.
August 25, 2014 Source: theozone.net



What You Need to Know From Urban Meyer's Navy Press Conference
August 25, 2014 Source: Eleven Warriors - In five days, Ohio State will plunge into its 2014 campaign with a band of new faces and without star quarterback Braxton Miller, who suffered a season-ending shoulder injury last week.

Rather than a crushing blow to its Big Ten and national championship aspirations, the No. 5 Buckeyes insist his absence has become a rallying point. Head coach Urban Meyer met with the media Monday. Here's what you need to know.

1. Ohio State likes to talk about its team-wide depth, but has yet to name starters at a bevy of positions including left guard, center and cornerback. And on an offense that'll charge forward without the talent and experience of Miller, the back-to-back Big Ten Player of the Year, that might be additional cause for concern. Meyer said it's not.

"If they're bad players, you've got a problem," he said. "If they're good players then they're just battling, battling, battling because they both can play and that's kind of normal this kind of year."

Billy Price, Joel Hale, Antonio Underwood find themselves in a scrum for left guard while Jacoby Boren and Alabama transfer Chad Lindsay tussle at center. "It's not because of ability," Meyer said, "it's just we haven't found a guy that's separated himself."

The second cornerback position across the field from senior Doran Grant is between Eli Apple and Gareon Conley. "They haven't separated themselves either," Meyer said. "They'll both play."

Ezekiel Ellliot, who Meyer said is fully healthy after wrist surgery during fall camp, will take reps at running back along with Rod Smith, Bri'onte Dunn and Curtis Samuel. Warren Ball has missed practice with a concussion. At wide receiver, Meyer said the group "six-deep" in who will see playing time (notably, Devin Smith, Evan Spencer, Jalin Marshall, Michael Thomas and Corey Smith).

2. J.T. Barrett is Ohio State's top choice to replace Braxton Miller, but don't overestimate the gap between him and Cardale Jones.

"It's pretty close, it was thrust upon us rather quickly," Meyer said. "In my heart, I thought Braxton would be ready to go -- I didn't envision this. And so I thought, man, this is going to be a really close battle for the backup spot … J.T. is the starting quarterback, but there's not big separation. " It's why Meyer won't rule out using Jones – a 6--foot-5, 250-pounder with a cannon for an arm – as a complement to Barrett.

3. Speaking of Miller, Meyer confirmed the senior will have shoulder surgery Tuesday and renowned sports surgeon Dr. James Andrews will perform the procedure. Meyer added Miller will not travel with the team to Baltimore.

4. Meyer's favorite word to describe Barrett? "Guiton-ish." But to be sure, we don't really have an idea of what Ohio State's getting with Barrett until Saturday.

"We all know what's coming down the barrel," Meyer said, "but he's handled (the pressure) very well." Added Meyer: "He's a calm guy that had a very good practice today. (He's) very business-like about his approach. He's not somebody I have to watch to see the demeanor because it's the same as it was two weeks ago.

5. Jeff Heuerman is less than 100 percent after foot surgery sidelined him for part of spring ball. Meyer expects the senior tight end and captain to be ready to go against the Midshipmen. "It's just volume (of reps), that's what we're dealing with right now."





No. 5/6 Ohio State Opens 125th Season vs. Navy;
August 25, 2014 Source: OSU Official Site - Game to be played at M&T Bank Stadium in Baltimore, Md.; will be televised on CBS Sports Network...



• First and 10

Ohio State enters Saturday with the nation's longest regular-season winning streak at 24 games.

• Ohio State is meeting Navy for the first time since 2009, a 31-27 Buckeye win in Columbus.

• Ohio State is 4-0 all-time vs. Navy.

• Ohio State is 33-2 in its last 35 season-openers. Both of those 0-1 starts took place in the Kickoff Classic at the old Giants Stadium - 1999 to Miami, Fla., and 1986 to Alabama.

• Ohio State's preseason No. 5 ranking in the AP poll represents the 26th consecutive season it has appeared in the preseason poll.

• After the injury to Braxton Miller, OSU returns just 11.5 percent of its total offense from a year ago.

• Redshirt freshman QB J.T. Barrett is expected to be just the second freshman in the modern era (1950-on) to start a season opener for Ohio State.

• Ohio State's offensive linemen have combined for just 20 career starts, the second-fewest in the country (Tennessee 6).

• Head coach Urban Meyer is 47-4 in his career in games played in August/September.

• Meyer is 12-0 in season openers as a head coach.

SCOUTING NAVY

The Midshipmen are coming off a 9-4 season that ended with a 24-6 victory over Middle Tennessee in the Armed Forces Bowl. Navy had its share of close defeats last season, including a 45-44 double-overtime loss at Toledo and a 38-34 loss at Notre Dame.

Navy returns eight starters on offense and seven on defense, highlighted by junior quarterback Keenan Reynolds, who helped Navy's offense rank second in the NCAA in rushing last season with 325.4 yards per game. Reynolds rushed for 1,346 yards and 31 TDs and had six games with at least 100 yards rushing, including two 200-yard games.

Senior linebackers Chris Johnson and Jordan Drake return to lead the Navy defense. Johnson recorded 84 tackles, 3.0 TFL and three interceptions last season while Drake led the team with 3.0 sacks and 43 total tackles.

As a team, Navy ranked first in the NCAA last season in fewest penalties (2.6) and fewest penalty yards per game (21.6).

Ken Niumatalolo is in his seventh season as the head coach. He is 49-30 overall after posting at least eight victories in five of his six seasons. Niumatalolo's tenure at Navy began in December 2007, when he took over for Paul Johnson, who left to become the head coach at Georgia Tech. Niumatalolo coached Navy in the Poinsettia Bowl that season, falling to Utah 35-32.

TWO MORE STREAKS IN PLAY

Ohio State's all-time winning streak may have ended, but the 2014 Ohio State team can make additional winning streak history.

The Big Ten Conference records for regular season wins (28; Michigan 1901-03 and Ohio State 2005-07) and regular season Big Ten wins (20; Ohio State 2005-07) are each in play with Ohio State idling on 24 consecutive regular season wins.

These won't be easy streaks to top: unbeaten Ohio State would have to win at Maryland Oct. 4 and at Michigan State Nov. 8 to set new marks.

More at Ohio State vs. Navy Game Notes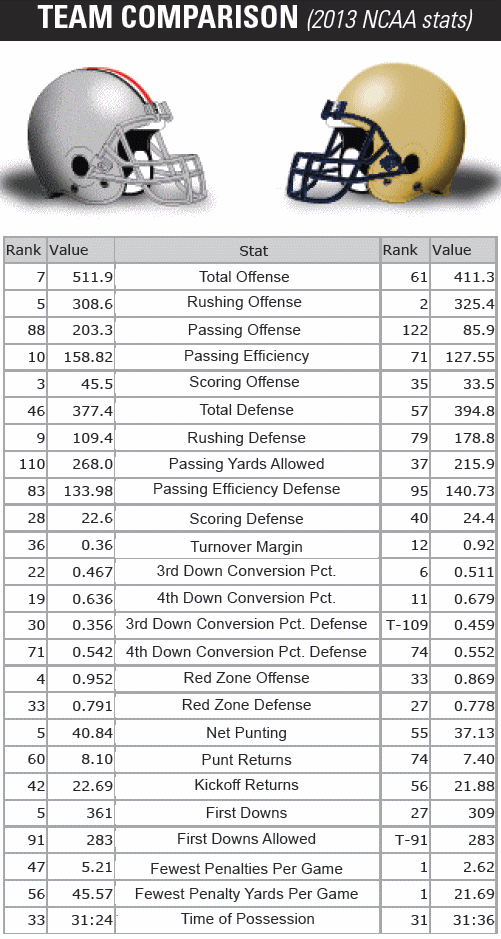 Players Bullish On Barrett
August 25, 2014 Source: Bucknuts - If Ohio State's players are worried about how redshirt freshman J.T. Barrett will perform as the starting quarterback, they sure aren't showing it...




Here's what Urban Meyer (audio) and Taylor Decker, Armani Reeves, Evan Spencer, Joshua Perry & Nick Vannett (videos) had to say about opening the season against Navy...




Col Dispatch's Keys to the season for the Ohio State Buckeyes
August 27, 2014 Source: Columbus Dispatch -

The weeks and days leading up to college football season always are filled with questions. And even before the Ohio State football team lost Braxton Miller to injury, a number of answers were being sought.

With the Buckeyes preparing for Navy, Dispatch beat writers Tim May and Bill Rabinowitz take a look at the hot-button issues surrounding Urban Meyer's team this season.

Key offensive player

Rabinowitz: This is an easy one — J.T. Barrett. It's a tough spot for a guy who has never taken a college snap and hasn't played in 22 months since suffering a torn ACL. But Barrett is viewed as a calm, poised, quiet leader. At first, his primary task will be to manage games and not make mistakes. As he (presumably) gains confidence, the playbook will gradually expand. The Buckeyes should have enough talent around him to ease Barrett's transition. But he has to at least make the easy throws and avoid the big mistake.

May: Dontre Wilson (and Jalin Marshall). For the Urban Meyer-Tom Herman offense to operate near its optimum, it needs a hybrid back that is a running and pass-catching threat. Wilson was in learning mode last year on the receiving side, and Marshall was injured. The hybrid is the X-factor in the offense, but not if it fails to be established as a consistent threat.

Key defensive player

May: Linebacker Joshua Perry, who has shifted to the weakside position vacated by Ryan Shazier. The position remains the tone-setter, even in the new defensive approach ushered in by co-defensive coordinator Chris Ash. Perry came on near the end of last season. This year, he needs to make plays from the start and lead a relatively inexperienced back seven.

Rabinowitz: Adolphus Washington. The Buckeyes expect their line to rank among the best in the country. Michael Bennett, Joey Bosa and Noah Spence have already shown they can be impact players. Washington remains more potential than production. He battled a groin injury last year while making the transition from end to tackle. If the junior can become a force, then the line could truly become dominant.

Key early game

Rabinowitz: Navy. First games are always tricky — there's no preseason in college football, after all. The Navy game was always going to be a challenge because the Midshipmen run a triple-option offense that would require the defense to play a different style than what it is used to. But Ohio State thought it might overcome the need for in-game adjustments on defense with an offense that figured to have its way. But with a new quarterback at the helm, that's not a given anymore. Navy gave the Buckeyes a huge scare five years ago. It wouldn't be a shock if this one is tense for a while.

May: Virginia Tech in prime time on Sept. 6. Virginia Tech defensive coordinator Bud Foster will come to town with a game plan designed to pressure the four new starters on the OSU offensive line and, of course, the redshirt-freshman quarterback Barrett. The Hokies have offensive challenges of their own, but if they can push it to the fourth quarter with the outcome in doubt, look out.

New to view

May: Freshman running back Curtis Samuel. He enrolled early from Brooklyn, N.Y., and was thought to be untested in terms of big-time competition. But he has taken on all comers through spring drills and preseason camp, and has sprinted away from a lot of them. Ezekiel Elliott is the new starter, but you've seen him before. Samuel is a potential big-play reliever.

Rabinowitz: Raekwon McMillan. The freshman middle linebacker from Georgia hasn't been able to unseat senior Curtis Grant, but it's only a matter of time before he sees the field. He is the highest-ranked linebacker the Buckeyes have recruited under Meyer, and he has impressed with his maturity. He already looks the part. At the very least, he figures to contribute on special teams.

Best offseason move

Rabinowitz: Bringing in Chris Ash. It was obvious that the Buckeyes' pass defense was broken at the end of last year, both in spirit and scheme. Ash has instilled a new, aggressive scheme that players have embraced. The staff chemistry with incumbent coordinator Luke Fickell could have been an issue, but all parties say that the transition has gone smoothly. Hopefully, they can say that once the season starts.

May: Actually, it's the best offseason silver lining. With Miller held out of spring drills following his February shoulder surgery, and held out of most preseason camp drills as precaution, Barrett and Cardale Jones took significant snaps with the first team. As it turned out, they were being groomed to take Miller's place as if he had decided in January to leave for the NFL.

The pressure is on ...

May: Offensive coordinator and quarterbacks coach Herman. He had a fourth-year starting quarterback returning — the two-time reigning Silver Football award winner of the Big Ten — and then he didn't. This was supposed to be the gravy year that comes with that kind of experience. Instead, Herman and his staff must pivot totally to what Barrett is most comfortable with at the moment, while also bringing along four new starters on the line and all of those new skill players.

Rabinowitz: Offensive line coach Ed Warinner. Two years ago, he took over an unproven line and coaxed it into a machine. Now he has to do that again. Taylor Decker is the only returning starter, and he's at a different position — left tackle. The Buckeyes feel good with Pat Elflein at right guard, and they have their fingers crossed that the other spots can be filled adequately. The good news is that they have plenty of bodies. Settling on the right five will be the trick.

Stat that must change

Rabinowitz: 110. That's where the Buckeyes ranked last season in passing yards allowed, out of 123 major-college teams. That number has to improve dramatically, and the Buckeyes are confident that they have the players, coaching and scheme for that to happen. Still, it bears reminding that Ohio State will have three new starters in the secondary and at least one among the linebackers.

May: In the past three games combined, the Buckeyes were outscored 40-13 in the fourth quarter, holding off Michigan in the regular-season finale before losing the Big Ten title game to Michigan State and the Orange Bowl to Clemson. Simply put, they didn't finish after putting together a school-record 24-game win streak.

A year to remember — if ...

May: Barrett and the offense put the loss of Miller behind them and find a groove quickly. The defense obviously has to better against the pass, but confidence abounds among the players that it will be. A wide-open offense utilizing and ushering the fastest weapons in the Meyer era will be key.

Rabinowitz: They overcome the loss of Miller to reach the first College Football Playoff. That berth, which looked realistic before Miller's injury, now seems like a long shot. But the schedule is hardly overwhelming. The Buckeyes should be favored in every game except Nov. 8 in East Lansing.

Bottom line

Rabinowitz: The Buckeyes have many questions to answer, but they believe they have the pieces for a successful season. Meyer has built a football culture designed to handle adversity, and now we'll find out how strong it is. Teams have overcome the loss of a star quarterback and gone on to glory. It will be interesting to watch whether the Buckeyes can.

May: There are indeed some questions that need answers, but there also is a regular-season schedule that features just one opponent — Michigan State — in the top 25 of the Associated Press preseason poll. With or without Miller, the tipping point of this season always was going to come Nov. at Michigan State, in what promises to be the battle for supremacy in the new East Division of the Big Ten.







Game Data: Ohio State vs. Navy
August 29, 2104 Source: Bucknuts.com - The 125th season of Ohio State football begins ... in Baltimore, Md., as No. 5 Ohio State faces Navy at M&T Bank Stadium. Click here for depth charts, a prediction and more...


Baltimore Weather Forecast




Preview: No. 5 Ohio State vs. Navy
August 29, 2104 Source: Eleven Warriors





Ohio State vs. Navy Preview
August 29, 2104 Source: Land-Grant Holy Land