42-27



Jalin Marshall Dominates Second Half With 4 TDs

It all started with a 54-yard punt return to give the Buckeyes a 21-20 lead with 2:20 left in the third quarter.

From there, it was all Marshall, as he scored on a six-yard shovel pass, a silly one-handed 15-yard scoring strike and, to finish it all off, a 54-yard reception, also on a shovel pass.

It was just the kind of performance Marshall was looking for, coming off a forgettable two-fumble effort at Minnesota.

"It's very satisfying but I'm not satisfied with the season yet," Marshall told the AP. "But it does feel good to kind of get that bear off my back – all that negative stuff – toward me."

Jalin Marshall talks briefly after his four-touchdown performance in Ohio State's 42-27 win over IU

Urban Meyer postgame Indiana
"We're conference division champions, won a bunch of games in a row," Meyer said. "We have some work to do. Sometimes in college football, things don't go exactly as scripted, and kind of went out, jumped out to 14 0 lead and the stadium was dead and we were dead and then we're very much appreciative of the stadium was outstanding and our guys played like it...

Source: Bucknuts



Indiana at Ohio State Postgame Updates
November 22, 2014 Source: The Ozone -

Urban Meyer Updates

+ Meyer said he told the team that there's no better place to be than Ohio State because where else can you clinch a division, put up 500 yards of offense and still feel like you have work to do.

+ Meyer said the Buckeyes have a ticket to the Big Ten Championship Game and now they can focus on their rivals.

+ The last touchdown run by Tevin Coleman sits in his stomach. They have some work to do on defense.

+ Meyer said the team has to stop the turnovers. He will be pressuring the coaches to make sure they are teaching proper techniques.

+ It was never an effort issue for Jalin Marshall regarding his fumbles, as was evident today. This game was good for his confidence. He's also carrying a heavier load with Dontre Wilson out.

+ Meyer said after they took a 14-0 lead the stadium was dead and the team was dead, but the crowd came alive in the second half.

+ Meyer thinks Noah Spence has a hearing this coming week about reinstatement, but didn't know anything about it except that the hearing may exist.

+ Asked if J.T. Barrett's struggles were due to him hearing all of the Heisman talk. "I'd like to say no, but I've done this a long time."

+ What is Michigan Week like? "It's different. The whole Woody changes."

+ Meyer said they need to recruit four more guys just like Jalin Marshall.

Michael Bennett Updates

+ Bennett said he that he knows it sounds stupid, but they contained Tevin Coleman fairly well, save for a few runs.

+ He said there was never any worry on the sideline when they were trailing. "We knew we had to get it together. We had confidence in our team. The defense always knew the offense was going to get rolling."

+ "We're better than how we played."

+ "Every time you see a 90-yard run, it's a mental mistake. We need to get rid of those."

Jalin Marshall Updates

+ Marshall said today's performance was a bit of redemption. "It does feel good to have it off my back and move away from all the negatives of last week."

+ Marshall said he felt he needed to make a play on his punt return touchdown given the situation and where Indiana was punting from.

Ezekiel Elliott Updates

+ Elliott said the team has to continue working on ball security, but sometimes the ball just gets hit perfectly.

+ Elliott said this is why they all came to Ohio State, to compete for championships, and they get to do that this year after winning the East division.

+ Elliott said Barrett's game elevated after he made his mistakes.

Jeff Heuerman Updates

+ On Jalin Marshall: "When you play a lot, bad things can happen. Having that experience, I talked to him and we got him on the right foot."

+ Heuerman said it means a lot to be playing in the Big Ten Championship Game, but they have Michigan to worry about first.

Tyvis Powell Updates

+ Powell said that he and safeties coach Chris Ash had an agreement that if he didn't get an interception in this game that he wouldn't be starting against Michigan.

+ Powell said he read the quarterback's eyes the entire time on his interception. "We watched film and saw he was giving away where he was going really quickly. I read his eyes and boom there it was."

+ On the big plays given up: "It was just misread gaps. That's all that was. We'll get that corrected. I'm not worried."







Marshall's return lifts Buckeyes by Hoosiers 42-27
November 22, 2014 Source: OSU Official Site - Freshman from Middletown, Ohio scored four touchdowns in the second half to help Bucks

Jalin Marshall was the problem last week and the solution on Saturday for No. 7 Ohio State.

The freshman returned a punt 54 yards for the go-ahead touchdown in the third quarter and then added three late insurance scores to carry the Buckeyes past Indiana 42-27, the Hoosiers' sixth loss in a row.

Marshall lost two fumbles in the Buckeyes' 31-24 win at Minnesota seven days before, but more than made up for those mistakes on a sunny and chilly day.

"If it's an effort problem, Jalin Marshall won't play. And it's not an effort issue with him," coach Urban Meyer said. "He's a talented guy. That was good for his confidence."

Marshall was ripped by Ohio State fans on social media after the fumbles.

"It's very satisfying but I'm not satisfied with the season yet," he said. "But it does feel good to kind of get that bear off my back - all that negative stuff - toward me."

The surprisingly tight game for most of the day could impact the playoff hopes of the Buckeyes (10-1, 7-0 Big Ten, No. 6 CFP), who clinched the East Division title and a berth in the conference title game.

"We're conference division champions, we've won a bunch of games (nine) in a row," said Meyer, whose team also has won a conference record 23 straight regular-season games heading into next week's game with rival Michigan. "We have some work to do. Sometimes in college football, things don't go exactly as scripted."

The Buckeyes will play the winner of the Minnesota-Wisconsin game in the Big Ten title game on Dec. 6 in Indianapolis.

They trailed the 34-point underdog Hoosiers 20-14 after Tevin Coleman sped 90 yards for a TD midway through the third quarter. A week after rushing for 307 yards, Coleman went for 228 yards on 27 carries for three scores for the Hoosiers (3-8, 0-7).

The Hoosiers' last chance at a tying score ended with Tyvis Powell picking off a pass from Zander Diamont with 4:25 left, deep in Indiana territory. Marshall caught two more scoring passes after that to pad the lead before Coleman rumbled 52 yards for a score with 1:13 left.

"We kind of (had) them where we want them, 4 minutes to go in the `Shoe and it's 28-20," Indiana coach Kevin Wilson said. "We were trying to make a play and came up short."

Despite the up-and-down day for the Buckeyes, J.T. Barrett set the school mark for touchdown passes (33) in a season and Ezekiel Elliott, who had 107 yards on 13 carries, topped 1,000 yards. Barrett completed 25 of 35 passes for 302 yards and four scores with two interceptions, and ran for 78 yards on 20 attempts.

On IU's second possession of the second half, Coleman took a simple handoff, bounced outside and streaked down the left sideline. The 210-pound sophomore was pulling away from two Ohio State defensive backs over the last 50 yards, too.

Once in jeopardy of being run out of the chilly stadium, the Hoosiers were up 20-14. A crowd of 101,426 at Ohio Stadium sounded more like 426.

But that all changed late in the quarter after an anemic 35 minutes by Ohio State when Marshall took a low, line-drive punt, avoided an early tackle and then sidestepped punter Erich Toth for the 54-yard return.

Marshall scored on a 6-yard shovel pass, made a one-handed grab of a 15-yard Barrett pass to swell the lead to 35-20 with just over 4 minutes left, then added a 54-yard catch-and-run.

The Buckeyes, favored by 34 points, cruised down the field for touchdowns on their first two series, taking just three plays and 1:11 off the clock before Elliott burst untouched through a chasm up the middle for a 65-yard TD. Barrett hit Jeff Heuerman for a 4-yard TD that seemed to portend a rout.

Then Diamont, who completed 11 of 27 passes for 114 yards, helped turn the tide with a 53-yard scramble that set up Coleman's 2-yard touchdown. The Buckeyes then turned the ball over on their next three possessions and, suddenly, it was a game.

"You win a division championship, you put 500-some yards on the board, and you still feel like you didn't play very well," Meyer said.



• • •



Ohio State vs. Indiana - Postgame Quotes Source: OSU Official Site

Ohio State Gameday Magazine - Indiana Source: OSU Official Site



• • •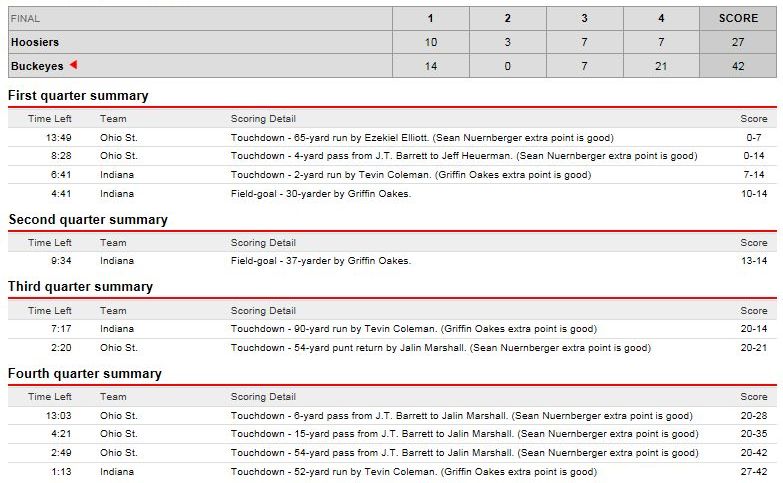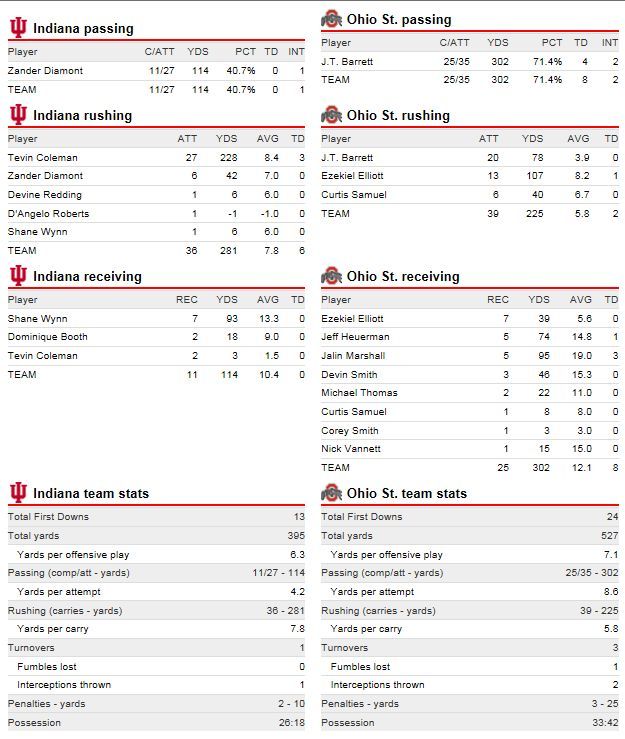 Source:

USA Today



Indiana vs Ohio State (Nov 22, 2014) Source: OSU Official Site
Scoring Summary, Team Statistics, Individual Statistics, Drive Chart, Defensive Statistics, Game Participation,
Box Score, Play-by-Play, Play breakdown



Defense disappointed with output
Michael Bennett talks Buckeyes win & final challenge with TSUN Source:
BuckeyeGrove.com





It was over when... OSU decided to take charge near the end of the third quarter, with four straight touchdowns -- all by Jalin Marshall.

Gameball goes to... Marshall. The freshman sparked OSU with a punt return score, then added receiving scores of 6, 15 and 54 yards.

Stat of the game... Jalin Marshall: First Ohio State player with a punt return TD and receiving TD in the same game since Brian Hartline in 2007.

Tevin Coleman's 90-yard touchdown run is the 2nd-longest rushing play ever allowed by Ohio State, and it's tied for the 2nd-longest play from scrimmage against the Buckeyes.



• • •



STAR OF THE GAME: Hybrid back-punt returner Jalin Marshall. One week after giving up two costly turnovers that helped make the 31-24 win at Minnesota closer than it should have been, he scored four straight touchdowns, including one a 54-yard punt return, to power the second half rally to victory over heavy underdog Indiana.

TURNING POINT: Marshall's punt return for TD. Indiana's Tevin Coleman had just reeled off a stunning 90-yard TD run to give the Hoosiers a 20-14 lead midway through the third. The OSU offense foundered, but Cameron Johnston knocked a punt down to the one and the OSU defense forced a three-and out. That's when Marshall caught the punt and took it to the house to regain the lead for good.

REPERCUSSIONS: The College Football Playoff committee can be expected to dissect this one, taking into consideration the three OSU first-half turnovers that helped keep Indiana in it. But in the end, the Buckeyes -- on the way to clinching at least a tie for the Big Ten East title and nailing down a second straight trip to the league championship game -- were too much for the Hoosiers.



• • •



• Ohio State, on a nine-game winning streak overall, extended its Big Ten record to 23 consecutive regular season conference wins.

• The win clinched the Big Ten East Division title and a spot in the Big Ten Championship game for Ohio State. It is the third consecutive conference division championship for Urban Meyer's teams.

• With the win, head coach Urban Meyer improved to 38-3 in the month of November since the start of the 2003 season.

• Ohio State improved to 8-0 under Urban Meyer when scoring a touchdown on each of the first two drives of the game.

• Ohio State earned its 19th consecutive win against the Hoosiers.

• J.T. Barrett set an Ohio State single-season record with 31 touchdown passes after his 6-yard touchdown pass to Jalin Marshall in the fourth quarter. The previous record of 30 was set by Troy Smith in 2006. Barrett added two more TD throws to Marshall in the quarter, putting the record at 33 touchdowns in a season.

• Barrett had 302 yards passing, completing 25-of-35 passes, his fourth 300-yard passing game of the season. With his four touchdown passes, he has now been responsible for at least four touchdowns in seven of 11 games this season.

• Barrett has been responsible for a school record 42 touchdowns this year, matching Drew Brees' Big Ten record for single season touchdown responsibility first set at Purdue in 1998.

• With 380 yards of total offense, Barrett broke Braxton Miller's record for total offensive yards in a single season of 3,310 set in 2012. Barrett now has 3,507 yards of total offense.

• Freshman Jalin Marshall had five catches for 95 yards and a career-high three touchdowns vs. Indiana, matching his season highs set vs. Minnesota last week.

• Marshall's 54-yard punt return for a touchdown was the first for a Buckeye since Corey Brown returned a punt 68 yards for a he score at Wisconsin in 2012. It was the first punt return for a touchdown by an Ohio State freshman since Ted Ginn Jr. in 2004.

• With 107 yards on the ground, Ezekiel Elliott became the 30th Buckeye in program history and the fourth under Urban Meyer to top 1,000 yards in one season. The game marked Elliott's fifth game this season and sixth of his career with more than 100 yards rushing.

• Elliott, who rushed for one touchdown, had a career-high seven receptions in the game.

• Elliott's 65-yard touchdown run in the first quarter set a career long.

• Jeff Heuerman tied his career high with five catches against the Hoosiers. He had 74 receiving yards and a touchdown. It was his second touchdown of the year and the seventh of his career.

• Tyvis Powell had his fourth career interception (his third this season) in the fourth quarter.

• Indiana running back rushed for Tevin Coleman rushed for 228 yards, the first time Ohio State allowed an opponent to run for 200 yards in a game since Eric McCoo at Penn State Oct. 16, 1999.

• Joshua Perry, who had two sacks in his first 34 career games, had two sacks against Indiana. He had 5.5 tackles for loss this season and added three today.

• Punter Cameron Johnston had one of the biggest plays of the game, pinning the Hoosiers inside the 1-yard line late in the third quarter with Ohio State trailing. That was one of three punts downed inside the 20 on the day, giving him 19 of 31 punts downed inside opponents' 20-yard line this season.



• • •





Sources: ESPN, Columbus Dispatch, OSU Official Site






TBDBITL Halftime Show: Viva Las Vegas



Ohio State 42, Indiana 27: Jon Spencer's report card
November 22, 2014 Source: Mansfield News Journal -

OFFENSIVE LINE GRADE: B
The front five didn't look as crisp as they've been in recent weeks, but the Buckeyes still finished with 527 yards total offense. This would have been more of the blowout everyone expected if not for three turnovers.

RUNNING GAME GRADE: B
Ezekiel Elliott went 65 yards for a touchdown on the first series. Other than that it was a pretty quiet game on the ground. Elliott finished with 107 yards rushing and quarterback J.T. Barrett had 78, but the passing attack, both good and bad, was the real story.

PASSING GAME GRADE: A
If Urban Meyer wasn't thrilled with this facet of the game at Minnesota, the Buckeyes did little in the first half to easy his concerns. Overthrown passes. Passes off the fingers into enemies. Fumbled receptions. Still, J.T. Barrett broke Troy Smith's single-season record for touchdown passes (now 33) and tight end Jeff Heuerman had five catches, matching his career high. Putting Barrett in the record books twice was fellow freshman Jalin Marshall. He matched last week's numbers in terms of receptions (five) and reception yardage (95), the difference being four touchdowns instead of two fumbles. He had three TD catches, the first helping Barrett break the school's single-season record for TD passes. The second was a one-handed grab and the third helped Barrett tie Drew Brees' Big Ten record for single-season touchdowns passing and rushing (42).

DEFENSIVE LINE GRADE: C
We saw seldom-used backups Tommy Schutt and Tyquan Lewis early as the Buckeyes almost desperately tried to develop depth up front. But OSU may have been guilty of subbing too early as an early 14-0 lead shrank to 14-13 at halftime. Michael Bennett continued his solid late-season play, but Joey Bosa wasn't on the field when Tevin Coleman went 90 yards midway through the third quarter. His right leg was heavily wrapped when he came back in, so he's obviously not close to 100 percent.

LINEBACKERS GRADE: D plus
The Hoosiers got into space way too often against a defense that supposedly is making strides. Quarterback Xander Diamont scrambled for 53 yards to set up a touchdown and Glenville grad Shane Wynn turned a modest reception into a 49-yard gain, setting up a field goal. On the plus side, the Buckeyes were doing a good job of containing Tevin Coleman until the nation's second-leading rusher ripped off a 90-yard touchdown run to give IU a 20-14 lead midway through the third quarter. Coleman became the third straight back to gain over 100 yards against the Buckeyes, the bulk of it coming on 90- and 52-yard touchdown runs, and they've yet to see the Big Ten's best (Wisconsin's Melvin Gordon). Coleman finished with 228 yards on 27 carries.

DEFENSIVE BACKS GRADE: B minus
The Buckeyes went nearly the entire game without a takeaway, but safety Tyvis Powell came up with a dramatic interception as OSU was trying to preserve a 28-20 lead, setting up an insurance score. The Buckeyes still lost the turnover battle, 3-1, and are now only plus-three in turnover margin. Usually, a championship-caliber squad flashes a much better number.

SPECIAL TEAMS GRADE: A minus
Reportedly, ESPN's Brad Edwards predicted that IU's luck was going to run out as it set up to punt late in the third quarter. He was right as Jalin Marshall, who has authored many misadventures on special teams this season, took the punt back 54 yards to give the Buckeyes a 21-20 it would never relinquish. Helping to set up those theatrics was a 50-yard punt by Cameron Johnston that died at the 1. I'm wondering what that kid is like with a pitching wedge in his hands. Sean Nuernberger scares me, though. The freshman placekicker missed a 46-yard field goal and is now just 10 of 16 on the season.

COACHING GRADE: C
With a playoff committee to impress, it was probably a tactical error for the OSU staff to start subbing on defense in the first quarter after the Buckeyes jumped to a 14-0 lead. Sloppy execution, bad tackling, three turnovers on offense and, in general, an uninspired effort ensued. It's like they went into snooze control after that early lead. Lethargy hadn't been a problem during the winning streak, so maybe OSU was overdue, but with the entire nation watching this was no time to mail it in. As much as everyone bemoaned Jalin Marshall last week, he might have saved OSU's season today.



• • •



Ohio State vs. Indiana: The Bottom Line
November 22, 2014 Source: Columbus Dispatch -

Offense (3 leaves)
The start? Bam! The finish? Pow! The middle? Second and third quarters? Anyone? Crickets. The Buckeyes put their offense on ice after taking a 14-0 lead, and that and three sloppy turnovers nearly cost them. In the end, 527 yards looked only OK, like style points left on the table.

Defense (3 leaves)
In a game of Whac-A-Mole, the Buckeyes delivered plenty of thumps on hot-stuff running back Tevin Coleman, but when they whiffed, he made them pay dearly. OSU had more success against the greenhorn quarterback, but this was no performance meriting a puffed-up chest.

Special teams (3 leaves)
The game turned twice — against OSU when Kyle Clinton again shanked a kickoff out of bounds and for it when Cameron Johnston somehow killed a line-drive punt at the 1. Soon thereafter, Jalin Marshall took a return to the house and OSU's listing ship was upright for good.

Coaching (3 leaves)
Urban Meyer acknowledged that his team won a game in which it didn't play particularly well, so he didn't hide from the truth. Next order of business: Make sure OSU finishes what it starts. At this point in this crazy season, aren't the stakes too high for midgame lollygagging?

Opponent (3 leaves)
One of life's mysteries answered. What happened to the dinosaurs? No, not that. How did Indiana defeat Missouri? Yes, that, and the answer is: just like the Hoosiers almost defeated OSU. Coleman is a handful, and what IU lacked in defensive talent, it made up for with heart.

Officiating (2 leaves)
Fans might have been happy to show officials what constitutes a horse-collar tackle, by yanking a zebra to the turf by the scruff of the neck. Another curiosity: Why wasn't Michael Thomas' fumble reviewed?



IU HC Kevin Wilson postgame






IU RB Tevin Coleman postgame



• Junior running back Tevin Coleman set Indiana's single-season rushing mark with 228 yards on 27 attempts (8.4 average) and three touchdowns from 90, 2 and 52 yards. Coleman owns 1,906 yards, which broke Vaughn Dunbar's single-season mark of 1,805 set back in 1991.

• Coleman's 228 rush yards is the most ever against Ohio State by a Hoosier and the third-most ever by any opponent (313 Tim Biakabutuka, Michigan; 247 Charles White, USC). It is also an Ohio Stadium record.

• His 90-yard run is the second-longest in school history. Mickey Erehar recorded a 98-yard TD run at Iowa in 1912. The Tinley Park, Ill., native has four multi-score games this year and seven in his career. The 90-yard rush is the longest ever against an Ohio State team.

• Coleman has rushed for 100 yards 10 times this season (tied for second in IU history), which is tops in the country, 150 yards six times (tied for first) and 200 yards four times (first). In his career, he has 14 100-yard games (tied for fifth), eight 150-yard games (third) and five 200-yard games (first).

• On the Indiana single-season lists, Coleman is first in rushing yardage, moved into fourth in rushing touchdowns (15), fourth in all-purpose yardage (2,043), sixth in total touchdowns (15) and 10th in attempts (241).

• On the Indiana career lists, Coleman moved into sole possession of fourth in rushing touchdowns (28), sixth in rushing yardage (3,089) and fifth in all-purpose yardage (4,158). He is also tied for sixth in total touchdowns (29).




IU (Cleveland Glenville) WR Shane Wynn postgame

Post-Game Notes: Indiana at Ohio State: Source: IU Official Site

• Indiana's defense collected two interceptions and one fumble recovery, the team's first three takeaway game since last season's Ohio State game on Nov. 23 (two fumble recoveries, one interception).

• Safety Antonio Allen recorded the first two interceptions of his career, one in the first quarter and one in the second. The sophomore is the first IU defender with a pair of picks in a game since safety Greg Heban had two against Missouri on Sept. 21, 2013.

• Allen finished with 11 tackles, which ties a career-high (at Bowling Green, 2014).

• Senior cornerback Tim Bennett forced his first career fumble and junior bandit Zack Shaw made his first recovery of the year and the second of his career.

• The Hoosiers have 10 interceptions and have forced four fumbles with three recoveries in 2014. They have turned the 13 takeaways into 34 points, including a pair of Griffin Oakes field goals this afternoon.

• Defensive tackle Darius Latham collected a sack in the first quarter to push his season total to 1.5 and his career total to 3.5. The sophomore had a total of five tackles on the day.

• True freshman linebacker Tegray Scales followed with his second career sack in the second stanza. The Cincinnati, Ohio, native ended the contest with eight tackles.

• Senior Shane Wynn led Indiana receivers with seven receptions for 93 yards.

• True freshman Zander Diamont had a career-long rush of 53 yards in the first quarter. He also added a career-long pass of 49 yards to Wynn. The freshman finished with 114 passing yards on 11-of-27 and 42 rushing yards.

• Oakes made both of his attempts, from 30 and 37 yards, and is 10-of-14 on the season. The redshirt freshman is a perfect 4-of-4 from 30-39 yards.

• Sophomore center Wes Rogers made his first start this season and the third of his career.

• Running back Tevin Coleman (second time this season), safety Mark Murphy (fourth time) and wide receiver Shane Wynn (sixth time) served as game captains.








Indiana

Nov 22, 2014

Ohio State Football: OSU vs Indiana Trailer
The Buckeyes can clinch the Big Ten East this weekend when they face Indiana in Ohio Stadium.


Source:
CBSSports.com
One-On-One With Urban Meyer: Week 13
Ohio State Head coach Urban Meyer discusses with our insider Jim Lachey the challenge of stopping Tevin Coleman and how J.T. Barrett's developed at QB.

Source:
SportsDirect



OSU-Indiana: Ten Pressing Questions
November 21, 2014 Source:Bucknuts -

* 1. What does J.T. Barrett have queued up this week? – Barrett has approached 400 yards total offense the last two weeks. He threw for 300 yards and ran for 82 against Michigan State. Last week, he threw for 200 yards and ran for 189 at Minnesota. He is being considered as a top-three Heisman Trophy candidate right now. Can he build on that status this week?

* 2. Will Ezekiel Elliott hit the 100-yard and 1,000-yard marks in this game? – Elliott has had four 100-yard games this season and carried 18 times for 91 yards last week at Minnesota. He needs 46 yards to reach the 1,000-yard plateau for the season. He would become just the second running back under Urban Meyer to rush for 1,000 yards, following Carlos Hyde last year.

* 3. Can the Buckeyes fire up the aerial circus? – Indiana is 101st nationally in passing yards allowed (258.8 ypg). The Buckeyes were held under wraps, for the most part, in the snowy conditions last week at Minnesota. Devin Smith, in particular, was held without a catch for the first time this season.

* 4. How will Jalin Marshall bounce back from his two-turnover game last week? – Marshall did catch a 57-yard touchdown pass last week. But he lost a fumble at the 1-yard line and also muffed a punt. Both miscues led to Minnesota touchdowns. Marshall was seen working on catching punts Monday afternoon on an off day.

* 5. Can the Buckeyes get their tackling in order? – There were a few missed tackles in the game last week against Minnesota. Safety Tyvis Powell may have had the toughest one as he missed on RB David Cobb on Cobb's 30-yard touchdown run.

* 6. Can the Buckeyes contain Indiana RB Tevin Coleman? – Coleman rushed for 307 yards in IU's loss at Rutgers last week. Coleman is second in the Big Ten in rushing (167.8 ypg). The Buckeyes gave up 218 yards rushing last week against Minnesota – the most they have allowed since the season opener against Navy's option offense went for 370. That is not a good sign with a potential match-up with Wisconsin and RB Melvin Gordon (coming off a 408-yard game against Nebraska) in the Big Ten title game.

* 7. Can Ohio State make life miserable for Indiana freshman QB Zander Diamont? – Indiana lost starter Nate Sudfeld and two other quarterbacks to injury, leaving Diamont to take over the reins. He has only thrown for about 70 yards a game in four starts. You have to believe – if the Buckeyes can contain Coleman – that Diamont and DE Joey Bosa will become acquainted.

* 8. Can the Buckeyes create some turnovers vs. Indiana? – OSU's Vonn Bell and Doran Grant each picked up their third interceptions of the year last week against Minnesota. OSU is third in the Big Ten in turnover margin (plus-5 for the year), while Indiana is 12th (minus-6).

* 9. What young players will come through for Ohio State? – The Buckeyes are a five-touchdown favorite to decimate Indiana. That means many of the backups could get a chance. Who will come through? Perhaps it will be RB Curtis Samuel or RB Brionte Dunn, who is due back from injury. Look for the young defensive players like DE Jalyn Holmes, LB Raekwon McMillan and maybe safety Erick Smith to spark some plays.

* 10. Can the Buckeyes punch their ticket to Indianapolis and stay in the College Football Playoff hunt? – A one-point win is enough to send Ohio State on to the Big Ten title game. But the CFB Playoff committee seems to be impressed right now with OSU as they moved the Buckeyes up two spots to No. 6 this week. An impressive win would keep OSU in the playoff hunt. Will the Buckeyes chase style points if they get a chance against the Hoosiers?





WHAT'S AT STAKE
The Buckeyes need a win to clinch at least a share of the Big Ten's East Division title and a spot in the conference title game on Dec. 6 at Lucas Oil Stadium in Indianapolis. The Hoosiers, who have lost the last 18 meetings, are just hoping to take the sting out of a lost season — with a huge upset or maybe with just another big day by star RB Tevin Coleman.

KEY MATCHUP
Ohio State QB J.T. Barrett vs. Indiana's leaky defense. Barrett has had a season for the ages. He has been a part of a school-record 38 touchdowns this season and needs two more TD passes to break Heisman winner Troy Smith's school record of 30. The Hoosiers are surrendering 260 yards and 2 TDs per game passing.

PLAYERS TO WATCH
Indiana: It pretty much starts and stops with Coleman. He's averaging 167 yards a game and is coming off a 307-yard game in a loss to Rutgers that was completely eclipsed by the record 408 yards rushing by Wisconsin's Melvin Gordon. Coleman needs only 127 yards to tie the school record of 1,805 rushing yards, set by Vaughn Dunbar.





Five key factors for OSU victory
November 21, 2014 Source: Columbus Dispatch -

1. Contain Coleman
Indiana running back Tevin Coleman is having a brilliant but under-the-radar season for the Hoosiers. His 307-yard performance last week against Rutgers, for example, was overshadowed by Wisconsin's Melvin Gordon going for 408 against Nebraska. Coleman has excellent vision, and has the speed and power to escape and run through tacklers. Ohio State was inconsistent against the run last week against Minnesota.

2. Harass Diamont
True freshman Zander Diamont was once No. 5 on the depth chart, but injuries and transfers have thrust him into a starting role he's not ready for. He has gotten better, but he hasn't faced a defense like Ohio State's. It will be important for Joey Bosa and company to pressure Diamont into mistakes.

3. Avoid turnovers
About the only way Indiana has a chance is if the Buckeyes self-destruct. Last week against Minnesota, Ohio State mostly dominated until three turnovers allowed the Gophers to stay close. The Buckeyes have worked this week to ensure that a repeat of last week's mistakes doesn't happen again. The Buckeyes had been pretty careful with the ball until the past two weeks.

4. Shore up special teams
Minnesota won the special-teams battle last week, which is a sore spot with coach Urban Meyer. Jalin Marshall fumbled a fair catch and punter Cameron Johnston had a rare off game. Indiana kick returner Shane Wynn has been kept in check this year, but he has burned Ohio State before. Disparities in athletic ability are often exposed in the kicking game, and Ohio State should be able to exploit that.

5. Score style points
The Buckeyes moved up to No. 6 in the College Football Playoff rankings, but they left style points on the table last week and can't afford to do that again. It won't be enough to beat Indiana 31-24. They are almost a five-touchdown favorite, and need to win by around that margin to continue their CFP momentum. That doesn't mean keeping starters in to get 60 or 70 points, but it does mean leaving no doubt about the outcome as early as possible.






Urban Meyer Post-Practice Q&A 11-19-14



Urban Meyer Updates

+ Nickel back Armani Reeves is back at full go and will play and resume his role as the team's No. 1 nickel back. Dontre Wilson is still out.

+ Of IU tailback Tevin Coleman, Meyer said they cannot give him even a crack because like Melvin Gordon, he will go the distance.

+ Meyer has known Kevin Wilson for 20 years. Indiana has had some bad breaks with injuries this season.

+ Meyer said Ohio State's placement in the College Football Playoff ranking doesn't come up around the football facility.

+ He said he's not talking to J.T. Barrett about the Heisman because Barrett is so grounded that he doesn't need to. Source: The Ozone



• • •





November 20, 2014 Source: The Ozone - Head Coach Urban Meyer, Sophomore DL Joey Bosa, Senior TE Jeff Heuerman, Sophomore RB Ezekiel Elliott, Junior DL Adolphus Washington and Freshman QB J.T. Barrett spoke with the media following practice on Wed. November 19. Check out what they had to say!

J.T. Barrett Updates

+ On the Heisman talk: "Kinda crazy to think about. That's never really on my mind." Will it change him? "I hope it doesn't change me." He said he's just going to continue working hard like always. "I'll do my best to make sure it doesn't [change him]."

+ Barrett said his accuracy comes from practice and understanding where defenders are going to be at all times.

+ He is not worried about Michigan or the B1G Championship Game, only Indiana. "Just beat Indiana."

+ Are the Buckeyes one of the four best teams in the nation? "I'm not the one that decides that." But he did say Ohio State continues to get better.

+ Asked about Michigan, he said the winner of that game will be the team that is the most prepared and the one that controls their emotions the best.

Joey Bosa Updates

+ Asked about motivation this week, Bosa said clinching the Big Team East is all of the motivation they need.

+ Bosa said Tevin Coleman and IU's quick pace on offense are definite concerns.

+ On style points: "Obviously, we're always trying to win convincingly, but a win's a win."

+ Bosa said he's happy the Buckeyes are slowly moving up the rankings. "We're two steps away."

+ Bosa said his goal this season was 12 sacks, but now that he's almost there, he's moved the goal posts forward in an effort to break the school record, which would require 15 sacks.

Adolphus Washington Updates

+ The defense's goal is to keep Tevin Coleman under 100 yards rushing. And allowing him to have a big day even in a blowout win is not acceptable.

+ Regarding their CFP rankings, Washington said Meyer told them to just keep winning.

+ Washington said they need to start the first quarter like they started the second half last week. They can't have a slow start like they did against Minnesota on defense.

+ This week is no different. They are preparing the same way the always do. The only focus right now is Indiana.

+ Washington said he thought these last two road games really brought the team closer together.

Jeff Heuerman Updates

+ Heuerman said being No. 6 is big because it means they're still in it. They have a "legitimate shot", but they obviously have to take care of business or else it doesn't matter.

+ Heuerman said he is not at all surprised by J.T. Barrett's performance. He pointed to an area of the indoor facility and said, paraphrasing, "In fact, I think I told you guys that right over there before the season."

+ Heuerman said each week is a stepping stone, so it's easy to remain focused. But at the same time, he's anxious for what is ahead.

+ It's huge for the seniors to have an opportunity to get back to the Big Ten Championship Game after what happened last year and the two years prior to that. "We're not going to swing and miss." Source: The Ozone



Meyer Focused on Indiana
The Buckeyes are one game from winning the Big Ten East and have their eyes on crashing the College Football Playoff as well as have a Heisman Trophy candidate but head coach Urban Meyer only wants to focus on the next opponent and let other things take care of themselves at this point. Source: BuckeyeGrove.com
• • •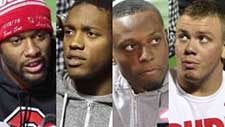 November 17, 2014 Source: The Ozone - Senior LB Curtis Grant, Freshman LB Darron Lee, Freshman CB Eli Apple and Sophomore OL Pat Elflein spoke with reporters at the weekly media luncheon. Check out what they had to say!



• • •





WR Notebook: Clark Needs To Get Over Psychological Hump

Ohio State wide receivers coach Zach Smith saw his group play its best game of the season against Michigan State, but follow it up with a lackluster effort at Minnesota. He was asked on Monday if the cold weather conditions in Minneapolis were largely to blame for that predicament. Source: Bucknuts ...



OSU Assistants: Johnson and Smith
November 17, 2014 Source: BuckeyeSports.com - With Ohio State's wide receivers and defensive front seven experiencing some ups and downs in the game at Minnesota, this made for a great week for Larry Johnson and Zach Smith to meet with the media. They talked about the state of those two groups and much more...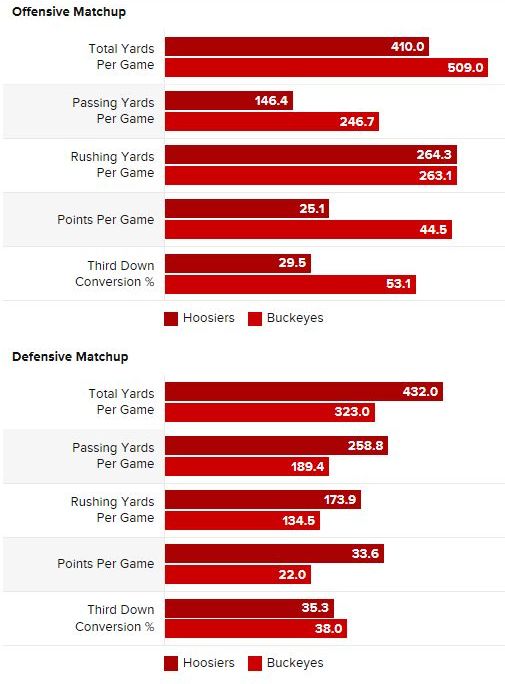 CBSSports.com



#8 Ohio State vs. Indiana Game Notes
November 17, 2014 Source: OSU Official Site - Game to be televised at Noon ET on BTN ...



First and 10

• Ohio State enters the game having won a Big Ten record 22 consecutive regular season B1G games.

• Ohio State has won 12 consecutive games on the road, the longest active streak in the FBS.

• Ohio State ranks 10th in the NCAA in total offense with 509.8 yards per game and is fifth in scoring offense at 44.5 ppg.

• QB J.T. Barrett has been responsible for a school record 38 touchdowns this season, tied for the most in the FBS with Oregon's Marcus Mariota.

• Barrett has been responsible for at least four touchdowns in six of 10 games this season.

• Last week at Minnesota, Barrett set Ohio State records for longest run by a QB (86/TD) and rushing yards in a game by a QB (189).

• Barrett needs one more TD pass to tie & two more to break Troy Smith's record of 30 set in 2006.

• DL Joey Bosa, a Lombardi and Bednarik semifinalist, leads the B1G with 17.0 TFL and 11.5 sacks.

• Urban Meyer is 37-3 in the month of November since the start of the 2003 season.

• The Buckeyes, 33-3 (.916) overall under Meyer, have the second-highest winning percentage among FBS teams since the start of 2012.

BUCKEYES LOOK TO CLINCH B1G EAST
Ohio State, 9-1 overall and 6-0 in the Big Ten Conference East Division, plays host to the Indiana Hoosiers in a 12 noon game (EST) Saturday at Ohio Stadium. The Buckeyes can clinch the East Division championship - it would be a third consecutive divisional championship for Urban Meyer's teams - with a victory over the 3-7 and 0-6 Hoosiers.

FIRST MEETING IN FOUR YEARS
Neither Urban Meyer nor Minnesota coach Jerry Kill were in their present positions when the Buckeyes and the Golden Gophers last met: four years ago on Oct. 30, 2010 in Minneapolis. Meyer was in his sixth season at Florida in 2010 while Kill was in his third and ultimately final season at Northern Illinois.

A QUICK LOOK AT THE OSU OFFENSE
Ohio State's offense is averaging 509.8 yards per game to rank 10th nationally and second in the Big Ten Conference. The offense is second nationally - to Oregon - in passing efficiency, fifth in scoring at 44.5 points per game and 12th in rushing at 260.2 yards per game. The team is also fourth nationally in third-down conversion rate (53.1 pct.).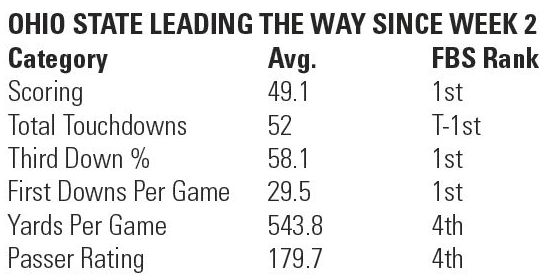 More at Ohio State vs. Indiana Game Notes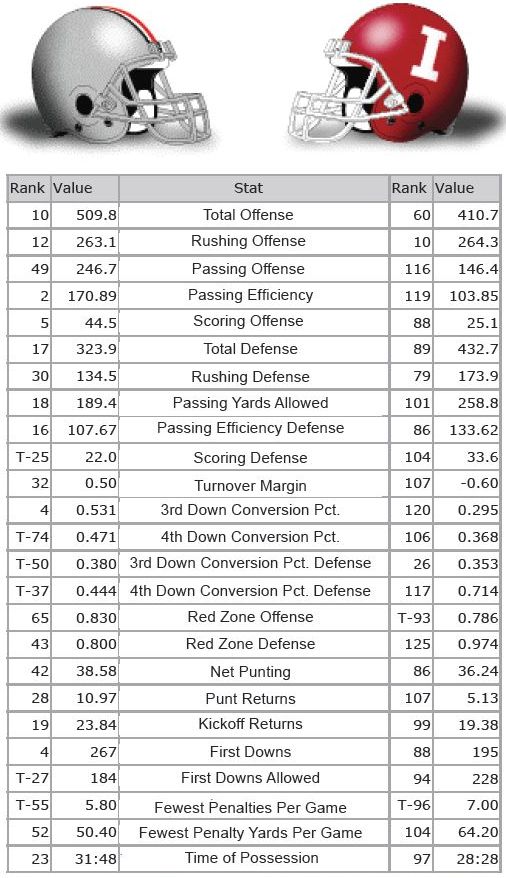 WR Dontre Wilson out. Meyer said Nov. 19 that nickel back Armani Reeves is good to go this week as is running back Bri'onte Dunn.


Columbus Weather Forecast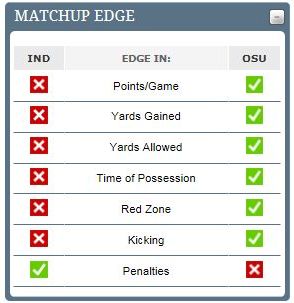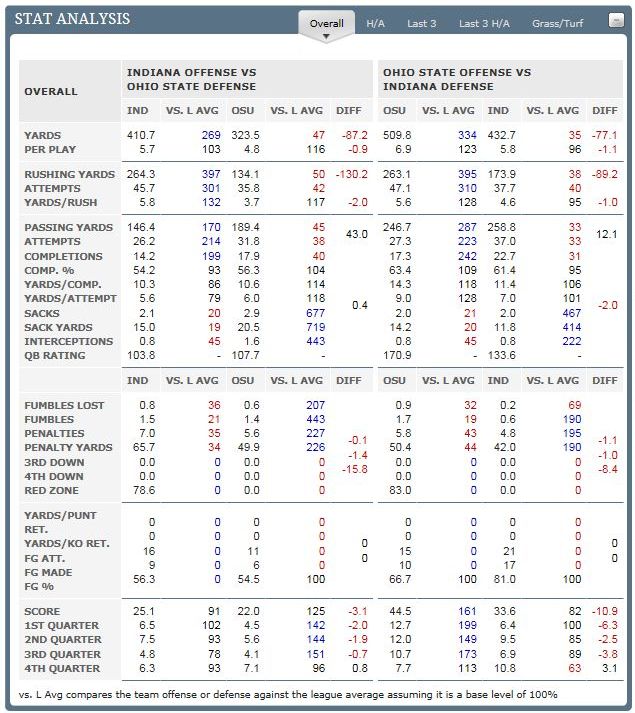 Source:
Covers.com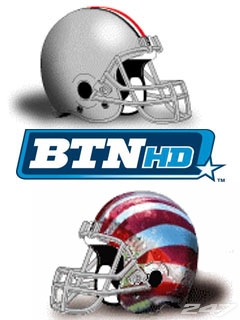 Game Data: Indiana at Ohio State
November 19, 2014 Source: Bucknuts.com - RB Tevin Coleman is the driving force behind the Indiana offense. He is averaging nearly 170 yards per game and rolled for 307 yards last week against Rutgers in a loss. It is painfully obvious that Ohio State will try and stop Coleman with its base defense. This should be a great exercise for an OSU defense that gave up 218 yards rushing last week against Minnesota. That's the most yards allowed on the ground since option-oriented Navy went for 370 in the season opener. ...




tBBC Preview: Indiana
November 19, 2014 Source: The Buckeye Battle Cry





Preview: No. 6 Ohio State vs. Indiana
November 21, 2014 Source: Eleven Warriors





Ohio State vs. Indiana 2014: Preview, odds, predictions
November 21, 2014 Source: Land-Grant Holy Land





Previewing Indiana: At 0-6 in Big Ten play, Hoosiers are no match on paper
November 20, 2014 Source: Buckeye Banter





The Game Eleven Preview: Indiana Hoosiers vs. Ohio State Buckeyes
November 20, 2014 Source: Off Tackle Empire





Game Matchup: Ohio State Vs. Indiana Buckeyes
November 21, 2014 Source: BuckeyeSports.com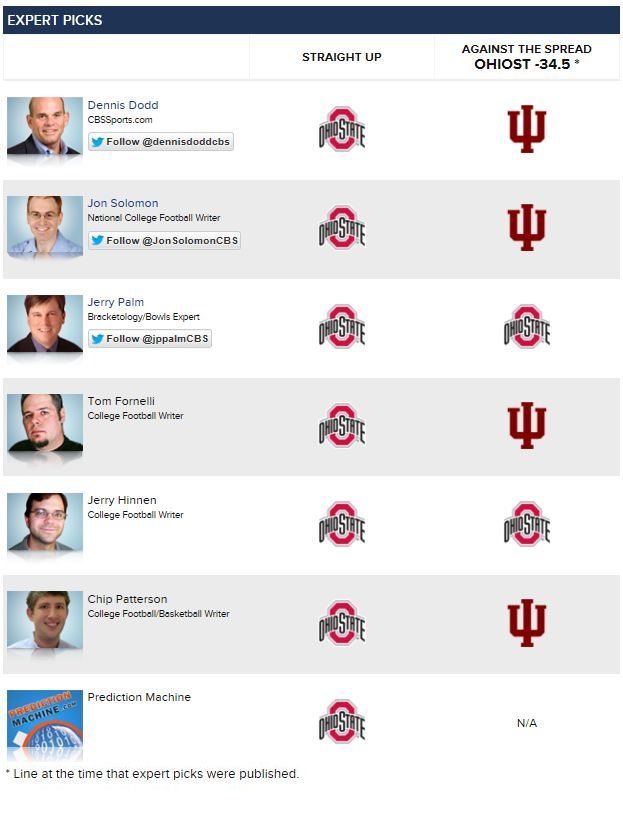 CBSSports.com




NEWS & NOTES

• Tevin Coleman is 2nd nationally in rushing yards (1,678), rushing yards per game (167.8), all-purpose yards (1,810), all-purpose yards per game (181.0), yards from scrimmage (1,810) and yards from scrimmage per game (181.0), 3rd in rushing yards per carry (7.84), T-14th in rushing TDs (12) and T-18th in total TDs (12) this season.

• The junior running back is on pace to rush for 2,014 yards, which would break Vaughn Dunbar's school record of 1,805 set back in 1991. Coleman is currently fourth in program history with his 1,678 yards.

• Only four running backs in Big Ten history have reached 2,000 yards: Ron Dayne (2,109 - 1996; 2,034 - 1999), Larry Johnson (2,087 - 2002), Lorenzo White (2,066 - 1985) and Damien Anderson (2,063 - 2000).

• His average of 167.8 rushing yards per game ranks higher than 67 of the 125 FBS teams.

• Coleman recorded a career-high 307 yards, the second-most in Indiana history and a Rutgers stadium record, on a career-best 32 rushes, a 9.6 average, and a 67-yard touchdown last weekend.

• On IU's career lists, wide receiver Shane Wynn is 3rd in receptions (176) and kick return yards (1,854), T-3rd in receiving TDs (20), 4th in all-purpose yards (4,225), 7th in receiving yards (2,058) and 9th in total TDs (24).

• Indiana sits 10th in the country with 264.3 rushing yards per game and 5.8 yards per carry.

• The Hoosiers eight 200-yard rushing games are tied for the eighth-most nationally this season.

• The IU defense is tied for 26th in the country in third down conversion defense (35.3 percent).

• Senior safety Mark Murphy is Indiana's active leader with 271 tackles (fourth among Big Ten defenders), 171 solo stops (third), four interceptions and two INT touchdown returns (tied for first) in his career.

• Senior defensive linemen Bobby Richardson is tied for fifth nationally with two blocked kicks, one field goal and one extra point. He leads the team with 5.5 sacks in 2014, 11 career sacks and 20 career TFLs.

OHIO CONNECTION
Fifteen Hoosiers hail from the state of Ohio: Mike Barwick, Jr., (Cincinnati/Summit Country Day), Nick Carovillano (Cincinnati/St. Xavier), Patrick Dougherty (Aurora/Aurora), Dawson Fletcher (West Chester/Lakota West), Nate Hoff (Solon/Solon), David Kaminski (Strongsville/Strongsville), Wes Martin (West Milton/Milton-Union), Mark Murphy (Akron/ St. Vincent-St. Mary), Marcus Oliver (Hamilton/ Hamilton), Devine Redding (Youngstown/Glenville), Mike Replogle (Centerville/Centerville), Tegray Scales (Cincinnati/Colerain), Zack Shaw (Coshocton/ Coshocton), Dameon Willis, Jr., (Cleveland/Saint Ignatius) and Shane Wynn (Cleveland/Glenville).

More at Indiana vs Ohio State Game Notes Source: IU Official Site




HC Kevin Wilson talks with after Thursday's practice as IU prepares for a road trip to Ohio State.

Defensive Coordinator Brian Knorr (Nov. 17, 2014)