55-14


Urban Meyer Postgame
Buckeyes Smother Fighting Illini In Tune-Up For MSU
Source: Bucktnuts ...




Two-Minute Drill: Updates from the Illinois - Ohio State Postgame
November 1, 2014 Source: The Ozone - Urban Meyer, Tom Herman and several Buckeyes spoke with the media following Ohio State's 55-14 win over Illinois. Here are the highlights.

Urban Meyer Updates

+ Meyer said the win was good, but now it's time to "get ready for a big week." He said the OSU defense played well, but he was disappointed in the redzone offense.

+ Meyer said this was the first time they really let Cardale Jones play and throw the ball around.

+ They have been working on Jalin Marshall at quarterback for a while and will continue to expand the package. "He's a gifted guy."

+ Meyer said he liked the way J.T. Barrett bounced back at the end of the half after missing some wide open guys throughout the first half.

+ Curtis Samuel got the start because he had a great week of practice. Stan Drayton came to Meyer mid-week and said that he wanted to start Samuel.

+ Meyer said they decided to begin resting starters earlier than normal because the depth gets kind of thin this time of year.

+ He said he is not yet comfortable with where the passing game is heading into the Michigan State game. "We're not 100% there."

+ Meyer said Barrett was too juiced up and that's why he was sailing some throws.

+ Meyer said he hasn't talked about the MSU game last year much to his players, but Mickey Marotti mentions it, telling the players that their dream was ripped away by MSU last year. Meyer said it won't be hard to motivate the team this week.

Tom Herman Jalin Marshall, Curtis Samuel, Vonn Bell, J.T. Barrett, Curtis Grant Updates...




Buckeyes roll early in 55-14 win over Illini
November 1, 2014 Source: OSU Official Site - Buckeyes take 31-point lead into halftime and never look back

COLUMBUS, Ohio (AP) - No. 13 Ohio State took care of business by pounding Illinois 55-14 on Saturday night.

Now the Buckeyes can finally talk about the game of the year in the Big Ten next week at Michigan State. The Spartans ended a 24-game Ohio State win streak with a 34-24 victory in last year's conference title game.

"The dream was ripped away from us, ripped away by a very good team," Ohio State coach Urban Meyer said.

He added that his team wouldn't require any rah-rah speeches in the coming days.

"We're going to face a very good team that we have a lot of respect for. It's all about the most prepared team; that's (who's) going to win this game," he said. "We'll do our part about motivation. But this is a motivated team."

Curtis Samuel ran for two touchdowns and J.T. Barrett hit Devin Smith on two scoring passes - all in the first half - as the Buckeyes put first things first in the easy win over the Illini.

It extended their Big Ten win streak to a record-tying 20.

The Buckeyes (7-1, 4-0, No. 16 CFP) won their sixth in a row - five by lopsided scores.

No. 8 Michigan State (7-1, 4-0, No. 8 CFP) has also won its last six. The Spartans will be coming off a bye week.

"It was right when we got in the locker room," linebacker Darron Lee said. "We usually have our coaches talk about who was good on O, D and ST. We skipped that. We know what's coming up this week. It's on. Honestly."

Unlike a week ago, when the Buckeyes rolled to a 17-0 halftime lead at Penn State only to struggle before pulling out a 31-24 victory in double overtime, this one was a landslide early.

Barrett, nursing a sprained medial collateral ligament in his left knee and wearing a brace, left at halftime with the Buckeyes up 31-0. He completed 15 of 24 passes for 167 yards, his touchdown throws to Smith covering 32 and 8 yards.

Barrett gave way to Cardale Jones, who lofted a picture-perfect 27-yard TD pass to Dontre Wilson and also hit Michael Thomas on a 19-yard scoring pass. Jones was 5 of 9 for 82 yards passing.

Samuel ran for 63 yards on nine carries, his TDs coming on runs of 23 yards and 1 yard, and Ezekiel Elliott had 69 yards on nine rushes for the Buckeyes, who have won the last six meetings.

The Buckeyes substituted heavily in the second half while a crowd of 106,961 left early as the score mounted. The game was played in windy conditions with temperatures in the mid-30s.

The 20th consecutive Big Ten regular-season win matched the mark set by Ohio State teams from 2005-07.

The Buckeyes relied on the Illini's largesse in the opening half.

Illinois threw two interceptions - both of which were off receivers' hands - and also lost a fumble. The Buckeyes failed on two fourth-down runs deep in opposition territory, punted once - and scored on the other five possessions.

O'Toole was intercepted by Darron Lee nine plays after the opening kickoff, with the Buckeyes taking just three plays to cover 38 yards. Samuel - who got the start in place of leading rusher Elliott - covered the final 23 yards untouched.

Barrett hit Smith on his first scoring toss to make it 17-0 before Samuel split two tacklers and backed into the end zone from a yard out. Just before halftime, Barrett found Smith again to make it 31-0. The Buckeyes played plenty of backups the rest of the game.

Barrett still wasn't pleased with his performance.

"It was very poor, just missing open guys," he said. "I knew where to go with the football, it was just more completing it."

Donovonn Young's 5-yard run late in the third quarter broke up the shutout for the Illini (4-5, 1-4). They have dropped four of five.

After their first possession of the second half, Illinois quarterbacks Reilly O'Toole and Aaron Bailey had combined for 58 yards passing - and 56 of them came on O'Toole's completion to Mike Dudek.

On that play, Dudek set the school mark for yards receiving by a freshman.

Bailey, 9 of 16 for 79 yards without an interception, completed a 7-yard TD pass to tight end Matt LaCosse to close the scoring. O'Toole ended up 4 of 11 for 58 yards with two interceptions.

Illini coach Tim Beckman - a former Ohio State assistant who also worked under Meyer at Bowling Green - was asked when the game got away from his team.

"Pretty early," he said. "We turned the ball over and got behind. You can't turn the ball over like we did."

Ohio State vs. Illinois Postgame Quotes Source: OSU Official Site

Ohio State Gameday Magazine - Illinois
Go inside the game with tonight's Gameday program






Illinois vs Ohio State (Nov 01, 2014) Source: OSU Official Site
Scoring Summary, Team Statistics, Individual Statistics, Drive Chart, Defensive Statistics, Game Participation,
Box Score, Play-by-Play, Play breakdown







It was over when... Ohio State wideout Devin Smith caught the second of his two touchdowns to put the Buckeyes up 31-0 just before halftime.

Gameball goes to... Buckeyes QB J.T. Barrett, who was efficient -- 15-of-24 for 167 yards and two touchdown passes -- in the blowout win.

Stat of the game... 9. The Buckeyes spread the ball around for their 20 completions, with nine different players recording at least one catch.

J.T. Barrett & Cardale Jones (OSU): 1st pair of OSU QBs with multiple Pass TD in same game since Stanley Jackson & Joe Germaine in 1996 vs Penn State

Ohio State scored at least 30 points in the 1st half for the 5th time this season, tied with Baylor (who also did it today) for the most such 1st halves this season.

Ohio State: FBS-high fifth 50-point game this season... Buckeyes have 14 50-point game in 3 seasons under Urban Meyer.... Ohio State had 6 such games under Jim Tressel & Luke Fickell from 2001-11.

Stars of the game: J.T. Barrett showed up and ran the show as promised, despite his sprained knee, throwing for two touchdown passes to Devin Smith. Curtis Samuel scored two in his first start at running back. Linebacker Darron Lee set the rout in motion with his interception.

Turning point: Curtis Grant's interception gave Ohio State a first down at the Illinois 24-yard line at 14:24 of the second quarter. Six plays later, Samuel had his second TD and the Buckeyes were up 24-0.

Repercussions: The win sets up a showdown Saturday at Michigan State. The Spartans are eighth in the College Football Playoff rankings and the Buckeyes 16th. With the Big Ten desperate to grab attention from the playoff committee, it may be the Buckeyes' best chance to turn some heads.

One-liner: Someone please tell Illinois that Halloween is over. It can take off the Kent State costume. What's that? The ghoulish garb is real? Now that is scary.

6: Consecutive games that Ohio State's opening drive ended with a touchdown

25: Touchdown catches for Devin Smith, tying him with Santonio Holmes for third all-time in school history

On tap: Michigan State has become TOTUN (That Other Team Up North), and the Buckeyes head to East Lansing looking to pull ahead in the race for the Big Ten East title.

@mrmuleman: Have they planted Bosa's buckeye tree in the grove yet?

•Ohio State tied its own Big Ten record with 20-consecutive Big Ten regular season wins with the victory over Illinois. The record was previously set by the 2005-07 Ohio State teams.

•After taking a 17-0 lead in the first quarter, Ohio State is outscoring its opponents 96-17 over the last six games in the opening stanza.

•The squad has outscored opponents 189-39 in the first half this season.

•Ohio State scored 50 points for the fifth time this season, the most for an FBS school this season. Under Urban Meyer, the Buckeyes have posted 50 or more points in 14 games over three seasons.

•Illinois was held to 243 yards of total offense after entering the game with an average of 390.5 total yards of offense per outing.

•With Curtis Samuel's 23-yard touchdown run on the first drive Saturday, Ohio State has scored a touchdown on its first possession in six-consecutive games.

•Devin Smith's two touchdown receptions extended his season total to seven and career total to 25. The 25 career touchdown catches put him in a tie for third on the Ohio State all-time list with Santonio Holmes.

•Darron Lee's first-quarter interception was the second of his career. Curtis Grant picked off a pass as well, his coming in the second quarter. It was Grant's first career INT.

•Cardale Jones' 27-yard touchdown pass to Dontre Wilson in the third quarter marked the first touchdown pass of his career.

•Noah Brown had the first reception of his career in the third quarter. The completion went for nine yards.

•Ohio State had 11 tackles for loss for the second game in a row, along with four pass breakups for the second consecutive game. Against Illinois, seven players combined for the 11 tackles for loss.

•Steve Miller's three tackles for loss set a career high. He also forced a fumble in the third quarter which was recovered by the Buckeyes.

•Joey Bosa's three tackles for loss (including two sacks) marked a career best.

•Eli Apple had a personal best two tackles for loss vs. Illinois.

•Jalin Marshall tallied his first career touchdown run on a 30-yard scamper in the third quarter. He also added 42 yards rushing on five carries, both career highs.

• Buckeyes linebacker Curtis Grant had his first career interception, and a fumble recovery. "That was a special moment for me tonight," Grant said. "I felt like I needed it. I felt like I was kinda complacent. But you get to realizing you don't have that much time. You think you're good but in reality you're not, it was good to get out there and make some plays for the guys."

* Ohio State now leads the all-time series with Illinois 67-30-4, including 29-18-4 in Columbus. OSU has won 10 of the last 11 and 16 of the last 20 in the series. That includes OSU wins in the last seven meetings.

* This is OSU's fourth night game out of five scheduled this season. It is also the second of three straight night games. OSU is 3-1 in night games this year with the loss to Virginia Tech and wins over Cincinnati and Penn State.

*All-time, OSU is 45-22 in night games. That includes a record of 13-4 all-time in night games at the Horseshoe since the first one against Pittsburgh in 1985.

* Ohio State moves on to face No. 8 Michigan State (7-1, 4-0) next Saturday in East Lansing. The winner of that game will have command of the Big Ten Eastern Division race with three games left in the regular season. MSU knocked off OSU 34-24 in the Big Ten title game last year. The Spartans were idle on Saturday.



Sources: ESPN, Columbus Dispatch, OSU Official Site, Cleveland Plain Dealer, Bucknuts





Ohio State RB Curtis Samuel got his first career start vs. Illinois and he scored two touchdowns. Samuel met with the media after the Buckeyes' 55-14 win over the Fighting Illini. Source: Cleveland Plain Dealer



The 6 most important things the Ohio State Buckeyes said after 55-14 win over Illinois
November 1, 2014 Source: Cleveland Plain Dealer -

• Freshman Curtis Samue
l started at running back for the Buckeyes. Here's what Urban Meyer said about the decision to start Samuel over Ezekile Elliott:

"The week in practice. There's nothing quite like competition. And those two guys, I don't micromanage that position. I certainly listen and give my opinions. But Stan Drayton came to me in the middle of the week and said, 'I'd like to start Curtis Samuel this week, he's doing everything right, and practices at an extremely high level,' and we still have great confidence in Zeke, but we have two guys that can play."

• Ohio State linebacker Curtis Grant
, who had three tackles, an interception and a fumble recovery:

"It was a special moment for me. It was one of my last games in The Shoe and I wanted to give it all I got. I felt like I was complacent at times, but tonight I wanted to come out and play for my guys."

• Linebacker Darron Lee
on the four turnovers Ohio State forced on Saturday:

"It feels great to get the turnovers and the energy it brings our team. We've been working so hard and it's a lot of fun."

• Urban Meyer
on facing Michigan State:

"It's all about the most prepared team. That's what's going to win this game. And I don't think there will be a whole lot of necessary — we'll do our part about motivation, but this is a motivated team. And I think the most prepared team will win it."

• Buckeyes quarterback J.T. Barrett
, who didn't play in last year's Big Ten championship game, on playing Michigan State next week:

"Last year when I redshirted during the Big Ten championship game, I was just taking it all in and learning as much as I could. We're a different team this year, and so are they. They're going to get after us defensively, and we need to be prepared."

• Ohio State safety Vonn Bell
on Michigan State:

"Last year hurt how things happened. It's all about executing. We're going to challenge each other this week, push each other and hold each other accountable going forward."



J.T. Barrett Posgame

One Half Is All Barrett Needs, Says Knee Is Fine

Source: Bucknuts ...




3 things we learned from OSU's 55-14 win
November 1, 2014 Source: Land-Grant Holy Land - 1) The Buckeyes play best when they have the field position advantage. In the first half -- the only one that really mattered for the outcome of the game -- the Buckeyes started eight drives on an average of the 50 yard line. Not only is that insane, but the Illini averaged just where they should -- their own 25 yard line.

The Buckeyes managed that crazy starting field position due to three Illini first half turnovers compared to zero from the Buckeyes. This is not a new thing for the Buckeyes, as they entered the game third in the country in FEI's Field Position Advantage.

One other thing that certainly helped was that the Buckeyes only had one punt in the first half, but V'Angelo Bentley didn't have any chance and was tackled immeditately. The Buckeyes allow just 5.3 opponent punt return yards per game (22nd in the country).

2) Short-yardage situations are still a problem. It's hard to find things to criticize in this performance. The Buckeyes played near flawless football in both halves, with an aggressive defense and an offense that averaged .53 points per play in the first half. However, the offense does still have some issues in short-yardage situations that could be an issue against Michigan State.

On 4th-and-2 in the first half, the Buckeyes went in to an empty set while Illinois brought the house to get their first sack of the game. While the game was still competitive, the Buckeyes went just one for five on third and three or less, and the play calls seemed to take into account that the Buckeyes wouldn't be able to count on Hyde to power for at least four yards.

3) The Buckeyes made the right move sitting Barrett at the half. Cardale Jones finally got extended playing time, which is excellent considering Barrett's knee issues. Astoundingly, Jones only had five attempts entering the game, so this second half practice was great for resting Barrett and giving Jones some work with the first team offense.

Jones wasn't asked to do much through the air (attempting just ten passes for 82 yards), but it was clear that the offense changes when he is in.





Two plays of the game Ohio State Illinois:
• • •

QB Cardale Jones levels his former teammate V'Angelo Bentley vs Illinois


The Ohio State Marching Band Nov. 1 halftime show: They Came from Outer Space



Buckeyes earn winning grades vs. Illini
November 1, 2014 Source: Mansfield News Journal -

OFFENSIVE LINE GRADE: A
The front five afforded J.T. Barrett excellent protection, but it didn't always translate because the redshirt freshman quarterback wasn't particularly sharp. The key thing was keeping Barrett upright going into next week's showdown at Michigan State after he suffered an MCL sprain last week at Penn State. It was the fifth time in six games the Buckeyes went over 500 yards total offense.

RUNNING GAME GRADE: A
It was reported that Ezekiel Elliott did not start because he was "banged up," but he only sat out the first two series before being inserted into the game. Hmm. The Buckeyes didn't have much trouble moving up and down the field, but the damage on the ground wasn't quite as bad as expected only because four turnovers set OSU up with short fields. Curtis Samuel, who got the start in Elliott's place, had two touchdowns in the first half of 23 and 1 yards. Jalin Marshall had a 30-yard TD run out the Wildcat after the game was long decided.

PASSING GAME GRADE: B minus
The best pass of the night was thrown by backup QB Cardale Jones on a 27-yard strike to Dontre Wilson to open the second half. Jones also had a second TD pass, to Michael Thomas, in mop-up duty. J.T. Barrett's night ended early, which probably had as much to do with protecting his injured knee as it did the 31-0 lead at halftime. As mentioned earlier, it wasn't one of Barrett's sharpest nights. He threw a pair of touchdowns to Devin Smith, but missed at least three wide open receivers, including tight end Jeff Heuerman, who would have been able to walk into the end zone. Barrett is going to have to play a lot better than he has these last two games for the Buckeyes to have a chance in East Lansing.

DEFENSIVE LINE GRADE: A
Backup Illinois quarterback Aaron Bailey made a grave error by keeping the ball on the "misread" option and running smack into Joey Bosa for a two-yard loss on fourth-and-two. The sophomore defensive end, arguably the best to line up at the position for the Buckeyes — maybe ever — is the reason most of Illinois' skill players will spend all day Sunday in an ice bath. Steve Miller, who has done a nice job filling in for the suspended Noah Spence, forced a fumble and spent a lot of time in the Illinois backfield.

LINEBACKERS GRADE: A
Maybe the best game, collectively, by this bunch all season. Darron Lee and Curtis Grant had interceptions off deflected passes that turned into TD runs by Curtis Samuel. Grant, who became the ninth Buckeye to pick off a pass this season (Houston, with nine players, led the nation going into the game), also had a fumble recovery that led to a field goal. Josh Perry, coming off a career-high 18 tackles at Penn State, had seven by halftime before Urban Meyer began sprinkling in backups.

DEFENSIVE BACKS GRADE: A
Once Illinois lost Wes Lunt, one of the Big Ten's top passers, to a broken fibula a few weeks ago, it became fairly obvious this would be a rare quiet game for the secondary. Neither Reilly O'Toole or Aaron Bailey were passing threats, but the DBs know that after this "bye" week they'll be on the firing line next week against Michigan State's Connor Cook. The Buckeyes added to their Big 10-leading interception total with two more, but some of the backfield's thunder has been stolen by the linebackers, who have five of the 14 picks, including both Saturday. Safety Vonn Bell did force a fumble, but it was the only takeaway the Buckeyes didn't convert into points.

SPECIAL TEAMS GRADE: B
Poor Cameron Johnston. He had a punt roll dead inside the 5, but it didn't count when the officials waved off a flag. He also dropped his re-kick inside the 20, the 13th time he's done it on 20 punts this season. Unofficially, Johnston hasn't had enough opportunities to qualify among the national leaders. It's a wonder Urban Meyer can recruit any punters or placekickers (unless they like kicking PATs) to come to Ohio State. Sean Nuernberger was perfect on both of his field goal attempts, including a 44-yarder. Dontre Wilson had a 43-yard kickoff return, but by then most of the fans had retreated to the warmth of their cars. One of the few things the Illini did well was avoid having a kick blocked.

COACHING GRADE: A
Illinois coach Tim Beckman presented ol' buddy Urban Meyer (they were together at Bowling Green) a gift just before halftime by foolishly attempting a pass from his own 8 instead of running out the clock. The pass fell incomplete, the clock became the Buckeyes' ally and OSU scored with 20 seconds left to make it 31-0. That's just the latest reason Beckman will probably be looking for another job after this season. Having Jalin Marshall attempt a pass out of the Wildcat, with the game long over, was Urban Meyer's way of giving Michigan State something else to think about before next week's showdown.



• • •



Ohio State vs. Illinois: The Bottom Line
November 1, 2014 Source: Columbus Dispatch -

Offense (4 leaves)
This did not quite have the Harlem Globetrotters vs. Washington Generals feel of some previous mismatches, but that's because the OSU defense delivered such splendid field position. J.T. Barrett's early throws were shaky but good was more than enough on this night.

Defense (4 leaves)
The improvements continued on the working-man's side of the ball, even if the caliber of competition didn't. The defense forced three turnovers in the first 16 minutes, effectively turning the Buckeyes' walk in the park into an even-less-stressful pedicab ride.

Special teams (3 leaves)
The brisk northerly breeze seemed to catch kickoff specialist Kyle Clinton between clubs; his opening effort was a flop shot but then he loosed a few decent drives. Jalin Marshall and Dontre Wilson each provided fine returns to kick-start scoring drives.

Coaching (4 leaves)
What's not to like? The Buckeyes scored a first-drive TD for the sixth consecutive game, they kept the heat turned up, unlike a week ago, and they got the dinged starters out of there after halftime. If coaches are looking for something to fix, how about fourth-down offense?

Opponent (1 leaf)
Let it be said that Illinois isn't short on players with guile, notably linebacker Mason Monheim. But the problem is the lack of requisite depth of talent and a bad habit of making the wrong play at the wrong time. These days, the Illini are the bug hitting OSU's windshield.

Officiating (1 leaf)
Another dreadful performance, highlighted — lowlighted? — by the Jones fumble call, mercifully overturned on review. Or was it worse that the back judge was unable to count to 11 on an Illinois punt?



• • •



Ohio State Stock Market Report: Illinois
November 2, 2014 Source: Land-Grant Holy Land -

Blue Chip Stocks:
Joey Bosa, DE: Hope y'all aren't getting too tired of seeing Bosa's name in this spot. The future 1st-rounder seems incapable of taking even one play off. From blowing up plays in the backfield to sacking the quarterback to a huge TFL on 4th-and-short, Bosa came to play against Illinois on Saturday. In a moment that will perhaps prove prophetic, NFL Draft expert Todd McShay mistakenly referred to Bosa as "Watt," as in J.J. That slip came on the heels of McShay intentionally comparing Bosa to Watt, which seems...fair. "But that's absurd," you say, "It's far too early to--" LA LA LA I CAN'T HEAR YOU

Darron Lee, LB: The baddest man in the history of New Albany was at it again on Saturday night. Lee was an animal--err, Manimal--flying all over the field, making big hits, even recording an interception. Lee, a redshirt freshman, has been the biggest pleasant surprise of this season. He continues to prove week after week why he's been the coaching staff's choice to anchor down one of the outside linebacker spots every down.

Devin Smith, WR: Welcome to the blue chip list, Mr. Smith. The veteran wideout had a monster day despite ending the game with just 3 catches--2 of those ended up in the end zone, and Smith had 72 yards total. Smith's 25 career TD grabs tie Santonio Holmes for 3rd-most in Buckeye history, and he's in pretty good company. Cris Carter and David Boston are the only names ahead of Smith on the list. With his performance Saturday, Smith also became just the 8th Buckeye wideout to eclipse the career 2,000 yard mark.

Solid Investments:
Curtis Samuel, RB: The true freshman, hailing from Brooklyn, apparently did enough in practice this week to merit a starting role in Saturday's game. Samuel finished the game with 63 yards on 9 carries. 2 of those carries went for touchdowns. Samuel's quick feet and lack of fear make him an excellent complement to Ezekiel Elliott in the backfield and a strong case for Urban Meyer's ability to scout and develop rushing talent.

Ezekiel Elliott, RB: Speaking of Elliott...think losing out on starter's carries despite a long string of big performances might light a fire under him? Elliott ran angry on Saturday, gaining 69 yards on just 9 carries. The team will need that kind of rushing prowess against a stout Michigan State defense next week. Urban Meyer is an evil genius.

Junk Bonds:
The little dumb mistakes: There was no standout bad performance to pick on from this game. That tends to happen when your team hangs 55 points on the opponent and only allows 14 (7 of which came in garbage time). But the show must go on, so let's pick on team discipline for a moment: The team committed 6 penalties, giving up 56 yards as a result. These included infractions by Cam Burrows and Joey Bosa on late hits out of bounds, out-of-character for such a well-coached team. Giving up 15 yards at a clip to a team like Illinois might not matter in the grand scheme of things, but against Michigan State? That might be a different story completely.

Buy/Sell:
BUY: Tip drill INTs. Two picks from deflections in the first 16 minutes! The maligned pass defense of Ohio State was excellent today against the Illinois QB rotation of Riley O'Toole and Aaron Bailey, pulling in a brace of interceptions and generally playing pretty secure coverage (weird bunch formation screen play notwithstanding). The picks themselves both came from the linebacking corps, but the pass defense was by and large smothering.

SELL: The kickoff unit. It makes sense that the Buckeyes would try to keep the ball out of the hands of dangerous return man V'Angelo Bentley. But the weird, sky-high short kicks could clearly use some work, as evidenced by the excellent field position that Ohio State gifted the Illini on the game's opening drive. The second attempt was slightly better, but still not awe-inspiring. Couple those with a Kyle Clinton boot out of bounds in the 3rd quarter and you have a sloppy day from a unit that Urban Meyer generally has in whip-smart shape.

BUY: The defense creating turnovers. You get a Buckeye sticker! You get a Buckeye sticker! And you get a Buckeye sticker! Everyone gets a Buckeye sticker! Seriously, that was phenomenal to watch. Everyone from Curtis Grant to Darron Lee to dad-rock aficionado Steve Miller got in on the party, forcing the Illini to cough up the football a whopping four times (not counting TODs). The aforementioned interceptions might have been a little fluky, but the Buckeye defense made athletic plays in space all night and did what they had to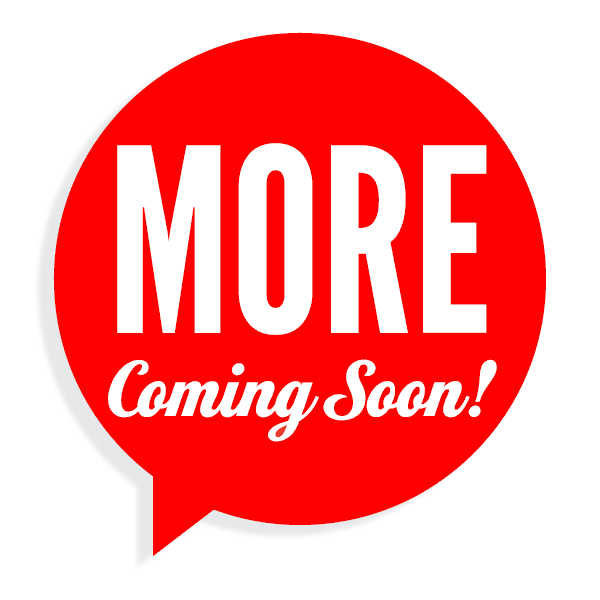 Illinois

Nov 1, 2014

Source:
CBSSports.com






OSU vs Illinois Trailer



WHAT'S AT STAKE
The Illini are coming off their biggest win in recent memory, a 28-24 home win over Minnesota last week. They have not won two Big Ten games in a row since 2011. Speaking of streaks, the Buckeyes can match the conference record for consecutive Big Ten wins (20, by Ohio State 2005-07) with a win.

KEY MATCHUP
Ohio State's offense, which sputtered last week in a 31-24 double-overtime win at Penn State, against Illinois' leaky defense. The Illini are giving up more than 34 points and 475 yards per game, although they came up big when most needed against the Golden Gophers. QB J.T. Barrett has a sore knee but is expected to play for the Buckeyes.

PLAYERS TO WATCH
Illinois: QB Reilly O'Toole has stepped in for the injured Wes Lunt and has done an adequate job. RB Josh Ferguson, averaging just 65 yards a game on the ground, must come up big to allow the Illini to take some time off the clock.

Ohio State: DE Joey Bosa might just be the best defender in the Big Ten, with a league-best 11.5 tackles for loss including 8 sacks. He clinched the game last week with a sack on the final play. LB Joshua Perry and S Tyvis Powell are 1-2 in tackles and have been steady throughout.

FACTS & FIGURES
Illinois coach Tim Beckman, under fire in his third year, is a former Ohio State assistant under Jim Tressel and also served under Buckeyes head coach Urban Meyer at Bowling Green. ... Ohio State had four players take snaps from center and run with it in one series against Penn State last week. ... The teams vie for "Illibuck," a turtle (a real one in the early days, a wooden one now). The Illini haven't owned the faux reptile since a stunning upset of an unbeaten and top-ranked Ohio State team in 2007. ... Barrett has been responsible for at least three TDs in each of the last five games.





Five key factors for OSU victory
October 31, 2014 Source: Columbus Dispatch -

1. Avoid looking ahead
The Buckeyes have said all week that they wouldn't overlook Illinois, even though Michigan State awaits next Saturday. That can be easier said than done. A quick start, which the Buckeyes have had since the Virginia Tech game, would go a long way toward showing that they have their focus on today and not next week.

2. Protect Barrett
Quarterback J.T. Barrett is expected to play despite the sprained ligament in his left knee. It will be crucial for the Buckeyes to minimize the risk of aggravating the injury. The option keeper has been a big part of OSU's offense, but it shouldn't be this week; the Buckeyes' other playmakers should handle the load. If Ohio State gets a comfortable lead, it would be wise to get backup QB Cardale Jones some extended playing time.

3. Regroup on O-line
The offensive line had been on a steady rise over the past month, but the Penn State game was a step backward. The Illinois defensive line is solid, so Ohio State's linemen can't just show up expecting to blow the Illini off the line. Good line play requires all five (or six, if you include the tight end) blockers working in unison. That didn't happen consistently last week.

4. Create big plays on 'D'
The Ohio State defense has had a knack for creating turnovers. Illinois' passing game isn't the same with quarterback Wes Lunt injured. Reilly O'Toole is more of a runner, which should play into Ohio State's hands. The Buckeyes have been solid defending the run, and the Illini's lack of a big passing game should allow OSU to swarm the ball and force more turnovers.

5. Develop depth
In addition to hoping Jones gets more playing time, it would be beneficial if backups elsewhere get extended shots. Coach Urban Meyer has been displeased with the growth of his second-team defensive linemen. Those players should get a chance to show him something. With Rod Smith gone at running back, this could be a game in which Curtis Samuel and Warren Ball get a lot of carries.



5 reasons Ohio State football will beat the Illinois Fighting Illini: Speed and Big Ten history
October 31, 2014 Source: Cleveland Plain Dealer - 1. Jet sweep speed guys: One of Ohio State's greatest advantages in any matchup like this, when the Buckeyes just have more talent, is going to be with offensive speed. Urban Meyer said on his radio show Thursday that the Buckeyes need to take better advantage of that speed.

Ohio State frequently threw quick little handoff passes to their H-backs early in the season, attacking defenses on the edge with Dontre Wilson and Jalin Marshall. Lately, Ohio State has seen defenses automatically check to a blitz with the motion required by that play, and the Buckeyes have gone away from those calls.

Yes, Wilson and Marshall took some direct snaps in recent games, but when it comes to the fastest Buckeyes, Meyer wants better use of their skills. Figure that's coming against the Illini. What's the point of having speed if you aren't going to use it?

The Buckeyes have been reminded of that.

"We have to be more creative," Meyer said, "and I believe we will be this week."

2. A chance at Big Ten history:
Ohio State has won 19 consecutive Big Ten regular-season games and with one more win will tie the conference record for regular-season wins set by the Buckeyes from 2005 to 2007. (It is at this point we note that Ohio State is 0-2 in non-regular-season games during this run.)

That streak ended with ... the home loss to Illinois on Nov. 10, 2007. Don't expect the Illini to do it again and stop these Buckeyes from tying that mark. Now, Michigan State next week could very well stop the Buckeyes from breaking it.

3. Interceptions:
Ohio State ranks seventh in the nation and leads the Big Ten with 12 picks in seven games. Doran Grant, Eli Apple, Tyvis Powell and Vonn Bell, the four starters in the secondary, each have two, and Erick Smith, Joshua Perry, Darron Lee and Raekwon McMillan each have one.

Illinois quarterback Reilly O'Toole has thrown four interceptions against four touchdown passes this season, and for his career has more picks than TDs - 13 to 12.

Meyer said those turnovers are no accident, that they are the result of the Buckeyes getting pressure and playing more aggressive defense. Expect the Buckeyes to take more advantage of that Saturday.

4. ¯\_(?)_/¯:
This was reason No. 5 last week, and then Joey Bosa, man of post-sack shrugs, went out and clinched the double-overtime win at Penn State with a fourth-down sack.

Named the Big Ten Defensive Player of the Week, and the conference leader in sacks and tackles for loss, Bosa will remain a reason for Ohio State victory until proven otherwise.

"I say this all the time about Joey, I don't see him changing, and if I do, it's going to be a bad conversation," Meyer said this week. "Because what's got him to this point is a credit to his dad, who played the game, and his high school program, St. Thomas (Aquinas in Florida). He's a practice player. He goes out and practices and does a good job, and it's effort, and that's why you continue to see a guy like that improve.

"And he is getting better. He's better than he was at the beginning of the season right now. Early in the season he made some mistakes. We didn't probably announce it, but he had some mistakes in the run game when he's supposed to come under and he didn't do that. He's playing much better now. ... He's a fast-twitch guy that's real big and strong. So great player."

5. Illinois isn't good enough to win a road game:
I can't play the game about the Buckeyes not being able to overlook Illinois. The Illini aren't that good. Illinois is 1-14 in its last 15 road games, the only win at Purdue last year. Tim Beckman is 10-22 in three years at Illinois and 2-18 in the Big Ten. One of his teams just isn't prepared to win a game like this.



• • •



5 reasons Illinois football might beat the Ohio State Buckeyes
October 31, 2014 Source: Cleveland Plain Dealer - 1. The Cardale Jones hurdle: Ohio State wasn't great on short yardage last week, converting six of 11 chances of four yards or fewer on either third or fourth down against Penn State. Rod Smith, the former goalline back, is gone, but that's not really the issue...







Urban Meyer Post-Practice



Meyer On Barrett's Status: 'He did real good'
October 29, 2014 Source: Bucknuts - OSU coach Urban Meyer told reporters after Wednesday's practice that quarterback J.T. Barrett had come through practice fine and is on target to start Saturday's game against Illinois

"He went (today)," Meyer said. "I would not say he was quite full-go, but he will be tomorrow. He did real good."

A year ago, Braxton Miller missed two full games and part of another with a sprained MCL. Meyer was asked to compare the injuries.

"Yes, it is similar to what he had," the coach said. "I'm not a doctor. It is probably not as severe, I guess. We have been through that with many players. The MCL is not an uncommon injury.

"At halftime, they said he's got an MCL sprain. I said, 'How bad?' They said, 'We'll see how he goes.' Everybody is built different I guess." ...







J.T. Barrett Post-Practice Q&A



J.T. Barrett Updates

+ Barrett's knee injury is to his left knee, which is not the same knee with the ACL tear in high school. He still has a little bit of pain in his left knee, but he was adamant that he is playing on Saturday.
Source: The Ozone

Barrett Confident He Will Play Saturday
October 29, 2014 Source: BuckeyeSports.com - As was expected Ohio State quarterback J.T. Barrett was limited in practice on Wednesday. The redshirt freshman sprained the MCL in his left knee late in the second quarter against Penn State on Saturday but played all of the second half and both overtime periods, helping the Buckeyes to a 31-24 win.

Barrett, who was wearing a brace on the knee when addressing the media after practice Wednesday, said there was some swelling and his knee was a little sore, but was confident he would be playing Saturday night against Illinois.

"It would have to be something drastic happen between now and 8 o'clock (Saturday)," he said. "I plan on playing."...







Taylor Decker Post-Practice Q&A



Taylor Decker Updates

+ Decker said there is no looking past Illinois because if they lose then next week won't even matter.

+ He said they just didn't put Penn State away. When they had their foot on PSU's throat, they let up and allowed Penn State to get a breath. Then the pick six gave them momentum.

+ Decker said the offensive line did not play well last week. They didn't play like they knew they could for most of the second half.

+ He said it was good to see that they're not just going to dominate everybody that they come up against. He said they didn't prepare well for Penn State and they should have more easily recognized the blitzes if people would have just been paying better attention.

+ Decker said he's not putting too much stock in the playoff poll because there are still games to be won or lost. "Whatever happens, happens."
Source: The Ozone





Curtis Grant Updates

+ Grant said the defense can't stop working now. They have to focus and stick together because Illinois can really run the ball. Quarterback Reilly O'Toole is a runner and a playmaker.

+ He said he was disappointed with Ohio State's ranking, but it just makes them hungry.

+ Grant said the screen recognition and the ability to maintain leverage has been a huge improvement over last season.

+ He said the linebacker group is better than last year as a whole because they are reacting quicker and recognizing quicker. He feels good about the group and likes the way guys are rotating in and out.

+ Grant said Darron Lee is constant energy who catches offenses off guard because he doesn't look like the biggest guy, but he always brings it.

Adolphus Washington Updates

+ Washington said regardless of the situation with Noah Spence, Steve Miller was going to play a lot this year.

+ He said Saturday night was his best game as a Buckeye, along with the game against Navy. Washington said his film work prepared him very well for Penn State and he generally knew what was coming.
Source: The Ozone






Two-Minute Drill: Updates from the Oct 28 Urban Meyer Teleconference
October 28, 2014 Source: The Ozone - Urban Meyer stopped by the Big Ten Coaches Teleconference on Tuesday afternoon, as did Illinois head coach Tim Beckman. Here are the relevant highlights.

Urban Meyer Updates

+ Meyer said that he is disappointed with the Rod Smith situation. They will allow him to graduate, however. He said they will need to stay healthy with Smith no longer an option. Warren Ball will need to get involved now. "Another opportunity for another player."

+ Meyer said he wrote J.T. Barrett's parents a note today and sent them a couple of DVDs of Barrett's play. He said he stood up in front of the team to let Barrett know that he was impressed with how far he has come and how well he played at the end. The entire team then applauded Barrett. "It was a tough, gritty performance. It wasn't a great performance." There is still plenty of room to improve. He said he has adapted well throughout the season since the VT game, but didn't adapt as well against Penn State.

+ Barrett is getting treatment and "he's gonna play." The trainers say he'll be limited today and full go tomorrow. "I'm anxious to see him go."

+ Meyer said he doesn't feel this is an entitled group. The focus this week is on Illinois and getting better, so they aren't assuming a win and looking ahead to Michigan State. "We know there's a big one coming up. But this is a big one too. That one loses luster if we don't take care of business."

+ The offensive line continues to be a concern because they didn't play very well last week against a very good defensive line.

+ Meyer said Rod Smith has no chance to return to OSU. He will stay on scholarship and they want him to graduate.

+ Meyer said he thinks each conference should play a conference championship game.

Tim Beckman Updates

+ Beckman was asked what he learned from his time with Jim Tressel and he said he didn't have enough time to talk about it all. He said he has the utmost respect for Tressel and his family and learned a lot from him.

+ Regarding his time with Urban Meyer he said he's known him since they were graduate assistants. "I consider Urban a friend." He helped make him a better defensive coordinator. There are things he does with his team and his previous teams that have an "Urban flavor". He judges his program based on the programs that he came from under Tressel and Meyer.






No. 13/13 Ohio State vs. Illinois Game Notes
October 27, 2014 Source: OSU Official Site - Game to be televised at 8 p.m. ET on ABC ...



First and 10

• Ohio State enters the game having won 19 consecutive Big Ten regular season games. The B1G record is 20, set by the 2005-07 Ohio State teams.

• Ohio State enters the game second in the NCAA in passing efficiency with a 171.1 rating and is seventh in scoring offense at 44.3 ppg.

• Ohio State has scored a touchdown on its opening drive each of the last five games.

• Ohio State has outscored its last five opponents 158-38 in the first half.

• QB J.T. Barrett has thrown 18 TD passes -- with only three INTs -- in the last five games.

• Barrett leads the B1G in total offense with 306.7 yards per game. He also ranks first in the B1G and second in the NCAA in pass efficiency (172.8).

• Barrett has been responsible for at least three TDs in each of the last five games.

• RB Ezekiel Elliott has three 100-yard rushing games this season and has 499 rushing yards and three TDs in his last four games.

• B1G Defensive POW Joey Bosa leads the B1G with 11.5 TFL and 8.0 sacks. He also is tied for the Big Ten lead with three forced fumbles -- all three of which have led to scores.

• Urban Meyer is 34-3 in the month of November since the start of the 2003 season.

OHIO STATE SEEKS RECORD-TYING WIN
Ohio State can tie the Big Ten Conference record for regular season conference wins with a win on Saturday. The Buckeyes have won 19 consecutive Big Ten games, a streak that dates to the start of the 2012 conference season. Ohio State now has five of the top six longest winning streaks for conference games only (regular season games only), including the Big Ten record of 20 consecutive conference wins, set by the 2005-07 Ohio State teams.

Conference Games Win Streaks
20 -- Ohio State, 2005-07
19 -- Ohio State, 2012-current
Michigan, 1990-92
17 -- Ohio State, 1974-76
Ohio State, 1967-69
Ohio State, 1954-56

OHIO STATE vs. ILLINOIS
Ohio State and Illinois are meeting for the 101st time in a series that started in 1902. Only Ohio State's series against Michigan, which started in 1897 and which has seen 110 games, is older and lengthier than the Illinois series. Ohio State and Illinois played every year for 89 consecutive years, between 1914 and 2002, until the series was interrupted in 2003. The game Saturday will be the 10th consecutive year the teams have played. The two will play in 2015 at Illinois (Nov. 14) but won't play in 2016 before meeting once again in 2017 (Nov. 18 at Ohio Stadium).

OHIO STATE LEADS SERIES, 65-30-4
Ohio State leads the all-time series, 65-30-4. The Buckeyes are 34-12 vs. Illinois in Champaign and 39-18-4 in Columbus. Between 1968 and 1982, the Buckeyes put together a 15-game winning streak against the Illini, the longest streak in the series by either team. Illinois won five in a row between 1988 and 1992. Ohio State has, officially, won eight of the last nine meetings.

A LOOK AT THE ILLINI
Illinois is 4-4 and 1-3 in the B1G after handing Minnesota its first Big Ten loss of the season Saturday, 28-24, in Champaign. The Illini have registered wins over Youngstown State, Western Kentucky, Texas State and the Gophers and have lost at Washington, Nebraska and Wisconsin and home to Purdue.

Senior QB Reilly O'Toole will be under center for the Illini, with leading passer Wes Hunt sidelined with an injury. O'Toole helped UI to its first Big Ten win of the season Saturday, completing 14 of 21 passes for 118 yards and a TD while also rushing for 59 yards. He is 59 of 97 with four TDs and four INTs on the year. Junior RB Josh Ferguson leads the Illini on the ground with 518 yards on 102 carries with six TDs while freshman WR Mike Dudek is the leading receiver with 42 catches for 639 yards and three TDs.

Defensively, junior Mason Monheim and senior Zane Petty lead the Illini with 72 and 70 tackles, respectively.

Tim Beckman, a former Urban Meyer assistant coach at Bowling Green, is 10-22 in his third year in Champaign and 31-38 overall as a head coach.

More at Ohio State vs. Illinois Game Notes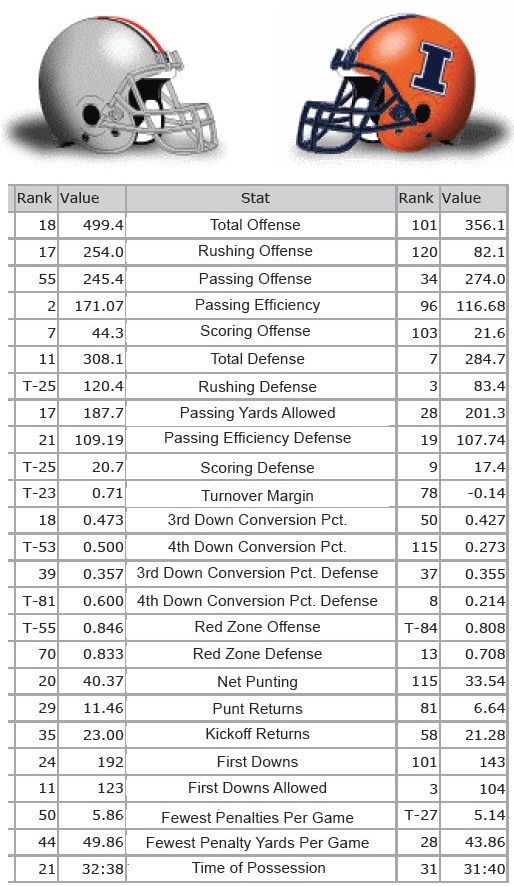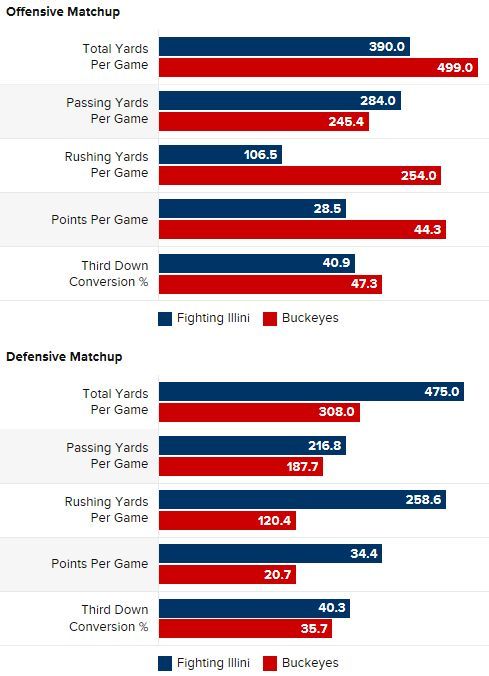 Source:
CBSSports.com




Columbus Weather Forecast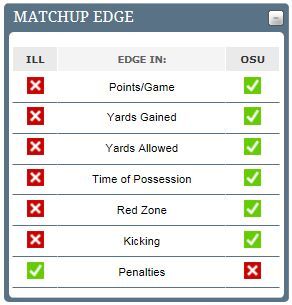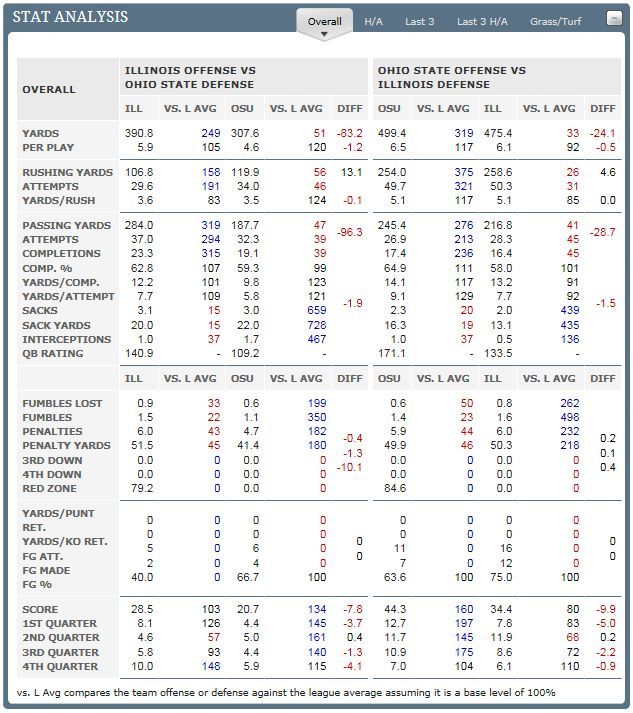 Source:
Covers.com



Source: ESPN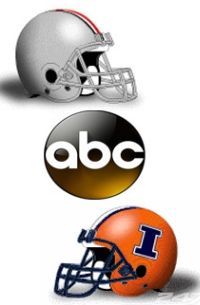 Game Data: Illinois at Ohio State
October 29, 2014 Source: Bucknuts.com - But the Illini have won seven of their last 12 visits to Ohio Stadium, dating to 1988. That includes Illinois' 28-21 upset of then-No. 1 and unbeaten Ohio State in 2007. In fact, Illinois' last five wins over OSU were all at Ohio Stadium (1992, 1994, 1999, 2001 and 2007)... * When Illinois Has The Ball: Illinois lost starting QB Wes Lunt to a broken leg against Purdue on Oct. 4. Senior Reilly O'Toole has filled in admirably and accounted for 177 yards and two touchdowns in last week's surprise win over Minnesota.

He relies heavily on RBs Josh Ferguson and Donovonn Young as well as wideouts Mike Dudek and Geronimo Allison. Illinois has not been particularly strong running the ball (114th nationally, 106.5 ypg), so this game will come down to how well O'Toole can keep the Buckeyes off guard with screens and swing passes.

OSU's defense has done well to slam the door on many of its opponents. Penn State, in fact, only had 10 points offensively through the end of regulation last week. I don't think Illinois' offense is much better than Penn State's and O'Toole, most certainly, is no Christian Hackenberg.

If O'Toole gets caught holding on to the ball too much, my guess is red hot DE Joey Bosa – who is bucking for All-American honors at this point – will make him pay...




Preview: No. 16 Ohio State vs. Illinois
October 31, 2014 Source: Eleven Warriors





Ohio State vs. Illinois 2014: Preview, odds, predictions
October 31, 2014 Source: Land-Grant Holy Land





Illinois-Ohio State Game Preview and Prediction
October 29, 2014 Source: Rant Sports





Illinois-Ohio St. Preview
October 29, 2014 Source: Associated Press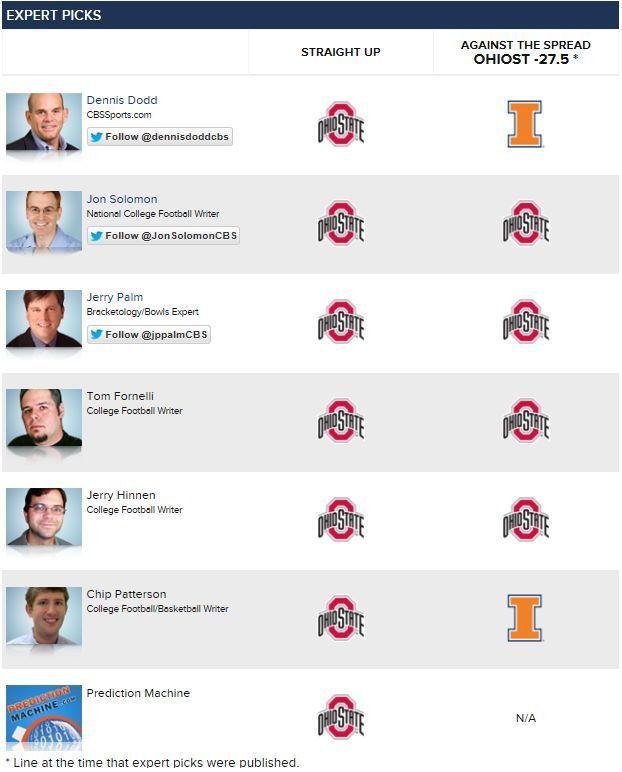 CBSSports.com


Illinois Ohio State Game Notes



Illinois vs. Ohio State: Three matchups to watch
October 30, 2014 Source: The Daily Illini -

Urban Meyer vs. Tim Beckman
Urban Meyer and Tim Beckman coached two seasons together at Bowling Green. Meyer was the head coach who retained Beckman as the Falcons' defensive coordinator for the 2001 and 2002 seasons. Beckman was hired as the Buckeyes' cornerbacks coach for two seasons beginning in 2005. Beckman is 0-4 as a head coach against Ohio State and 0-2 against Meyer.

J.T. Barrett vs. Illinois
Ohio State enters the game having won 19 consecutive Big Ten regular season games. The Buckeyes have scored a touchdown on their opening drive each of their last five games. Buckeyes quarterback J.T. Barrett has thrown 18 touchdown passes with only three interceptions in the last five games. Barrett leads the Big Ten in total offense with 306.7 yards per game, and is also ranked first in the Big Ten and second in the NCAA in pass efficiency. It's no secret that Barrett can get the job done, and it'll be interesting to see if the Illini can hold up against them.

Battle for the Illibuck
Illinois and Ohio State play for the Illibuck trophy, a wooden replica of a turtle that is one of the three Illini's trophy games. The Buckeyes lead the all-time series 62-23-2. Illinois last took the trophy with a 28-21 win in Columbus in 2007. Although the Buckeyes are the favorite to keep the Illibuck in Columbus, leading Illini tacklers junior Mason Monheim and senior Zane Petty might be able to keep Illinois in the game if they play the way they did last week against Minnesota.