42-35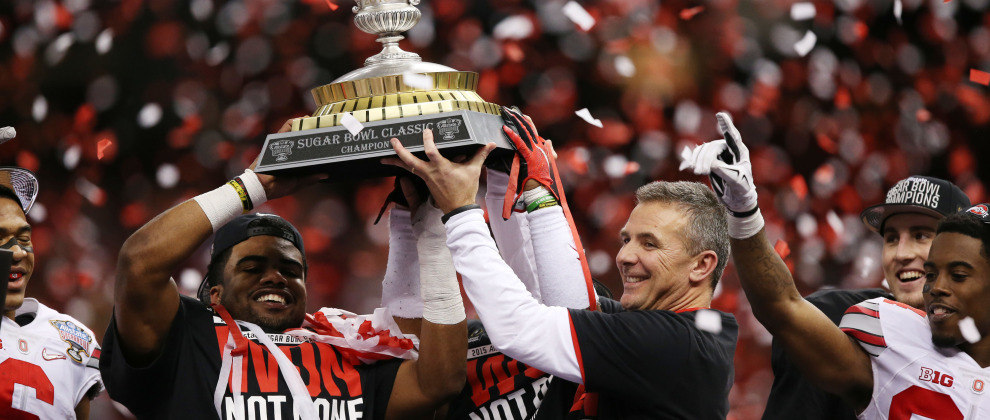 Sugar Bowl Celebration Source: Eleven Warriors

Sugar Bowl Highlights
The Buckeyes traveled down to the Crescent City to beat Alabama, claim the Sugar Bowl Playoff victory, and punch their ticket to the National Championship. Source: Ohio State Football

Paul Keels, voice of the Buckeyes, radio highlights



Sweet as Sugar: Buckeyes upset Alabama 42-35
January 2, 2015 Source: OSU Official Site - Buckeyes advance to first ever College Football Playoff Championship Game

Urban Meyer had barely sat down after the Sugar Bowl when someone told him the score from the other semifinal game.

He started to bolt from his chair, feigning a sense of urgency with another game left against a team that wiped out the defending national champion.

"We've got to go get ready for that one," Meyer said.

Actually, he's not intimidated in the least. Meyer knows he's got a pretty good team, too.

Cardale Jones turned in another savvy performance in his second college start and Ezekiel Elliott ran for a Sugar Bowl-record 230 yards Thursday night, leading Ohio State to a 42-35 upset of top-ranked Alabama in the second semifinal of the College Football Playoff.

The Buckeyes (13-1 and seeded fourth in the playoff) kicked off at the Superdome right after Oregon finished its 59-20 rout of reigning champ Florida State in the Rose Bowl.

Now, it's on to the Jan. 12 championship game at Arlington, Texas.

Denied a shot at his fourth national title in six years, Alabama coach Nick Saban has no doubt that Ohio State can hang with the high-scoring Ducks.

"They're capable of playing with any team in the country," he said.

Meyer also likes his team's chances.

"We're good enough," he said. "That was a sledgehammer game. That was a classic."

This is what Meyer had in mind when he took over at Ohio State in 2012, having taken a year off from coaching after leading Florida to a pair of national titles. Coming from the Southeastern Conference, Meyer knew what he had to do. Recruit more speed. Bring a more athletic style to the plodding Big Ten. Turn Columbus into the SEC North.

After just three years on the job, he's one win away from a national championship. And, for the first time in nine years, the SEC won't be part of the championship game.

"Maybe the Big Ten is not that bad," said Meyer, whose team rallied from a 21-6 deficit. "Maybe it's pretty damn good."

Jones threw for 243 yards, including a 47-yard touchdown to Devin Smith that put the Buckeyes ahead for good early in the third quarter. He also ran for 43 yards and converted a crucial third-down play with a spinning, 1-yard dive and Ohio State clinging to a 34-28 lead.

On the next play, Elliott took a handoff, broke one feeble attempt at a tackle, and was gone for an 85-yard touchdown that essentially clinched the victory with 3:24 remaining. Ohio State snapped an 0-for-10 futility against the SEC in bowl games, its only victory vacated by a scandal that cost former coach Jim Tressel his job.

Alabama (12-2) didn't go down quietly.

Blake Sims threw a 6-yard touchdown pass to Amari Cooper with 1:59 remaining. The Buckeyes recovered the onside kick, but Alabama got it back one more time after some questionable clock management.

The Tide's final shot ended when a desperation heave into the end zone was picked off by Tyvis Powell as time ran out, Sims' third interception of the game.

"I feel like I'm going to Disney World," a giddy Powell said.

Not yet. The next stop is Jerry's World in Arlington.

Or maybe Cardale's World would be more appropriate.

Jones started fall practice as Ohio State's third-string quarterback, moved up the depth chart when star Braxton Miller sustained a season-ending shoulder injury, and became the starter for the Big Ten championship game after J.T. Barrett went down with an injury.

A 59-0 rout of Wisconsin showed that Jones was up to the job. His performance against Alabama gives him a chance to go down as one of the greatest replacement players in college football history.

Alabama hardly looked like Saban's usual defensive powerhouse, giving up 537 yards to the Buckeyes. Elliott scored on a 3-yard run with 2:55 left in first half to spark the comeback, and he wound up averaging a staggering 11.5 yards on 20 carries to earn the award as the most outstanding offensive player.

"He's probably the most underrated back in the United States," Meyer said.

For the second year in a row, Alabama's season ended at the Sugar Bowl.

This one was especially painful, costing the Tide a chance to advance in college football's first playoff.

"I'm proud of this team," Saban said. "They excelled all year long and kept Alabama at the forefront of college football."

But he never liked the feel of the game, even after Alabama raced to its early lead, taking advantage of a pair of turnovers and coming up with a pair of red-zone stops.

"We really weren't stopping them," Saban said. "We did not control the football game like we usually do."

Shaking off an interception, Jones led one of the biggest drives of the game at the end of the first half. He completed three straight passes for 37 yards, then broke off a 27-yard run up the middle when his receivers were covered. After a timeout with 19 seconds remaining, Ohio State pulled out a trick play - and Michael Thomas pulled off one of the most spectacular catches of the season.

Jones handed off to receiver Jalin Marshall on an apparent end-around, Marshall flipped it to Evan Spencer coming the other way, and Spencer suddenly pulled up and threw toward Thomas. He leaped up to make a twisting catch and somehow got his left foot down just inside the line for a 13-yard score that gave the Buckeyes all the momentum going into halftime.

Ohio State kept right on going, scoring two more touchdowns to complete a stunning 28-0 spurt that pushed the Buckeyes ahead 34-21.



• • •



Postgame Quotes From the 2015 Sugar Bowl Source: OSU Official Site



• • •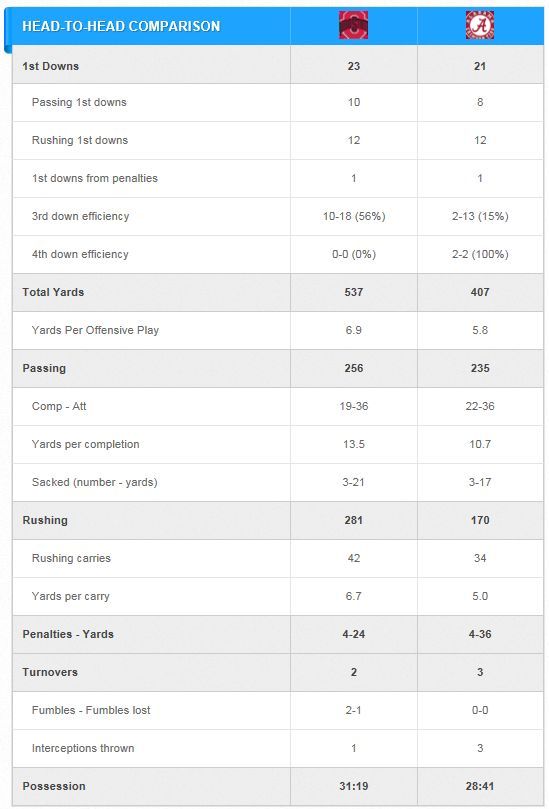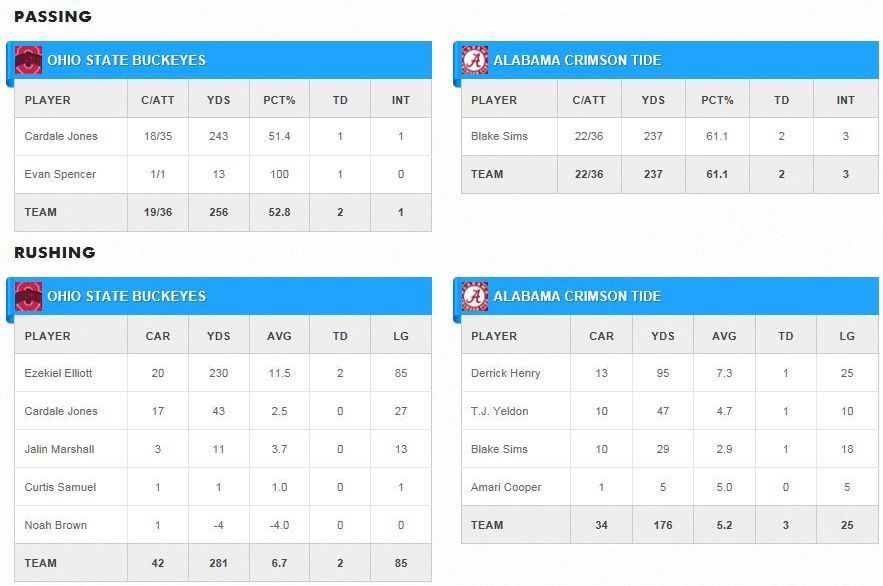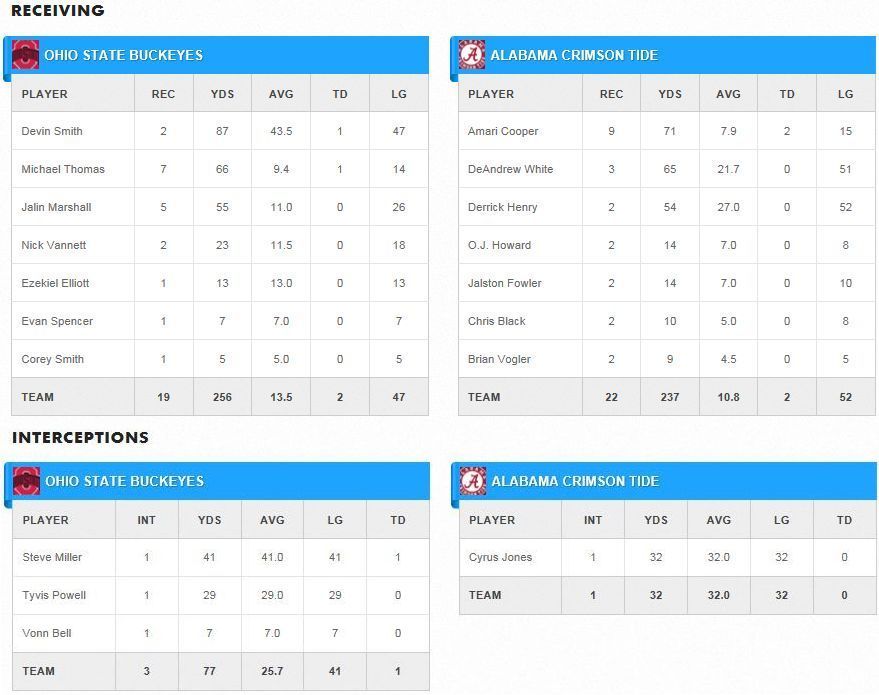 Source:

USA Today



Ohio State vs Alabama (Jan 1, 2015) Source: OSU Official Site
Scoring Summary, Team Statistics, Individual Statistics, Drive Chart, Defensive Statistics, Game Participation,
Box Score, Play-by-Play, Play breakdown





Ohio State stuns Alabama with a trick play touchdown


Replays showed that Thomas' foot came down with just an inch or two of grass in between his cleat and the sideline.




Alabama threatened to break open the Sugar Bowl in the first quarter after jumping out to a 14-6 lead, but the Buckeyes stormed back in the second quarter. Ohio State found the endzone twice in the final three minutes of the first half — first through a 3-yard Ezekiel Elliot run, and then with a stunning double-reverse play. Wide receiver Evan Spencer lobbed a pass up to Michael Thomas, and Thomas somehow kept his body in bounds.



• • •






Ezekiel Elliott broke off an 85-yard touchdown with just over three minutes to play to give Buckeyes 42-28 lead.









It was over when... Ohio State safety Tyvis Powell intercepted Alabama QB Blake Sims as time expired with the Tide down a touchdown.

Gameball goes to... Ezekiel Elliott, who rushed for 230 yards and two touchdowns on 20 carries. He also had a 13-yard reception.

Stat of the game... 170. Alabama's stellar group of running backs mustered only 170 yards versus Ohio State, and no rusher had more than 95.

Ohio State rushed for 222 yards inside the tackles, 39 more rushing yards than Alabama had allowed TOTAL in a game this season.

Ezekiel Elliott's 85-yard TD run is the longest rushing play Alabama has allowed under Nick Saban

Ezekiel Elliott's 230 rushing yards are the most in Sugar Bowl history.

One key to Ohio State's comeback was its defensive turnaround in the second half. The defense went from taking away about four net points and costing eight percentage points of win probability in the first half to adding a couple points and 20 percentage points in win probability in the second half to help the key comeback and then maintain the lead.

The Buckeyes had eight runs inside the tackles that gained 10 yards or more, one more than Alabama had allowed TOTAL in a game this season.

Urban Meyer has now won more than 84 percent of his games as a head coach, the fourth-best mark in FBS history and best by any coach in the last 60 years.

Ezekiel Elliott rushed for a Sugar Bowl-record 230 yards. It was the most rushing yards against Alabama since 2000. His 85-yard touchdown run was the longest play allowed by Alabama this season.

Cardale Jones is the 1st Ohio State QB to win a bowl game without having started that season's opener since Troy Smith in the 2006 Fiesta Bowl against Notre Dame (2005 season). [+]

Alabama: 31-3 vs non-SEC opponents since 2008 (all 3 losses came in Sugar Bowl)

Nick Saban has been listed as a favorite of 9 points or more in a handful of big games since getting to Alabama. But especially recently, he has struggled as a large point spread favorite when it counts, losing 3 bowl games and a conference championship when listed as at least a 9-point favorite. Recently, Saban has been less than mediocre in big games as a large favorite. In the last 2 seasons, he is 2-3 in Bowl, Conference Title and Rivalry games...from 2000 to 2012, as head coach of Alabama and LSU, Saban was 9-1 in such games.

For its sound win on a neutral field vs Alabama, Ohio State received a game score of 97.5 on a 0-100 scale - that accounts for the final score, the flow of the game (Ohio State had an average win probability of 57%), the site, and strength of the opponent (Alabama currently #2 in FPI). As of Friday morning, that's the fourth-highest game score of the 2014 season, just ahead of the Buckeyes' dominating win at Michigan State back in November, and behind home losses by each of the national title game participants.

Ohio State trailed by 15 points. The win over Alabama is the largest comeback victory for the Buckeyes since October 28, 1989 (came back from 31-0 down to beat Minnesota 41-37).

The SEC West was 28-0 against non-conference opponents in the regular season. However, the division finished 2-5 in bowl games, including losing all 4 matchups against ranked opponents.

Alabama converted a first down on a season-low 15% of its third downs Thursday. The Crimson Tide entered the game converting 54% of their third downs, second-best in the FBS behind Georgia Tech (58%).



• • •



• The win puts Ohio State in the inaugural College Football Playoff National Championship game vs. No. 2 Oregon Jan. 12 at AT&T Stadium in North Texas.

• Ohio State extends the nation's longest winning streak to 12 games with the victory.

• The 13 wins in 2014, ranks second all-time at Ohio State in number of victories in a season to the 2002 Buckeyes that won the national championship with a 14-0 season.

• The win marked the first victory for Ohio State over a No. 1 team since defeating Miami, Fla. in the 2003 BCS National Championship game.

• Ohio State rushed for 256 yards and totaled 537 yards. Coming into the game, Alabama was giving up just 88.7 per game on the ground and 312.4.

• Head coach Urban Meyer is 8-2 in his career in bowl games and 16-5 all-time in neutral site games.

• Meyer is 39-3 in his career with more than a week to prepare for a game.

• Meyer is now 3-3 in his career vs. Alabama and 2-2 vs. Nick Saban.

• RB Ezekiel Elliott finished the game with 230 yards on 20 carries and 20 TDs, breaking the Sugar Bowl record for rushing yards in a game (204 by Steve Slaton of West Virginia in 2006).

• Elliott also became the first player to rush for 100 yards against Alabama this season. It was the eighth 100-yard game of the season for Elliott and the ninth of his career.

• Elliott now has 1,632 yards rushing in 2014, moving into fourth all-time for single season production, trailing 3.) Archie Griffin 1,695 in 1974 2.) Keith Byars 1,764 in 1984 1.) Eddie George 1,927 in 1995.

• Elliott's 54-yard run in the first half was his 10th of at least 20 yards this season and the fourth of at least 50 yards. He added an 85-yard TD run in the fourth quarter for his 11th rush of 20 or more and fifth of 50 yards-plus.

• WR Devin Smith caught his 30th career TD, a 47-yarder from Cardale Jones early in the third quarter to give Ohio State a 27-21 lead.

• Ohio State is now 22-0 the past 4 years when Smith catches a TD.

• DL Steve Miller recorded his first career INT in the third quarter and returned it 41 yards for a TD.

• Kicker Sean Nuernberger connected on FGs of 22 and 21 yards, tying his season high for FGs made in a game.

• The Buckeyes are now 16-6 all-time indoors and 45-23 all-time in night games (games starting after 5 p.m. local time).

• Ohio State is now 37-3 (.923) overall under Meyer, the second-highest winning percentage among FBS teams since the start of 2012.



• • •



Star of the game: Ohio State running back Ezekiel Elliott rushed for a career-high 230 yards, including an 85-yard touchdown run that seemed to put the game away. Ohio State gained 281 yards overall against the nation's top defense against the run. Elliott has 1,632 yards for the season.

Turning point: It would have been Evan Spencer's leaping grab of an Alabama attempted onside kick with 1:59 left. Instead, the Buckeyes let the Crimson Tide get the ball back, which meant the turning point was a Tyvis Powell interception in the end zone on the final play.

Repercussions: With the win, Ohio State advances to the championship game of the first College Football Playoff against Oregon, which dispatched defending national champion Florida State in brutish fashion. The Buckeyes now have their first victory over the Crimson Tide.

Pregame buzz: Not since Woody faced Bear in the 1978 Sugar Bowl had two coaches attracted attention in NOLA the way Urban Meyer and Nick Saban did leading to the playoff semifinal. In the end, the hype lived up to the billing. And Urban even channeled Woody with his headset throw.

Just wondering: What was that peculiar play-calling on the Buckeyes' last series? Throw deep instead of eating clock? Maybe Meyer and Herman just wanted to keep things interesting. Whatever it was, it kept things, er, interesting to the end.

Numbers for dummies

1: Ohio State tailback became the first player to rush for 100 yards against the Tide this season

55-45: Percentage of Alabama fans to Ohio State fans in the Superdome

12: Nation's longest winning streak belongs to the Buckeyes.

Tweethearts:

@mrmuleman: Evan Spencer just jumped to #2 on the QB depth chart.

@dsay: We are seeing how good this Buckeye team really is. Just think if we had the B1G Coach of the Year, Jerry Kill



Sources: ESPN, OSU Official Site, Columbus Dispatch






Buckeyes sing Carmen Ohio Source: Eleven Warriors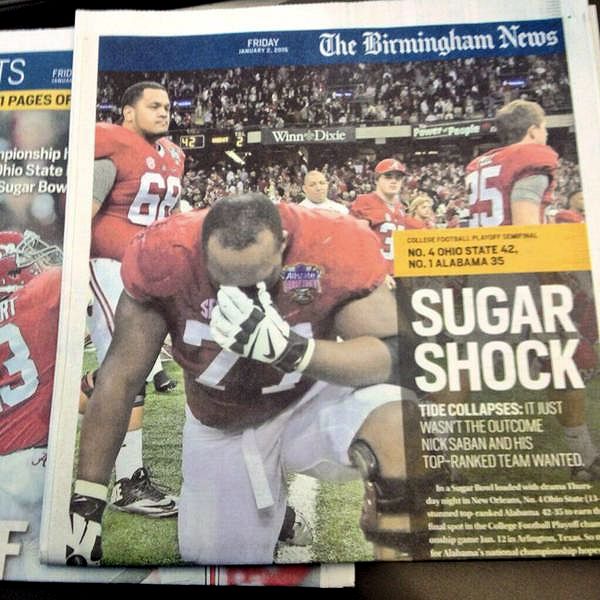 Meanwhile, in Birmingham... the OhioState Buckeyes brought the 'Juice' and caused a SUGAR SHOCK!



Football vs Ohio State Postgame Quotes
January 2, 2015 Source: Alabama Official Site - COACH NICK SABAN: Well, you know, we're very disappointed in the outcome of the game. But you have to congratulate Ohio State who played a really, really good game, and we probably didn't play our best game.

And I take responsibility for that. I think everybody in the organization, from the coaches, you know, right on down, has to take responsibility for what they did or didn't do to help prepare the team to be able to play their best game, which was certainly our goal coming into this game.

I think specifically in the game, third down was probably %u2011%u2011 they hurt us on third down, lots of times on third and longs and converted, and we didn't do very well on third down, so we didn't continue drives, and they were able to continue driving and convert scores, specially when we were ahead 21%u20116. And they scored 28 unanswered points

But I'm very proud of this team. This team excelled all year long.

They kept Alabama in the forefront of college football everywhere in the country, based on the hard work and the improvement that they made throughout the season.

So I'm very proud of what this team was able to accomplish and winning the SEC as well as winning 12 football games in a very tough conference.

We're very disappointed in the outcome today. It was our goal to play our best in this game, so we would have an opportunity to play in a national championship game. But we obviously didn't do the things that we needed to do as well as we needed to do them to have a chance to do that.

But I think there's a lot of winners on this team. And I don't think you necessarily have to get a trophy to be a winner. And I do think that there's a lot of guys on this team, two of them sitting right up here with me right now, and many, many more in that locker room, that have been winners all year and did a fantastic job for our team.

Q. Coach, if you could talk about the differences that you saw when you were up 21-6 and what they did to grab that momentum ultimately going on 28-0 run?

COACH SABAN: Well, really, we were up 21-6 because of two turnovers and two stops in the red area. So, we really weren't stopping them. We kind of had the momentum of the game because of the turnovers that we got and converted those into scores.

But we weren't really playing and executing the way we needed to even then. I didn't like the feel of the game even then. So, we just stopped them in the red zone and we got two turnovers and that was the difference. And in the second half I thought we played a little better and did a little better job.

But we did not control the football game like we usually do and it wasn't anything that they did differently. They had a good plan. They executed it well against us. And we gave up far too many big plays in the game, which has been a problem for us toward the end of the year, and that was ... when you give up big plays you don't get off the field on third down, you've got lots of problems.

Q. What was Ezekiel Elliott doing or what were you not doing to control him?

COACH SABAN: Well, I don't know that we weren't doing anything. I mean he's obviously a very, very good player, and we didn't do a very good job of executing what we needed to do to be able to control him in the game, and consequently he made lots of good plays.

So, you know, it's not really about what you do most of the time, it's really more about how you do it. And they did a better job of executing what they do than what we did...








Alabama

CFP Sem-Final

Jan 1, 2015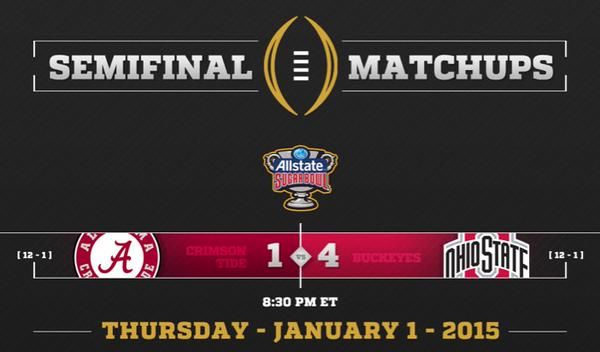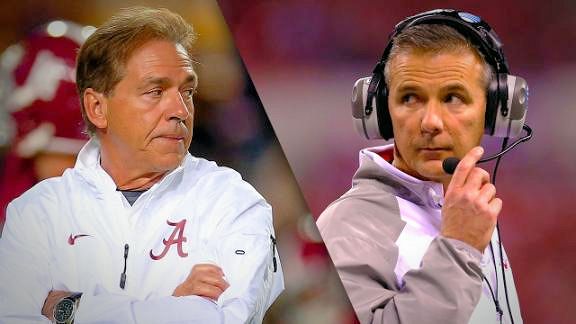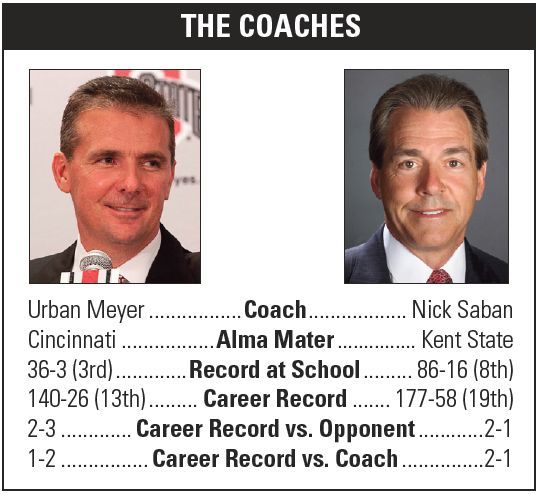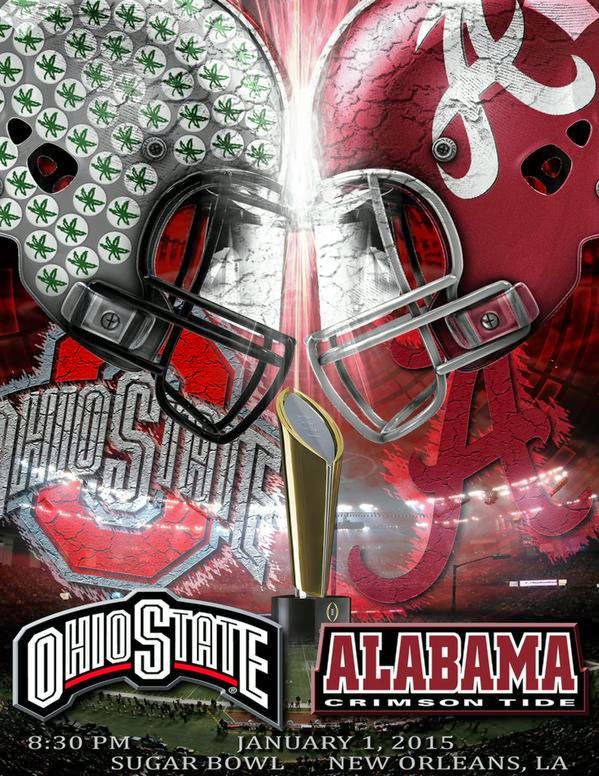 Ohio State Interactive Sugar Bowl Guide Source: OSU Official Site





Ohio State football: The three most important final thoughts from Urban Meyer before the Sugar Bowl vs. Alabama
December 31, 2014 Source: Cleveland Plain Dealer - 1. "Probably" – It's a simple word that came out of Meyer's mouth, and you're probably – no pun intended – going to be hearing it a lot in the future.

Asked if Ohio State's brand played a part in the Buckeyes getting the nod in the playoff over teams like TCU and Baylor, Meyer didn't seem to think the question through before responding.

"Did the branding? I don't know that. That's certainly out of my ... probably," Meyer said. "I never really thought about it. But I think Ohio State traditionally has got a great brand name."

The ending is what Meyer meant. He was saying that the strength behind Ohio State's name has always been advantageous from the program, not asserting that the big-named programs are more likely to be favored by the committee because of branding.

2. Comfortable with the quarterbacks? The fact that Cardale Jones has had roughly a month to improve after his first career start has to make Meyer feel better about his quarterback situation.

Jones is still very inexperienced and the Buckeyes' backup is H-Back Jalin Marshall. Ohio State, however, must rely on Jones and potentially Marshall to win.

So is Meyer comfortable?

"He's had a great week of practice," Meyer said of Jones. "He's big. He stands back in the pocket. He's got control of the offense. And I think our strength coach said it best to me when we were getting ready for the Big Ten championship. He said, 'You realize he came in at the same time our staff did. He's been in every meeting. He understands the culture and expectations of the offense.'

"So very comfortable. And Jalin has done a great job. Is it the ideal situation? I made this comment over and over again, the one thing that's not allowed is there's no excuses. It is what it is. So, to answer your question I feel very comfortable where we're at."

3. Aiming at Alabama? The idea that Ohio State has had Alabama in the crosshairs since Meyer took over in 2011 is a little misguided. The Buckeyes have, but it's not personal to the Crimson Tide.

Meyer wants his program at the top. Alabama has been on the top.

"We model ourselves instead of saying a certain team (we're chasing), because every year it kind of changes who that great team is," Meyer said. "Alabama happens to be the last five or six years, as good as there is. But other teams, you see the Oklahomas, the Florida States, the Auburn at the top. And I use those quite often."





5 reasons Ohio State football will beat Alabama Crimson Tide: 'We're pretty confident stopping zone offenses'
December 31, 2014 Source: Cleveland Plain Dealer - 1. Ohio State feels its built to stop Alabama's offense. Buckeyes defensive tackle Michael Bennett, who's become a voice of this team in recent weeks, didn't pull any punches when discussing the Alabama offense.

"This is a zone offense," Bennett said. "They've got a lot of other weapons with them, but this is primarily a zone offense. I feel like we're pretty confident stopping zone offenses."

Bennett went on to say he couldn't recall which opponents exactly used a zone scheme against the Buckeyes, only that "there hasn't been a zone team in college football that's been able to handle us so far this season."

Well, there haven't been very many defenses that have stopped Alabama either.

Arkansas and LSU did, but the Tide won both of those games. In its only loss, Alabama's offense wasn't exactly slowed by Ole Miss. Maybe that's why Tide offensive lineman Austin Shepherd had to chuckle a bit when told what Bennett had to say.

"I might be able to say some bulletin board stuff, but I might get in trouble," Shepherd said. "They're confident they can beat us, we're confident that we're gonna beat them. That's just how it goes ... Maybe they see something we don't."

Bennett said the Buckeyes studied how Arkansas and LSU found success against Alabama, and Shepherd described Ohio State as having a "SEC-style defense."

An SEC-style defense that apparently feels it has the recipe for success against Bama's offense.

"Our defense is built off speed and that's how you stop zone offenses: speed and penetration," Bennett said. "That's our game that we love to play, and I can't wait to play it."

2. Tony Lippett. What does Michigan State's leading receiver have to do with Ohio State playing Alabama in the Sugar Bowl? Lippett and the Spartans gave Buckeyes cornerback Doran Grant a stage to show he can cover top receivers.

Stopping Alabama's Heisman Trophy finalist receiver Amari Cooper is a different animal. And we all know what Sammy Watkins did to Ohio State the last time the Buckeyes played in a bowl game.

But this pass defense is different, and Grant is confident.

"I'm looking forward to it, especially on the Sugar Bowl stage," Grant said. "He's the most complete offensive player we've gone against as a defensive unit. It's going to be a great challenge."

He wouldn't say if Ohio State would use the same strategy it used against Lippett, when the Buckeyes deviated from their normal boundary and field alignment with their corners and had Grant shadow Lippett all night. Lippett had one of his least productive games that night — five catches, 64 yards, 0 touchdowns — in the Buckeyes' win.

Cooper could probably double the catches and yards and Meyer would still be happy because that would be worlds better than Ohio State was against Watkins last year.

"That's challenge number one," Meyer said of stopping Cooper. "We're better. We're more equipped. (Co-defensive coordinator) Chris Ash has done a very nice job and obviously it's the players, but we're very systematic on the back end right now and that's going to be key to where he's at."

3. Cardale to Devin. It worked against Wisconsin, and Ohio State will take its shots against Alabama.

The Tide gave up pass plays of 68, 42, 35 and 34 yards against Auburn, two of those for touchdowns, as the Tigers went for 456 yards through the air. In the SEC Championship, Missouri receiver Jimmie Hunt had six catches for 169 yards against the Tide.

"We're just trying to execute in practice because we give up big plays from time to time," Tide cornerback Eddie Jackson said.

That must be music to the ears of Buckeyes quarterback Cardale Jones and deep-ball receiver Devin Smith. Smith has made a career out of long touchdowns, and when he scores, Ohio State has never lost.

"The thing that we tout ourselves on is we're not going to change no matter who we play," Smith said. "So we're going to keep taking our shots and we know that's a weakness on their defense and we're going to attack their weakness."

4. This isn't week two and Ohio State's offensive line is better. If this game was played in September, it's likely the Buckeyes "would be be embarrassed," as offensive tackle Taylor Decker put it.

Alabama has superior depth on the defensive line, more than any team Ohio State has faced this year, but the Buckeyes are confident up front after a season of gelling and developing chemistry.

"It's intangibles more than anything," Decker said. "Confidence and chemistry are the two biggest things that have gone into this offensive line's growth. If you're not confident, you're not gonna explode off the ball fast, you're not gonna be instinctual out there."

5. Sean Nuernberger says he's still confident. Yes, he has to say that. But when speaking to Ohio State's freshman kicker at Sugar Bowl media day at the Superdome on Tuesday, he didn't seem like a kid who's confidence was shot over being seldom used this season.

If Ohio State wants to beat Alabama, the Buckeyes may very well need a few field goals against a defense that hasn't allowed very many red zone touchdowns.

"Missed field goals, stuff like that you can't have that stuff in these type of close championship games," Nuernberger told cleveland.com "It kind of ups the importance of every single kick. When you're winning by a couple touchdowns, every field goal isn't as important as it will be in this game here when every point counts."

The Buckeyes may have the edge in the kicking game with Alabama kicker Adam Griffith reportedly dealing with a nagging back problem. And Ohio State may have a few more chances for three points.

The Tide is first in the nation in opponent red zone touchdown percentage, allowing opponents to get in the end zone on just 37 percent of their trips. Because of that, Alabama has allowed a lot of field goal attempts: 23. Only 21 of the 128 teams in FBS have given up more attempts.

"I'm feeling pretty good right now, hitting the ball very well" Nuernberger said. "Once you get to these championship games you're playing better teams, so every single way you can get points, you've got to get them."





Defensive Coordinator/LB Coach Luke Fickell and Sophomore DE Joey Bosa spoke with reporters Monday (12/29) about the upcoming Sugar Bowl vs Alabama.





Five Keys to a Buckeye Win Over Alabama
December 30, 2014 Source: The Ozone -

1. Get to running backs Derrick Henry and T.J. Yeldon before they get started.
Derrick Henry (895 yards) and T.J. Yeldon (932 yards) have combined for over 1,800 yards rushing this season, allowing the Alabama offense to control the ball and set up opposing defenses for the play-action pass to All-American receiver Amari Cooper...

2. Give Cardale Jones time to throw the ball.
When it comes to getting to the quarterback, Alabama is a middle-of-the-pack team in the SEC in terms of sacks, averaging just over two per game. If Cardale Jones is only going to get sacked twice in this game, I think the Buckeye coaches would take that in an instant...

3. Tackle Amari Cooper.
It's pretty simple for the Buckeyes. Amari Cooper, he of the 115 catches and 1,656 yards and 14 touchdowns for the Tide, must not go off. In order to keep that from happening, that's probably going to require a pair of defenders. As has been the case when the Buckeyes have a specific receiver that they want to limit, they will have him shadowed by Doran Grant, and it has worked out pretty well this season. They will also help out with a safety whenever possible...

4. Get yards on first down.
This can also go hand-in-hand with keeping Cardale Jones healthy, because an unpredictable offense makes for a safer quarterback. Getting yards on first down makes second down an advantageous situation for the Ohio State offense. Getting nothing on first down puts more pressure on Jones, and more pressure on Jones is not a good thing, no matter what he looked like against Wisconsin...

5. Get pressure on quarterback Blake Sims.
Even though the Ohio State defense's No. 1 goal will be to stop the run, they could find a lot of success if they make life uncomfortable for Blake Sims. Just as Alabama will do with Cardale Jones, the Buckeye front seven will be trying to keep Sims from maintaining any semblance of timing with his receivers... As we said earlier, a lot of the passing game for Alabama will involve quick routes, which is nothing new for the Buckeyes. Sims will also be sent on the move in order to stay out of Joey Bosa's way. There will be blitzes sent, and Sam linebacker Darron Lee is one of the best in the Big Ten in that regard...




Who has passing edge in Sugar Bowl?
December 24, 2014 Source: ESPN - So, who has the edge in the passing game? Big Ten reporter Austin Ward and SEC reporter Alex Scarborough take a look at those matchups as the Allstate Sugar Bowl creeps ever closer.

Alabama targets: The Crimson Tide have the best receiver in college football. Cooper, for those who have been asleep at the wheel all season, is the real deal. Whether you play off coverage or press him at the line of scrimmage, he finds a way to get open. But the bigger story for Alabama might be everyone else. Outside of finding No. 9, quarterback Blake Sims has struggled to incorporate the rest of his passing targets. Wide receivers Christion Jones and DeAndrew White have gotten the ball more in recent weeks, but overall their production has been lacking. The same goes for tight end O.J. Howard, who is a freakish athlete but can't seem to generate any consistency as a playmaker. -- Scarborough

Ohio State secondary: A new co-defensive coordinator, a more aggressive scheme and the maturation of a pair of talented young safeties have combined to turn Ohio State's defensive backs into one of the most improved units in the nation. Vonn Bell and Tyvis Powell have combined for eight interceptions as they've grown more comfortable and confident at safety, and with Doran Grant locking down receivers at cornerback and chipping in five picks of his own, it's becoming a dangerous proposition to throw on the Buckeyes. Only three defenses in the nation nabbed more passes than Ohio State did this season under Chris Ash, and he'll be expecting more of the same against the Crimson Tide. -- Ward

Advantage: Starting with one of the best players in the entire country regardless of position is a good way to gain an edge, and Cooper should push Alabama slightly ahead in this matchup. But it's closer than might be expected considering how much talent the Buckeyes have in the secondary and how well coached they've been under Ash and defensive coordinator Luke Fickell.

Alabama secondary: Outside of Landon Collins, there wasn't much expected of Alabama's secondary entering the season. Neither cornerback spot was settled and the second safety position opposite Collins was up in the air, too. But thanks to the steady play of Nick Perry and the emergence of Cyrus Jones, the unit has held its own. That doesn't mean it's without faults, mind you. Against Auburn, every flaw was exposed as Nick Marshall threw for 456 yards. The most concerning issue was the way the Tigers picked on cornerback Eddie Jackson, who was helpless against Duke Williams. The next week against Missouri, it wasn't much better as Jimmie Hunt racked up 169 yards on six catches. Whether it's Jackson, Bradley Sylve or freshman Tony Brown, Alabama needs someone to step up and round out the secondary at cornerback. -- Scarborough

Ohio State targets: Urban Meyer needed a couple seasons to acquire the kind of talent he needed to balance his spread offense with a consistent passing attack, but he certainly has all the tools in place now. Michael Thomas bounced back from a surprising redshirt season as a sophomore to become Ohio State's most complete receiver, leading the team with 43 receptions and becoming a reliable option to move the chains with his sharp routes and strong hands. Devin Smith had already proven more than capable of burning secondaries deep as the home-run threat for the Buckeyes, but he has taken his game to a higher level as a senior and is averaging nearly 27 yards per catch. Throw in a wildcard such as Jalin Marshall as a hybrid weapon and a future NFL tight end in Jeff Heuerman, and Ohio State makes it impossible now to focus too much on stopping its powerful ground game. -- Ward

Advantage: The Buckeyes have enough weapons to keep even the best secondaries in the country busy, and this year the Crimson Tide aren't quite living up to the high standard the program has established against the pass. Ohio State should have the edge.



• • •



Who has the edge in the Sugar Bowl battle of the trenches?
December 24, 2014 Source: ESPN - With all due respect to the quarterbacks and other skill position players, the Allstate Sugar Bowl will ultimately come down to who wins the battle of the trenches.

If Ohio State can't protect Cardale Jones, his youth will show.

If Alabama can't give Blake Sims a clean pocket, he could struggle, too.

So which team has the edge in the battle of offensive line versus defensive line? Big Ten reporter Austin Ward and SEC reporter Alex Scarborough preview the matchup.

Alabama OL vs Ohio State DL: Advantage: It's awfully close, but give the slight edge to Ohio State, which might have the best lineman on the field in Bosa.

Ohio State OL vs Alabama DL: Advantage: Another close call with both units steadily improving throughout the year, but we'll give the nod to Alabama's depth and ability to roll in fresh linemen...





• • •



Tale of the tape: Alabama vs. Ohio State
December 24, 2014 Source: ESPN - Alabama and Ohio State meet in the Allstate Sugar Bowl on Jan. 1 (8:30 p.m. ET, ESPN) with a spot in the College Football Playoff national championship game on the line. So how do the two teams match up? Let's go to the tale of the tape, position by position...




#4 Ohio State Takes on #1 Alabama in Allstate Sugar Bowl
December 20, 2014 Source: OSU Official Site - College Football Playoff semifinal will be televised on ESPN and ESPN Radio Jan. 1 at 8:30 p.m. ET ...



First and 10

• Ohio State won its 35th Big Ten championship Dec. 6 with a 59-0 win over No. 13 Wisconsin.

• Ohio State enters the game having won 11 in a row, the second-longest active streak in the nation.

• Ohio State is officially 1-2 in Sugar Bowl Classics.

• Ohio State played in a BCS championship game in the Superdome, losing to LSU, 38-24, in 2007.

• Ohio State finished 8-0 in conference play, becoming the first Big Ten team since Minnesota in 1933-35 to go undefeated in regular-season conference play three consecutive years.

• The Buckeyes also became the first Big Ten team to win every game (undefeated and untied) in Big Ten regular season games three consecutive years.

• Ohio State leads the B1G and is ranked eighth in the NCAA in total offense with 507.6 yards per game and is fifth in scoring offense at 45.2 ppg.

• Joey Bosa, a consensus All-American, Big Ten Defensive POY and Lombardi, Hendricks and Bednarik finalist, leads the B1G with 20.0 TFL & 13.5 sacks.

• Urban Meyer is 7-2 in his career in bowl games and 15-5 all-time in neutral site games.

• The Buckeyes, 36-3 (.923) overall under Meyer, have the second-highest winning percentage among FBS teams since the start of 2012.

44TH BOWL GAME FOR OHIO STATE
The 2015 College Football Playoff semifinal at the Allstate Sugar Bowl represents Ohio State's 44th post-season bowl game. The Buckeyes are 19-24 in their previous bowl games.

OHIO STATE TOPS IN BCS BOWLS, WINS
During the Bowl Championship Series era, Ohio State had as many BCS appearances (9) and wins (5) as any team in the nation.

Urban Meyer'S TEAMS: 7-2 & 4-1
Coach Urban Meyer's teams are 7-2 all-time in bowl games, including 4-1 in BCS bowl games. Included are national championship game wins in 2007 and 2009.

OHIO STATE INDOORS
The Buckeyes have an official, all-time record of 15-6 in games played indoors. The team's most recent games indoors were the last two Big Ten championship games, held at Lucas Oil Stadium in Indianapolis, Ind.

Ohio State at the Sugar Bowl Classic
1978 – Alabama 35, Ohio State 6
1998 – Florida State 31, Ohio State 14
1999 – Ohio State 24, Texas A&M 14
2010 – *Ohio State 31, Arkansas 26
*vacated

More at #4 Ohio State vs #1 Alabama Game Notes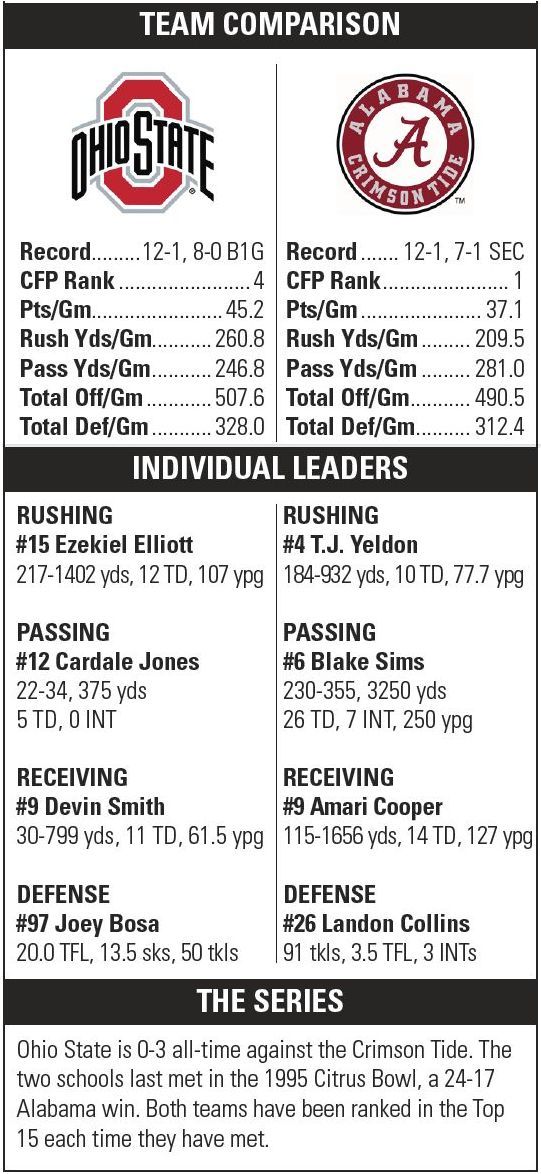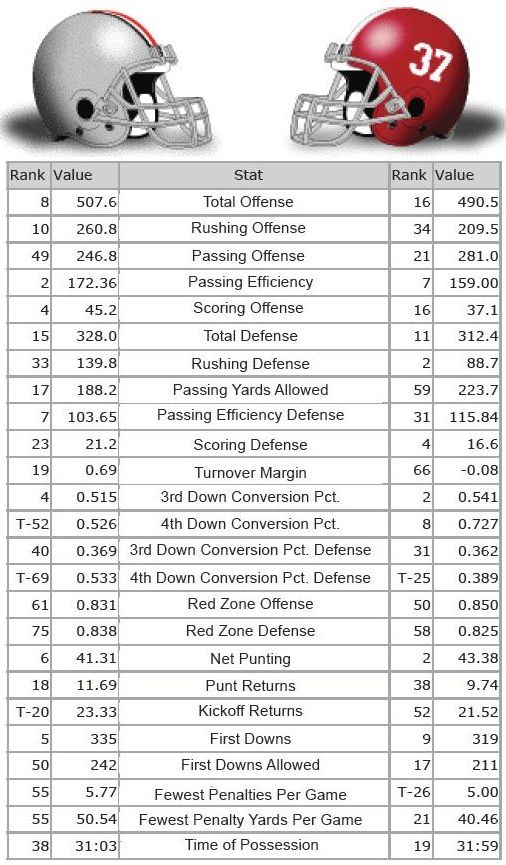 Allstate Sugar Bowl: Stats that matter
December 19, 2014 Source: ESPN - Stats don't lie, but they can be deceiving. Like the average number of rushing yards to the right side of the defense on night games in the month of October, some pieces of information simply don't matter.

That's why we're here.

In order to help preview the Allstate Sugar Bowl, ESPN's Austin Ward and Alex Scarborough teamed up to bring you three stats that matter most to Alabama and Ohio State as they prepare for their semifinal showdown in New Orleans.

Alabama stats that matter

-1: Of the top 10 teams in the FBS in winning percentage, only three are negative in their turnover margin. One is Marshall, one is Florida State and the other is Alabama. That's what we like to call living on the edge. The last time Alabama finished the season on the wrong side of the turnover battle, Nick Saban wasn't the head coach. Ohio State, meanwhile, is plus-nine in turnovers and has created a whopping 118 points off of turnovers. It goes without saying that giving up free points isn't conducive to winning football games.

42.9: The inequality of Alabama's passing game is dizzying. Amari Cooper not only has 42.9 percent of all catches this season, he has 45.3 percent of all receiving yards. He has 28 total receptions on third- and fourth-down plays that resulted in a first down or touchdown, compared to 14 from the next two closest receivers combined. While spotlighting your best weapon on offense is fine, there's something to be said for being too one-dimensional. Ohio State will have had roughly a month to prepare for Cooper come Jan. 1. If Urban Meyer and his coaching staff are able to divide a plan to slow him down, Alabama needs to have more options in the passing game to turn to.

4: Thanks to Blake Sims' swift feet and the offensive line's stellar blocking, Alabama has allowed only four sacks in its last four games. Against the vaunted pass rush of Missouri, the Crimson Tide more than held their own. But Ohio State is not Missouri, and chances are it won't lose its best defensive end to ejection the way Shane Ray was tossed in Atlanta. No, the Buckeyes have a superb defensive line themselves, led by everyone's All-American, Joey Bosa. In Ohio State's last four games against Wisconsin, Michigan, Indiana and Minnesota, Bosa and the Buckeyes defense have racked up 15 sacks.



• • •



Ohio State stats that matter

21: Picked on by opposing offenses during games and then ripped apart in press conferences by Urban Meyer a year ago, a rebuilt Ohio State secondary has gone from the team's biggest weakness to one of the most aggressive, successful units in the nation. Only three teams have nabbed more interceptions than the Buckeyes' 21 this season, with co-defensive coordinator Chris Ash having done a remarkable job getting the secondary to challenge receivers, break on balls and play without fear of being beat in the back end. It's hard to argue with the results, particularly since the Buckeyes aren't gambling for turnovers at the expense of yardage, ranking No. 17 in total passing yards allowed this year.

81.2: For a team that didn't have its starter play a single snap this season and had to turn to two different guys without any previous first-team experience at the most important position on the field, Ohio State finishing second in the nation in raw QBR behind only Oregon without Braxton Miller is nothing short of remarkable. J.T. Barrett, of course, did the heavy lifting by starting every game in the regular season before breaking his ankle against Michigan, but Cardale Jones actually boosted the rating in his debut against one of the nation's best defenses in the Big Ten title game against Wisconsin, posting a sparkling 90.3 to clinch the spot in the Allstate Sugar Bowl. It certainly seems as if Urban Meyer and offensive coordinator Tom Herman know how to develop more that just one passer at a time.

51.5: The Buckeyes can dial up the tempo and push the ball down the field in a hurry if they want to, but what makes them truly dangerous and perhaps unpredictable is their effectiveness at shifting gears and methodically moving the chains if need be. Only three teams in the country were more successful on third downs than Ohio State, which converted 85 of 165 chances -- or 51.5 percent -- to extend drives on those crucial snaps. The Buckeyes only played four games all season where their conversion percentage dropped lower than 50 percent, including the first two of the year with so many inexperienced players getting their feet wet -- and Jones' first start in the Big Ten title game, when it hardly made a difference in a 59-0 blowout.





Urban Meyer Press Conference Transcript Source: OSU Official Site



• • •



Two-Minute Drill: Thursday Updates From Urban Meyer
December 18, 2014 Source: The Ozone - With the Sugar Bowl just two weeks away, Urban Meyer spent some time on Thursday afternoon speaking with the media. Here are the highlights.

Urban Meyer Updates

+ Asked about the matchup with Alabama, Meyer said he just wishes everybody was healthy. Dontre Wilson is 50/50 at best right now. It's all about healing right now. "We can't lose another player." Alabama is a great team. Not much difference than other Alabama teams they've studied. They roll in 8-10 defensive linemen. Run stoppers up front. Receiver Amari Cooper is "tremendous". Special teams are "extremely solid". Does he feel OSU can compete with them? "Absolutely."

+ Meyer said Tom Herman looks like somebody hit him with a bat, but a good bat. Meyer is helping him in any way he can. "I took a chance on Tom [when he was hired]. What people told me about him was correct." "We'll be ready to go. I'm not concerned about Tom at all."

+ Meyer spoke about interviewing with Nick Saban for a position coaching job at Toledo. He said what he remembers most about that was that he didn't get it.

+ Cardale Jones maturing has been a process. That's the job of the coaches, however. "Sometimes you miss. Sometimes you hit it. Cardale's a great story. It's still in process now." Meyer said that when Jones made a mistake against Wisconsin, he listened and was ready to get back after it immediately. He doesn't make excuses. Regarding the 180 change of Jones, "I'm not sure I've experienced one like that."

+ Finals are now over, but the last week has been difficult. Taylor Decker "looked like a zombie out there." The focus has been on just having a good day each day out.

+ Armani Reeves should be fine following an injury against Wisconsin.

+ Meyer doesn't foresee any academic issues following finals.

+ Meyer has used Alabama as an example of his team. "There's a lot of respect for the University of Alabama and their athletes."

+ Asked about the 2013 class featuring Ezekiel Elliott, J.T. Barrett, Joey Bosa, etc, he said they knew it was going to be a pretty good class. But he hasn't really thought about it since, but there are a bunch of program changers in that class.

+ Meyer said he would have loved to have the playoff back in 2004 when he was at Utah.

+ Meyer said he worries about "bad things happening" because families can't afford all of these postseason trips.

+ Meyer said he worked the underdog angle "big" against Ohio State back in 2006. "Over the top." But he's not there yet with this upcoming game.

+ Meyer said he always keeps a short list of assistant coaching candidates for each position. He's going through it now. "This is a big hire." He said he also has plans for the staff but will release that at a later time.

+ "Every available hand in the facility is working for this one." They don't have grad assistants looking forward to Oregon or Florida State. "It would be a tactical error on my part."

+ "I think we're a quarterback-friendly offense." "If you want to see a bad quarterback, put a bad offensive line in front of him."

+ Meyer said he recalled asking Tom Herman two years ago after practice if he thought that Cardale Jones will ever be a college quarterback and Herman said "Absolutely."

+ Asked what he admires about Nick Saban, Meyer said he's tough, no nonsense. They don't have a lot of chit chat between them. He's a player-oriented coach and is focused on fundamentals. "And he wins."

+ Meyer said he loves recruiting and is not the type of college coach who can't wait to get out of college and go to the NFL.

+ Meyer said he is looking at quarterback coaches with recruiting in mind, especially the Texas area that Tom Herman has excelled in. "I've always loved to go down there. That's part of the job description — to go get a kid out of Texas."



• • •





Co-Defensive Coordinator/Safeties Coach Chris Ash Source:

The Ozone





Co-Offensive Coordinator/Offensive Line Coach Ed Warinner Source:

The Ozone





• • •



Videos: Cardale Jones talks about the whirlwind since his Big Ten title game performance; Michael Bennett on the resolve of the team and how it will affect the Sugar Bowl; Joshua Perry on the game and more.




Playoff Coaches Press Conference: Ohio State's Urban Meyer

Playoff Coaches Press Conference: Alabama's Nick Saban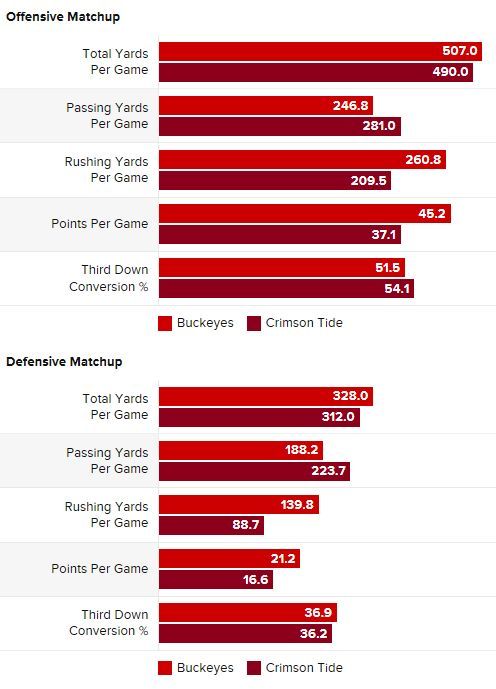 Source:
CBSSports.com



Allstate Sugar Bowl: Alabama Crimson Tide vs. Ohio State Buckeyes
December 7, 2014 Source: ESPN -

Danny Kanell, Kirk Herbstreit, David Pollack and Joey Galloway discuss the showdown between No. 1 Alabama and No. 4 Ohio State in the Allstate Sugar Bowl.

OHIO STATE BREAKDOWN
Season highlights: With the Buckeyes all but ruled out of the College Football Playoff and the Big Ten East Division race after losing quarterback Braxton Miller during training camp, J.T. Barrett stunningly emerged as a legitimate Heisman Trophy contender in his place as a redshirt freshman. During his 45-touchdown campaign, he played an almost perfect game to knock off Michigan State on the road and lead the Buckeyes to a division title.

Season lowlights: Barrett would suffer a season-ending injury of his own in a win over rival Michigan the week before the Big Ten title game, but the lowest point for the Buckeyes was still the Week 2 loss to Virginia Tech. Barrett was making just his second start, but he struggled behind an inexperienced offensive line, finishing with three interceptions and being sacked seven times in a defeat that cut Ohio State's margin for error down to zero.

Player to watch: On and off the field, few players in the country are as entertaining as pass-rushing terror Joey Bosa, the Big Ten Defensive Player of the Year. The sophomore defensive end had already proved himself capable of making an impact after moving into the starting lineup midway through his freshman season -- and Buckeyes coach Urban Meyer had warned the public several times that Bosa might wind up as one of the most productive players he's ever coached -- but his campaign was still surprising in its ruthless efficiency. Either way, all Bosa ever really does is shrug both blockers and attention away.

Motivation factor: Urban Meyer broke through with his first postseason victory with the program in the Big Ten title game, but Ohio State won't be happy to settle for just that trophy this season. The Buckeyes are coming off perhaps the most complete performance since Meyer took over, thumping Wisconsin despite having to turn the offense over to third-string quarterback Cardale Jones, and they will no doubt be looking to prove that their storied program is back for good as a national contender. -- Austin Ward

ALABAMA BREAKDOWN
Season highlights: It hasn't always been pretty (we'll get to that), but Alabama has found ways to win. Sometimes it's been a strong defense, sometimes it's been a prolific offense, and sometimes it's been a bit of both. The common thread between all those games has been quarterback Blake Sims. When he hasn't put up monster numbers, as he did against Texas A&M and Florida, he's turned it on late to lead game-clinching drives against Arkansas, LSU and Mississippi State. He threw three interceptions against Auburn and then came back to lead five touchdown-scoring drives in a row to win the game.

Season lowlights: There haven't been many complete performances from coach Nick Saban's squad. Florida and Texas A&M might be the only two marquee games to fall under that category. The rest were a hodgepodge of mistakes, whether it was turnovers on offense or the defense relenting late. The Iron Bowl summed up Alabama's struggles most succinctly: Sims threw three interceptions, the defense was scored on with ease, and the team faced a double-digit deficit in the second half. All told, Sims had his worst game of the season, the defense gave up the most yards in school history, and somehow the Tide won. It's living life on the edge, but as we've seen this season, no one in college football is perfect.

Player to watch: It's hard to come up with a better player in college football than Amari Cooper, regardless of position. It's why the junior wideout is in the thick of the Heisman Trophy race despite few at his position ever winning the award. In the biggest games of the season, he has come up big, whether it's 201 yards and three touchdowns against Florida, touchdowns in games against LSU and Mississippi State or 224 yards and three touchdowns against Auburn. With roughly twice as many receptions as the team's second- and third-leading receivers combined, Cooper is essentially the entire passing game. All season Saban has stressed getting others more involved, but in the end, Cooper has been the linchpin to Alabama's offense.

Motivation factor: In seasons past, you could hope to catch Alabama sleeping. The Crimson Tide had won three titles in four years, and it was almost expected that opponents would clear a path to victory. But ever since last season's Iron Bowl and the Sugar Bowl that followed, things have changed. It's a scary thought considering all the talent on Saban's roster, but the Tide are now playing with a chip on their shoulder. They want to show Alabama football is back, and that means winning another national championship. -- Alex Scarborough





5 Reasons Why Ohio State Will Win the College Football Playoff
December 7, 2014 Source: Athlon Sports -

1. Cardale Jones
This is counterintuitive but perhaps crazy enough to work against Alabama. If Cardale Jones really is as good as his performance against Wisconsin indicates, Ohio State will be in good shape at the quarterback position despite all the odds. Jones completed 12-of-17 passes for 257 yards with three touchdowns against a top-five defense in Wisconsin. And that's essentially all the game film Nick Saban and his staff will have to dissect. We know Jones has a big arm (15.1 yards per attempt against the Badgers) and one of the best deep threats in the field in Devin Smith (26.6 yards per reception). A dropback passer also is a different look for Meyer against Saban, who faced Tim Tebow in their two SEC championship matchups.

2. Joey Bosa
Perhaps one statistical surprise among the four teams in the field: Only one of them ranked in the top 20 in sacks this season. Led by Joey Bosa, Ohio State is that team at more than three sacks per game. Bosa may be the most disruptive defensive player on any of the four playoff teams with 13.5 sacks (fourth nationally) and 20 tackles for a loss (tied for fifth).

3. Ezekiel Elliott
Meyer went his entire career without a 1,000-yard running back before Carlos Hyde did it last season. Now, Meyer has had two in two seasons. Elliott will make Jones' job much easier if he can continue his hot streak into the playoff. Elliott rushed for 220 yards and two touchdowns on 20 carries against Wisconsin, nearly tripling Melvin Gordon's output in that game. Elliott is averaging nearly nine yards per carry in his last three games.

4. A ball-hawking defense
Every offense in the playoff can throw the ball, so making defensive plays in the passing game is going to be a major factor. In that case, Ohio State has a nice track record. Ohio State finished the season ranked fourth nationally with 21 interceptions, including seven in the last four games. Only three teams didn't throw a pick against Ohio State. Then again, that might be a concern. The top quarterback Ohio State faced all season was Michigan State's Connor Cook, who completed 25-of-45 passes for 358 yards with two touchdowns and no picks.

5. Urban Meyer
Facing Saban in the semifinal evens the odds a bit, but few coaches have as good a track record as Meyer in championship or elimination-type games (Saban is one of them). Meyer is 5-2 in BCS championship games or conference title games in which a trip to the title game, or in the case, the playoff, are on the line. Again, Saban's record is pretty unimpeachable itself, but Meyer's is close. The matchup includes a 1-1 record in SEC championship games between Florida and Alabama, games that were in effect national semifinals.





An extremely early look look at Alabama, Ohio State's Sugar Bowl Playoff semifinal opponent
December 7, 2014 Source: Land-Grant Holy Land -

How did they get here?
The Tide rolled to a 12-1 record and the number one ranking, thanks to their SEC championship and overpowering talent advantage. Alabama beat West Virginia in Atlanta to start the season 33-23, completely eviscerated Texas A&M 59-0, knocked off LSU on the road in overtime, and closed the season with big wins over Mississippi State, and over Auburn in a highly entertaining shootout. Alabama's only blemish of the season came on the road against a fully healthy Ole Miss team, 23-17, although they did show several spouts of vulnerability during the year, like every top 10 team, such as beating Arkansas by just a point, and needing overtime to beat LSU.

What are they like on offense?
There were some jokes about Alabama's offense before the season after they hired the internet's favorite coach, Lane Kiffin, to be their offensive coordinator. After some fitful starts earlier in the season, the Crimson Tide offense seems to be playing exceptionally well right now.

A huge reason for that is the play of WR Amari Cooper, the best wideout in college football. Cooper was positively untouchable against Auburn, and hell, for a lot of the season. He's caught 115 balls for an eye popping 1656 yards and 14 touchdowns, and has caught at least 12 passes in each of his last two games. He's a matchup nightmare in the open field and going deep, and expect Alabama to use him to test the rebuilt Ohio State secondary early and often.

In charge of delivering that ball will be Blake Sims, a senior who has thrown for 3250 yards and 26 TDs against 7 picks. Unlike other Alabama QBs in recent memory, Sims has some mobility, and while he won't be confused with Braxton Miller or J.T. Barrett, he can pick up big yardage if he leaves the pocket. He's got a very strong arm, but has also shown he can make some bad decisions with the football as well. He's certainly good enough to carry Alabama to a win, but if Ohio State wants to spring the upset, they'll need to force him to cough up the football. It can be done.

Finally, Ohio State will need the same defensive effort they showed in shutting down Wisconsin's rushing game, since Alabama has a stable of excellent running backs and a good offensive line. T.J Yeldon and Derrick Henry combine for a particularly nasty running back corp, and either can drop 150 yards in a game at any time. Both are big, strong, can chew up the clock, and frustrate even the best defensive line.

How about on defense?
It wouldn't be a Nick Saban coached Alabama team if they didn't have a great defense, chock full of potential NFL talent. Alabama is fourth in the country in scoring defense, giving up a paltry average of 16.6 points per game. The advanced stats love them too, as Alabama is No. 2 in the country in defensive S&P+.

They're not elite in forcing turnovers (80th in the country), but they're outstanding in getting teams off schedule. Alabama has given up more than 25 points in a game only once this season, against Auburn, who scored 44 (but gave up 55).

Alabama is the very best in the country in rushing S&P+, and even for an improved offensive line like Ohio State's, getting a good push and opening holes for Ezekiel Elliot and other backs will be difficult. This squad averages nearly seven tackles per loss per game, and they're going to be gunning for Ohio State's backfield. If there is one silver lining, Alabama's secondary might be their weak spot (to the extent that they even have a weak spot), and Ohio State is sporting a QB who is uniquely qualified to attack Alabama vertically.

What about special teams?
Alabama's got a hell of a punter, but field goal kicking might be one of their other rare weaknesses. The Crimson Tide should be able to move the ball a little bit, but if Ohio State can buckle down in the red zone and force field goal attempts, they have a decent chance of seeing a field goal attempt miss. Or maybe two.

Does Ohio State stand a chance?
They're underdogs, no doubt about it, but Ohio State has been road underdogs twice this season, and dominated both of those teams. Granted, Alabama is a step up in weight class from Michigan State and Wisconsin, to use the understatement of the year. If Ohio State wins the turnover battle, gets a few big plays on the vertical passing game, and keeps Cooper from dropping 200 yards on them, anything can happen.

Alabama isn't the NFL team the internet makes them out to be sometimes, but this will be the best team Ohio State has played this season, by a large margin, and they'll need to turn in another effort like they did against Wisconsin to give themselves a shot at advancing through the playoff.





Ohio State vs. Alabama: 7 things to know about Crimson Tide defense for College Football Playoff semifinal
December 8, 2014 Source: Cleveland Plain Dealer - What to know about the Alabama defense heading into the College Football Playoff semifinal matchup between Ohio State and the Crimson Tide. No. 4 Ohio State will play No. 1 Alabama on Jan. 1 in the Sugar Bowl.

1. Alabama is ranked No. 11 in the country in total defense according to cfbstats.com. The Crimson Tide allow an average of 312.4 yards per game. Alabama has given up 2,908 passing yards and 1,153 rushing yards. Alabama is No. 4 in scoring defense (16.6 points per game), ranked higher than any opponent Ohio State has played.

2. And Alabama has played some pretty good offenses:
• Mississippi State, 9th in total offense, 15th in scoring offense
• West Virginia, 11th in total offense, 39th in scoring offense
• Auburn, 17th in total offense, 23rd in scoring offense
• Texas A&M, 33rd in total offense, 34th in scoring offense
• Ole Miss, 38th in total offense, 58th in scoring offense

Ohio State, eighth in the nation in total offense and fourth in scoring, is ranked higher than all of those teams, but this won't be Bama's first go-around with an explosive offense. Tide coach Nick Saban said he changed the defensive philosophy a bit this year to better compete with fast, spread offenses.

3. The Crimson Tide rush defense is ranked fourth in the country. They have not allowed a 100-yard rusher this season, and only 14 100-yard rushers since 2005, the top mark in the nation during that span.

The most yards Alabama has surrendered to a running back this season were 79 on 21 carries against LSU's Leonard Fournette. Mississippi State quarterback Dak Prescott ran for 82 yards on 22 carries against Alabama.

4. If there is a weakness in Alabama's defense, it's in the passing game. The Crimson Tide are ranked 59th in the country in passing defense, giving up just over 223 yards per game. Auburn quarterback Nick Marshall threw for a school-record 456 yards in an Iron Bowl loss to the Tide two weeks ago.

5. It's been a bend, but don't break philosophy for the Tide, who are tied for the first in the country in opponent red zone touchdown percentage. Alabama's opponents have scored 15 touchdowns in 40 red zone attempts (37 percent).

Scoring touchdowns in the red zone has at times been a problem for the Buckeyes. While they've climbed from 42nd in the nation two months ago to 15th now, the scoring rate (70 percent) is lower than last year, when they lead the nation at 84 percent.

6. Remember Trey DePriest? The former four-star linebacker from Springfield, Ohio chose Alabama over Ohio State and just about every other school when he committed to the Crimson Tide in the summer of 2010.

The senior is now in his third year as Alabama's starting middle linebacker, and is third on the team with 82 tackles.

7. Here's a look at Alabama's defensive statistical leaders:
• Tackles: Landon Collins, SS, 91 tackles
• Sacks: Xzavier Dickson, OLB, 10 sacks
• Interceptions: Collins, 3 interceptions





SUGAR BOWL FACTS

The Sugar Bowl is the second-oldest bowl game in college football, behind the Rose.

The inaugural Sugar Bowl Classic was played Jan. 1, 1935 in Tulane Stadium. A crowd of 22,206 watched Tulane defeat Temple 20-14.

The combined payout to Tulane and Temple in 1935 was $55,600. Each team will receive $18 million this year.

Alabama will be making a record 14th appearance in the Sugar Bowl. LSU also has played 13 times in the Sugar. The Crimson Tide's eight victories are a record.

Ohio State officially has a 1-2 record in the Sugar. The Buckeyes lost 35-6 to Alabama in their first appearance (1978). OSU's 31-26 victory over Arkansas in 2011 later was vacated as part of NCAA sanctions.

Two Ohio State players have been named MVP in the Sugar: David Boston in 1999 and Terrelle Pryor in 2011.

The 1953 Sugar Bowl was the first live television program in New Orleans history. The game was broadcast and telecast coast to coast.

The record for most combined points in a Sugar Bowl was set in 2002 when LSU defeated Illinois 47-34. Florida owns the record for most points scored by a team, a 52-20 victory over Florida State in 1997.

The actual "Sugar Bowl" is a solid silver trophy made in London in 1830 during the reign of King George IV.

Three stadiums have hosted the Sugar Bowl: Tulane Stadium (1935-75), the Superdome (1976-present) and the Georgia Dome in Atlanta in 2006 because of Hurricane Katrina.

More No.1-ranked teams have played in the Sugar Bowl than any other bowl game. Such will be the case this year with Alabama.




QB J.T. Barrett out; WR Dontre Wilson possible return.


New Orleans Weather Forecast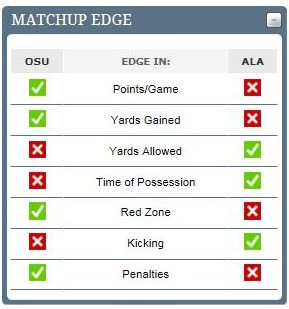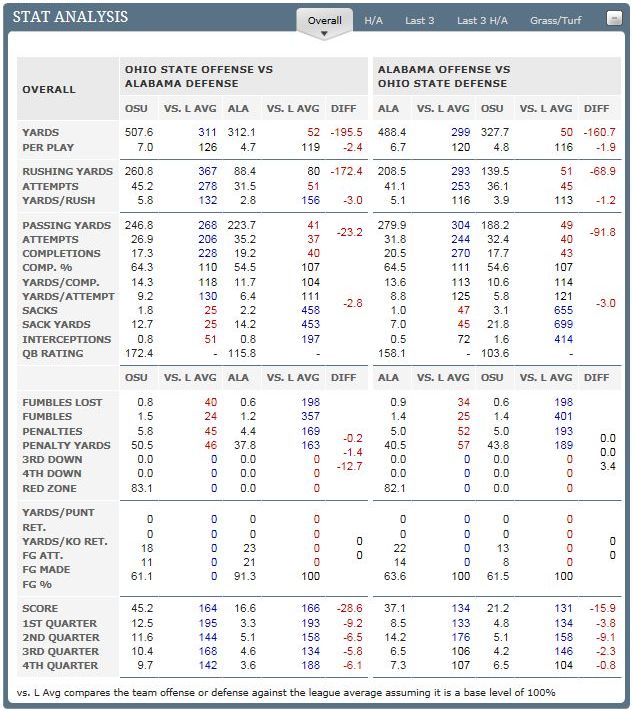 Source:
Covers.com



Ohio State head coach Urban Meyer called into The Paul Finebaum Show to talk about the Buckeyes' matchup vs. Bama.




Why Ohio State can win the College Football Playoff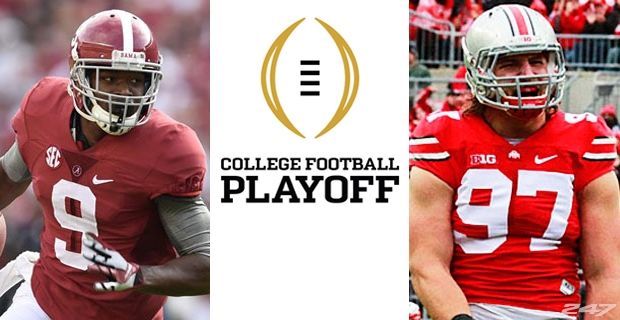 Sugar Bowl Game Data: Ohio State vs. Alabama
January 1, 2015 Source: Bucknuts.com - While Alabama's defense may not be as good as any of the three recent national championship teams, the offense is every bit as good as any of those teams. Offensive coordinator Lane Kiffin came in and shook up the offensive attack, adding spread and no-huddle aspects. The result since midseason has been very impressive. Playing top competition in the SEC, Alabama was 16th in total offense (490.5 ypg), seventh in passing efficiency and 16th in scoring (37.1 ppg).





Sugar Bowl preview: Here are 7 keys to an Ohio State victory
January 1, 2015 Source: BTN - 1. Get a lead. The Buckeyes need to score first and keep Alabama on the chase. This will allow Ohio State to stay with its game-plan and put the Tide in some obvious passing situations. That's when the Buckeyes need to score some negative plays and turnovers.

2. Hit some big pass plays. Look, Cardale Jones doesn't need to throw for 250 yards. But he's gonna need to hit at least two or three big passes to loosen an Alabama defense that will be poised to stop the run. The Buckeyes need to make the Crimson Tide defend the entire field.

3. Turnovers – Ohio State needs to commit none. Conversely, the Buckeyes need to generate at least three.

4. Unconventional touchdowns. OSU needs to generate at least one score by its defense or special teams. Nothing is more demoralizing to a team than giving up an "easy" touchdown on a pick-six or kick return. It's almost like free/unearned points.

5. Run, Ezekiel, run! Buckeyes running back Ezekiel Elliott has been on a roll of late, rushing for over 100 yards in the last three games. He's coming off a career-high 220-yard effort vs. Wisconsin in the Big Ten title game. He'll likely need another 100-yard effort if Ohio State wants to take down the Tide.

6. Big plays. No way the Buckeyes win on Thursday night by executing multiple 8-, 9- and 10-play drives on offense. That would force OSU to be too perfect, too often. Ohio State is going to need some big-play scores from its offense—a long run or pass for touchdown. Big-play scores are an offense's best friend.

7. Contain Amari Cooper. The Buckeyes probably aren't going to be able to shutdown the star Bama wideout. No one has. But Ohio State can't let him go wild like Clemson's Sammy Watkins did last year vs. OSU in the Orange Bowl, when he torched the Buckeyes for 16 catches for 227 yards and two touchdowns.





The big, beautiful Land-Grant Holy Land Ohio State-Alabama preview
January 1, 2015 Source: Land-Grant Holy Land





Preview: No. 4 Ohio State vs. No. 1 Alabama in the 2015 Sugar Bowl
January 1, 2015 Source: Eleven Warriors





Two videos: First up, a "Tale Of The Tape" between the two schools & a look at Ohio State's chances against the Alabama running game.





tBBC Bowl Preview: Sugar Bowl- Ohio State vs. Alabama
December 31, 2014 Source: The Buckeye Battle Cry



Sugar Bowl preview: Will Ohio State surprise?
Sports Illustrated's B.J. Schecter and Ben Glicksman preview the College Football Playoff semifinal matchup between the Alabama Crimson Tide and Ohio State Buckeyes.



Trevor Matich discusses the coaching matchup in the Allstate Sugar Bowl between Alabama's Nick Saban and Ohio State's Urban Meyer.



Campus Insiders' Ray Crawford, Doug Chapman, and Pete Fiutak break down the matchup between the Alabama Crimson Tide and the Ohio State Buckeyes



Allstate Sugar Bowl 2015: Preview, Predictions for Alabama vs. Ohio State
December 7, 2014 Source: Bleacher Report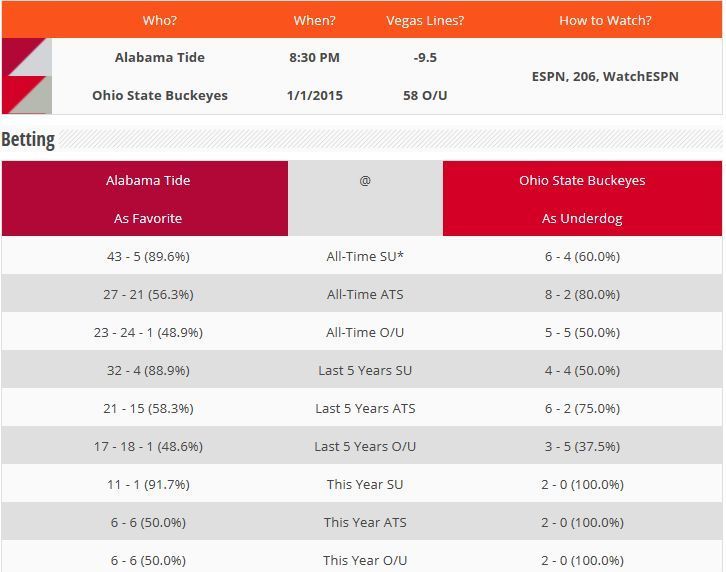 Alabama Tide @ Ohio State Buckeyes
Source: PredictionMachine.com






SECond Look: Previewing Alabama and Ohio State in the Sugar Bowl
December 31, 2014 Source: AL.com -






Alabama vs. Ohio State: 7 things to know about Buckeye defense before Sugar Bowl
December 28, 2014 Source: AL.com - So, here are seven things to know about the Buckeye defense heading into the Jan. 1 Sugar Bowl against Alabama.

1.Two starters told Nick Saban no. The Crimson Tide head coach coveted two of OSU's top three signees, according to the 247Sports composite, from the 2013 class. Five-star safety Vonn Bell and defensive end Joey Bosa were among the top 40 prospects in that class. Bosa committed to OSU early, but Bell officially visited Alabama and chose OSU on Signing Day over Alabama and Tennessee.

2.Alabama's defensive line is deeper, but Bosa is probably the best individual defensive lineman in this game. Bosa, the Big Ten Defensive Player of the Year, is fourth nationally with 13.5 sacks and seventh with 20 tackles for loss. He's projected as a high NFL Draft pick in 2016 and will likely go against Alabama RT Austin Shepherd in the Sugar Bowl.

3.Senior Doran Grant is the cornerback who will be around Alabama star receiver Amari Cooper the most. This breakdown from SBNation highlights Grant's strengths and weaknesses and how he's done against top Big Ten receivers. Grant did well enough against Maryland's Stefon Diggs and Michigan State's Tony Lippett, but not as good against Michigan's Devin Funchess. Grant has five interceptions this season.

4.Ohio State's defensive line would be even better, but end Noah Spence was declared permanently ineligible after failing two drug tests. He had 14.5 tackles for loss as a sophomore in 2013 and is headed for the NFL after this, provided he can stay clean. Steve Miller, a senior, stepped in as a starter and has 6.5 sacks this season.

5.Ohio State's defensive leaders not named Joey Bosa are as follows: linebacker Joshua Perry with 113 tackles, linebacker Darron Lee with 13.5 TFL, defensive tackle Michael Bennett with six sacks and Bell and Grant with five interceptions each. For the most part, this was a young group primed to do great things in 2015 and beyond.

6.One player Alabama could use the senior-freshman advantage is with OSU cornerback Eli Apple, a redshirt freshman, who would likely shadow Alabama senior and second-best receiver DeAndrew White. Apple has been solid, though, with 41 tackles, 5.5 for loss and two interceptions. OSU's safeties, Bell and Tyvis Powell, are sophomores.

7.Saban also wanted true freshman middle linebacker Raekwon McMillan. The 5-star recruit from Hinesville, Ga., made an official visit to Alabama, but chose the Buckeyes. He's listed as a backup, but is one of the top players on the defense with 49 tackles, six for loss, 2.5 sacks and an interception.

7 things: Here's what to know about the Ohio State offense...

1.Here's the biggest factor. Ohio State is on its third string quarterback following a preseason injury to Braxton Miller and an injury in the regular season finale to J.T. Barrett. Enter sophomore Cardale Jones. The 6-foot-5, 250-pound Jones had a banner day in OSU's blowout of Wisconsin, throwing for 272 yards and three touchdowns. Here's a deeper look at Jones' success. OSU has pieces around him, and it's up to Jones to keep the machine moving.

2.Jones' success in his first start shouldn't be a surprise. Urban Meyer and Broyles Award winner Tom Herman, the offensive coordinator who will coach the playoff game despite just taking the Houston Cougars head job, develop quarterbacks well. The redshirt freshman Barrett garnered Heisman talk before he went down with an injury and last year when Miller got hurt, now-graduated Kenny Guiton kept the Buckeyes offense rolling. So, don't expect a dropoff.

3.Meyer is an offensive guru, so it's no surprise the Buckeyes lead the Big Ten in total offense at 507.6 yards per game. OSU is third in the Big Ten in rushing at 260.8 yards per game and second in passing at 246.8 yards per game.

4.Sophomore Ezekiel Elliott (6-foot, 205 pounds) leads the Buckeyes ground attack. He was sixth in the Big Ten in rushing with 1,402 yards and scored 12 touchdowns. But a lot of OSU's rushing success was due to Barrett rushing for 938 yards from his position. Jones is a load to bring down, but isn't as effective of a rusher. He rushed eight times for just 26 yards against Wisconsin.

5.But, Jones has a big-time arm. Missouri and Auburn hit Alabama on deep balls over the last couple of weeks. Devin Smith caught four passes for 137 yards and three touchdowns for the Buckeyes against Wisconsin. Smith's 11 touchdowns are tied for first in the Big Ten. Smith (6-foot, 198) and second-leading rusher Michael Thomas (6-3, 203, 680 yards, 8 touchdowns) have been good in the Big Ten but aren't quite as good as the receivers Alabama faced against Auburn.

6.There's nothing behind Jones if the quarterback gets hurt, but OSU has to prepare options. H-back Jalin Marshall has worked as a Wildcat quarterback and has thrown two incomplete passes this season. No one else has thrown a pass besides the injured Barrett and Jones. Other quarterbacks on the roster are sophomore Luke Morgan and freshman Stephen Collier. Marshall could have played quarterback at Tennessee but chose OSU.

7.Ohio State has taken 24 sacks, which ranks seventh in the Big Ten, so Alabama will get pressure on Jones. The offensive line was a question mark coming into the season with so much inexperience and got beat pretty good in an early loss to Virginia Tech, but has gotten much better since.





Alabama coach Nick Saban talks about the Crimson Tide's No. 1 ranking after claiming the SEC title and the opportunity to face Ohio State in the Allstate Sugar Bowl.