| | |
| --- | --- |
| | The (red) story links, or the 'read more' graphic, will open new (pop-up) windows to the source of the article, audio or video, so you can read/hear/see the rest. If your browser is set to block pop-ups, please set it to always allow them from our site. You will not get any annoying advertising pop-ups, of any kind, generated by this site...ever. |

| | |
| --- | --- |
| WISCONSIN vs. OHIO STATE | |


Five Things: Wisconsin
October 18, 2010 Source: Eleven Warriors - "Decisions, Decisions: ...The timing of the KO return for a TD was absolutely dreadful in that it got the crowd even more amped and seemed to give some Buckeyes kind of an uh-oh feeling...You'd hope the team could overcome it but that sure did put a lot of pressure on the offense to go out and answer...and they couldn't respond. In turn, that put pressure on the D to go out and get the ball back - and they couldn't respond either...One last rant on the KO return - are we sure Aaron Gant belongs out there? He seems to whiff quite a bit and if after four years in the program he still can't supplant a very raw and ineffective Orhian Johnson at strong safety... Does he deserve a spot on special teams?...

Regarding actual in game coaching decisions...Overall, I didn't have major issues with the calls but there were some exceptions. Tressel and company flat out botched OSU's first trip to the red zone. Trailing 21-0, they needed six, not three, but Tress got ultra conservative and predictable...Buckeyes marched from their own 32 to Wisky's 3 yard line setting up 1st and goal. Inexplicably, Tress dialed up a couple Pryor runs up the gut between a Boom run with no lead blocker out of the Wildcat. Why not roll Pryor out with the option to run/pass at least once during that sequence? Or if he wanted to run, why not have a fullback lined up behind Pryor? That sequence was junk.

And lastly, where do you stand on Tressel's decision to punt on 4th and 10 from the OSU 29 trailing 28-18 with roughly 6:30 left in the game?...Don't you have to go for it there? 4th and 10 wasn't going to be an easy conversion but the alternative seemed even less likely, so much that so that Pat Forde couldn't resist accurately assessing Tressel's decision: "The Buckeyes faced a fourth-and-10 at their 29 at that point -- a tough down to convert. But it certainly was no tougher than the Tressel plan at that point. When asked about it afterward, he said it was probably easier to hold Wisconsin, get the ball back and score, recover an onside kick and score again. If you say so, Tress. But when your defense gave up a drive for the clinching field goal, it was all over but the unconvincing postgame spin that everything was going to be OK."...We needed to go for it on 4th down to have a chance. Period.

Dane is a boss: ...there's no question Dane is the best receiver on this football team. Comparing (Dane & Posey) in my mind as I type just frustrates me off further because I'm forced to recall yet another instance in which Posey was stricken with a case of the drops, and even worse - far worse - a recurring case of alligator arms. Already down 21-3, Posey appeared to show a lack of gumption on a 2nd down and 9 throw from Pryor over the middle. He basically stopped his route and half heartedly stuck out his arms though OSU was threatening to put up points and badly needed the yards. The incompletion was followed up by a sack on 3rd down...then a missed 45 yard FGA to keep the Buckeyes from gaining any momentum headed to the half. Late in the 2nd half, Posey's drop on 3rd and 10 with OSU on life support trailing 28-18 turned out to be the final nail in the coffin. Meanwhile, Dane spent the entire night leading by example, hauling in passes and sacrificing his body as if he was in the True Blood cast...his biggest play would come moments later. Still trailing 21-10 and desperately needing points to hopefully make Wisky uneasy, the Buckeyes faced 3rd and 6 at the Badger 37 yard line. After a wild scramble, Pryor threw high to Dane but the senior captain did his best Gonzo Redux (Our play of the game below) and hauled in the 9 yard reception despite being flipped...The catch extended the drive allowing Boom to score eight plays later cutting the lead to 21-18...Posey may have the physical tools...but Dane's leadership, desire, sure handedness and dedication to details make him the guy the young receivers should pattern themselves after. He will be missed more than a lot of us realize.

Punked in the trenches: Though the rushing stats don't look as lopsided as it felt...the defensive line was absolutely dismantled when it mattered most. At times, the Badger front seemed to have little trouble pushing the defensive line off the ball and back into the linebackers, who didn't exactly have a great night themselves...Cameron Heyward...I will never argue dude isn't a beast and he is lining up at end, not tackle, but he was virtually non-existent Saturday night...sure felt like Wisconsin repeatedly attacked Larimore and Heyward's side of the line with big time success...Nathan Williams was also fairly invisible which shocked me...Here I am most worried about the secondary coming into the season...and it's the defensive line that fails to stand up to the test when the rubber hits the road. Of course, the secondary was far from untouchable...I still felt the defensive line was most responsible for the unfavorable showing from the Bullets...Meanwhile, the Buckeye offensive line didn't completely disappoint me but that's probably because I've come to expect so much less from them in comparison to their defensive counterparts...Adams and Shugarts simply don't seem to be improving at a rate necessary for this line to function as a consistent unit in a big game. Maybe he is anyway, but if not, those two bookends sure helped Watt look like the best DE on either team. And Pryor probably deserves an assist for holding on to the ball far too long in some cases but however you slice it, a highly mobile Pryor has now been sacked, what, 14 times...Ridiculous.

Boom gets it: Though he was only the third best RB carrying the ball Saturday night, Boom Herron had another solid performance...Similar to Dane, Boom is a guy that truly approaches games in a workmanlike fashion and I felt he really ran with a purpose, never giving up on a play...Boom often put the Buckeye offense in winnable downs and was a major factor on all three scoring drives. On the frustrating drive that stalled at the Wisky three resulting in a 21-3 Badger lead, Boom caught a pass for six yards and rushed five times for 37 yards. His back to back gashes of 14 and 16 yards moved the ball from the Wisconsin 33 to the 3 setting up 1st and goal. On the 10 play, 77 yard TD drive to start the 2nd half that put OSU back in the game, Boom carried the ball six times for 37 yards including a speedy dash around left end out of the Wildcat for the 13 yard touchdown. Finally, on OSU's TD drive cutting the deficit to 21-18, Boom toted to rock on 8 of the 19 plays, mostly out of the Pistol, and while he only logged 21 yards, he did find the endzone on a 1 yard run on 2nd and goal. Overall, Boom's 4.8 ypc was his 2nd best performance of the year (5.7 LW against IU), and his 19 carries were also his 2nd highest this season. For the year, he's averaging 4.6 ypc, and while far from prolific, it's up from the dismal 3.9 a year ago.

Now what?: ...I guess the good news for the immediate future is that there probably won't be a hangover effect with the Purdue game already having been circled since the self-inflicted fisting of a year ago. Coming off a loss, I have to imagine the defense will be chomping at the bit to get back on the horse. Meanwhile, the offensive line best come to play because Kerrigan will have designs on eating Pryor's lunch. Speaking of Pryor, I'm interested to see how he responds to a mediocre performance that would be falling under much larger scrutiny had so many other facets of the team not gotten exposed in Madison..."


No. 1 Ohio State upset by No. 18 Wisconsin John Clay ran for two touchdowns and James White darted in for the clincher in the fourth quarter as No. 18 Wisconsin took down No. 1 Ohio State 31-18 Saturday night. (Oct. 17)

Associated Press


Tressel Postgame Press Conference Wisconsin 10/16/10




Buckeyes did not look prepared in one of the most devastating losses of the Tressel era
October 17, 2010 Source: Duane Long Report - "I really don't have alot to say about this game. I have not been this devastated by a loss since the loss to USC at their place. We just looked bad. This team did not look prepared. By the time the Buckeyes looked like we were ready to play we were down 21-0. Once we made adjustments we won the game 18-10, but the other 21-0 points count no matter how much we don't like it.

I never felt right about this game. I never feel good about Wisconsin. They play a game totally different than what we play against week in and week out. This is old time slug it out Woody and Bo classic Big Ten football. In the fight game there is an old expression, styles make fights. We are just not built in this day and age for a Wisconsin. We are built to play for national championships. That means that we have a speed defense that is built to rush the passer and linebackers, usually only two on the field at the same time, that are as good and sometimes better against the pass than they are at filling holes...

I cannot remember a poorer performance out of our linebackers and safeties. The only linebacker that is going to get a passing grade for this game is Sweat. Rolle was frequently out of position and run over when he was in the right place. Losing Homan early was huge if for no other reason than Newsome was not where he needed to be all night. Great instinctive player and great athlete. He does not know the defense yet. Just off the top of my head he was caught twice not picking up the three wide set where he was supposed to cover the slot guy and they had big plays out of it.

All that said I think this goes back to special teams. There was a 10 point swing off special teams. Nobody can tell me this would not have been a different game if we are not down 7 off the opening play of the game. The missed field goal hurt too but I think if we don't give up another kick return for a touchdown we could have seen a different game..."





Wisconsin Rapid Review
October 16, 2010 Source: The Silver Bullett - "...1. Special teams let the Bucks down again and this time it was tragic. It has been noted many times this year that if this didn't get fixed it would bite the team in the butt in a big game, and that is exactly what happened...

2. The offensive play calling was abysmal in the first half. I didn't like the game Tress called from the get go, but it really got ridiculous in the red zone when OSU had first and goal from the three in the second quarter...Settling for a field goal was a big loss for a team trailing 21-0. Then, after a nice interception by Andrew Sweat the offense lined up in the pistol and ran some kind of cute reverse to Dane Sanzenbacher. The team looked confused with a formation that hasn't been used all year. It smelled like desperation and none of it worked. I have defended JT many times but it is difficult to support the play calling in the first half.

3. Neither line was ready for how physical this game proved to be. I think eventually both lines started to man up but early on the Badgers were clearly prepared for a war, and the Buckeyes were not...

4. Terrelle Pryor is not nearly 100%. The big guy was willing to run and did a pretty good job, but he was clearly slower than usual and in some pain as the strained quad isn't healed just yet, and may not be until after the Michigan game when it can be rested...it was not Pryor's best passing game either. At times he looked nervous and wasn't as accurate as he has been most of the year. There will be no Heisman in 2010.

5. Boom Herron came to play. While many didn't show up on this night, Mr. Herron ran hard from the start and never backed down. I wish I could say the same for DeVier Posey, who has shown most of this year that he is afraid to go get the ball across the middle. Herron (and Sanzenbacher as well) showed no fear, and have my complete respect.

6. Andrew Sweat played a good game. Everyone knew he would play more this game, and with Ross Homan going down in the first half, he became the main man and responded by showing why the coaches have been high on him. However, this caused Jonathan Newsome to enter the fray and he didn't look ready for such an important, physical contest and was exploited.

7. The defense can't get a sack to save their lives. Cameron Heyward is the best at getting close but coming up just short. It is strange that the Silver Bullets just can't get to the quarterback.

8. Ohio State showed some toughness but it was too little, too late. When you play a good team on the road you have to play for 60 minutes. Hopefully the team can lick their wounds and bounce back quickly to get some revenge against Purdue..."





10 Things We Learned, the Hard Way
October 17, 2010 Source: The Ozone - "...1. Ohio State wasn't the best team in the country. It was only one loss, but all of a sudden Ohio State's once-promising 2010 season hangs in the balance. The Buckeyes are sure to plummet in the polls after their 31-18 loss at Wisconsin Saturday. How far, we won't know until Sunday...Though not entirely out of the picture, a national championship would seem highly unlikely at this point. Even if they did sneak back into the title-game picture, a la 2007, the team we saw on the field against the Badgers would have about as much success playing in the big game as that '07 team did.

2. Kick coverage has gone beyond concerning. Tressel will say David Gilreath took the opening kick back for a touchdown because one or two guys on the coverage team did not maintain gap integrity. It's time to call it out for what it is: bad football. For nine years Jim Tressel-coached teams have not had these kind of problems covering kicks and now all of a sudden nobody can go out there and make a tackle? Gilreath wasn't even touched...Ridiculous. The excuses are as bad as the coverage itself. The punt coverage team is full of starters like Brian Rolle and Ross Homan, yet the kick off squad still features guys who have never played a meaningful down of football at Ohio State. This was a disaster waiting to happen and whoever is allowing this deserves to have it cost them a game. The rest of the football universe can run down, break up a block and tackle a guy except Ohio State. It makes no sense and it's unacceptable for any good football team.

3. Wisconsin has their number. Jim Tressel is 4-4 against the Badgers in eight meetings. That's not exactly getting owned, but there is no question after Saturday that Wisconsin has Ohio State's number. Of their four wins over the Badgers since Tressel took over in 2001, only one has been convincing. The Buckeyes smashed them 38-17 back in 2007 behind three Beanie Wells touchdowns. In 2002, the Buckeyes barely kept their undefeated season alive with a 19-14 win in Madison thanks to a Chris Gamble interception at the OSU 20 yard line in the final three minutes. In 2008, Terrelle Pryor led a last-minute touchdown drive that shocked the crowd at Camp Randall in a 20-17 victory. Last year, the Buckeyes had only 184 yards of offense and eight first downs in a 31-13 win...

4. Ohio State's defense not dominant. Maybe they can be before it's all over, but right now the OSU defense is not playing at an elite level...this game should serve as a wake-up call for those who thought the offense and special teams were the only parts of the team with problems. The Buckeyes were exposed defensively, particularly up front, where they are nowhere near the same level they were last year...the OSU defense is still one of the best in the Big Ten. They might even be a top 15 defense in all of college football, but for them to know exactly what Wisconsin was going to do and not be able to stop it says they don't have the talent we thought they did. Jermale Hines had 10 tackles and played great in run support. Andrew Sweat showed up for the first time all season, but the defensive line had its lunch handed to it and Chimdi Chekwa really hurt them with a few big plays he allowed.

5. Cam Heyward not going to be the next Suh...Heyward is an excellent football player. He is the best defensive lineman Ohio State has, but can we drop any comparisons to Ndamukong Suh, or any other dominant defensive lineman. Guys like that are supposed to take over games the way J.J. Watt did on the other side. Instead, the Badgers had no fear running the ball right at Heyward on a number of occasions. He did see a good amount of double-teams, but so did Watt and he went right through them. That might say more about Wisconsin's offensive line, but Heyward is supposed to be ready to go against guys a lot better than that in the NFL...Dexter Larimore is supposed to be that guy who plays great but doesn't put up numbers. The problem is, nobody on the line except Nathan Williams is putting up any numbers this season.

6. Dane Sanzenbacher is the best wideout on the team. And one hell of a tough kid...Over the years, Sanzenbacher has developed kind of reputation for putting up big numbers against lesser opponents like Eastern Michigan and not showing up (at least on the stat sheet) in big games. That definitely was not the case Saturday night...he stood tall and made big plays in the passing game despite getting clobbered pretty good a few times. He made six catches for 94 yards and was running open on the final play when Pryor was intercepted. His horizontal catch over the middle was straight out of the Anthony Gonzalez vs. Michigan playbook.

7. Offensive tackles struggled. Overall, the offensive line did a pretty good job protecting Pryor Saturday night. Getting a little bit of his mobility back certainly helped, but the pass protection was relatively good all night considering how badly the Buckeyes were out-physicaled in the trenches. That still doesn't preclude us from knocking the job Mike Adams and J.B. Shugarts did against J.J. Watt. Part of that is just Watt being a darn good football player...However, the fact he was getting to Pryor on the final drive despite the fact he was getting double-teamed is just unacceptable. After tossing Shugarts around for a while on the right side earlier in the game, Watt spent most of the fourth quarter working Adams on the left side. Not a great showing by either of these guys, particularly Shugarts who doesn't seem to use the right technique now that this foot problem is flaring up.

8. Run game started to pick up. Finally. The Buckeyes finally started to run the ball consistently Saturday, only it came far too late to help them win the game. Being able to run the ball, and let's be careful with that because they still only averaged 3.8 yards per carry, doesn't do a whole lot of good when a team is down 21-0. That score might have had something to do with why OSU could run between the tackles...but Boom Herron also deserves a lot of the credit...

9. Jordan Hall in the Wildcat should be part of the offense. Herron scored his first touchdown on a 13-yard run out of the Wildcat, but that play wasn't nearly as impressive as the seven-yard run by Jordan Hall. That doesn't make a lot of sense, unless you saw the way Hall looked back there running the Wildcat. He brings a whole new dimension to that look and it should become a part of the offense. Hall has only gotten three carries since become the No. 2 tailback, and that number needs to go up dramatically.

10. This team didn't quit. There are no moral victories in football. There just aren't. Ohio State got its butt kicked and there is no way to sugar-coat it. Because they came back and scored a few touchdowns in the second is no reason to start handing out medals, unless of course there are medals for being the least mentally prepared team on the field. The Buckeyes came out flat, they couldn't match Wisconsin's energy and it's clear they didn't have the same level of focus all week. It was a poor, poor showing for a team that had national title aspirations, but the Buckeyes can take some stock in the fact they didn't give up...the fact they continued to fight should provide a ray of hope for what the rest of the season will look like..."




Ohio State is one and done as No. 1: Buckeyes Fall To Badgers, 31-18
October 16, 2010 Source: OSU Official Site - "John Clay ran for 104 yards and two touchdowns and James White darted in for the clinching score in the fourth quarter as No. 18 Wisconsin took down top-ranked Ohio State 31-18 Saturday night. Wisconsin hadn't defeated a No. 1 since 1981, when the Badgers knocked off Michigan 21-14. This one felt like an upset right from the start.

David Gilreath returned the opening kickoff 97 yards for a touchdown and the Badgers (6-1, 2-1) proceeded to run over the Buckeyes in the first half, taking a 21-3 lead into the break behind Clay and his blockers. "I challenged our offensive line at the beginning of the week,'' Wisconsin coach Bret Bielema said. "If we're going to have success, it starts with you guys.''

Terrelle Pryor, who threw for 156 yards and ran for another 56, guided Ohio State on two long scoring drives in the second half and Dan Herron capped them both with touchdowns to cut the Wisconsin lead to 21-18 with 11:38 left in the fourth.

But the Badgers responded with another long touchdown drive then added a field goal and now No. 1 is up for grabs again - just in time for the BCS standings to make their season debut on Sunday...Wisconsin broke a three game-losing streak to the Buckeyes in easily the biggest victory since Bielema took over the program from Barry Alavrez five years ago. Bielema had been 0-4 against top 10 teams. Now the Rose Bowl is in reach again for the Badgers...

For Ohio State, its national title hopes are in critical condition after a third straight loss as the No. 1 team in the country. The last two came in the 2007 season, to Illinois in the regular season and in the BCS title game to LSU.

The Buckeyes just couldn't overcome Wisconsin's dominant first half on Saturday night in front of a pumped up crowd of 81,194. The Badgers outgained the Buckeyes 197-93 in the first 30 minutes, punishing a defense that hadn't given up a 100-yard rusher in 29 games. Even after that terrible first half, though, Ohio State responded to the double-digit deficit...by surging in the third quarter. First it was a 77-yard touchdown drive that featured some of the best of Pryor, using his arm and legs to make plays. Herron got the Buckeyes' first touchdown with a 13-yard run out of the wildcat and it was 21-10 with 10:08 left in the third...Ohio State's next drive was even better and even longer, spanning the end of the third and beginning of the fourth quarter. Not even the Wisconsin's fans earthshaking "Jump Around'' between quarters could rattle the Buckeyes...The Buckeyes then went about completing the 94-yard, 19-play drive with Herron running in from the 1. Pryor tossed to Reid Fragel for the 2-point conversion to make it 21-18 with 11:38 left.

The Badgers didn't buckle, however, and the Buckeyes' defense, rated No. 3 in the country coming in, couldn't come up with a stop. Scott Tolzien completed 4 of 5 for 45 yards, including a clutch 20-yarder to Nick Toon on third down, and White finished the 73-yard march with a nifty cutback run, shedding two tacklers and going 12 yards to make it 28-18. Tolzien was a steady 13 for 16 for 152 yards and White added 75 rushing. The Badgers ran for 184 yards against a defense that had been allowing 78 per game on the ground..."

Scoring Summary, Team Statistics, Individual Statistics, Drive Chart, Defensive Statistics, Game Participation, Box Score, Play-by-Play, Play breakdown
Postgame Notes From No. 1/1 Ohio State at No. 18/16 Wisconsin



Instant analysis: Wisconsin-Ohio State
October 16, 2010 Source: ESPN - "How the game was won: Wisconsin's offensive line controlled the line of scrimmage for most of the night, allowing its backs and receivers to make plays. After Ohio State regained momentum with a dominant third quarter, Wisconsin marched 73 yards in 10 plays on an extremely well-executed drive and reached the end zone for a huge statement score. In a low-possession game, Wisconsin got the hot start it needed and avoided the major mistakes that would have allowed Ohio State to rally. But the line deserves a ton of credit for keeping Ohio State's defense at bay.

Turning point: After Ohio State closed to within 21-18, Wisconsin mixed up the play-calling and marched 73 yards in 10 plays. Scott Tolzien made a huge throw to Nick Toon on third-and-4, while offensive coordinator Paul Chryst surprised Ohio State with four consecutive passes. James White finished things off with a 9-yard reception and three runs, the last a nifty 12-yard scoring scamper to put Wisconsin up 27-18.

Best call: Badgers offensive coordinator Paul Chryst had a great game overall, and he saved his best call for last. After Wisconsin forced a three-and-out, still leading 28-18, Chryst ditched the run for a pass to tight end Jacob Pedersen, who, like Lance Kendricks, was wide open for a 33-yard gain. The play put even more pressure on Ohio State's defense to make a stop, and Wisconsin drove for a field goal.

Second guessing: The pistol formation worked brilliantly for Ohio State, so why didn't we see more of it in the first half? Jim Tressel had an excellent plan in the third quarter, but he didn't stick with the pistol enough in the first half as his team tried to crawl out of a 21-0 hole.

What it means: Ohio State is almost certainly out of the national title mix, and Michigan State, Iowa and Purdue are now the only undefeated teams in Big Ten play. The league title could be decided Oct. 30 in Iowa City, as Michigan State visits the Hawkeyes. Wisconsin, meanwhile, finally overcame its big-game blues and could do some serious damage down the stretch in league play..."




CFN Analysis: Wisconsin 31 ... Ohio State 18
October 16, 2010 Source: CollegeFootballNews.com - "...Pete Fiutak: ...One of the nation's most experienced and talented offensive fronts had this game circled for more reasons than just because it was against Ohio State. This was the game the line, to a man, talked about as the one it needed to dominate to establish itself as something special. All the accolades and all the praise meant nothing unless the front five could own the Buckeyes, and it did. Ohio State hadn't allowed a 100-yard rusher since Joe McKnight tore off 105 yards in a 35-3 USC win on September 13, 2008, but on Saturday night, John Clay ran for 104 yards against the nation's No. 4 run defense. QB Scott Tolzien got all the time he needed to throw, including the one big pass that sparked the final drive that put the nail in the coffin, the Badgers ran for 184 yards, and the offensive line got its day of revenge and the satisfaction of helping to send the national title chase into a spiral...

Richard Cirminiello: Thank you, South Carolina. Thank you, Texas. And thank you, Wisconsin...Now that the nation's top-ranked team has lost in consecutive weeks, mayhem is squarely upon us, as the initial BCS rankings are set to be announced. And it's only the middle of October. Just wait until next month when every game involving top 5 schools has a playoff feel to it. Do yourself a favor. Go grab a history book and start brushing up on the 1984 season. None of the majors seemed to want the national championship, which was eventually won by LaVell Edwards' BYU team in the Holiday Bowl. At the mid-point of 2010, it's beginning to feel an awful lot like that strange season more than a quarter century ago.

Matt Zemek: All of America – especially football fans craving BCS chaos – was anxiously waiting to see what kind of stuff Wisconsin was made of after Ohio State shaved a 21-0 lead to 21-18 early in the fourth quarter. The Badgers' response was as impressive as it was decisive: 10 plays, 73 yards, and 4:41 later, Wisconsin owned a game-sealing, death-dealing touchdown delivered by running back James White. As was the case in the game's first 17 minutes (when the home team built a 21-0 lead), the Badgers' offensive front played the way everyone in Madison hoped it would play this season. Wisconsin's big uglies did not distinguish themselves in the first six weeks of the season, but this game brought out the hard-hat excellence that coach Bret Bielema so clearly needed. The performance of the Badgers was noteworthy; Wisconsin's complete ownership of every meaningful moment in this game is the statement that will reverberate throughout the rest of the 2010 season… not just for the Badgers themselves, but for the beaten Buckeyes, who must do a lot of soul-searching after getting controlled so comprehensively at crunch time..."




Pryor Not 100%: Doug Lesmerises of the Cleveland Plain Dealer said that QB Terrelle Pryor "didn't seem to have his top gear and that final burst when he reached open space," Pryor said his strained quad was fine. "There was enough that I could run a little bit," Pryor said. "I don't think that's an excuse. The quad's fine."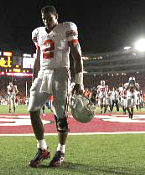 Ohio State QB Terrelle Pryor: "This loss doesn't define us"
October 17, 2010 Source: Cleveland Plain Dealer - "...The junior wasn't the reason the Buckeyes lost to the Badgers 31-18, but he wasn't able to do enough to bring Ohio State back for a victory this time. "This is definitely an eye opener," Pryor said after the loss. "I thought our eyes were opened against Illinois when they gave us a tight game, but this loss is hard for us because we thought we had a real, real good team. And we still do have a great team, but we let this one really slip by us. "I'm disappointed in myself and disappointed in general that we lost this game. We've got to go about this as men. We can't sit here and act like a kid and let this loss define us because this loss doesn't define us at all. They played a great game, their fans were jumping all around. We had a chance. Down 21-18, we had a chance. We just couldn't get it done as a team."...

A week after a strained left quad kept him from running against Indiana, Pryor was much more mobile, but he didn't seem to have his top gear and that final burst when he reached open space. "I can't use the quad as an excuse at all," Pryor said. "There was enough that I could run a little bit. I don't think that's an excuse. The quad's fine." His problems early were more in the passing game, as he threw behind receivers several times, entering halftime with 4 of 11 completions for 25 yards. Like all the Buckeyes, he was playing catchup after Wisconsin raced to a 21-0 lead, starting with a kickoff return for a touchdown.

"Nothing against our special teams, but that really hurt us," Pryor said. "That kicked us in the rear end. At the end of the day there's times where we could've scored in the red zone. It was a team loss. We live to fight another day..."We're men and this doesn't define us as a team," Pryor said. "It doesn't define me, I know that. There's going to be plenty more cheers and joy. Of course we didn't want to lose. We didn't want to lose for the fans and we didn't want to lose for ourselves. We thought we had the best team. I don't know."

Along with Ohio State's national title hopes, Pryor's Heisman Trophy resume took a big hit with the loss. The Buckeyes are now 25-5 since Pryor took over as their starting quarterback in the fourth game of the 2008 season. "A loss is a loss," Pryor said. "We hate losing. I hate losing with a passion. There's some things I could've done better. It was a total team loss. Total. It was a full loss and we lost as a team. "We have to bounce back because we can't let this define us. We can't lose another game. It's a big loss, don't get me wrong, but if we dwell on this loss it could hurt us. We still have seniors on the team that we want to send out with a great record."..."




Terrelle Pryor tweets: It's all good. Love you True buck fans. I promise I won't let you down again. Mark that down too!!!





Team Stats
Ohio State
Wisconsin
First downs
22
21
Rushing
12
13
Passing
10
8
Penalty
0
0
3rd Down Efficiency
6-13, 46%
4-8, 50%
4th down efficiency
1-1, 100%
1-1, 100%
Rushes-Yards
41-155
43-184
Passing Yards
156
152
Return Yards
165
176
Completions-Attempts-Int
14-28-1
13-16-1
Sacks-Yards Lost
3--21
0-0
Punts
3
2
Punts-Average
38
50.5
Fumbles Lost
1-0
0-0
Penalties - Yards
2-14
3-35
Time of Possession
30:03
29:57
Drive Chart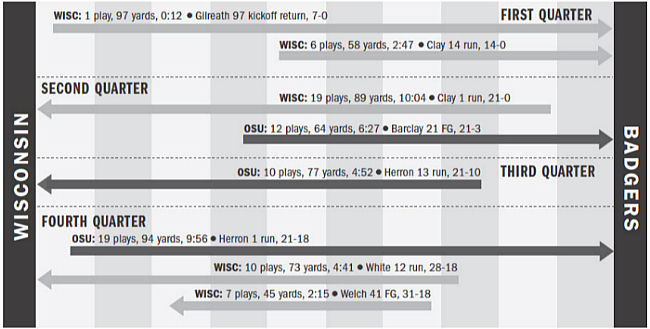 Source: Columbus Dispatch



Buckeyes defense badgered, bullied and bruised: OSU report card
October 16, 2010 Source: Cleveland Plain Dealer - "...A -- Wisconsin's offensive line: We highlighted the Badgers' 1,600 pounds of beef on the offensive line during the week, but they deserve to be singled out again, each in their own sentence. Left tackle Gabe Carimi. Left guard John Moffitt. Center Peter Konz. Right guard Kevin Zeitler. Right tackle Ricky Wagner. Their dominance started immediately, but especially Wisconsin's 19-play, 89-yard touchdown drive, which ate up 10:04 in the first and second quarter, is something the Badgers should remember forever. That is how you run block.

A -- Ohio State's first drive of the second half: A zero wasn't an option. A three wasn't an option. Down, 21-3, the Buckeyes needed to take the kickoff to open the third quarter and score their first touchdown of the game. So they did. Their 10-play, 77-yard drive kept hope alive, and the Buckeyes did it by not hurrying. On the initial third down of the drive, the offensive line gave Terrelle Pryor plenty of time and he stayed in the pocket and found Dane Sanzenbacher over the middle. Pryor later hit Sanzenbacher with a nice 24-yard completion, but they also ran the ball well with Pryor and Dan Herron. The Buckeyes got what they needed to survive.

F -- Ohio State's kickoff coverage: The fear of the fan base was that the special teams mishaps in other games would show up and bite the Buckeyes when it really mattered. There could not have been a worse time than at Wisconsin, yet the Badgers' David Gilreath reached the end zone on an 97-yard kickoff return to the start the game with ease. He's good at what he does -- the return gave him the Big Ten record for career kickoff return yardage. But the Buckeyes made it look easy for him, with not even a real missed tackle on the play because the lane he had to run was so open.

F -- Ohio State's playcalling at the 3: The Buckeyes, down 21-3, had first-and-goal at the Wisconsin 3 and then never came close to a successful play before settling for a field goal. First down was a Terrelle Pryor sweep to the right for a loss of one yard. Second down was Dan Herron taking a direct snap in the wildcat formation for a gain of one. Third down was a repeat of first down, with Pryor on a clear keeper to the right for a loss of one. Never did the Buckeyes let Pryor roll out of the pocket with a run-pass option. No lobs to DeVier Posey. Not even a straight running play with Herron, giving the line a chance to open a real hole. Then the Buckeyes took three points when a real shot at seven was so badly needed..."




The Bottom Line
October 17, 2010 Source: Columbus Dispatch - "...Offense (3 leaves): There were flashes of sweetness -- Terrelle Pryor fluid on the edge, Daniel Herron pile-driving through traffic, Dane Sanzenbacher catching everything thrown his way. And there were some stubbed toes, including first-and-goal butchery and some rushed Pryor throws. All in all, a little late to the party.

Defense (2 leaves): Cover your ears if you happen to be walking past the film room when the defensive unit watches the grisly video evidence of this one. The Buckeyes have made a good living out of being more physical than their opponents all year, but they often looked like lightweights against the Badgers butterballs.

Special teams (1 leaf): Oh, you again. OSU's crazy uncle showed up ringing the doorbell and carrying a suitcase full of trouble with a capital T. The Buckeyes did the one thing they couldn't do -- give a juiced-up crowd reason to scream -- by allowing an opening kickoff for a touchdown.

Coaching (2 leaves): That 21-0 didn't turn into 41-0 is a credit to the message and the messengers, but the flip side is that this was a winnable game before the second-half comeback. The three single-option run calls after the first-and-goal almost suggested panic, but the vibe got better. Now what on specials?

Opponent (3 leaves): It's hard to knock the team that knocked off the No. 1 team, but this was a case of the Badgers taking advantage of a situation -- a couple of big plays in a big-stage game -- but they were on the ropes in the second half, and should have been even more. John Clay's a big dog but he's no great Dayne.

Officiating (2 leaves): Dan Capron and his crew won't be bragging up this uneven performance. Video review properly overturned Jake Stoneburner's would-be catch, but why was OSU penalized for hurrying to the line? Wiscy fans didn't like a late-hit call, but zebras missed a horse-collar tackle by UW's Jay Valai..."




OSU Report Card
October 17, 2010 Source: Mansfield News Journal - "Offensive Line -- D: Watching tackle J.B. Shugarts whiff on a sack by J.J. Watt was the game in microcosm. The Buckeyes were terrible in the trenches and when the offense got going it couldn't punch it in. The line exerted itself better in the second half but the slow start was too much (little?) to overcome. Guard Justin Boren atoned for a holding call by paving the way to a "Boom" Herron TD on the same series, drawing OSU within 21-18. But Watt was unstoppable and the best player on the field.

Running backs -- D: Terrelle Pryor looked like he had never run the option before, pitching the ball errantly to Dan Herron (luckily it rolled out of bounds) and tentatively running up the line before getting stuffed on third down as the Buckeyes were stopped on three plays from the 3. As much as I hate Herron in the Wildcat, it worked for a TD from the 13 but didn't work inside the 5. Overall, Herron was effective between the tackles, but he doesn't have breakaway speed. The Buckeyes needed homerun threats like Brandon Saine and Jaamal Berry on the field after digging themselves a big hole.

Passing game -- F: Terrelle Pryor (14 of 28, one INT) made bad throws, bad decisions and looked totally frustrated -- and that was before the game got out of hand. OSU calls so few screen passes, that when Pryor threw one it was an ugly completion to "Boom" Herron and did little to slow Wisconsin's defense. Dane Sanzenbacher made an acrobatic catch on an ill-advised throw by Pryor -- shades of Anthony Gonzalez vs. Michigan -- that helped OSU close within 21-18. But DeVier Posey was a non-factor and a victim of passes at his ankles.

Defensive line -- F: John Clay carved the numbers of his linemen in his scalp and then his boys carved up the Buckeyes, blowing them off the line of scrimmage with their two-tight end alignment. A streak of 29 straight games without allowing a 100-yard rusher was snapped by Clay (104 on 21 carries), the reigning Big Ten Player of the Year. The holes were so huge, it looked like the Badgers would have two backs -- Clay and James White (75 yards, 17 carries) -- go over 100 before the end of the first quarter.

Linebackers -- D: Adding injury to insult, the Buckeyes lost linebacker Ross Homan with a foot injury in the second quarter. Before he left, the Badgers were manhandling the front seven like we haven't seen in some time. Andrew Sweat picked off a pass soon after Homan left but the Buckeyes couldn't capitalize. Homan was sorely missed in the fourth quarter when UW went 73 yards in 10 plays for the touchdown that iced it. Then came the knockout punch, a 33-yard catch over the middle by wide-open tight end Jacob Pedersen, leading to a field goal.

Defensive backs -- D: The Buckeyes scored on two pick-6s last season against QB Scott Tolzien, who has a tendency to self-destruct in big games. But the secondary came up with no picks and the Buckeyes got burned by Tolzien-to-Nick Toon in the fourth quarter as Wisconsin tacked on 10 points after OSU had closed within 21-18. Last time the Buckeyes gave up more than 30 points in a Big Ten game was in the 2006 No. 1 vs. No. 2 classic with Michigan, won by OSU 42-39.

Special teams -- F: David Gilreath's 97-yard jaunt with the opening kickoff marked the third time this season the Buckeyes have seen a kick or punt returned for TDs. It was a nightmare start in a venue where the Badgers have gone 41-4 since 2004. Devin Barclay missed a 45-yard field goal, wasting OSU's only takeaway, and the Buckeyes couldn't break a return against an opponent that had seen a kick and punt taken back for TDs this season.

Coaching -- D: Kirk Herbstreit said on the ABC broadcast that OSU looked "flat." It's hard to believe the Buckeyes would be flat in their first chance to defend their No. 1 ranking. In the first half, when this game got away, it was simply poor execution on OSU's part and a punishing performance by the Badgers. The red zone play-calling left plenty to be desired and special teams remain embarrassing. Halftime adjustments were made to get back in it, but there should be some serious soul-searching after this one, from the players to the coaches to the strength and conditioning mentors..."





It was over when...: James White stole momentum back from Ohio State with a fourth-quarter touchdown. Wisconsin's drive to White's clinching touchdown. After OSU cut the lead to 21-18 with 11:38 to play, the Badgers came out throwing instead of running. It seemed odd at the time, until Scott Tolzien hit Nick Toon on a 20-yard pass on the critical third-and-3 from the Wisconsin 34. Then White and Clay did most of the rest of the damage on the way to the end zone.

Gameball goes to...: White, John Clay. The two backs combined for 179 yards and three scores.

Stat of the game...: 1981. This was Wisconsin's first win over a No. 1-ranked team since 1981.

Worst feel for the game: Bowled over by Wisconsin's blockers all game, pancaked as often as the bill of fare at the IHOP, Ohio State's only chance to win was to convert a fourth-and-10 at its own 29 with 6:29 to play, down 10 points. Instead, Jim Tressel ordered a punt, hoping for a turnover to switch the field poisiton. The hope was that a game-long trend of ruthless Badger offensive efficiency would suddenly reverse itself. But a long game of keep-away -- converting the fourth-and-long, scoring a touchdown, and then recovering an onside kick -- looked like a better shot. That's how overwhelmed the OSU defense was.

They're still talking about: Dane Sanzenbacher's gutsy leaping catch of a Pryor lob late in the third quarter. (Our play of the game below)

Tailback found: After an up-and-down first half of the season, Ohio State back Dan Herron enjoyed his best game of the year Saturday. His 91-yard, two-score performance re-established him as the Buckeyes' go-to back and should make him an offensive focal point through the rest of the fall.

Repercussion: The loss will send the Buckeyes plummeting in the polls (#10 Coaches & #11 AP). And talk about bad timing, the first Bowl Championship Series ratings of the season come out tonight. The question now is can OSU keep alive its string of five straight Big Ten titles? Michigan State is 3-0 in conference play and does not play the Buckeyes this year.

Up for grabs: Ohio State's loss splits Big Ten favorite status between Michigan State and Iowa, both still unbeaten in league play. The teams meet in two weeks in Iowa City. But the next chapter in the conference race comes Saturday, when the Hawkeyes host Wisconsin, which will arrive with as much confidence as any team in the country.

Are you serious: Prior to last night's game, Wisconsin ranked 111th in kickoff returns, out of 120 FBS teams. They're now 66th!

The view:
How the team sees it: Maybe we mistook that red "W" painted on the field to mean an easy "W" for us.
How the pollsters will see it: First Alabama, now the Buckeyes. Oregon, your goose -- er, duck -- is cooked.
How Buckeye Nation will see it: Orlando is nice in early January, isn't it?

Translating Tress:
What he said: "I don't know if we sit around and worry about effort."
What he meant: "For example, tonight we were standing on the sideline while worrying about it."

Protection plus: Ohio State's lack of a pass rush continues to be an issue. Not only did the Buckeyes not sack Tolzien, but he was very efficient in going 13 for 16 for 152 yards. Wisconsin not surrendering a sack was a big deal since the Badgers gave up 18 sacks to Ohio State over the past three meetings - 6 last year, 2 in 2008 and 10 in 2007.

Numbers for dummies:
6: Dan "Boom" Herron has now scored a TD in six straight games
9-5: Buckeyes' all-time record in games after their move to No.1 in the polls
6-2: Ohio State record against Wisconsin as a No. 1 team. Its other loss was in 1942.
4-4: Buckeyes record vs. Badgers under head coach Jim Tressel dating back to 2001; 3-1 vs Bielema and 1-3 vs Alvarez
0-2: Buckeyes record in their last two games when completing two-point conversions; previous was Purdue last year.
31: Most points given up by Ohio State since USC scored 35 in the 2008 meeting in LA.
26: Wisconsin improved to 26-3 in its last 29 night games.
3: Ohio State lost for the third straight time as the #1 ranked team in both polls; the last two were part of the 2007 season.
7: Male students who followed ESPN's Erin Andrews and her three-person security crew off the field after the game.
0: Chance those male students had of Andrews giving them the time of day.

Stats of the Game:
Buckeyes had 22 first downs to Wisconsin's 21. They also held the edge in time of possession by the slimmest of margins, 30:03 to 29:57.

With their three sacks allowed, the Buckeyes have now given up 16 sacks this season. They allowed 23 last season.

John Clay ran for 104 yards and two TDs. It had been 29 games since the Buckeye defense allowed a 100-yard individual rushing performance; the second-longest in the nation.

Buckeyes did not record a sack and had just two tackles for loss. They have only eight sacks this season through seven games after recording 31 in 13 games last season.

Despite offensive struggles, Ohio State finished 6-13 on 3rd down conversions and 1-1 on 4th down conversions.

Buckeyes HC Jim Tressel said it: ''We didn't talk anything about what remains and what's still out there. Again, that's way further down the road than we typically talk about.'' -regarding the rest of the season and the BCS title chase

Buckeyes QB Terrelle Pryor said it: ''Hey, you never know. Teams could lose, we could jump them.'' - on OhioState's BCS title hopes.

Buckeyes DE Cameron Heyward said it: "As a senior, you've been so close so many times. You want it so bad because it's been right there." - after the loss to Wisconsin, which practically extinguished Ohio States dreams of getting into the BCS title game

Buckeyes LB Brian Rolle said it: "They lined up toe-to-toe and just beat us. It was like, 'Did they really just do what I think they did?'" -after Wisconsin knocked off a No. 1-rated Ohio State team for the first time since 1942.

Buckeyes DT Dexter Larimore said it: "Tonight, they lined up and they said 'You can't stop the run,' and we didn't have an answer. We'll go back and look over the film and we'll have an answer eventually." - on the Buckeyes inability to stop the run against Wisconsin

Wisconsin head coach Bret Bielema said it: "You just felt the anticipation and the excitement, but there was also calmness in our preparation. I pointed out before we left the locker room that we've been in four-quarter games this year and I don't think Ohio State had been. I challenged our offensive line at the beginning of the week. If we're going to have success, it starts with you guys. It was very fulfilling to walk off the field. The plan is to enjoy and celebrate [the] victory."

Wisconsin S Aaron Henry said it: ''I know this isn't a bowl game or the national championship game, but I just started crying, man; to just be in a situation like that where nobody expects you to win. Nobody really expected us to go out there and win."

Opposite sideline:
What went right: Wisconsin plowed through an Ohio State defense that came into the game ranked fourth nationally against the rush. The Buckeyes had been allowing 78.7 yards per game on the ground; the Badgers had that with time to spare in the first quarter. They finished with 184 and didn't have more primarily because the Buckeyes played keepaway in the third quarter and evened up the time of possession.

Drawing board: The difference in the game was supposed to be Wisconsin's suspect defense, and Ohio State exploited its during a second-half rally, driving 77 yards in 10 plays on its first possession of the third quarter and 94 yards in 19 plays on its second. "They made a few adjustments at halftime and they started running the ball a little bit more. They fitted up our scheme really well," linebacker Culmer St. Jean said. Ohio State gained 161 of its 311 yards in the third quarter.

They said it:
As heard on TV: Have to give a back-handed compliment where it's due: Brent Musburger was better than the Buckeyes defense. As for Herbie, one viewer thought he needed to lay off the bronze self-tanning lotion. But he remains the gold standard of broadcasters. Say this about the ESPN duo: They bring an electric excitement to the screen. You know it's a big game when they show up in town, and that's something you youngsters can take to the bank, pardner.

Pregame buzz: Plenty of worry went into the trip to Madison, with good reason. Ohio State's run defense had not truly been tested. So how did it hold up? Bruised and Badgered.

Worth the trip?: The defeat stung OSU travelers, but if there's such a thing as a "good" road loss, then Wisconsin is it -- simply because the atmosphere in Camp Randall Stadium makes football fun. From the students bouncing at the beginning of the fourth quarter to the noise, noise, noise, noise. Only a Grinch could find something not to like.

One-liner: A student sit-in after they stormed the field? This place is so liberal, the school colors should be tie-dye.

Just wondering: Is there a more brutal game than college football, where a team can lose national championship, Big Ten and Heisman Trophy hopes in one night? And I thought golf was tough.



(Sources: ESPN/OSU Official Site/The Ozone/Columbus Dispatch/Cleveland Plain Dealer/The Sporting News/Eleven Warriors/The Morning Journal/Bucknuts)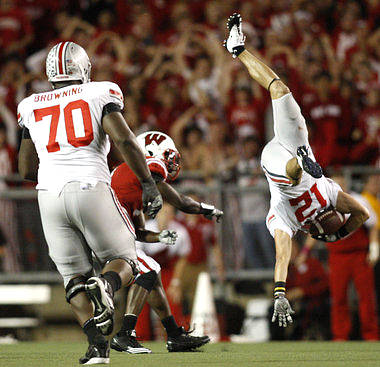 Our Play of The Game: Dane Sanzenbacher's catch!

How it went down: On third-and-6 from the 37, Ohio State needed another first down to keep a drive alive, with the Wisconsin lead still at 21-10 late in the third quarter. Pryor rolled to his right, multiple Badgers in pursuit, then lofted a ball back over the middle of the field.

Senior Dane Sanzenbacher, who had suffered a concussion on a big hit at Camp Randall Stadium two years ago, went high to grab the pass and was knocked nearly upside down as he tumbled to the turf. But he held on for the 9-yard gain and the first down.

This lead to a Buckeyes TD, and 2 point conversion, which cut the Badgers lead to 21-18...and we thought a monumental momentum swing. However, the Badgers came right back and drove 73 yards for a TD to put them up 28-18 and effectively seal the victory.






Manhandled in Madison...Wisconsin didn't merely deflate Ohio State's national title hopes -- it jack-hammered them
October 16, 2010 Source: Columbus Dispatch - "Led by their vaunted running game, the Badgers' jumped to a 21-0 lead, then bulled their way to a clinching fourth-quarter score to crush an OSU comeback attempt and send the top-ranked Buckeyes to a 31-18 loss in raucous-as-usual Camp Randall Stadium. In cheese country, No. 18 Wisconsin made the once-proud OSU defense looked like warm Velveeta...Overall, the Badgers rushed for 186 yards.

The loss was OSU's third straight when it was ranked No. 1, dating back to losses to Illinois and Louisiana State in 2007.

The question now is can OSU keep its string of five straight Big Ten titles alive? Michigan State is 3-0 in conference play and does not play the Buckeyes this year.

It was Wisconsin's first win over a top-ranked team since beating Michigan in 1981. It gave Badgers' coach Brett Bielema a much-needed signature win, as his teams had lost their past six games against ranked Big Ten opponents...

Ohio State played the part of the Washington Generals at the start -- willing participants in what appeared to be a laugher. If the first goal on the road is to hush the crowd, Ohio State failed miserably. David Gilreath fielded the opening kickoff at the 3-yard line and raced nearly untouched up the middle of the field for a touchdown. It was the third return score Ohio State has given up this year, but the first in five weeks. Clay then scored on Wisconsin's first two possessions, once from 14 yards out and the second on a leap from 1 yard out. The Badgers led, 21-0. The latter score capped a 19-play, 89-yard drive that ate up 10:04 -- virtually unheard of against an OSU defense that came in ranked third in the nation in total defense and fourth against the run, giving up just 78.7 yards per game.

Down 21-3 after a miserable first half, Ohio State did what it had to do: March smartly downfield and score to start the third quarter. Pryor bought time and found Dane Sanzenbacher for a 24-yard completion, then stepped up and scrambled for 13. On the next play, out of the wildcat formation, Herron found a wide path off left tackle and scored to cut the lead to 21-10. The Camp Randall crowd quieted -- just a bit -- for the first time all night.

The OSU defense rose up, stopping Clay a yard short on a third-and-2 to force a punt. The momentum clearly had shifted. By the end of the third quarter, OSU again was knocking on the door, having driven 74 yards to the Wisconsin 20. Pryor was 7 of 7 passing in the third, for 86 yards...Two plays into the fourth quarter, Herron kept the drive going by converting a third-and-1, then did it again on third-and-3, getting down to the Wisconsin 3. Two more Herron runs yielded his second TD of the night. Down 21-16 with 11:38 left, Tressel opted to try for the two-point conversion, and Pryor found tight end Reid Fragel in the left side of the end zone. That capped a 9-play, 94-yard drive that took up nearly 10 minutes. It was 21-18.

But that would be OSU's last positive moment of the evening..."



Transcript from Bret Bielema's press conference
October 16, 2010 Source: Wisconsin Official Site - "...Defensively, our MVP went to three guys. Blake Sorensen played his best football game ever here as a linebacker, had a very productive day and then made the key interception at the end of the game to ice it down. J.J. Watt up front was also given the MVP. And Antonio Fenelus played really well. Actually, Antonio and Niles [Brinkley] played their best game probably together as corners that they've played this year..."




Postgame Quotes: Wisconsin vs. Ohio State
October 16, 2010 Source: Wisconsin Official Site - "...Junior DE J.J. Watt On dynamic of John Clay and James White: "I think overall this was the best game they had. They had a balance and they ran really hard today." On regaining momentum after the team's first touchdown: "Coming back and being able to play well was a big step for us. We made some mistakes and I let a ball go down, but mentally we still were in it and didn't give up." On importance of the defense overall: "I cannot say enough about the play of the back seven. They played unbelievable. Ohio State has some of the best skill players in the nation. Our guys at linebacker did a great job staying with them and denying them opportunities to make big plays. We were then able to get sacks and pressure up front, so it was really important."

Senior OL Gabe Carimi On celebrating with the fans: "It was crazy. I've never experienced anything like that in my life. It's something I'm always going to cherish. I'm surprised the fans didn't come on earlier." On beating Ohio State: "I waited three year to beat them. It was great as a senior." On the environment entering the game: "We came in here confident and there was such a calm in the locker room beforehand. We are all on the edge of our seats. We were locked in. That's quiet intensity."..."




Blue-collar blueprint pays big dividends for Badgers
October 16, 2010 Source: Milwaukee Journal Sentinel - "The beauty of the blueprint to upset No. 1 Ohio State was its simplicity. Offensive linemen: Get a hat on a hat. Running backs John Clay and James White: Keep your shoulders square to the line of scrimmage, hit the hole hard, keep your legs churning. Offense: Win time of possession and keep the Buckeyes' potent offense off the field. There was nothing fancy about it. It was grind-it-out football, Wisconsin Badgers style. And it worked to perfection Saturday night...

"I challenged our offensive line," said UW coach Bret Bielema. "All we heard all week was 29 games without a 100-yard rusher. I threw it at those guys all week." The Badgers were up to the challenge. After UW's David Gilreath scored on a 97-yard kickoff return to open the game and the defense forced a Buckeyes punt, the offense drove 58 yards behind the hard running of the 255-pound Clay, who carried five times for 51 yards and finished the drive with a 14-yard touchdown run on which he wasn't touched by a defender...

UW got the ball with 11:33 left and started on its own 27-yard line. "We knew we had to have a long drive there," White said. "We knew we had to score." This time White, a 5-foot-10, 198-pound freshman, did the heavy lifting. After the Badgers drove to the Buckeyes' 32-yard line, White gained 9 on a pass from Scott Tolzien and then carried on three consecutive plays for gains of 6, 5 and 12 yards. The latter was a beautiful touchdown run in which White made a nifty move to the inside. "We ran that play (three) times in a row on that drive," he said. "They saw me trying to get to the outside so I thought if I just set them up and put my foot down they wouldn't be able to get back. Once I made that one cut, they tripped up a little bit and I just ran through the seam."..."




Wisconsin-Ohio State report card
October 16, 2010 Source: Milwaukee Journal Sentinel - "OFFENSE (A-): UW won the battle at the line of scrimmage, particularly in the first half, when the Badgers had touchdown drives of 58 and 89 yards and gave quarterback Scott Tolzien time to look for receivers. Tolzien had one bad throw, which was intercepted, but completed 81.3% of his passes against a stout defense. Nick Toon (six catches, 72 yards) looked like the player he was in camp. In a word, he was a stud. What can you say about tailbacks John Clay and James White? Clay gave the type of punishing performance we have been waiting for all season. Bravo. White gets better each week. His 12-yard touchdown run was a masterpiece.

DEFENSE (A-): UW lost tackle Jordan Kohout for part of the game and linebacker Mike Taylor for more than three quarters. Nevertheless, coordinator Dave Doeren's unit scrapped and clawed, held the Buckeyes to a season-low point total and 25.2 points shy of their season average of 43.2. End J.J. Watt was a beast despite drawing extra attention. He finished with two sacks and three tackles for loss. Linebacker Blake Sorensen, who sealed the victory with an interception, was all over the field and finished with a team-high 10 tackles. Tip your cap to linebacker Kevin Claxton, who saw extended duty with Taylor (left knee/leg) out and had six tackles.

SPECIAL TEAMS (A): David Gilreath appeared to go untouched from his 3 to the south end zone on the opening kickoff. The blocking was outstanding, starting with fullback Bradie Ewing. The kickoff-coverage unit allowed an average of 25.8 yards per return, still a bit too high, but didn't give up the long return that had been a killer this season. Freshman Manasseh Garner was a tackling machine on kickoff coverage and had three tackles. His ability to get down the field is impressive.

COACHING (A): Perhaps Bret Bielema's critics, relentless with their barbs on the Internet, will pipe down for at least a week. Kudos to the entire coaching staff because UW started quickly against the No. 1 team in the nation, withstood the expected comeback and then fashioned two critical scoring drives in the final 6 minutes 57 seconds. Offensive coordinator Paul Chryst kept the Ohio State defense off-balance and Doeren played the percentages by relying on a four-man rush and saw his unit make enough plays to win the game..."




WISCONSIN

vs.

OHIO STATE


"I told the defensive linemen, if you guys get blown off the ball, we're going to have a long day. Period." - Jermale Hines laid down the law to Ohio State's defensive linemen earlier this week.



Ten Pressing Questions: OSU vs. Wisconsin
October 16, 2010 Source: Bucknuts.com - "1. Can Terrelle Pryor succeed again on the site of his first big win as the OSU quarterback? – Pryor was making just his third career start in 2008 when he led the Buckeyes to a come-from-behind 20-17 win at Wisconsin. Pryor engineered an 80-yard drive in the waning moments and scored the game winner on an 11-yard run. He should be comfortable in this raucous environment and he said he is as close to 100 percent as he could be at this stage of the season. That may not bode well for the Badgers.

2. Can Boom Herron carry the mail against UW's rugged defense or will one of OSU's young backs get a breakthrough moment? – Herron seems to be the lead dog in the OSU tailback group right now. It seems that Brandon Saine's carries have been cut after he didn't log a carry last week against Indiana. Does that open the door for Jordan Hall, Jaamal Berry or Carlos Hyde to make an impact on a big stage?

3. Can DeVier Posey and Dane Sanzenbacher dial up some big plays in the passing game? – Sanzenbacher leads the Big Ten with seven touchdown catches, including six in the last three weeks. Posey came up big last week against Indiana with eight catches. UW gave up 211 yards passing to Arizona State, 269 in the loss to Michigan State and 249 last week against Minnesota.

4. Can tight end Jake Stoneburner make an impact after missing the first two Big Ten games? – Stoneburner has been sidelined the last two weeks with an ankle injury. He is said to be close to full-go and could resume his role as Pryor's security blanket, particularly in some third-down situations.

5. How will the offensive line fare against UW defensive ends J.J. Watt and Louis Nzwegwu? – OSU offensive tackles Mike Adams (illness) and J.B. Shugarts (foot injury) were hobbled this week. They will have their hands full against these two athletic ends who play extremely hard.

6. Can the Buckeyes contain UW's devastating rushing attack? – The Badgers are averaging 240.8 yards rushing per game with bullish John Clay and scatback James White carrying the load. The Buckeyes are only allowing 78.7 yards per game. Something has to give here.

7. Can Ohio State get pressure on UW quarterback Scott Tolzien? – The Buckeyes only have eight quarterback sacks in six games, so this will be an emphasis today to get after Tolzien. Last year, they sacked him six times and harassed him into two interceptions that were returned for touchdowns. But Tolzien is completing nearly 70 percent of his passes and has only thrown two interceptions in 132 pass attempts this year.

8. How will Andrew Sweat fare in his first real taste of playing time? – Jim Tressel estimated that OSU has been in the nickel defense about 70 percent of the time so far this year. That means that strongside linebacker Andrew Sweat has only started three games and has only played sparingly. He has just eight tackles in the five games he has played. He could be huge today as the Buckeyes try and corral the UW running game.

9. What impact will special teams have on this game? – Neither team has been especially strong in kick coverage so far this season. Perhaps one team will pop a big one here. The kickers on each side are solid.

10. Is Ohio State truly the nation's No. 1-ranked team? – This is a big question as the Buckeyes moved into the top spot, although skeptical experts believe Boise State or Oregon could be more deserving. A true No. 1 team will go on the road and win in a tough environment. This win would also be critical in terms of the Big Ten championship, another key OSU goal..."




Expect the Buckeyes to keep throwing - Ohio State-Wisconsin preview
October 16, 2010 Source: Cleveland Plain Dealer - "1. Expect the Buckeyes to keep on throwing: Last year against Wisconsin, Ohio State gained 184 yards the entire game. Last week against Indiana, the Buckeyes put up that many yards in the first 17 minutes. "This is a game we've had circled on our schedule for a while," OSU receiver DeVier Posey said this week. "As an offense last year we didn't do too great." The Buckeyes were limited in part by their opportunities, getting only 40 offensive plays compared to Wisconsin's 89 plays in a 31-13 win because Ohio State scored two touchdowns on interception returns and another on a kickoff return...The Buckeyes did come out throwing last season, their first 18 plays during that slow start consisting of 12 Pryor throws or runs and six tailback carries...And Wisconsin is eighth in the Big Ten and 83rd in the nation in pass efficiency defense. San Jose State's starting quarterback completed 20 of 26 passes for 228 yards against the Badgers. Michigan State's Kirk Cousins was 20-of-29 for 269 yards...

2. Big hits from Jay Valai: Two years ago, the Wisconsin safety gave concussions to OSU running back Dan Herron and receiver Dane Sanzenbacher with big hits. Valai sat out last week against Minnesota with knee and rib injuries but is expected back today...Now as a senior he's one of the Big Ten's best bigplay defenders. "He's like the great eraser back there," Tressel said. "It looks like you're going to make a play, and here he comes and whacks you."...

3. UW tight ends that aren't tight ends: Nobody in the Big Ten throws to the tight end more effectively than Wisconsin, with 6-foot-4, 241-pound senior Lance Kendricks coming into today as by far the Badgers' leading receiver, with 25 catches for 391 yards. He's No. 84. But keep an eye on No. 89. That's the number that senior Bill Nagy, a former Plain Dealer All-Star at Hudson High, wears when he's at tight end. The 6-foot-3, 318-pound Nagy started the first four games this season at right guard, but the Badgers changed up their line at the start of Big Ten play. Nagy now gets most of his snaps as the second tight end when Wisconsin really wants to pound it. He threw key blocks on two touchdown runs by James White against Michigan State two weeks ago.

4. Which Badger is in the backfield: While Wisconsin back John Clay has run for 692 yards on 115 carries, a 6-yard average, White has gained 485 yards on 63 carries, a 7.7 yard average. And in the last three games, White has actually outgained Clay, 361-299. The Badgers don't change their package of plays for the backs, but the Buckeyes have to be aware of which back is in the game — White at 5-foot-10 and 198 pounds or Clay at 6-1 and 250 pounds — because the effect is much different. "Clay is more of a downhill power back, and White is more a scatback runner who's shifty," OSU safety Jermale Hines said. "They're not going to change their offense. It's just two different styles of running."..."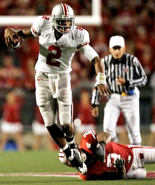 A coach's nightmare: Bielema hopes Pryor doesn't repeat last year's performance
October 16, 2010 Source: The Morning Journal - "When Bret Bielema's in the house, Terrelle Pryor seems to find a way to shine. Wisconsin's football coach hopes it doesn't happen again on Saturday. When Pryor was a mere freshman at Ohio State in 2008, Bielema was on the other sideline in Camp Randall Stadium when Pryor drove the Buckeyes down the field for the go-ahead score, running in from 10-yards out in a 20-17 Ohio State victory. To many, that game is considered Pryor's true arrival as OSU's quarterback...

"He's so gifted," said Bielema, noting his thoughts after watching Pryor in high school were strikingly similar. "And now under [Ohio State coach Jim] Tressel's tutelage to know the things that are important, the ball security, maintaining possession of the football, not making unnecessary risks, and don't put your defense in a bad position. Now he's grown into the ideal player for them."...

The book on defending Pryor during his first two years on the college level was to keep him from escaping the pocket and running wild. Make him beat you with his arm, the book read. Well, the book has a new chapter now. If Pryor's 266-yard, two-TD performance in the Rose Bowl didn't prove that, then last week's 334-yard, three-score exhibition against Indiana — when Pryor was resting an aching thigh strain — did the trick. "If you watched Saturday's game," Bielema said, "it definitely changes your opinion, although this year, he's been noticeably different in the throwing game...

Earlier this week, Pryor indicated he might not be 100 percent, but that he is certainly healthy enough to be the multi-faceted quarterback the Buckeyes need against the Badgers. "I am not going to let us lose," he said. "I'm going to push myself and do whatever I possibly have to do until we're up. I know some of the offense revolves around me and any time I touch the ball I'm trying to make a play or make a first down and lead the guys as much as I can. Because at the end of the day they're going to be looking at me to make a play." Just like he always seems to do, especially when Bret Bielema's in the house..."




Five for Wisconsin: What You Need to Know as the Buckeyes Take on the Badgers
October 15, 2010 Source: Columbus Dispatch - "1. Terrelle Pryor's Health. Pryor's quad was still sore last weekend against Indiana, but the junior signal-caller has said that it is "a lot better" this week. Pryor was excellent passing the ball against the Hoosiers, going 24/30 (80%) for a career high 334 yards, but he only ran the ball three times. The Badger defense is far more talented than Indiana, and it's a good bet that Pryor's legs will need to come into play at some point in the game. It's clear that the quad strain is not affecting his passing ability, but it is still unclear how, or if, it will affect his mobility.

2. General Health. Besides Pryor, Ohio State is dealing with multiple issues along the offensive line, including an attack from the flu bug upon starting left tackle Mike Adams...On the other side of the line, starting right tackle J.B. Shugarts has missed multiple days of practice this week with a recurring foot injury...If Shugarts can't play on Saturday, Ohio State will be starting a flu-ridden left tackle and true freshman rights tackle in Camp Randall...Tight end Jake Stoneburner is set to return after missing the last two games with an ankle injury.

3. Andrew Sweat. The first year starter at strongside linebacker has only played parts of the first two Big Ten games because of substitutions. Both Illinois and Indiana used multiple receiver sets, and Sweat is swapped out on those downs for the player at the "Star" position...Wisconsin's favored style of multiple tight ends and backs will require Andrew Sweat to play the majority of snaps this weekend...This will be Sweat's greatest test yet, and he will play a starring role in this game. As the strongside linebacker, he will have the tough task of covering Wisconsin's tight ends while providing a physical presence in run support.

4. Camp Randall at Night. Wisconsin is 25-3 in night games at Camp Randall since the 1995-96 season. One of those losses, however, came at the hands of Terrelle Pryor in 2008...Pryor must maintain that composure tomorrow when the belligerent Wisconsin fans make their presence known.

5. Special Teams. Makin their return to this list once again, special teams will play a pivotal role in this game, although maybe not from the perspective you first thought. Ohio State actually holds the special teams edge in this game, with Wisconsin having the 90th ranked kickoff coverage units in the country and the 114th ranked punt coverage units. Look for Jordan Hall or Jaamal Berry to break a long return in this game..."



On the Edge: Dispatch beat writers Ken Gordon and Tim May predict which team has the edge in this week's game. See if you agree..."





Ohio State-Wisconsin: Key matchups
October 15, 2010 Source: The Morning Journal - "1. Wisconsin RB John Clay vs. Ohio State's front seven. This is the key — first and foremost. Clay, all 6-foot-1, 255 pounds of him, averages more than 100 yards per game and he's a battering ram when he gets the ball. Ohio State must keep him from not only running wild, but also from getting big chunks of yardage on first down and giving his team second-and-short situations.

2. Wisconsin WR Nick Toon vs. OSU cornerbacks Devon Torrence and Chimdi Chekwa. Toon, who is 6-3, 218, caught four passes for 53 yards last year, but has big-play capabilities. If he is able to shake loose from OSU's coverage, he has the speed and the height to dominate a game through the air with the help of a very underrated, heady quarterback in Scott Tolzien.

3. Ohio State QB Terrelle Pryor vs. Wisconsin linebackers Blake Sorenson, Culmer St. Jean and Mike Taylor. Pryor and OSU coach Jim Tressel said Pryor is fine for running this week after being held from running the ball last week against Indiana to rest his ailing quad. The Buckeyes need a versatile Pryor to run and pass. If he can hold the linebackers close to respect his running, downfield passing lanes should be there.

4. Ohio State running back Dan Herron vs. Wisconsin's defensive line. The Buckeyes must get some sort of a rushing game going, and it's evident Brandon Saine, who was used more as a receiver last week, is not part of that equation. The Badgers give up only 108 yards per game on the ground, and OSU averages 217. Something's going to give here, and the Buckeyes need it to be in their favor.





Key matchup: Wisconsin's OL vs. Ohio State's front seven. Both sides are stacked with guys that will be playing on Sunday, but for all the talent the Badgers have in their front five, Ohio State has been able to take advantage of them with relentless pressure. Wisconsin has allowed 18 sacks in the last three matchups against the Buckeyes.

Source: Associated Press



Five Key Factors
October 15, 2010 Source: Columbus Dispatch - "CAN HE ESCAPE?: Ohio State QB Terrelle Pryor either couldn't run last week against Indiana, or he chose not to...this week, he will need to at least be able to move around, avoid pressure and keep plays alive. Even better for the Buckeyes would be if Pryor can convert a few third downs with scrambles. He might not need to run for 100, but a well-timed 50 could be the difference between a win and a loss.

PASS FIRST: Wisconsin has a fairly stout run defense...The Badgers have allowed only one rushing touchdown. But through the air is a different story. Wisconsin has some hard hitters, but not necessarily great coverage. The Badgers are 54th against the pass, having given up 10 TD tosses...this is an area where a Buckeyes' strength matches up with a Wisconsin weakness.

ALL ON THE LINE: ...defensive line has been stellar this year, but Wisconsin will provide its sternest test. The Badgers have a huge offensive line (average size: 6-foot-5, 320 pounds). And Wisconsin now features not just bruising back John Clay, but change-of-pace freshman James White...OSU has not allowed a 100-yard rusher in 29 games.

DEFEND TIGHT END: Every year, the Badgers have a good tight end, and this year is no different. Lance Kendricks is the leading receiver with 25 catches, a 15.6-yard average and three TDs. Ohio State has had trouble with this over the years, particularly with linebackers biting on play-action fakes and leaving the middle of the field open. Safeties Jermale Hines and Ohrian Johnson also are on the spot.

WHO BLINKS FIRST?: Wisconsin QB Scott Tolzien has thrown just two interceptions and has a streak of 70 attempts since his last one. The Badgers have committed just four turnovers overall...Pryor has committed just three, and Ohio State is third nationally in turnover margin (plus 1.67 a game). The Buckeyes have forced 17 turnovers this season, and to win..., they will have to add to that total..."



On the Edge: Dispatch beat writers Ken Gordon and Tim May predict which team has the edge in this week's game. See if you agree..."



Mel Kiper Jr. and Todd McShay debate the most dangerous player in the Ohio State-Wisconsin game
Source: ESPN



"Boom is a good warrior kind of back, he's a good pounder. But that doesn't mean that you're sitting here saying for sure he's going to have 22 carries. ... I don't know what a feature back means; the guy who's in the game is our feature back." - Jim Tressel, on whether Dan "Boom" Herron is now the featured back in the Ohio State offense.

Tressel Thursday Press Conference: Stoneburner In; Reaction To SI Story
Source & Story Link: Bucknuts.com



What to watch in the Big Ten: Week 7: 1. A great road team vs. a great home team: Ohio State's ability to win Big Ten road games under Jim Tressel is one of the more overlooked trends in college football. The Buckeyes are 19-1 in their last 20 trips away from Columbus in conference play. More impressive, Ohio State has won its last eight Big Ten road contests against teams ranked in the Top 25. Wisconsin counters with a 40-4 home record since the start of the 2004 season, not to mention a 25-3 record in night games. Something's got to give as the top-ranked Buckeyes aim for their second consecutive victory at Camp Randall Stadium against No. 18 Wisconsin.

Source: ESPN







Big Ten predictions: Week 7: Ohio State 27, Wisconsin 23: This is certainly one that could go either way, and if Wisconsin can reduce Ohio State to a one-dimensional offense, the Badgers have a very good shot. But what has Wisconsin shown this year to indicate it's capable of knocking off the nation's No. 1 team? The Badgers come in fired up and take an early lead, but Terrelle Pryor, still a bit limited by his quad injury, has a big second half attacking the middle of Wisconsin's defense. Ohio State's opportunistic defense forces two turnovers and escapes Madison with a W.

Source: ESPN







Badger Offense to Test Buckeye Ganas
October 13, 2010 Source: Eleven Warriors - "...Wisconsin features a script similar to last year but with a few changes. John Clay returns but he now has a really good change of pace back this year in James White. Scott Tolzien is a quarterback that Tressel gushes over, mostly because he's the cerebral type who takes care of the ball - generally speaking - while he gives it to his teammates to do the damage. And, wrapped around this cast is an offensive strategy that will feature a couple staple plays we are sure to see Saturday night. Let's look at each one in sharper focus:..

Power with John Clay...Playaction Pass...Use of Tight End...David Gilreath End Around Mania... (with seven videos)

The media is making a lot of this game being a statement opportunity for Ohio State. In some ways I agree and I can't help but draw comparisons to the 2006 night game in Iowa City... I'd love to see Ohio State win another national title. Wisconsin is the next step in the process and they've done everything in their power to make it has hard as possible on Ohio State. After all, they have even called upon the karma of Lee Evans as the honorary captain..."




3-point stance: Numbers favor Tressel: Ivan Maisel writes: 1. The good news for Ohio State fans is that when the Buckeyes have been No. 1 under coach Jim Tressel, they are 6-0 playing in road games. No. 18 Wisconsin has the most difficult place to play in the Big Ten. The Badgers have won 25 of their past 28 night games at Camp Randall Stadium. Tressel is 2-1 there. There are two conference stadiums in which he doesn't have a winning record. Tressel is 2-2 at Purdue and 1-1 at Iowa.

Source: ESPN 10/14/10







Five questions to ask about Ohio State - Wisconsin
October 13, 2010 Source: The Lantern (OSU) - "1. Does the battle at the line of scrimmage matter?: Wisconsin is 11th in the nation and second in the Big Ten for rushing yards, with a rushing average of 241 yards per game. Its offense revolves around reigning Big Ten Offensive Player of the Year John Clay and freshman running back James White. In its last 11 games, Ohio State has rushed for an average of 158 yards, more than its opponents. However, both team's defenses are good enough to shut down each other's run game to the extent that OSU quarterback Terrelle Pryor and Wisconsin quarterback Scott Tolzien will be forced to make an impact, giving OSU a considerable advantage in the play-making department.

2. Is the OSU defense ready for Clay?: What does matter is Clay's size. At 6-foot-1-inch, 248 pounds, Clay is a typical plus-sized Wisconsin running back whose strength is bruising between the tackles. The Ohio State defense has not encountered a back with Clay's size this season. In two career games against OSU, he's rushed for 128 yards on 30 carries, 4.3 yards per carry, which is less than his average of 5.7 yards per carry...

3. Will Scott Tolzien deliver a repeat "pick-six" performance?: ...Although Tolzien has only two interceptions this season, the OSU defense has already forced 17 turnovers through six games. If OSU jumps out to an early lead and renders the Badger running game ineffective, expect defensive coordinator Jim Heacock to dial up the pressure on Tolzien.

4. After weeks of improvement, will the OSU special teams unit collapse in Camp Randall?: Last week against Indiana, the longest kick return OSU gave up was 26 yards. Against Illinois, the long was 29 yards. The punt return coverage teams have suffocated opposing returners. This is a marked improvement over the beginning of the season, when the Buckeyes were near the bottom of the nation on special teams...Jim Tressel said there are flaws that still need to be fixed. "Our kickoff coverage team we thought fundamentally got better and the result was good until we were penalized and we had a couple penalties that killed us on the kickoff cover team," Tressel said. "We've got to eliminate penalties from a special teams' standpoint."

5. Will OSU need another winning drive from Pryor?: The crowning moment of Pryor's first season took place in his third start. In a back-and-forth game, Pryor took the offense on a 12-play, 80-yard that ended with Pryor scoring on an 11-yard option keeper off the left edge with 1:08 on the clock to give OSU a 20-17 win at Wisconsin. Pryor is not only a dual-threat quarterback, but considered by teammates as one of the unquestioned leaders..."




NO RELIEF: DE Cameron Heyward followed Tressel at the podium after the coach's weekly news conference Tuesday. Before Tressel could get away, he received one last question — from Heyward.

"I've got a question for you," Heyward said with a slight smile.

"Oh, you have a question?" Tressel said. "OK, go ahead."

Heyward asked, "How's practice going to be."

Tressel cracked, "Hard. Hard and long."

Source: Associated Press







LARGER THAN LIFE: Wisconsin RB John Clay is listed at 6-foot-1 and 248 pounds, but most regular observers of the Badgers think he might not be quite so slim. They think he could be as much as 10 or 20 pounds heavier.

Even though he is the same height and weighs at least 50 pounds less, CB Devon Torrence said he's not afraid to meet the big back head on when the Buckeyes play Wisconsin on Saturday.

"I'm already out there on an island by myself, so I've got this attitude like the lone survivor," he said. "So I'm just going to go chop him down as soon as he busts through the hole. I'm not going to be scared or anything. This is football and this is why we play it, to be physical and have fun."

So, when you try to pull down someone that much bigger, what do you grab?

"Everything ... anything possible," he said. "He's a big back, a big, physical runner. But we're a physical defense. As long as we gang tackle and fly to the football, we'll be all right."

Source: Associated Press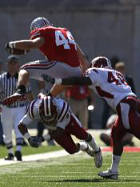 Fullback more than just blocker
October 14, 2010 Source: Columbus Dispatch - "Measuring Zach Boren's contributions to the Ohio State football team requires going beyond the obvious. Yes, the fullback is a stellar lead blocker - good enough to be named the team's offensive player of the week last week. And yes, Boren is an option in the passing game, having already matched his 2009 total with four receptions through six games (for 41 yards). But it's the intangibles that help make Boren an invaluable member of the top-ranked Buckeyes. Things like effort, hustle and attitude.

Boren's value was on display during the fourth quarter at Illinois two weeks ago, when Ohio State faced a fourth-and-1. During a timeout, Boren could be seen animatedly talking to the offensive players as they huddled up, exhorting them. Tailback Daniel Herron picked up the necessary yard. "He's on the guys all the time," Herron said. "He wants to be the best, and he wants to win games. So he's one of those guys, if things are kind of down, he gets in your face and just tries to get things going."

None of this surprises Zach's older brother, left guard Justin Boren. He said Zach has always been the athlete in the family, playing baseball and basketball as well as starring as a running back and linebacker for Pickerington Central. "People said he was only getting a scholarship because of me - whatever," Justin said. "He got here, and I knew he was going to prove himself. I knew he was going to play right from the get-go. He's just an amazing athlete. He does whatever needs to get done."

This week at Wisconsin promises to be Boren's type of game: physical. As usual, he'll give every play maximum effort. Against the University of Miami on Sept.12, Boren was blocking for Herron and hit linebacker Kylan Robinson hard enough to pop Robinson's helmet off. Asked about it later, Boren shrugged. "It's just my job," he said. "It's what I'm supposed to do." ..."




Watch interviews with Devon Torrence, Justin Boren and DeVier Posey from Tuesday's interview session

Pryor talks about the increasing number of dual-threat QBs, the status of his thigh injury, his previous trip to Madison, Jake Stoneburner and more!

If you throw up before every game, can you consider it a ritual? Justin Boren answers that question and even a few about Wisconsin, OSU's current ranking, how good are his brothers Zach and Jacoby and more!





Ohio State's defensive line hopes to avoid a Badger bashing from Wisconsin's offensive line
October 13, 2010 Source: Cleveland Plain Dealer - "Cameron Heyward lived it two years ago and he watched it again this week. He didn't like it either time..."They kicked our butts on the defensive line, but you know, it's a very physical game," Heyward said. "I think tackling and getting a good push as the defensive line [was the problem]. I think if we controlled that a little better, it would have helped our linebackers out a little bit more." If the offense hadn't answered with a game-winning drive of its own, pulling out a 20-17 win on Terrelle Pryor's touchdown run, the memories would be a lot more haunting.

The Badgers are such a different team at home that last season's 31-13 OSU win in Columbus doesn't work well as a reference point. In that game, the Badgers tried to come out throwing, calling for passes on seven of their first 10 plays. That 10th play was an interception by Kurt Coleman returned for a touchdown. By the time the Badgers turned to Clay, it was too late. But in 2008 what the Badgers did almost worked, and that's what the Buckeyes should expect again in Madison on Saturday. "They're some trees and they get so much push, it's going to be critical for us to keep up the line of scrimmage on our side," Heyward said. "They pride themselves on running the ball and we have to do a great job of stopping the run and then reacting to the play action."..."




Terrelle Pryor says he's 'full go' for Wisconsin
October 13, 2010 Source: Cleveland Plain Dealer - "Four days after his running consisted of taking three sacks against Indiana, Ohio State quarterback Terrelle Pryor said Wednesday that his previously strained left quad will allow him to do whatever needs to be done at Wisconsin on Saturday.

"It's gotten a lot better," Pryor said. "Last week it was still a little tender, and we had a passing plan during the game and we didn't have to run the ball with me. This week it's full go. Any time you get injured you're never 100 percent. I'd be lying to you if I told you that. But it's enough to carry as much as I have to carry the ball and do what I have to do to try to help the team win."..."




Ohio State players ponder the challenge of Buckeyes' new ranking
October 13, 2010 Source: Cleveland Plain Dealer - Doug Lesmerises noted even more development in Pryor's leadership skills. The junior spoke at a players-only meeting advising his teammates to maintain their composure -- and work ethic -- in the face of that No. 1 ranking..."On Sunday, after the Buckeyes assumed the top spot following Saturday's loss by previous No. 1 Alabama, the number was enough to lead junior quarterback Terrelle Pryor to stand and address his teammates in a players-only session before their regular team meeting..."





Up next
Wisconsin (5-1, 1-1), a puzzler if ever there was one in this still-young season. The Badgers wrestled with San Jose State and struggled to beat Arizona State in home games and then lost on the road to inspired Michigan State a couple of weeks ago. On Saturday, they finally pulled away from hapless Minnesota and then made Gophers coach Tim Brewster mad when they went for two points after a late TD, even though they were up comfortably. What's sure is John Clay (115.33-yard average) and James White (80.83) offer as stout a one-two running punch as there is in the league.

This week's challenge
Just find a way to win. Poll voters are notorious for rewarding teams that blast others, so without a doubt, they have their eyes on particularly offensive-minded No.2 Oregon and No.3 Boise State. But just ask Alabama - lose and take a cruise down the rankings. 'Bama is No.8 this week after falling at then-No.20 South Carolina. The Buckeyes just need to take care of business at Madison on Saturday night by any means necessary.

Source: Columbus Dispatch



THIS WEEK'S MARQUEE MATCHUP: NO. 1 OHIO STATE VISITS WISCONSIN
It isn't quite the showdown it was shaping up to be before Wisconsin's loss to Michigan State, but it's a big one nonetheless. The Badgers will try to control the ball with RBs John Clay and James White. New top dog Ohio State has the nation's No. 4 rush defense and a Heisman candidate in QB Terrelle Pryor.

Source: ESPN







Wisconsin tough at home and at night
October 11, 2010 Source: Associated Press - "...The Badgers (5-1, 1-1) are good and particularly good at home. They've gone 40-4 at Camp Randall Stadium since the start of the 2004 season. What's more, the game is at night, allowing an already rambunctious student section to get even more fired up for the big showdown. The Badgers have won 25 of their last 28 night games.

Linebacker Ross Homan said, "Playing there is so tough. You have to battle through a lot." An environment like that intimidates some opponents and energizes others. "I remember we went to Wisconsin my sophomore year," Rolle said, reflecting on the 2008 game. "It was ridiculous. I believe that student section is the best in the country."

The product on the field isn't bad, either. Led by senior quarterback Scott Tolzien and tailbacks John Clay and James White, the Badgers are physical and tough and rank fourth in he Big Ten in total offense at 450 yards per game. It'll be a huge test for Ohio State's defense in particular. "They know what they're heading into," Ohio State coach Jim Tressel said..."




Stat of the week: While Ohio State quarterback Terrelle Pryor passed for only 87 yards against Wisconsin, the Buckeyes' defense scored on interception returns of 89 and 32. In other words, Ohio State gained more yards on Wisconsin's passes than on its own, and won 31-13. "I hate losing to those guys," Wisconsin coach Bret Bielema said. "It's something I can't stand, for whatever reason."



Quickchart Matchup
Ohio State Off vs Wisconsin Def
465.8 yards
308.3 yards
5.3 yards/rush
3.5 yards/rush
8.6 yards/attempt
7.4 yards/attempt


Wisconsin Off vs Ohio State Def
450.2 yards
236.3 yards
5.6 yards/rush
2.7 yards/rush
9 yards/attempt
5.4 yards/attempt



SERIES RECORD
• The series between the Buckeyes and the Badgers, which dates back to 1913, shows Ohio State with a 53-17-5 lead. In games played in Columbus, the Buckeyes lead 29-7-3. In games played in Madison, the Buckeyes lead 24-10-2. Ohio State has an 8-5-1 advantage over the last 14 meetings (back through 1980). The Buckeyes have won the last three meetings between the squads.

IN NIGHT GAMES
• Tressel has won his last six Big Ten night games on the road. Tressel is 8-3 in his Big Ten career in night games away from Ohio Stadium. Ohio State is 7-3 at home and 27-13 away from home in night games (games starting 5 p.m. or later local time) since 1959 and 34-16 in night games all-time.

FIRST AND 10
• Ohio State is riding a 12-game win streak dating to last season, the second-longest among FBS teams behind Boise State (19)

• Ohio State is 32-35 (.910) in the red zone this season, 12th best in the nation

• Terrelle Pryor ranks third in the Big Ten and sixth nationally in pass efficiency (170.47).

BUCKEYES CLIMB TO NO. 1
• Ohio State is the new No. 1 in the Associated Press, USA Today and Harris college football polls. The last time Ohio State was No. 1 was the final regular season poll of 2007. Ohio State is 66-11-1 all-time as a No. 1 team.

DID YOU KNOW?
• Ohio State is 132-104-12 all-time when facing a ranked opponent, and 41-41-7 on the road against ranked teams. Under Coach Jim Tressel, the Buckeyes are 38-13 overall and 13-6 on the road against ranked teams. OhioState has won its last eight Big Ten road games against AP Top 25 opponents.

Ohio State has won 13 straight road games when being ranked No. 1. The Buckeyes' last road loss as the top-ranked team came on Nov. 9, 1974, at unranked Michigan State. The Buckeyes have lost two straight games when ranked No. 1 in the AP Poll (both in the 2007 season). In 78 previous games as the top-ranked team, the Buckeyes have never lost three straight games.

PLAYER NOTES:
• Pryor rushed for a first down or ran for a touchdown 58 times last season, trailing only Big Ten rushing champion and offensive player of the year John Clay from Wisconsin (84).

• Ohio State is 14-0 when Saine scores a touchdown.

NOTING THE BUCKEYES
• Ohio State is 19-1 in its last 20 Big Ten road games. The Buckeyes' only loss in this span was the 26-18 defeat at Purdue last season.

GROUND SUPERIORITY
• Over the last 11 games dating to last season, the Buckeyes have outgained the opposition on the ground by +1,737 yards (2,592 to 855) -- an average of +157.9 yards per game. Ohio State has averaged 235.6 yards per game during that span to the opponent's 77.7 and has totaled 25 rushing touchdowns to the opposition's four.

THE SILVER BULLETS
• Ohio State's defense has given up just seven touchdowns in 2010 and has recorded 17 turnovers in six games. They are currently third in the nation with a +1.67 turnover margin.

• Among Big Ten teams, Ohio State ranks first in the conference in total defense (237.0), pass defense (158.3 ypg) and turnover margin (+1.67) and are second in fewest first downs allowed (12.3 per game), scoring defense (13.5 ppg) and rushing defense (78.7 ypg).

• The Ohio State defense is averaging an FBS-best 6.2 three-and-outs per contest this season.

HONORARY CAPTAIN:
WISCONSIN AT A GLANCE
• The No. 18/16 Badgers are 5-1 and 1-1 in the Big Ten after their 41-23 win over Minnesota last Saturday in Madison. Their only setback was a 34-24 loss at undefeated Michigan State Oct. 2.

• For just the ninth time in history and the first time since 1997, Wisconsin will host the No. 1 team in the country. The Badgers are 3-5 all-time against No. 1 teams at Camp Randall Stadium. Their last win over a No. 1 team was a 21-14 victory over Michigan on Sept. 12, 1981 in Madison.

• Since the start of the 2004 season the Badgers have compiled a 40-4 record at Camp Randall Stadium. That is the best home record in the Big Ten over that span (Ohio State is 40-5 over that time period) and tied for third-best in the country.

• Wisconsin has won 25 of its last 28 night games. UW has squared off with Ohio State twice at night at Camp Randall with the Badgers knocking off No. 3 OSU, 17-10, in 2003 and falling to the 14th-ranked Buckeyes, 20-17, in 2008.

• Wisconsin has won 13 of its last 14 at home, including the last six in a row (tied for the 14th-best active streak in the country).

• Wisconsin has committed just 20 penalties, tied for the fewest in the country. The Badgers' 30.8 penalty yards per game are fourth-fewest in the country.

• The Badgers have won the time of possession battle in fi ve of six games this season, winning each game in which they held the advantage.

• The Badgers are scoring 37.1 points per game, third best in the Big Ten, and giving up 19.0 points per game. Their rushing defense ranks third in the Big Ten at 108.2 ypg allowed.

• Wisconsin features a powerful rushing attack with the duo of junior John Clay and freshman James White. They rank 11th nationally with 240.8 yards per game on the ground with Clay 14th in the NCAA with 115.3 ypg to go along with nine touchdowns. White has seen more playing time of late and has 216 yards and four touchdowns through two conference games. He ranks fourth among Big Ten running backs in yards per game in conference play.

• Junior DE J.J. Watt leads the Badgers and ranks second in the Big Ten with 8.5 tackles for loss, leads UW and is tied for the Big Ten lead with six pass breakups and is tied for second on the the team lead with 30 tackles. His six PBUs are the most by a defensive lineman in the country.

• Head coach Bret Bielema (Iowa, 1992) is in his fifth season has the head coach with a 43-15 record entering Saturday's game. He has led the Badgers to bowl appearances all four seasons, including a victory over Miami (FL) in the Champs Sports Bowl last season.

TV: ESPN will televise the game with Brent Musburger (play-by-play) and Kirk Herbstreit (analyst) in the booth and Erin Andrews on the sideline. The game will also be televised on ESPN3D with Dave Lamont, Tim Brown and Ray Bentley.

Radio: WBNS (97.1 FM The Fan) is the flagship station for the 73-station Ohio State radio network. Paul Keels, Buckeyes radio voice for 11 years, will miss game following surgery; Marty Bannister will call the play-by-play with former Buckeye Jim Lachey in the booth and ? on the sidelines. The game can also be heard on Sirius satellite radio 122 and XM 143. Sports USA Radio will have a national broadcast of the game with Rich Cellini and Gary Barnett on the call.

Ohio State Buckeyes
Wisconsin Badgers

2010 Totals

Offense:
43.2 ................................ Pts/gm .......................... 37.2
465.8 ..........................Total yds/gm ........................ 450.2
217.3 ......................... Rush yds/gm ........................ 240.8
41.0 .............................Carries/gm ....................... 43.1
5.3 ................................ Yds/carry ....................... 5.6
248.5 ..........................Pass yds/gm ........................ 209.3
29.0 ............................ Pass att/gm .......................... 21.7
12.7 ......................... Yds/completion ....................... 12.8
Defense allows:
13.5 ................................ Pts/gm .......................... 19.0
237.0 ..........................Total yds/gm ........................ 308.3
78.7 ........................... Rush yds/gm ........................ 108.2
29.0 .............................Carries/gm ....................... 30.7
2.7 ................................ Yds/carry ....................... 3.5
158.3 ..........................Pass yds/gm ........................ 200.2
29.5 ............................ Pass att/gm .......................... 27.0
10.0 ......................... Yds/completion ....................... 12.9



Last Time Out: Wisconsin
October 12, 2010 Source: BuckeyeSports.com - "The Ohio State football team travels to Madison this weekend for a showdown with Wisconsin. Take a look back at the 2009 matchup between the Buckeyes and Badgers in this edition of "Last Time Out..."



Injury update: Stoneburner good to go; Offensive coordinator Jim Bollman said that tight end Jake Stoneburner took part in the entire practice and appears able to play Saturday. Stoneburner missed the past two games because of a high ankle sprain.

Source: Columbus Dispatch 10/14/10



The Ozone's Brandon Castel has the inside story on Terrelle Pryor's injury status: Pryor's Quad "A lot Better," but Not 100 Percent

Source: The Ozone 10/14/10



At midday yesterday, Tressel said he wouldn't make a call on tight end Jake Stoneburner's status for the Wisconsin game until he saw him in practice. Left guard Justin Boren had the post-practice report. "He looked real good," Boren said. "He'll be back on Saturday. He'll be ready to go." Stoneburner has sat out two games because of a high ankle sprain.

Right tackle J.B. Shugarts left the Indiana game because of a foot problem that has bothered him for several years, but Boren said, "I fully expect J.B. to be ready by Saturday."

Left tackle Mike Adams had to cancel an appearance at Tressel's weekly media luncheon because of a stomach ailment, but he was able to make practice. "He was a little sick, but he toughed it out, and he looked fine out there," Boren said. "I think it felt good for him to get out in the open air."

Source: Columbus Dispatch 10/13/10



Brown moves: Tressel said that redshirt freshman Corey Brown, who has been the Buckeyes' No. 4 cornerback, has also started working at safety to give the Buckeyes more depth there. And Tressel believes Brown's future at Ohio State is as a safety. "We're thin at both places, so he can be that versatile guy, that utility guy," Tressel said. "He can play corner if we need him and he can play safety if we need him."

Source: Cleveland Plain Dealer



FIRST-AND-10
October 15, 2010 Source: The Morning Journal - "10. Ohio State defensive tackle Dexter Larimore joked last week about the size of Wisconsin's offensive linemen, saying they are "the biggest humans alive" and "I don't know where they find people like that." Larimore was making light of the situation then, but the size of the Badgers' offensive line is a legitimate concern for the Buckeyes this weekend.

9. The average weight of the starting front five of center Peter Konz, guards John Moffitt and Kevin Zeitler and tackles Gabe Carimi and Ricky Wagner is 320 pounds. It will be the biggest line the Buckeyes have faced this year by far. Throw in blocking fullback Bradie Ewing (234 pounds) grading the road for 255-pound running back John Clay and, folks, that's an awful lot of beef going downhill.

8. No wonder OSU safety Jermale Hines laid down the law to Ohio State's defensive linemen earlier this week. Said Hines: "I told the defensive linemen, if you guys get blown off the ball, we're going to have a long day. Period." Not much of an argument there.

7. Hines' statement simply confirms what most people think — the Ohio State-Wisconsin game will be won (or lost) in the trenches. As cliche as it sounds, whoever controls the line of scrimmage is going to be a huge advantage. This isn't going to be a track meet, but rather a game after which players will wake up Sunday morning more sore than they've been all season.

6. The importance of line play goes both ways. In Ohio State's case, the Buckeyes need to stop — or at least slow down — Wisconsin's punishing running game. If Clay, who has a shifty, change-of-pace backup in freshman James White, and the Badgers run the ball effectively, it is going to make quarterback Scott Tolzien all the more effective because OSU will have to commit more defenders to stop the run, thus opening up passing lanes.

5. It has been 29 games since the Buckeyes' defense has allowed a 100-yard individual rushing performance, that coming from USC's Joe McKnight in Game 3 of 2008. The Buckeyes are 25-4 since then, without giving up a 100-yard rushing performance. Granted, OSU could win even if Clay or White hits 100, but history shows stopping the run is of the utmost importance.

4. Ohio State also needs to show some sort of dominance over Wisconsin's defensive line and assert itself. While the Buckeyes are averaging 207 yards per game on the ground, this game against the best defensive line it has faced (even better than Miami's) will be the most stern of tests. OSU's offensive line has been solid, but hasn't shown the ability to simply dominate a game yet.

3. Which is why a mobile Terrelle Pryor is so important. Coach Jim Tressel and the Buckeyes all talk as if Pryor is ready to revert to the dual-threat player he was before straining his quad two weeks ago in Illinois. They better hope so, because an immobile Pryor means the Badgers don't have to worry about the Buckeyes' biggest and best weapon taking off and running.

2. Ohio State's offense hasn't shown anything the past four weeks because they couldn't (two weeks ago at Illinois with Pryor's injury and wind conditions) and didn't have to (against Indiana, Ohio and Eastern Michigan). It will be interesting to see what Tressel and his offensive coaches have stored up, whether it involves Pryor's running, Brandon Saine in the slot or coming out of the backfield, or new plays and sets.

1. Prediction: Pryor shows his leg is fine, Saine takes advantage of matchups and OSU's defense does just enough to hold off the Badgers in a 27-24 win.




Ohio State Wisconsin Ptreview
Source & Story Link: Rivals.com



WHO GETS THE EDGE?

Source: Rivals.com


Ohio State rush offense vs. Wisconsin rush defense: QB Terrelle Pryor and RB Dan Herron both have a bit more than 350 rushing yards, and some feel backup RB Brandon Saine has the most breakaway ability. The Buckeyes average 217.3 rushing yards per game. Wisconsin is 22nd in the nation against the run (108.0 ypg)... Edge: Ohio State

Ohio State pass offense vs. Wisconsin pass defense: ...WRs DeVier Posey and Dane Sanzenbacher have big-play ability. Saine is a receiving threat out of the backfield. DE J.J. Watt can get pressure, though he only has two sacks. The Badgers' secondary could use some help from the pass rush... Edge: Ohio State

Wisconsin rush offense vs. Ohio State rush defense: The combination of Badgers RBs John Clay and James White is among the most productive in the country...They benefit from running behind one of the nation's best lines, which is anchored by All-America T Gabe Carimi. Ohio State is fourth in the nation in run defense. No team has managed more than 120 rushing yards against Ohio State this season... Edge: Wisconsin

Wisconsin pass offense vs. Ohio State pass defense: Although Scott Tolzien struggled in a loss to Michigan State, he's usually accurate and efficient... Wisconsin tight ends often have big games against the Buckeyes. Wisconsin has allowed five sacks. Ohio State has faced Indiana's Ben Chappell and Miami's Jacory Harris and gave up one touchdown pass while grabbing six interceptions... Edge: Ohio State

Ohio State special teams vs. Wisconsin special teams: Buckeyes K Devin Barclay has converted 11-of-12 field-goal attempts, but his long is just 42. P Ben Buchanan is having a so-so year; the same can said for the Buckeyes' return teams. Ohio State also needs to do a better job in kick coverage. Still, the Buckeyes are better in coverage than Wisconsin... Edge: Ohio State

Ohio State coaching staff vs. Wisconsin coaching staff: Jim Tressel has 100 victories as Ohio State's coach, and the Buckeyes have won at least a share of the Big Ten championship in each of the past five seasons. Since Bret Bielema took over at Wisconsin in 2006, the Badgers are 43-15 and have posted at least 10 wins twice. But the Badgers are 0-3 against top-10 opponents in that span. Edge: Ohio State

X-factor: Not often are punters looked to as key factors, but that could be the case this time... Field position figures to be crucial. The punter that keeps the opposition facing long fields will be an unsung hero...you always can look to the turnover margin. Wisconsin has committed only four turnovers; Ohio State has forced 17.

Ohio State will win if: The Buckeyes need their running backs to be productive so Wisconsin's defense can't key solely on Pryor. In addition, the Buckeyes' defensive front has to slow the Badgers' running game. Ohio State cannot help the Badgers with turnovers or penalties.

Wisconsin will win if: Should Carimi, John Moffitt and the Badgers' powerful offensive line control the line of scrimmage, Wisconsin's running game will be hard to stop. Good outings from Clay and White also will open opportunities for Tolzien...Defensively, the Badgers have to keep Pryor in the pocket and can't allow big plays from Ohio State's receivers.

Expert Picks...




Terrelle Pryor and the Buckeyes have a chance to prove that they deserve the No. 1 ranking when they travel to Madison, Wisconsin to take on the Badgers. Join Jason Horowitz and Spencer Tillman for an in depth preview of this game.





EA Sports Game Simulation Buckeyes vs Badgers 2010



Game of the Week: Wisconsin looks to dethrone No. 1 Ohio State
October 14, 2010 Source: Sports Illustrated - "For the third time in the history of the rivalry, Wisconsin will host Ohio State with the Buckeyes sitting atop the AP poll...Three And Out: 1. Meet Terrelle Pryor, pocket passer... 2. Wisconsin's ground attack has added some speed...3. How mad will it get in Madison?...Statistically Speaking...The Next Level...The Pick: For Wisconsin to pull off the upset, quarterback Scott Tolzien will need to avoid the costly mistakes that doomed the Badgers last year, when he threw two interceptions that were returned for touchdowns. The Badgers have gone four games without a turnover, and if they make it five, they have a shot. Ohio State may play conservatively to start, but with Pryor improving as a passer, look for Ohio State to throw the ball more, and for its defense to make the game-changing turnover in the second half. OHIO STATE 30, WISCONSIN 17..."




Game of the Week: Ohio State vs Wisconsin
October 14, 2010 Source: What If Sports - "...Wisconsin Badgers have enjoyed great success under the tutelage of Bret Bielma...Since 2004, when coach B joined the staff as a defensive coordinator, the team is boasting a 40-4 record at Camp Randall. It's the top home record in the Big Ten over that time span. But Ohio State's road resume pokes holes in the nation's notion that this campsite is dangerous after dusk. The Buckeyes handed the Badgers one of those four home losses back in 2008...Tressel is only 4-3 against the Badgers since 2001. The last three games in Madison have been decided by a total of 15 points. The match-up would seem to favor Ohio State on paper...Wisconsin's rushing game is where the Badgers will either win or lose this game. Junior running back John Clay has been the workhorse for the team's 11th ranked rushing attack. Clay has rushed for over 100 yards in all but one game and ranks 7th in the country in yards on the ground. Using our award-winning college football simulation engine, we simulated this game 101 times and the top-ranked Ohio State Buckeyes win 79.2-percent of the time by an average score of 30-23...."



Preview: Ohio State at Wisconsin
October 15, 2010 Source: Eleven Warriors - "...The Badgers suffered a blow when 2009 Big Ten Freshman of the Year Chris Borland re-injured his shoulder against Arizona State and was lost for the season, but sophomore linebacker Mike Taylor (#53) is doing his best to pick up the slack. Currently, Taylor is second on the team with 6 TFLs and fourth with 26 tackles, despite missing the opener against UNLV...Wisconsin features a pair of dependable specialists in Phillip Welch (#18) at kicker and Brad Nortman (#98) at punter. Welch is efficient, but lacks elite range (just 4/6 from 40-50 and no attempts outside of 50), while Nortman is one of the top two punters in the league. Like the Buckeyes, the Badgers struggle with kick coverage...The passing game is a work in progress and will continue to evolve with Brandon Saine lined up to catch passes out of the backfield and in the slot. DeVier Posey and Dane Sanzenbacher should match up well with Wisconsin's underwhelming corners, but they'll have to keep their head up when catching balls over the middle, lest Valai put someone out again...The passing game is a work in progress and will continue to evolve with Brandon Saine lined up to catch passes out of the backfield and in the slot. DeVier Posey and Dane Sanzenbacher should match up well with Wisconsin's underwhelming corners, but they'll have to keep their head up when catching balls over the middle, lest Valai put someone out again...PREDICTION: Ohio State 24, Wisconsin 20..."




2010 Wisconsin Badgers Game Preview
October 13, 2010 Source: Buckeye Planet - "...Wisconsin Offensive Preview...Running Backs: Clay is a bruising power back and is one of the better players in the country. He has led the Badgers in rushing in each of his two seasons and is well on his way to doing so for a third straight campaign. After a modest 884 yards his first season, he broke out with a monster 2009, topping 100 yards rushing 9 times and gaining over 1500 yards with 18 TDs. He is off to a big start again in 2010, gaining over 100 yards in 5 of 6 games. Michigan State was the only team to hold him under 100 yards (80) and to keep him out of the end zone thus far...beyond Clay. Freshman James White (#20) surprisingly beat out sophomore Montee Ball (#28) for the primary backup job, and he has delivered in a major way. White is a faster, shiftier runner (5-10, 198) who has gained 485 yards and scored a whopping 8 TDs while averaging almost 8 yards a carry in 63 attempts. Unlike Clay, he is also a threat out of the backfield, with 5 receptions for 55 yards thus far...Tight Ends: Wisconsin throws to the TEs ... a lot. This season's featured player is Kendricks. He had 29 receptions for 356 yards and 3 TDs last season, and he has met or exceeded those numbers already, catching 25 passes for 391 yards and 3 TDs thus far in 2010, which leads the nation in receiving by a TE...Offensive Line: LT #68 Gabe Carimi (6-7, 327, SR), LG #74 John Moffitt (6-5, 323, SR), C #66 Peter Konz (6-5, 313, SO), RG #70 Kevin Zeitler (6-4, 315, JR), RT #58 Ricky Wagner (6-6, 322, SO) The Wisconsin line is built in the traditional throwback Big 10 mold of really big and really tough. The left side of the line especially also provides veteran leadership to go along with quality play. Captain and LT Carimi has taken over for Joe Thomas and started 42 games in his career, was All-Big Ten last season and is on most of the national watch lists this year, including the Lombardi and Outland Trophies...Predictions..."




GAME OF THE WEEK: Ohio State (6-0) at Wisconsin (5-1)
October 12, 2010 Source: College Football News - "...Why Wisconsin Might Win: Yeah, Ohio State is No. 1 in the Big Ten in total defense, third in the nation, and fourth in rushing defense, but it has yet to be punched in the mouth. Miami's offensive line is mediocre, at best, and Illinois is running because of Mikel Leshoure, who ran for a solid 80 yards on 19 carries, and Nathan Scheelhaase, a nice running quarterback. No one else has come close to providing any sort of a push, but that will change this week. The Wisconsin offensive front got destroyed last year by the Buckeye defensive front, and this is the game the veteran group has been pointing to for a year as a chance at redemption. This should be the textbook definition of a frothing-at-the-mouth line that will come out looking to prove a point from Snap One. Defensively, other than the Michigan State loss, Wisconsin has been fantastic all season long on third downs, and OSU is mediocre on third-and-mediums. If the Badgers can keep Pryor in the pocket on third down and force him to make throws down the field, they'll get the ball back more often than not...What Will Happen: Last year, Ohio State's defensive front came into the game challenged after struggling over the first part of the season, and it came up with a huge performance. This year, the challenge is for the Wisconsin offensive front to make amends, and it will. The Badgers won't run wild, but they'll come up with two grinding drives, helped by some key throws from Tolzien, to get just enough points to overcome a special teams gaffe and a huge day on the ground from Dan Herron and the Buckeye running game. Pryor will have the puck on his stick in the final moments to make his statement in the Heisman chase, and he'll come up just short in a heartstopping final drive....CFN Prediction: Wisconsin 23 … Ohio State 20..."




Preview: Ohio State vs. Wisconsin
October 13, 2010 Source: The Buckeye Battle Cry - "...Ohio State's offense vs. Wisconsin's defense: On the road against Illinois, Ohio State went three and out on the first drive of the game. Those first three plays set the tone for at least the rest of the first half (if not the game). After starting out slow, Pryor and the offense struggled to regain momentum and field position from a fired up Illinois squad. If Ohio State wants to avoid another Illinois style slug fest (I know I do), establishing some early momentum on offense with at least a few first downs will be important to set the tone for the rest of the game. If for nothing else, a few first downs will help to establish field position and put the defense in a better spot to shut down Wisconsin's offense early...Ohio State's defense vs. Wisconsin's offense:...Cam Heyward, John Simon, Dexter Larimore, Nathan Williams, and the rest of the players in the defensive line rotation (especially Big Hank, he was born to play in this type of game), will need to be on the top of their game to slow down Wisconsin's running attack. It will be a challenge due to the quality of Wisconsin's offensive line, but Ohio State's defensive line (not to mention the linebackers) are some of the best in the country in their own right..."




Ohio State vs. Wisconsin Preview
October 15, 2010 Source: The Ozone - "...When Wisconsin Has The Ball: ...The Ohio State front four will be working against a veteran offensive line that has a total of 110 starts under its belt. If the Buckeye defensive line can get in Clay's way initially, his effectiveness will be greatly cut down. This will be the best defensive line that Wisconsin will see all year, and the Buckeyes will go six or seven deep up front and not think twice...When Ohio State Has The Ball:...The Wisconsin secondary is fairly experienced, but experience doesn't always tell the story. They are 83rd in the nation in pass efficiency defense despite not playing any substantial passing attacks to this point. If the Ohio State offensive line protects Pryor, he will have his second career 300-yard passing day in as many weeks..."




Badgers/Buckeyes Preview: Can Bielema Get Biggest Win of Career?
October 15, 2010 Source: The Bleacher Report - "...2. Terrelle Pryor versus the Badgers' pass defense. Ohio State leads the conference in scoring offense in 2010...due to the continued maturation of quarterback Terrelle Pryor...completing 68 percent of his passes for 15 touchdowns and just three interceptions, even while suffering a leg injury two weeks ago against Illinois, which unfortunately for Badger fans, has improved very quickly. On the contrary, the Badgers pass defense has been shaky all season, giving up 518 yards and six passing touchdowns in just the last two games...Ohio State pass defense versus Scott Tolzien. Last week Ohio State completely shut down Ben Chappell and Indiana's high-flying passing attack. Chappell, who has given Wisconsin fits, finished with just 106 yards passing...Tolzien has had a very strong follow-up year to his breakout 2009 season. He will need to continue that—and get some help from his drop-happy receivers—to give Wisconsin a chance on Saturday. So, if White can help the Badgers control the clock, if Tolzien can penetrate the Buckeyes' stout pass defense, if Wisconsin can play better in kick return coverage and if they can contain Terrelle Pryor better than they contained Adam Weber and Kirk Cousins, the Badgers can definitely give Bret Bielema his first win over the Buckeyes. But that sounds like a lot of ifs...Final score prediction: Ohio State 29, Wisconsin 17..."




Ohio St.-Wisconsin Preview
October 12, 2010 Source: Big Ten Network - "...A leaky Hoosiers defense has been particularly vulnerable on the ground, a weakness Pryor and the second-ranked Buckeyes look to exploit as they seek a 16th consecutive win in the series Saturday in Columbus. Ohio State (5-0, 1-0) cruised through its non-conference slate with four victories by an average of five touchdowns but had to sweat for 60 minutes last Saturday at Illinois. Of particular concern was Pryor's left quadriceps, which he strained on a drive early in the third quarter. After missing the next two series while his team nursed a 14-10 lead, the junior returned to lead a pair of scoring drives in the fourth - mostly handing the ball off - as the Buckeyes held off the Illini 24-13. "The worst thing was when I came back and the guys thought I was alright and they were saying, 'Come on Terrelle, lead us,'" Pryor said. "There was no way I could do anything but hand the ball off and maybe get a couple passes." Tressel said Tuesday that he thinks Pryor will be fine to face the Hoosiers (3-1, 0-1)..."




No. 1 Ohio St. at No. 18 Wisconsin
October 14, 2010 Source: NBC Sports - "Wisconsin (5-1, 1-1 in Big Ten) has lost only four games at Camp Randall Stadium since the start of the 2004 and has won 25 of its last 28 night games there. Ohio State, however, is one of the few that bucked those odds, beating the Badgers two years ago under the lights in Madison, 20-17. Rowdy fan support won't be the only thing making it difficult for the newly minted top-ranked team. Wisconsin's offense, piloted by senior quarterback back Scott Tolzien and powered by tailbacks John Clay and James White will be more than a handful for the Buckeyes deal with. Ohio State (6-0, 2-0 in Big Ten) didn't allow Indiana to score a touchdown until only five minutes remained in a 38-10 shellacking last week, intercepting three passes along the way. On the other side of the football, Pryor spent most the day in the pocket and went 24-of-30 for a career-high 334 yards and three touchdowns against the Hooisers, resting a sore left thigh muscle. If he could direct a pair of crucial fourth-quarter scoring drives at Camp Randall in 2008, as a 19-year-old making just his third collegiate start, we're confident he can get the job done in this spot as well. Pick: Ohio State 26-19





Wisky Soured: Previewing Ohio State vs. Wisconsin
October 15, 2010 Source: The Sports Jury - "...On offense, Wisconsin is a vintage Big Ten team. It features an offensive line where all five starters weigh more than 320 pounds. If the Buckeyes plan on trying to blow these guys off of the line, it could be a long day. Defensive end Nathan Williams will be a key player this week as he uses his speed off the edge to counter Wisconsin's size...Expect this to resemble a heavyweight fight early with both teams trading blows. John Clay will pound the inside and James White will try to get the edge, leading to a couple of early scores. Ohio State will respond on offense, with Pryor using his arm to exploit a suspect Wisconsin secondary. The game will be close late, but in the end superior talent will win out. The Ohio State defense has a knack for forcing turnovers and that will be the difference in the game. A late turnover will doom the Badgers as the Buckeyes churn out a hard-fought road win..."




No. 1 Ohio State at No. 16 Wisconsin, 7 p.m. : The left thigh of Terrelle Pryor will be the biggest factor in this game. With limited mobility, Pryor had no yards in three carries against Indiana last week. OSU needs his running threat or the Badgers could beat a top-ranked team for the first time since 1981. Ohio State 24, Wisconsin 19.

USA TODAY's weekly college football picks








Wisconsin Official Site

Wisconsin Ohio State Game Notes
2010 Wisconsin Statistics
2010 Football Roster
Bret Bielema, Head Coach
Ass't Coaches
Source: Wisconsin Official Site





"It's Wisconsin versus Ohio State, it's nothing crazy. They're not a bunch of Green Bay Packers or Supermans over there, it's a college football team and we're going to come in here prepared." - Badgers defensive end J.J. Watt



Wisconsin DE Watt goes from pizza boy to
October 14, 2010 Source: Associated Press - "J.J. Watt had no guarantees that his college football career would continue past his freshman year at Central Michigan. He just believed. Not many others did, and the fact that the Badgers' best pass rusher was delivering pizzas and mopping floors as a lightly regarded prospect who had already walked away from one college program is where Watt's career could've ended..."I'll never forget, he asked me what he had to do to earn a scholarship," Bielema said. "I said, 'You've got to be in the two-deep or the major playing rotation.' He said to me, 'Coach, I'll be there at the end of spring ball.' And that's exactly where he was. We gave him a scholarship and it's been a good story ever since." It was a good story even before then and hardly seemed possible when Watt was in high school and looking at Division III schools instead of looking at No. 1 Ohio State's offensive line when he takes the field on Saturday night at Camp Randall Stadium..."I'm working at Pizza Hut; I'm paying my way at Wisconsin for a whole year, just hoping to earn a scholarship. There was no guarantee I'd even have a spot on the team."..."




UW football: Scout team makes do trying to impersonate Pryor
October 14, 2010 Source: Madison.com - "The Wisconsin Badgers football team has used two different players -- walk-on freshman quarterback Drew McAdams from Madison East and running back Jeff Lewis from Brookfield Central -- on the scout team this week to simulate Ohio State quarterback Terrelle Pryor.

McAdams is 6 feet, 191 pounds, and was brought in at least partly to run spread offenses on the scout team. Lewis is 6-2 and 214 pounds and has good speed. Pryor is listed at 6-6 and 233 pounds. "We don't have too many guys out here 6-6, 240, (that) run a 4.3 (seconds in the 40-yard dash)," UW strong safety Jay Valai said.

While Valai gave credit to the work done by the scout team this week, he also laughed about Lewis' quarterback skills. "Jeff's a pretty good running back out there, showing us a little shake and bake," Valai said. "It's the best we've got right now. He's got a little duck arm. I guess we know when Jeff's in, he's going to run the football, that's the only difference (from Pryor). They both give us a good look out there. That's the best look we can have."..."




John Clay, James White Give Badgers Options
October 13, 2010 Source: Associated Press - "Wisconsin freshman James White is disappointed Ohio State never bothered to contact him last year as a prep star in Fort Lauderdale, Fla. John Clay is fueled by everyone else's doubts. Together, the Badgers' running back duo is using perceived slights as motivation when top-ranked Ohio State comes to Camp Randall Stadium on Saturday night. Both will need to be in starring roles if Wisconsin is able to knock off a No. 1 team for the first time since 1981.

White was contacted by about half the Big Ten teams during his final season, selecting Wisconsin (5-1, 1-1 Big Ten) for its development of running backs. He came in third in fall camp but quickly climbed the depth chart with his shifty moves and ability to escape during plays that seem to be going nowhere. White has run for 485 yards and scored all eight of his touchdowns in the last three games. His 7.7 yards per carry average would shatter the school's record by more than a full yard if he keeps the pace. He said Ohio State (6-0, 2-0) never made contact with him and he hasn't forgotten. "It's good to get to show them what they missed out on," White said. "Just go out there and perform the best you can and make them regret not making an offer and things like that." White is the type of athlete that Wisconsin hasn't been able to recruit with success: He's more finesse and has the ability to cut back on plays, even though at times he'll run laterally to avoid going down early..."






Badgers QB Scott Tolzien

Source: Big Ten Network



Tolzien takes another shot at Buckeyes: It was a little over a year ago when the undefeated Badgers went into Columbus, Ohio, and seemingly dominated No. 9 Ohio State -- only to lose, 31-13. How do you dominate but lose in a rout? It was a strange game. Wisconsin had 25 more minutes of possession time, 368 yards total offense to Ohio State's 184, and 22 first downs to OSU's eight. Tolzien passed for 250 yards while Ohio State quarterback Terrelle Pryor was 5-of-13 for 87 yards. The score has to be a misprint, right? It's not. Two of Tolzien's passes were intercepted and returned for touchdowns. Wisconsin also allowed a 96-yard kickoff return for another score.

Source: FS Detroit







Bielema relishes chance to host No. 1 Ohio State
October 12, 2010 Source: Chicago Tribune - "Bielema, who voted the Buckeyes No. 1 in the USA Today coaches poll, said he told his players Sunday: "There are a number of guys who play their entire careers without a chance to play the No. 1 team in the country. Let alone, host 'em." Bielema is just 1-8 against ranked Big Ten opponents, including that 20-17 loss to Ohio State two years ago. But Camp Randall Stadium will be the epicenter of college football Saturday night, hosting ESPN's "GameDay" crew in an atmosphere that Buckeyes coach Jim Tressel calls "a lot of fun. Their fans have a blast and their band is outstanding." Wisconsin enters 5-1 and ranked 18th. "We kind of believe," Tressel said, "that the bull's-eye on us is permanent."..."




Senior tight end Lance Kendricks and senior offensive lineman John Moffitt talked with UWBadgers.com about the challenge of facing No. 1 Ohio State after Tuesday's practice.




UW hopes to avoid recent history against Ohio State
October 11, 2010 Source: Associated Press - "Bielema is 0-3 vs. Buckeyes...The questions began percolating in the postgame interview room minutes after Wisconsin had dispatched rival Minnesota: Are you eager to face Ohio State, which is 3-0 against coach Bret Bielema? What do you remember from the 31-13 loss last season in Columbus, Ohio? Did you learn anything from that loss?

Offensive coordinator Paul Chryst didn't face the questions - only Bielema and players are available after games - but he offered an interesting spin on the showdown between the top-ranked Buckeyes (6-0, 2-0 Big Ten) and UW (5-1, 1-1) at 6 p.m. Saturday at Camp Randall Stadium. "I know you've got to talk about it and ask about it, but last year is last year," he said. "This year is this year. I don't think anything that happened last year has any bearing on how you approach this week. I really believe that. "What more do you need? You've got Ohio State coming in. . . . Who gives a (expletive) about last year? That is the message."..."




Badgers have history against No. 1
October 12, 2010 Source: Wisconsin Official Site - "...The last time it happened was 1997. That was the last time the Badgers played a No. 1 ranked team at Camp Randall Stadium. The Michigan Wolverines were atop the national polls and riding high after a 34-8 dismantling of Penn State the week before...The last time it happened was Nov. 15, 1997. And No. 23 Wisconsin put a scare into Michigan with its No. 3 tailback (Carl McCullough) before the Wolverines escaped with a hard-fought 26-16 win..."




HONORARY CAPTAIN: Wisconsin's honorary captain for Saturday night is Lee Evans, a Cleveland native who caught the 79-yard touchdown pass in 2003 that beat Ohio State to snap the Buckeyes' 19-game winning streak. Evans now plays for the woeful Buffalo Bills.

Source: Associated Press



The Voice: Opportunity lays before Badgers in No. 1 Ohio State: "We can debate all we want about whether the Badgers are worthy of a top-20 ranking, but the fact is we will find out in the next two games whether this is a conference title contender. Nothing says challenging midterm exam quite like playing Ohio State and Iowa on back-to-back Saturdays...Two years ago, they played well, only to let the Buckeyes off the hook. Yes, Terrelle Pryor engineered a clutch touchdown drive in the closing minutes, but Wisconsin had breakdowns at the worst possible time. Last year, the Badgers held the Buckeyes to 184 yards of offense, but Ohio State returned two interceptions for touchdowns, then for good measure added a 96-yard kick return to the house..."

(Source: UWBadgers.com)



UW football: Buckeyes' top rank promotes showdown: "The Badgers are after their fourth victory over a No. 1 at Camp Randall. It's not like the University of Wisconsin football team's game Saturday night against Ohio State needs any extra buildup. But it got some anyway on Sunday when the Buckeyes (6-0 overall, 2-0 in the Big Ten Conference) moved to No. 1 in both polls, as expected, in the wake of Alabama's loss to South Carolina on Saturday. It's just the ninth time in history — and the first since No. 1 Michigan came to town in 1997..."Ohio State's a great team," said UW strong safety Jay Valai, who sat out the Minnesota game with rib and knee injuries but expects to be close to 100 percent this week. "If you want to be the man, you have to beat the man..."

(Source: Madison.com)

Ohio State (6-0) at Wisconsin (5-1)
| | |
| --- | --- |
| | |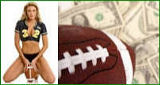 Buckeyes are 6-0 ATS in their last 6 games as a favorite of 3.5-10.0.
Buckeyes are 7-0 ATS in their last 7 games as a road favorite of 3.5-10.0.
Buckeyes are 8-1 ATS in their last 9 games following a SU win of more than 20 points.
Buckeyes are 23-4 ATS in their last 27 road games vs. a team with a winning home record.
Buckeyes are 10-2 ATS vs. a team with a winning record.
Buckeyes are 5-1 ATS in their last 6 games on fieldturf.
Buckeyes are 9-2 ATS in their last 11 games after allowing less than 100 yards rushing in their previous game.
Buckeyes are 13-3 ATS in their last 16 games following a ATS win.
Buckeyes are 21-6 ATS in their last 27 road games.
Buckeyes are 19-7 ATS in their last 26 games as a road favorite.
Buckeyes are 16-6 ATS in their last 22 games in October.
Buckeyes are 29-11 ATS in their last 40 conference games.
Under is 7-0-1 in Buckeyes last 8 road games.
Under is 4-0-1 in Buckeyes last 5 games as a road favorite.
Under is 6-0-1 in Buckeyes last 7 road games vs. a team with a winning home record.
Under is 6-1-1 in Buckeyes last 8 games in October.
Over is 4-1 in Buckeyes last 5 games after allowing less than 170 yards passing in their previous game.
Under is 4-1 in Buckeyes last 5 conference games.

Badgers are 9-4-1 ATS in their last 14 games as a home underdog.
Badgers are 1-4 ATS in their last 5 conference games.
Badgers are 1-4 ATS in their last 5 games after accumulating more than 200 yards rushing in their previous game.
Badgers are 1-4 ATS in their last 5 games in October.
Badgers are 1-4 ATS in their last 5 games on fieldturf.
Badgers are 1-5 ATS vs. a team with a winning record.
Badgers are 1-5 ATS in their last 6 games overall.
Badgers are 0-4 ATS in their last 4 home games vs. a team with a winning road record.
Over is 5-0 in Badgers last 5 conference games.
Over is 5-1 in Badgers last 6 games after accumulating more than 450 total yards in their previous game.
Over is 8-2 in Badgers last 10 home games vs. a team with a winning road record.

Head to Head:
Under is 5-0 in the last 5 meetings in Wisconsin.
Under is 6-2 in the last 8 meetings.
Underdog is 7-3 ATS in their last 10 meetings.


Betting Trends for all games on Buckeyes 2010 schedule