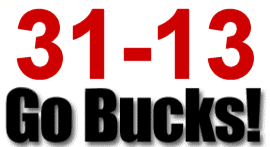 | | |
| --- | --- |
| WISCONSIN vs. OHIO STATE | |



No. 8/9 Ohio State's Defense Leads Buckeyes Over Badgers, 31-13
October 10, 2009 Source: OSU Official Site - "Ohio State got 21 points from its defense and special teams to knock off previously unbeaten and 24th-ranked Wisconsin, 31-13, Saturday in front of 105,301 fans at Ohio Stadium. Ohio State is now in sole possession of first place in the Big Ten with a 3-0 record (5-1 overall). Wisconsin is 5-1 and 2-1 in conference action.

"It was an obviously different type football game," Jim Tressel, Ohio State head coach, said postgame. "Our defense came after them. They're good on offense but our defense just kept coming. When you get two defensive touchdowns and a kick return touchdown, you couldn't ask for more."

Kurt Coleman and Jermale Hines returned interceptions for touchdowns and Ray Small had a 96-yard kickoff return to spark Ohio State. The points were needed and welcome on a day when the Buckeyes' offense managed 184 yards (97 rushing, 87 passing).

Wisconsin, behind the 250 yards passing from Scott Tolzien and the running of John Clay (20 carries for 59 yards), controlled possession the entire game but the turnovers along with two missed field goals hurt the nation's 22nd-ranked offense. Wisconsin held the ball for 42:47 and finished with 368 total yards. Ohio State managed eight first downs and a possession time of 17:13.

The Buckeye defense combined for 106 tackles, led by Ross Homan (15, including two sacks), Coleman (14), Brian Rolle (14) and Hines (11), who all had career highs. The group had 10 tackles for loss for a total of 51 yards...

Culmer St. Jean intercepted Terrelle Pryor early in the second quarter to set the Badgers up with a first down at the Ohio State 12. The Ohio State defense held, but Wisconsin ran a fake field goal attempt with holder Chris Maragos scooting around the left end, diving at the pylon and hitting it with the football for a touchdown and a 7-all tie. Wisconsin took the lead with a 50-yard field goal by Philip Welch with 1:53 to go in the first half. The three-pointer capped a 14-play, 45-yard drive that took 6:53 off the clock.

At this point Ohio State had just 36 offensive yards and one first down. But Pryor directed the Buckeye offense flawlessly in the final two minutes of the half to lead Ohio State on a 7-play, 88-yard drive and the go-ahead touchdown..."

Scoring Summary, Team Statistics, Individual Statistics, Drive Chart, Defensive Statistics, Game Participation, Box Score, Play-by-Play
Postgame Quotes From No. 9 Ohio State vs. No. 25 Wisconsin
Postgame Notes From No. 9 Ohio State vs. No. 25 Wisconsin

Postgame Press Conference Transcript (No. 9 Ohio State vs. No. 25 Wisconsin)



Instant Analysis - OSU Picks Off The Badgers
October 10, 2009 Source: College Football News - "...Who cares if it was ugly offensively? Who cares if Terrelle Pryor looked really, really shaky completing a mere 5-of-13 passes for 87 yards? Who cares if the running game averaged 3.6 yards per carry? Well, you should probably care when comparing Ohio State to the other top teams in America, but this is what the Buckeyes do. They ... don't ... lose .. to ... above-average ... teams. They don't lose to mediocre ones, they don't lose to bad ones, and they don't lose to most of the really good ones. Wisconsin qualifies in the final category... - Pete Fiutak

If the Ohio State defense keeps playing this well, the team might not lose another game all season. Has everyone been paying attention to what the Buckeyes have done since USC drove the length of the field for the win a month ago? The unit has gelled over the last four games, holding opponents to just 27 points while consistently harassing the other team's quarterback... - Richard Cirminiello

...Speaking of Jim Tressel, there's no other way to say this: Get a real quarterback coach and/or offensive coordinator. That's not an original thought, to be sure, but sometimes, the obvious is ignored at one's peril. Tressel has to find someone who can make Terrelle Pryor play even remotely close to his potential. There are a lot of natural gifts not being used in the big, athletic body of No. 2. - Matt Zemek

Ohio State does still have to play Iowa, but its win over Wisconsin Saturday proves that it is the class of the Big Ten, and largely because of its defense...everybody seems to forget that Jim Tressel has been successful over the years, whether in Columbus or Youngstown, with strong defenses, and that's what did the job against the Badgers...Ohio State doesn't have big names on D, but folks should get to know MLB Austin Spitler, because he is a stalwart. OSU's offense won't overwhelm opponents, but Pryor is capable of making some big plays because of his legs, and he does have a strong arm. In a devalued Big Ten, the Buckeyes need only to keep playing great defense, and they will be just fine. - Michael Bradley..."




Five Things: Wisconsin
October 12, 2009 Source: Eleven Warriors - "...Pryor Concerns: After his latest big game struggles, I'm more interested in what you all think about Pryor's short term and long term potential more so than what I think. At what point is Pryor held accountable instead of the coaches and convenient, yet slowly less valid excuses, like youth? That's not to say being a young QB isn't a valid excuse to not be great at this early stage of his career but at what point should we expect him to consistently show up in a big game by way of either improved accuracy or decision making (or at least be able to find his helmet – I kid)?

What's most maddening is amidst a 5/13 clunker he can singlehandedly take the team down the field as he did on the last drive of the 1st half. Prior to that drive, TP was 1/7 for 10 yards with an INT through the air and had run the ball 5 times for 7 yards. Then, magically, he accounts for all 88 yards on a 7 play surge featuring a 27 yard run and a 22 yard completion to Posey over the middle before a perfectly thrown pass to Posey's back shoulder in the end zone for a 32 yard strike and a 14-10 halftime lead. That was a big time throw, my friends. Maddening, indeed.

So, what's keeping Pryor from achieving consistency? Youth, coaching and throwing mechanics typically come up during this conversation but could it be that he simply isn't cut out to be a big time quarterback because maybe he doesn't have the ability to balance the mental and physical demands of the job? I don't know that answer, I'm just saying that it's worth questioning because we've seen QB's with similar playing style never solve how to iron out the wrinkles. For now, I still say he can do it because I think he really does want to improve and he has shown the ability to flat out dominate lesser foes making me feel like it's inside him to one day put it together but time will tell. As disturbing as some of his telegraphed passes and decisions are (how bout that scramble with the ball over his head leading to a grounding call?), the way he took over on the aforementioned 88 yard drive before halftime was absolute mastery and also a perfect example of why he's driving us all nuts..."




Offense shows no urgency
October 11, 2009 Source: The Morning Journal - "Offense? Offense? For much of the day the only suspense was whether Ohio State's offense could out-score Ohio State's defense. Don't laugh. It was closer than you would think: Offense 17, Defense 14. Throw in a 96-yard touchdown return by Ray Small — "He looked like he was shot out of a cannon,'' said Ohio State coach Jim Tressel — and 21 of the 31 points scored by Ohio State were NOT scored by the offense.

Here's how out of whack it was: Through three quarters, Ohio State had as many punts as pass completions (four). Small gained more yards on his kickoff return for a touchdown (96) than Ohio State's pass offense did, total, for the entire game (87).

Through three quarters. . .Buckeye quarterback Terrelle Pryor was 4-for-12 for 70 yards passing, Wisconsin had a 3-to-1 advantage in time of possession (34 minutes to 10), a 17-6 advantage in first downs, and a 303 yards to 135 yards advantage in total offense...

To say Pryor is a work in progress might be giving him the benefit of the doubt. There are times when he looks like a work without progress, or, at best, just spinning his wheels as he tries to prove that he really is a quarterback rather than just a great athlete playing quarterback. He's now halfway through his sophomore year, and basically still getting by on sheer athleticism. There isn't much classic quarterbacking go on right now. He has eight, 17, and five completions in his last three games — and that doesn't even count his lurching, lackluster performance in the biggest game of the year, the 18-15 season-altering loss to USC. For all the hype that accompanied his dramatic decision to matriculate to Tressel Town, Pryor has yet to consistently flash the goods that made him the No.1 recruit in the country two years ago..."




10 Things We Learned from a Bizarre Win over the Badgers
October 10, 2009 Source: The Ozone - "10. Scott Tolzien is a tough competitor...While he didn't get them into the end zone – their only touchdown came on a fake field goal – he did make a few plays with his legs and his arm that lead me to believe he will continue to have a successful season as long he's not facing a defense the caliber of Ohio State's.

9. Jermale Hines is one of the best 11...Hines was playing a decent amount in the nickel, but on days like today, against power offenses, he would have spent most of the time on the bench. Instead, Hines was out there making plays from the strong safety position, including an interception he tipped to himself.

8. Kurt Coleman is still OSU's best big-play guy. After watching Ohio State's defense dominate Indiana without him last week, people may have forgotten what safety Kurt Coleman brings to the table each week...Coleman is second on the team with 43 stops this season despite playing in one fewer game. He has three forced fumbles, two interceptions and an 89-yard return for a touchdown.

7. Nathan Williams is a bad man...Thad Gibson is still the Buckeyes' best pure pass rusher, and a bad man in his own right, but Williams brings a different kind of attack. He is relentless. He will do whatever it takes to get to the quarterback, whether that means running past someone or just bullrushing right through them.

6. Ross Homan is becoming a force...The only returner from last year's starting corps, Homan had a career-high 15 tackles to go with a sack and a forced fumble. He is now third on the team with 42 tackles. He also has two sacks, an interception, a forced fumble and two fumble recoveries.

5. Ray Small can still make big plays for this team. Somewhat of a forgotten man this season...The Buckeyes still need to get him going as a punt returner, but combining him with Lamaar Thomas on the kick return gives them a deadly 1-2 punch that could produce a few more touchdowns this season.

4. The renaissance of the OSU rushing attack is opponent specific...Maybe it was the lingering effects of the flu, or maybe it was a result of Pryor's lack of success in the passing game, but something wasn't clicking in the run game Saturday. The Buckeyes ran for just 97 yards on 27 carries and could not run out the final 3:16 of the game without giving the Badgers one more chance on offense.

3. This team needs a healthy Boom Herron. A big part of their struggles may have been the absence of Herron, who carried the ball only twice Saturday before leaving the game after reinjuring his ankle...I would argue that Saine is still the best back on the team...Together they make a pretty solid tandem because of the way they complement each other, but they aren't nearly as effective alone...

2. Terrelle Pryor does not play within himself. There are a hundred reasons for Buckeye fans to be discouraged about the play of quarterback Terrelle Pryor, but the thing that bothers me the most is his inability to play within himself. He comes across as a very confident kid, but get him on a football field when things don't seem to go his way and he tends to break down...there's no doubt in my mind this kid has come a long way from last year's Wisconsin game in terms of his decision making and mechanics, but when things get bad, he seems to lose his cool.

1. A dominant defensive line can single-handedly determine the outcome of a game...This game was won by the OSU defensive line. Their ability to control Clay and pressure Tolzien single-handedly changed the course of the game...Week-in and week-out, this group dominates the line of scrimmage, and it's for that reason that the Buckeyes have a real chance of running through their Big Ten schedule unscathed despite a very inconsistent offense...."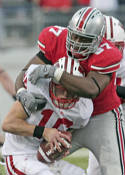 Opportunistic defense, special teams carry No. 9 Buckeyes past Badgers: Wisconsin outgained Ohio State by nearly 200 yards, and had 22 first downs to the Buckeyes' eight. None of it mattered in the end...

(Kurt) Coleman, playing his first game since a Big Ten-mandated suspension for a late hit, was the only person near Scott Tolzien's pass in the first quarter and returned it 89 yards...

Tolzien, intercepted just three times on 125 attempts in Wisconsin's first five games, completed 27 of 45 passes for 250 yards but threw the two costly picks. Sacked just twice all year, the Buckeyes managed it six times and harassed him all day...

Wisconsin dominated time of possession 42:47 to 17:13. The Buckeyes had the ball for less than 2 minutes in the third quarter alone, yet outscored the Badgers 14-3.

The Buckeyes had just 36 yards of total offense on their first five possessions until Pryor found his footing late in the second quarter with Wisconsin on top 10-7. He hit half of his six passes in a quick 88-yard race against the clock, capped by a 32-yard scoring pass to DeVier Posey with 40 seconds left. That was it for the offense. But the interception return by Hines and Small's kickoff return virtually ended the suspense.

"We always say if you can do something special in the special teams and win the turnover margin, you're going to have a chance to win a tough game," Tressel said.

(Source: ESPN)


Pass rush was suffocating: Wisconsin coach Bret Bielema said Ohio State's defensive line platoon was a "huge factor" in the game. The Badgers came into the game having allowed two sacks in their five games; the Buckeyes took down quarterback Scott Tolzien six times. "I don't know, since I've been in the league, if I've ever seen the defensive-lineman rotation, the depth they've got to be able to keep coming with new guys," Bielema said. "The four guys that start are pretty special." Tolzien acknowledged the pressure but still felt he could have avoided the two interceptions he threw, both of which were returned for touchdowns. "It's easy to say the line should have been more solid," he said, "but what I can control is making better decisions, being better in the pocket and being better with my reads."

(Source: Columbus Dispatch)







Big Ten helmet stickers: Week 6: Ohio State's defense -- There were too many great performances on this unit to narrow it down to one or two. Safeties Kurt Coleman and Jermale Hines combined for two interceptions (both returned for touchdowns) and 25 tackles. Linebacker Ross Homan recorded a career-high 15 tackles, including two sacks, while linebacker Brian Rolle added 14 stops. Just a total team effort from one of the nation's best defenses.

(Source: ESPN)







What we learned in the Big Ten: Week 6: Ohio State's defense is the Big Ten's best unit -- Jim Heacock's defense once again has made the Buckeyes the team to beat in the Big Ten. The Buckeyes rank seventh nationally in points allowed and 11th in total defense, and they're forcing more turnovers than they have in past years. No Big Ten offense comes close from a talent and execution standpoint, and while Iowa's defense has been solid, Michigan exposed some weaknesses Saturday at Kinnick Stadium. Despite losing several national award winners, Ohio State's defense repeatedly makes big plays and rescues an offense that still hasn't found its rhythm. Sure, the Buckeyes allowed yards to Wisconsin, but they forced major mistakes and didn't wear down despite being on the field for 42:47.

(Source: ESPN)






IT WAS OVER WHEN: Ray Small sprinted 96 yards on a kickoff return to give the Buckeyes a 28-13 lead in the third quarter.

THE PLAY(S): Kurt Coleman and Jermale Hines returned interceptions for touchdowns and Ray Small brought a kickoff back 96 yards for a TD. Small's return for a touchdown was the first against the Badgers since 2003.

GAMEBALL GOES TO: Buckeyes' defensive line...they sacked Wisconsin QB Scott Tolzien six times, he had only been sacked twice in the first five games, and pressured and harassed him all day.

THE STRATEGY: Outscore the other team with your defense, apparently. On a relatively offense-less day for the Buckeyes, it worked.

BACK TO THE DRAWING BOARD: Ohio State's passing game. Against a pass defense that was giving up 235 yards on average, there should have been plenty to gain. But the Buckeyes had just two shining moments, and they came on the same drive -- a 22-yarder to DeVier Posey on an intermediate crossing route, followed by a 32-yarder to Posey down the right sideline for a touchdown just before halftime. It wasn't all Pryor's fault, but a couple of low throws and the interception did him no favors with his critics.

WHAT'S HOT?: Ohio State's defensive dynamic. The front four got upfield, aided by the occasional blitz. The backside covered and had the two interception returns. The linebackers hit QB Scott Tolzien hard and often, OSU netting six sacks. But the 'D' also gave up three drives of 14 plays or more. That wasn't hot at all.

WHAT'S NOT HOT?: The OSU offensive stock. After a three-week rally, it dipped precipitously in the first half Saturday. The causes were familiar -- bad blocking, a bad plan and bad execution at times by quarterback Terrelle Pryor. Then just as the Buckeyes found the hot button on an 88-yard touchdown drive before halftime, they didn't touch the ball again for more than an hour. That was thanks to Hines' return, Ray Small's kickoff return and one of those long Wisconsin drives.

PREGAME BUZZ: Everyone worried about the flu, but a homophone became the bigger story when OSU's offense flew the coop. Fortunately for the Buckeyes, the defense saved the day. Again. With an assist from Ray Small.

AS HEARD ON 'THE FAN' POSTGAME SHOW: "The Ohio State offense makes Ben Stein look exciting."

THE REPERCUSSION: Most poll voters won't read the fine print; they'll just see the score and think the Ohio State offense got it done. Whatever it takes, the Buckeyes are in first place in the Big Ten after clearing a major hurdle.

THE STAT: Ohio State has not allowed a 100-yard rusher over its past 16 games. The defense shut down the Big Ten's rushing leader John Clay holding him to 59 yards on 20 carries. He was averaging 134.7 yards on the ground over his last four games.

THE STAT II: Wisconsin had the ball 42 minutes, 47 seconds, yet scored its only touchdown on a fake field-goal attempt. A 16-play, 79-yard, eight-minute drive for no points in the third was the march to nowhere.

THE STAT III: Ohio State's defense has allowed just four touchdowns over its past 19 quarters of play.

THE STAT IV: As a team, Ohio State had a season-high 10 tackles for loss, besting the previous mark of eight.

THE STAT V: Ohio State's two interceptions for touchdowns marked the first time since Sept. 23, 2006 when Malcolm Jenkins (61) and Antonio Smith (55) each returned picks for TDs

THE STAT VI: Ohio State has held opponents to fewer than 21 points 45 times since 2006, the best among FBS teams. Ohio State is 42-3 in those games.

THE STAT VII: Junior linebacker Ross Homan had a career-high 15 tackles, including two tackles for loss, both sacks. Kurt Coleman and Brian Rolle also tallied career highs in tackles with 14 apiece and Jermale Hines had a personal-best 11.

THE STAT VIII: Ohio State has allowed only seven 100-yard rushers since the start of the 2005 season (58 games). That mark is tied with Kansas for the best mark among FBS schools over that span.

THE STAT IX: Wisconsin ran 25 plays to Ohio State's three in the third quarter and saw its deficit increase from four points to 15.

KURT COLEMAN SAID IT: On his interception return for a TD: "I was tip-toeing down the line there for a second; I thought for sure I'd step out of bounds. Had to put on my dancing shoes."

COACH BIELEMA SAID IT: "I hate losing to these guys. It's something I can't stand for whatever reason. The bottom line is I have to do it again. It's something we'll continue to look at until we have another opportunity next year."

NOT AGAINST OSU: Wisconsin came into the game No. 1 in the Big Ten in third-down conversions at 61 percent. The Badgers converted 6-of-19 against Ohio State (32 percent).

NOT SINCE 2007: The fake field goal off which Wisconsin scored was the Badgers' first fake kick of any kind since punter Ken DeBauche completed a 31-yard pass at Ohio State in 2007.

SPECIAL TEAMS NOTES: Senior wide receiver/kick returner Ray Small returned a third-quarter kickoff 96 yards for a touchdown, marking the first KO return for a score since Ted Ginn Jr., on the opening kickoff of the 2007 BCS National Championship game. The blocking in the center of the field created the crack, and Small hit it with gusto, going untouched by a Wisconsin coverage team that entered ranked third in the Big Ten.

THE MISMATCH: Hines, 6 feet 2 and 210 pounds, against Wisconsin tackle Gabe Carimi, 6-7, 325. Hines had one man to beat for his touchdown, and he scored.

NUMBERS FOR DUMMIES: 2: Sacks allowed by the Badgers all season, tied for second in the nation, before allowing six against the Buckeyes

NUMBERS FOR DUMMIES II: 25:34: Difference in time of possession between Wisconsin (42:47) and Ohio State (17:13)

NUMBERS FOR DUMMIES III: 0:00: Time elapsed on Ray Small's 96-yard kickoff return. Either Usain Bolt should be nervous or someone was asleep at the timing switch.

NUMBERS FOR DUMMIES IV: 368-184: Offensive yards for Wisconsin and Ohio State respectively.

NUMBERS FOR DUMMIES V: 273-111: Return yards for Ohio State and Wisconsin respectively.

NUMBERS FOR DUMMIES VI: 89-42: Offensive plays for Wisconsin and Ohio State respectively.

NUMBERS FOR DUMMIES VII: 5: OSU QB Terrelle Pryor completed just five passes, including a touchdown.

NUMBERS FOR DUMMIES VIII: 9: Wisconsin's only touchdown came on a nine-yard run by holder Chris Maragos on a fake field goal. It was Wisconsin's first fake field goal since Nov. 3, 2007, which was the Badgers' last visit to Ohio Stadium.

THE VIEW: How the team sees it: Let the offense rest. Our defense will do the rest.
How the pollsters will see it: Great win (if they overlook the stat sheet). Fortunate win (if they don't).
How Buckeye Nation will see it: It's time to return to the two-platoon system, by letting our defense play both ways.

TRANSLATING TRESS: What he said: "I love to hear that (victory) bell ringing."
What he meant: "Reminds me that it's time for dinner, and Wisconsin is the main course."

WHERE'S MY HELMET?: Pryor lost his helmet on the Buckeye sideline and had to wear Torrence's helmet in the second half. He seemed to indicate a teammate played a trick on him or someone picked it up by accident. "I put my helmet in the same spot every time."

ONE-LINER: Asking Wisconsin to pass this much is like asking Jessica Simpson to think.

WISDOM WORDS: Pryor might be all right as long as he lives by the "faster than the bear" philosophy. If two men meet a bear in the woods, what's important is not outrunning the bear but the second man. Pryor need not be a great QB, only better than the one on the other team. He was against Wisconsin. Barely.

AS HEARD IN THE CROWD: "Weird, weird game."

AS HEARD IN THE PRESS BOX: "The pick-six just replaced the punt as the most important play in football."

AS HEARD ON TV: Former Detroit Lions President Matt Millen made his Ohio State debut. He could have been worse. Just ask the Lions. His partner, Sean McDonough, could put a shot of double espresso to sleep. But give the team, including sideline reporter Holly Rowe, credit for filling the fourth quarter with informative pieces on the Buckeye Grove and sharing kind words about Stefanie Spielman.

STATE TIES: There are no players from Wisconsin on Ohio State's roster, but there are 10 players from Ohio on Wisconsin's roster.

PERFECT TIMING: How long does it take the Ohio State Marching Band to execute its famous "Script Ohio?" Three minutes, 34 seconds. Exactly. That comes from the "timing overview" page of the "Performance Information" packet that is distributed to the media prior to every Ohio State home game. "Hang On Sloopy?" One minute, 30 seconds.


(Sources: ESPN/Columbus Dispatch/OSU Official Site/Canton Repository/The News Herald/The Webmaster)


Source: Columbus Dispatch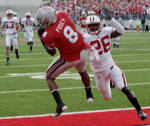 Offense gets going for one good drive: It figured that Ohio State's only touchdown on offense in a 31-13 win over Wisconsin yesterday would be subject to review...the replay official confirmed that DeVier Posey hung onto the ball as he twisted away from Wisconsin cornerback Antonio Fenelus on a 32-yard pass from Terrelle Pryor.

"We started attacking," Pryor said, referring both to OSU's mind-set and the play calls that followed. "When we attack, we can move the ball down the field." Why it took so long, nobody knows, but Pryor's 27-yard run when he reversed field from left to right on the first play showed there was something different to the Buckeyes on this possession. Pryor completed 3 of 5 passes on the drive, including a 22-yarder to Posey on a crossing route to the Wisconsin 27. Then, on third-and-15 from the 32, "We knew we needed to take a shot, and I felt like (it was) a good call and Terrelle made an excellent throw," Posey said. "It was just pitch and catch, really simple...It gave the Buckeyes a 14-10 lead, one they kept the rest of the game.

(Source: Columbus Dispatch)


Lucky No. 13: I say it quite a bit, but the fewer passes Terrelle Pryor attempts, the better -- at least at this point in his career. The results are starting to back up that belief. On Saturday, Pryor attempted a modest 13 passes for the second time in the last three games, and he completed just five of them. Still, the Buckeyes posted 31 points, behind two defensive scores and a special teams score. Two weeks ago, Pryor also attempted 13 passes en route to a 30-0 win over Illinois. Seems like a winning recipe, to me.

(Source: Big Ten Network)







OSU defense does job for offense
October 11, 2009 Source: Akron Beacon Journal - "...You would think the offensive guys would appreciate Tressel's thoughtfulness, scheming to limit them to a paltry 17 minutes, 13 seconds on the field, but there were complaints. ''It was getting frustrating,'' tight end Jake Ballard said. ''It was getting cold, and we had to get our legs fresh.''..

Pryor did contribute a few big plays: In a lightning (one minute, 12 seconds) 88-yard drive that culminated in a touchdown with 40 seconds left in the half...Other than that, Pryor threw for only 27 yards and ran for 26. As usual, he performed better when he improvised rather than carried out Tressel's wishes...Tressel was asked about Pryor's growing list of media critics. ''Do what the critics say have much credence? I don't know, I guess it's their opinion,'' Tressel said, adding that the critics should factor in things like the Pryor-led second-quarter scoring drive. Even so, Tressel's words were not a ringing endorsement of his high-profile quarterback...

So Tressel left it up to the defense. In the third quarter, the offense didn't get the ball until 1 minute, 40 seconds were left. Even so, the Buckeyes outscored the Badgers 14-3 for the quarter. Of 178 points Ohio State has scored this season, the defense or special teams have set up or were directly responsible for 47, almost eight points a game. The defense did not ignore its usual responsibilities, either. Wisconsin outgained Ohio State 416 yards to 212, but 15 plays netted either no gain or losses adding up to 50 yards for the Badgers. This included six sacks of Tolzien..."




High rate of return
October 10, 2009 Source: OSU Official Site - "Turnovers pave way to victory...Like the villain in a slasher film, the Buckeyes ripped and clawed, tipped and buzz-sawed. They sacked Wisconsin quarterback Scott Tolzien six times and intercepted him twice. Kurt Coleman and Jermale Hines returned both interceptions for touchdowns, and Ray Small ran a kickoff back for a score to allow Ohio State to take control of the conference race. "Our guys were relentless," coach Jim Tressel said. "They came to play. They always do."

The Buckeyes entered the game ranked first in the Big Ten in rush defense, pass defense and scoring defense. They limited Badgers running back John Clay to 59 yards on 20 carries. They did not give up a touchdown on a regular play from scrimmage, as Wisconsin's only TD came off a fake field goal. But most of all, on play after play -- even the ones that were not spectacular -- they hit Tolzien, they fought through blocks, they made open-field tackles.

"Guys were getting pressure; it looked like (Tolzien) was rattled on every play," said linebacker Austin Spitler, who in the first quarter bulled his way to Tolzien, forcing him to throw off his back foot and straight to Coleman. "Even if he did complete a pass, he was getting hit."

The defensive and special teams' scores rendered the offense almost moot. Ohio State's offense stood on the sideline for most of the third quarter. Hines' interception return on Wisconsin's first drive of the second half stretched the lead to 21-10.The Badgers then drove for a field goal, and on the ensuing kickoff, Small burst untouched up the middle 96 yards for a touchdown that made it 28-13...

Pryor sat so long, he misplaced his helmet. He played the rest of the game wearing cornerback Devon Torrence's helmet. "I put my helmet in the same place all the time. It just disappeared," he said.

It's better than having your head taken off, which describes what Tolzien endured. Linebacker Ross Homan led the way with 15 tackles, two sacks and a forced fumble. Nathan Williams, Cameron Heyward, Thaddeus Gibson and Lawrence Wilson also had sacks."Our defensive mentality is you've got to go after the quarterback and try to beat the offensive lineman every single time," Williams said. "We knew (this defense) was going to be a mature, special group this year..."




Major Booboo, what Booboo?: No team plays a perfect game, but OSU's biggest mistake of the day may have come on a successful fake field goal that resulted in Wisconsin's only touchdown of the day. Safety Chris Maragos, who lined up as the holder, not only scored the touchdown, but called the play based on some effective scouting of OSU's field goal rush technique.

"I was looking for a certain look and we got the look and we put it on (called the fake)," said Maragos. "I knew it was going to be a race for the corner and I got a great block and dove and got there. It was my call to make. We watched film on it and we had the call on. Anytime we got the linebacker overhanging on the side we knew they were going to come hard from the corner and there was just one guy to beat. The minute I went down in my stance I looked for the guy, I saw it and I yelled 'Green, green, green,' and then it was on for everybody. We hiked it and we went."

The Buckeyes were expecting to see a fake sometime during the game, but still got burned. "We knew they were going to fake something," said senior linebacker Austin Spitler. "Two years ago they came in here and faked two punts. We brought the pressure from the field side and that's where they ran. It was a good play on their part."

(Source: The Ozone)







Facts of the matter: Brutes, the Badgers are. They played their patented brand of keep-away, hogging the ball for nearly 43 of the 60 minutes. But that grind-it-out-a-few-yards-at-a-time kind of game demands near-perfection to execute, and perfect Wisconsin wasn't. Ohio State's superior athleticism forced two interceptions it returned for touchdowns, and kickoff returner Ray Small looked like the Roadrunner adding a third TD. The tortoise set the pace in this race, but he didn't win it.

(Source: Columbus Dispatch)







This week we've selected three plays of the game. Watch all three in the game highlights video below.

1) In the 1st quarter, with Wisconsin at the OSU 31 on 1st and 10, senior safety Kurt Coleman intercepted a Scott Tolzien pass at the OSU11 and returned it 89 yards to for a TD for the game's first score and a 7-0 OSU lead. "As soon as I caught it, I saw a sea of red, and I was headed to the sideline," said Coleman. "Once I got to the sideline, I turned on my mini boosters," Coleman said. "As soon as I cut that corner, I knew that no one was going to be able to catch me. I was tip-toeing down the line there for a second; I thought for sure I'd step out of bounds. Had to put on my dancing shoes."

2) In the 3rd quarter, junior safety Jermale Hines scored the 2nd TD of the game for the defense. With Wisconsin facing a 2nd and 17 from their 24, Scott Tolzien's sideline pass was intercepted by Hines at the Wisconsin 32 and returned 32 yards for a TD, which put OSU up 21-10. "It was a little bit behind me, and I tipped it with my messed-up elbow, and then I caught it," Hines said, "and from there, I got a couple blockers in front of me and that was all." Hines' "messed up elbow" was the result of an earlier run in with 250 pound Badger running back John Clay. "Early in the game I hit John Clay and it kind of whipped my arm and hyper-extended my elbow. That probably happened in the second drive," said Hines. "When I saw the ball coming it seemed like all the pain just went away," Hines said with a smile. The interception was the second of Hines' career.

3) After the Badgers closed the gap to 21-13 in the 3rd quarter, Philip Welch's kickoff was fielded at the OSU 4 by Ray Small who returned it 96 yards for a TD. It was the first kickoff return for a score since Ted Ginn Jr., on the opening kickoff of the 2007 BCS National Championship game. Small's return for a touchdown was the first against the Badgers since 2003. "When it came to me I just followed my wedge and it opened up like the Red Sea," said Small of his return. "When I passed the goal line, I looked back to see if there were any flags," Small said. "There were no flags, and then I just let all my frustration out. I had been holding all that back, but hopefully as the season goes on, the roads get clearer." The Columbus Dispatch in an article, Return extra sweet for Small, wrote: For once, Ray Small did not have to worry about penalties. The Ohio State receiver and kick returner has had to overcome a series of self-inflicted wounds in his career, spending significant time in coach Jim Tressel's doghouse, mostly for academic issues. But he also keeps coming back from his troubles and making an impact. He said he considered quitting at times and pondered leaving for the NFL after last season. That made yesterday's TD, just the fifth of his career and his first on a kickoff return, all the more sweet. "It was a great thing for him and a great lesson on perseverance and hanging in there and figuring it out," coach Jim Tressel said. "You hope if you keep working, good things will happen."





Online Poll: What grade do you give the Ohio State football team's performance against Wisconsin?: 6% A, 46% B, 40% C, 8% D

Source: Columbus Dispatch



OSU defense grades high in post-game report card
October 10, 2009 Source: Cleveland Plain Dealer - "A -- Ohio State's blocking after the Buckeyes' two interceptions..."To throw a block, I get to contribute to somebody else's success," said linebacker Brian Rolle, who helped on Coleman's...A -- Ohio State linebacker Ross Homan...Homan missed the final three quarters against Illinois, but led the team in tackles against Indiana last week with six, and led the Buckeyes again on Saturday with a career-high 15, including two sacks...C -- Wisconsin running back John Clay...Coming off a career-high 184 yards against Minnesota last week, Clay was limited to 59 yards on 20 carries, an average of fewer than three yards per carry...F -- Wisconsin's penalties

The Bottom Line
October 11, 2009 Source: Columbus Dispatch - "Offense (1 leaf) Granted, opportunities were limited, so hats off to Bucky for hogging the ball. But boo to you, Brutus, for failing to sustain more than one drive against a bunch that had been routinely gashed. Pryor's pick? Horrible. His TD pass to Posey? Opposite of horrible. But that and one Saine run were it.

Defense (5 leaves) ...The stat sheet tallied 89 plays by UW, 42 of which began in OSU territory. And yet they yielded only two field goals, which the pick-sixes easily offset. Ginormous.

Special teams (3 leaves) Ray Small's dash from the doghouse to the penthouse is the highlight, a huge momentum-swinger. Bravo. Otherwise, it's a mixed bag. Jon Thoma's punts progressively lost steam, although only one was returned. Tsk-tsk on Wiscy's fake field goal, a play that was well-designed, well-blocked.

Coaching (3 leaves) The Vest team won, despite the wackiness. Afterward, Tress talked about how he loves to hear the victory bell, and he'll thank his defensive assistants for dialing up the plan. It's a good win, and the schedule suggests that now is the time for all good men to come to the aid of the offense..."






2-minute disaster doomed Wisconsin
October 11, 2009 Source: Milwaukee Journal Sentinel - "Football coaches and players repeat the statement so often it becomes a cliché, but that doesn't change the fact the words always ring true: We have to play four quarters. This is what happens when you relax for even an instant. You give life to an offense you had in your control for the first 28 minutes. You allow a touchdown in the final minute of the first half. You lose the momentum and, eventually, the game. "This team is flying home disappointed," UW coach Bret Bielema said after UW's 31-13 loss to Ohio State. "To have 70 guys come over here with the intent of winning the football game, it's not an easy thing to swallow."..."




Report card
October 11, 2009 Source: Milwaukee Journal Sentinel - "OFFENSE (D): Scott Tolzien was under pressure, as he had been in some previous games, but for the first time this season it appeared the pressure unsettled the junior quarterback. He was sacked six times, threw two interceptions - both of which were returned for touchdowns - and was off the mark on some throws he normally makes...

DEFENSE (B): Dave Doeren's unit played a near-flawless first half and helped the Badgers carve out a 10-7 lead with less than two minutes left. However, then came several lapses that allowed the Buckeyes to drive 88 yards for the go-ahead score...Cornerback Devin Smith allowed too much room on the 22-yard completion on the Buckeyes' late first-half scoring drive. J.J. Watt took responsibility for allowing quarterback Terrelle Pryor loose for a 27-yard run on the first play of the touchdown drive.

SPECIAL TEAMS (D-): When you score a touchdown on a fake field-goal attempt you get bonus points. However, the kickoff-coverage and kickoff-return units again proved problematic. The coverage unit was splendid all day . . . until allowing Ray Small to race 96 yards untouched for a touchdown in the third quarter. How in the world does that happen?...

COACHING (C-): The defensive game plan was sound and, save for the drive at the end of the half, the execution was outstanding. UW surrendered 10 sacks to the Buckeyes in 2007 and six on Saturday. The Buckeyes no doubt have talented athletes, but the Ohio State coaches must also see something they like when UW visits..."








Four Downs: Doug Lesmerises' take on what to watch when the ball is snapped
October 10, 2009 Source: Cleveland Plain Dealer - "First down - Scott Tolzien, Wisconsin quarterback: Big back, big offensive line, same game plan -- so what's different about Wisconsin's offense this season? The Badgers have a quarterback they can trust. "I don't think they've tweaked anything in their scheme, but their quarterback play is really, really good," Ohio State cornerbacks coach Taver Johnson said. "'He runs their offense, he makes really good throws and he makes good decisions."...Now he is first among starting Big Ten quarterbacks and 18th in the country in passing efficiency, completing 66 percent of his passes with nine touchdowns and three interceptions.

Second down - Jay Valai, Wisconsin safety:...Hits by Valai on running back Dan Herron and receiver Dane Sanzenbacher in last year's game led to concussions that knocked them out for not only the rest of that contest, but for one more game in Sanzenbacher's case; and two more games, in Herron's case. "The game is made to be played physical, and I like the way that kid plays," OSU coach Jim Tressel said of Valai. "I mean, he plays physical and he'll come to hit you and that's his secondary. If you come in his secondary, that's what a secondary guy's supposed to do."

Third down - Brian Rolle, Ohio State linebacker: Wisconsin isn't a team against which a defense can hope to bend but not break. Because the Badgers will break you. Stat No. 1: Wisconsin leads the Big Ten in third-down conversions, picking up the first down 56.2 percent of the time, which ranks fourth in the country. Ohio State, in contrast, makes only 40.9 percent of its third downs. Stat No. 2, the most important stat in this game: Wisconsin leads the nation in red-zone efficiency, scoring on all 20 possessions inside the 20-yard line. But the Badgers just don't score, they reach the end zone, getting 18 touchdowns and just two field goals inside the 20. In short, the Badgers score touchdowns 90 percent of the time inside the 20, and the Buckeyes score touchdowns 54 percent of the time. There is no surer way to lose a close game than to trade field goals for touchdowns. So the Buckeyes have to count on the 221-pound Rolle, their leading tackler, to help lead the way and hold the Badgers to three points on a least a couple trips inside the 20. "He plays with leverage," OSU cornerbacks coach Taver Johnson said of Rolle. "He's already low anyway because he's a compact guy. So as long as he gets [Clay] before he gets going, he'll be fine."

Fourth down - Aaron Pettrey, Ohio State kicker: The fifth-year senior is ranked as the No. 1 kicking prospect in the country by NFL Draft analyst Mel Kiper. "He can kick the ball as far and as high as anyone," said John Thoma, Ohio State's punter and Pettrey's holder. "I would not be surprised to see him on the next level." But after Pettrey missed two field goals against Indiana last week, Ohio State coach Jim Tressel was asked about his kicker in part because of the length of his three misses this season, from 21, 29 and 35 yards, two of them hitting the upright. On the year he is a solid 10-for-13. But he's 5-for-5 from 46 yards and longer, and 5-for-8 from 35 yards and closer...Tressel said the timing on the snap, hold and kick hasn't been as consistent on short field goals, but Thoma said that was mainly about one miscommunication in a loud stadium on a snap..."




Buckeyes' run defense in spotlight
October 10, 2009 Source: Columbus Dispatch - "Ohio State coach Jim Tressel referred to Wisconsin running back John Clay this week as "special and unusual."...Tressel's description also could apply to the Ohio State run defense. The Buckeyes lead the conference and are 10th nationally against the run, giving up 83.4 yards per game.

Over the past four games, Wisconsin has averaged 233.5 yards rushing while OSU has given up a total of 231 yards rushing. That matchup should be the main attraction when the Badgers and Buckeyes meet today in Ohio Stadium. "I have a lot of confidence in (the defense), and that's why (today), to me, is going to be an exciting thing," Tressel said. "Wisconsin can run it, and they've demonstrated that; we've demonstrated that we can play the run. So what a great challenge."

Tressel said..."One guy is not going to stop him cold." But that plays into Ohio State's defensive strength: swarming to the ball. The Buckeyes have had fewer missed tackles than in past years, and one reason is that they seem to have a "meet at the ball carrier" mentality..."




ON THE DEFENSIVE: The Buckeyes rank first in the Big Ten in total defense (252.6 ypg) but are oddly last in red-zone defense, allowing seven touchdowns in seven visits. The Badgers are about average in both categories.

Buckeyes, Badgers seeing red at The Shoe: Games are often won and lost inside the red zone, and in that area of the field, the numbers favor Wisconsin in its matchup with No. 9 Ohio State on Saturday afternoon in Columbus. Wisconsin has the best red zone offense in the country (100 percent scoring, 20-for-20), while the Buckeyes have struggled on red zone defense (100 percent scoring allowed). The challenge for Wisconsin will be getting into the red zone. While Ohio State can't keep opponents from scoring touchdowns from inside the red zone, the Buckeyes don't allow many drives to get there. In five games, Ohio State opponents have had only seven drives reach the red zone, tied for third fewest per game in the nation.

(Source: ESPN)




Wisconsin, Ohio State in the Red Zone
UW Off.
OSU Def.
TD Pct.
90.0
85.7
NCAA Rank
1
119





Wisconsin's strength, its running game, is the strength of the Ohio State Buckeyes defense. Nevertheless, Wisconsin coach Bret Bielema knows there's only one way for his team to win. Bielema tells jsonline.com: "It doesn't take a rocket scientist to figure out that we've got to be able to run the football to be able to win," he said.



Five Key Factors
October 9, 2009 Source: Columbus Dispatch - "1) FEET TO CLAY: At 6 feet 1, 248 pounds, Wisconsin's John Clay is a bruising running back. OSU has been outstanding in run defense, but the Buckeyes have dealt mostly with teams that have smaller backs. To limit Clay, they will have to swarm the ball and gang-tackle, then hang on and wear him down. In the past four weeks, Wisconsin has averaged 233.5 rushing yards, while Ohio State has given up 57.8.

2) EFFICIENCY: Don't ask how the efficiency rating for a quarterback is computed. Just know that it's a measure of how accurate and careful he is with the ball. Scott Tolzien of Wisconsin leads the Big Ten in efficiency (65.6.percent completions, nine touchdowns, three interceptions), while Terrelle Pryor of Ohio State is sixth (57.9.percent, eight TDs, five picks).

3) SEEING RED: At Indiana, Ohio State was firmly in control and could survive not scoring on three of its six trips into the red zone (inside the 20-yard line). The Buckeyes might not have much margin for error this week because Wisconsin is a perfect 20 for 20 scoring in the red zone. Even more impressive: 18 of those 20 scores were touchdowns (90 percent). OSU's touchdown rate is 54 percent (13 of 24).

4) DEFEND THE TIGHT END: Two years ago, Wisconsin's Travis Beckum burned the Buckeyes for nine catches and 140 yards, and the Badgers led well into the second half. OSU also struggled to contain tight ends that year in losses to Illinois and, in the national-title game, Louisiana State. Beckum is gone, but Garrett Graham leads Big Ten tight ends in catches (23). OSU's linebackers and safeties are on the spot.

5) FOCUS, DON'T FIGHT: It's not about which team hits hardest; both squads employ a punishing style. Rather, it's about who can control their emotions, as this game shapes up to be intense. Wisconsin is bitter about giving up a last-minute touchdown to the Buckeyes last year, while some OSU players quietly are seething and out for revenge against safety Jay Valai, whose hits knocked two Buckeyes out of the 2008 game."





Ohio State expects physical game from Wisconsin
October 10, 2009 Source: Canton Repository - "..."It's no surprise to us that they're 5-0," Tressel said. "I think our players, especially the ones that have played against Wisconsin here in the last two years, understand the difficulty of the challenge.",,,Wisconsin's offense is led by Clay, arguably the best running back in the conference...But he's going against one of the best defenses in the nation, even though Ohio State is without defensive tackle Dex Larimore, a run-plugger, because of a knee injury.

"The way he runs the ball takes a toll on the defense knowing you have to tackle him for four quarters," Ohio State defensive tackle Todd Denlinger said. "It's the whole defense's job to swarm and get him down, and to hit him as many times so maybe in the fourth quarter he's not running so hard." It doesn't help opposing defenses that Wisconsin's offensive line averages 321 pounds. Not a single offensive lineman weighs less than 300. "They'd rather run over you than run around you," Denlinger said. "That's the type of back Wisconsin has always had. With the big offensive line like they have, he's good at what they do. They don't ask him to do much, just grab the ball and run. He's a huge challenge for us."

"You're going to think I'm stupid," Tressel said. "But it's hard to tackle him. ... One guy is not going to stop him. He's all everyone thought he'd be."..."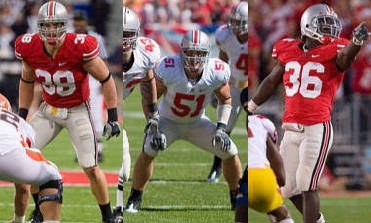 Ohio State Buckeyes know success against Wisconsin's John Clay will determine shape of game
October 9, 2009 Source: Cleveland Plain Dealer - "At some point Saturday, 248-pound Wisconsin running back John Clay is going barrel through a hole and an Ohio State linebacker like Austin Spitler (14 pounds lighter than Clay), Ross Homan (19 pounds lighter) or Brian Rolle (27 pounds lighter) is going to be waiting for him. The collision will match the Big Ten's best rushing offense against the Big Ten's best rushing defense.

Or maybe collision isn't the right word. Once the nation's fifth-leading rusher gets through the line, the best plan may be to go low and get help. "I don't know if you want to take his knees out or take him up high," Spitler said. "I'm sure some guys want to take his knees out, because that's a big boy coming through the hole."

In some ways, it's like Clay is running out of the past, the sophomore expected to be the next big-back 1,000-yard rusher for the Badgers. Comparisons to Heisman Trophy winners are dangerous, but at the very least, he's the largest back from Madison, Wis., since Ron Dayne emerged as the country's best player 10 years ago..."




OSU's strongest players will be tested by Wisconsin's power
October 9, 2009 Source: Cleveland Plain Dealer - "Today brings a game perfectly suited to one of Ohio State's three strongest players...Ask any OSU player, and Spitler, a senior strongside linebacker; junior defensive end Thaddeus Gibson; and junior offensive guard Justin Boren spring immediately to mind as the three strongest Buckeyes. The three were voted into their spots in a team poll conducted in several different categories for the game programs this season. Best dancer was funny. Strongest guy means something. The numbers are there to back it up, but that's not the only factor. Sometimes "you just know," as senior defensive tackle Todd Denlinger said.

"Thaddeus came in here as a 215-pound linebacker, and now he's a huge defensive end," senior punter Jon Thoma said. "Spitler benches more than he should for his size. And Boren, it was just known when he was coming here. I have friends from [Boren's hometown of] Pickerington who said how much he benched in high school, so he's just known as a strong guy." What does that mean, and how does it matter? "Obviously strength helps, or else we wouldn't lift," Spitler said.

Spitler may have the chance to exhibit it most in this game, the showdown the Buckeyes have described all week as physical, the idea entrenched that no OSU opponent relies on power as much as the Badgers. Spitler will typically line up over the tight end, and Wisconsin often has two tight ends in the game. In some defensive looks, Spitler is right on top of the line of scrimmage like a defensive end. And he needs to own his space, pushing the line of scrimmage back if possible and setting the end of the line of scrimmage to force Wisconsin's running backs to bounce outside. Do that and "then we're going to be successful," Spitler said. "I've got to take on that role and really force the edge." That's where the weight room comes in on the field. Spitler knows that if he gets his hands inside against the tight end blocking him, and keeps his arms extended, he controls the action..."




Friday Walkthrough
October 9, 2009 Source: The Ozone - "...With so many guys in and out of the lineup this week, we take one last look at Ohio State' personnel as they prepare for a 3:30 p.m. kickoff with Wisconsin: Defensive Line - What to expect: One of the most under-appreciated players on the defense, the Buckeyes will find out if they can replace nose tackle Dexter Larimore this week against a big, physical Wisconsin offensive front. Getting the first crack at replacing him in the lineup is senior Todd Denlinger, but Larimore's absence also means a big jump in playing time for freshman John Simon.

"It's a great opportunity for me, but I definitely feel for Dex," Denlinger said about making the start. "It's a big loss for our defense, he's a great player inside for us. At the same time, it's time for me to step up, me and John Simon, and it's time to get the job done." With Denlinger moving up to play next to Doug Worthington with the first-team defensive line, senior Rob Rose should also see more playing time next to Simon when the second group is on the field. The Buckeye could also use junior Cameron Heyward inside if needed, but that would probably come on a down-by-down basis.

Linebacker - What to expect: This is the biggest game of the year for captain Austin Spitler, who is a throwback physical linebacker that needs to play well against Jon Clay and the Badgers power run game. Spitler has only been on the field about half the plays this year because of how often the Buckeyes are in the nickel defensively, but he'll be out there on just about every snap against Wisconsin. One of the reasons they moved him to Sam linebacker is so he can play over the tight end, so watch to see if he can keep Garrett Graham and Lance Kendricks from getting free releases.

"(The) Sam backer plays a pivotal role in that, creating a new line of scrimmage. When he goes out for a pass, jamming him and trying to help the back end guys out," Spitler said.

The other player to keep an eye on will be middle linebacker Brian Rolle. At 5-foot-11 and 225 pounds, Rolle is giving up 25 pounds to Clay in a head-on collision. He packs a lot of punch in his little frame, but has he never gone against a back like Clay. While he makes an ideal Mike backer against the spread, this is not exactly the game Jim Heacock and Luke Fickell were thinking of when they moved him inside before the season.

Secondary - What to expect : The biggest story of the week for Ohio State defensively is the return of senior captain Kurt Coleman. The safety was forced to miss the Indiana game on a one-game suspension imposed by the Big Ten for an illegal hit on Illinois' quarterback Eddie McGee. There's no question Coleman is going to be wound with emotion after having to watch his team on TV last week, so watch to see if he can control that emotion and channel it in a positive direction.

With Coleman out, Anderson Russell stepped up to make some big plays, but will primarily be relegated to special teams this week, as the Buckeyes will go mostly base defense against Wisconsin's power rushing attack. The same goes for Orhian Johnson, who worked as OSU's fifth defensive back in the nickel last week. Expect to see Jermale Hines get the start at strong safety along with Devon Torrence at corner, as he seems to have pulled ever so slightly ahead of senior Andre Amos, although the two continue to share playing time across from Chimdi Chekwa..."





Ohio State football: Why I'm picking Wisconsin
October 9, 2009 Source: Cleveland Plain Dealer - "At the start of the season, I predicted Ohio State to finish 9-3 this season and 6-2 in the Big Ten, figuring losses to USC, in a tough road game at Penn State and in one Big Ten game most people wouldn't expect the Buckeyes to lose. Before the season, I thought that loss would be Illinois, but as we've seen the Illini disintegrate, they weren't close to hanging with the Buckeyes. So I picked Ohio State before that game. Now, I think that game is here. My pick for Saturday is Wisconsin 21, Ohio State 16. Here are 10 reasons why:..."


| | |
| --- | --- |
| | October 8, 2009 Source: OSU Official Site |

This week's challenge: After two weeks of Big Ten play, just three teams -- Ohio State, Wisconsin, Iowa -- control their outright championship chances, and they still must play each other. On Saturday the Buckeyes must go in thinking they need their best game to date. They get back senior safety Kurt Coleman, suspended by the Big Ten last week. Against Wisconsin's body-blow offense, they'll need all the counter punchers they can muster.

Wisconsin (5-0, 2-0), which hasn't made national headlines but has played just well enough to win. The win at Minnesota on Saturday was a great example -- the offense, led by quarterback Scott Tolzien, was potent enough when it held on to the ball, and the defense made plays when needed to seal the deal.

(Source: Columbus Dispatch)



Stifling run defenses have been a staple at Ohio State over the past few years, but recently the current one has been especially impressive. The ninth-ranked Buckeyes hope to continue their success in stopping the run on Saturday when they play host to John Clay and Wisconsin while looking to hand their Big Ten rival their first loss.

"We've tried to take pride in getting 11 guys to the ball all the time," lineman Todd Denlinger said. "That way if one guy misses a tackle you have nine, 10 guys behind you to clean it up. ... We're trying to get better at it." The Buckeyes' run defense hasn't allowed a 100-yard individual rushing performance since Southern California's Joe McKnight on Sept. 13, 2008, and have allowed only seven 100-yard rushers since the beginning of the 2005 season.

After putting up big defensive displays in its last three games, Ohio State is expecting a bigger challenge against Wisconsin (5-0, 2-0), which ranks 14th in the FBS with an average of 217.2 rushing yards. Much of the Buckeyes' attention will be focused on Clay, who ran for 184 yards and three touchdowns in Wisconsin's 31-28 win at Minnesota last Saturday. Clay, named the Big Ten offensive player of the week Monday, leads the league with 116.4 yards per game and seven rushing touchdowns.

"Wisconsin can run it and they've demonstrated that. We've demonstrated that we can play he run, so now what a great challenge," coach Jim Tressel said. Adding to that challenge is that Ohio State will be without defensive tackle Dexter Larimore, who left against Indiana with a sprained right knee and will miss this game. Larimore has 17 tackles this season.

"My size helps a lot," said Clay, a native of Racine, Wis. "I can absorb most of the pounding and deliver at the same time. Being this big and being able to run that hard really helps me out." The Badgers are seeking their first 6-0 start since 2004 when they won their first nine.

(Source: CBS Sports)

SERIES RECORD
• Ohio State leads the all-time series with Wisconsin, 52-17-5
• In games played in Columbus, the Buckeyes lead 28-7-3.
• Last meeting: 2008 - .#12 OSU 20, #18 WIS 17

AGAINST RANKED TEAMS
• Ohio State is 127-104-12 all-time when facing a ranked opponent

ROSTER BREAKDOWN:
• 5th year seniors: 13
• 4th year seniors: 7
• Juniors: 27
• Sophomores: 22
• Redshirt freshmen: 19
• True freshmen: 28
• Ten true freshmen have seen action for the Buckeyes in 2009: Jordan Hall, Marcus Hall, Duron Carter, C.J. Barnett, Zach Boren, Reid Fragel, Adam Homan, Storm Klein, Jonathan Newsome and John Simon.

4th CAPTAIN & HONORARY CAPTAIN
• Jake Ballard is this week's 4th captain
• Shaun Lane, former Buckeye great, is honorary captain

SILVER BULLETS
• Ohio State ranks among the NCAA Top 15 in four categories in 2009: scoring defense (8th), total defense (9th), rushing defense (10th) and pass efficiency defense (15th).
• Ranked tenth nationally in rushing defense, the Buckeyes are giving up just 83.4 yards per game on the ground this season, allowing just 2.7 yards per rush. OSU's opponents have scored only four rushing touchdowns in fi ve games.

BUCKEYE OFFENSE
• The TD catch by Zach Boren at IU was the first TD catch by a Buckeye fullback since 2001
• RB Brandon Saine rushed for a career-high 113 yards at Indiana Saturday

INDIVIDUALS IN TOP 50 NATIONALLY
• 6. Aaron Pettrey ............................... Field Goals (2.0)
• 27. Aaron Pettrey ...................................Scoring (9.0)
• 50. Terrelle Pryor ....................... Total Offense (230.4)

FATHERS WERE NFL STARS
• Ohio State's Duron Carter, the son of Cris, and Wisconsin's Nick Toon, the son of Al, fathers were selected to multiple NFL Pro Bowls and starred at the same schools their sons now attend.

TELEVISION
• Saturday's game will be televised on ABC Regional with Sean McDonough and Matt Millen in the booth and Holly Rowe on the sidelines.
WISCONSIN AT A GLANCE

SERIES AGAINST JT
• Wisconsin is the only team in the Big Ten that does not have a losing record against Jim Tressel

RECENT SERIES
• The Badgers have won three of four games in Ohio Stadium. The two teams are 4-4 in the last eight meetings, a far cry from when OSU won 21 in a row from 1960-80 and 32 of 33 from 1946-80.

POLLS
• The Badgers cracked the Top 25 for the first time this season, ranked 25th in the coaches and Harris polls and one spot outside the rankings in the AP poll.
• This is the second time the Badgers have opened the season with five consecutive wins under head coach Bret Bielema (2007 was the first); they are looking for their first 6-0 start since 2004.

OFFENSE
• The Badgers rank first in the Big Ten in scoring (35.0 ppg), rushing (217 ypg), pass efficiency (153.0), 3rd down conversions (56.2), red zone efficiency (20-for-20) and are second in total offense with 433.2 yards per game.
• Wisconsin's offense is about as close to perfectly balanced as it could be through four games with 1,086 rushing yards (217.2 yards per game) and 1,080 passing yards (216.0 yards per game).
• Running back John Clay leads the Big Ten in rushing with 116.4 yards per game while quarterback Scott Tolzien ranks fi rst in passer efficiency with a 154.6 rating.
• Wisconsin has scored at least 31 points in its last four games. The Badgers lead the Big Ten and rank 19th in the country in scoring offense at 35.0 points per game.
• The Badgers have converted 56.3 percent (36-of-64) of its third-down chances, leading the Big Ten and good for third in the country.

• Wisconsin is +5 in turnover differential. That +1.00 turnover margin leads the Big Ten and is tied for 17th in the country.

• Wisconsin has compiled a 52-17 record over the last six seasons. That is the second-best record among Big Ten teams over that span, trailing only Ohio State.

• Bret Bielema is in his fourth year as head coach of the Badgers with a 33-11 record overall, including a 17-9 mark in Big Ten play.
OSU Notes in PDF
Big Ten Notes in PDF
OSU 2009 Roster
OSU 2009 Pronunciation Guide
2009 Coaching Staff

OSU State Depth Chart
as of October 4, 2009 Source: OSU Official Site


Updates on Herron, Larimore, OL, Berry,: Tressel on Herron: "His health is coming along. He was probably 85 percent going into the (Indiana) game. With the adrenaline going, he probably could have helped us. But we want him to be 100 percent. He worked out Sunday, though our workout on Sunday is only 45 minutes. Monday is our day off. I hope he's near 100 percent because we're going to need him." Updated: Herron is close to 100 percent after missing last week's game with an ankle injury. Expect Brandon Saine to make his second straight, but Herron should see time as well.

Larimore left the Indiana game with an injured knee. "He probably won't make the bell," Tressel said of Larimore's chances to play against Wisconsin. Tressel described the injury as a twist and said it would not require surgery. Starting defensive tackle. Senior Todd Denlinger will start in his place, and freshman John Simon should see more time. Dexter Larimore has a knee sprain. By definition, that means a partially torn ligament -- not all the way, obviously, or he'd be done for the year. You can play with a sprain, though it's painful. It does not heal itself, though, which means Larimore is headed for surgery at some point, probably in the offseason. It won't be major reconstructive surgery, it might be more like a scope.

Flu outbreak: At least for one practice Tuesday afternoon, Ohio State freshman offensive tackle Marcus Hall was a starter; that need was created by the flu, which kept left tackles Mike Adams and Andrew Miller out of practice (Adams practiced Wednesday) and moved starting right tackle J.B. Shugarts to left tackle for the afternoon. Hall will remain a player, whether he's starting or not. In practice yesterday (Wednesday), the Buckeyes were missing starting left guard Justin Boren, tight end Jake Ballard to illness (flu), as well as backup tackle Andrew Miller, who has been out sick for a week, and reserve safety Nate Oliver, who is questionable this week. Miller will miss his second consecutive game because of the flu. Sophomore Mike Adams will get the start at left tackle against the Badgers. There was some talk earlier in the week that Adams also had been affected by the flu, but Tressel on Thursday called it a false alarm.

The news isn't so good for true freshman tailback Jaamal Berry who was starting to flash before his hamstring started barking at him again. "I tell you what, two days in practice this week he looked good," Tressel said. "Now, maybe his legs were fresh and all that. But he had a little bit of a setback (Wednesday) and re-aggravated it. So, we'll see how it is (Thursday). But if he was looking like he did on Tuesday and Wednesday, you would certainly consider playing him in the right circumstances."

One freshman who likely won't see the field again this year is Jonathan Newsome. The outside linebacker/defensive end had played in two games this season before injuring his knee on a punt coverage play Saturday in Bloomington. "Jonathan Newsome will be able to apply for a medical redshirt," Tressel said of the Glenville product.

(Source: Columbus Dispatch/Cleveland Plain Dealer/The Ozone/ESPN/Bucknuts)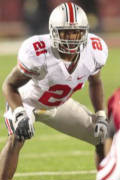 Ohio State's Russell executes backup plan
October 8, 2009 Source: ESPN - "The text message arrived around 4:30 p.m. last Saturday, but Ohio State safety Anderson Russell didn't see it until after his game against Indiana. When Russell finally got to his phone, a smile splashed across his face. "Ball out tonight," the message read. Russell had followed Kurt Coleman's orders in a 33-14 victory against the Hoosiers, filling in brilliantly for his close friend and fellow safety, who stayed home in Columbus to serve a one-game suspension for a late hit the week before against Illinois. With Coleman 200 miles away, Russell reclaimed the starting job he had lost earlier in the season and turned in his best performance of the season. The senior recorded an interception and a forced fumble and tied for the team lead with six tackles, earning Ohio State's Defensive Player of the Week award for his efforts. Shortly after the game, Russell called Coleman to celebrate...

He didn't let up against Indiana, setting the tone for the second half by intercepting a Ben Chappell pass on Indiana's first possession after the break. Russell also prevented a first down by hauling down Mitchell Evans for a short gain on third-and-11 in the second quarter. "That was a good indication of the kind of young man he is," Ohio State head coach Jim Tressel said. "Everyone, when he was losing a little bit of playing time, was wondering how he would react. We knew how he would react. He's a fifth-year guy, he's a heck of a gentleman and a team-guy, and very focused on doing whatever the team needs. "The team needed him to step up on Saturday, and he did just that."

The Buckeyes need Russell on Saturday against Wisconsin (ABC, 3:30 p.m. ET), even with Coleman back on the field. After facing three consecutive offenses that operate mainly in the spread, Ohio State must contend with a traditional, pro-style set from Wisconsin. It means the tight end will be a factor, and in Garrett Graham, the Badgers boast a pretty good one...

"The team needed him to step up on Saturday, and he did just that."..."




OSU to face another different offense
October 7, 2009 Source: Toledo Blade - "..."They pose a great challenge with that offensive line that is huge and physical," Ohio State defensive tackle Todd Denlinger said about the Badgers. "But I like having that kind of offense coming at us, that kind of rushing attack. It's a little more in-your-face brand of football that we haven't really faced this season." Tressel said Wisconsin has never been the kind of team that tries to beat you with trickery or sleight of hand or dinking the ball here and there. The Badgers line up, hand the ball off to tailback John Clay at 6-1 and 248 pounds, and beg you to try and stop him. Clay averages 5.2 yards per carry and more than 115 yards per game.

"They've been physical as long as I can remember and they continue to be so," Tressel said. "John Clay … it's hard to tackle him. We tried to recruit him and had him on campus and all the rest, he's a good back. He's tough. One guy is not going to stop him cold. He's at a good place that utilizes him well, and we've got to tackle him."..."




Big Ten Teleconference-October 6, 2009- Source: Big Ten Network



Tuesday Media Lucheon Interviews-October 6, 2009- Source: OSU Official Site



Tuesday Post-Practice Interviews-October 6, 2009- Source: OSU Official Site









Wisconsin relishing role as underdog
October 6, 2009 Source: Associated Press - " Wisconsin's perfect 5-0 mark has gone nowhere in helping the Badgers gain national recognition. They're the only Football Bowl Subdivision team that's undefeated and outside the AP Top 25. That suits Wisconsin coach Bret Bielema fine. He would rather the Badgers gain respect than lose it with an inflated ranking..."I'm not going to say anything except that we just have to keep doing what we're doing," Clay said. "People are going to see what kind of play we have, and if it's up to them to give us our rank, more power to them, but if not, we're just going to keep playing our ball." The fact Wisconsin isn't ranked also is an indictment on voters' thinking of the Big Ten..."




Wisconsin turns OSU score into a teaching tool
October 6, 2009 Source: Columbus Dispatch - "Wisconsin is a wiser team, coach Bret Bielema believes, than the one that pulled defeat from the jaws of victory against Ohio State last year...Bielema thinks the Badgers know better now than to try to make a play on the fly rather than be sure of their assignments. Their ad lib last season cost them when a confused defense gave up Terrelle Pryor's winning, 11-yard touchdown run with 1:08 left. The Buckeyes won 20-17 to snap the Badgers' 16-game home winning streak. Wisconsin's defense was not aligned properly on Pryor's touchdown -- the linebackers were huddled toward the middle of the formation -- when Ohio State snapped the ball and Pryor ran an option play to the left. "They were doing some late substituting before their plays the whole game," linebacker Jaeve McFadden said afterward. "We were supposed to get the call in from the sideline and didn't get it till real late. I tried to get everybody lined up, but obviously it didn't work."

Bielema said his assistant coaches also learned from the breakdown. "If we're ever in the situation (again) where they can see something from the sideline and we have a timeout, get it out there, make me aware of it," he said. "We used that in spring ball as well as fall camp: 'Remember the play against Ohio State.' We weren't all set with our communication, and the result was a play that resulted in a touchdown and ultimately a defeat."..."




What to watch in the Big Ten: Week 6
October 7, 2009 Source: ESPN - "...2. Clay heads to Columbus -- Wisconsin sophomore running back John Clay looks ready to be a star, and his team needs a huge performance against an Ohio State defense that ranks 10th nationally against the run (83.4 ypg). Despite losing his starting job in preseason camp, Clay leads the Big Ten in rushing average (116.4 ypg) and comes off a career-best performance against Minnesota. Wisconsin's offensive line is starting to get healthy, and the Badgers likely will go right at Ohio State's strength.

6. Valai vs. Pryor -- Wisconsin safety Jay Valai isn't a very big guy, but he always brings it with big hits. It should be interesting to see how the 5-9, 201-pound Valai approaches Ohio State quarterback Terrelle Pryor, who checks in at 6-foot-6 and 235 pounds. Pryor has turned in three solid performances since his struggles against USC and seems more open to running the ball. When he takes off, Valai and an opportunistic Badgers defense will be looking to make big plays.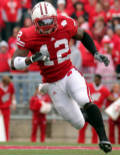 "Controlled violence. That's the key." - Jay Valai

UW's big hitter Valai no hit with foes
October 6, 2009 Source: Milwaukee Journal Sentinel - "Jay Valai doesn't expect a warm welcome when the University of Wisconsin travels this week to Columbus, Ohio. Boooooooo! That is the sound Valai is likely to hear Saturday..."Whatever happens, happens," UW's loquacious junior strong safety said. "I mean, how I'm perceived . . . it's going to be fun...

The simple truth is that Valai last season developed a reputation as one of the more physical defenders in the Big Ten. Many Ohio State fans viewed the 5-foot-9, 201-pound Valai as a head-hunter who knocked out tailback Dan Herron and wide receiver Dane Sanzenbacher with helmet-to-helmet hits when the teams met in Madison. Both players suffered concussions and missed the Buckeyes' next game...Valai insists he led with his shoulder...

Valai, from Euless, Texas, knows as well as anyone such hits are under increased scrutiny this season. The NCAA has made unnecessary roughness and unsportsmanlike conduct points of emphasis, particularly those acts that involve helmet-to-helmet hits..."That is a scary rule," Valai said. "You don't want to get suspended. So you've got to be smart." Bielema added: "When I first found out about the rule I walked up to Jay and said: 'Hey buddy, I can pull out five plays that would be a questionable hit by you a year ago. You've just got to be smart."

Cooks was also aware of the headhunter reputation Valai developed, at least in the eyes of some fans. "I disagree with that," he said. "Obviously the fans don't get the chance to be around Jay and know his character. He is a physical football player but nothing he does is intentional. I don't think he is a dirty player. He's not going to hurt someone..."



YouTube Video: From 2008 Jay Valai destroys Gopher RB Shady Salamon.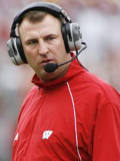 Wisconsin trying to stay atop Big Ten: "Bielema described Ohio State as "the team that's set the bar" in the Big Ten recently...Wisconsin is doing things right in the red zone. Through five games, the Badgers have scored on all 20 of their possessions in the red zone and lead the Big Ten in scoring and turnover margin...

Bielema is more certain that he has a team that is "dramatically different" from last year's, when the Badgers finished 7-6 (3-5 in the Big Ten) and lost 42-13 to unranked Florida State in the Champs Sports Bowl.

"We started preparations for this (season) in January," Bielema said. "We knew we needed to change some things, and we addressed some issues in-house of where we needed to go. The results so far have been very positive." The changes were designed to make the Badgers more disciplined and accountable, on and off the field.

That discipline was evident last week. The Badgers kept their composure during their heated interstate rivalry game at Minnesota, where Bielema said they were taunted by Gophers players. "An official came up to me during the game and made reference to how well our players were handling the business that was going on around the plays," Bielema said. "I liked the demeanor that our guys displayed when having the opportunity to maybe react. They chose the right reaction. I think our guys, (as far as) a level of maturity, understanding the big picture, took a huge step forward."

(Source: Columbus Dispatch)


2009 Totals




| | | |
| --- | --- | --- |
| Ohio State | Offense | Wisconsin |
| 29.4 | Pts/gm | 35.0 |
| 369.2 | Total yds/gm | 433.2 |
| 188.6 | Rush yds/gm | 217.2 |
| 41.4 | Carries/gm | 43.6 |
| 4.6 | Yds/carry | 5.0 |
| 180.6 | Pass yds/gm | 216.0 |
| 24.6 | Pass att/gm | 26.2 |
| 12.9 | Yds/completion | 12.6 |
| | Defense | |
| 11.8 | Pts/gm | 24.6 |
| 252.6 | Total yds/gm | 363.0 |
| 83.4 | Rush yds/gm | 128.0 |
| 31.4 | Carries/gm | 35.8 |
| 2.7 | Yds/carry | 3.6 |
| 169.2 | Pass yds/gm | 235.0 |
| 30.6 | Pass att/gm | 29.0 |
| 10.4 | Yds/completion | 14.7 |


2009 Big Ten Conference Team & Individual Statistics Through games of October 4, 2009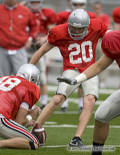 Kicker's imperfect day causes anxiety
October 6, 2009 Source: Columbus Dispatch - A couple of weeks ago, Seattle Seahawks coach Jim Mora blasted kicker Olindo Mare for missing two routine field-goal attempts that cost the team in a loss. Kickers everywhere, including Ohio State's Aaron Pettrey, heard the noise. "I guess it's not about the ones you make, it's about the ones you miss at that next level," Pettrey said at the time. "You've just got to be perfect. That's really all they're saying."...As the ninth-ranked Buckeyes prepare to play host to Wisconsin on Saturday, one worry is whether the once near-perfect Pettrey suddenly has lost his aim...at Indiana on Saturday night, he was only 1 of 3 on field-goal tries, hammering home a 46-yarder but hitting the right upright on a 35-yarder before missing wide left from 29 yards.

Although Pettrey had made 9 of 10 going into the game, coach Jim Tressel was asked afterward whether he would give backups Devin Barclay and Ben Buchanan a chance. "Oh, probably not right now," Tressel said. "Tater (Pettrey's nickname) has made some real important field goals for us."

So what's wrong? "That's the last thing I pretend to know about, the mechanics of a soccer-style place-kicker. I just monitor the results," Tressel said. "He hit the upright on the one and perhaps overcompensated on the next one so he pulled it left. Pettrey wasn't available for comment, but talking about the mechanics of a good ball strike the week before, the sound he'll be seeking this week is a muffled "thud," not a "smack." His holder, Jon Thoma, can tell when Pettrey makes a good or bad kick. "It's a different sound when he hits it left because he hits it real square; his foot comes around the ball," Thoma said. "When he hits it to the right, it's usually because he cuts under it, and it kind of doesn't make as loud of a noise..."




Last Time Out...
October 6, 2009 Source: BuckeyeSports.com - "The Buckeyes host unbeaten Wisconsin this weekend. The Badgers challenged Ohio State last season before Terrelle Pryor gave his team a 20-17 victory with a late touchdown drive. Relive the victory in this edition of "Last Time Out..."




Crunching the Numbers: Wisconsin at OSU
October 6, 2009 Source: BuckeyeSports.com - "Lots of numbers catch the eye as Ohio State prepares to play host to Wisconsin. In this edition of Crunching the Numbers, we examine turnover differential, Badgers returning home, recent series history and more...94 Ohio State (48) and Wisconsin (46) have a combined 94 freshmen on their respective rosters..."




Big Ten Network: Wisconsin Ohio State Preview



A Closer Look: Wisconsin Badgers
October 8, 2009 Source: Buckeye Sports - "Ninth-ranked Ohio State faces its first major test of the Big Ten season Saturday in Ohio Stadium when an undefeated Wisconsin team comes calling. The Badgers boast a balanced offense behind running back John Clay and quarterback Scott Tolzien to go with a defense that has excelled at forcing turnovers. Learn more about UW in this in-depth preview..."





Preview: #11 Ohio State vs #24 Wisconsin
October 9, 2009 Source: Eleven Warriors - "...The Badgers always play the Buckeyes tough and once again are lead by hard nosed play in the trenches. The game will be the first true challenge for the Buckeyes since the USC game and it will be interesting to see how both sides of the line hold up against a stingy Brett Bielema team. The Badgers are rolling, but they're about to run into the toughest game on their schedulel..."




Ohio State vs. Wisconsin Preview
October 8, 2009 Source: The Ozone - "Tony Gerdeman's preview of the matchup between the Badgers and Buckeyes...Despite the preseason hype directed at quarterbacks Terrelle Pryor, Darryl Clark and Juice Williams, Tolzien is actually playing better than any quarterback in the conference. (Yes, even better than Tate Forcier.)...The special teams could provide a necessary spark for the Badgers if the offense isn't getting it done. Bret Bielema takes special teams very seriously. In his tenure, Wisconsin is 26-2 when they have an average starting field position better than their opponents..."




Can Terrelle Pryor repeat last year's game-winning performance against Wisconsin when the two teams meet this weekend? Jason Horowitz and Spencer Tillman have the preview.



Wisconsin-Ohio St. Preview
October 7, 2009 Source: ESPNU - "The first big matchup in the Big Ten takes place in Columbus when the Wisconsin takes on Ohio State. It'll be a battle in the trenches at the Horseshoe. The Badgers are ranked 14th in the country in rushing, and the Buckeyes are No. 10 in running defense...Quarterback Scott Tolzien passed for 884 yards and eight touchdowns in Wisconsin's first four wins, but the Badgers are hoping to continue to get more out of the 247-pound Clay, who had been held to fewer than 75 yards rushing in two of the first four contests. "My size helps a lot," said Clay, a native of Racine, Wis. "I can absorb most of the pounding and deliver at the same time. Being this big and being able to run that hard really helps me out."..."




2009 Wisconsin Badgers Game Preview
October 8, 2009 Source: Buckeye Planet - Analysis and more, including: ...Offensive Line: The Wisconsin line is big, bruising, physical, and at their best plowing straight ahead. They are, however, also adept at protecting the QB this season, as evidenced by the low number of sacks given up. Carimi is the rock of the line, a monster who has started all 28 games he has played in. He provides leadership and toughness that pervades the entire line. He is on the Lombardi watch list. Moffitt is also a program veteran, with 21 career starts. He is also on the Lombardi watch list. Konz took over for injured Travis Fredrick and has done an admirable job in the middle, starting the previous 3 games. Zeitler played sparingly last season but has taken over the RG position and has started all 5 games in 2009. Oglesby is another physical specimen who started 3 games last season and has taken the reins of the RT job in 2009, starting all 5 games...Wisconsin Offensive Preview...Defensive Preview..Special Teams Preview..."





Wisconsin (5-0) at Ohio State (4-1)
October 7, 2009 Source: College Football News - "Game of the Week: Why Wisconsin might win: This is a bad matchup for the Buckeyes. Yes, the Ohio State defense has looked great over the last several weeks and yes, the run defense leads the Big Ten and is tenth in the nation allowing just 83 yards per game, but USC was able to move the ball effectively on the ground, but inexplicably abandoned the run, and no one else on the schedule could effectively pound away on the OSU front seven. Wisconsin won't stop running the ball and the Buckeye defensive front will have to prove it can hold up well into the second half...Why Ohio State might win: … that might not be a bad thing for the Buckeyes. Wisconsin has only faced one quarterback who runs, and Wofford's Mitch Allen in the triple option attack doesn't really count. Pryor won't win this game by running, but he'll see plenty of soft coverages from a Badger secondary that has problems with fast, effective receivers. The corners give up way too many short to midrange passes considering the pass rush has been excellent. But Ohio State is going to try to win by being more physical. Wisconsin hasn't faced anyone with a strong ground game outside of Fresno State, and the Bulldogs spent the game letting QB Ryan Colburn dink and dunk rather than let Ryan Mathews, the nation's leading rusher, carry the offense. CFN Prediction: Wisconsin 20 … Ohio State 17 ..."




2009 Week 6 Picks: Wisconsin vs Ohio State
October 7, 2009 Source: Sporting News -

Jim
Gilstrap

Matt
Hayes

Steve
Greenberg

Brian
McLaughlin

Dave
Curtis

Derek
Samson

34-17

30-27

26-13

28-7

21-18

21-10





Wisconsin Official site
2009 Wisconsin Media Guide
OSU Game Notes
2009 Stats
2009 Football Roster
Bret Bielema, Head Coach
Ass't Coaches
Source: Wisconsin Official Site



THE TALK: Barry Alvarez fired up his former team with a re-telling of the Badgers' 42-17 victory over the Buckeyes at the Horseshoe in 1999. "Just the way he talks gets you amped up," defensive end O'Brien Schofield said.

(Source: Chicago Tribune)

Trust in QB is Chryst-al clear
October 9, 2009 Source: MadisonSports.com - "...Wisconsin offensive coordinator Paul Chryst has developed an incredible amount of confidence in first-year starting quarterback Scott Tolzien. And whenever Chryst has the kind of accurate, poised, intelligent quarterback he prefers for his pro-style attack, he is able to show why he's one of the better offensive coordinators in college football. Indeed, the emergence of Tolzien as a reliable, productive quarterback has opened play-calling doors for Chryst that have been shut since John Stocco graduated. So far, that has kept defenses guessing. "It frees you up because you trust what's going to happen," Chryst said..."


Big Ten Teleconference: Bret Bielema

Tight bond persists between Badgers' Henry, Buckeyes' Rolle
October 6, 2009 Source: MadisonSports.com - "The time constraints from being serious student-athletes at big-time college football programs prevent Aaron Henry and Brian Rolle from staying in touch as often as they wish. But when the longtime buddies from Immokalee, Fla., do touch base -- usually once a week - they tend to make up for lost time. "We don't talk a lot," Rolle said, "but when we do, we have long conversations." The ironic part is that Henry, a third-year sophomore cornerback for the University of Wisconsin football team, and Rolle, a junior linebacker at Ohio State, usually make a concerted effort to talk about football as little as possible...Almost a Badger: Henry and Rolle made official visits together to Madison and, two weeks later, to Iowa. It was only natural to assume they'd end up being teammates at the college level...After Rolle committed to Ohio State, then changed his mind and de-committed, UW thought it had a good chance of landing the speedy linebacker. "We kept working him," said Bielema, who first offered Rolle a scholarship after watching him during a practice his sophomore season. "I don't know how much (Ohio State coach Jim) Tressel and his staff knew that, but we weren't letting up, because I just thought he's that kind of a player that we want to stay alive on him. And him and Aaron were extremely close."...Rolle's decision went down to Signing Day in February 2007. As the two sat down at a table in Immokalee's auditorium, even Henry didn't know which school's letter of intent -- Ohio State, UW or Florida -- his best friend would sign. Heck, Rolle didn't even know until the last possible minute. "I remember that day, I almost cried," Rolle said. "I remember walking down into the auditorium and just thinking, 'Man, what am I going to do?' I happened to sign with Ohio State, but it was very close..."


Being a Buckeye in Badgerland suits UW's Borland just fine
October 6, 2009 Source: Milwaukee Journal Sentinel - "Growing up in Kettering, Ohio, Chris Borland was about an hour drive from the Ohio State campus. He did not, however, bleed scarlet and gray. "I kind of grew up disliking Ohio State," Borland said sheepishly. Instead, Borland followed the football programs at Wisconsin and Notre Dame. "It's Buckeye-land," he said of growing up in Ohio, "but it's OK to be the odd man out." Borland's unusual perspective has been a hit with UW (5-0, 2-0 Big Ten Conference), which travels to Ohio State (4-1, 2-0) this week. The 5-foot-11, 235-pound freshman linebacker has been a terror on special teams and a key contributor on defense, largely as a pass-rush specialist in UW's 3-3-5 look..."


Bielema speaks with the media
October 5, 2009 Source: Wisconsin Official Site - "QUESTION #14: Bret, when you studied Ohio State's defensive front, what are some of the things that jump out at you about that group?
BIELEMA: Big, fast, physical, smart, well coached. They are a very physical unit that, you know, is, I said it last week that that was the best, you know, biggest set of defensive tackles that we faced. This will be the biggest defensive line from end to end, most talented defensive line. We're just going to show up, see what happens..."


UW football: Reserve assets come in handy
October 6, 2009 Source: MadisonSports.com - "At times early in the season, University of Wisconsin football coach Bret Bielema would glance at the backup defensive linemen in the game and feel uneasy...Developing better depth was a priority going back to the spring and it has paid dividends. The Badgers are second in the Big Ten Conference and tied for 17th nationally with 2.8 sacks per game. They already have 14 in five games. They had 23 in 13 games last year, when the starters played most of the game. Following some early injuries, Partridge is getting close to his goal of an eight-player rotation. Butrym is coming off his best game after playing through a painful plantar fasciitis injury early in the season. Defensive end Louis Nzegwu returned the last two games after missing the first three with a posterior labral tear in his shoulder. He had two sacks against the Gophers. Another player who has added to the depth is senior Jordan Hein, a former UW wrestler who has been solid in limited snaps. He had fewer than 10 against the Gophers and, while he did not make a lot of plays, he has shown flashes in practice. "He's done a much better job in practice of defeating blocks," Partridge said..."


The book on Ohio State
October 6, 2009 Source: Milwaukee Journal Sentinel - "OFFENSE: Sophomore quarterback Terrelle Pryor is back and remains a fabulous athlete, but without those weapons and playing behind a line that features three new starters and three sophomores and two juniors, his play has been up and down...
DEFENSE: The heart of this defense is a line that can reach 10 deep, though the Buckeyes will be without starting tackle Dexter Larimore, who suffered a knee injury last week at Indiana...Junior middle linebacker Brian Rolle, a high school teammate of UW cornerback Aaron Henry and a player UW recruited heavily, is the team's most active linebacker...
SPECIAL TEAMS: The Buckeyes could have an edge over UW in this area. Lamaar Thomas is a threat on kickoff returns with a 24-yard average, and the Buckeyes aren't afraid to run reverses and fake reverses...Ohio State punter Jon Thoma's average of 38.6 yards isn't eye-popping but only one of his 14 punts has been returned, with 10 fair catches. Kicker Aaron Pettrey is very good. He made 10 of his first 11 field-goal attempts before missing his second and third attempts against the Hoosiers..."



#32 John Clay
POSITION: RB
HEIGHT: 6-1
WEIGHT: 248
CLASS: Soph
Clay leads the Big Ten in rushing with 116.4 yards per game. He's gained 582 yards on 112 carries for a 5.2 yard per carry average. Named Big Ten Offensive Player of the Week and UW's offensive MVP after setting career-highs with 184 yards rushing and three rushing touchdown and tied career-high with 32 carries against Minnesota on Oct. 3 (sixth career and third 100-yard rushing game of season) ... had second 100-yard rushing game of season when he gained 142 yards and one touchdown on a career-high 32 carries against Michigan State on Sept. 26 ... rushed 12 times for 70 yards against Wofford on Sept. 19 ... named UW's co-offensive MVP against Fresno State on Sept. 12 after rushing for 143 yards, including a career-long 72-yard touchdown run, on 21 carries ... rushed 15 times for 43 yards and had two touchdowns against Northern Illinois on Sept. 5

Chosen as Big Ten Defensive Player of the Week and UW's co-defensive MVP after recording six tackles, 3.5 TFLs, career-high two sacks, one pass breakup and one forced fumble against Minnesota on Oct. 3 ... named UW's co-defensive MVP after recording two quarterback hurries against Michigan State on Sept. 26 ... recorded two tackles, including one sack for five yards, one quarterback hurry and forced one fumble against Wofford on Sept. 19 ... set new career-highs with 11 tackles and four TFLs against Fresno State on Sept. 12 ... named UW's co-defensive MVP for Northern Illinois game on Sept. 5 after having seven tackles and 2.5 TFLs

#53 Mike Taylor
POSITION: LB
HEIGHT: 6-2
WEIGHT: 221
CLASS: RSFr
Has 35 tackles including 5 tackles for a loss and aQB sack. Picked up five tackles against Minnesota on Oct. 3 ... recorded first career interception, team-high eight tackles, including one TFL, and one pass breakup against Michigan State on Sept. 26 ... named UW's co-defensive MVP after setting career-highs with nine tackles, two TFLs and one sack against Wofford on Sept. 19 ... had six tackles, including one TFL, against Fresno State on Sept. 12 ... made first-career start and Badger debut with seven tackles, one TFL, one forced fumble and one fumble recovery against Northern Illinois on Sept. 5

#25 Wisconsin (5-0) at #8 Ohio State (4-1)
| Teams | Open | VegasInsider | Scores and Odds | Sports | Sportsbook | Bet Hollywood | Over/Under |
| --- | --- | --- | --- | --- | --- | --- | --- |
| Wisconsin | +14.5 | +16 | +16.0 | +16 | +16 | +16 | 47.5 |
| Ohio State | -14.5 | -16 | -16.0 | -16 | -16 | -16 | 47.5 |


Columbus Weather Forecast