| | |
| --- | --- |
| | The (red) story links, or the 'read more' graphic, will open new (pop-up) windows to the source of the article, audio or video, so you can read/hear/see the rest. If your browser is set to block pop-ups, please set it to always allow them from our site. You will not get any annoying advertising pop-ups, of any kind, generated by this site...ever. |


27-22


Video by Robby Donoho (RobbyDKitchel on YouTube)



It was over when... Ohio State's defense stopped Toledo QB Terrance Owens on the Rockets' final drive.

Gameball goes to... Carlos Hyde, who scored the game winner to keep OSU's winning streak vs. Ohio in tact.

Stat of the game... 1921. Ohio State hasn't lost to a team from the state of Ohio since 1921 (Oberlin, 7-6).



BTN




No. 15/15 Buckeyes Hold On to Beat Toledo, 27-22 Three Buckeyes score in win over in-state rival September 10, 2011 Source: OSU Official Site



| Recap | Notes | Quotes | Box Score (html) | Box Score (pdf) Game Highlights (video) |
| Photo Gallery | Photo Gallery 2 | Postgame Transcript | Postgame Press Conference (video)
Source: OSU Official Site

Stat: Total Yards Toledo 338 Ohio State 301

Stat: Ohio State and Toledo combined to go 6-for-28 on third downs in this contest, yet went 3-for-6 on fourth downs.

Stat: Toledo may have lost the game, but they scored the most points by an Ohio school against Ohio State since 1909.





Ohio State report card September 10, 2011 Source: Cleveland Plain Dealer
A -- Ohio State receiver Chris Fields; C -- Ohio State's punt unit; F -- Toledo's penalties




CFN Analysis September 10, 2011 Source: CollegeFootballNews.com
Toledo is a good team that should be in the hunt for the MAC title, but that will be little consolation for the Buckeye fans hoping for business as usual through all the turmoil. The offense is going to stumble a bit, and thatís expected with just 301 yards and shaky play from all aspects, but the bigger concern is a defense that struggled way too much with the Rocket passing game. Yes, the D came up big when it had to, and yes, Ohio State football is used to getting the big plays at the right time out of the special teams, but Joe Bauserman only completed 16-of-30 passes for 189 yards with a touchdown, and Carlos Hyde only ran for 76 yards with two scores on 20 carries. The firepower just isnít there, but the team survived and moved on. Next week against Miami might not be a tougher test, but itíll show whether or not the coaching staff can adjust and improve after so many problems.




Three points September 11, 2011 Source: Columbus Dispatch

Star of the game
Ohio State defensive lineman John Simon. He took a cart ride to the locker room early in the second half to deal with cramping only to return in the fourth quarter and deliver relentless pressure against Toledo. Of his five tackles, two were for loss, including a sack.

Turning point
Toledoís last offensive play. Facing fourth-and-5 at the Ohio State 16-yard line, quarterback Terrance Owens took the shotgun snap but didnít have time to peruse his options because Simon was in his face immediately. Owens threw the ball away in a desperate heave to no one.

Repercussion
Talk about Toledo being surprisingly formidable all you want, poll voters arenít going to look kindly on heavy favorite Ohio State escaping, even if the Rockets are expected to win the MAC. Was it a sign of tough times to come for the Buckeyes? Saturday night at Miami will tell the tale.





by Fox TV Toledo WUPW



The Bottom Line
September 11, 2011 Source: Columbus Dispatch
Offense (2 leaves), Defense (3 leaves), Special teams (3 leaves), Coaching (2 leaves) Opponent (4 leaves)




10 Things We Learned from Slipping Past Toledo September 10, 2011 Source: The Ozone





Notebook: Personnel Issues Catching Up? September 10, 2011 Source: BuckeyeSports.com
Ohio State head coach Luke Fickell won't subscribe to any excuses for the way the Buckeyes played Saturday. But one has to wonder if the suspensions and injuries the Buckeyes have endured could be catching up to his team.




THE VIEW September 11, 2011 Source: Columbus Dispatch

How the team sees it: Worry? We're college students. To us a close call is when you push the "end" button on your cellphone.

How the pollsters will see it: An Ohio state team nearly shocks the Ohio State team? Duly noted.

How Buckeye Nation will see it: Let's hope we don't see these guys again in the Little Caesars Pizza Bowl.

One-liner: TBDBITL's postgame performance included a snappy rendition of Hang On, Sloppy.

Just wondering: A life can change in a blink -- or an inch. It is no stretch to suggest that the fate of Luke Fickell's coaching career came down to John Simon pressuring Toledo quarterback Terrance Owens into throwing an incompletion that ended the Rockets' upset bid. Had Toledo gained a first down, and then a touchdown, it would have been Ohio State's first loss to an in-state opponent in 90 years (Oberlin in 1921) and would have been an embarrassing stain that Fickell could not have wiped from his resume when his coaching performance is reviewed at season's end.





Bob Hunter commentary: Itís hard to ignore negatives September 11, 2011 Source: Columbus Dispatch
At the risk of being too negative, let me see if there isnít a nice way to describe what almost happened in Ohio Stadium yesterday.

Uh Ö well Ö OK, there really isnít.



OSU Lantern reporters report from Ohio Stadium following 27-22 victory over Toledo.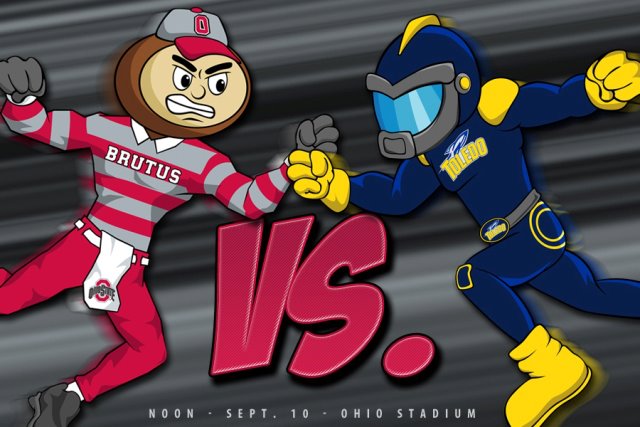 ESPN Ohio State Toledo Game Tracker



No. 15/15 Ohio State vs. Toledo Game Notes Source: OSU Official Site





Game Data: Toledo at Ohio State September 8, 2011 Source: Bucknuts





Television: BTN will televise the game with Tom Hart and Derek Rackley in the booth and Lisa Byington on the sidelines.

Radio: WBNS (FM 97.1 The Fan)





Ohio State Buckeyes vs. Toledo Rockets: Inside the Game September 10, 2011 Source: Cleveland Plain Dealer




Preview: Toledo at #15 Ohio State September 9, 2011 Source: Eleven Warriors




@GerdOZone's Ohio State vs. Toledo Preview September 9, 2011 Source: The Ozone




Big Ten predictions: Week 2: TOLEDO at NO. 15 OHIO STATE September 9, 2011 Source: ESPN

Brian Bennett: The Rockets pose far more of a threat than Akron, and they might catch Ohio State peeking ahead to Miami. Still, the Buckeyes defense is too much despite some offensive struggles ... Ohio State 28, Toledo 10

Adam Rittenberg: I agree, the Buckeyes can't space out against the Rockets (I know, lame), who have a good coach (Tim Beckman) and provide a much better test for Ohio State's defense. Still, I see another big game for Carlos Hyde and the Ohio State running backs ... Ohio State 31, Toledo 13




Toledo at Ohio State scouting report: Who has the Edge? September 8, 2011 Warren Tribune Chronicle




5 Questions: Toledo at Ohio State September 7, 2011 Source: BuckeyeSports.com
Another MAC attack is on tap for Ohio State this Saturday when Toledo pays a visit to Ohio Stadium. We wonder if the Rockets can finally muster a point against the Buckeyes, who will rush the passer better, what will happen in the turnover department and how the players returning from suspension will perform.