| | |
| --- | --- |
| | The (red) story links, or the 'read more' graphic, will open new (pop-up) windows to the source of the article, audio or video, so you can read/hear/see the rest. If your browser is set to block pop-ups, please set it to always allow them from our site. You will not get any annoying advertising pop-ups, of any kind, generated by this site...ever. |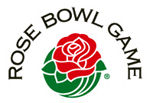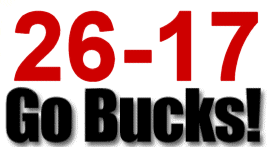 | | |
| --- | --- |
| OHIO STATE vs. OREGON | |
These photos tell you all you need to know about the 96th Rose Bowl!



Stepping Up: Pryor enjoys coming-out party
January 1, 2010 Source: ESPN - "After nearly two seasons of hype, Terrelle Pryor delivered the kind of game that Ohio State was waiting for, writes Adam Rittenberg...

He didn't just manage the game and limit mistakes. He won the game and still limited mistakes. He didn't just run the ball and avoid tough throws. He ran the ball well and made the tough throws.

Ohio State didn't win in spite of him, but because of him.

In leading Ohio State to a 26-17 win against the Ducks, Pryor delivered a complete performance, taking one huge step closer to becoming a complete quarterback. In the process, he lifted the Buckeyes out of their BCS bowl slump.

"Terrelle beat us," Oregon head coach Chip Kelly said bluntly.

It was hard to argue after Pryor recorded career highs in completions (23), pass attempts (37) and passing yards (266). He threw two touchdown passes and added a game-high 72 rushing yards on 20 attempts..."

| | |
| --- | --- |
| | "You need to earn the head coach's trust and even your teammates' trust in throwing the ball. Throwing the ball is a big thing. I had 10 turnovers this year, but it was somewhat of forcing stuff. You think you're at a certain level and you can just sit in the pocket and throw the ball, but I was waiting a little bit too long ... and that's where my picks were coming from. I need to use what I have, my feet, and try and throw the ball. So I need to use both." |

| | |
| --- | --- |
| "We felt like this was a pivotal game because it marked the end of the first half of his career and that we felt like we needed to progress a little bit more. We have some very definitive goals as to how good we would like to be and how good he would like to be at his craft. Tonight was a good step." | |



At long last, there can be no doubt: Terrelle Pryor's future (and Ohio State's) is now
January 2, 2009 Source: Cleveland Plain Dealer - "...He said when he came to Columbus that he would help coach Jim Tressel "get over that little hump" in the biggest games. Hump day was Friday. It marked the end of his sophomore season...and the first, but probably not the best, day of the rest of his life. Pryor was the Most Valuable Player. He was involved in 57 plays (a stunning 37 passes, with 20 completions for 266 yards and two touchdowns). He ran 20 times for more yards than anyone on the field (72). He had 338 yards of total offense. Oregon's astro-offense managed only 53 plays all game and just 260 yards..."



Rose Bowl Highlights



Two great videos: One of the Rose Bowl trophy ceremony and the other of Carmen Ohio.




Rose Bowl Champs! Buckeyes down Ducks, 26-17
January 1, 2010 Source: OSU Official Site/Associated Press - "...Ohio State's bowl woes were over, thanks to a quarterback who finally played up to his enormous potential -- and a sturdy defense that grounded Oregon's high-flying offense. Pryor passed for a career-high 266 yards and two touchdowns, rushed for 72 more and threw a 17-yard scoring pass to DeVier Posey with 7:02 to play, ending the No. 8 Buckeyes' three-game BCS skid with a 26-17 victory over No. 7 Oregon on Friday. "I just wanted to come out and show I can be a complete quarterback," Pryor said.

From the opening days of bowl preparation, Pryor's teammates sensed a new focus in their sophomore leader, whose much-publicized recruitment had led to two solid seasons, but not the transcendence many expected from the mobile passer. With a Rose Bowl effort that evoked memories of Vince Young's breakout performance in the same stadium four years ago, Pryor shook off his early mistakes and led the Buckeyes (11-2) confidently through a tense fourth quarter. Turns out nothing was wrong with the Buckeyes' sophomore quarterback that winning the Rose Bowl couldn't cure.

"I think he wanted to have a game that puts him out there in the national ranks, puts him on the map," said receiver Dane Sanzenbacher, who had nine catches for 64 yards. "You could see it with Terrelle in the huddle. He kept his poise and kept us moving. It's something we see in practice all the time, but everybody else can see it now, too."

Even with two Big Ten titles and two wins over Michigan, Pryor hadn't matched his hype until this steady, sometimes spectacular performance on the biggest stage of his career. His frustrations with the sometimes-staid Ohio State offense evaporated with a surprisingly wide-open game plan against Oregon (10-3), taking advantage of his legs and arm.

"As a quarterback, you don't like running the ball," Pryor said. "It's kind of like being selfish. We have great running backs, and they need to get the ball, too. ... Whatever we need, I'll do it. That's what it's about on offense."

With Ohio State nursing a two-point lead in the fourth quarter, he took charge during a 13-play, 81-yard drive eating up more than six minutes -- part of the Buckeyes' Rose Bowl-record 41:37 time-of-possession advantage..."

Scoring Summary, Team Statistics, Individual Statistics, Drive Chart, Defensive Statistics, Game Participation, Box Score, Play-by-Play


Source: Columbus Dispatch

SCORING SUMMARY

First Quarter
OSU
ORE
11:37 - Brandon Saine 13 Yd Pass From Terrelle Pryor (Aaron Pettrey Kick)
7
0
First Quarter
OSU
ORE
00:34 - Devin Barclay 19 Yd
10
0
Second Quarter
OSU
ORE
14:24 - Morgan Flint 24 Yd
10
3
Second Quarter
OSU
ORE
09:14 - LeGarrette Blount 3 Yd Run (Morgan Flint Kick)
10
10
Second Quarter
OSU
ORE
01:05 - Devin Barclay 30 Yd
13
10
Second Quarter
OSU
ORE
00:00 - Aaron Pettrey 45 Yd
16
10
Third Quarter
OSU
ORE
11:03 - Jeremiah Masoli 1 Yd Run (Morgan Flint Kick)
16
17
Third Quarter
OSU
ORE
06:36 - Devin Barclay 38 Yd
19
17
Fourth Quarter
OSU
ORE
07:02 - DeVier Posey 17 Yd Pass From Terrelle Pryor (Aaron Pettrey Kick)
26
17

Pryor Restraint

Ohio State quarterback Terrelle Pryor was held back in last year's Fiesta Bowl, attempting just 13 passes in the loss to Texas. But the reins came off in Pasadena, and the sophomore responded with career highs in completions, attempts and pass yards in a breakout performance vs. Oregon.

| | | |
| --- | --- | --- |
| | '09 Fiesta | '10 Rose |
| Comp-att | 5-13 | 23-37 |
| Pass yards | 66 | 266 |
| TD-int | 0-0 | 2-1 |





Duck Hunt

The Ohio State defense limited Oregon's high-flying offense in the Rose Bowl, holding the Ducks 20 points and nearly 200 yards below their previous season averages

| | | |
| --- | --- | --- |
| | First 12 | Rose Bowl |
| PPG | 37.7 | 17 |
| Total YPG | 424.7 | 260 |
| Plays per | 69.3 | 53 |
| 20-yard plays | 6.0 | 3 |
| Time of poss | 28:12 | 18:23 |
January 1, 2010 Source: ESPN






Jim Tressel Reacts To Rose Bowl Win


Tressel talks to the College Game Day Crew after the game





IT WAS OVER WHEN: Oregon's Morgan Flint missed a 44-yard field goal attempt with 5:10 left, keeping the Ducks' deficit at nine points.

THE PLAYS: Tight end Jake Ballard leaping high to haul in a 24-yard pass on third-and-13 that and DeVier Posey's 4th quarter touchdown catch, which was set up by Ballard's reception.

GAMEBALL GOES TO: Pryor. Who says he can't pass? He hit 23 of 37 for 266 yards, two touchdowns and one interception, ran for 72 yards on 20 carries, and made the big plays.

BEST CATCH: Special bonus points to Brandon Saine because he is a tailback who ran down Terrelle Pryor' deep throw in the first quarter to make a stumbling, over-the-shoulder reception. Saine had to regain his balance and tightrope the sideline after securing the ball for a 46-yard gain.

THE MISMATCH: Tight end Jake Ballard against the flock of Ducks competing with him for an alley-oop pass. Ballard jumped and pulled down the 24-yard toss.

THE STRATEGY: Ohio State used nickel back Jermale Hines as a roaming, blitzing wild card in the defense, disrupting Oregon quarterback Jeremiah

THE REPERCUSSION: The three-game postseason losing streak is no more. And Pryor, doubted as a passer, leapt into the middle of the 2010 Heisman race.

SENIORS GO OUT ON TOP: With a stellar 44 wins since the start of the 2006 season, the senior class (and those who redshirted from the previous season) that Jim Tressel brought in on signing day in February 2006 leaves as the winningest class in Ohio State football history. The class played in four BCS bowl games, beat Michigan four times and capped their careers with a BCS game Rose Bowl championship.They had records of 12-1 (2006), 11-2 (2007), 10-3 (2008), and with the win over Oregon in the Rose Bowl on Friday, they finished the 2009 season with an 11-2 record. With an overall record of 44-8, this group of seniors recognizes the importance of such a record in a tradition-rich program like Ohio State. That puts them one win ahead of the senior groups from 1998, 2005 and 2008 that all had 43 wins.

WHO'S HOT?: Pryor. After proving he could pass under duress and run when needed despite a nagging knee injury, the sophomore quarterback gained the fawning attention of what had been skeptical media. After a performance in which he finally lived up to the billing of being the nation's No. 1 high school recruit, he will be considered an early candidate for the 2010 Heisman Trophy.

WHAT'S NOT?: Bashing the Big Ten. This bowl season, conference members proved they can hold their own. Considering Big Ten teams won just one bowl game last season, the image hardly could have gotten worse. And if Northwestern had just kicked that field goal in the Outback Bowl instead of trying a fake -- what was coach Pat Fitzgerald thinking?

THE STAT: 37. Pryor attempted a career-high 37 passes. He had just 17 attempts in each of Ohio State's last three games.

THE STAT II: Oregon's option offense was limited to 260 yards and 17 points. Ohio State defensive tackle Doug Worthington and linebacker Ross Homan were among those with big nights.

THE STAT III: Ohio State dominated the time of possession, 41:37-18:23, which was a Rose Bowl record. "Time of possession I was not worried about," first-year Oregon coach Chip Kelly said. "I was worried about Terrelle Pryor."

THE STAT IV: Ohio State held Oregon to 20 points and 164 yards below its season averages.

THE STAT V: Ohio State converted on 11 of its 21 third-down attempts.

THE STAT VI: Oregon converted on 2 of its 11 third-down attempts.

BY THE NUMBERS: Ohio State ran 89 plays, third-most in Rose Bowl game history, to Oregon's 53. The difference of 36 was the second-most in the game's 96 years, trailing only Michigan's 90-24 edge over Stanford in the first Rose Bowl in 1902.

COACH TRESSEL SAID IT: "This game, we felt like we needed to come in really flinging it around."

COACH TRESSEL SAID IT II: "Our defensive guys prepared extremely well. We were going to make sure he (Masoli) wasn't running scot-free. He did get into the end zone. I thought he made a couple of nice throws, but we played our defense. They really put the time in and the effort in."

BACK TO THE DRAWING BOARD: Back to Tressel and the offensive coaches. They must determine a clearer path for Pryor now that he has shown he can pass under pressure. Then again, it was the Buckeyes' ability to jump out of character, from run first to pass first, while the Ducks couldn't, that proved to be the difference in the Rose Bowl.

ONE FOR THE COACH: Ohio State coach Jim Tressel downplayed the significance of ending a three-game losing streak in the postseason, but cornerback Devon Torrence said the team wanted to do it for him. "He's a great coach. It's just unfortunate that in the recent past he didn't win those games," Torrence said. "But we've got a new realm of players coming in, and our chemistry is great. You can look forward to us winning some more bowl games."

TERRELLE PRYOR SAID IT: "I just wanted to come out and show I can be a complete quarterback."

PRYOR'S PRIORITY: Keep this in mind: Vince Young, the former Texas quarterback to whom Pryor is often compared, faced criticism until midway through his sophomore (2004) season. Then, he and the Longhorns won seven straight games to close out the season, including a victory over Michigan in the Rose Bowl. In 2005, Young led them to an undefeated season and the national championship.

DINGED UP: Pryor hopped out of bounds on his first big run but never took himself out of the game. He said the partial ligament tear was bothering him but that he knew he had the next few months to heal. Otherwise, no Ohio State player appeared to exit the Rose Bowl with anything other than a smile.

JAKE BALLARD SAID IT: "I guess everybody knows he (Pryor) can throw now."

JAKE BALLARD SAID IT II: "I think we proved about 80 percent of the country wrong by beating Oregon and it feels pretty good."

MICHAEL BREWSTER SAID IT: "This is just the beginning for him (Pryor)."

DOUG WORTHINGTON SAID IT: "T.P. took this game seriously, at a whole different level. He was amazing with his arm and his legs. On the defense, we were just trying to get the ball back to him to make plays."

THAD GIBSON SAID IT: "Our guys can run, from the defensive line to the secondary. If they wanted to race, we were up for it." -referring to Oregon's 'fast' offense.

JOE GERMAINE SAID IT:"I just feel fortunate and very honored to have Coach Tressel ask me to come back and be a part of this. When you walk out there and see the stage, you just have a lot of great memories." -former OSU quarterback, 1997 Rose Bowl MVP and the Buckeyes honorary captain for the 2010 Rose Bowl.

COACH KELLY SAID IT: "When I saw him in high school, he was a man amongst boys, and at times tonight, he looked like a man amongst boys. He certainly beat us on how he threw the ball." - Oregon rookie coach Chip Kelly, who recruited Pryor in Jeannette, Pa.

KENNY ROWE, ORE DE, SAID IT: "The plan was to make him (Pryor) throw the ball . But when he threw it that good, the plan didn't go well."

JERIMIAH MASOLI, ORE QB, SAID IT: "Definitely the whole night we were just a little bit off. We didn't really open up the playbook regarding the air attack. I don't know why. I wasn't calling the plays."

NUMBERS FOR DUMMIES: 163: Ohio State allowed just 163 points this season (12.5 ppg) - the fewest points given up in the Jim Tressel era.

NUMBERS FOR DUMMIES II: 26.2: Distance in miles of a marathon, which apparently the Oregon band was preparing to run as it took the field in sweat pants

NUMBERS FOR DUMMIES III: 4-3: Buckeyes' record in Bowl Championship Series games on ABC/ESPN ... and Fox

NUMBERS FOR DUMMIES IV: 8-0: Ohio State's record vs. Oregon

NUMBERS FOR DUMMIES V: 50: Ohio State's defensive squads have held opponents to fewer than 21 points 50 times since 2006, the best among FBS teams. The Buckeyes are 47-3 in those games.

NUMBERS FOR DUMMIES VI: 338: Terrelle Pryor set an Ohio State bowl game record with 338 yards of total offense, breaking Steve Bellisari's 330 yards in the 2002 Outback Bowl.

NUMBERS FOR DUMMIES VII: 19: Ohio State had a season-long 19-play, 67-yard scoring drive in the second quarter, spanning 8:03 capped off by a 30-yard FG by Devin Barclay.

NUMBERS FOR DUMMIES VIII: 37.7 & 17: Points per game Oregon's offense averaged in their first twelve games and what they scored in the Rose Bowl against the Buckeyes.

THE VIEW: How the team sees it: What's the present tense of arise? A Rose. We're back.
How the pollsters will see it: Time to cut the Buckeyes some slack. At least until next week.
How Buckeye Nation will see it: We almost forgot how good this feels.

TRANSLATING TRESS: What he said: "(Our players) prepared so hard that we didn't even practice on the 30th or 31st, because they were ready."
What he meant: "We gave them two days off to recover from the shock of seeing my pass-happy game plan."

OFFSEASON CHALLENGE: The Buckeyes have the makings of a national contender in 2010 now that Pryor has proved himself capable on the big stage. Offense grabs voters' attention. But just watch any game from 2009, and it's easy to see the Buckeyes are going to miss safety Kurt Coleman. They must replace him and several others on defense if they intend to make a run.

WHAT'S NEXT?: A couple of weeks off, followed by a plunge into winter workouts for the returning players. Will they include defensive ends Thaddeus Gibson and Cameron Heyward and cornerback Chimdi Chekwa? All three juniors are pondering leaving early for the NFL, but after Friday's game, Gibson and Heyward seemed to signal that they would return. As for the coaches, it's onto the recruiting trail, heading toward signing day Feb. 3.

ONE-LINER: So this is what Tress meant when he said his New Year's resolution was to "pass on everything."

AS HEARD IN THE PRESS BOX: "Get that middle-school band off the field." -- reference to Oregon's small and suspect marching band.

BILL PLASCHKE, LA TIMES, WROTE IT : "He was in more places Saturday than the Rose Queen, clogged up more lanes than post-parade traffic, an absolute thorn in the sides of Oregon visitors whose green defined not only their uniform, but their envy." - Plaschke had picked the Ducks to run the Buckeyes silly.

AS HEARD ON TV: "To say it bluntly, he's a load." An example of Musburger with the bad puns.

WORTH THE TRIP: Hmm, let's see. Perfect weather? Check. Entertaining game? Check. BCS bowl win? Check. Anyone have any complaints? Didn't think so.

PREGAME BUZZ: It was supposed to be a matchup of Oregon's high-flying offense (No. 7 in scoring) against Ohio State's stubborn defense (No. 5 in points allowed), but someone forgot to tell coach Jim Tressel, who either experienced an epiphany -- "Gee, throwing the ball can be fun" -- or decided that the punt isn't the most important play in football when you can't tackle the punt returner.

JUST WONDERING: Even after 21 starts at quarterback, do the Buckeyes really know what they have in Terrelle Pryor?

THE $63 QUESTION: Tough economy or not, the history-minded fan would have been willing to dig even deeper into the pocket -- $75 or more -- to catch a glimpse of the Buckeyes earning their first Rose Bowl trip since 1996. Not to mention the 60-degree temperatures were worth $25 alone.

Tweethearts: @MVNUSID: after tonight, it's no more young Terrelle Pryor. He finally grew up in front of a national audience. Take the reins off, JT.


(Sources: ESPN/Cleveland Plain Dealer/Columbus Dispatch/Bucknuts.com/BuckeyeSports.com/Dayton Daily News/The Webmaster)



Instant Analysis - OSU & Pryor Win The Rose
January 1, 2010 Source: College Football News - Pete Fiutak wrote: "Ohio State...showed how you stop the spread offense like Oregon likes to run...when the ground game is working well: you keep the chains moving. Ohio State didn't shut down the Duck offense, but it came up with great play after great play on third downs to get Jeremiah Masoli off the field, and Terrelle Pryor was able to keep the chains moving to help the Buckeyes hold the ball for 41:37. Give Oregon's defense credit for holding up late, but when the offense is up-tempo and it's not producing on third downs, drives can be very short and the rhythm of the attack can be gone...

Richard Cirminiello wrote: "Did the nation just witness the coming-out party for Terrelle Pryor as a complete package behind center? Maligned as a passer during his sophomore season, Pryor delivered one of the best games of his two-year career, repeatedly hurting Oregon with his legs and really making strides as a thrower...he'll forever be known as a Rose Bowl-winning quarterback. And there aren't many Buckeyes who can boast that label...Pryor the passer, however, was the biggest surprise for those who've followed his career. By going 23-of-37 for 266 yards, two touchdowns, and a pick, he set all kinds of personal highs through the air, but it was the final scoring drive that could wind up being a turning point in his career...Up by two with about eight minutes left, Ohio State did not want to give the ball back to Jeremiah Masoli with the game on the line. The Buckeyes had seen enough of his late-game heroics on film. Pryor's answer? He calmly led his team down the field, culminating a back-breaking drive with a beautiful 17-yard touchdown pass to DeVier Posey...Is Pryor exactly where he needs to be as a quarterback? Not yet, but he certainly took a giant step in that direction Friday evening in Pasadena..."

Matt Zemek wrote: "1) Maybe, just maybe, we can put the Jim Tressel bashing to bed. Forever. No coach with more success has been bagged on throughout the past nine seasons than Mister Sweater Vest...Tressel — like any successful coach— is a first-rate leader who knows his personnel and owns an acute feel for the personality of his ballclub...The body of work attached to Jim Tressel's name is formidable and prodigious, a grand portfolio that 110 FBS programs would kill for. As has been said so many times over the past few years, the coaches that deserve to be ripped – eviscerated and castigated – are the coaches at programs who can never even get to a BCS bowl or win a single conference title. Tressel – like Bob Stoops, another high-level winner of the first order – is not the kind of cat who should be clawed at by the Fourth Estate. Maybe this defining and oh-so-sweet triumph will keep the vultures away from Columbus for a very long time to come.

2) There's no need to shy from it. There's no point in trying to deny it any longer: While many bowl games shouldn't be seen as definitive measurements of a conference, the 2010 Rose Bowl most certainly was a referendum on the Pac-10, and the results didn't measure up for West Coast football advocates...the Pac-10 cannot be considered the best conference in college football in 2009..."



Pac-10 blogger Ted Miller and Big Ten blogger Adam Rittenberg analyze Ohio State's win over Oregon in the 2010 Rose Bowl.





10 Things We Learned From a Momentous Rose Bowl Win
January 3, 2010 Source: The Ozone - "10. A great defense will almost always shutdown a great offense...

9. The tight end position still has a heartbeat...

8. DeVier Posey will be a star. If he doesn't drop that first touchdown pass in the first half, it's possible people would be talking as much about DeVier Posey turning the corner as a star as they are Pryor...

7. Special teams must be a priority in the off-season. There was something just not right about Tresselball this season...That something took center stage in the Rose Bowl as the Buckeyes let the Ducks hang around time and again thanks to abysmal coverage from their coverage teams. They allowed Oregon to rack up 171 yards on just six kick returns...the Buckeyes had major lapses in their special teams all season and they must address these issues in the off-season.

6. The offensive line deserves more cheers than jeers. Will all the Ohio State offensive line bashers please stand up? OK, now that we've got everyone standing, let's give credit where credit is due for the job those guys did up front down the stretch...The Ducks committed themselves to taking away the power run game, and Ohio State still ran for 150 while Pryor was given the time to throw for 266...

5. Ross Homan is better than advertized. Two years ago, OSU linebackers coach Luke Fickell told us that Ross Homan had the potential to become a James Laurinaitis type player...

4. This was a special senior class. Five straight Big Ten titles, six straight wins over Michigan, four straight BCS bowl games, two NCAA national title games and one Rose Bowl victory. It was only 18 players deep (16 if we aren't counting Ray Small and Rob Rose, and frankly why should we), but this Ohio State senior class will be remembered as one of the all-time greats...

3. The defensive line carried the day much like the 2002 group did against Miami...

2. Terrelle Pryor has turned the corner. Tressel recently called the bowl game of a player's sophomore year the turning point of his career. It officially marks the halfway point for any four-year players, but more importantly it sets the tone for a critical junior season...

1.Jim Tressel can still win the big one. When Jim Tressel guided Ohio State to the 2002 NCAA National Championship, many were quick to label him as the best big game coach in the country...But the past is quickly forgotten, and it wasn't long before Tressel became one of the most highly criticized coaches in the country. After back-to-back losses in national title games...and all of a sudden many were wondering if Tressel would ever win a big game again...Then came Friday. And with one Rose Bowl victory over an Oregon team that 75 percent of the nation was picking to win, Tressel silenced his critics…at least for one more year..."




Five Things: Oregon
January 4, 2010 Source: Eleven Warriors - "Offensive Gameplan: Wide Open Approach to Controlling T.O.P...If you're like me, you almost missed Aaron Pettrey's extra point giving OSU an early 7-0 lead due to tears of blinding yet joyous surprise as Jim Tressel dialed up pass plays with Terrelle Pryor Lebron in Cleats completing 5/8 on a 10 play, 74 yard TD march culminating with an in-Saine-ly placed 13 yard touch pass to Brandon Saine...Even more impressive, OSU controlled the clock for 11:24 of the 4th quarter giving Oregon just 3:36 (8 plays!) to try and overcome what began as a 19-17 deficit before expanding to 26-17 thanks to Pryor's pinpoint back-shoulder toss to Posey with roughly seven minutes left capping the drive of the season. The killer series, a 13 play, 81 yard march chewing up 6:01 of valuable time, saw Pryor complete 4/5 including OSU's version of "The Catch", a 24 yard snag by Jake Ballard on 3rd and 13 giving the Buckeyes a 1st down at the Oregon 31...

The Emancipation of Lebron in Cleats?: So, we had stowed away the LiC moniker – I think it was after USC – waiting for the day it became valid again and holy sh!t did it ever against the shocked Ducks (and some sorta-shocked Bucks fans). The kid was simply sensational in what we can only hope was his coming out party. The kid looked in total command of the offense from the jump connecting on 5/8 and converting a huge 3rd and 6 with a 24 yard scramble up the left sideline. Then, the 13 yard TD toss to Saine in which he rolled right and collected himself before calmly placing the ball over Saine's right shoulder near the goal line, on 3rd and 10 no less, brought the fans to their feet. He flashed his touch once again on OSU's third possession with a nice running lob to Saine for a 46 yard gainer on a well timed wheel route call setting up a field goal for a 10-0 lead...

See-Saw Special Teams: Another veer from the usual Tresselball was the bipolar play of the special units. Kickoff and punt coverage was dismal enough to almost singlehandedly keep Oregon in the game. Leading 10-0, Kenjon Barner peeled off a 28 yard return of a very short (fielded at the 13) Devin Barclay kickoff allowing Oregon to set up shop at the their own 41 yard line. The Ducks would take advantage of the short field as a 37 yard rush by Barner led to a field goal cutting the lead to 10-3. The KO return team would get burned again allowing another big Barner return (39 yards) to start the second half and Oregon took advantage of the field position (own 47) scoring a go ahead TD (17-16) with 11:03 left in the 3rd quarter. The lackluster coverage would continue as the Buckeyes surrendered a 36 yard return by Barner after answering the Oregon TD with a FG to regain the lead at 19-17...Thankfully, the positive side of the special teams equation saw Barclay drill all three of his FG tries (19, 30, 38)...The return of Aaron Pettrey was also a successful one as he hit a big 45 yarder to close the first half after Ross Homan's interception gave OSU the ball at the Oregon 46 with :25 left...

Defense Locks Up Ducks: Hats off to a Buckeye defense that shut down one of the most hyped offenses in recent memory. All we heard was how the Ducks didn't care about time of possession, they only cared about putting up points as quickly as possible so they could get the ball back and do it all over again. Well, Ducks, welcome to big boy defensive football. The front four controlled the line of scrimmage with Cam Heyward and Thaddeus Maximus making their presence known early and often...The Silver Bullets would keep the pressure on the Ducks despite the shaky special teams putting Oregon in good field position from time to time. In fact, the Oregon never put together a long scoring drive marching 52 for a field goal, 30 for a touchdown and finally 53 for a touchdown...

Reflections: In what was a wild ride thanks largely to some early inconsistent offensive line play by a group plagued with injuries coupled with the slower than desired maturation of Pryor, the Buckeyes still accomplished what we projected prior to the season; an 11-2 record capped with a win in the Rose Bowl. We saw the defensive line live up to their potential thanks to monster campaigns from Doug Worthington, Heyward and Thaddeus, among others and Homan separated himself from the rest of the LB's as a tackling machine with a penchant for big plays.

While the corners failed to achieve greatness, Devon Torrence seized the boundary corner spot early on and showed he's got some cover skills combined with an ability to offer run support. Chekwa seemed to regress as the season went along...Much respect to the seniors, especially Kurt Coleman, Jake Ballard, Lawrence Wilson and Worthington. Coleman made the most of decision to return and I'm interested to see if he can stick at the next level. Offensively, I thought at one point this year Jim Bollman might be on his way out but with his comments talking about next year in the interviews after the victory, it seems clear he'll be back...Things are definitely looking bright on this side of the ball as we count down the days to spring practice..."







Terrell Pryor Talks Rose Bowl Win


Pryor talks to the College Game Day Crew after the game






Offense completes its last-season rise
January 1, 2010 Source: Columbus Dispatch - "A 26-17 win over Oregon in the Rose Bowl did more than just boost the confidence of Ohio State quarterback Terrelle Pryor, offensive coordinator Jim Bollman said. "It's got to add confidence to everybody on the offense, for everybody on our football team," Bollman said. "You know how the expectations are around here, so we've got another turn coming up, so it helps us get ready for the next turn."

Bollman, Pryor and the offense were maligned for committing five turnovers in the loss at Purdue, in which Pryor made four. But they turned the season around in a hurry, rushing for more than 200 yards in each of their last five regular-season games to clinch the Big Ten title and a spot in the Rose Bowl. Pryor capped it by passing for a career-high 266 yards and two touchdowns against Oregon in the game Friday.

"Those statistics aren't important to us. The important thing is winning the football game," Bollman said. "It was a great team win. The worst thing I would say about it is we needed to turn some of those (four) field goals into touchdowns. It would have made it a little easier if we had done that. But I thought Terrelle did a pretty good job attacking, throwing the ball. I thought (Oregon) did a good job defending some of our run stuff, but we did what we needed to do to move the ball."





Tressel, Heacock Dial Up Perfect Rose Bowl Gameplan
January 2, 2010 Source: The Ozone - "...Facing a fourth-and-one at the Ohio State 27-yard line, Kelly sent his kicker on for a 44-yard field goal attempt...Bringing out the kicker in that situation is for conservative coaches like Jim Tressel and old school teams like Ohio State, not for a radical offensive guru like Kelly and a flashy, high-powered offense like Oregon... Flint's kick was wide right and the Ducks never scored another point, but the decision itself was a credit to the Ohio State defense and defensive coordinator Jim Heacock, who held Oregon to nearly three touchdowns below their season average.

"It was an unbelievable gameplan by the coaches and we just followed through with it," said linebacker Ross Homan, who led the Buckeyes with 12 total tackles and eight solo stops. Facing one of the best dual-threat quarterbacks in the country, that gameplan began and ended with Jeremiah Masoli. "If we stop him, we win this game. We know that and they know that, so we're going after him," OSU defensive end Thad Gibson said earlier in the week. And the Buckeyes did just that.

Led by one of the deepest and most talented defensive fronts in the country, Ohio State attacked Masoli like no team had done since Boise State in the season opener. "Instead of sitting back and trying to let the play form, we started attacking him. We had some blitzes and really got after him," said Homan, who had a key interception before the half that set up a 45-yard field goal by Aaron Pettrey. "We tried to change up what he's seen all year. Try to change up some blitz reads and try to get in his head." The plan worked better than Heacock and his staff ever could have imagined. With pressure in his face most of the afternoon, Masoli threw for a season low 81 yards as he completed only nine of his 20 pass attempts..."




Our Rose Bowl Play of the Game:

Throughout Ohio State's festive week in Southern California, whether attending the Lawry's Beef Bowl, sitting in the hotel hot tub or playing video games in someone's room, Jake Ballard had a constant reminder for his younger teammates: "I kept telling them, 'I've never won a bowl game. We have to win this game."

Fast forward to the 4th quarter of the Rose Bowl game, with the Buckeyes clinging to a 19-17 lead.

On 3rd and 13 at OSU 45, Terrelle Pryor, under pressure and eluding Oregon defenders, somehow found Jake Ballard downfield and lofted a pass. Ballard, who is 6'6", leaped high, with full vertical extension (climbng the ladder as they say), to haul in the 24-yard aerial that gave the Buckeyes a 1st down at the Oregon 31.

That play set up Pryor to DeVier Posey for a 17-yard score with 7:02 left, a brilliant pass and catch, which was the culmination of a 13-play, 81-yard drive that lengthened the Buckeyes' lead to the final score of 26-17.

Ballard entered the game with just 13 receptions all season, none for more than 19 yards. Ohio State's tight ends often joke about how rarely a pass comes their way, but when it did Friday, Ballard was ready:

"I was improvising a little bit," Ballard said. "My guy didn't come off the edge, so I went to the flat and saw TP moving around back there. I went upfield, he saw me, threw it up, and I went up and got it.

"I jumped and I thought I jumped too early," Ballard said. "Then I kept going up. So maybe the adrenaline helped me get a couple more inches."

"I didn't think anything else except, 'I have to make this catch. There is no other choice."

"I'll remember that (catch) forever."

So will Buckeyes fans everywhere, Jake!

Here's how the Cleveland Plain Dealer's Doug Lesmerises described it on his 'On The Clock at the Rose Bowl': "A crucial third-and-13 play with the Buckeyes only ahead 19-17 and on their own 45-yard line. Give the ball up here, and Oregon should have a chance to march for the go-ahead field goal. Cue that Jake Ballard leap. As Pryor scrambles to his right, about to be pulled down, he lofts a pass for his senior tight end, who admits he was way down on the list of options for the play.

"He went about 10 feet in the air," Cordle said.

"We've seen Jake Ballard's ability on the basketball court," Posey said. "So he went up and grabbed it and dunked on that guy."

"I jumped and I thought I jumped too early," Ballard said. "Then I kept going up. So maybe the adrenaline helped me get a couple more inches."

He grabs it between defenders, a 24-yard gain that keeps the drive alive.

Steve Helwagen of Bucknuts.com wrote: "Ohio State tacked on an insurance touchdown midway through the fourth quarter, driving 81 yards in 13 plays. Pryor had a run for 11 yards and a pass to Sanzenbacher for 11 more. The key play came on third-and-13 at the OSU 45 when Pryor scrambled and threw a jump ball to OSU's 6-7 tight end Jake Ballard. With a defender hanging on him, Ballard made the leaping grab for 24 yards and a first down at the Oregon 31."

Brian Kollars of the Dayton Daily News described it this way: Big Jake: "...Jake Ballard made the play that tilted the scales toward THE OSU. The Buckeyes' trip back to the tundra might've been a depressing one if not for the amazing catch by Ballard that netted 24 yards on a third-and-13 play midway through the fourth quarter. The Buckeyes were clinging to a 19-17 lead when Pryor let a pass fly toward a crowd of large student-athletes. Ballard, looking like an athletic power forward, went high into the Pasadena sky to make his only catch count. Ohio State went on to score and danced into the night with a satisfying 26-17 victory, its national reputation restored. It can thank Pryor, but don't forget Springboro's Ballard..."

Bill Livingston of The Plain Dealer put it this way: BEST BAILOUT SINCE THE WALL STREET CRASH: "Ohio State doesn't throw to the tight end very often. In fact, a Plain Dealer e-mail poster's description of Buckeyes tight ends as "blocking sleds" isn't too far off. But when Pryor was flushed from the pocket on the game-sealing drive on third-and-13 at the OSU 45 in the fourth quarter, Jake Ballard, who is a sliver shorter than Pryor's 6-6, went up amid a grasping, clutching crowd of potential receivers and interceptors and pulled it down for a 24-yard, drive-sustaining gain."



2010 Rose Bowl Jake Ballard Catch

(about a minute fourteen into the video)



Report card 2009 | What grade do you give Ohio State's season?
January 2, 2010 Source: Columbus Dispatch - Online Poll: "What grade do you give the Ohio State football team's regular season? 19% A, 57% A-minus, 23% B, 1% C





Rose Bowl report card
January 1, 2010 Source: Cleveland Plain Dealer - "A -- Ohio State co-defensive coordinators Jim Heacock and Luke Fickell...There was a time when the Ohio State defensive coaches came under fire at times. But as players move in and out, this defense has been one of the country's 10 best for five years.

A -- Ohio State linebacker Ross Homan...If Terrelle Pryor and DeVier Posey caught the eye of the college football world on offense, junior Homan did it on defense. He proved all season in the Big Ten that he was a rugged linebacker, and on Friday he showed how well he could move. Running all over the field, he had a team-high 12 tackles, twice as many as any other Buckeye...

C -- Ohio State's special teams...The problems came on the kickoffs, though. Some of Barclay's kicks weren't very deep, and the coverage had holes. After kickoffs, Oregon started at its 26, 41, 31, 47, 38 and Ohio State's 36. That's excellent field position for the Ducks, who only had to go 30 and 53 yards on their two touchdown drives. Luckily for Ohio State, the defense kept Oregon from doing more with that field position..."




The Bottom Line
January 1, 2010 Source: Columbus Dispatch - "Offense (4 leaves): Look at the stats, and feel the jaw loosen and then drop. Twenty-six first downs, more than 41 1/2 minutes of possession time, six drives of nine plays or more. OSU's offense was its best defense, and its defense wasn't bad. Oregon wanted to make Terrelle Pryor win it, so he did. Simple.

Defense (4 leaves): As Rodney Dangerfield so famously put it, "What, did somebody sit on a duck?" Well, not exactly, but good enough. The defenders let the offense do the heavy lifting for once but still made their presence felt by making Jeremiah Masoli constantly hand off. That game ball is yours, Ross Homan.

Special teams (2 leaves): This is where trouble resided in Buckeyeville on this night. Oregon won on field position all game because of OSU's issues covering kickoffs and punts -- hide those stats from Tress. And Ray Small was sorely missed. Kickers Devin Barclay and Aaron Pettrey came on field goals, at least.

Coaching (4 leaves): Well, la-di-da and what-not. Conventional wisdom screamed that OSU's best and only chance was a steady diet of line bucks, the type of grind-it-out football that bores fans and wins Big Ten titles. But the Vest let his QB be a QB -- 37 passes! -- and proved that balance can mean control. Bravo.

Opponent (3 leaves): It's not as if the Ducks laid an egg, but their performance gave at least a little credence to the notion that Oregon was the best team in a pretty lousy conference. (For once, that shoe's on a foot other than the Big Ten's.) There are a lot of players in green to like, but QB Masoli was exposed.

Officiating (3 leaves): The Big 12 crew was efficient and paid close attention to details -- on your toes, you clock operators. They missed a block in the back and made a ticky-tacky interference call, but review worked as it was supposed to on LeGarrette Blount's TD run (he was not down) and both Ohio State scores..."



Jon Spencer's Ohio State Report Card
January 2, 2010 Source: Mansfield New Journal - "Offensive line: The Buckeyes had their hands full with defensive end Kenny Rowe, but overall they dominated in the trenches to the tune of 420 yards total offense. The push up front led to scoring drives of 10, 11, 13 and 18 plays as OSU kept the clock running and the chains moving by countering Oregon's interior quickness with beef and brawn. A huge key was finally getting everybody up front healthy -- or at least healthier after using five different sets of starters during the season. Grade: A

Running Game: Starting tailback Brandon Saine did as much damage with his hands as feet. He proved to be the perfect complement to quarterback Terrelle Pryor, who led the Buckeyes with 72 yards rushing to go with a surprising 266 passing...Grade: B

Passing game:...With half of OSU's usual four-wideout rotation not making the trip, they stepped up big as did Jake Ballard with the biggest catch of his career on the victory-clinching drive. Grade: A

Defensive line: Ohio State's best defense was its ball-control offense, but let's not take anything away from a defensive effort that never let the Ducks' hurry-up attack establish any rhythm...Grade: A

Linebackers:With the Buckeyes in the nickel most of the game, the burden to hold up the middle of the defense once again fell on Brian Rolle and Ross Homan and once again they were up to the challenge...Grade: A

Defensive backs: ...pressure from the front four wasn't the only reason Masoli was flustered into throwing the ball away on a few occasions and mostly limited to underneath routes. Keeping one of the nation's most explosive offenses in check took a collective effort and the leadership Coleman provided all season was immeasurable. Grade: B

Special teams: The only reason Oregon even got 17 points was because of the short fields provided by kick returner Kenjon Barner...The Buckeyes need to seriously address this aspect of the game during the offseason, especially given how much coach Jim Tressel leans on "superior" special teams...Grade: C

Coaching: It didn't take the Gatorade shower at the end of the game to take the starch out of Tressel's sweater vest. He did it himself with a less-conservative game plan...The trust Tressel showed in his quarterback could reap even bigger benefits next season now that Pryor has an MVP performance to build upon. Grade: A..."




Road To Redemption: Buckeyes, Pryor silence doubters
January 1, 2010 Source: ESPN - "Ohio State needed it. So did Terrelle Pryor. And the Big Ten. They all got it in the Buckeyes' Rose Bowl win. The Big Ten BCS famine is so over, writes Ivan Maisel. ..."




The time was right for Buckeyes
January 1, 2010 Source: SI.com - Stewart Mandel writes: "Ohio State survived its recent past and other issues before defeating Oregon...No. 8 OSU's 26-17 win over No. 7 Oregon was a microcosm of its '09 season...Terrelle Pryor thrived in the Buckeyes' passing attack, throwing for 269 yards...Throughout Ohio State's festive week in Southern California, whether attending the Lawry's Beef Bowl, sitting in the hotel hot tub or playing video games in someone's room, Jake Ballard had a constant reminder for his younger teammates."I kept telling them, 'I've never won a bowl game," said the senior tight end. "We have to win this game." ..."








Ducks foiled by Ohio State's speed, game plan
January 4, 2010 Source: Oregon Daily Emerald - "...Ohio State was supposed to be big but too slow to counter spread offenses and quick defensive players. On offense, the Buckeyes were supposed to play for three yards and clouds of dust. The middle of the field was supposed to be worn down, defensive players battered and bruised. A funny thing happened on the way to Pasadena..."






Masoli at loss to explain poor performance
January 1, 2010 Source: OregonLive.com - "...when Masoli thinks back to his first Bowl Championship Series game, he'll think of unfulfilled potential. The dynamic quarterback who had become a media darling closed his junior season with a performance he'd rather forget in Oregon's 26-17 loss to Ohio State on Friday. Masoli's final yardage total reads like something Oregon fans are used to seeing after the first quarter: 81 yards passing (nine completions on 20 passes) and nine yards rushing (on six carries). Both totals are season lows, which is fitting because Masoli seemed to be at his lowest point of the season when he emerged at his locker following the game..."




Terrelle Pryor shows how much Oregon has to grow
January 1, 2010 Source: OregonLive.com - " Oregon didn't kick away the 96th Rose Bowl this afternoon. It did not lose the game on offense. Or defense. Or because of a lack of size.If we're being precise, the Ducks lost the game almost two years ago when Terrelle Pryor chose a career in Columbus over one in Eugene..."




Oregon's Rowe, Ward become Pryor believers
January 1, 2010 Source: Long Beach (CA) Press-Telegram - "He tied a Rose Bowl record and set the Oregon single-game bowl mark with three sacks, but all defensive end Kenny Rowe could talk about was Ohio State's Terrelle Pryor and his offensive prowess. "He slipped away a couple of times," Rowe said. "He runs pretty hard. He's got a good stiff-arm, too."...

Oregon free safety T.J. Ward, who finished with 10 tackles, also left impressed. "He made a lot of plays down the stretch," Ward said. "He's a playmaker. That's what he's supposed to do, but we're also supposed to do our job and stop him."...

Oregon's defensive game plan was simple: make Pryor throw. "But when he threw it that good, the plan didn't go well," Rowe said...Oregon's secondary was burned for more than several big plays, perhaps none bigger than when Pryor connected on a 24-yard ass to Jake Ballard in the fourth quarter.

When told that Pryor set a career high in attempted passes, Kelly was stunned. "It was surprising to us," Kelly said. "We felt, watching their last couple of games, where they didn't throw it very much and were rather conservative. They came in and opened it up and obviously Terrelle beat us." Pryor finished 23 of 37 for 266 yards, two touchdowns and one interception..."



Bucknuts TV: TBDBITL pregame program from the Rose Bowl, including Script Ohio