| | |
| --- | --- |
| | The (red) story links, or the 'read more' graphic, will open new (pop-up) windows to the source of the article, audio or video, so you can read/hear/see the rest. If your browser is set to block pop-ups, please set it to always allow them from our site. You will not get any annoying advertising pop-ups, of any kind, generated by this site...ever. |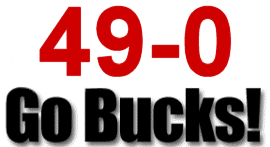 | | |
| --- | --- |
| PURDUE vs. OHIO STATE | |




Five Things: Purdue
October 25, 2010 Source: Eleven Warriors - "...A Tale of Two Cities: Corey "Philly" Brown saw just about the same amount of reps as he's been seeing lately, rotating in every other series as the third WR, but his actual involvment in the offense is growing. Saturday produced a modest two catches but both were of huge importance...following a Mike Adams false start but Pryor rolled right and hit a wide open Brown near the sideline for a 23 yard gain. The pitch and catch kept alive what became an 11 play, 91 yard TD drive putting OSU in command 21-0...next scoring drive, Philly was again in the mix, this time taking an end around 18 yards to the Purdue 24 yard line setting up Pryor's 22 yard TD toss to Posey two plays later...on the final possession of the half, Philly capped a five play, 40 yard march as he went high to snag a 15 yard TD, his first as a Buckeye, putting the Buckeyes in front 42-0 with :36 left in the half.

The day wasn't as great for the other Corey Brown, "Pittsburgh" to be exact, who suffered what appeared to be a very serious knee injury late in the afternoon. In a totally freakish way, Brown was basically walking after a play in which he had pursuit to the sideline and crumpled to the ground in obvious agony...Brown was just getting a chance to show what he could do starting on the KO coverage unit for the first time in addition to his backup duties in the secondary...

"D" is for dominate: ...the defense came out smoking and didn't let off the gas in one of the most dominating defensive half's we've seen in a while. Bouyed by a defensive line that was non existent a week ago, Ohio State let Purdue run only 21 total offensive plays in the first half (excluding 5 punts) and held the Boilers to 47 total yards on three first downs. The running game Purdue brought to Columbus had rushed for 200+ in five straight games (longest such Boiler streak in 37 years) but hit a brick wall in this contest as the Bullets limited them to 22 rush yards in the first half (2.2 ypc) and 30 yards for the game (1.1 ypc). Heyward, Larimore, Simon and Williams combined for 15 tackles, 4.5 TFL, a forced fumble and a sack...Filling in for Homan, Sweat responded with a career high eight tackles, 2.5 TFL, a forced fumble and a pass breakup. Sweat came up with significant plays in three of Purdue's first four possessions showing a great nose for the ball...Aaron Gant, also had a nice day in the secondary contributing six tackles while Jermale Hines notched a fumble recovery (special teams) and Orhian Johnson added his first career interception...

Boom, Blockers step up early and often: ...Following Hall's smart move of letting Purdue's opening kickoff roll out of bounds, Boom went right to work peeling off a 17 yard run, through a gigantic hole, plus a facemask. The one play moved OSU to the Boiler 28, yards which Boom would cover over the next four plays, including an impressive 10 yard sweep around left end capped by a dive to the pylon for six. Great running, great blocking. Boom was also active on the second series, an 11 play drive that featured the muffed punt by Purdue's Chris Carlino putting OSU in business at the Boiler 39. Herron rushed for 18 of those final 39 yards including a two yard TD run up the gut giving him 63 yards on nine carries with 2 TD after two OSU possessions. Props to Boren, Brewster and Browning for mostly pushing around an admittedly soft Boiler front that seemed to have nothing other than Kerrigan, who really did most of his damage on the pass rush against an injured JB Shugarts...Overall, however, the run blocking held up as the Buckeyes ran for 145 first half yards, good for 5.2 per carry. The pass blocking was more spotty but Pryor was indeed given enough time to complete 16/21 for 270 yards and 3 TD in the opening 30 minutes of action...

My confusing love affair with Terrelle Pryor: ...He's amazing on many levels yet so frustrating on just as many different levels...On the field, the kid blows up in a dominating first half completing 16 of 21 passes for 270 yards and 3 TD. He spreads it around to nine different receivers and smartly checks down at virtually every necessary opportunity. He engineers six scoring drives putting his team up 42-0 at intermission. He also throws two bad interceptions...second was much more disturbing in that the old bugaboo of staring down a receiver (Dane on a slant) came back to bite him...After the game, for whatever reason, Pryor chose to offer up these words about Wisconsin: ""Nine times out of 10, we beat Wisconsin," Pryor said Saturday, "but on that day when it all mattered, they beat us." "Not to take anything away from Wisconsin at all," he said, "those guys werent better than us."...I think the comments would've been better left unsaid...I'd be hard pressed to think OSU would win 9 out of 10 at home, on the road or on a neutral field...I thought Pryor had overcome at this point in his career. Just take your medicine and move on.

A Time to heal and develop: With Purdue in the rear view, we're officially into the soft underbelly of the conference schedule. A trip to Minnesota followed by an off week before Penn State High comes to town provides the perfect three week stretch for OSU to deal with injuries and give some guys a chance to gain more game experience...I'd love to see Andrew Norwell get a start this week, or at least play 75% of the snaps. Shugarts is clearly hampered by a bum foot and needs the rest... Jake Stoneburner should also have plenty of time to get fully healed, clearly he isn't yet 100%, as Fragel started against Purdue. Philly Brown should also see increased reps over the next few weeks and could be a guy that makes a big play in a game like Iowa. Defensively, the next three weeks should allow Homan to get back to full strength. Lesser known is how long Christian Bryant will be out after a foot infection required surgery. His absence was going to ensure Pittsburgh Brown saw more action but with his injury Saturday, Aaron Gant figures to see continued action at safety with Hines sliding to Star as applicable. Though tackles Simon and Larimore aren't limited by injury, I'd like to see Heacock push more minutes on Hankins to further his development. I'd also like to see Storm Klein get as many LB minutes as possible. That kid's a player if you ask me. He's seemingly always around the ball and loves to hit..."





10 Things We Learned: Total Annihilation
October 23, 2010 Source: The Ozone - "...1. Revenge can be served at any temperature. Make no mistake about it, the Buckeyes have been waiting a long time for this game. For a whole year they played it off as though this was just another game, but the 42-0 halftime score suggest otherwise. The replay of last year's 26-18 disaster in West Lafayette had been showing all week in the Ohio State locker room...Center Michael Brewster called it one of the worst days of his life and it's clear now that this team was out for some payback. Their 415 yards in the first half were the most EVER by a Jim Tressel-coached team...

2. How this team handles adversity. There were two ways this team could have gone after last week's loss in Madison, and Tressel said he wouldn't really know until today which way it was going to be. I think we do now. They may not go undefeated the rest of the way, but the Buckeyes showed Saturday they aren't going to mail it in after one loss.,,(team) buying into the idea that there is still a lot to play for.

3. Boilers humbled. ...They beat the Buckeyes last year in West Lafayette and coach Danny Hope told everyone to "get used to it." Hope found himself eating a little humble pie Saturday when fans in the south stands at Ohio Stadium began chanting "Get used to it" as the Bucks closed out a 49-0 win. This is a team that already lost to Notre Dame and Toledo, and more importantly it was a team playing without its starting quarterback, tailback and No. 1 receiver. Ryan Kerrigan is still a beast, but he is only one guy and that doesn't make a team...

4. Momentum can be momentous. ...the Buckeyes also learned how dangerous momentum can be, especially on the road in conference play...worked in Ohio State's favor this Saturday against Purdue. The Buckeyes went right down the field for a touchdown on their first drive of the game and then turned a fumbled punt return into another seven points. From then on, there was nothing the Boilermakers could do to slow down the snowball...

5. Special teams again critical. ...Special teams loomed large again in Saturday's game, this time in OSU's favor. The Boilermakers sent the opening kickoff out of bounds, giving Ohio State the ball at the 40. They fumbled a punt that set up the next OSU touchdown and missed a field goal that could have been their only points of the game.

6. Run game is alive in Columbus. It's not just that Ohio State scored on the first drive, it's the way they scored. They ran the ball on all five plays, running over the Purdue defense the way Wisconsin did to their own one week earlier. They pounded it on the ground again on their second scoring drive and by halftime they already had 145 yards on the ground. They finished with 184 for the game, but only because Purdue stacked the box with nine guys in the second half...It doesn't mean the concerns over the power run game are gone, but Boom Herron certainly seems to have sparked something in the ground game.

7. Injured foot a real problem for Shugarts. While the line as a whole performed well Saturday, it wasn't a great day for right tackle J.B. Shugarts. He looked good enough in the run game, but struggled mightily in protecting Pryor from Purdue's pass rush. Part of that is the fact Kerrigan is too good for most tackles to block one-on-one. The other, bigger, factor was the injured right foot...Much like the Indiana game, Shugarts left the game Saturday in the second quarter and did not return. He was wearing a boot on his injured right foot afterward and said the only reason he was able to stay in the game against Wisconsin is because he got a shot at halftime. That doesn't sound good, and neither does the fact he admitted it hurts him when he plants it in pass protection. Freshman Andrew Norwell did a solid job in relief of Shugarts, but this is going to be a problem the rest of the season. He might be a little better after the bye week, but the next time he plays a full game will likely be in Iowa City.

8. Saine isn't a receiver just yet...The senior out of Piqua had been relegated to a pass-catching role the last two weeks, but he found his way into the backfield against Purdue in week eight. He only carried the ball five times, but picked up 41 yards and showed that if there's a hole in front of him, he can explode through it...if he can give them five carries a game to go with his receiving ability, he becomes a serious weapon for Tressel.

9. Philly Brown's role is expanding. The rookie out of Philadelphia said that coach Darrell Hazell came to him this week and told him and Taurian Washington that one of them had to make a big play this week...Brown had an 18-yard reverse and a 15-yard touchdown catch and looked very good on both occasions. He showed great speed turning up field on the reverse and great leaping ability and body control on the touchdown catch. He is a dangerous weapon who should get more and more opportunities on offense over the last third of the season.

10. Sweat is going to be a player. ...no way that losing Ross Homan, the team's leading tackler, makes this Ohio State defense better, but it could make Andrew Sweat better...he has proved in the last two weeks that he is much better as a Will linebacker. He seemed to always be around the ball last week after taking over for Homan and this week served as his coming out party. He led the Buckeyes with eight tackles and added 2.5 tackles for loss as the most productive member of the defense..."





Ohio State Blank Boilers, 49-0
October 23, 2010 Source: OSU Official Site - "Playing with a bit of an edge off a loss last week and with a firm realization of the havoc that Purdue is capable of creating, No. 11 Ohio State shutout the Boilermakers, 49-0, Saturday in the 89th Homecoming Game at Ohio Stadium. The win improved Ohio State's records to 7-1 overall and 3-1 in the Big Ten. Purdue drops to 4-3 and 2-1, respectively. The Buckeyes jumped out to a 42-0 halftime lead behind a 415 offensive yards - a first-half record for a Jim Tressel-coached Buckeye team - and a defense that didn't let Purdue cross the 50 and limited the Boilermakers' to 44 first half yards.

"Our guys came out ready to go, and set the tone early with a nice opening touchdown," head coach Jim Tressel said after the game. "Our defense took over from there with a nice shutout."

Junior Terrelle Pryor enjoyed another big day for the Buckeyes, completing 16-22 passes for 270 yards and three touchdowns, passing Troy Smith for third place on the all-time passing yards list. Dane Sanzenbacher hauled in four passes for 86 yards and a touchdown, while Dan Herron paced the Scarlet and Gray on the ground, totaling two touchdowns and 74 yards on 16 carries.

Ohio State set a punishing tone early, handing off to Herron five-consecutive times on its first drive. He finished with a touchdown off the left side from the 10 for a quick 7-0 lead.

The Buckeyes went back to Herron on their third possession of the game, a series that was set up by a fumbled punt recovered by Jermale Hines. Herron ripped off a gain of nine yards to get the drive started and a 27-yard Pryor-to-DeVier Posey completion set the team up on the Purdue 1. Herron finished it off from there for a 14-0 lead.

Ohio State made it 21-0 early in the second quarter with an 11-play, 91-yard drive that Jordan Hall capped with another one-yard power play up the middle.

Three second-quarter Pryor touchdown passes increased the lead to 42-0. He hit Posey for a 22-yard score, Sanzenbacher with a seven-yarder and Corey Brown with a 15-yarder, Brown's first career touchdown reception.

The 42 first-half points were the most since scoring 45 in 2007 against Northwestern.

Ohio State controlled the clock for much of the second half behind the running back trio of Jamaal Berry, Carlos Hyde and Jordan Hall. Pryor played only two possessions in the third quarter before turning the ball over the Joe Bauserman and Kenny Guiton for the duration of the game.

Purdue continued to struggle on offense in the second stanza against the Silver Bullet defense, totaling only 74 yards over the final two periods for a game total of 118, the lowest offensive output against the Buckeyes this season. Despite starting inside Ohio State territory several times in the second half, the Boilermakers were unable to capitalize. Purdue's best chance to score came late in the fourth, as Carson Wiggs' 56-yard field goal attempt fell short of the goal post..."

Scoring Summary, Team Statistics, Individual Statistics, Drive Chart, Defensive Statistics, Game Participation, Box Score, Play-by-Play
Postgame Quotes From No. 10 Ohio State vs. Purdue

Tressel Postgame Press Conference Transcript From Ohio State vs. Purdue




Tressel shares stage with 'Elvis'
October 23, 2010 Source: Dayton Daily News - "...Jim Tressel — the cornerstone of Ohio State football — was taking his Buckeye team off the field after it had just rumbled for 415 offensive yards and 42 points against scoreless Purdue. Elvis Presley — or at least the reincarnation of the King of Rock and Roll thanks to Mike Albert — was waiting to take the field for his show with the Ohio State marching band. Tressel, in his gray sweater vest, red necktie and white short-sleeved shirt, headed over to Elvis — in his white Aloha jump suit open to the belly and exposing gold chains draped on a bare chest — and the two icons had a heartfelt exchange. "I said, 'Jeesh, you're a tough act to follow. I hope I can do that good,' " Albert laughed. "Jim just said, 'Don't worry, you will.' "

This wasn't just some kind of halftime pep talk from the Ohio State coach. Tressel knows what Albert can do. "We played in the same backfield together for three years at Baldwin-Wallace College," Albert said. "I was a running back and Jim was the quarterback." Albert was also a national-caliber wrestler and today both men are in the Baldwin-Wallace Athletic Hall of Fame. "We were similar athletes," Albert said. "We weren't gifted with exceptional speed and skill, but we both worked hard. Jim could read a defense as well as anybody I ever met, and when I got a chance to do something, I made sure I hustled."..."It was really an awesome experience," Albert said. "When you have 105,000 people in front of you, you're juiced."..."


Players Postgame Press Conference Purdue
10/23/10 Source: OSU Official Site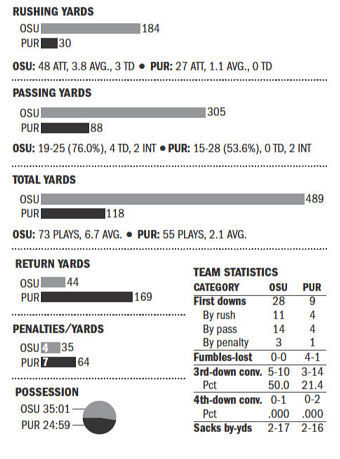 Complete stats Above


Source: Columbus Dispatch




Get used to it: South stands at Ohio Stadium began chanting "Get used to it" as the Bucks closed out a 49-0 win. After Purdue beat the Buckeyes last year in West Lafayette coach Danny Hope told everyone to "get used to it." Hope found himself eating a little humble pie Saturday.

One-liner: The Boilermakers already had left the building by the time TBDBITL performed its halftime tribute to Elvis. (The Ohio State Marching Band's halftime show included a series of Elvis Presley songs and featured an Elvis impersonator. The caped King of Rock & Roll dotted the eye as the band formed "Script Elvis" during its finale. Elvis was then escorted off the field by several men in police uniforms.)

It was over when...: An angry Ohio State arrived at the Shoe ready to make Purdue pay for last year and last week.

Gameball goes to...: The whole Ohio State defense. A week after getting sliced and diced by Wisconsin, the defense achieved its first shutout since a 45-0 win over New Mexico State last season. It limited the Purdue offense to 118 yards, the fewest by an opponent this season, and put a stranglehold on the Boilermakers' zone-read option offense.

Turning point: Jermale Hines' recovery of a muffed punt by Purdue at 9:23 of the first quarter. Purdue, trailing 7-0, had forced a three-and-out, but when the return man ran into his blocker and couldn't field the punt, it bounced off the helmet of Chris Carlino, and Hines pounced. Moments later, Daniel Herron had his second touchdown, and the rout was on.

The repercussion: The Buckeyes knocked off one of the teams in front of them in the Big Ten standings but still need help to gain at least a tie for a sixth straight title. Michigan State is still unbeaten and in control. But clobbering Purdue so thoroughly can't hurt them in the polls.

Stat of the game...: 5,000. Terrelle Pryor became the ninth Ohio State QB to pass for 5,000 (5,180 passing yards) and passed Jim Karsatos (5,089) for eighth place on Ohio State's all-time list. He also became the sixth active FBS QB with at least 1,000 yards rushing and 5,000 yards passing.

Did you know: Ohio State is 40-of-44 (.909) in the red zone this season, the sixth best in the NCAA. The squad was 5-for-6 vs. the Boilermakers.

Did you know II: Purdue's seven first half possessions all ended in punts or turnovers, OSU put the throttle down and surged to a 42-0 lead.

Did you know III: The lopsided margin was the largest in the 53 game series with Purdue.

Did you know IV: The first half output was the most scored by Ohio State since putting up 45 on Northwestern in 2007.

Did you know V: Ohio State is outscoring the opposition 223-69 in the first half this season.

Did you know VI: Ohio State recorded a season-high 9.0 TFL (including two sacks). The previous high was 7.0 vs. Indiana.

Did you know VII: Ohio State is 23-1 when Terrelle Pryor throws at least one touchdown pass.

Best interception: Ohio State picked off two passes, including a nice interception along the Buckeyes' sideline near midfield late in the first half by sophomore strong safety Orhian Johnson. It was his first career pick. "I missed one I thought I should have had earlier in the game," he said, "so it was rewarding to get the one that I did." Linebacker Storm Klein added his first interception in the fourth quarter.

Best relief corps: Tailback Dan Herron carried the load, but a foursome of other Ohio State running backs combined for 102 yards on 24 carries - a productive afternoon from the bullpen of Brandon Saine, Jaamal Berry, Carlos Hyde and Jordan Hall.

First-timers: Both Corey "Philly" Brown and Spencer Smith scored their first career touchdowns for OSU on Saturday. On defense, Ohrian Johnson recorded his first interception in the second quarter, while Storm Klein had his first pick in the fourth quarter.

Significant time: Aaron Gant, a fifth-year senior defensive back from Detroit, made the first start of his career for Ohio State, as the nickel back. He moved into the free safety spot when Hines took over as nickel back...Gant was second on the team in tackles with six. "It felt great and it was fun," said Gant, a fifth-year senior who did not play last year because of a knee injury. "And when I say fun, I was just enjoying the moment. The nerves were probably going a little bit, but after the first couple of plays you calm down and just play like practice."

The view:
How the team sees it: Blowout means critics no longer dwelling On Wisconsin.
How the pollsters will see it: Sorry, but 49 points do not impress us. We've seen Oregon.
How Buckeye Nation will see it: After what happened last season, Purdue had it coming.

Translating Tress:
What he said: "Most recent misery (Wisconsin) probably trumps past misery (Purdue), but I don't have any empirical data for that." -- on whether last year's loss to the Boilermakers fired up the Buckeyes to seek revenge

What he meant: "But current data suggests Purdue is more miserable than anyone previously thought."

Dane Sanzenbacher, Sr WR, said it: "Their biggest thing was to remind everyone what an honor it is to play for this team. Tough losses happen. Being part of the Ohio State Buckeyes, you have to bounce back. Winning is a tradition here." - talking about inspiration from former Buckeyes who were captains who addressed the team at the annual captains' breakfast

Andrew Sweat, Jr LB, said it: "Last week we weren't aggressive. We had to get back this week to attacking. Coach Fickell always tells us to go out and make sure we do the little things well. This week we got back to working on the little things and making sure we were doing our job." -on the improvement of the defense

Bryant Browning, Sr OG, said it:"It's definitely up to the captains and the whole senior class to keep the team together. We need to make sure everybody understands what we're capable of doing and what it takes to get the job done."

They said it:
As heard on TV: If you've ever thought, I could do better than these guys, then this game and these Big Ten Network announcers were for you, because you could have. You would not have said, "Nick Mangold has to be a center, because he's from Centerville."

As heard on radio: "Do you ice him?" -- analyst Jim Lachey as Purdue lined up for a 56-yard field-goal attempt, trailing by 49 points with 31 seconds left

As heard from fan leaving stadium at halftime: "At least I was here longer than Purdue."

Numbers for dummies: 2: World impersonator titles won by Mike Albert, the Elvis imitator who performed with TBDBITL during halftime. Albert was Jim Tressel's teammate at Baldwin-Wallace.

Numbers for dummies II: 8-1: Ohio State's homecoming record against Purdue

Numbers for dummies III: 44, 415 — Offense yards in first half for Purdue, OSU. (415 yards on 49 plays compared to Purdue's 44 yards on 21 plays)

Numbers for dummies IV: 7 — Consecutive games in which OSU halfback Dan "Boom'' Herron has at least one rushing TD.

Numbers for dummies V: 42, 404 — Offense yards in first half for Purdue, OSU.

Best setup: Ohio State junior walk-on tight end Spencer Smith made the second catch of his career in the fourth quarter, a 23-yard grab for a touchdown that served as Ohio State's only points of the second half. "It's an unbelievable feeling," said Smith, the younger brother of OSU lineman Connor Smith and son of former OSU lineman Joe Smith. "For a while I was holding on to the ball and I didn't want to give it back, but Coach Tress always says hand the ball to the official, so eventually I had to."

Kerrigan corralled: Purdue's standout defensive end Ryan Kerrigan undoubtedly knows by now he cannot go unnoticed. Kerrigan was held to four tackles on Saturday, though he did have a sack and two tackles for loss. He entered the game as the Big Ten leader in tackles for loss (14) and sacks (5.5). "Every single play," said OSU fullback Zach Boren when asked how often he identified Kerrigan. "Every time I got down in my stance, I knew where No. 94 was. He's the one they build their defense around. We knew where he was the whole time." Some scouting services have Purdue defensive end Ryan Kerrigan ranked as a top-10 pick in the 2011 NFL draft.

Danny Hope, Purdue head coach, said it: "We talked about a lot of things we wanted to do today. Of course we didn't play well. There were several things we did wrong and we need to make sure we pull together next time. We gave up a lot of big plays and big chunks of yardage. A lot of times we had three or five freshmen in there against one of the best teams in the country." (On OSU receivers) "They weren't open. They were wide open."

Logan Link, Purdue Jr SS, said it: "I give all credit to Ohio State. They have great athletes and great coaches. They played hard and made more plays than we did. I have never been this excited to play a game before. I wanted to go out there and do whatever I could to help us win." -Link is from Ohio and is the only Ohioian starting forthe Boilmakers (and his parents are Buckeye fans).

Pink ribbons: were painted on the field at Ohio Stadium as part of a national breast cancer awareness campaign.

Pregame buzz: Certainty is in short supply whenever the Buckeyes come off a loss. So no one was sure whether they would roll over the Boilermakers or roll over and play dead, as they did last season at Purdue. Answer: Buckeyes rolled up 415 of their 489 yards by halftime. 'Nuff said.

The $70 question: The white-suited, bushy sideburned impersonator dotting the "i" in "Script Elvis" soothed fans who were all shook up about last week's loss -- for about the same price you'd pay in Vegas. As for the opening act, the Buckeyes put up 49 on Purdoo-doo and called it a day.

Just wondering: Why were those two imposters on the field masquerading as Buckeyes during timeouts? Turns out OSU allowed a small film crew to shoot a scene from an upcoming movie Touchback, starring Kurt Russell. As one press box quipster put it, "If it's a movie about Ohio State, they should call it Long Kickoff Return."


(Sources: ESPN/OSU Official Site/Columbus Dispatch/Lorain Morning Journal/Toledo Blade/Eleven Warriors)



Defense, special teams elevate their grades vs. Boilermakers: Ohio State Report Card
October 23, 2010 Source: Cleveland Plain Dealer - "...A -- Defense: The Buckeyes got their first shutout in almost a year, since blanking New Mexico State, 45-0, on Oct. 31, 2009. That was one of three shutouts last season and after some near zeroes early this year, the coaches left the first-team defense in a little bit longer than the first-team offense as they nailed this one down against the Boilermakers. "It means a lot. That's what you strive for every game," senior safety Jermale Hines said. "That's what you work for and it feels great to get a shutout. We just want to come out and do what we're capable of." Purdue was depleted offensively, but the OSU effort was impressive given that senior safety Aaron Gant was making just the second start of his career because of injuries, Andrew Sweat moved over to weakside linebacker with leading tackler Ross Homan out and even defensive end Nathan Williams didn't get the start, replaced by Solomon Thomas, after he was sick much of the week. Williams did play, though. "Those guys played great," Hines said when asked about Sweat and Gant. "They didn't give up any big plays or have any missed assignments." Purdue had just nine first downs, compared to 28 for Ohio State, didn't cross midfield in the first half and never moved the ball any closer than the OSU 39. That last drive led to a missed 56-yard field goal with 32 seconds left that preserved the shutout.

B -- Kickoff coverage: The Buckeyes made three personnel changes on their starting coverage unit compared to the group that gave up the game-opening return for a touchdown to Wisconsin last week. Out were cornerback Dominic Brown, walk-on Nate Ebner and running back Carlos Hyde. In were linebacker Jordan Whiting, receiver Grant Schwartz and defensive back Corey Brown. There was progress, as the Buckeyes allowed an average return of 17.6 yards on eight kickoffs. Purdue did get three returns past the 35, including one that the Buckeyes pooched short. Jim Tressel said another return that stretched across the field made him nervous, but "I thought we improved a little bit." "I think it was more an attitude change," said Whiting, who was in on the tackle on the first kickoff, assuring there wouldn't be a Wisconsin repeat. "We had a refuse-to-lose mentality this week. When you have more than one guy doing something, more than one guy that brings that positive vibe, it helps out a lot."

C -- Terrelle Pryor's setup of the Boilermakers: It cost the Ohio State quarterback an interception, but it also led to Ohio State's biggest play of the day, a catch that Dane Sanzenbacher grabbed in stride over the middle and then turned into a 56-yard gain. Pryor said his second-quarter throw that was intercepted by linebacker Will Lucas was the same call that yielded Sanzenbacher's big catch nine plays later. "I was supposed to read the [linebacker] and I thought I could get it out real fast," Pryor said. "It was the same look and he jumped the route and he picked me off, and then all of a sudden it was 60 yards."

F -- Secondary luck: One of the players added to the kick coverage was red-shirt freshman defensive back Corey Brown, who had to change from jersey No. 3 to No. 9 so he could be on the same coverage unit with No. 3 Brandon Saine. Brown also moved from cornerback to safety recently and safeties coach Paul Haynes said this week he thought Brown could help the team, considering three of the team's top safeties were already hurt. In the fourth quarter Brown went down with a left knee injury and was taken into the locker room on a cart, and his prognosis doesn't look good. "I'm afraid he hurt his knee," Tressel said. "He's a guy that's come along, and you could just see he's really going to help you. I'm afraid we won't have him for a bit."..."




The Bottom Line
October 23, 2010 Source: Columbus Dispatch - "...Offense (4 leaves): The temptation is to knock off a leaf because of TP -- two picks -- but it's easier to be generous in a 400-yard, six-score, this-game's-over first half. The Buckeyes racked up 19 plays of 10 yards or more, none delivered via the legs of Terrelle Pryor. That's a "good on ya" for the offensive line.

Defense (4 leaves):The problem at Purdue isn't agents dealing with players but doctors, so banged up is the offense. Still, the Buckeyes couldn't have asked for a better prescription after getting their hats handed to them a week ago. OSU dealt the punishment this time and earned its first shutout, which barely was in doubt.

Special teams (3 leaves): OSU's best special-teams play was its first, when Jordan Hall allowed Purdue's opening kickoff to trickle out of bounds. Good patience, first down at the 40. Otherwise, the Buckeyes cleaned up the return game and got a key turnover after a lucky-bounce punt glanced off a Boiler.

Coaching (4 leaves): An automobile always looks best when it's sparkly clean, and so it is with football games that end in W rather than L. Still, the Buckeyes didn't mope in after the Madison meltdown, and they didn't even walk through yesterday's door. They kicked it in, seized control and asked questions later.

Opponent (1 leaf): That sure wasn't the Boilermaker they teach you in bartender school. In fact, it was more like a short glass of warm 3.2 beer. And that was fine with the Buckeyes, who had their share of Wiscy last week. Purdue QB Rob Henry may be slick on his feet, but his arm was all stink. And now he's hurt.

Officiating (3 leaves): Dennis Lipski's crew stayed out of the picture, which was a fine way not to prolong the Purdue suffering. One review correctly upheld Daniel Herron's stretching TD run, and the zeebs rightly picked up a flag when a Boilers' botched punt return conked a Purdue helmet. Way to talk it out, men..."




Report Card
October 24, 2010 Source: Warren Tribune Chronicle - "OFFENSIVE LINE - A:How many times do you think Jim Tressel and Jim Bollman made the OSU linemen watch video of Ryan Kerrigan blowing up the Buckeyes' blocking last season? OSU did a much better job against the sack machine this time, but it would have been tough to do any worse.

DEFENSIVE LINE - A: The Buckeyes dominated up front. All four starters made plays in the backfield. Nathan Williams sacked Purdue backup QB Sean Robinson on fourth-and-3 near midfield in the third quarter. Cameron Heyward and Dexter Larimore combined for nine tackles.

PASSING GAME - A: Terrelle Pryor was 16-of-22 for 270 yards. The Buckeyes were much more aggressive in the passing game, stretching the field and taking advantage of one-on-one matchups. Dane Sanzenbacher and DeVier Posey got open seemingly at will. Corey Brown also contributed.

RUNNING GAME - A: Dan Herron's hard running set the tone from the start, when he ran five times for 45 yards on the Buckeyes' first possession. Herron capped it with a 10-yard TD run. Herron had 74 yards on 16 carries. I think Pryor is banged up. He ran just four times for -2 yards.

LINEBACKERS - A: Ross Homan (foot) was out. Andrew Sweat moved from Sam to Mike and had a busy day with a team-high eight tackles (2.5 for losses), a forced fumble and a pass breakup. Brian Rolle had a sack. Storm Klein had one of two Ohio State interceptions. The aggressiveness was back.

DEFENSIVE BACKS - A: The secondary looked lost against Wisconsin at times, but was better this time. Christian Bryant (foot infection) did not play. Aaron Gant had a season-high six tackles, which doubled his season total. Nate Oliver forced a fumble and Orhian Johnson intercepted a pass.

SPECIAL TEAMS - B: The Buckeyes didn't give a big play in the kicking game. In fact, a louder-than-normal cheer went up when OSU made a routine tackle on its first kickoff of the day. It was almost as if the crowd expected the Boilermakers to return the kickoff for a touchdown.

COACHING - A: The Buckeyes were prepared. Clearly, special attention was paid to producing winning performances in the trenches both offensively and defensively, because OSU's efforts in those areas were much difference than a week ago in the loss to the Wisconsin Badgers.

INTANGIBLES - B: About the only mistakes the Buckeyes made were Pryor's interceptions. The first wasn't all his fault, as the pass was tipped by the intended receiver. The second came on a slant pattern. Pryor either delivered the ball late or didn't see the defender who jumped the route..."




College Football: Ohio State Report Card
October 24, 2010 Source: Mansfield News Journal - "...The Boilers came in with the Big Ten's No. 1 rush defense, but you'd never know it by the holes opened up by the front five...as importantly, OSU dug in against Big Ten sack leader Ryan Kerrigan, keeping him from bivouacking in the backfield... They chipped at Kerrigan, who had three sacks last year and only one Saturday, with running backs coming off the edge to help with double teams. GRADE: A

Dan Herron had 63 yards rushing and two touchdowns in the first quarter against a defense that was yielding only 74.5 a game. He wasn't nearly as effective the rest of the way (11 carries, 29 yards), but by then it was too late. One of the best ways to take the heat out of a pass rush -- Purdue came in leading the Big Ten with 18 sacks -- is to run misdirection. The Buckeyes had some success on reverses with Brandon Saine and Corey "Philly" Brown. GRADE: B

Another way to slow down a pass rush is with screen passes. We saw more screens Saturday then we've seen in all other games combined. DeVier Posey made a nice adjustment on his 22-yard scoring grab...It was just his second TD since catching two in the opener against Marshall. Dane Sanzenbacher flashed his deceptive speed on a 56-yard catch. Even Corey "Philly" Brown got in the act, reaching high for a 15-yard TD before halftime. Terrelle Pryor threw three TDs, but his two interceptions won't make his coach happy. GRADE: B

The front four needed a soft touch after the way it was manhandled last week by Wisconsin...Solomon Thomas started at end in front of Nathan Williams. There were Cam Heyward and John Simon sightings in the Purdue backfield (eight tackles between them, including 2.5 for loss), which is encouraging given how quiet they've been most of this season. Dexter Larimore also had four tackles, including one for loss. GRADE: A

They wouldn't want to try it for too long, but the Buckeyes got along just fine without Ross Homan on Saturday...it might not have mattered who OSU plugged into Homan's spot. Weak-side replacement Andrew Sweat led the way with eight tackles, including 2.5 for loss, a forced fumble and a pass breakup. The Boilers, down to their third quarterback and third tailback, had only 30 yards rushing and 118 yards total offense. GRADE: A

The secondary broke in its third starting nickel back this season in Aaron Gant. He responded with six tackles, second-high on the team. Safety Orhian Johnson had an interception to set up a touchdown and Jermale Hines had a fumble recovery (on special teams). Just to show you how little depth OSU has in the back seven, the entire starting secondary was still on the field in the fourth quarter. GRADE: A

All quiet on the homefront -- for once. No kickoffs or punts taken back for touchdowns, no field goals blocked and returned for scores. There was a strange line-drive kickoff by Drew Basil that set Purdue up at its own 40 and O.J. Ross looked like O.J. Simpson breaking four tackles on a 35-yard kick return...The worst news was losing freshman defensive back Corey Brown off the specialty units with what appears to be a serious knee injury. GRADE: B

The assortment of screens and reverses were nice, but where were they when OSU needed them last week?...Maybe they should ship their home locker room to Minnesota next week and, more importantly, to Iowa City on Nov. 20. The Boilers were so pathetic, the Elvis impersonator who performed with the OSU band could have worn Tressel's headset in the second half. GRADE: A..."



Injuries mounting in OSU's secondary: Yet another defensive back went down on Saturday with what is believed to be a serious knee injury. Freshman Corey "Pittsburgh" Brown was helped off the field late in OSU's 49-0 win over Purdue. He was then taken by motorized vehicle to the locker room facility with a dejected look on his face. "I'm afraid he hurt his knee," Coach Jim Tressel said of Brown. "You hate losing guys. You know, Corey Brown has been such a ... guy that's come along. And you could just see he's really going to help you. "I'm afraid we won't have him for a bit."

Brown's injury is just the latest in a long line of injuries to the defensive backfield. Tyler Moeller (chest) and C.J. Barnett (knee) are out for the season, while Christian Bryant had foot surgery this week and will miss an unspecified number of games.

Source: The Lorain Morning Journal



Problems afoot: The foot problems of junior offensive tackle J.B. Shugarts continue. Shugarts was removed from the game midway through the second quarter, replaced by freshman Andrew Norwell. He did not return. Tressel said the plan was to only play Shugarts in the first half. Shugarts said the lingering injury, which he said first arose last year after the Penn State game, is frustrating but that he needs "to block it out and step it up. "It's extremely frustrating," he said. "I really don't get to practice as much as I'd like to. Just getting ready for a game is harder than usual." He hopes rest and recuperation will help, but that might not come for a while. "I would really love to not get surgery," he said. "But if that's what it has to be, then that's what is has to be."

Source: The Lorain Morning Journal



Jake Stoneburner, who has been nursing an ankle injury, did not start at tight end — Reid Fragel did — but Stoneburner still played.






Buckeyes receive some freshman flash from speedy Corey Brown
October 23, 2010 Source: Cleveland Plain Dealer - "...The Buckeye coaches are gradually making him a bigger part of the offense. It's partly to keep their starters fresh. There was some indication in last week's loss at Wisconsin that they may have tired late in the game, Coach Jim Tressel said. Brown said receivers coach Darrell Hazell called he and senior Taurian Washington to his office this week and told them to be ready, that one or both of them must have a big game.Immediately after that, Brown had one of his worst practices, dropping something like six passes. It was the only week in which he has lined up with the first team almost exclusively. "For Coach Hazell to give me another shot," he said, "I really appreciate it."

Brown, who coaches call "Philly" to differentiate him from his defensive back teammate Corey Brown, who is from western Pennsylvania, finished with two catches for 38 yards, 18 yards on an end-around and added a 10-yard punt return in the Buckeyes' 49-0 thumping of Purdue Saturday. As a burner on the outside, the 5-11, 170-pound Brown offers Pryor a third, speedy target to complement Posey and possession guy Dane Sanzenbacher.

"He reminds me of, like, Ted Ginn with his speed," said Pryor, who tossed three touchdowns, all in the first half. "He's going to surprise you guys in the next couple of years, even when I'm not here. You've got a great player in Corey Brown, you'll find that out." At Cardinal O'Hara High School in Philadelphia, they already know. Brown was more a running back there in a spread offense, rushing for more than 3,000 yards and accounting for another 1,500 receiving yards and 50 touchdowns..."




Big Ten helmet stickers: Week 8: Ohio State LB Andrew Sweat: The Buckeyes defense missed a big piece Saturday in senior linebacker Ross Homan (foot), but Sweat stepped up in a big way to fill the void in a 49-0 win over Purdue. Sweat led a suffocating defensive effort with eight tackles, 2.5 tackles for loss, a forced fumble and a pass breakup. He shares the sticker with the rest of the defense, which held Purdue to nine first downs and just 118 total yards.

10/23/10 Source: ESPN





Pryor Pleased After Emphatic Win
10/23/10 Source & Story Link: Bucknuts.com







Coach Hope Press Conference vs. Ohio State



Grading the Boilermakers
October 24, 2010 Source: BoilerStation.com - "Offense: The only reason not to give this group a failing grade is that the most promising students were injured and unable to take Saturday's test. Robert Marve. Ralph Bolden. Keith Smith. Justin Siller. Dan Dierking. And now quarterback Rob Henry. Purdue's 55 snaps produced only 118 total yards, a 2.1 average per play. In keeping with the theme of what has happened to this side of the ball, it absolutely was painful watching Purdue try to muster anything in the way of a sustained drive against an Ohio State defense that gave up 31 points last week in a loss at Wisconsin. When a team averages 1.1 yards for each rush, it's not going to win. Period. That was the Boilermakers' rushing average Saturday. At halftime, the Boilermakers' 21 plays had produced 47 yards.
D-

Defense: OK, so Ohio native Logan Link played inspired football -- again -- and made 13 tackles. Linebacker Dwayne Beckford always was around the ball, also making 13 stops. Linebacker Will Lucas and defensive end Robert Maci each intercepted Terrelle Pryor to kill Ohio State drives. But those decent statistics do not mask the fact the Buckeyes scored six first-half touchdowns, and in Danny Hope's own words, had receivers "wide open" in the middle of the field all day. The Buckeyes did a nice job of keeping Ryan Kerrigan away from Pryor. The Buckeyes finished with 489 total yards and really could have scored at least three more times had coach Jim Tressel not played it vanilla throughout the second half, when he substituted early and often. Yes, Purdue has injuries in its secondary, but at this time of the season, every team is banged up. The overall defensive performance was substandard. At best.
C-

Special teams: An Ohio State punt that bounced off Purdue defender Chris Carlino when the Boilermakers trailed only 7-0 was the beginning of the end. Cody Webster (46.7-yard average) punted extremely well, but Carson Wiggs missed a 56-yard field goal that could have avoided the shutout. Kickoff coverage and kickoff returns were neither exceptional nor poor. It simply was one of those very average days for Purdue's special teams.
Incomplete

Coaching: Assigning a grade to Danny Hope and his staff from this game is next to impossible, although most frustrated Boilermaker fans probably think he deserves an F for a game in which the opponent laid a 49-point drubbing on Purdue. With Robert Marve already lost for the season with a knee injury and Henry sidelined in the second half with a finger injury on his throwing hand, freshman Sean Robinson found himself as the main man in one of the most difficult places to play in America. Play selections -- or the lack of them -- really didn't matter in this game, because Purdue was playing shorthanded football. The body of work turned in by Hope on Saturday is not enough to grade..."




Boilers left behind by Buckeyes' speed
October 24, 2010 Source: Indianapolis Star - "...Logan Link (Purdue's only starter from Ohio) said it was evident early on just how much team speed Ohio State has. "You look at them, and they are really fast," Link said. "They have a really good quarterback (Terrelle Pryor) that checks the field. We tried to keep the ball in front of us and make tackles. I can think of a couple times I missed. "The things they did was stuff we had seen. They had really good play-calling for what we had going against them." Purdue defense end Ryan Kerrigan appreciated the way Link played in front of 105,387. "Clearly, he played pretty well," Kerrigan said. "We obviously didn't do a great job if their running backs were getting that deep. He has been playing well the past couple of weeks."..."




PURDUE

vs.

OHIO STATE


What to watch for today as Ohio State takes on Purdue at Columbus
October 23, 2010 Source: Cleveland Plain Dealer - "1. Ohio State linebacker Andrew Sweat getting more comfortable: It would be a mistake to minimize Ohio State's injuries on defense against Purdue today. Adding defensive back Christian Bryant and linebacker Ross Homan to the previous losses of safeties Tyler Moeller and C.J. Barnett must have some negative effect on the Ohio State defense. But Homan's absence will allow Andrew Sweat to be himself...with Homan out for at least a couple of weeks with a foot injury, Sweat will move back to the weakside -- or Will -- spot, and he should get a chance to really show what kind of player he can be. "You definitely get more opportunities to make plays," Sweat said. "I feel more natural at Will, but it's whatever's best for the team." He also needs to stay healthy. Sweat missed the second part of last season with a torn anterior cruciate ligament and also missed a game earlier this season with another injury. Dorian Bell, the next option at weakside linebacker, is also out this week with a concussion, so if anything happened to Sweat, the Buckeyes would be in a tough spot. They might have to turn to walk-on Tony Jackson, or even play Etienne Sabino. The plan is to redshirt Sabino this season, but he has been dressing for all the home games and would be ready if things got desperate.

2. Will Purdue be able to run?: The Boilermakers aren't the Badgers, although right guard Ken Plue is 358 pounds. Wisconsin's offensive line, which overwhelmed Ohio State last week, is the best in the Big Ten, and Purdue also doesn't have two backs such as Wisconsin's John Clay and James White. The Boilermakers are 27th in the nation in rushing offense, however, averaging 202 yards per game, 30 yards fewer than Wisconsin and 6 fewer than the Buckeyes...

3. Do you notice the Purdue second-teamers?: Ohio State's injury issues are nothing compared to Purdue. The Boilermakers have lost starting quarterback Robert Marve, No. 1 running back Ralph Bolden and top receiver Keith Smith for the season with torn ACLs...Think about Ohio State playing without Terrelle Pryor, Dan Herron and Dane Sanzenbacher, and you'll get an idea...

4. Where is Ryan Kerrigan?: The Purdue junior defensive end is the Boilermakers' best player and changed last season's upset of the Buckeyes with his pressure. OSU coach Jim Tressel noted this week that while Iowa, for instance, puts All-America defensive end Adrian Clayborn on one side of the line and usually leaves him there, Kerrigan moves around...Purdue's late shifts on the line confused the Buckeyes last season as well...Especially pay attention to when Kerrigan is over Ohio State right tackle J.B. Shugarts, who continues to play despite foot issues that might affect his ability to slide quickly in pass protection.

5. What to hear: For radio listeners, Paul Keels will be out for another week as the voice of the Buckeyes recovers from emergency abdominal surgery. Sideline reporter Marty Bannister will take his place as he did last week..."




Five for Purdue: What You Need to Know as the Buckeyes Take on the Boilermakers
October 22, 2010 Source: SB Nation Cleveland - "1. Mental Health of the Team. After suffering a tough defeat at the hands of the Wisconsin Badgers last Saturday, Ohio State will have to rebound quickly against Purdue this weekend. The Boilermakers defeated the Buckeyes last season in what ended up being the worst game of Terrelle Pryor's career. The junior signal-caller cannot afford to have a repeat performance of that game, where he threw two interceptions and also fumbled the ball twice...

2. Physical Health of the Team. Perhaps more tangible than any possible mental side effects from the Wisconsin loss last weekend, the depth chart at Ohio State is being tested by a rash of injuries that continued against the Badgers...

3. The New Purdue. Offensive coordinator Gary Nord has reconfigured the Boilermaker attack to protect redshirt freshman quarterback Rob Henry, who was thrust into the starting role after starting quarterback Robert Marve was lost on the season to a knee injury. Nord has gone to a running attack mixed with some option in order to take advantage of Henry's natural athletic ability without throwing him to the wolves in the passing game...

4. The Running Game. For the second week in a row, senior running back Brandon Saine did not receive one carry...Boom Herron took the bulk of the carries against the Badgers, but true sophomore Jordan Hall received time as well. Against a Purdue defense that has struggled against the run this season, it will be important for the Buckeyes to involve more players than just Boom Herron in the running game.

5. Special Teams...After yet another breakdown on the coverage units, Ohio State has once again adjusted personnel and had another week of practice emphasizing the importance of lane integrity. Kickoff specialist Drew Basil must improve his distance and, most importantly, his height on kickoffs, and the coverage units must own their lane. Purdue is near last in the country in both punt and kick returns, so this is the perfect game for the special teams to dominate..."




Five Key Factors
October 22, 2010 Source: Columbus Dispatch - "SET THE TONE: Or, an alternative title: Don't allow a touchdown on the opening kickoff. Ohio State needs to get the taste of its loss last week at Wisconsin out of its mouth right away, and this Purdue team clearly will not come in intimidated, having beaten the Buckeyes last season. For each team, aggressive first-quarter play-calling may be in order, because looking and feeling sharp early on will be huge in terms of establishing confidence.

PUT UP NUMBERS: The Buckeyes were held to a season-low 18 points last week, or 25 less than their average coming in. Purdue is not a typical high-scoring team as in years past _ the Boilers score 22.5 points a game and give up 20.3. That aggressive play-calling we mentioned that was key early? Actually, it will be key throughout. Purdue likes to control the clock, so some quick strikes could force the Boilers out of their comfort zone.

CORRAL KERRIGAN: Purdue's senior defensive end Ryan Kerrigan was a one-man wrecking machine against OSU last year, with three sacks and two forced fumbles. He leads the Big Ten with 5 sacks this year. Buckeyes left tackle Mike Adams (and possibly right tackle J.B. Shugarts on some plays) have a big challenge. As a team, Purdue leads the conference with 3.0 sacks a game, so OSU's entire line is on notice.

LINE IN THE SAND: Ohio State's defensive front got manhandled last week by Wisconsin, which often moved the Buckeyes aside and had its way up front. How powerful a motivator is embarrassment? And will OSU's coaches rotate more freely this game after sticking to five linemen last week? These Boilermakers like to run from their spread formation, calling an average of 41 runs and 30 passes a game. It's up to the Buckeyes' line to show if last week was a fluke or a trend.

TEST BUCKEYES' BACKUPS: Behind that defensive line, OSU is hurting. Linebacker and leading tackler Ross Homan is out because of a foot injury. Nickel back Christian Bryant has an infected foot and will sit out today. Bryant is the third starter to go down in the secondary this season, and the well is about dry there. Purdue should direct its quick-passing scheme toward some of OSU's inexperienced replacements."

On the Edge: Dispatch beat writers Ken Gordon and Tim May predict which team has the edge in this week's game. See if you agree..."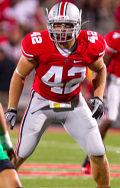 Master of versatility: Andrew Sweat adapts to whatever linebacker spot he is assigned
October 22, 2010 Source: Columbus Dispatch - "Andrew Sweat probably took the loss last week at Wisconsin as hard as any Ohio State player. It was just difficult to tell, considering the way he has been smiling as OSU prepares for a home game Saturday against Purdue. "You just have to have a short-term memory, and we have to finish out the season well," Sweat said. "I think everyone is hungry and realizes that there's still a lot of games to be played, and a lot can happen." Compared with his plight this time a year ago, when Sweat underwent knee surgery to have a torn anterior cruciate ligament repaired, what's not to smile about?

"After you tear your ACL, you don't know what to expect. Is your career over? What's going to happen?" Sweat said. "But Dr. (Chris) Kaeding is a great doctor. I rehabbed really hard. Ultimately I wanted to get to this point, and luckily I've been able to."

It even could be argued that Sweat is now the most valuable linebacker on the team, considering his versatility. In preseason camp he was thrust into the mix at strong-side linebacker, and he won the job. "I'd never played (strong side) before, so it is definitely different, being on the ball, you have to be great with your hands, you have to be fast," Sweat said. "(It) is a lot different from middle linebacker, but I was more than willing to play it whatever is best for the team."...

"He's fearless and athletic at the same time, so that makes him a (heck) of a player," Hines said. "The guy has knowledge of the game, knows where he's supposed to be, he's a hard worker, a very quiet guy. But once you know he's out there, he's going to give it his all." Running and hitting beat standing and watching any day, Sweat said. Yet he did make the most of standing around after his surgery, watching middle linebacker Brian Rolle and Homan. "I think that helped this year, and I felt comfortable going to (the weak side)," Sweat said. "Ross is patient, but when he sees it, he attacks. He always has an understanding of the formation, he's really cerebral, and so is B-Rolle."..."


Jim Tressel Thursday Press Conference Pre Purdue
10TV Columbus
Jim Tressel Thursday Press Conderence Transcript
10TV Columbus

Jr LB Andrew Sweat, who is replacing the injured Ross Homan in the starting lineup
NBC 4 Columbus



KEY MATCHUP
Purdue DE Ryan Kerrigan against Ohio State's offensive line. A year ago, in a stunning 26-18 upset of the seventh-ranked Buckeyes, Kerrigan destroyed Ohio State with nine total tackles, including four for losses with three sacks, two fumbles caused and one fumble recovered.

PLAYERS TO WATCH
Purdue: QB Bob Henry steps onto the big stage. He's played well since taking over for the injured Robert Marve. He'll need to make good decisions on when to keep the ball, when to hand off to RBs Dan Dierking and Keith Carlos, and when to throw to WRs Kyle Adams and Cortez Smith.

Ohio State: QB Terrelle Pryor was largely ineffective in the loss at Wisconsin, just like a year ago, when the Boilermakers sprung the big upset. At the same time, the defensive line of Nathan Williams, Dexter Larimore, John Simon and Cameron Heyward were manhandled by the Badgers.

Associated Press







Expect more changes on Ohio State's kickoff team
October 20, 2010 Source: Cleveland Plain Dealer - "What if there's a member of the Ohio State kickoff coverage team who knows what to do -- be disciplined, stay in your lane, get under control, take on blocks -- yet he hasn't fulfilled those duties and makes the same kind of mistakes two or three times? Might he find himself taken off the coverage unit? "There's no doubt," said OSU assistant Paul Haynes, who is in charge of the kickoff coverage.

So, might there be some more personnel changes to OSU's kick coverage after giving up a second kickoff return for a touchdown this season against Wisconsin on Saturday? "A little bit," Haynes said curtly.

The Buckeyes are one of five teams in the country to allow two kick returns for touchdowns. On those two returns, five of the OSU coverage guys, along with kicker Drew Basil, were the same, and five were different. The five holdovers out there Saturday were senior safety Aaron Gant, redshirt freshman cornerback Dominic Clark, junior safety Nate Oliver, sophomore walk-on defensive back Nate Ebner and sophomore linebacker Jon Newsome. The players out there for the Wisconsin return who weren't out for the Miami return were senior running back Brandon Saine, sophomore running back Jordan Hall, freshman running back Carlos Hyde, junior walk-on linebacker Tony Jackson and redshirt freshman safety Jamie Wood...

OSU coach Jim Tressel doesn't believe the Buckeyes need to do anything different with their coverage scheme or strategy. He also said Newsome was "grabbed and tackled" on the play (Wisconsin KO return for a TD). So it will be more of the same, but maybe with a few different players. "You can't go around a blocker. . . . You have to take on blockers square. As soon as you go around them, you think, well, I can go around them, I'm going to catch [the returner]," Tressel said. "Well, you're not going to catch him, not when you're going a million miles an hour that way and he's coming this way. It doesn't happen."..."




Through seven games and 181 passes in 2010, OSU quarterback Terrelle Pryor has tossed only four interceptions. Quarterbacks coach Nick Siciliano talked to the media Thursday about Pryor's careful nature with the ball and the reasons behind his four picks on the year in this edition of the BSB Clip of the Week. October 21, 2010 Source: BuckeyeSports.com





Five questions to ask about Ohio State - Purdue
October 21, 2010 Source: The Lantern (OSU) - "1. Can Ohio State control its emotions? Common sense suggests the Buckeyes were already fired up to play Purdue after their embarrassing 26-18 loss last Oct. 17 in West Lafayette. Ind. Now, following a loss at Wisconsin after only one week ranked at No. 1, the team will be chomping at the bit to take the field...

2. Will the OSU offensive line handle Purdue's version of J.J. Watt?...The men who man the trenches will get no off-day on Saturday against Purdue's Ryan Kerrigan. In last season's game, Kerrigan tortured the Scarlet and Gray offense for nine tackles and three sacks. So far this season, Kerrigan has six sacks despite being the focal point for opposing teams' offensive lines.

3. Is 'Boom' Herron ready for a No. 1 running back role? ...In the last three games, Herron has carried the ball 54 times. In that same span, Saine has rushed the ball eight times, including no carries in the past two games.

4. After a subpar showing last week, will the OSU defensive line rebound?...Wisconsin manhandled the OSU defensive line at times and surrendered 184 yards on the ground to the Badgers...In most years, OSU rotates about eight players along the defensive line to keep fresh legs in the game and create a solid push on the line. In the first quarter, Wisconsin embarked on a 19-play, 89-yard drive that resulted in a touchdown. The only player substituted for one of the starters on the defensive line during that drive was freshman Johnathan Hankins.

5. Are injuries becoming a serious concern for the defense? The "Silver Bullets" have quickly become the walking wounded...already without safety C.J. Barnett and hybrid linebacker/safety Tyler Moeller for the season. Barnett's replacement, Orhian Johnson, is banged up. Moeller's replacement, Christian Bryant, has a foot infection that requires hospitalization until at least Friday, Tressel said. Starting linebacker Ross Homan will be out a few weeks with a foot injury. His backup, Dorian Bell, suffered a concussion against Indiana and is still out. Although Tressel essentially said the next man in line needs to step up, the injuries are not only depleting the defense but also the special teams, where many of the backups play. The last thing a struggling OSU special teams unit needs is new and untested faces..."







Tressel One on One, Jim Tressel, Jermale Hines & Dane Sanzenbacher Talk Purdue multiple videos; select from menu



Ohio State working hard on special teams, again
October 20, 2010 Source: Associated Press - "Kickoff coverage, and special-teams play in general, continues to be an ongoing problem for the Buckeyes. Just 12 seconds into Saturday's game at Wisconsin, Ohio State trailed 7-0 thanks to David Gilreath's 97-yard return with the opening kickoff. The Buckeyes are, as always, spending a lot of time on kick coverage this week. "Well, there aren't any other issues, other than being in your lane and taking on blockers and everyone being where they're supposed to be," coach Jim Tressel said of Ohio State's approach to kick coverage. "What can you do? You can try to grow to understand that it just takes one guy (to cost you a touchdown). We always talk as a kickoff return team, 'Make them be perfect.' You know, we had probably two or three problems on that first kick." By the same token, Tressel didn't pin the loss on that one play. "Please don't paint the picture that us having the kickoff taken back lost the game," he said. "Because we still had 59 minutes and 48 seconds, so we had plenty of time to make up for that."

ANOTHER PHYSICAL TEAM: To a man, the Buckeyes bemoaned the fact that the Badgers were far more physical than they were. So what's been the key in the remarkable turnaround from program-killing injuries for the Boilermakers — who Ohio State host on Saturday? As Olivia Newton-John put it, "Let's get physical." Purdue leads the Big Ten in defense against the run, allowing just 75 yards a game in Big Ten play. Asked to pinpoint why his team is so much better at stopping the run, coach Danny Hope said, "There have been several things. I think we've become more physical across the line of scrimmage on both sides of the ball. We still have a lot of work to do, and we're not near where we want to be. But I think we've increased our physicality across the line of scrimmage." During a bye week after a loss at home to Toledo on Sept. 25, the Boilers put on the pads and went at it gladiator-style in the trenches. It was a revelation. "We came out in full pads, not as a punishment, but to go out and work on playing physical across the line of scrimmage," Hope said. "And our guys stepped up some at that point in time."...

LITTLE THINGS? DL John Simon said it was just "little things" that led to Wisconsin moving the ball so well and the Ohio State defense having so much difficulty getting off the field. "I would just say people, every so often, not executing well," he said of the defensive lapses. "Just little things here and there." He was asked what kind of little things. "Being in the right place at the right time," he said..."




Ohio State's defense feeling the stress as injuries keep mounting
October 19, 2010 Source: Cleveland Plain Dealer - "For an Ohio State defense coming off a loss to Wisconsin in which the lack of depth on the defensive line was revealed more than ever, injury news on Tuesday was like rubbing it in. "I've never seen anything like it," senior safety Jermale Hines said, "but you have to get through it and try to get guys healthy."

For Saturday's game against Purdue, the Buckeyes will be down two more starters on defense, and both are very big deals. Leading tackler Ross Homan, the senior co-captain and weakside linebacker, will sit out with a foot injury, while freshman defensive back Christian Bryant, the starter in the nickel defense at Ohio State's star position, is out with an infection in his right foot, meaning the Buckeyes are now without three of their top five players at the safety/star position.

"Someone's got to step up," coach Jim Tressel said Tuesday. "I mean, who cares how difficult it is? ... We've got to have someone ready. What's why you get to practice Tuesday, Wednesday, Thursday, and have walk-throughs on Friday. If you want anyone to care that you've had three guys in your secondary hurt, you're coaching the wrong sport at the wrong school because we've got to be ready."...

As for Homan, who left the game against the Badgers, Tressel said he should be out a couple of weeks -- which means movement in the linebacking corps. Junior Andrew Sweat will slide from strongside linebacker to replace Homan on the weak side. When the Buckeyes go to their nickel defense, which they should do a decent amount against the Boilermakers, Sweat will stay in the game as one of two linebackers with Brian Rolle.

In that nickel look, starting safety Jermale Hines said he will probably slide down into his old spot at the star position, replacing Moeller/Bryant, while senior Aaron Gant moves into Hines' safety spot. Gant is a big hitter who has battled injuries his whole career. In the base defense, second-team sophomore Jonathan Newsome will shift into Sweat's old starting strongside role..."

FEELING THE PAIN

The Buckeyes are getting thin in the back of their defense, with three major injuries among their top five players at the safety/star position and three of their top six linebackers banged up as well, with leading tackler Ross Homan out for a few weeks.

• C.J. Barnett, Soph., starting safety: Knee surgery, out for year
• Tyler Moeller, Sr., starting star back: Torn pectoral muscle, out for year
• Ross Homan, Sr., starting weakside LB: Foot injury, out a couple weeks
• Christian Bryant, Fr., replaced Moeller at star: Foot infection, out this week
• Dorian Bell, Fr., No. 2 weakside LB: Missed last week with concussion
• Storm Klein, Soph., No. 2 middle LB: Limited for several weeks with hamstring injury.




Purdue (4-2, 2-0) at No. 10 Ohio State (6-1, 2-1): Purdue is one of those teams that always plays Ohio State tough, but the Buckeyes might have steam coming out of their ears for this one. Ohio State won't overlook Purdue again after last year's loss in West Lafayette, and the Buckeyes are doubly mad after stumbling last week at Wisconsin. Henry is 2-0 as Purdue's starter, but he'll be tested at The Shoe.

Source: ESPN






"We tell our guys countless times that there are 10 teams that want one thing for sure, and that's for Ohio State not to be the Big Ten champions." - Jim Tressel said as he prepared his team for its next opponent, Purdue.



Quote To Note: "Purdue really doesn't care about the difficulty of the challenge or the adversity (we've suffered). Purdue has had its own adversity. They lost their quarterback early. They lost a running back in preseason. They lost a great receiver. And to their credit, they just rolled up their sleeves and have gotten better and better and better."—Ohio State coach Jim Tressel on facing Purdue after Ohio State's painful loss at Wisconsin

Did you know: Under coach Jim Tressel, Ohio State is 19-2 after a loss. Tressel hasn't suffered back-to-back losses since October 2004.

Scouting The Defense: The Buckeyes have only eight sacks in seven games, so restoring the pass rush and getting pressure on the quarterback is critical. Ohio State is also dealing with significant injury losses at linebacker and in the secondary. The talent is still more than adequate, so the mission against Purdue is to restore the confidence lost when Wisconsin manhandled this proud defensive unit.

Scouting The Offense: The Buckeyes were held to a season-low 18 points in the loss at Wisconsin, and need an explosion of success to get back on track. QB Terrelle Pryor seems healthy enough after resting his sore left thigh, and his role will be vital down the stretch. Ohio State appears to have settled on Dan Herron as its tailback, and Brandon Saine seems more comfortable as a slot receiver. WR Dane Sanzenbacher has made numerous acrobatic catches, and his seven TD grabs lead the Big Ten. Rivals.com

Purdue, unbeaten in the Big Ten because it's finding ways to win. The Boilermakers were dealt a severe blow with the loss of quarterback Robert Marve four games into the season, but they persevered. One reason is because they are playing better defense, and everyone remembers what that defense, led by Ryan Kerrigan, did to the Buckeyes a year ago.

Source: Columbus Dispatch



The Purdue Boilermakers improved to 4-2 on the season following a 28-17 victory of the Minnesota Golden Gophers. Purdue QB Robert Henry had a very nice day, completing 13/20 for 163 yards and a TD. Henry also rushed for 57 yards on 17 carries and scored three times on the ground. Dan Dierking was the leading rusher on the day for Purdue as he rushed for 126 yards on 12 carries.

Source: The Webmaster



Big Ten Week 7 rewind Game Balls: Ohio State WR Dane Sanzenbacher: If there's a tougher wide receiver in America, feel free to send me his name because Sanzenbacher is my pick, hands down. Sanzenbacher never shies away from contact and making gutsy catches. He had six of them for 94 yards against Wisconsin. Sanzenbacher is playing like a first-team All-Big Ten receiver. Source: ESPN

The pieces are scattered, but they are still there for a Big Ten title-challenging team. The Buckeyes just have to put them together again. The way Purdue stunned them last year should aid the quick-fix project. Every good team in the country evidently is going to have at least one bad day this season. But no one can afford two.

Source: Columbus Dispatch









SERIES RECORD
• The Buckeyes and Boilermakers have met 52 times previously on the football field, with Ohio State holding a 37-13-2 advantage in the series. Ohio State leads 24-5-2 in all games played at Columbus and 12-7 in all games at Purdue.

AT HOMECOMING
• Ohio State's record in Homecoming games is 64-19-5; 2010 will be the 89th Homecoming celebrated at Ohio State. The Buckeyes have only faced four non-conference teams (3-0-1) in Homecoming games. Coach Jim Tressel is 7-2 in Homecoming games at Ohio State.

FIRST AND 10
• Ohio State is 35-38 (.920) in the red zone this season, sixth best in the nation

• Tressel is the only coach in NCAA annals to win 100 games at two different schools

DID YOU KNOW?
• During the Jim Tressel era at Ohio State, in the games following the Buckeyes' 21 losses, OSU has a 19-2 record. Thirteen of those games were at Ohio Stadium, where the Buckeyes under Tressel are 12-1 in the game following a loss. Only once during the Tressel era has Ohio State recorded back-to-back losses, a three-game stretch with losses at Northwestern, to Wisconsin and at Iowa in October, 2004.

• Ohio State has made 91 consecutive appearances in the AP Top 25 poll, the longest active streak among FBS teams. Alabama is second with 40.

• Ohio State has won 57 straight regular-season non-conference home games against teams not ranked in the AP Top 25.

THREE AND OUT
• The Ohio State defense is averaging 5.42 threeand-outs per contest this season. The game-bygame totals in that statistic: vs. Eastern Michigan (10); Ohio (8); Illinois (6); Marshall, Indiana (5); Miami (3); Wisconsin (1). Ohio State was third in the nation in 2009 behind TCU and Alabama, averaging 5.61 three-and-outs per game.

PLAYER NOTES:
• Ohio State is 30-5 in the games in which Sanzenbacher has recorded at least one catch.

• Dan "Boom" Herron has scored at least one TD in six consecutive games

• Ohio State is 9-1 against Big Ten opponents when Pryor has rushed for at least 50 yards.

NOTING THE BUCKEYES
• Ohio State is sixth nationally in turnover margin (+1.43) with 18 forced turnovers in 2010.

• Through seven games, Ohio State ranks first in the Big Ten in scoring offense (39.57), total defense (251.14), turnover margin (+1.43), pass defense (157.43) and pass efficiency defense (98.37). The Buckeyes are second in the conference in rushing defense (93.71), scoring defense (16.00) and kickoff returns (26.24).

THE SILVER BULLETS
• Among Big Ten teams, Ohio State ranks fi rst in the Big Ten in total defense (251.1), pass defense (157.4), TO margin (1.43) and pass defense efficiency (98.3) and rank second or third in scoring defense (16.0), rushing defense (93.7) and fewest opponent first downs (95).

HONORARY CAPTAIN:
WEAR PINK
• The Buckeyes encourage fans to wear something pink Saturday as part of Breast Cancer Awareness Month. OSU players will wear pink wrist bands this weekend to commemorate Breast Cancer Awareness Month.

PURDUE AT A GLANCE
• 2010 Record 4-2, 2-0 Big Ten, having won four of their last five, including wins at Northwestern (20-17) and at home last week against Minnesota (28-17).

• The Boilermakers look to win three consecutive Big Ten contests for the first ti me since 2006 ... Purdue attempts to go 3-0 in the league for the first time since 2003.

• Last Purdue road victory vs Ohio State: 1988

• Boilermakers successful at stopping run; haven't allowed a 100-yard rusher this season.

• The Boilermakers lead the Big Ten with 18.0 sacks and 45 tackles for loss. On a per-game level, the Boilers' 3.0 sacks and 7.5 TFLs are also tops in the conference and rank 11th and 12th nationally, respectively ... Purdue has at least one sack and five tackles for loss in all six games thus far ... The Boilers posted a season-high five sacks against Northwestern on Oct. 9.

• Defensively, Purdue is led by All-Big Ten defensive lineman Ryan Kerrigan, who leads the team with 28 tackles. He leads the Big Ten and is second in the NCAA with14.0 TFL and also tops the Big Ten with 5.5 sacks and three forced fumbles.

• Top Leaders
Rushing: Rob Henry 64-356 Yds, 4 TDs
Passing: Rob Henry 40-79-3, 443 Yds, 3 TDs
Receiving: Kyle Adams 20-122 Yds, 0 TD
Tackles: Ryan Kerrigan 28-13-41, 14 TFL, 5.5 Sacks

• The Purdue offensive line has gone back-to-back games without allowing a sack to the opposition. The feat marks the first time since 2008 that the Boilers have not allowed a sack in a game twice during a season (Notre Dame and Michigan), the first time since 2006 to do so in consecutive games (Ball State, Minnesota and Notre Dame) and the first time since 2005 to do so in back-to-back Big Ten games (Northwestern, Wisconsin and Penn State).

• The Boilermaker offense carries on with its maturation process under redshirt freshman quarterback Rob Henry ... Purdue attempts to rush for 200 yards in a sixth straight contest.

• Henry, who has thrown for 210 yards and rushed for 189 in his fi rst two starts. He leads the team in rushing with 356 yards. Last week against the Gophers, he passed for 163 yards with one touchdown and rushed for an additional 57 with three scores.

• Head coach Danny Hope, in his second year, is 9-9 and completed a successful rebuilding year with a 5-7 overall record and 4-4 Big Ten Conference mark last season.

TV: The Big Ten Network will televise the game with Eric Collins (play-by-play) and Chris Martin (analyst) in the booth and Charissa Thompson on the sidelines.

Radio: WBNS (97.1 FM The Fan) is the flagship station for the 73-station Ohio State radio network. Paul Keels, the radio voice of the Buckeyes, will miss a second straight game after undergoing emergency abdominal surgery last week. Marty Bannister, usually the sideline reporter, will do play-by-play again, joining analyst Jim Lachey. Dom Tiberi of Channel 10 will be the sideline reporter. The game can also be heard on Sirius satellite radio 113 and XM 102.



Big Ten stock report: Week 8:
STOCK DOWN: Ohio State's defensive line: This group rarely ends up here, but it got overwhelmed by Wisconsin's offensive front on Saturday night. The Buckeyes recorded no sacks or quarterback hurries and recorded only two tackles for loss. Nathan Williams struggled after some strong performances, and Cameron Heyward was held in check as Wisconsin created some enormous rushing lanes for its backs.

Source: ESPN





Ohio State Buckeyes
Purdue Boilmakers

2010 Totals

Offense:
39.6 ................................ Pts/gm .......................... 22.5
443.7 ..........................Total yds/gm ........................ 361.5
208.4 ......................... Rush yds/gm ........................ 202.3
41.0 .............................Carries/gm ........................... 40.7
5.1 ................................ Yds/carry .......................... 5.0
235.3 ..........................Pass yds/gm ........................ 159.2
28.9 ............................ Pass att/gm .......................... 29.7
12.6 ......................... Yds/completion ......................... 8.9
Defense allows:
116.0 ................................ Pts/gm .......................... 20.3
251.1 ..........................Total yds/gm ........................ 344.3
93.7 ........................... Rush yds/gm ........................ 123.5
31.0 .............................Carries/gm ........................... 35.7
3.0 ................................ Yds/carry .......................... 3.5
157.4 ..........................Pass yds/gm ........................ 220.8
27.5 ............................ Pass att/gm .......................... 34.0
10.2 ......................... Yds/completion ....................... 10.1




Purdue at OSU scouting report
October 21, 2010 Source: Warren Tribue Chroncle - "...QUARTERBACKS
PURDUE - Freshman Rob Henry (40-of-79, 443 yards, 3 TDs, 3 INTs) has taken over as the starter since junior Robert Marve - a transfer from Miami - tore an ACL. The Boilermakers have largely kept the ball on the ground over the last few months, and Henry has been part of that. He is Purdue's leading rusher with 356 yards and four TDs. Three of those TDs came against Minnesota last week. OHIO STATE - Pryor was just 14-of-28 for 156 yards against Wisconsin. He seemed a little jumpy in the pocket just a week after throwing for a career-best 334 yards against Indiana. He will be looking to atone for last week, as well as last season's loss at Purdue.
EDGE - Buckeyes.

RUNNING BACKS
PURDUE - Dan Dierking is the top rusher among running backs with 353 yards and three TDs. He is averaging 6.2 yards per carry. Dierking had a career day against Minnesota, with 126 yards on 12 carries, including a 42-yard run to set up a TD. OHIO STATE - Dan "Boom" Herron was a bright spot on an otherwise dismal trip to Madison last week. Herron ran for 91 yards on 19 carries and scored both of the Buckeyes' touchdowns. Interestingly, Brandon Saine did not have a single carry against the Badgers, so it appears Herron is Ohio State's No. 1 back.
EDGE - Buckeyes.

RECEIVERS
PURDUE - The loss of Marve has hurt the Boilermakers' passing game. Tight end Kyle Adams' 20 catches lead the team, but he averages just 6.1 yards per reception. Purdue also has had to deal with the loss of wideout Keith Smith, whose suffered a season-ending knee injury in the second game of the season. Smith had caught 18 passes before he got hurt. OHIO STATE - Dane Sanzenbacher made some nice plays last week and remains the Buckeyes' leading receiver, with 33 catches, a 15.3-yard average and seven TDs. But other than Sanzenbacher, Ohio State's receiving corps accomplished little against the Badgers. There were no big plays.
EDGE - Buckeyes.

OFFENSIVE LINE
PURDUE - The Boilermakers, like a lot of Big Ten teams, are huge up front. Junior right guard Ken Plue is bigger than most at 6-foot-7 and 358 pounds. You can bet Purdue's coaching staff is looking at video of the way Wisconsin's line and ground game ate up Ohio State and will try to duplicate what the Badgers did. OHIO STATE - The Buckeyes lost the Wisconsin game in the trenches. Once again, they failed to control the line of scrimmage on offense. Critics love to complain about Ohio State's conservative play-calling in the red zone, but the fact is, it's tougher to run plays close to the end zone anyway, and when the execution of the line is spotty to begin with, that's a recipe for disaster. On one play inside the Wisconsin 5 last week, center Mike Brewster had opportunities to block two defenders and whiffed on both of them.
EDGE - Boilermakers.

DEFENSIVE LINE
PURDUE - The Boilermakers get after opposing quarterbacks. Their 18 sacks lead the Big Ten. End Ryan Kerrigan not only leads Purdue with 5.5 sacks, he also is their leading tackler overall with 41 stops. That's unusual for a defensive lineman. Kerrigan can disrupt things in the backfield. He leads the Boilermakers with 14 tackles for loss. Kawann Short can be a force at one of the spots. He has eight tackles for loss and a team-best six pass breakups. OHIO STATE - The Buckeyes' pass rush couldn't get to Wisconsin quarterback Scott Tolzien, who was 13-of-16 for 152 yards. Tolzien didn't win the game for the Badgers, but Ohio State's front four didn't force him into the kinds of mistakes he made a year ago in Columbus in the Buckeyes' 31-13 victory. In fact, Ohio State had zero sacks for the second straight game.
EDGE - Boilermakers.

LINEBACKERS
PURDUE - Sophomore Dwayne Beckford and junior Joe Holland have combined for 77 tackles, but the biggest impact player among the Boilermakers' linebackers might be sixth-year senior Jason Werner. Werner has 35 tackles, including five behind the line of scrimmage, and he has broken up five passes. OHIO STATE - At press time, the Buckeyes hadn't issued an updated depth chart to reflect the loss of Homan. His chief backup is freshman Dorian Bell. Andrew Sweat had an interception against Wisconsin, but that was about the only play memorable play by an Ohio State defender. Brian Rolle, the Buckeyes' second-leading tackler with 38 stops, needs to take over with Homan out.
EDGE - Buckeyes.

DEFENSIVE BACKS
PURDUE - The secondary is the soft underbelly of the Boilermakers' defense. All four defensive backs are in their first seasons as starters. Pryor, if he gets time, should find favorable matchups with Sanzenbacher and DeVier Posey against cornerbacks Ricardo Allen and Josh Johnson. Allen is a freshman and Johnson is a sophomore. OHIO STATE - The loss of Bryant further depletes a secondary that already was thin and looked awful last week. The Buckeyes consistently gave Wisconsin receivers huge cushions coming off the line of scrimmage and were far out of position when the ball was delivered. Some of that was clearly the lack of any pressure from the front four, but Bryant's foot problem didn't help. Junior Nate Oliver is listed as his backup.
EDGE - Buckeyes.

SPECIALISTS
PURDUE - O.J. Ross us averaging 22.6 yards on nine kickoff returns. Three players are averaging 1.3 yards on the Boilermakers' 10 punt returns, with a long return of six yards. Kicker Carson Wiggs is 7-of-10 on field goals, but one of the misses was from 18 yards. OHIO STATE - OK, so Tressel isn't going to run out on the field and tackle an opposing kickoff return man, but who could blame him for being tempted? Covering kicks isn't rocket science. The mental mistakes must stop. One good thing: Ben Buchanan's punting average has crept up to a season-best 40.5 yards.
EDGE - Buckeyes.

PREDICTION: OHIO STATE 31, PURDUE 13..."




Last Time Out: Purdue
October 19, 2010 Source: BuckeyeSports.com - "Ohio State hopes to bounce back from its loss at Wisconsin with a home game against Purdue. The Buckeyes also hope to exact some revenge for last season's upset loss in West Lafayette. Take a look back at the 2009 matchup between the Buckeyes and Boilermakers in this edition of "Last Time Out..."



Injury update: 10/21/10 Update: Jim Tressel said Thursday that Christian Bryant had surgery on his foot (infection) & will miss a few weeks. LB Dorian Bell is out for Purdue.

Sr LB Ross Homan will miss several weeks with a foot injury sustained in Saturday's loss to Wisconsin.

Freshman Christian Bryant, the starter at the "star" position, also is out after being hospitalized with a foot infection.

Safety Ohrian Johnson was "dinged up" at Wisconsin, but is expected to play Saturday. Offensive tackle J.B. Shugarts still has foot pain, but it should not keep him from playing.




Preview: Purdue at Ohio State
October 22, 2010 Source: Eleven Warriors - "...When Henry does put the ball in the air, look for senior wide receiver Cortez Smith (#7) to have his number called. He, along with freshman O.J. Ross (#4) and tight end Kyle Adams (#85) constitute what is a pretty average group of targets, while offensive coordinator Gary Nord will also look to find ways to get the ball into the hands of the dynamic Antavian Edison (#13) whether through the air or designed rushes. The Purdue offensive line, led by senior left guard Justin Pierce (#72) has powered the team to a resurgence as of late while rushing the ball, and enters having not allowed a sack in their last two outings after getting abused a bit earlier in the season...Jonathan Newsome will get another chance to step in at linebacker and though he underwhelmed a bit in Madison, will be looking for a breakout against the Boilers...I'll be watching Adams and Shugarts as they try to contain Kerrigan. Shugarts has a lingering foot injury and was exposed at times against J.J. Watts last weekend, so it will be interesting to see how he responds, or even how much of the game he'll be able to go...PREDICTION: Ohio State 30, Purdue 13..."




Week #8 Preview – Purdue
October 22, 2010 Source: Men of the Scarlet and Gray - "...Last year against this very same Purdue team, the Buckeyes let their guard down and let one get away from them. After having their tail between their legs the Buckeyes ran the table winning the Big Ten and the Rose Bowl. How will the Buckeyes answer the bell this time? Purdue is Ohio State's first test...Look for Purdue to mimic what the Badgers did last week and take away Pryor's passing game by dropping 7 and rushing 4...Purdue is hurting a bit themselves with their starting QB, RB and #1 WR all out for the year. They have been relying on freshman Robert Henry who has transformed Purdue's pass happy spread attack to more of a read option zone look to take advantage of his athletic ability. Last week Henry was the Big Ten freshman of the week with his 4 TD's vs. Minnesota..."





Ohio State vs. Purdue Preview
October 22, 2010 Source: The Ozone - "...Even though Purdue is a running team, they might want to make a point of attacking the Buckeye safeties on passing downs. Due to the injury to starting nickelback Christian Bryant, starting strong safety Jermale Hines will slide down to nickel on passing downs, and senior Aaron Gant will then be at strong safety. Gant is a big hitter, but has played very little in his career. He could be susceptible to any type of play-action pointed his way...Purdue likes to attack on defense, and they'll send plenty of run blitzes to do it. Outside linebackers Joe Holland and Jason Werner will both be sent into the backfield at any given time, and middle linebacker Dwayne Beckford is quick enough to get there without even involving a blitz. They are a very aggressive group of linebackers and the slow-developing option game the Buckeyes love to employ for some reason probably won't be the best plan of attack against this defense..."




Purdue (4-2) at Ohio State (6-1)
October 19, 2010 Source: College Football News - "...Why Purdue Might Win: It's all about the pass rush for the Boilermakers, whose defense has been decent enough to carry the inconsistent offense. Ryan Kerrigan and the front four should be able to get into the backfield to pressure Terrelle Pryor over and over again, and while the OSU quarterback is better on the move, there should be a few sacks and several tackles for loss. The Boilermaker offensive line has been the unsung savior of the season doing a fantastic job for the ground game while providing just enough time for Rob Henry and the passing game to at least try to move the ball down the field. In other words, the Purdue lines aren't going to get pushed around.

Why Ohio State Might Win: Purdue might not throw for 100 yards. The Buckeye secondary did a nice job against Wisconsin considering the safeties couldn't sell out against the run, but there won't be any worries about the deep ball this week. The OSU front seven is good enough as is without getting to focus on just one thing, and it'll get to pin its ears back and go all out to stop the run, and Chimdi Chekwa and the corners should have no problems erasing the Boilermaker receivers. Purdue won last year's game by coming up with a slew of takeaways and capitalizing time and again on Buckeye mistakes, but that might not be so easy this year with the Buckeyes ranked fourth in the nation in turnover margin. Purdue can't win this game, or even be close, without being at least +3 in turnover margin, and OSU isn't going to give it away five times like it did last year.

What To Watch Out For: Ohio State's top linebacker, Ross Homan, suffered a foot injury against Wisconsin last week, but a new star playmaker emerged. Junior Andrew Sweat was all over the field against the Badgers making eight tackles with a big interception, and now he'll play an even bigger role with the quickness and hitting ability to be used in a variety of ways. Limited by a knee injury throughout the offseason and early in his career, he appears to be ready to be one of the team's top tacklers.

What Will Happen: How does Ohio State respond after a loss? After last year's gaffe to Purdue, the Buckeyes wasted Minnesota 38-7. After the loss to USC, they whacked Toledo 38-0. After the 2008 loss to Penn State, they thumped Northwestern 45-10. You get the idea. The last time OSU followed a loss with anything other than a blowout win was after a loss to Wisconsin...CFN Prediction: Ohio State 38 … Purdue 10..."




Game of the Week: Ohio State vs Wisconsin
October 21, 2010 Source: What If Sports - "...Every week WhatIfSports.com simulates thousands of college football games. This week the Ohio State Buckeyes win 95.0% of the time by an average score of 38.6-9.7. The stats in the box score below represent the average outcomes of those simulations..."



2010 Purdue Boilermakers Game Preview
October 20, 2010 Source: Buckeye Planet - "...Tight Ends Finally here is a position where the Boilers have quality and depth. Adams broke out in the passing game last year, catching 29 passes for 249 yards. He has 20 receptions this season already and will be a safety valve for the inexperienced QB. He has just 3 receptions combined the past 2 weeks but he could be more of a factor this weekend. He has good size and is also a capable blocker...TE Rating: B+...Head-to-Head: Purdue versus Ohio State TEs...The Boilers utilize their TEs quite a bit in the passing game and will use more double sets now that they run the ball more. Adams and Lindsay have been around the program for quite a while and are leaders on the team. Both can block and go over the middle to make a tough catch on 3rd down. Edge: Purdue...Defensive Line Coming into the 2010 season, the Big Ten had three men who were considered among the best defensive linemen in the nation. Senior Ryan Kerrigan was one of those guys, and he has lived up to the hype thus far. Unblockable at times, Kerrigan entered the 2010 campaign 5th all time at Purdue with 21 sacks. He has added another 5.5 this season, and leads all defenders in tackles with 41, 14.5 of which have come behind the line of scrimmage. The word "beast" may not be strong enough to describe him, and Ohio State will have to have an answer for number 94 on Saturday...DL Rating: A...Head-to-Head: Purdue versus OSU DL As mentioned above, the Ohio State line had been given a bit of a pass in the preceding weeks as the Buckeyes had been able to generate pressure on QBs even if not recording sacks and the rush defense numbers were quite solid as well. That was not the case against the Badgers, however, and as a result there are some questions up front going forward. Conversely, the Purdue line, specifically Kerrigan and Short, have been outstanding. While Purdue gives up more on the ground per game, they also have made more plays behind the line, and will certainly have their ears pinned back this week as well considering the disruption they created last season in their win against the Buckeyes. Purdue is awfully young when it comes to depth and Ohio State enjoys an advantage in that respect...Edge: Purdue..."




BSB Opponent Preview: Purdue
October 22, 2010 Source: Buckeye Sports - "Purdue looked like an easy opponent for homecoming a few weeks ago, but the Boilermakers have turned things around heading into Saturday's contest. After a loss to Toledo dropped them to 2-2, the Boilermakers have opened Big Ten play with two wins and have found a new identity. Find out what that is along with depth charts, stats and more..."




Ohio State vs. Purdue Preview
October 19, 2010 Source: CBSSports.com - "...Of immediate concern is shoring up the special teams, among the shakiest in the nation. The Buckeyes are 111th in the country in punt return average against (15.8 yards) and 92nd in kickoffs (23.4). Wisconsin's return TD was the third punt or kickoff brought back for a score against them this season. Getting Pryor to rebound is also critical, but he'll be facing a Boilermakers team that gave him plenty of problems last Oct. 17 in West Lafayette. Pryor threw two interceptions and lost two fumbles as 1-5 Purdue stunned the then-No. 7 Buckeyes 26-18..."





Purdue Official Site

Game Notes - at Ohio State
2010 Purdue Statistics
2010 Football Roster
Depth Chart - at Ohio State
Danny Hope, Head Coach
Ass't Coaches
Source: Purdue Official Site





Opponent spotlight: Rob Henry
October 22, 2010 Source: Columbus Dispatch - "Rob Henry is yet another example for all starring thespians beware the understudy. When Purdue starting quarterback Robert Marve went down with a season-ending knee injury four games into the year, for a minute at least, Boilermaker faithful had to be in a funk. Marve was the troubled yet celebrated transfer from Miami who was expected to turn around his fortunes and that of the Boilermakers with his passing assault on the Big Ten this season. He never got that far. Enter redshirt-freshman Rob Henry. Instead of trembling at the prospect of being thrust into the fray, he evidently embraced it. And instead of forcing him into the offense planned around Marve, the Purdue coaches geared down and featured what Henry does best, something that will dominate the Ohio State defensive focus today. "Their quarterback, Henry, he's fast," Ohio State linebacker Andrew Sweat said..."




Purdue safety makes most of opportunity
October 21, 2010 Source: BoilerStation.com - "Growing up about an hour from Columbus, Ohio, Logan Link knows all about Ohio State's football program. Imagine the excitement Purdue's starting strong safety is experiencing, leading up to Saturday's matchup against the 11th-ranked Buckeyes. His family, including two sisters and two brothers, will be in attendance along with his parents, who grew up Ohio State fans. After spending three seasons as a walk-on and never stepping on the field, Link returns home as a starter. "Going from last year, to not even playing, to now being able to contribute is special," said Link, who attended West Liberty-Salem High School. "I'm not pleased with where I am now because I have a lot of work to do. I've made a lot of progress, and I've been able to make some plays this year." The 6-foot-1, 204-pound Link earned a scholarship at the end of training camp. Link didn't start the season opener at Notre Dame but has been in the starting lineup the last five games. In last week's victory over Minnesota, Link shared team-high honors with seven tackles, and he broke up two passes..."




Man of Steel needs to be Purdue's hero
October 20, 2010 Source: JCOnline (West Lafayette IN) - "Ryan Kerrigan has a flaw. He struggles at golf...Otherwise, Kerrigan is flawless. Just ask Ohio State quarterback Terrelle Pryor, who was subjected to Kerrigan's constant pressure during last year's upset of the Buckeyes. Nine total tackles. Four for losses. Three sacks. Two forced fumbles. One fumble recovery. Pryor had nightmares after No. 94 sacked him, forced a fumble and recovered it -- all on one play. "We've got to have an answer for that one," OSU coach Jim Tressel said Tuesday. Nicknamed Superman by former defensive tackle Mike Neal, Kerrigan is a little embarrassed by the attention. The name fits, though..."


Dan Dierking, Peters Drey, Kyle Adams and Kawann Short met with the media for a final time leading up to Saturday's games at No. 11 Ohio State.

Source: Purdue Official Site



INJURY?UPDATE: Portage graduate Albert Evans was expected to miss this weeks's game at Ohio State, and likely be out longer, after injuring his knee against Minnesota. Max Charlot is listed as Purdue's starting free safety. Defensive tackle Justin Kitchens was expected to miss his second straight game with a sprained knee, and wide receiver Justin Siller was expected to be sidelined for the third straight game with a sprained foot. Also, both wide receiver Keith Smith and quarterback Robert Marve underwent knee surgery on Monday.





Danny Hope Press Conference Transcript
October 19, 2010 Source: Purdue Official Site - "...Q. When you look back at last year's game, you guys did a good job of containing Terrelle Pryor. How were you able to do that, and what kinds of things does your team have to do this year to keep him under wraps? COACH HOPE: The things that were important last year will also be important to achieve this year. You might have to go about achieving them in a different fashion, different play-calling in a lot of ways. But he's a great player, and we're going to have to go out there and play really hard and really well to have any chance to limit or contain him because he's an outstanding player. Any time that you can affect the play of the quarterback, you can affect the outcome of the game. A team often goes as their quarterback goes. So we'll have a plan, but they have a great football team, a lot of great players. Our defense will have to play very well in order to minimize what these guys can do from a point scoring standpoint. They're a great football program..."




Purdue strong in past 12 games: The results of Purdue's last 12 games look like those of a Top 25 team. During that stretch, the Boilermakers have a 6-2 record in Big Ten play, including a home win over then-No. 7 Ohio State and victories at Michigan and Northwestern. Overall, Purdue has won eight of 12 dating to the middle of last season. Now, the program is positioned to take a giant leap forward under second-year coach Danny Hope.

Source: ChicagoTribune







Angry OSU will be tough match for Boiler offense: ...The Purdue Boilermakers football team thought it had a huge challenge ahead with a visit to No. 1 Ohio State. It just got tougher now that it's No. 11 Ohio State. Ohio State, knocked off its perch as the nation's top team in a big loss to Wisconsin on Saturday, will be irritable, angry and set to take out its frustrations on the next opponent...Ohio State should be a great measuring stick for how much progress Purdue's offense has made since Rob Henry took over for the injured Robert Marve.

Source: Ft. Wayne News-Sentinel





Purdue (4-2) at Ohio State (6-1)
| | |
| --- | --- |
| | |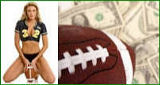 Ohio State
4-0 ATS in their last 4 games as a home favorite of 10.5 or greater.
5-0 ATS in their last 5 games as a home favorite.
4-0 ATS in their last 4 games after scoring less than 20 points in their previous game.
10-1 ATS in their last 11 home games.
10-2 ATS in their last 12 games after allowing less than 170 yards passing in their previous game.
4-1 ATS in their last 5 games as a favorite of 10.5 or greater.
10-3 ATS vs. a team with a winning record.
6-2 ATS in their last 8 games after accumulating less than 170 yds passing in their previous game.
19-7 ATS in their last 26 games following a ATS loss.
18-7-1 ATS in their last 26 games following a S.U. loss.
10-4 ATS in their last 14 conference games.
10-4 ATS in their last 14 games on fieldturf.
39-17 ATS in their last 56 games as a favorite.
16-7 ATS in their last 23 games in October.
44-20 ATS in their last 64 games overall.
3-7 ATS in their last 10 home games vs. a team with a winning road record.


Purdue
4-0-1 ATS in their last 5 conference games.
4-0 ATS in their last 4 road games.
3-0-1 ATS in their last 4 games as an underdog.
6-0 ATS in their last 6 games as a road underdog of 10.5 or greater.
7-1 ATS in their last 8 games after accumulating less than 170 yds passing in their previous game.
4-1 ATS in their last 5 road games vs. a team with a winning home record.
15-5-1 ATS in their last 21 games as an underdog of 10.5 or greater.
5-2 ATS in their last 7 games as a road underdog.
7-20-1 ATS in their last 28 games in October.
1-4-1 ATS in their last 6 games following a S.U. win.
1-4-1 ATS in their last 6 games following a ATS win.


OU Trends
Ohio State
Under is 3-0-1 last 4 games in October.
Under is 3-0-1 last 4 conference games.
Over is 5-1 last 6 games as a home favorite.
Over is 5-1 last 6 home games.
Under is 5-1-1 last 7 games after accumulating less than 170 yds passing in their previous game.
Over is 4-1-1 last 6 games after allowing less than 170 yards passing in their previous game.
Over is 4-1 last 5 games as a home favorite of 10.5 or greater.
Over is 7-2 last 9 games after scoring less than 20 points in their previous game. Under is 3-1-1 last 5 vs. a team with a winning record.
Over is 5-2-1 last 8 games on fieldturf.


Purdue
Under is 5-1 last 6 games as an underdog of 10.5 or greater.
Under is 5-1 last 6 games on fieldturf.
Under is 23-5 last 28 games in October.
Under is 4-1 last 5 games after accumulating less than 170 yds passing in their previous game.
Under is 4-1-1 last 6 road games vs. a team with a winning home record.
Under is 4-1 last 5 games after accumulating more than 200 yards rushing in their previous game.
Under is 6-2-1 last 9 games after allowing less than 100 yards rushing in their previous game.
Under is 3-1-1 last 5 road games.
Under is 6-2 last 8 games as a road underdog of 10.5 or greater.
Under is 24-9-1 last 34 vs. a team with a winning record.
Under is 38-16-1 last 55 conference games.
Under is 9-4-1 last 14 games following a S.U. win.


Head to Head
Under is 6-0 in the last 6 meetings.
Boilermakers are 5-1 ATS in their last 6 meetings.

Last 3 Home/Away - Purdue at No. 10 Ohio State



Betting Trends for all games on Buckeyes 2010 schedule