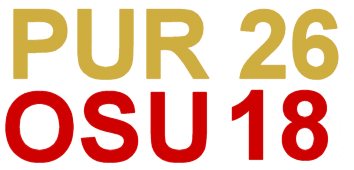 | | |
| --- | --- |
| OHIO STATE vs. PURDUE | |
What we learned in the Big Ten: Week 7: Ohio State isn't the team to beat -- This is certainly qualifies as a lesson, considering how Ohio State has dominated the Big Ten this decade. After winning or sharing the last four Big Ten titles, the Buckeyes find themselves on shaky footing at 5-2. The Purdue loss encapsulated problems that have plagued Ohio State throughout the season and for much of 2008. Jim Tressel's offense still lacks any identity, and sophomore quarterback Terrelle Pryor isn't developing as quickly as many had expected. Pryor endured his roughest outing as a Buckeye, committing four turnovers against the Boilers. Big plays are nice, but an offense needs to have a more reliable calling card.

(Sources: ESPN)



Instant Analysis - Purdue Upsets Ohio State
October 17, 2009 Source: CollegeFootballNews.com - "Pete Fiutak: Purdue won this game because it flat-out whipped Ohio State up front. Ryan Kerrigan and the Boilermaker defensive front were the reason Pryor had a long day, while the offensive line did just enough to keep QB Joey Elliott upright to allow for a 281-yard passing day. This was the win Purdue couldn't seem to get under Joe Tiller, and this was the loss Ohio State never drops under Jim Tressel. And now the Big Ten season has taken a big left turn...

Richard Cirminiello: ...I just don't see the development out of Terrelle Pryor that I expected in his second year...More than just the four turnovers, he simply doesn't look comfortable in the pocket. Over a year into his tenure, he still plays like a phenomenal athlete, who happens to line up behind center. His reads are questionable, he doesn't set his feet in the pocket, and his distaste for contact sometimes forces him from the pocket before its necessary...

Matt Zemek: 1) The problem is not that TresselBall lost, because it didn't. The problem is that Terrelle Pryor is awful. His late touchdown pass in this game was a Hail Mary heave that was improbably answered. Sure, his offensive line didn't help him a whole lot today, but that's no excuse for coughing up four turnovers, which isn't part of the TresselBall motif...Pryor is shrinking in 2009, so Tressel has to make a substantial shift in his approach, either in terms of the staff that surrounds him or the methods he uses to teach the quarterback position...

Michael Bradley: When he (Pryor) can run around and freelance, Pryor can make some things happen. But when he has to remain under control and deal with a defense that can keep him in the pocket, look out...OSU's inability to run the football was a huge factor in the game, because it put the game in Pryor's hands even more, and he isn't ready for that yet...The offensive line was supposed to be better this year, but it isn't up to the school's usual standards...their (Purdue's) win today throws the race open and puts Iowa in the lead position in the conference and makes the Hawkeyes' visit to Columbus even more interesting..."




Purdue Game thoughts
October 17, 2009 Source: Duane Long Report - "What a great game plan by Purdue...My only problem with the defense since the USC loss last year is we will always always ALWAYS play soft behind the front seven. Heacock cannot bring himself to come up and play man defense. That is why we are so vulnerable to the dink and dump game. Wisky did it to us last week. Purdue saw that and killed us with it...How many long drives, nickle and dime stuff down the field, have we allowed this year??? One of the most important aspects of playing soft is to tackle well. We miss too many tackles in the secondary. Hines missed 2 important tackles in this game...

Back to the theme of the scouting job by Purdue. Our offensive line got exposed. Mike Adams had a worst game than Bryant Browning did in the Texas game. It was not just him. We could not block Kerrigan. He lined up over Ballard on the strong side and beat Ballard to force the first fumble. He beat Adams on the weak side to force the second Pryor fumble. He beat Ballard again on the goal line on third down to make us take a field goal late in the game. He beat Miller on the weak side. We could not block the guy. Purdue attacked us on the edges and beat us. They went in knowing they could...

What do you do about Pryor? For 3 quarters he looks like he regressing. Then he shows in the fourth quarter why he is a talent that could be the #1 pick in the draft. Not #1 quarterback. I am saying #1 overall. Don't look at the messes. Look at when he is doing it like you want him to...He does it more often than he is given credit for. He can be the prototype for the next generation. The problem is, what do you do about it? Some have argued that benching him would kill his confidence. For three quarters of this game I would argue that his confidence could not be any lower...That is a bigger confidence crusher than being benched...in the fourth he looks like the Franchise. The third and five sack on the last drive was not even remotely his fault. It was a broken play. Boren and Brewster thought it was a screen to the left and let their guys run straight through to Pryor. Sanzenbacher seemed to think it was a screen to the right. It was keystone cops stuff.

...The other thing I would say about the offense is we seem to be better at running the ball with more Hazel input. Why won't we run the ball more? Seems a natural since this is a run oriented coach with a running game that looks like it is just chomping at the bit for more smashmouth, and a young struggling quarterback. We could create some room for him to throw if we ran it some more. ..."




Breaking Down The Buckeyes: The Good, The Bad, The Ugly
October 23, 2009 Source: Bucknuts - Matt Littlefield writes: "Me again, your friendly neighborhood NFL scout. Let's get rolling … Here are my views of the good, bad, and ugly from last weekend in West Lafayette:

The Good:
QB Terrelle Pryor - Fourth quarter passing ONLY: 16 pass attempts with 10 completions (63-percent), 137 yards and a TD.
RB Brandon Saine - Seven rushes for 32 yards and a 4.6 average, and one reception for 40 yards.
SS Kurt Coleman - Violent rips for two strips in the first quarter (one was called incomplete).
MLB Brian Rolle - Explosive closing ability; goes from 0-60 mph like he is shot from a cannon.
OLB Thaddeus Gibson - Exceptional speed off the edge and explosive closing ability from the backside.
DL Doug Worthington - Did a good job as the NT in their 3-man sub package; gets those long arms up into passing lanes.
Defense - Forced four turnovers, securing three.

The Bad:
Defense - Allowed 11- and 15-play drives, 24 first downs, gave-up 36:08 time of possession and only had one sack.
Offense – Allowed five sacks, lost two of three fumbles, two interceptions, ONLY seven rushing attempts by the RB, 23:52 time of possession, and ONLY 66 rushing yards.
Kickoff return unit - Fumbled twice (losing one), the first punt went 19 yards, and Pettrey squibbed a fourth quarter kickoff, resulting in Purdue taking over at their own 45-yard line.
DE Cameron Heyward - Was cut-down on nearly every play; will have to better protect his legs; probably his worst game of the year.
TE Jake Ballard - He didn't block anyone all game; this was his worst game of the year.
WR/PR Ray Small - His fumbled punt return led to a Boilermaker field goal; also fumbled vs. Illinois; may need to be replaced?

The Ugly:
Pryor - Accounted for 15 points on offense (TD run/TD pass/2-pt conversion); his four turnovers led to 10 points for the Boilermakers; missing Ballard in the back of the end zone was his worst mistake of the game.
OT Jim Cordle - Played one series and didn't block his man a single time; if he isn't healthy, he shouldn't play; if he is healthy, then he should NEVER play again.
Spread punt formation - Why did they use this when punting from Purdue territory twice in the first half?...



OSU at Purdue Highlights



Pryor's two fumbles, two INTs too much as Purdue shocks Ohio State
October 17, 2009 Source: ESPN - "Former Purdue quarterback Drew Brees had a simple message for current Boilermakers signal caller Joey Elliott. "Drew Brees texted me last night and said: 'Hey, go out there and shock the world, have fun. I'll be watching.'"

Elliott did as he was told and led Purdue to its biggest upset in years. He threw for 281 yards and two touchdowns, and the Boilermakers stunned No. 7 Ohio State 26-18 on Saturday.

It was another ugly day for the Buckeyes' offense. But unlike last week when the defense and special teams provided enough points for Ohio State (5-2, 3-1 Big Ten) to beat Wisconsin, the struggles of quarterback Terrelle Pryor and Co. were too much for the Buckeyes to overcome. "Yeah, it hurts," said Pryor, who threw two interceptions and lost two fumbles. "Right now, we've just got to be worried about the Big Ten because the national championship is gone."...

"They did the things you need to do to win a good Big Ten ballgame," Ohio State coach Jim Tressel said. "Obviously, we were disappointed. We felt we could play better than we did, but the true test of a team is how you handle difficult situations."

Purdue dominated the first three quarters, then held on as Ohio State tried to mount a comeback behind Pryor. Pryor passed for 221 yards, but was held to 34 yards on 21 carries. He said the Buckeyes didn't respect the Boilermakers, despite the compliments Ohio State's coaching staff paid Purdue throughout the week. "I don't think we had as much intensity as we do going into any other game," Pryor said. "Not really belittling them, but thinking we were going to walk over them. Every week, you have to fear the underdog, and the underdog took care of us today. There's nothing else I can really say."

The Boilermakers ripped what statistically had been one of the nation's best defensive teams. Purdue gained 361 yards and controlled the ball for 36 minutes.

Purdue led 26-10 in the fourth quarter before Pryor got the Buckeyes back into the game. He avoided the rush, then heaved a 25-yard touchdown pass to DeVier Posey with 7:14 to play. Pryor ran in the 2-point conversion to cut Purdue's lead to 26-18.

Ohio State got the ball back and moved into Purdue territory. Kerrigan sacked Pryor on a third-and-5, setting up a fourth-and-14 from the Purdue 38. Pryor's inaccurate deep pass was batted away by David Pender, and Purdue took over.

The Boilermakers appeared to be stopped when a screen pass on 3rd and-9 went nowhere, but one more mistake ended the Buckeyes chances. Doug Worthington was flagged for a facemask and the personal foul gave Purdue a first down and the Boilermakers could kneel out the clock..."

Scoring Summary, Team Statistics, Individual Statistics, Drive Chart, Defensive Statistics, Game Participation, Box Score, Play-by-Play

Individual Statistics
#7 Ohio State vs Purdue (Oct 17, 2009 at West Lafayette, Ind.)

Rushing         No Gain Loss  Net TD Lg  Avg
--------------------------------------------
Pryor, Terrelle 21   84   50   34  1 35  1.6
Saine, Brandon   7   38    6   32  0 20  4.6
Totals...       28  122   56   66  1 35  2.4

Passing         Cmp-Att-Int Yds TD Long Sack
--------------------------------------------
Pryor, Terrelle   17-31-2   221  1   40    5
Totals...         17-31-2   221  1   40    5

Receiving        No.  Yds   TD Long
-----------------------------------
Posey, DeVier      9   87    1   25
Small, Ray         5   59    0   38
Saine, Brandon     1   40    0   40
Carter, Duron      1   24    0   24
Ballard, Jake      1   11    0   11
Totals...         17  221    1   40


Defensive Statistics

Ohio State
## Player          Solo  Ast  Tot  TFL/Yds  FF FR-Yd Intc BrUp Blkd Sack/Yds QH
--------------------------------------------------------------------------------------
36 Rolle, Brian       8    2   10  1.0/2    .   .     .      .    .      .     .
51 Homan, Ross        8    1    9  1.0/1    .   .     .      .    .      .     .
21 Russell, A         5    2    7     .     .   .     .      1    .      .     .
7  Hines, Jermale     3    4    7     .     .   .     .      1    .      .     .
4  Coleman, Kurt      5    .    5  2.0/7    .  1-0    .      .    .   1.0/4    .
5  Chekwa, Chimdi     3    2    5     .     .   .    1-19    1    .      .     .
84 Worthington, D     3    .    3     .     .   .     .      .    .      .     .
90 Gibson, T          3    .    3     .     .   .     .      .    .      .     .
43 Williams, N        2    .    2  2.0/2    .   .     .      .    .      .     .
97 Heyward, C         2    .    2     .     .   .     .      .    .      .     .
98 Thomas, Solomon    1    1    2     .     .   .     .      .    .      .     .
38 Spitler, Austin    1    1    2     .     .   .     .      .    .      .     .
3  Saine, Brandon     1    .    1     .     .   .     .      .    .      .     .
42 Sweat, Andrew      1    .    1     .     .   .     .      .    .      .     .
2B Ebner, Nate        1    .    1     .     .   .     .      .    .      .     .
30 Evege, Donnie      .    1    1     .     .   .     .      .    .      .     .
10 Torrence, Devon    .    1    1     .     .   .    1-0     .    .      .     .
37 Georgiades, J      .    1    1     .     .   .     .      .    .      .     .
32 Klein, Storm       .    .    .     .     .   .     .      1    .      .     .
54 Simon, John        .    .    .     .     .   .     .      1    .      .     .


"It's one loss," Coleman said. "We still have a chance to win the Big Ten title.
We have a lot to still play for. It's time to go back and hit the books."



Train wreck - Breakdowns on both sides of ball doom Buckeyes
October 17, 2009 Source: Columbus Dispatch - "Terrelle Pryor scraped himself off the Ross-Ade Stadium turf and trudged toward the sideline. The quarterback had just epitomized the state of the shattered Ohio State offense, taking a 21-yard loss on a sack and making a bad play much worse by fumbling the ball away to Purdue. As Pryor approached the bench, head down, coach Jim Tressel was walking briskly away from him. By the time Pryor reached the sideline, Tressel was 30 yards away, alone with his thoughts. Maybe he didn't trust himself to say anything to Pryor, who committed four of five turnovers that doomed the Buckeyes to a 26-18 loss...

But there are more deep-rooted issues. Last week, there were questions about Pryor's progress. Now, they're about his worthiness. Tressel would not publicly criticize his sophomore quarterback. Three times, with clipped answers, he said he never considered benching Pryor...

The Ohio State offensive line melted under pressure, as Purdue took a cue from Wisconsin last week, pressuring Pryor and forcing him to make quick decisions with defenders in his face. Time after time, those decisions were poor..."



Bucknuts TV: Tressel After Purdue



Trouble spots: What do you think is the biggest concern of the Ohio State football team? 31% The offensive game plans, 14% The offensive line, 55% Terrelle Pryor

(Source: Columbus Dispatch Online Poll)






Bucknuts TV: Pryor After Purdue



Bob Hunter commentary: Take Pryor off his pedestal
October 18, 2009 Source: Columbus Dispatch - "...Pryor was cast in the role of Superman before he played his first down at Ohio State. People didn't ask whether he would play as a freshman, but how much. They didn't want to know if he would win the Heisman Trophy, but how many. There was talk of All-America teams and championships.

Hard as it is, it's time for everybody to forget that Pryor was once judged to be the top high school recruit in America and think of him as just another talented but erratic second-year player. As Superman has morphed into Jimmy Olsen the past two weeks, the built-in expectations add a lot of noise and a little more tension to what is beginning to feel like an awkward situation.

Treating Pryor differently from other players -- Tressel avoiding questions about him was a masterpiece of verbal muck -- and holding him to a different standard isn't fair to him. It does no one any good, least of all the team. If Pryor plays poorly, there is nothing wrong with saying so. Pryor doesn't have a problem doing that and, while he's at it, he sometimes inadvertently says things that hint at his inexperience..."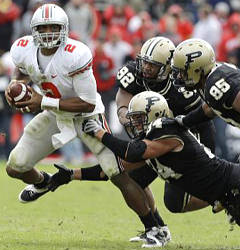 Ohio State must figure out how to utilize Pryor's athletic gifts
October 17, 2009 Source: SI.com - "Perhaps it's fitting Ohio State quarterback Terrelle Pryor wrote Michael Vick's name on his eye black earlier this season. Saturday's 26-18 loss to Purdue proved again that, from a strictly football perspective, Pryor and Vick appear to be the same person -- phenomenal athletes who can't control the cannons attached to their shoulders well enough to be effective starting quarterbacks at their given levels. I realize I'm the same person who wrote after the Ohio State spring game that Pryor was ready to utilize his gifts. Seven games in, I'm willing to admit I was wrong...

Of course, we shouldn't heap all the blame on Pryor. After Ohio State lost to USC in Week 2, Smart Football's Chris Brown wrote a devastating critique of the Buckeyes' offense...

With the exception of Cincinnati coach Brian Kelly, who -- gasp -- changed his entire offensive philosophy during a 15-minute halftime to suit his backup quarterback's skill set in a win Thursday at South Florida, most big-time coaches seem averse to building a scheme around the particular talents of their players. Pryor may not be the ideal quarterback, but he's still more talented than 99 percent of the players in America. Ohio State coaches need to stop trying to force him to be something he's not and embrace what he is. If they do that, they'll find their jobs, and Ohio State's games, a lot easier..."




Terrelle Pryor, Ohio State Keep Slouching Towards Mediocrity
October 17, 2009 Source: Sporting News - "Pryor was supposed to be the second coming of Vince Young in scarlet and gray. Right now, Ohio State fans would probably consider trading him for Vince Shlomi. Pryor was unimpressive again on Saturday, and this time it cost Ohio State, 26-18 losers at Purdue. Pryor was average through the air (17-of-31 for 221 yards) and miserable on the ground, running 21 times for 34 yards, or 20 times for -14 yards and once on a 35-yard scamper in the fourth quarter. He fumbled twice and threw two interceptions, committing more turnovers by himself than Purdue, which entered the game with the second-most turnovers in FBS, did as a team.

Matt Hinton is calling this the worst loss of the Tressel era, and while that's harsh, it's hard to think up a worse defeat. Worse still is that this team was supposed to have added the type of talent in Pryor that competes for BCS titles, not third place in the Big Ten, but seems completely lost at 5-2, and has squandered the opportunities that come with a home-heavy back-loaded schedule.

Before today, Ohio State fans could wonder when Pryor would awaken and rain down vengeance on the less athletically gifted schlubs of the Big Ten. After a pathetic performance against an overmatched foe, they may be wondering if he ever will.





Pryor Woes, Regression, and Demeanor Continue to Taint Buckeyes
October 17, 2009 Source: Bucknuts - "Believed to be the special sauce needed to get Ohio State over the hump, Terelle Pryor has run into a brick wall of poor play, bad decisions, inconsistent line play, a lackluster running game, questionable play calling, lack or progression, and stark indications of regression...Pryor now has the drawn the ire of Buckeye nation with an unfathomable loss to a one-win Purdue team. There have been more heartbreaking losses...but frankly speaking this one was the worst.

What the box scores don't tell you is that the Buckeyes' supposedly biggest offensive asset has put the team in a hole many times over since becoming the starter more than a year ago. Sometimes the Bucks are able to dig their way out at times aided by Pryor, but unfortunately the holes are becoming more frequent and are getting deeper...Pryor reached a low point today with two interceptions and two fumbles, a deep enough hole that the Buckeyes could not dig themselves out of.

Overlooking the turnovers...Pryor's poor play has created a domino effect that has sunk this team to an uninspiring 5-2 record with the team's toughest stretch of schedule still on the horizon.

Through a toxic combination of turnovers and lack of first downs, Ohio State's defense has felt the brunt of Pryor's poor play...But Pryor's poor play extends further than just the difficult spots he puts the defense in. The lack of execution in the passing game has allowed defenses to sell effectively sell out stopping the run leading to more passing downs. Poor ball security and propensity to take losses trying to get out of trouble has only further compacted the issue...There is no flow, there are no long drives, and Buckeye fans cringe more often than the chains move...

Pryor barks at the play calling and his linemen, a sure fire way to stagnate cohesion on a team. On the sideline, he sits quietly often moping at what's transgressing...

At the end of the day, Pryor is our quarterback for better or for worse. Today was a major step backward and although the offense seems to be in disarray, there is talent oozing out from every piece of this team. Whether they mesh and improve over time is anyone's guess, but with the foul stench of a stinker in their rear view mirror, you'd hope that both Pryor and the coaching staff react positively and dramatically to the ugly awakening call that was shockingly delivered today..."



IT WAS OVER WHEN: Joey Elliott connected with Aaron Valentin twice in the third quarter to give Purdue a 23-7 advantage.

THE PLAY: Joey Elliott's 23-yard touchdown pass to Aaron Valentin late in the third quarter. Valentin caught a screen pass and weaved through the Buckeyes defense to give the Boilermakers a 23-7 lead. At that point, wary hope turned to jubilant expectation for Boilermakers fans.

GAMEBALL GOES TO: Tie, Purdue quarterback Joey Elliott and kicker Carson Wiggs. Elliott hit 31 of 50 passes for 281 yards and 2 TDs. Wiggs made four field goals, with his 55-yarder on the last play of the first half giving Purdue the lead for good at 9-7.

THE STRATEGY: Purdue's twists and stunts on the defensive front. Most are going to point the finger at Pryor, but the offensive line allowed Kerrigan and company to star.

CATCH THAT?: The crowd in Ross-Ade Stadium was announced as 50,404 just before halftime, and more than one-third appeared to be OSU fans. There should have been a recount at the end of the third quarter, because the crowd grew by several thousand as word no doubt spread through campus that an upset was in the offing.

WORST BIG TEN LOSS SINCE: How about Iowa 33, Ohio State 7 in 2004? The last time a ranked OSU team has lost to an unranked opponent.

WORST DRIVE: There are a lot of choices here. Then again, it could be not getting into the end zone on first-and-goal from the 3 in the fourth quarter.

CLEVE PLAIN DEALER'S DOUG LESMERISES SAID IT: "As I walked down to the field, an Ohio State fan told me not to rank the Buckeyes anywhere in the top 25 this week. He's probably right."

PREGAME BUZZ: There was grudging willingness among Buckeyes fans to cut the no-show offense a break after Wisconsin, but improvement against Purdue was expected. Instead, there was more disapprovement, which isn't a word, but then this isn't an offense.

THE REPERCUSSION: The Buckeyes might as well not look at today's first Bowl Championship Series ratings. They still control their future in the Big Ten, but now all signs point to Iowa.

DRAWING BOARD: Purdue proved pitch and catch can be a simple exercise. Ohio State insists on making it calculus. But the last two possessions, Pryor zeroed in on DeVier Posey, who zeroed in on creating space and hauling in the throws. There's nothing wrong with a keystone combo. It's a sign of strength when everyone knows who's going to get the ball -- Schlichter to Donley, Karsatos to Carter, Hoying to Glenn, Germaine to Boston, Krenzel to Jenkins, Smith to Holmes -- and the connection is made anyway. In the end Saturday, it was protection that was lacking. .

THE STAT: Purdue's defense, forced five turnovers and held Ohio State to just 66 yards on the ground.

THE STAT II: Purdue had 361 total yards, Ohio State 287. But Purdue played offense throughout the game. Ohio State didn't really crank it up until the desperate fourth quarter.

THE STAT III: Time Of Possession: 23:52 OSU, 36:08 Purdue

THE STAT IV:In the Buckeyes' two losses, Terrelle Pryor has almost as many turnovers as he has in Ohio State's five wins combined. Ohio State has rushed for over 190 yards per game in their five wins. Saturday, the Buckeyes ran for a season-low 66 yards.

THE STAT V: Purdue had 14 first half first downs to Ohio State's four, ran 47 plays to OSU's 24 and outgained the Buckeyes 211-107 in the first 30 minutes.

THE STAT VI: Purdue managed to defeat a ranked opponent for the first time since Nov. 8, 2003, when it beat No. 10 Iowa 27-24.

THE STAT VII: The last time Purdue defeated a ranked Ohio State team was Oct. 28, 2000 when the 16th-ranked Boilermakers defeated No. 12 Ohio State 31-27 at Ross-Ade.

THE STAT VIII: The Boilermakers were minus-9 in turnover differential entering the game. They were plus-2 yesterday.

THE STAT IX: Purdue is 2-0 against the state of Ohio (Toledo and Ohio State) and 0-5 against the rest of the U.S.

KURT COLEMAN SAID IT: "It's one loss. We still have a chance to win the Big Ten title. We have a lot to still play for. It's time to go back and hit the books."

COACH TRESSEL SAID IT: "You have to take your hat off to Purdue. They won the turnover margin, they did a nice a job on special teams and they did what they needed to do. For us, the true test of a team is how they handle difficult situations, and we're in that right now."

COACH HOPE SAID IT: "We didn't have any doubts in our mind about coming into this game and coming out with a win. It was a great team victory. This is one of the greatest group of guys I've ever been around."

STAR POWER: Purdue defensive end Ryan Kerrigan filled up the stat sheet; in the first half, he had three tackles for loss. The biggest play was a 21-yard sack/strip/recovery on Pryor to kill a Buckeyes drive. In the second half, he sacked Pryor on a critical third down with 2:24 left. An incompletion on the ensuing fourth-and-14 was the last snap Ohio State got. Kerrigan finished with a team-high nine tackles.

THE MISMATCH: See The Strategy. Just when the Buckeyes thought they had it figured out, they did not.

NUMBERS FOR DUMMIES: 12. The Boilermakers racked up 24 first downs, 12 more than Ohio State, and dominated time of possession.

NUMBERS FOR DUMMIES II: 2. Ohio State had two interceptions, by Chimdi Chekwa and Devon Torrence, giving the Buckeyes a streak of four straight multi-interception games.

NUMBERS FOR DUMMIES III: 5. The number of times Terrelle Pryor was sacked by Purdue

NUMBERS FOR DUMMIES IV: 1. The number of times Joey Elliot was sacked by the Buckeyes

THE VIEW: How the team sees it: Our "offense could explode" comment was taken out of context. We meant "implode."
How the pollsters will see it: You don't deserve the Gators. More like the Gator Bowl.
How Buckeye Nation will see it: Who is our backup quarterback?

TRANSLATING TRESS: What he said: "We look reality in the face."
What he meant: "Even if, like now, that face belongs to one of those ghouls from a Halloween haunted house."

ONE-LINER: Xylophone halftime show by Purdue band reminiscent of Buckeyes offense: a weak performance by the X's and O's.

AS HEARD IN THE PRESS BOX: "This is like Apollo 13, except they don't make it back."

AS HEARD ON TV: Ohio State wore white jerseys and Purdue wore black, but you wouldn't know it by how often the Big Ten Network guys called the Buckeyes the Boilermakers and vice versa. Kudos, however, for predicting the shanked Purdue punt.

JUST WONDERING: Was Purdue the best 1-5 team in the nation? Or was Ohio State simply the worst 5-1 team?


(Sources: ESPN/Cleveland Plain Dealer/Columbus Dispatch/Sporting News/Purdue Official Site/The Webmaster)



In the 3rd quarter, with 1st and 10 at the OSU 23 and about 3:40 left in the period, Purdue QB Joey Elliott's connected with (#17) Aaron Valentin on a screen pass. Valentin did the rest as he weaved through the Buckeyes defense for a score to give the Boilermakers a 23-7 lead.

Elliot was 31-50, with 1 interception, for 281 yards and 2 TDs. His longest was the TD pass to Valentin for 23 yards. Valentin caught 10 passes for 97 yards, two of which were for TDs.
About 35 seconds into the video



What, or who, was most to blame for Ohio State's loss to Purdue?: Quarterback Terrelle Pryor: 41%, Coaching: 32%, A defense that allowed 361 yards: 2%, The entire team: 23%

What should be done at the quarterback position? Continue to play Terrelle Pryor all of the time: 25%, Start Joe Bauserman: 29%, Use Bauserman for several plays over the course of the game, with Pryor going to wide receiver: 33%, Play Bauserman for one series each half, with Pryor resting on the bench: 12%

Assuming Ohio State plays in a bowl game, for a 13-game season, what will its final record be? 11-2: 9%, 10-3: 33%, 9-4: 41%, 8-5: 11%, 7-6: 3%

If Ohio State played Cincinnati on a neutral field next week, what would be closest to the final score? Ohio State wins, 13-10: 7%, Ohio State wins 23-17: 14%, Ohio State wins 27-13: 12% Cincinnati wins 14-10: 10%, Cincinnati wins 20-13: 29%, Cincinnati wins 30-20: 25%

(Source: Cleveland Plain Dealer Online Poll)







Buckeyes wilt under pressure
October 18, 2009 Source: Toledo Blade - "Ohio State coach Jim Tressel loves to sing the praises of pressure. He regularly repeats the mantra that great offenses keep the pressure on the defense and that great defensive pressure forces mistakes and provides scoring opportunities. Tressel got to see his proclamations turn into fact for a few hours yesterday..."They brought pressure from a whole different level," Pryor said after the defeat. "It was nothing like I saw on film. That pressure was just totally unexpected, and I couldn't quite get a handle on them." Purdue coach Danny Hope said his game plan called for stopping Ohio State's running attack and forcing Pryor to deal with pressure on long third downs. "That was one of our keys to victory," Hope said. "At this point in his career, Pryor struggles in those situations. He's a great athlete and a great runner, but we knew we'd have the edge against him in third-and-long."




Posey: Offense lacked fire: Buckeyes didn't show they have the will to win, receiver says: Ohio State receiver DeVier Posey had a career day in two respects -- eight catches for 87 yards -- but the sophomore was in no mood to take a bow yesterday. After a 26-18 loss to Purdue in Ross-Ade Stadium, Posey was bothered that the Ohio State offense didn't shift into high gear until the fourth quarter.

"I feel like it's just an attitude thing; I don't really feel like it's a technical problem," Posey said. "I feel like it is something inside our chest. I feel like it's something that's got to do with our heart. "Man, I feel like we should play with that mentality at all times. I feel like it's a will thing."

That aspect was challenged by former Ohio State receiver Anthony Gonzalez before the game, Posey said. Recovering from a knee injury that has him on the sideline with the Indianapolis Colts, Gonzalez had time to meet with Buckeyes. "He asked us about our will, and I feel like today was a test of our will," Posey said. "We definitely have got to make our will a lot stronger."

Posey had six catches on the Buckeyes' last two drives. They included four on a scoring drive that pulled them within eight points of the Boilermakers with 7:14 left after he caught a 25-yard pass from Terrelle Pryor for a touchdown. The next drive came up short, though, when Pryor was hurried and could not get the ball to Posey or Ray Small on fourth-and-14 at the Purdue 38-yard line with 2:16 to play. "We felt the sense of urgency kind of late, and that's one thing that boggled my mind today," Posey said.


Source: Columbus Dispatch



10 Things We Learned From Boilering Down at Purdue
October 18, 2009 Source: The Ozone - "It was the nightmare-come-to-life for Ohio State fans as they watched Terrelle Pryor and the Buckeyes crash and burn in West Lafayette Saturday. While it was tough for anyone who bleeds Scarlet and Gray to stomach, there was plenty to be learned from OSU's 26-18 loss to the Boilermakers.

10. Purdue is a dangerous team when they make fewer mistakes than their opponent...During the week, some of the OSU players were calling them "the best 1-5 team ever," but apparently they didn't really believe it...

9. The Ohio State defense was a little overconfident coming into this game...Take nothing away from the effort level Saturday, but even defensive end Thad Gibson admitted they never anticipated the Purdue offensive line would put up as much of a fight as they did in this game. The Buckeyes thought they would be able to get pressure on quarterback Joey Elliot using a four-man rush, so they dropped seven, or sometimes even eight, guys into coverage on third down plays. While they did manage to get some pressure on Elliot, they lacked the kind of aggressiveness that has rattled nearly every quarterback they have faced this season.

8. This team was never going to finish 11-1 regardless of today's outcome. Maybe this will come as news to you, but this team was not going to run the table this year. Not with the kind of youth and inexperience they have on offense, at least not without a Superman-like transformation from Pryor... Now the question is whether there will be more (losses), and if so, how many?

7. Ohio State has lost the ability to play power football on offense...Need proof? Look no further than their first drive of the fourth quarter when they had first and goal at the Purdue three-yard line and couldn't punch it in. They didn't even try a run play for the tailback and ended up settling for a 27-yard field goal that made it 23-10.

6. Pryor is most comfortable working in the no-huddle offense...it seems to be just about the only thing that's working for the Buckeyes on offense.

5. It's tough to have two sophomore offensive tackles with a quarterback like Pryor. For as bad Pryor looked Saturday against Purdue, he didn't get much help from his buddies on the offensive line...The real problem was on the outside, where Mike Adams and J.B. Shugarts got beat like they stole an actual boilermaker right off the bar top...Shugarts had a better day than Adams, which is like saying Charlie Weis had a better day than Frank Beamer. Adams really struggled –although not nearly as poorly as senior Jim Cordle did in his lone series...

4. Brandon Saine is the best player on the OSU offense. He didn't get much of a chance to show it Saturday...If the Buckeyes want to figure out what's wrong with the offense, look no further than the lack of commitment to the run game. Saine can run between the tackles, he can run outside and he can catch the ball out of the backfield. I would even line him up in the Wildcat if that's what it took to get him the ball...

3. Jim Tressel is going to let Pryor fight through this. More than anything, we learned that coach Tressel is not going to turn the offense over to backup Joe Bauserman...While Tressel has always praised Pryor as a quarterback who "values taking care of the football," not even four turnovers was enough to make Tressel look down the bench for No. 14 in the fourth quarter. It is clear this team is going to live and die with Terrelle Pryor. Because of the shadow he casts, the Buckeyes have been forced to put all their eggs in his basket at quarterback...

2. You cannot win a Big Ten title with a great defense and zero offense. Although the defense was not nearly as sharp Saturday as it has been in every game since the opener, those guys still played well enough to win the game. Twice the OSU offense handed the ball to Purdue inside their 20, and both times the OSU defense slammed the door and held them to three points. The Buckeyes forced three turnovers and should have had a fourth if not for a ridiculous "forward progress" call on a ball that was stripped by Kurt Coleman. (Since when do we not play to the whistle? If the progress is stopped, blow the whistle. It's not that hard, just close your lips and exhale.)...

1. Pryor may be progressing but he still can't handle pressure. I stand by my comments from last week's 10 Things that Pryor is progressing as a passer. He hasn't shown much in the last two games, but his mechanics when he is not under duress are much better than they were at this time last season. Where that changes, however, is when Pryor is faced with pressure. There is something inside him that won't allow him to stay calm when he isn't getting the protection he needs. He tends to panic and either throws the ball deep and up for grabs down the sideline, or off his back foot falling away. Either way, teams have figured out that blitzing Pryor – or sometimes even just showing blitz – is the way to rattle him. Defensive coordinators will continue to bring the heat against Pryor until he proves he can make them pay for it, especially with the way the offensive line performed against Purdue..."




Doug Lesmerises' report card for OSU-Purdue
October 18, 2009 Source: Cleveland Plain Dealer - "A -- Purdue kicker Carson Wiggs: His 55-yarder on the last play of the first half to give Purdue a 9-7 lead was a gamechanger, created when Purdue called two timeouts after Ohio State started a drive on its 19 with 55 seconds left in the half. An incomplete pass by the Buckeyes also greatly helped Purdue's cause...

A- -- Purdue quarterback Joey Elliott: The fifth-year senior wasn't perfect, but he was effective, completing 31 of 50 passes for 281 yards, two touchdowns and one interception while either hitting quick throws or rolling out of the pocket to stay away from trouble. The Boilermakers' offensive line was better than Ohio State expected, but with short passes in the middle of the field, going at what always is the weak spot of the Ohio State defense, Elliott didn't give the Buckeyes many chances to get after him. He was sacked just once, while Terrelle Pryor was sacked five times. "That kid was good," OSU defensive end Thaddeus Gibson said. "He was the best quarterback we've played so far." Better than USC's Matt Barkley? "Absolutely."

B- -- Ohio State's mini-comeback: The Buckeyes gained 110 yards on 34 plays in the first three quarters and 177 yards on 25 plays in the fourth quarter. Down, 23-7, the Buckeyes drove for a 24-yard field goal and then for a touchdown on a 25-yard pass from Terrelle Pryor when he spun away from pressure and threw up a pass that DeVier Posey somehow grabbed...

C -- Ohio State's defense: Yes, the turnovers by the offense changed the game. Yes, Purdue gained fewer yards per play than OSU, 4.3 yards to 4.9, though the Boilermakers gained more yards thanks to many more plays, running 83 for 361 yards compared to 287 yards on 59 plays for Ohio State. But the defense didn't throw up a wall when it was needed most. Ohio State trailed only 9-7 before Purdue got the ball on the first possession of the third quarter and moved right down the field for an eight-play, 67-yard touchdown drive that expanded the lead to 16-7. "We always emphasize coming out in the second half and playing better than we did in the first half," defensive end Thaddeus Gibson said, "and for them to come out and score on the first drive, we didn't expect that at all. From that point on, we said, 'wow, these guys are really playing, we've really got to turn it up.' But for some reason, we couldn't put our foot on them."



The Bottom Line
October 18, 2009 Source: Columbus Dispatch - "Offense (1 leaf): Rumor has it the playbook includes something called "3 and Out." The Buckeyes ran it on seven of their 15 possessions -- not counting "drives" of 0, 1 and 2 plays. The panic attack in the third quarter was unbecoming of a (formerly) top-10 team. A leaf for showing fight in the fourth.

Defense (2 leaves): The marauders couldn't save the day again. When not compromised by the offense, they were neutered by Purdue quarterback Joey Elliott's three-step drops and quick releases. They sacked him once in 58 pass-run situations, hurried him rarely and surrendered 17 points in the second half.

Special teams (1 leaf): Although it wasn't the most important play in this football game, Small's fumbled punt didn't help. Neither did Lamaar Thomas' muff of a kickoff after Purdue went up 23-7 or Purdue's kickoff return to near midfield after OSU cut its deficit to 23-10. Not a special day in any way.

Coaching (1 leaf): Can't fault the bosses for five turnovers. Can fault them for an offense that looks lost, and one that lost its composure in the third quarter as the deficit mounted. Focus and discipline are lacking when passes are thrown up for grabs and false starts begin drives in reverse.

Opponent (3 leaves): With one exception, Purdue avoided turnovers in the second half, something it had not done in previous games, and bagged its first win over a top-10 Ohio State team since 1984. It was the first time this season the Boilermakers won the turnover margin.

Officiating (4 leaves):A quick whistle on an apparent Purdue fumble late in the first quarter is the only quibble with a crew that largely stayed out of the way while the Buckeyes did themselves in. The call let the Boilers prolong a drive that ultimately produced a field goal..."



Ohio State: Report Card
October 18, 2009 Source: Newark Advocate - "OFFENSIVE LINE: F - Terrelle Pryor fumbled twice with defensive end Ryan Kerrigan in his grill...An illegal block in the back by Justin Boren killed a chance to capitalize on a turnover, and holding on Bryant Browning wiped out a 15-yard touchdown by Brandon Saine.

RUNNING GAME: D - Brandon Saine's running and catching...was one of the few bright spots on a gray day in West Lafayette...maybe OSU should have leaned more on Saine.

PASSING GAME: F - Ray Small says OSU has 107 offensive plays. That means the Buckeyes got exactly one yard for every page in the playbook in the first half. Just awful. Then they came out in the second half with Terrelle Pryor throwing back-to-back picks to go with two three-and-outs. He overthrew a wide-open, 6-foot-6 Jake Ballard in the end zone and took a costly sack that killed a late rally.

DEFENSIVE LINE: C - Joey Elliott's sliding pocket made it hard for the Buckeyes to get much pressure on Purdue's quarterback. Well-executed screens, including a 23-yard score by Aaron Valentin, took some out of the heat out of the rush and put a lot of burden on OSU's nickel defense...

LINEBACKERS: C - Brian Rolle and Ross Homan...were constantly under siege. For the second straight week, OSU's defense was on the field much too long...

DEFENSIVE BACKS: C - Kurt Coleman again flashed All-America form...Picks by Chimdi Chekwa and Devon Torrence were the first two by a cornerback this season...All the hard work, however, was overshadowed by Aaron Valentin's two scoring catches in the third quarter.

SPECIAL TEAMS: D - Ray Small went from hero to goat...His muffed punt was one of five OSU turnovers and led to a Purdue field goal on a day when the Buckeyes completely imploded.

COACHING: F - This was one of those rare times in Jim Tressel's nine years at the helm he didn't appear to have his team ready against an inferior opponent. When Terrelle Pryor is playing the role of turnover machine, it makes OSU's bend-but-don't break defense more annoying than admirable. Please, Tress, give Pryor some real coaching help. No, you couldn't control the five turnovers that led to 13 points, but Pryor's regression is on you...."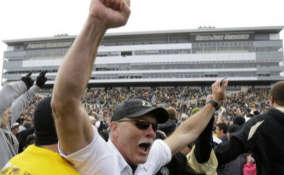 Post Game Quotes
October 18, 2009 Source: Purdue Official Site - "Senior quarterback Joey Elliott On snapping a 19-game losing streak against ranked teams..."This win was huge. Our senior class stuck with it, and I love every single one of them. We knew we were going to have a big win this year, and this created a memory we'll have for the rest of our lives."...Junior defensive end Ryan Kerrigan On his performance in the first half of Saturday's game..."We called some defenses that put me in the right position. We ran a lot of blitzes, and were able to get to (Terrelle) Pryor often."..."




Boilermaker defense frustrates Buckeyes
October 18, 2009 Source: Lafayette Journal & Courier - "The things that make Ohio State quarterback Terrelle Pryor a threat to opposing defenses were taken away. Mainly, Pryor didn't have time to drop back and scan the field. When he tried to run, he was often wrapped up before a big gain. In Purdue's 26-18 victory over the No. 7 Buckeyes, Pryor was often frustrated by a surprisingly fast and athletic Boilermaker defense. "They did a good job hiding some stuff that I didn't see at all in all the film I watched," Pryor said..."




What went right: The Boilermakers executed their game plan almost to perfection on both sides of the ball. On offense, they neutralized Ohio State's pass rush by making quick throws to receivers who found seams in the coverage underneath, allowing Purdue to make first downs. On defense, they made Ohio State one-dimensional by stopping the run and pressuring Pryor without letting him break containment. Only once did Pryor break loose for a long run and, even then, Purdue responded with a goal-line stand to force a field goal. "We wanted to get him into third-and-long or passing situations, which is probably not his greatest forte at this point," Hope said. "He's an outstanding runner and a great athlete. (But) we felt if they had to throw it to win it, we'd have (an) edge."

(Source: Columbus Dispatch)














Key Matchup: Purdue QB Joey Elliott vs. Ohio State defense. Elliott leads the Big Ten in total offense and yards passing per game, and has averaged 300 yards passing in his past three games. He faces a defense that ranks second in the Big Ten is scoring defense (12 points per game) and third against the pass (182.7). Elliott has been sacked just nine times, while Ohio State is tied for No. 2 in the league with 18.

Source: Springfield News Sun



OSU D-line deflates opposing QBs' stats
October 17, 2009 Source: Columbus Dispatch - "Now, it's Elliott's turn to face Buckeyes' rush...If Purdue quarterback Joey Elliott watched tape of Ohio State's game last week, he might opt for self-preservation, feign illness and sit out today...Such has been the story of OSU's defense all season. Opposing quarterbacks come into games with gaudy numbers and leave bruised and humbled...Players credit the coaching staff for simplifying the schemes this season. In the past, players said, they were "uptight" and worried too much about carrying out their assignments...

The pressure last week took its toll on Tolzien, and not only on plays that resulted in sacks or turnovers. Many times, he felt the rush and was forced to throw the ball early or throw it away...

Elliott comes into the game as the Big Ten co-leader in touchdown passes (12) and the leader in passing yards per game (262.5). But Ohio State's defense has been there, done that. Based on results, it's safe to predict that Elliott won't have nearly as good a day today. "I notice those guys (defensive linemen) are constantly just getting hungry," Homan said. "Their motor is just constantly running, and they go after the quarterback every play."..."




Four Downs: Doug Lesmerises' take on what to watch when the ball is snapped
October 17, 2009 Source: Cleveland Plain Dealer - "First down - Ralph Bolden, Purdue running back: "Purdue used to be 95 percent spread," Ohio State coach Jim Tressel said. "They're in two-back [offense] and running that good tailback more often than they were at one point in time." That tailback is Bolden, who rushed for 234 yards against Toledo and 123 yards against Oregon, and scored four touchdowns in the first two games...

Second down - Mike Brewster, Ohio State center: It's Brewster, receiver DeVier Posey, right guard Bryant Browning, running back Brandon Saine, quarterback Terrelle Pryor and every member of the Ohio State offense that fans will watch after last week's sporadic efforts in limited chances against Wisconsin...Brewster, a sophomore in his second year as a starter, is an encapsulation of the entire offense -- talent, expectations, opportunity, and, the Buckeyes hope, growth..."I'm not thinking as much. I feel like I'm back to my high school days, and I'm just playing with my mean streak," Brewster said. "I really know what I'm looking for."...

Third Down - Ross Homan, Ohio State linebacker: His 15-tackle effort against Wisconsin last week probably was the best game of his career...The game as a whole showed Homan's ability to cover, blitz or tackle in the run game. As the Badgers put together 89 plays of offense, he rarely, if ever, came off the field...Once again for the Ohio State defense, the assignment changes a bit this week, with the Boilermakers spread out more often than the Badgers, though their offense isn't one-dimensional. Neither is Homan.

Fourth down - Jason Werner, Purdue linebacker: ...The Boilermakers have to finally stop a team. They've been hurt by turnovers all season, ranking 115th in the nation in turnover margin. But they've also allowed teams to move the ball, ranking 76th in the country and eighth in the Big Ten in yards allowed per game and last in the Big Ten and 99th in the country in points allowed per game, with 30.5...So players such as Werner, a senior linebacker and Purdue's leading tackler, must play their best game of the season..."




Five Key Factors
October 16, 2009 Source: Columbus Dispatch - "1) PLAY TO TENDENCIES: Both teams are pretty easy to figure out offensively. Ohio State has run 63 percent of the time. Purdue should take a lesson from Wisconsin last week and stack the line of scrimmage. The Boilermakers have the most pass attempts and second-fewest rush attempts in the Big Ten. The Buckeyes should stay in their nickel alignment and bet that their front four are good enough to limit Purdue's backs.

2) TAKE, DON'T WAIT: Purdue has committed 20 turnovers this season. At this point, it might be a mental issue as much as anything. In any case, OSU should not just sit back and assume the gifts will come — the Buckeyes should focus on swarming kick returners and ball carriers, holding them up, ripping at the ball, doing whatever it takes to add to the total and get the Boilermakers thinking, "Here we go again."

3) INSIDE OUT: Purdue has been soft against the run — ranked 10th in the Big Ten and 87th nationally, giving up 185.6 yards per game at 4.0 a carry. This plays to OSU's strength but, to take full advantage, the Buckeyes should be diverse in which runs they call. Some between-the-tackles stuff, mixed with options and zone-read plays, may help draw a safety into the box and open up holes for over-the-top passes later.

4) TIGHTEN ON THIRD: It's probably nit-picking what has been an excellent defensive effort, but OSU showed a tendency to let Wisconsin dig itself out of holes. The Badgers converted six times when they faced third-and-5 or longer. Purdue is fourth in the conference in converting (45.1percent). OSU's defense may be a bit weary after playing 89 plays last week, and can help itself by making a few more long-yardage stops.

5) BOILER UP?: Ross-Ade Stadium might not be as rocking as in some years, given Purdue's 1-5 record. But this is the Buckeyes' first road game in which they will face a hostile crowd, after trips to Cleveland and a 50-50 crowd at Indiana (90 percent OSU by game's end). Keep in mind that OSU is a fairly young team, and it's not a given that the Buckeyes will handle the environment — and that obnoxious train horn."

On The Edge: Dispatch beat writers Ken Gordon and Tim May predict which team has the edge in this week's game. you make the call and see how you match up against the experts and other readers.

(Source: Columbus Dispatch)



Transcript of Columbus Dispatch's OSU football online chat today





Ten Pressing Questions: Ohio State vs. Purdue
October 16, 2009 Source: Bucknuts - "1. Is this the game where Terrelle Pryor puts it all together? – We ask this one every week and we keep waiting for Pryor, OSU's ultra-talented quarterback, to put it all together. He has at least one interception in five of OSU's six games...

2. Can Brandon Saine reach the 100-yard mark for the second time in three weeks in the state of Indiana? - ...He had 14 carries for 55 yards in last week's win over Wisconsin – with 31 of those coming on one play.

3. Can the Buckeyes involve multiple receivers? – This is also one we ask nearly every week...Ray Small came out of his funk last week with his kick return. How about four or five catches with a touch for the ultra-talented Small this week?

4. How will OSU's offensive line perform against Purdue? – ...Let's see how the line performs. Purdue has a nice set of ends in Ryan Kerrigan and speed rusher Gerald Gooden.

5. Can the Buckeyes contain Purdue running back Ralph Bolden? – ...He is a hard runner who gets a lot of second-effort yards.

6. Can the Buckeyes get pressure on Purdue quarterback Joey Elliott? – Ohio State did a number last week on UW's Scott Tolzien...

7. How will the OSU secondary fare against Purdue wide receiver Keith Smith? – Smith comes in second in the Big Ten in catches with 42...Smith is next up and can create some challenges on the underneath game.

8. Can Ohio State feast on some Purdue turnovers? – Purdue is among the worst in the nation with 20 turnovers in six games...

9. What impact will the special teams be? – Last week, Small gave OSU its first kick return touchdown since Ted Ginn Jr. brought one back against Florida in the 2007 BCS national title game. Still waiting on the punt return game to perk up...

10. Is Ohio State a Big Ten championship caliber team? – The Buckeyes have the inside track right now to the Rose Bowl. They and Iowa remain unbeaten in Big Ten play, but the Hawkeyes must visit Columbus in November...Purdue is probably a better team than anybody wants to give them credit for. The Boilers are 1-5, but they could easily be 4-2..."




Buckeyes coach Jim Tressel says team can't afford any misses on offensive line: Jim Tressel is concerned about the number of missed blocks by the offensive line - On Ohio State's second drive against Wisconsin last Saturday, right tackle J.B. Shugarts whiffed on a block on second down and running back Brandon Saine was dropped for a 1-yard loss. On the next play, left tackle Mike Adams whiffed on a block and quarterback Terrelle Pryor was flushed and sacked before the play could develop.

"You need zero times where we just miss, where you allow someone to totally disrupt a play," Ohio State coach Jim Tressel said Thursday when asked what he needs from his tackles. "So what we need from them is consistency, being square, and we can't miss men. If we lose a [pass-rusher] after a little bit, that's part of the deal. But we can't miss guys. I don't know how many of those we had, maybe three, but that's 10 percent of the plays we had. So obviously, we can't 10 percent of the time miss one." (Source: Cleveland Plain Dealer)





Mistakes could determine Purdue-Ohio St winner
October 16, 2009 Source: Associated Press - "Purdue gained 402 yards last week, but Minnesota beat the Boilermakers 35-20 after taking advantage of Purdue's miscues and returned a blocked field goal for a touchdown...Ohio State coach Jim Tressel said he is preparing his team for a tough game. A loss to the Boilermakers likely would kill the team's outside shot at a national championship. "If Purdue doesn't have a turnover here or a turnover there or a special teams problem here or there, who knows what their record is?" he said. "We've got to make sure that we attack this challenge the same way you do any other and that's simply by film study."... Still, Purdue has been strong against its toughest opponents this season. The Boilermakers lost 38-36 at Oregon and 24-21 at home against Notre Dame..."


Tressel: Cordle In; Berry, Larimore, Others Out
At his Thursday press conference, Ohio State head coach Jim Tressel gave injury updates, discussed the progression of Terrelle Pryor, talked about whether he's concerned about the depth at tailback and much more.

(Source: Bucknuts)

This week's challenge: By hook and by crook (those turnovers), Ohio State is, as forecast, the team to beat again in the Big Ten race as it guns toward a fifth straight title. But it's no sure thing because of the maddening inconsistency of the offense. Purdue, Minnesota and nonleague New Mexico State aren't a murderers' row the next three weeks, and they offer the chance to gain offensive rhythm headed toward the meat of the order, Penn State and Iowa.



Ohio State Buckeyes believe ends justify the means with Thaddeus Gibson and Nathan Williams
October 15, 2009 Source: Cleveland Plain Dealer - "...The 6-3, 245-pound Williams actually is the backup to the 6-2, 240-pound Gibson at Ohio State's Leo position, a defensive end assignment that requires a lineman who can drop into coverage as well as rush the passer. But last week, the Buckeyes paired Williams and Gibson on opposite ends of the line on 41 of Wisconsin's 89 offensive plays. Ohio State had used Williams and Gibson together before, but never that much, and never that effectively.

That it came against a power run team with a big offensive line was interesting...Saturday, almost whenever the Badgers encountered an obvious passing down, the defense deployed Gibson and Williams at the same time, much to Tolzien's consternation and Gibson's enjoyment.

"Look out, look out, you know what I mean?" Gibson said of the pairing. "With a kid like that coming off the edge across from me, either he's going to force [the quarterback] to you or he's going to get him himself. It's just fun. I told the coaches I love being out there with that kid. His motor won't stop and he brings great speed to our defense."...

"To have two guys with great speed and great moves off the edge, it's an advantage for us," OSU linebacker Ross Homan said. "[Williams], that guy, it doesn't matter if you put three guys on him. That dude is going to be clawing and bodying his way to the quarterback. He's a complete animal. Every play he just wants to get that quarterback's head."..."




Big Ten Teleconference-October 13, 2009- Source: Big Ten Network




Pass fails: Whichever former football coach - Ohio State's Woody Hayes, Texas' Darrell Royal or Tennessee's Robert Neyland - first said that when you throw the ball, three things can happen and two are bad, might have re-evaluated after watching Big Ten football last weekend. When the Big Ten threw, it was almost all bad...

All 11 starting quarterbacks threw at least one interception, but only four of them threw touchdown passes...Ohio State quarterback Terrelle Pryor was named the Big Ten's preseason Offensive Player of the Year and has thrown six picks, two more than last season...Pryor has thrown six picks in 128 attempts, his percentage of 4.69 percent of his throws picked off the second worst in the Big Ten, just behind Minnesota's Adam Weber (4.76)...

But the Buckeyes are facing Purdue this week, a team that has turned the ball over 20 times, tied for the second-most in the nation. Boilermakers quarterback Joey Elliott is tied for fourth in the country with nine interceptions. Elliott will be facing an Ohio State defense tied for fourth in the country with 10 interceptions, and the Buckeyes' constant pass rush is expected to force QBs into mistakes...

Ohio State coach Jim Tressel is as much of an anti-interception advocate as anyone, and knows when one occurs it's because "one is that protection broke down; two, there was a route adjustment problem; or, three, there was an ill-advised throw..."

(Source: Cleveland Plain Dealer)

Train horn gets on Buckeyes' nerves: Ohio State's coaches are motivating the Buckeyes with annoying noises this week. By playing Purdue's trademark train horn over and over and over again during practice, they're hoping to condition the players to a) not let it bother them during Saturday's game in West Lafayette and b) try to do enough to minimize the number of times Purdue blows the horn. To a man, the Buckeyes were all fed up with having to work out while the loud, deep, teeth-gritting sound was repeatedly and loudly played.

"I guess it's a train horn," C Mike Brewster said. "I'm surprised I can hear you guys right now. I'm deaf after that practice." Brewster said he had to time when he said the snap count so it wouldn't be drowned out by the horn.

"It's really loud. If you're in the huddle, you hear the horn and you can't hear what anybody's saying," TB Brandon Saine said.

Apparently, the repetition was working. "It's annoying, but after a while you get used to it," CB Chimdi Chekwa said. "When I get to the game, I probably won't even hear it anymore."

Still, Ohio State video coordinator Mark Quisenberry might not be the most popular guy around. "There's a guy (named) Quiz who runs it," DL Cameron Heyward said. "And I wanted to strangle him."

(Source: Associated Press)

.

SERIES RECORD
• Ohio State leads the all-time series with Purdue, 37-12-2
• Ohio State leads 24-5-2 in all games played at Columbus
• Last meeting: 2008 at Purdue: OSU 23 - Purdue 7
• Longest Ohio State win streak: 7 (1989-99)
• Longest Purdue win streak: 2 (1943-45, 1947-52, 1960-1967)

BIG TEN ROAD TRIPS
• The Buckeyes currently hold a 16-game win streak in Big Ten road games. That's the longest such string ever by an Ohio State football team. The conference record is 17 games, set by Michigan between 1988-92.

HOMAN NAMED BIG TEN DEFENSIVE PLAYER OF THE WEEK
• Jr linebacker Ross Homan racked up a career-high 15 tackles while adding two sacks, a pass breakup and a forced fumble to help the Ohio State defense hold the Badgers' offense to a pair of field goals Homan's two sacks pushed Wisconsin back 13 yards and nine of his 15 defensive stops were solo tackles.

4th CAPTAIN & HONORARY CAPTAIN
• Jim Cordle will be the 4th Captain
•

SILVER BULLETS
• Ohio State's defense has allowed just four TDs in its last 19 quarters of play
• The Buckeyes have not allowed a 100-yard rusher in 16-consecutive games. The last to do it was Joe McKnight at USC in 2008. The 16- game streak ranks second among FBS schools. Alabama is first with a 26-game streak
• Ohio State ranks among the NCAA Top 15 in five categories in 2009: scoring defense (7th), total defense (11th), rushing defense (12th), Sacks (12th), and pass efficiency defense (15th).

FORCING TURNOVERS
• The Buckeyes have forced 14 opponent turnovers through the first six games, an average of 2.3 per contest. Ohio State has forced 10 interceptions and recovered four opponent fumbles; the Buckeyes also scored a defensive two-point PAT on a Brian Rolle pass interception and runback versus Navy.

BUCKEYE OFFENSE
• Sophomore Terrelle Pryor needs just 36 rushing yards to reach the 1,000-yard mark for his career. With 964 rushing yards to date (averaging 4.7 yards per carry during his career), Pryor would become just the fi fth Buckeye quarterback ever to rush for more than 1,000 career yards.
• RB Brandon Saine rushed for a career-high 113 yards at Indiana Saturday

TV: Big Ten Network
• Wayne Larrivee, Chris Martin & Reb Haarlow
PURDUE AT A GLANCE
• Since a season-opening win over Toledo (52-31), Purdue (1-5, 0-2) has lost five straight, with four by an average of 4.5 points. The Boilers lost by two at Oregon, by a touchdown to NIU before two fourth-quarter, heartbreaking defeats to Notre Dame and Northwestern at home.

SERIES
• Last Purdue home victory: 2004
• Series record in West Lafayette: Ohio State leads 12-6; at Ross-Ade Stadium: Ohio State leads 11-6

HIT THE BRAKES
• In addition to stopping a current fi ve-game slide, the Boilermakers are looking to snap a 19-game winless streak against top 25 teams.

OFFENSE
• Despite their record the Boilermakers pose one of the top passing attacks in the Big Ten. Senior quarterback Joey Elliot leads the Big Ten in passing and total offense with 262.5 yards per game through the air and 283.7 yards per game overall.
• Running back Ralph Bolden is second in the conference in rushing with 99.8 ypg while receiver Keith Smith is second in the Big Ten in both receptions (7.0) and yards per game (97.5). Meanwhile, senior receiver/return man Aaron Valentine ranks first with 145.2 all-purpose yards per game.

DOING MORE WITH LESS
• Purdue's turnover struggles (minus 9 for the year) has led to less ti me with the ball. The Boilers have had 50 less total off ensive touches than their six opponents this season and trail in average ti me of possession 33:00 to 27:00, yet they are sti ll managing to outgain their oppositi on (410.2 yards per game to 379.7). Purdue is averaging a full yard more per play (6.0 to 5.0) this season than its opponents.

NOT YOUR AVERAGE SMITH
• Purdue wide receiver Keith Smith is making a name for himself this season. Second in the Big Ten in recepti ons (7.0) and receiving yards (97.5) per game, the junior posted his fourth 100-yard receiving game of the season last Saturday at Minnesota (also vs. Toledo, Notre Dame and Northwestern). In just six games this season, he has already surpassed his receiving yardage (486-585) and touchdown (2-4) totals from last year's 12-game tally and he is only seven catches away from matching his receptions total from 2008 (49-42).

8
• Eight Boilermakers are from Ohio: senior receiver Royce Adams (Cleveland Glenville), senior quarterback Chris Bennett (Bellbrook), sophomore safety Logan Link (West Liberty-Salem), junior linebacker John Humphrey (Youngstown Liberty), junior safety Walter Williams (Columbus St. Charles), sophomore offensive lineman Dan Barry (Mentor Lake Catholic), senior offensive lineman Zach Reckman (Cincinnati Indian Hill) and redshirt freshman offensive lineman Rick Schmeig (Cincinnati Oak Hills).

HEAD COACH
• Purdue is led by first-year head coach Danny Hope, who spent 2003-07 as the head coach at Eastern Kentucky, his alma mater, where he went 32-8 in OVC play. In 2008 Hope served as assistant head coach and offensive line coach at Purdue under former coach Joe Tiller.
No. 7/7 Ohio State at Purdue Game Notes
Big Ten Notes in PDF
OSU 2009 Roster
OSU 2009 Pronunciation Guide
2009 Coaching Staff

OSU State Depth Chart
as of October 11, 2009


Updates on RB/DL/OL: Neither Dan Herron (ankle) nor Jaamal Berry (hamstring) will make the trip to Purdue and Herron could be out longer. Brandon Saine will start, backed up by freshman Jordan Hall; Hall missed a few days with the flu early this week, but was back at practice Wednesday. Freshman Jaamal Berry, who hasn't played yet, will not play this week. Redshirt freshman Jermil Martin will be a possible third tailback.

The starting right tackle to begin the season was fifth-year senior Jim Cordle. He's been sidelined with an ankle injury, but it sounds like he's going to play as a "sixth man" against the Boilermakers, i.e., a very limited role. Junior left tackle Andy Miller began the season as a starter, but has been shelved with the flu the last two weeks and has lost 18 pounds; he has practiced this week but probably would be used only sparingly, if at all, Saturday at Purdue.

Starting defensive tackle Dexter Larimore will miss a second game. Larimore pretty much is out for the rest of October with the sprained knee. Surgery will not be necessary. The coaches are being cautious...they want him healthy for the last three games. OSU might take him to Purdue, as its close to his hometown of Merrillville, Ind. -- a favor to him and his family.

(Source: Cleveland Plain Dealer/BuckeyeSports.com)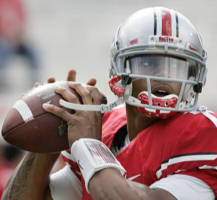 Ohio State spotlight: Terrelle Pryor
October 15, 2009 Source: Columbus Dispatch - "Late in a practice this week at Ohio State, there was a roar. Through a crack in the screen that hides the field, Terrelle Pryor could be seen in the midst of the hoopla, celebrating with his teammates after a touchdown against OSU's defense. "He had a great day today throwing," center Michael Brewster explained later.

If only that had been the case a few days earlier in the 31-13 win over Wisconsin. Pryor was just 5 of 13 in that game. After a very slow start, he did hit DeVier Posey on a 32-yard touchdown pass just before halftime. But the offense didn't get a chance to play again for another hour, and most of that spark was gone by then. Going into the game today at Purdue, critics have again lined up to question OSU's offensive prowess in general, and Pryor's in particular. Six games into his sophomore season, he's already thrown two more interceptions - six - than he did a year ago, and his accuracy has been intermittent.

But if the criticism is getting to Pryor, it's not apparent. "He's fine," Brewster said. "People are going to try to put the blame on him, but that's what they do everywhere when the offense didn't put up the points they expect. He's going to be fine. I trust him 100 percent."

Not that Pryor was content with what happened last week, especially as Wisconsin sold out to stop the run, leaving opportunities for the Buckeyes to make some big plays down the field. "It was pretty tough on him," receiver Ray Small said. "He wanted to go deep every play. He was hollering at the coaches, 'Let's go deep! Let's go deep!' "Terrelle, he's an emotional guy."



Tressel on Pryor's mechanics: First-year quarterbacks coach Nick Siciliano met with reporters on Wednesday and mentioned that he thinks Pryor is coming along pretty well from a mechanical standpoint. (A lot of fans might disagree with that assessment.) However, Siciliano did say that Pryor still needs to work on two specific things the most: posture in the pocket and bending his knees more. Tressel expounded on that on Thursday.

"Yeah, that's part of the big term that we use a lot which is footwork," he said. "No matter what position you play, you have to play with your feet and if your feet are right and your knees are bent, every position has a good football position and that gives you the skills to perform what your position calls for. And that's something that Terrelle works on like crazy. "Knock on wood, I thought his last two days … I thought he had a good week last week in terms of coming along with his footwork, but I think he's been even better this week."

But is Tressel confident that Pryor is learing from his mistakes and is improving at a fast enough rate? "Sure, absolutely," he said. "One of the things I've felt about him from the day I met him – and nothing has changed, in fact it's probably been strengthened – is that he is a very close listener and is very observant.

"Now, does that mean that he would never repeat a mistake? No. Because there's 10 other things that can happen – because there's 10 other guys in the play – that can maybe lend toward a distraction from what mistake might be made. But no, he's very observant and he's a guy that really soaks it all in."

(Source: BuckeyeSports.com)







Ohio State quarterback Terrelle Pryor has thrown interceptions at a higher rate this year than any other regular starter in coach Jim Tressel's tenure:

| | | | |
| --- | --- | --- | --- |
| Year | QB | Int./Att. | Ratio |
| 2001 | Bellisari | 7/220 | 1:31.4 |
| 2002 | Krenzel | 7/249 | 1:35.6 |
| 2003 | Krenzel | 10/278 | 1:27.8 |
| 2004 | Zwick | 6/187 | 1:31.2 |
| 2004 | Smith | 3/122 | 1:40.7 |
| 2005 | Smith | 4/237 | 1:59.3 |
| 2006 | Smith | 6/311 | 1:52.8 |
| 2007 | Boeckman | 14/299 | 1:21.4 |
| 2008 | Pryor | 4/165 | 1:41.3 |
| 2009 | Pryor | 6/128 | 1:21.3 |
(Source: Columbus Dispatch)



Ex-NFL scout, former Buckeye not sold on Pryor
October 15, 2009 Source: Canton Repository - "When the rest of the recruiting analysts gushed over Terrelle Pryor, there was one who wasn't convinced. There was one guy who practically guaranteed Pryor would not win the Heisman Trophy and walked a fine line on whether he believed the Jeannette, Pa., star would become the passer everyone thought he would. Bill Urbanik, who played at Ohio State and spent 53 years in football, most as a coach and personnel scout in the NFL, still doesn't believe Pryor will be become an accurate passer. He has height, yes height, on his side...

"You look at big quarterbacks, guys 6-5 and taller, and tell me how they turned out," Urbanik said. "I saw (Pryor) on tape, and here's what I know after 53 years in this game. If you're called quarterback, but you'd rather run it than throw it, you have a problem being called quarterback. "When it becomes more comfortable to run it than throw it and you have more confidence in your ability to run it, you have problems. Ask Steve McNair. Ask Vince Young. Ask JaMarcus Russell."...

Peyton Manning and Ben Roethlisberger are currently two of the most successful quarterbacks. Derek Anderson is 6-6. Carson Palmer is 6-5. "If you're height is 6-6 and 6-7, maybe even 6-5, you don't have the fine-motor skills to throw it accurately," Urbanik said...

Are the Buckeyes slowly getting to where Tressel wants? "Slowly," he said. Urbanik isn't convinced. A half century in the NFL game tells him Pryor's size isn't conducive to being a fine passer. He likes Pryor as an athlete and believes his best position in the NFL, ultimately, will be tight end.

"I don't think he's going to get much better," Urbanik said. "He is what he is. You take it or leave it and you either like it or you don't. But he's midway through his second year and I don't know that he's changed that much. How do you change? How do you become a pocket passer if you're Terrelle Pryor?" Perhaps to study Troy Smith...."



2009 Totals




| | | |
| --- | --- | --- |
| Ohio State | Offense | Purdue |
| 29.7 | Pts/gm | 28.5 |
| 338.3 | Total yds/gm | 410.2 |
| 172.2 | Rush yds/gm | 145.2 |
| 38.8 | Carries/gm | 31.7 |
| 4.4 | Yds/carry | 4.6 |
| 166.2 | Pass yds/gm | 265.0 |
| 22.8 | Pass att/gm | 31.2 |
| 13.1 | Yds/completion | 12.3 |
| | Defense | |
| 12.0 | Pts/gm | 30.5 |
| 271.8 | Total yds/gm | 379.7 |
| 89.2 | Rush yds/gm | 167.3 |
| 33.5 | Carries/gm | 41.7 |
| 2.7 | Yds/carry | 4.0 |
| 182.7 | Pass yds/gm | 212.3 |
| 33.0 | Pass att/gm | 34.5 |
| 10.1 | Yds/completion | 10.6 |


2009 Big Ten Conference Team & Individual Statistics Through games of October 11, 2009



Crunching the Numbers: Ohio State at Purdue
October 15, 2009 Source: BuckeyeSports.com - "We look at conference-leading statistics, terrible turnover totals, gaudy offensive numbers (and some not so good), the series history and much more in this week's edition...Jim Tressel is 13-0 against head coaches in their first season at a school, including a win over Tim Beckman of Toledo earlier this season. Danny Hope is in his first year as head coach of Purdue. Among Tressel's victims are Charlie Weis (Notre Dame), Rich Rodriguez (Michigan) and Mark Dantonio twice (Cincinnati and Michigan State)..."




Last Time Out...
October 13, 2009 Source: BuckeyeSports.com - "Ohio State takes to the road this weekend for a noon showdown against the Purdue Boilermakers. The last time these two teams faced off, special teams saved the day for the Buckeyes. Relive the victory in this edition of "Last Time Out..."




Flashback: Ohio State vs. Purdue, 1968
October 12, 2009 Source: Eleven Warriors - "Suppose you are an Ohio State team that is ranked #4 in the country and you are about to start the Big Ten season with a home game. You are coming off two impressive out-of-conference wins and your margin of victory in both games was in double digits. You would probably feel pretty good about your chances, right? Well, in 1968 this was the case and yet the Buckeyes were 13-point underdogs going into the game. The reason is that the team they were playing was #1 ranked Purdue...."






Purdue vs. Ohio State Preview
October 15, 2009 Source: The Ozone - "Tony Gerdeman's preview of the Purdue game...The Buckeyes were only able to average 3.6 yards per carry last week against the Badgers and they will need to show that they are better than that number this week. Purdue is tenth in the conference in run defense (allowing 167.3 yards per game), so Ohio State really needs to set a tone in this one and make some noise on the ground..."




2009 Purdue Boilermakers Game Preview
October 15, 2009 Source: Buckeye Planet - Analysis and more, including: ...Linebackers: The defense's key playmaker is converted safety Jason Werner, who takes over for last season's leading tackler and now departed Anthony Heygood. Werner has the ability, but has struggled with back problems which kept him out all of last season. Healthy this year, he's been all over the field, leading the Boilers with 11 tackles for loss and with 50 total tackles, 39 of which have been solo. He is decent in coverage and has 1 INT this season, to go along with 3 sacks....Purdue Offensive Preview...Defensive Preview..Special Teams Preview..."




A Closer Look: Purdue Boilermakers
October 15, 2009 Source: Buckeye Sports - "The second half of the season is upon us, and No. 7 Ohio State will look to gain bowl eligibility and improve to 4-0 in the Big Ten with this weekend's trip to face Purdue. We take a gander at the Boilermakers' struggles and what the team does well in this week's Closer Look game preview..."




Preview: #10 Ohio State vs Purdue
October 16, 2009 Source: Eleven Warriors - "...Opponent: Despite the less than stellar record, the Boilers do have some positives to look back on, specifically their offense which has averaged 410.2 yards per game this season. Where they have been hurt has been in the turnover category. Purdue has turned the ball over 20 times so far, 13 of those turnovers going for opponent scores. To make matters worse, it seems a majority of the turnovers occur deep in their own territory, thus burying their defense with little chance to succeed..."




Tale of the Tape: Purdue
October 14, 2009 Source: ESPNU - "The Boilermakers are the best 1-5 team in the country, hands down. A bounce here and a break there and the dynamic of this game could be very different. So with a team that is so close to being 4-3 or 5-1, how do they..."




Ohio State (5-1) at Purdue (1-5)
October 15, 2009 Source: College Football News - "...Why Purdue might win: Terrelle Pryor stinks. Part of the reason is the lack of a true playmaker at running back, Brandon Saine is serviceable and Dan Herron is hurt with an ankle injury, and part of the reason is a retooled line that can't seem to do anything consistently. And part of the reason is Pryor, who completed just 5-of-13 passes for 87 yards with a touchdown pass and an interception against Wisconsin. While his scoring throw was brilliant, he has been struggling with his midrange to deep throws and he's not running enough to overcome the problems. Purdue can throw everything and the kitchen sink at him in hopes that he simply won't make the pass to the single-covered receiver...What will happen: Purdue has been close to being good. It should've beaten Notre Dame and Northwestern, and it had a shot against Oregon. This will be the first game it won't be around in the second half with an honest chance to win. OSU will be dominant on defense, while Pryor will come up with one of his better games of the year...CFN Prediction: Ohio State 34 … Purdue 13..."




Ohio State at Purdue Preview
October 14, 2009 Source: ESPNU - "After dispatching previously unbeaten Wisconsin last week, Ohio State continues its march through the Big Ten with a road game at Purdue. The Buckeyes have struggled on offense this season, but the Boilermakers are allowing an average of 30.5 points a game. Purdue has lost 19 straight to ranked opponents..."




Purdue vs. Ohio State Preview
October 15, 2009 Source: CBSSports.com - "...The Buckeyes seem to have some time to get their offensive troubles fixed, starting on the road against a Purdue team that is allowing a league-high 30.5 points...While the Boilermakers' defense has struggled, a lot of those problems have stemmed from a turnover-prone offense. Purdue is tied for the second-most turnovers in the FBS with 20, and it's putting its defense in vulnerable positions..."




2009 Week 7 Picks: Ohio State vs Purdue
October 14, 2009 Source: Sporting News -

Jim
Gilstrap

Matt
Hayes

Steve
Greenberg

Brian
McLaughlin

Dave
Curtis

Derek
Samson

31-10

30-13

24-16

45-7

30-17

44-6





Purdue Official site
2009 Purdue Media Guide
OSU Game Notes
2009 Stats
2009 Football Roster
Danny Hope, Head Coach
Ass't Coaches
Source: Purdue Official Site







The Catch
October 14, 2009 Source: Purdue Official Site - "...On Oct. 28, 2000, 16th-ranked Purdue defeated No. 12 Ohio State 31-27 to take a big step toward the Big Ten championship and Rose Bowl berth. Following is the Associated Press game story from that memorable day:

Purdue's Seth Morales had just one thought as he saw Drew Brees' pass come his way. "You just kind of talk to yourself," Morales said. '"Just catch the ball, catch the ball, catch the ball,' because you don't want to drop it." Morales caught the ball for a 64-yard touchdown with 1:55 left to lift the No. 11 Boilermakers to a 31-27 victory against No. 16 Ohio State on Saturday..."




Big Ten Teleconference-October 13, 2009- Source: Big Ten Network






Purdue QB has to avoid sacks
October 15, 2009 Source: Ft. Wayne News-Sentinel - "Purdue quarterback Joey Elliott faces a pounding. There's no way around it. Ohio State will hit him, punish him and harass him Saturday at Ross-Ade Stadium. If he's lucky, it will not sack him. If he's lucky.

This is not a knock on the Boilers' veteran offensive line or Elliott's sack-avoidance ability. The No. 7 Buckeyes are, by far, the best defense Purdue has faced, and it starts with their rock-the-quarterback ways. Ohio State has 18 sacks to rank 12th nationally and second in the Big Ten behind Penn State, which has 20 sacks while playing one of the nation's easiest opening schedules..."




Purdue's offensive coordinator wants 12 plays back
October 15, 2009 Source: Lafayette Journal-Courier - "Lots of big plays but too many mistakes. That defines Purdue's offense at the halfway point of the 2009 season. In his first year as a starter, quarterback Joey Elliott leads the Big Ten Conference in passing yardage (262.5), total offense (283.7) and is tied with Penn State's Daryll Clark with 12 touchdowns. But the fifth-year senior also has a league-high nine interceptions.

But the turnovers are the main reason the Boilermakers are 1-5 heading into Saturday's matchup against No. 7 Ohio State at Ross-Ade Stadium. Offensive coordinator Gary Nord talked about the first six games and looked ahead to the second half of the season..."



#14 Joey Elliott
POSITION: QB
HEIGHT: 6-2
WEIGHT: 216
CLASS: Sr

Elliot leads the Big Ten Conference in passing yardage (262.5), total offense (283.7) and is tied with Penn State's Daryll Clark with 12 touchdowns. But the fifth-year senior also has a league-high nine interceptions. 2008: Received team's Most Improved Award - Offense for spring season ... Academic All-Big Ten ... appeared in three games as backup to Curtis Painter ... completed 8 of 15 passes (53.3 percent) for 81 yards ... had seven carries for 13 yards (1.9 average) ... scored first collegiate touchdown on a 2-yard rush against Northern Colorado on Sept. 6 ... was 3 of 5 for 46 yards vs. Penn State on Oct. 4 ... suffered season-ending right shoulder separation at Northwestern on Oct. 18.



#23 Ralph Bolden
POSITION: RB
HEIGHT: 5-9
WEIGHT: 194
CLASS: Soph

The sophomore rushed for 357 yards in the team's first two games. Shutting down the speedy Bolden will be the No. 1 goal of the Buckeye defense. "He's been a dominant player in practices and taken a bunch of them the length of the field," head coach Danny Hope said at the start of the year. "We have a good defense and they bottled him up and he broke outside and took it to the house several times in practice." 2008: Appeared in eight games as reserve and on special teams ... had 16 carries for 28 yards (1.8 average) ... caught three passes for 18 yards (6.0 average) ... recorded four tackles (3 solo, 1 assist) on special teams ... had three carries for 11 yards vs. Minnesota on Oct. 25 ... recovered onside kick vs. Indiana



#24 Jason Werner
POSITION: LB
HEIGHT: 6-4
WEIGHT: 221
CLASS: Sr

Werner, a team captain, has a team-best 50 tackles. With 11 tackles for loss, he is third in the league and tied for ninth in the country. He's also had one interception and has forced a fumble this season. "He's an outstanding leader and he understands football as well as anyone I've been around," Hope said. "He can coach those young guys as good as our coaches can. He's very smart, he makes plays and he plays fast."



#7 Ohio State (5-1) at Purdue (1-5)
| Teams | Open | VegasInsider | Scores and Odds | Sports | Sportsbook | Bet Hollywood | Over/Under |
| --- | --- | --- | --- | --- | --- | --- | --- |
| Ohio State | -13.5 | -13 | -14.0 | -14 | -14 | -14 | 48.0 |
| Purdue | +13.5 | +13 | +14.0 | +14 | +14 | +14 | 48.0 |


West Lafayette Weather Forecast