| | |
| --- | --- |
| | The (red) story links, or the 'read more' graphic, will open new (pop-up) windows to the source of the article, audio or video, so you can read/hear/see the rest. If your browser is set to block pop-ups, please set it to always allow them from our site. You will not get any annoying advertising pop-ups, of any kind, generated by this site...ever. |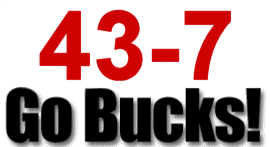 OHIO

vs.

OHIO STATE




Highlights of Ohio State vs Ohio University on Sept 18th, 2010 in the horseshoe in Columbus, OH
Source: lednerk's Channel YouTube





Five Things: Ohio
September 20, 2010 Source: Eleven Warriors - "Pryor's Record Setting Day: I know. Those two interceptions were horrendous but I personally don't have too much of a problem looking past them considering the timing. ...The Buckeyes were in front 34-0 with :14 left in the half when Pryor tossed his first pick of the year, a totally haphazard lob into heavy traffic intended for Taurian Washington. The throw capped three straight poor plays by Pryor...In between those few shenanigans, Pryor was busy completing 16 straight passes to set the school record helping him to a gaudy 17/20 in the first half...Pryor again looked to checkdowns consistently (maybe even a little too much) and he scrambled with a purpose to the tune of 5 first half carries for 36 yards and a score...

Not all is rosey, however, on the Offensive side of the ball: The line surrendered an unacceptable three sacks against a bad Ohio team with both Adams and Shugarts showing up in my notes. The rushing attack was also somewhat stifled as OSU managed just 3.9 per carry with 41 carries going for 158 yards. This after averaging just 3.7 against the 'Canes...Adding to the concern is the rushing-disappearance of Brandon Saine...

Silver Bullets continue to dominate:The defense did what it should do against outmanned opponents - destroy them. In the decisive first half, the Bullets were unstoppable...For the game, the Bullets held Ohio to seven first downs, 2.5 yards per carry, 9/17 through the air with two picks, 158 total yards (3.3 per play) and 2/10 3rd down conversions...

Broken record that is poor special teams:There's no question that Posey-bro's kickoff return for a TD was correctly called back due to a block in the back but the play still served as a microcosm of what's wrong with the KO coverage. First, Basil's kick was a line drive although I give him some credit for finally getting the ball inside the five yard line...Maybe Rolle and Hines need to become full time special teamers again to stop the bleeding. Basil did put the next two KO's near the goal line but again they were line drives. Following those two deeper kicks, the next two only reached the seven and 14 yard lines, respectively. There's no question Ohio State is having issues maintaining lane integrity, shedding blocks and making tackles but there's no denying the problems are starting from kickoffs being too low and too short...Since we're apparently not suffering enough watching KO coverage, the special teams god added a new wrinkle this week as the Buckeyes had a punt blocked... When will the madness end?

Injuries Challenge Depth and Experience: Torrence came back in the game and appeared fine. Howard is rumored to be the most severely injured and he clearly looked to have something wrong with his shoulder. He was holding it like a separation or maybe a busted collarbone but I guess we'll have to wait and see...Howard would be a notable loss in the secondary as he served as the primary backup to Torrence and saw time in the nickel. The loss of Howard should mean we'll see more of redshirt freshman Corey Brown and maybe sophmore Zach Domicone and/or freshman Christian Bryant. Already without C.J. Barnett for the year, the Howard injury was further compounded by a dislocated elbow suffered by Evege..."


Jim Tressel Speaks to the Media Postgame Ohio
Source: OSU Official Site



Coach Tressel Postgame Press Conference Transcript (OSU vs. Ohio)
September 18, 2010 Source: OSU Official Site



Players Speak to the Media Postgame Ohio
Source: OSU Official Site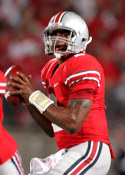 Hitting The Mark

Terrelle Pryor completed 16 straight passes, obliterating the previous school record. Pryor's streak was also second-longest in the Big Ten, behind Iowa's Chuck Long with 22 in 1984.

Most Consecutive Completions, Ohio State History


16
Terrelle Pryor
2010
12
Craig Krenzel
2002
12
Jim Karsatos
1985
12
Mike Tomczak
1983
12
Bill Mrukowski
1961
Source: ESPN




Quarterback Terrelle Pryor talks about setting the continuous completion record and a lot more in our video interview!




"Even though the score indicated a blowout, some hitting was going on. Four Buckeyes - Devon Torrence, Travis Howard, Donnie Evege and Dorian Bell - needed attention on the field from the trainers. Coach Jim Tressel indicated the one player they were concerned about was Howard, who appeared to suffer a left shoulder injury while covering a kickoff late in the first half."

09/20/10: Dinged up: It was no party on Saturday for cornerbacks Travis Howard (shoulder), Donnie Evege (shoulder) and Devon Torrence (hip), and linebacker Dorian Bell (shoulder). All had to leave or be helped from the field. Howard's injury appeared to be the most serious. Depth on special teams could be affected, because all but Torrence are participants, and the Buckeyes obviously can't afford to lose any able bodies there.

Source: Columbus Dispatch


Complete stats
HERE
Source: Columbus Dispatch




It was over when...: The Bobcats turned it over on the second play of the game. This one was all Buckeyes.

Gameball goes to...: Terrelle Pryor, who completed a school-record 16 straight passes and scored three times.

Turning point: The callback of Julian Posey's apparent 99-yard kickoff return for a touchdown after OSU had taken a 3-0 lead. After giving up punt and kickoff returns for TDs the week before, the Buckeyes seemed to have fixed nothing. But after Ohio was called for a block in the back, the Bobcats had a first down at their 9-yard line and went nowhere.

Worst fix: After allowing a punt and kickoff return for touchdowns last week against Miami, it had to be boot-camp week for Ohio State's special teams this week, right? The message didn't quite take. Ohio's Julian Posey nearly went untouched on a 99-yard kickoff return, though it was nullified by an obvious block-in-the-back penalty. "If you get blocked in the back out of one lane, and they happen to hit that lane, it is going to go out," OSU coach Jim Tressel said. Another kickoff was returned 31 yards to the Ohio 44. And early in the third quarter, the Buckeyes' Ben Buchanan had a punt blocked. "We just flat out missed a guy on a punt that was blocked, and you can't do that," Tressel said, "not if you want to win."

The view:
How the team sees it: The only thing better than a blowout is a shutout. Rats.
How the pollsters will see it: It's becoming more difficult to conspire against the Buckeyes.
How Buckeye Nation will see it: Tell Ohio's Marching 110 it should have formed "Stripped Ohio."

Stat of the game I: 1921. Ohio State is 41-0-1 since it last lost to another Ohio school in 1921.

Stat of the game II: With 270 yards of total offense, Terrelle Pryor passed Archie Griffin (5,589) for eighth place on the school's all-time list. Pryor now has 5,695 yards of total offense in his career.

Stat of the game III: Ohio State recorded five more takeaways on Saturday, giving them an NCAA-leading +10.0 turnover margin.

Stat of the game IV: Jim Tressel is now 85-6 when leading/tied at halftime and 90-6 when leading/tied going into the fourth quarter.

Numbers for dummies I: 105: Ohio State has allowed 105 touchdowns overall since the start of the 2005 season. That is the fewest by any FBS team in this span.

Numbers for dummies II: 0: Ohio State penalties, the first flag-free performance since 1988 opener vs. Syracuse.

Numbers for dummies III: 3: Jerseys cut from Ohio State players Dorian Bell, Donnie Evege and Travis Howard, who suffered arm/shoulder injuries.

Translating Tress:
What he said: "The challenge at halftime really was to ignore what (Ohio) might do."
What he meant: "Which was pretty darn easy, considering the game was over by then."

Best number: Zero. That's how many penalties the Buckeyes had, the first time Ohio State didn't commit a penalty since the 1988 opener against Syracuse, which was John Cooper's first game as coach. The Bobcats had six penalties for 46 yards.

Jemale Hines, Sr DB, said it: "He's the guy who has a chance to take it all the way anytime a play breaks down. We wanted to limit the big plays today." - On containing Ohio quarterback Phil Bates

Tyler Moeller, Sr DB, said it: "Everyone is making plays out there. We're all being aggressive. Everyone is doing a great job." - On forcing turnovers

Best sequel: Well, almost. Ohio State senior defensive end Cameron Heyward recovered a fumble near midfield early in the second quarter, turned a nifty spin move and, for a brief, shining moment, nearly broke one like his 80-yard interception return last week against Miami. This time, Heyward went down in a heap after 5 yards, when he thought he might have a touchdown. "I was just at the right place at the right time," Heyward said, "but the quarterback tackled me. It's not good enough."

They said it:
As heard on TV: Plenty of confusion, as some viewers were led on a Big Ten Network goose chase to find the right channel. They should have stuck with radio, because the BTN guys were, in the words of one viewer, "a joke." A sample: "The field gets wider in the red zone." Huh? "Jim Bollman is under some consternation." There is medicine for that, you know. Overall, a barely passing grade.

As heard in lower stadium: "Can you head to the locker room?" -- Ohio fan to band members who raised their hands when asked how many of them played high school football

Pregame buzz: The Bobcats gave the Buckeyes a scare in 2008. An outside chance it could happen again? "Just a bit outside," as Bob Uecker would say.

The $70 question: Sure, you could watch Dirty Jobs to understand what the Bobcats were up against, but what fun is that? Take a train wreck (Ohio) and add the precision of a diamond cutter (Pryor most of the time), and it was fun for all ... unless you wore green.

One-liner: The upset-minded team that began the game became "Oh, you" by the end of the first quarter.

Band-tastic: Kudos to TBDBITL for preparing a prophetic halftime tribute to TV cartoons; the Buckeyes dropped an Acme anvil on the Bobcats. But the band missed a golden opportunity when it rolled out a "D'oh" while forming the face of Homer Simpson. Given the Bobcats' ineptitude, it should have been D'ohU.

The repercussion: atixorp17abpThe Buckeyes and Terrelle Pryor came out swinging in their aim to stay impressive at the start of their run down Palooka Street the next few weeks. There's no reason they should slip from No.2. But the problem this coming week vs. Eastern Michigan is the only way someone will notice is if they do slip and slide rather than keep right on rolling.

Just wondering: Ohio, followed by Eastern Michigan, Illinois and Indiana. Is this what a European workweek feels like? Will the Buckeyes' mini vacation allow them to refresh and refocus on the meat of the schedule to come? Or will they go soft with sand between their toes? Stay tuned.


(Sources: ESPN/OSU Official Site/Columbus Dispatch/Cleveland Plain Dealer)




10 Things We Learned About the Buckeyes this week
September 19, 2010 Source: The Ozone - "1.There is a different feel to this season. The Buckeyes are 3-0 and ranked No. 2 in the country, but that's not the only reason to think this could be a special season in Columbus. For the first time in years, the Buckeyes are coming off a big-time BCS bowl win, and there seems to be a different feel with this team than there was the last 2-3 years...The real tests will be trips to Wisconsin and Iowa, although Saturday wasn't exactly bright, shining moment for the Hawkeyes.

2. No reason 2008 game should have been that close. Watching these two teams on the same field Saturday, it's hard to believe that Ohio State actually trailed to this team in the fourth quarter two years ago...It's amazing that '08 team went on to give Texas a game in the Fiesta Bowl.

3. Bad special teams play is contagious. Forget contagious, this thing is becoming an epidemic. If this team is good enough to have one of those special type seasons, they're going to have to be a lot more special on their special teams. Jordan Hall and Jaamal Berry have looked good on returns and kicker Devin Barclay has been nearly automatic on his short field goals, but the rest of the special teams has been a disaster...Ben Buchanan also had a punt blocked, not to mention a couple of ducks that gave OU good field position.

4. Pryor was in the zone. None of that seemed to matter because quarterback Terrelle Pryor was in a different kind of zone Saturday. Although he threw a couple of picks he would like to have back, Pryor put most of his passes on the money against Ohio. He also took a sack that was probably unnecessary, but he set a school record with 16 straight completions, and it would have been 17 had he put a little more zip on his pass to Dane Sanzenbacher.

5. Tressel and staff are 3-for-3 on dialing up game plans. For all the heat Tressel takes for his decisions on game day, you have to give him and his staff credit for their game plans this season...Tressel said he expected the Bobcats to back their safeties off and give up the underneath stuff. He was right, and Pryor completed pass after pass underneath the safeties.

6. Red zone offense looked better...against the Bobcats they were a perfect 7-for-7 in the red zone with five touchdowns. That's the difference between a 43-7 win and 26-17 win. One score looks pretty dominant, the other leaves a lot of question marks. The Buckeyes did a better job with play-calling in the red zone this week, dialing up some passes, but they still didn't pound the ball into the end zone the way Tressel would like...

7. Stoneburner no longer a question mark...The redshirt sophomore from Dublin caught five passes for 61 yards and a touchdown Saturday, and he now has nine grabs for 110 yards on the season. That's far-and-away the third best output on the team behind Posey and Sanzenbacher. He got into the end zone for the first time in his career against OU. Pryor seems to look for him in the red zone and it's a good bet that won't be his last score this season.

8. Time to get Jaamal Berry some carries...The speedster out of Florida is averaging a team-high 9.4 yards per carry this season. He only has 11 carries, all of them late in the game, but that's almost a first down every time he touches the football. Herron and Saine are good backs, but neither is a star...he can make plays and he brings a different element to the position.

9. Defensive line playing at an elite level. They aren't knocking quarterbacks out of games the way some past OSU defensive lines have, but this year's group is playing at a very high level. That is since the return of Nathan Williams, who seems to be a force on the outside despite the fact he missed half of fall camp with a sprained knee. Defensive tackles Dexter Larimore and John Simon also had big days Saturday, and no one is making more plays on the d-line than Cam Heyward...

10. Offensive line not there yet...They have looked great at times, especially in week one, but this group of veterans has not dominated the line of scrimmage the last two weeks the way they would like to...They simply aren't blowing people off the ball right now, which center Michael Brewster attributes to the fact they are focusing so much on pass protection. Someone needs to alert left tackle Mike Adams. Although he has clearly pulled away from Andrew Miller, he has to be leading the offensive line in missed assignments..."




Ohio State Buckeyes' report card against Ohio University
September 18, 2010 Source: Cleveland Plain Dealer - "

Ohio State linebacker Ross Homan: A ...Linebackers coach Luke Fickell thought Homan loosened up a bit in the third game of the season. "We talked to Ross about relaxing and playing football," Fickell said, "and I think he got in the groove of things. I think we saw that from him, and hopefully he'll continue to do it...

Ohio State running back Dan Herron: A-...Herron ran for two touchdowns for the third time in his career while gaining 27 yards on nine carries. But this grade isn't based only on his offense. With the Ohio State coverage units struggling, Herron joined the punt-cover unit Saturday, as backup running backs Jordan Hall and Jaamal Berry pitched in on the kickoff coverage...

Ohio State safety Orhian Johnson: B Johnson made three tackles and forced a fumble with a hustle play on the sideline that impressed senior linebacker Brian Rolle...

The Ohio Bobcats: C...Clearly, Ohio couldn't match Ohio State's talent on Saturday, but the 1-2 Bobcats really had trouble getting going on either side of the ball while falling behind, 34-0, in the first half, and then the game was over..."




Online Poll: What grade do you give the Buckeyes?: So far...10% A, 36% A- ,47% B & 7% C

Source: Columbus Dispatch







The Bottom Line
September 18, 2010 Source: Columbus Dispatch - "...Offense (3 leaves): What number do you choose to remember? The Sweet 16 straight completions by Terrelle Pryor, playing pitch and catch with his uncovered receivers, or the two ugly-duckling picks that suggest much room for growth? Five red-zone TDs look good -- better, in fact, than the running game.

Defense (4 leaves): There's a vibe to this unit that hints of grizzly bear, and so far no opponent has discovered the formula for pepper spray to stop it. The defense helped itself to five turnovers against Ohio, giving the offense field position too good to screw up. Cam Heyward's safety smacked of what-the-heck gluttony.

Special teams (3 leaves): These days, it's cause for celebration when the opponent doesn't score against the special-teamers...The kick coverage might have been better (good eye, ref), but the punt block opens a whole new can of whoops.

Coaching (4 leaves): Three games in and the Vest seems to have his boys properly focused. No penalties?...So what are the Keys to Crystallizing Personal and Professional Goals from here out? That's easy -- 10 more games, just like the first three.

Opponent (2 leaves): This was never going to be a fair fight unless the Buckeyes' heads were off campus while their bodies were in the Horseshoe...

Officiating (4 leaves) Without any reviews, referee Dave Witvoet and his crew wisely kept the game moving, but there is no truth to the rumor that the officials considered a running clock in the second quarter to prevent injuries. The block-in-the-back call negating a return TD by Ohio was obvious. Still, it's good they saw it..."




Ohio State Football Report Card: Grading The Win Over Ohio
September 19, 2010 Source: Bleacher Report - "...Thus, grades are high are for the Buckeyes this week. The high marks should continue the next three weeks for OSU..."




OSU Report Card
September 18, 2010 Source: Mansfield News Journal - "Offensive line -- C: The 439 total yards by OSU looks gaudy, but the front five has had better days. Pryor got sacked a couple times and got planted another time after releasing the ball. And the running game was no great shakes...

Running backs -- C: Don't be fooled by the three rushing touchdowns. The Buckeyes couldn't generate much on the ground...Some credit has to be given to OU's deep and experienced defensive line, but OSU is going to face much better D's...

Passing game -- B: ...Terrelle Pryor (22 of 29, 235 yards) set a school record with 16 straight completions, then celebrated by throwing late into double coverage for an end zone interception. His carelessness once the game got out of reach led to two picks.

Defensive line -- A-: Ends Nathan Williams and Cam Heyward made impact plays for the second straight week. Both recovered fumbles, leading to second quarter touchdowns as the Buckeyes built a 34-0 halftime lead. Heyward also tackled running back Vince Davidson in the end zone for a safety. But the pass rush (no sacks) is going to have to be better than what we've seen the first three weeks.

Linebackers -- A: Give Ross Homan the Jack Tatum Hit of the Week for separating QB Phil Bates from his helmet...Oh, and Homan also had seven solo tackles. Backups Storm Klein and Tony Jackson combined for nine tackles

Defensive backs -- A: The nickel paid off right from the start as fifth back Tyler Moeller picked off a deflection by Devon Torrence to set up a field goal. Torrence had a nice breakup on a well-thrown deep pass to LaVon Brazill and recovered a fumble, caused by Orhian Johnson...The Bobcats had 13 yards through the air after three quarters.

Special teams -- D: Turns out all OSU needed on its "nothing special" coverage units was a 12th man -- the guy in the stripe shirt. DeVier Posey's older brother, Julian, took a kickoff 99 yards for a TD, but it was called back because of an illegal block to Jordan Hall's back...

Coaching -- A: Go ahead and bemoan the lack of competition from Marshall and OU in these first three weeks, but the staff has done a good job of keeping the players on task (at least for a half Saturday.) The Buckeyes are doing exactly what they should be doing, throttling inferior opponents. That hasn't always been the case in recent years..."




Watch Jake Stoneburner's 5 yard TD reception, from Terrelle Pryor, in the 2nd quarter against Ohio, which made the score 27-0 (near end of highlights).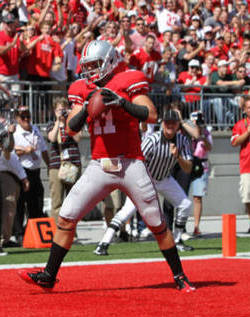 For the game, Stoneburner had 5 receptions for 61 yards and the one TD, which was almost identical to DeVier's Posey's stats for the day; he had 5 catches for 62 yards, and no TD. In three games this season, the tight end has 9 receptions for 110 yards and the one score. An Ohio State TE with as many receptions as its leading WR in a game, not to mention already 9 in just 3 games (Ballard had only 14 all last year-Jake also had 2)? That's why this is important.

For years fans and foes of the Buckeyes alike have wondered will an Ohio State TE ever become a legitimate offensive threat and not simply a fifth lineman. Although the season is young, the 6'5" sophomore's integration into the passing game is real. I also believe it's just a harbinger of better things to come.

He has legitimate 4.6 speed at 6' 5" and 250 pounds, making him a tough matchup for DB's or linebackers. Utilizing Stoneburner's talents, the coaching staff can create some real matchup problems for opposing defenses to think about as well as contend with. It will also open up other options for the offense. This added offensive dimension is essential, in my opinion, if the Buckeyes are going to challenge not only for another Big Ten title but a spot in Glendale in January...and now you know why this play was selected.

From Lima News: Ohio State discovers tight end in passing game: Stoneburner could end up having the best receiving season by an Ohio State tight end since 2003 when Ben Hartsock caught 33 passes. No Ohio State tight end other than Hartsock has caught more than 18 passes since Tressel became the coach in 2001. Stoneburner's back-up, Reid Fragel, also had a pass reception Saturday.

From Columbus Dispatch: Jake Stoneburner was thrilled that, for once, it was the opposing team that forgot about him, rather than his own coaches. The preseason rumor - that this year, Ohio State would throw to its tight ends, really and truly - now appears to be reality.

The first sign came when Stoneburner caught three passes in the opener. But that was just a warm-up for yesterday, when the sophomore from Dublin caught five passes for 61 yards and a touchdown in Ohio State's 43-7 win over Ohio. The catches were a career high, and the touchdown was his first at OSU. The 5-yard connection came in the second quarter, when Ohio blitzed quarterback Terrelle Pryor, who threw to an open Stoneburner in the end zone.

"I figured I might be able to get it, because the way (the Bobcats) are playing," Stoneburner said. "They just forgot about me, and it was an easy pass and a catch." Stoneburner now has nine catches for 110 yards this year, which would be about two months of production for past OSU tight ends. Last season, starter Jake Ballard had 14 catches in 13 games.




No. 2 Ohio State Defeats Ohio, 43-7
September 18, 2010 Source: OSU Official Site - "Behind a record-setting performance by quarterback Terrelle Pryor, No. 2 Ohio State cruised to a 43-7 win over Mid-American Conference member Ohio in an intra-state matchup at Ohio Stadium. Ohio drops to 1-2 with its second consecutive loss while Ohio State improves to 3-0 heading into its final non-conference game next Saturday vs. Eastern Michigan.

Ohio, trying for the 500th win in school history, was out of it early as the Buckeyes converted three first-half Ohio turnovers into 17 points and a 34-0 halftime lead. Tyler Moeller recorded his first career interception on the second play of the game, intercepting a Phil Bates pass. Later in the half both Cameron Heyward and Nathan Williams recovered Bobcat fumbles. Both players had interceptions in the Buckeyes' 36-24 win over No. 12 Miami last week.

Pryor, and the Ohio State defense, were clearly the stories of the day. Pryor completed 22-of-29 passes for 235 yards and two touchdowns, plus he rushed for 35 yards and another touchdown, while improving his record to 22-3 as a starting quarterback. He completed a school-record 16-consecutive passes at one point in the first half, breaking the single-game record of 12 set by Jim Karsatos in 1985 against Wisconsin. Pryor also threw his first interception of the season late in the first half.

The Buckeye defense, which has given up only one touchdown on the season, limited Ohio to 158 yards of offense and seven first downs. Senior linebacker Ross Homan led with seven tackles and an interception.

"I thought our guys did a good job after an emotional and physical game a week ago," head coach Jim Tressel said. "I thought we prepared well and our guys had a lot of respect for Ohio as they should. A lot of them remember couple years ago when we played against them and it was a dogfight. We seized control of the game early and the biggest challenge you have is keeping execution at a high pitch. We played hard and got a lot of guys in the game, and again, we had 70 or so snaps from each side of the ball to study from and see if we can get better."

Ten different Buckeyes caught passes vs. the Bobcats. DeVier Posey had five catches for 62 yards, while Stoneburner had a career day with five catches for 61 yards and a touchdown and Dane Sanzenbacher also recorded five catches for 58 yards. Brandon Saine led the Ohio State rushing attack with 48 yards on 12 carries.

Pryor connected on a nine-yard touchdown pass to Saine in the first quarter for a 10-0 lead and on a five-yarder to Stoneburner in the second for a 27-0 advantage. He also scored on a 13-yard run and the Buckeyes are now 11-1 when he throws for a touchdown and rushes for a score. Dan "Boom" Herron also had two touchdown runs for the Buckeyes.

Devin Barclay converted on 2-of-2 field goals and is now 8-of-9 on field goals this season. The Buckeyes also did not record a penalty the entire game.

Devon Torrence also recovered a fumble for the Buckeyes, giving the Ohio State defense eight take-aways in the last two games. Sophomore defensive back Orhian Johnson forced Ohio's third fumble of the game to begin the third quarter. Homan recorded his first interception of the season on the following Bobcat drive for the fifth takeaway recorded by the Buckeye defense.

Heyward put the Buckeyes ahead 36-0 on a safety, tackling running back Vince Davidson for a four-yard loss in the south end zone 6:09 left in the third. Herron's second touchdown run followed the safety under a minute left in the third, making the score 43-0, on a 10-play 55-yard drive.

The Bobcats ended the shutout with less than seven minutes remaining in the fourth when quarterback Boo Jackson connected with Terrence McCrae for an 11-yard touchdown pass..."

Scoring Summary, Team Statistics, Individual Statistics, Drive Chart, Defensive Statistics, Game Participation, Box Score, Play-by-Play
Postgame Quotes From No. 2 Ohio State vs. Ohio

Posey brothers have some fun:

Source: The Morning Journal
Ohio State's DeVier and Ohio's Julian — went to dinner with their mother Julie and a slew of family members after Saturday's game. No one knows for sure if young brother DeVier was going to be in a giving mood or not. Not only did Ohio State's junior receiver get the better of his older brother, a starting cornerback for the Bobcats, with a 5-catch, 62-yard performance on the field, but he also came away with some souvenirs.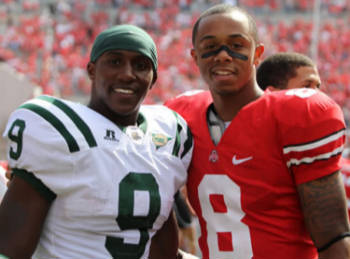 Posey vs. Posey: Ohio State receiver DeVier Posey went head to head against his older brother Julian, a cornerback for Ohio - the first and last time they'll square off in college. "It really wasn't as emotional as I thought, because once the game flow and fatigue set in, he's just another guy," DeVier Posey said. Then again, Julian wasn't just another guy when they posed for pictures with their family afterward in nearly deserted Ohio Stadium. Their mother, Julie, was wearing a jersey that was half scarlet, half green. On the field, DeVier said, there was little jawing. "My goal for the day was trying to steal all of his accessories," said DeVier, who finished with five catches. "One time I stole his towel, and I was trying to grab his wristbands and little forearm bands, and I couldn't. But we really didn't say too much to each other."

Source: Columbus Dispatch




Ohio State-Ohio Instant Post-Game Analysis: Five Observations
September 18, 2010 Source: Bleacher Report - "...5. Not so special teams...again:...Ohio State is continuously showing that its special teams unit needs some serious work. It isn't now just a perfect storm occurrence happening, but a trend. This time around, the Buckeyes dodged a bullet when a 99-yard kickoff return was negated by a Bobcat penalty. Other gaffes that were not bailed out, however, included a blocked punt and some suspect coverage on kick offs. This blemish has not been costly yet, but if the trend continues, a chance at a championship is going to get blocked as well. I guarantee that Tressel is having sleepless nights on this one.

4. Ohio State is a serious national title contender:...game by game, it becomes increasingly clear that the Buckeyes have a supremely talented team. The fact that they have yet to play a perfect game in all aspects yet continue to dominate speaks volumes. They are fast, deep, and have game breakers in the right spot. Barring an injury to Terrelle Pryor, this team should be there in the end.

3. There is a ceiling to how good the Ohio Bobcats can be; Sorry, Frank Solich. You have taken the Bobcats to a new level, but there is not much more you can do to become any type of consistent player from the MAC...

2. Terrelle Pryor makes up for a lot of deficiencies on offense:...There is just not a prototypical Ohio State tailback ready to take the reins of the ground game. In most years, this would be a huge problem. Devier Posey could certainly start on about any team in the nation, but he is not the bona fide NFL type of talent that OSU has had in years past...Because all of the defensive game plans are predicated towards containing Pryor, it opens things up for everybody else.




1. Jake Stoneburner is just another tight end for Ohio State: This is nothing negative toward Stoneburner because he does posses more than above average talent for a tight end. The issue is one that has seemed to always be the case at Ohio State: The tight end will never be a featured spot with this coaching staff. Stoneburner is being looked at as a safety valve here and there, and does get thrown to more often than years past. But coming out of spring and fall camp, all of the talk was that the Sophomore from Dublin, Ohio was going to be a featured target of Pryor that would be a game stretcher. Yes he scored a touchdown in this game, but it was the result of a progression..."






OHIO

vs.

OHIO STATE


It'll be Posey vs. Posey today: What to watch as Ohio State takes on Ohio University
September 18, 2010 Source: Cleveland Plain Dealer - "No. 1: Posey vs. Posey: Two years ago, when Ohio State hosted Ohio University, the family of OSU receiver DeVier Posey and Ohio cornerback Julian Posey wore T-shirts that read "Posey Bowl," with O-H-I-O spelled out on the back in alternating red and green. Today then must be the Posey National Championship...

No. 2: Terrelle Pryor's running: Ohio State's ideal breakdown for Pryor in the run game is around 12 carries, five on called plays and seven others on scrambles. Last season, Pryor averaged 12.5 carries per game. Both Tressel and quarterbacks coach Nick Siciliano agreed that Pryor's 20 carries last week against Miami was too much...

No. 3. Ohio return man LaVon Brazill: Have you heard the Ohio State coverage units have been having some problems? The Bobcats just happen to feature one of the best punt returners in the nation in Brazill...

No. 4: Interior of Ohio's defensive line: The Buckeyes dealt with one of the better defensive lines in the country a week ago against Miami. The Bobcats aren't bad there, either, led by defensive tackles Ernie Hodge (6-2, 290 pounds) and Marcellis Williamson (6-1, 327). Williamson is a fifth-year senior who played at Warrensville Heights..."




"As a former Bobcat, I would be thrilled if victory No. 500 in school history came against Ohio State. Unfortunately, the 2nd ranked Buckeyes at the Horseshoe are too much to handle this year."

-Bob Bradley, former OU men's soccer coach, currently U.S. Men's National Team coach, on his prediction of the outcome: OSU, 45-10





Ohio State Buckeyes want more touchdowns in the red zone
September 17, 2010 Source: Cleveland Plain Dealer - "There's a hierarchy that Ohio State coach Jim Tressel follows in the red zone...1. "You don't want to turn it over," Tressel said, "because that's an emotional lift for the opposition." 2. "You don't want to come up with nothing, because that's an emotional lift for the opposition," Tressel said. "You've got to get at least 3 [points]."...Last season, the Buckeyes tied for 84th in the nation in red zone offense, scoring on 37 of 47 possessions (79 percent), with 12 of the 37 scores field goals...

Not counting their final possession against Miami a week ago, when the Buckeyes finished with the greatest result for a red zone drive -- taking a knee in victory -- the Buckeyes went inside the 20-yard line eight times and came away with three touchdowns and five field-goal tries, making four of them. "I probably could have lived better with five touchdowns and three field goals," Tressel said. "We've got to get better." With the way this offense operates, in philosophy and personnel, that improvement may not happen easily. With a strategy that emphasizes not turning the ball over and a quarterback like Terrelle Pryor, the Buckeyes aren't made for tight spaces...

"Sometimes we're a little ultraconservative," Siciliano said, "but we'd rather not turn the ball over, and kick a field goal if we have to and let our defense play. Our defense is good. "We haven't been so conservative that we're just running it three times and kicking a field goal."..."




Five Key Factors
September 17, 2010 Source: Columbus Dispatch - "RESUME ROTATION: The Buckeyes shortened their bench significantly last week against the University of Miami, which was the right call. But this week, it will be important for OSU to continue to develop depth for down the road...

PROTECT PRYOR: ...This is not a game in which to unnecessarily expose the Buckeyes' star player. First, that means fewer called runs _ a lot fewer than the 14 that were called last week. Second, that means getting him out of the game as soon as the score makes it feasible _ earlier than the Marshall game...

COVER KICKS: ...A sure-fire way to allow an overmatched team to stay in a game is by giving up some big special-teams plays. And in case you hadn't noticed, OSU has had just a few breakdowns this season. Look for several new faces on coverage teams _ including running backs Jaamal Berry and Jordan Hall....

TIGHTEN RUN DEFENSE: ...Miami averaged 4.3 yards per carry last week. Damien Berry (94 yards) nearly broke OSU's two-year streak of not allowing a 100-yard game...

PUNCH IT IN: The good news for OSU last week: Eight scores in nine red-zone possessions. The bad news? Five of those eight scores were field goals, with another missed field goal-try in there, as well..."



On the Edge: Dispatch beat writers Ken Gordon and Tim May predict which team has the edge in this week's game. See if you agree..."



Coach Tressel Thursday Update
Source: OSU Official Site
Watch Coach Tressel's weekly Thursday press conference as he visits with the media to give reporters and fans and update on the team and to preview Saturday's game with the Ohio Bobcats Source: OSU Official Site



After missing the opener, Williams makes a quick impact on defense
September 17, 2010 Source: Columbus Dispatch - "Even though the start to Nathan Williams' season was delayed one game, he said this still could be his breakout season with Ohio State. "We've got a lot of football left," the junior defensive end said, pointing toward a game Saturday against Ohio University. "I'm just going to try to execute each week, do my job, and hopefully we come out with a victory every time." He wanted to hit the ground running after backing up Thaddeus Gibson last season, but a left knee sprain suffered the second week of preseason camp changed that. Luckily for him, the injury didn't require surgery. But it took rest and rehabilitation to make the knee whole again, which meant he had to stand and watch the opening victory over Marshall. Then came the game Saturday against the University of Miami. After an anxious testing of the joint early in the week, Williams felt good enough to go. He didn't start, but he delivered the first huge play, backing off into coverage on a zone blitz and intercepting a pass tipped by safety C.J. Barnett.

"I felt on top of the world," Williams said. "I can't really describe the feeling. I was tired, but I got it, and gave our offense a good position to score." The rocking and rolling Williams was back, an older (and he thinks) wiser version of the one fans saw in the Fiesta Bowl loss to Texas after his freshman season in 2008. The euphoria evidently carried over to this week, defensive tackle Dexter Larimore said. "He's a lot happier," Larimore said. "It's kind of funny. Last week he practiced Tuesday and was saying, 'Oh, man, I don't know if I'm going to be able to go.' Then all of a sudden he wakes up on Wednesday and he's just feeling unbelievable. So what's going on in his mind?..."




Ohio State vs. Ohio: Key matchups
September 17, 2010 Source: The Morning Journal - "...1. OSU receiver DeVier Posey vs. OU cornerback Julian Posey: Now seriously, who isn't going to be interested in this one? Younger brother DeVier against older brother Julian. Anyone who has a younger sibling knows the desire of maintaining some sort of dominance over the young'un. And anyone who has an older sibling knows the desire to prove oneself against the older one. So this is going to be a fun one to keep an eye on to see who comes out on top and see if there are any post-play shenanigans.

2. Ohio's defensive front four vs. OSU's offensive line: While the Bobcats have a few big boys - Marcellis Williamson (6-1, 327) and Ernie Hodge (6-2, 290) in the middle, ends Dak Notestine (6-3, 261) and Stafford Gatling (6-4, 249) are a little smallish. They will be giving up 40-to-50 pounds against OSU's starting tackles Mike Adams and J.B. Shugarts. Over the course of a long game, that size disadvantage could wear on the Bobcats.

3. QB Boo Jackson vs. OSU front 7: The last time the Bobcats and Buckeyes met, Jackson completed 9 of 25 passes for 86 yards, but more importantly ran the ball seven times for 55 yards. He was able to keep the Buckeyes offbalance with his versatility. Jackson, a redshirt senior, is listed as the co-starter with redshirt junior Phil Bates, but one would think Jackson would figure heavily into Ohio's game plan after the success he had tormenting the Buckeyes' front seven two years ago.

4. Ohio State kick coverage vs. Ohio's returners: The Bobcats will send Julian Posey and Ryan Clark out for kick returns and LaVon Brazill and Travis Carrie out for punt returns. It's no secret that the Buckeyes have struggled recently (two games this year, as well as the Rose Bowl in January) with covering on special teams. With all due respect to the talent Ohio has, if the Buckeyes continue to struggle with coverage — especially with the attention given to it in practice this week — the Buckeye have a problem..."




10 Things To Look For In Week Three Vs. Ohio
September 16, 2010 Source: Bleacher Report - "...1. Ohio State's Return Coverage: This is all that people in Columbus have been talking about this week...

2. Ohio State's Red Zone Efficiency: Good teams convert inside the red-zone. Ohio State is a good team. They have been in the red-zone 13 times and have came away with points 11 times, a conversion rate of 85 percent. Championship-caliber teams score touchdowns inside the red-zone...

3. Ohio State's Ability To Convert 3rd-Downs: Other than, quarterback Terrelle Pryor running for the first, the Buckeyes don't have a whole lot going for them on third down...

4. Pressure on Bobcats' QB Boo Jackson: Where is the athletic, aggressive and dominating defensive line that was raved about coming out of spring practices for Ohio State? In the first two games of 2010, the Buckeyes opponents have more sacks than they do (4 to 3).

5. Turnovers: Ohio State leads the nation in turnover margin at +3.5. Through two games their defense has forced seven turnovers and the offense has yet to turn the ball over...

6. Ground Game: In its last seven games, dating back to last season, Ohio State has outrushed their opponent by over 1,000 yards-that is insane. The Buckeyes have rushed for an average of 249.9 yards per game while holding their opponents to an average of 78.5 yards on the ground. Furthermore, in those games, Ohio State has scored 15 touchdowns via the ground to their opponent's one.

7. Dominant Silver Bullets: ...Since the beginning of the 2005 season the Silver Bullets have allowed the fewest 100-yard rushers (7), the fewest rushing touchdowns (39), the fewest touchdowns from scrimmage (93) and the fewest points per game (13.5) of any FBS school in that span...

8. Orhian Johnson: With C.J. Barnett likely out for the season, it's up to sophomore Orhian Johnson to fill the void. Johnson was widely expected to be the starter coming out of spring practices, but was beat out by Barnett for the starting job...He has played in 12 games for the Scarlet and Gray and has accounted for 10 tackles. Hopefully, Johnson steps right in with no problem and is as energetic and ball hawking as Barnett, who had 4.5 tackles and a pass break-up before injuring his knee last week...

9. The Crowd: ...If Ohio Stadium welcomes 100,000, with over 105,000 in each of the first two games, it will be the 58th consecutive game with over 100,000 people in attendance...remarkable that, that many individuals can be in one place on a Saturday afternoon for so many consecutive weeks and everyone, for the most part, enjoys their experience

10. TP Passing Archie: ...Terrelle Pryor's chance to pass, arguably, the most famous Ohio State player in history on the All-Time total offense list. Pryor is currently ninth on the list with 5,425 career-yards of total offense, 164 yards behind Archie Griffin..."




Ohio State-Ohio: 5 questions
September 16, 2010 Source: OSU The Lantern - "1. Can Ohio State crack the 50-point barrier?...The Buckeyes haven't scored 50 points in a game since Sept. 22, 2007, at home against Northwestern, when they pummeled the Wildcats 58-7 behind Todd Boeckman's four touchdown passes.

2. After two shaky performances to start the season, can the kick and punt coverage teams get their mojo back?...Tressel said the coverage men need to be more disciplined in their assigned running lanes to the ball, and furthermore, not overrun the ball. Don't anticipate the special teams' issues to linger as the season moves forward.

3. Will the Barnett-to-Johnson transition be seamless?...starting strong safety C.J. Barnett will miss the rest of the season following knee surgery. Sophomore Orhian Johnson, who was the original starter before missing most of preseason practice with an injury, will step into the starting position...Still, Johnson should have no problem stepping in. OSU has four relatively easy games against Ohio, Eastern Michigan, Illinois and Indiana before traveling to Wisconsin on Oct. 16.

4. Is Saturday's contest the breakout game the defensive line has been waiting for? Criticizing the OSU defensive line is probably nitpicking at this point in the season. Although it has only recorded two sacks on the season, one each by sophomore John Simon and senior Dexter Larimore, they've provided good pressure on opposing quarterbacks.

5. Will Saturday be the day OU snaps OSU impressive in-state winning streak? In 2008, the Bobcats took a lead into the fourth quarter at Ohio Stadium before a Ray Small punt return touchdown sealed the win for OSU...While many of the players from the 2008 team are still on the 2010 squad, including Ohio quarterback Boo Jackson, don't expect a second round of heroics from the Bobcats ..."



Jim Tressel said today (9/14/10) at his weekly press luncheon that starting safety C. J. Barnett will undergo surgery today and miss the rest of the season.

Jim Tressel indicated today (09/16/10) there was a chance the defense might have to go without one of its starters. "The only guy who has a chance of being held out from a residual (effect) from Saturday is Andrew Sweat." The outside linebacker, who had knee surgery that knocked him out of the last half of last season, tweaked something – Tressel wouldn't say what – during the 36-24 win over then-No.12 Miami. If Sweat can't go against Ohio U., Tressel said Jonathan Newsome would take his place. Source: Columbus Dispatch



Posey Brothers Playing for More Than a "W" on Saturday
September 15, 2010 Source: The Ozone - "It doesn't happen often, but when it does, there are often fireworks. On Saturday a pair of brothers will line up for opposing teams on the football field. How will Julian and DeVier Posey handle it?…

Julian Posey is the older brother, and to hear it told, also a bit of a bully growing up. Devier is the younger brother, and has the scars to prove it. They played against each other in 2008 when Ohio came to Columbus, but both of them played in a reserve role. This time out, however, things are going to be quite a bit different.

"It's going to be intense," Devier admitted. "It's probably going to be the most intense game I've ever played in just because I know the guy going across from me is going to be going 120% every play just because he doesn't want to get embarrassed." Posey knows what to expect, but that doesn't mean it's going to be easy to prepare for exactly what Saturday is going to be like for him..."



More on Julian below





Wide Receiver Devier Posey talks about facing his brother Julian on the football field this coming Saturday. Bragging rights are definitely on the line.




"We might get in a fight. We might both get thrown out if we were playing against each other."

-OL Justin Boren, whose brother Zach starts at FB for the Buckeyes, said he can't imagine playing against his brother.