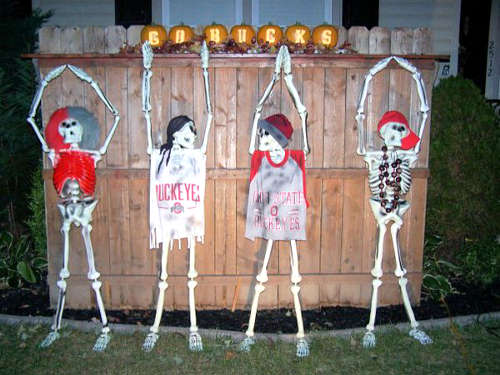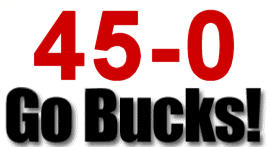 | | |
| --- | --- |
| NEW MEXICO STATE vs. OHIO STATE | |



Buckeyes Blank New Mexico State, 45-0
October 31, 2009 Source: OSU Official Site - "Ohio State treated its fans to a variety of trick plays on a Halloween afternoon, most of them sparking a 28-point second quarter, and the 17th-ranked Buckeyes rolled over New Mexico State, 45-0, Saturday in Ohio Stadium. "We needed to play fast and play well and do a lot better than we've been doing," Jim Tressel, Ohio State head coach, said. "They came out with a good focus after a good week of practice. We came out and got it done decisively." Making creative use of a rare, late-in-the-season non-conference game, Ohio State used an onsides kick and a double reverse, wide receiver pass to break the game open and improve its record to 7-2 on the season. Western Athletic Conference member New Mexico State drops to 3-6 with the loss.

Terrelle Pryor rushed for 83 yards and passed for another 135 in just two quarters of action to lead the offensive charge. He scored one touchdown and threw for another. DeVier Posey (five receptions for 79yards plus a 39-yard touchdown pass), Dane Sanzenbacher (four receptions for 72 yards and two touchdowns) and Jordan Hall (career highs with 10 carries for 90 yards) also had big games. The Buckeyes rushed for a season-high 310 yards.

Defensively, Ohio State limited the Aggies to 62 total yards while recording its third shutout of the season. It is the first time the team has three shutouts in a single campaign since 1996..."

Scoring Summary, Team Statistics, Individual Statistics, Drive Chart, Defensive Statistics, Game Participation, Box Score, Play-by-Play
Postgame Quotes From No. 15 Ohio State vs. New Mexico State


Bucknuts TV: Tressel After NMSU Win
Postgame Press Conference Transcript (No. 15 Ohio State vs. New Mexico State)




Minor leg injury helped lead to Terrelle Pryor's early exit, but Ohio State quarterback said he'll be fine
October 31, 2009 Source: Cleveland Plain Dealer - "Ohio State quarterback Terrelle Pryor sat out the second half of today's 45-0 win over New Mexico State, and the sophomore said he slightly injured his left leg on a second-quarter tackle, which probably influenced the decision to take him out after one half.

Tackled and dragged down by his shoulder pads from behind, Pryor said his left leg was bent behind him. "It's not really a big deal," Pryor said. "I got a little bumped up, but I feel pretty good. It's a little bump on my leg. I'll be fine."

Pryor finished the day 11 of 23 passing for 135 yards and one touchdown. He also ran nine times for 83 yards, and he really hurt New Mexico State with his scrambles on third down, as he took advantage of the Aggies' man-to-man coverage to find wide open running lanes...

After the win, Pryor was asked often about next week, when Ohio State plays at Penn State in a 3:30 game in his first college game back in his homestate of Pennsylvania. "The crowd is going to be against us, especially against me," Pryor said. "But it really doesn't matter. I got my family with me, all 75 [teammates] that travel, and we're going to be ready to rock. I can't wait. I'm looking forward to it, you guys are looking forward to it, we're all looking forward to it. These big games, this is why you come to Ohio State."..."



Bucknuts TV: Pryor After NMSU Game
Terrelle Pryor discusses his health and looking ahead to next week at Penn State.


IT WAS OVER WHEN: The Aggies decided to take the trip up to The Shoe and pick up a big check.

THE PLAY: Aaron Pettrey's onside kick. The trick-or-treat tap early in the second quarter, which the Ohio State kicker also recovered, helped turn an unexpectedly close game into the expected runaway.

GAMEBALL GOES TO: Ohio State's defense, which held the Aggies to only 62 total yards.

STAR OF THE GAME: Receiver-turned-passer DeVier Posey. His 39-yard pass on a reverse to Dane Sanzenbacher for a TD was the highlight of a day that also included Posey's five catches for 79 yards. It marked the first time an Ohio State WR threw a TD pass in a game since Ted Ginn Jr. on Oct. 21, 2006 against Indiana a 38-yarder to Rory Nicol.

BACK TO THE DRAWING BOARD: The Buckeyes have done that almost every week with their starting five on the offensive line and their lineup at running back. Injuries have kept those situations fluid. Andrew Moses started for left guard Justin Boren (foot) against New Mexico State, and running back Brandon Saine played sparingly after suffering a mild concussion the week before. While Daniel Herron stepped back in with authority, freshman running back Jordan Hall had increased playing time. Will he be called upon even more as he and Pryor head back to their home state?

CAREER BEST: True freshman Jordan Hall rushed 10 times for a career-high 90 yards, including a career-long 39-yard run in the third quarter.

WHAT'S HOT?: The Ohio State defense. It pitched a near-perfect game. Not only did it record its third shutout -- the school's most since getting three in 1996 -- it gave up just two first downs. Linebacker Brian Rolle's fumble recovery for a touchdown was the exclamation point as the D made the least-productive offense in the country look even worse. But for the understatement of the week, New Mexico State should not be confused with Penn State.

WHO'S NOT HOT?: Terrelle Pryor could be the hottest quarterback in the Big Ten if he could stay away from those passing lapses. No QB in the league runs more effectively (he's the seventh-leading rusher in the Big Ten with a 61.56-yard avg.). When he makes the right choice and doesn't hesitate, he's also a good passer, though it's clear he and his receivers all have room to grow. But he who hesitates could be lost the next two weeks, starting Saturday at Penn State.

THAD GIBSON, JR DE, SAID IT: "It gets real serious right now. We're happy with this win, but we've got three real tough Big Ten games left now, and that's going to be the defining moment for this season."

BEST HALLOWEEN TREAT: For the Buckeyes, it was New Mexico State, of course...the Aggies arrived in Columbus as a 44-point underdog. They were the perfect sugary snack before Penn State, Iowa and Michigan -- the meat of their Big Ten schedule -- over the next three weeks. For New Mexico, the treat was the $850,000 reward from Ohio State for showing up. At 45-0, that's roughly $18,888 per point.

WORST COSTUME: For most of the scoreless first quarter, Ohio State's impersonation of an offense was marred with drops, shabby pass-blocking and confusion on pass routes and timing. Despite all that, Pryor's scrambling ability kept the ball in the Buckeyes' hands for a 13-play, 80-yard drive and a Pryor touchdown run to start the second quarter. By halftime, the Buckeyes had rolled up 28 points and 305 yards -- 218 on Pryor's arm or leg.

THE STRATEGY: OSU intended to attack the NMSU defense over the top. But it was a good old-fashioned extended drive that gained the first TD.

THE MISMATCH: NMSU offense vs. the OSU defense. The Aggies couldn't run, couldn't pass, and when linebacker Brian Rolle recovered a fumble in the end zone, they were even outscored by the OSU defense.

THE REPERCUSSION: Losing Pettrey to an apparent knee injury is a major blow, but Devin Barclay is competent. As for national perception and the Big Ten race, the game at Penn State will tell the tale.

THE STAT: 559. The number of yards gained by Ohio State. The best offensive performance of the season for the Buckeyes; they gained 522 yards against Toledo.

THE STAT II: 62. The number of yards gained by New Mexico State. The Aggies came in last in the nation in total offense and stayed there.

THE STAT III: 30. OSU has won 30 straight against BCS non-AQ and FCS schools.

THE STAT IV: 3. Ohio State completed its third shutout (vs. Toledo, Illinois and New Mexico State) of the season. It's the first time the Buckeyes defense has had three shutouts in a season since 1996 (vs. Pittsburgh, Minnesota and Illinois).

THE STAT V: 11. Terrelle Pryor struggled, completing 11 of 23 passes for 139 yards and a touchdown. Terrelle Pryor is 15-3 as

THE STAT VI: 0. Ohio State has not allowed a 100-yard rusher over its past 19 games, the second-longest streak in the nation. Alabama is first at 27 games.

SPECIAL TEAMS NOTES: Junior kicker Devin Barclay kicked his first career field goal in the third quarter, a 29-yarder at the 7:05 mark.

HIS FIRST: Junior linebacker Brian Rolle recorded his first career touchdown in the third quarter when he recovered a NMSU fumble in the end zone.

TP NOW 4TH: With 83 yards rushing (in the first half only), Terrelle Pryor moved into fourth place on Ohio State's all time rushing list among quarterbacks with 1,185 yards.

COACH TRESSEL SAID IT: "Yeah, he's dinged up. A lot of guys were dinged up. But some of them we had to keep playing or did keep playing, some of them we didn't. I would say a guy like Pettrey, you're looking at maybe -- I don't know what he's got or whatever, but it doesn't sound like -- I think everyone else should be fine, plus we should get some guys back." - responding to a reporter's question: "So Terrelle wasn't dinged up?"

COACH JIM HEACOCK SAID IT: "They played really well. We had a lot of three and outs. I thought we played disciplined. Their team is young and it's a new coaching staff and I think they're doing a great job with that group and bringing them along."

TERRELLE PRYOR SAID IT: "They're going to tear me up. I'm sure they're going to be giving me a lot of stuff, maybe throwing stuff, saying a lot of things, but I won't hear any of it. I got my family with me, all 75 [players] that travel, and we're going to be ready to rock. I can't wait. I'm looking forward to it, you guys are looking forward to it, we're all looking forward to it. These big games, this is why you come to Ohio State."

DEVIN BARCLAY, JUNIOR KICKER, SAID IT: "You don't play in front of over a hundred thousand. It's a little different kicking because you don't get that many opportunities and you have to make the best of it. It's definitely going to be a great experience and I'm ready for it." - On the difference between playing football and soccer. Barclay played Major League Soccer with four teams over five seasons before finishing his career with the Columbus Crew in 2005, deciding to go to Ohio State and then learning to kick a football. He joined the Buckeyes as a walk-on last season, and beat out Ben Buchanan, who wasn't dressed Saturday because he was sick, as the No. 2 field goal kicker.

NMSU COACH DEWAYNE WALKER SAID IT: "As the game went on, we were just trying to get out of here healthy."

ROSS CONNER, NEW MEXICO STATE LB, SAID IT: "Ohio State was my dream school coming out of high school. I made it to the 'Shoe."

THE $63 QUESTION: The crowd was so thin 15 minutes before kickoff that students could form only a Block "U" in the South Stands. When the stadium finally filled, fans mostly got their money's worth, thanks to a handful of big plays. But the Gophers are barely half a team, so why weren't tickets half-price?

NUMBERS FOR DUMMIES: 7: Buckeyes who had more total individual offense than New Mexico State had as a team (62 yards).

NUMBERS FOR DUMMIES II: 92,058: The largest crowd the Aggies had ever played in front of (at Georgia in 2003) before yesterday

NUMBERS FOR DUMMIES III: 0: Second-half first downs for New Mexico State

NUMBERS FOR DUMMIES IV: 104,719: The game attendance.

NUMBERS FOR DUMMIES V: 11: The number of New Mexico State punts, which went for 495 yards.

NUMBERS FOR DUMMIES VI: 1: The number of sacks by each team.

NUMBERS FOR DUMMIES VII: 45: The 45-point margin of victory was the largest since defeating Northwestern by 51 in 2007 (58-7).

NUMBERS FOR DUMMIES VIII: 28: Ohio State scored 28 points in the second quarter. The last time the Buckeyes scored 4 TD's in a quarter was Oct. 17, 2007 against Kent State.

CATCH THAT?: After a mid-field presentation between the first and second quarters, Ohio State president E. Gordon Gee paused in front of the OSU bench and spoke to some of the players. Shut out in the first quarter, the Buckeyes scored on the first play of the second quarter and went on to take a 28-0 halftime lead. Maybe they should make the "Gee chat" part of the game plan.

THE VIEW: How the team sees it: Felt more like Friday Night Lights than Saturday afternoon in the 'Shoe.
How the pollsters will see it: Not bad, for a practice.
How Buckeye Nation will see it: Well, there's always Posey if Pryor doesn't work out.

TRANSLATING TRESS: What he said: "Penn State is different than (New Mexico State)."
What he meant: "Penn State has a pulse, for instance."

ONE-LINER: State of New Mexico features miles and miles of nothing. Kinda like New Mexico State.

AS HEARD IN THE PRESS BOX: As heard in the press box: "Would anyone mind if we change the channel to This Old House?

AS HEARD ON TV: Big Ten Network analyst Glen Mason was tough on Terrelle Pryor, to the point of saying the QB is a terrific athlete "from the waist down." Ouch. The broadcast highlight, however, happened at halftime when Tress told the sideline reporter: "This band is more important than the football team, so you better move."

AS HEARD FROM TBDBITL TROMBONE PLAYER: "We could have taken the field and beaten those guys."

JUST WONDERING: Maybe the NCAA should follow the lead of European soccer and adopt a rule in which each season the bottom five Football Bowl Subdivision teams move down a division while the top five in the lower division move up. Eventually, the Aggies might be Division III, and Mount Union FBS.

THE $63 QUESTION:Maybe more like the 63-cent question, minus 63 cents. One stadium usher said he talked to four fans who received free tickets outside the gates. If the other 200-plus ushers in the Horseshoe had a similar story, that's enough freebies to fill block "O," which for the second straight week sat half-empty.

PREGAME BUZZ: The question wasn't whether the Buckeyes would win -- the spread was a near dead-on 44 points -- but whether OSU would have been smarter to schedule a bye week instead of the cold body that was New Mexico State. Well, the Buckeyes made their millions but lost their kicker. Whether that's a fair trade-off will be determined the next three weeks.

TWEETHEARTS: Wonder if Posey can kick a FG? (Best responses to @rollerOSU on Twitter)

BEST KIND-OF-A HOMECOMING: Technically, Ohio State's homecoming game was last week...But Dale Lindsey, a steady but unheralded linebacker for the Cleveland Browns from 1965-73...was back in Ohio again. He's an assistant head coach and linebackers coach for the Aggies....And his favorite Browns moment: "The only big play I really made when I was there was an interception against the Cowboys in a playoff game in '68 for a touchdown," he said. "I thought that was sort of a turning point in that game with Dallas, who had probably a better team than we did but we beat them."


(Sources: ESPN/Cleveland Plain Dealer/Columbus Dispatch/OSU Official Site/The Webmaster)



This week two plays of the game have been chosen.

After one quarter, Ohio State found itself in a scoreless duel against a huge underdog at home. Appropriately on Halloween, all it took was a few trick plays and the rout was on...

1) In the 2nd quarter, right after the Buckeyes took the opening 2nd half kickoff and scored their first points of the game, Aaron Pettrey took the entire stadium by surprise, not to mention the New Mexico State return team, when he dribbled an onside kick eleven yards and then pounced on it at his own 41. Five plays later, Pryor found Dane Sanzenbacher on 19-yard slant for a 14-0 lead. LB Austin Spitler said the Aggies did just what the Buckeyes expected them to do, which made the onside kick work: "We saw that their guys were real deep and retreated real fast, and it opened up and was a successful play."

Pettrey kicked off after Ohio State's third touchdown, our second play of the game below, and on the return, a New Mexico State blocker went low and took out Pettrey's legs, injuring his right leg. He was helped from the field with a knee sprain and did not return. After the game, Jim Tressel wasn't sounding like he expected Pettrey, ranked as the No. 1 kicker in the senior class by NFL Draft analyst Mel Kiper Jr., to return for the Penn State game next week. "Based on what I saw right in front of me, he got banged pretty good," Tressel said. "Plus, it's on his kicking leg."

(Source Contribution: Cleveland Plain Dealer)



2) In the 2nd quarter, with 2nd and 14 at the NMSU 39, wide receiver DeVier Posey completed a 39 yard touchdown pass to Dane Sanzenbacher for the Buckeyes 3rd score of the quarter and a 21-0 lead. On the play Pryor pitched to tailback Brandon Saine, who pitched to Posey on a double reverse. Posey, running left, spotted Sanzenbacher racing to the left corner of the end zone. "It was something that we drew up this week," Sanzenbacher said. "We actually didn't draw it up exactly about how it went down. I wasn't actually the first read. I didn't think he was going to throw it to me to be honest, but once he threw it up in the air, I had to go get it." Jim Tressel said the call was a byproduct of game film, especially what Louisiana Tech had pulled on the Aggies in a 45-7 romp two weeks before. Posey's toss to Sanzenbacher wasn't designed that way at all. Pryor was the number one target, but he wasn't open. "We were really looking to throw it back to the quarterback," Tressel said, "but their corner was doing a good job staying home, so DeVier found the flanker over him and threw a good ball in there. But because they'd been such a man [coverage] team and chased so hard against Louisiana Tech, we thought we could get a little throwback to the quarterback, so it wasn't such a great idea, but he found a second receiver."

(Source Contribution: Cleveland Plain Dealer)






Source: Columbus Dispatch


Updates: Ohio State quarterback Terrelle Pryor sat out the second half of today's 45-0 win over New Mexico State, and the sophomore said he slightly injured his left leg on a second-quarter tackle, which probably influenced the decision to take him out after one half. Tackled and dragged down by his shoulder pads from behind, Pryor said his left leg was bent behind him. "It's not really a big deal," Pryor said. "I got a little bumped up, but I feel pretty good. It's a little bump on my leg. I'll be fine." That persuaded Tressel to sit him down after halftime. "He'd been tackled and banged around a little bit and we had a significant lead," Tressel said.

The Buckeyes appear to have lost senior kicker Aaron Pettrey to a knee injury...the only bad thing to befall the Buckeyes during the afternoon was a right knee injury to senior kicker Aaron Pettrey. He was the victim of an apparent cut block-that should have been called for a penalty by the officials but was not-on a second-quarter kickoff and may be sidelined for the remainder of the season. Walk-on Devin Barclay handled the kicking duties in Pettrey's stead, including getting his first career field goal in the third quarter.


(Sources: Cleveland Plain Dealer/Columbus Dispatch/Buckeye Sports/The Webmaster)






10 Things We Learned from Overwhelming an Underwhelming NMSU Team
October 31, 2009 Source: The Ozone - "10. New Mexico State is who we thought they were. Give the Ohio State coaches and players credit for making this week about themselves and about getting better for the upcoming stretch run because it would have been awfully hard to take this New Mexico State team seriously. Statistically, their offense was the worst in the country and yet OSU's defense made them look even worse...

9. "November to Remember" could end with a very forgettable game in Ann Arbor. It's being called one of the toughest three-game stretches Ohio State has faced in the Big Ten under Head Coach Jim Tressel, but it's looking more and more like a two-game schedule with a unofficial forfeit coming from archrival Michigan. The Wolverines were supposed to be back in year two under Rich Rodriguez after their 4-0 start, but the last five weeks have been an absolute disaster for the Maize and Blue.;;The defense is atrocious and if things don't turnaround quick, the Buckeyes could blast Rodriguez right out of a job.

8.Opposing teams have taken notice of Jermil Martin. He carried the ball only three times for 11 yards Saturday, but it's clear opposing coaches have taken notice of the 240-pound tailback after his 7-carry, 75-yard performance against Minnesota last week. "I'm glad that didn't pound that big guy at us, that No. 41. Boy, he's a load. He's gonna be a great player," said first-year New Mexico State Head Coach DeWayne Walker, who coached the defense at UCLA last season.

7. Brandon Saine was not himself. Jump off the Brandon Saine train if you like, but there's no question he was not himself Saturday...Some of the blame has to go to the blocking, but Saine definitely looked hesitant and didn't seem to run with as much power and determination as we have seen from him this season.

6. Jordan Hall is impressively reliable for a freshman. With Saine struggling, it opened the door for freshman Jordan Hall and all he did was rush for a game-high 90 yards on 10 carries. You have to be impressed with how much power he generates from his little body, but also with his reliability as a freshman. He is quick to the hole with very little wasted motion. He's tough with good vision and doesn't make a lot of mistakes. He doesn't fumble the ball, doesn't go the wrong way on handoffs or miss protection assignments, all things you might expect to see from a true freshman.

5. DeVier Posey is left-handed. Who knew? And more importantly, who knew Posey had a cannon?...After the game, Posey credited the wind with helping his ball get to the end zone, but he also talked about being a quarterback all the way until high school.

4. Ohio State does have other receivers besides Posey. Along with his touchdown pass, Posey also led the Buckeyes in receiving (5 catches, 79 yards) for the third straight week...Posey was not Pryor's only target. Five different players caught passes, including four receivers and a tight end...

3. The Buckeyes have serious issues on special teams. Watching his kickers and punters Saturday had to be a nightmare come to life for Tressel considering his obsession with special teams. Not only did starting kicker Aaron Pettrey go down with a knee injury after missing two 52-yard field goals (supposed to be his specialty), but backup Devin Barclay came on and missed two of his three attempts in the second half. To make matters worse, punter Jon Thoma averaged only 31.3 yards on his three punts...

2. Terrelle Pryor is far-and-away the best QB on the roster...Bauserman played the entire second half, and while it was a tough spot for a guy who hasn't played meaningful football in a long time, it's clear he is not Steve Young waiting in the shadows of Joe Montana...

1. The left side of the offensive line continues to be a liability. With Justin Boren sidelined by a foot injury, senior Andrew Moses got the start at left guard Saturday and to say that he struggled would be an understatement. The former walk-on, who also served as the offensive captain, spent most of his day in the offensive backfield, and although Pryor was not sacked, he probably should have been two or three times. The Buckeyes should have Boren back for the Penn State game, but they will not have Mike Adams back, which means left tackle will continue to be a problem..."




Five Things: New Mexico State
November 2, 2009 Source: Eleven Warriors - "Defense Rolls On: As expected, the Silver Bullets had little trouble holding down the nation's worst offense...The question now becomes can the defense kick the intensity up a notch on the road next week as they'll no doubt have to shoulder the load if OSU is to escape with a low scoring upset win in State College.

Pryor: Up, Down and Nicked?: Terrelle followed his recent blueprint making some strong throws, forcing some others into heavy traffic, showing some questionable body language (if you are a teammate) and finally, making some what looked like effortless runs for big gainers...The bad? Once again, he struggled with accuracy (save a couple drops by Posey) connecting on just 11 of 23 tosses for 135 yards and a score. Worse than the completion percentage (48%) is the fact he continued his love for staring down the primary read leading to what would have likely been 3 INTs against better competition including 2 on back to back throws late in the half. Next week, he won't be so lucky. Let's hope another week of film and practice will correct these season long themes.

Putting the "Special" in Special Teams: We can panic about various units on this squad (QB, OL, RB, anyone?) but as the Buckeyes head for the final three games – two on the road – with a coach who loves to french the field goal and punt, it's possible no unit on the field presents more concern than special teams...As Tressel knows, you can't leave points on the field on the road. In Barclay's defense, he did do a nice job on kickoff's and with a week of preparation knowing he's the man, maybe he'll have better luck Saturday. It's worth noting Ben Buchanan is actually the second team kickoff guy but missed the game due to illlness. Similarly, punter Jon Thoma struggled averaging only 31 yards on 3 punts. The battle of field position on the road against a team with a superior offense to OSU's will be of huge importance so Thoma needs to bounce back from a shaky performance.

RB Situation Far From Stable: So, what are we to make of the situation in the backfield?...Certainly, Saine is your clear cut starter next week but if he jogs to the hole with the same tentativeness as he showed this week, do you turn to Boom or Hall first? I personally have a hard time not thinking Hall deserves a shot to see if he can make anything happen behind a makeshift line that wasn't very good even with everyone healthy. His speed and elusiveness could prove better suited for the game next week...

Outlook: I'm sure many of the kool-aiders think I'm negative about everything but it's truly not my intent. The intent is to convey my perspective instead of what I think will be popular to read. That said, I did see many positives this week...I liked Tressel's plan to get some things on tape for Penn State to digest...Good stuff. I'm not a big fan of trickeration if it's something that is overly relied upon, but if used sparingly it can be of tremendous value. In the end, I feel as if the Buckeyes are capable of going on the road and pulling the upset next week but I can't say I expect it. The bottom line is this team is banged up on the offensive line, the backfield and on special teams and while the defense could help steal a win if they hold PSU to under 14 points and create turnovers leading to short fields or actual scores, I simply don't have enough confidence in the ability of the offense to avoid mistakes and score enough points to win against a solid opponent. Trust me, I want to be wrong so you can all say, "I told you so." ..."




Buckeyes roll to easy win: It wasn't ideal to have a cupcake game so late in the season, but Ohio State deserves credit for handling its business in dominating fashion. The Buckeyes defense produced another touchdown, as linebacker Brian Rolle recovered a fumble in the end zone, and held the Aggies to only 62 yards in posting its third shutout of the season. The defense bought enough time for Terrelle Pryor and the offense to get rolling, and it was good to see different players get involved for the second straight game. Ohio State doesn't need to rely solely on Pryor, who ran the ball well. Wideout DeVier Posey is becoming a star, while receivers Dane Sanzenbacher and Duron Carter both had big days. Ohio State can't take too much away from this one, but it heads to Happy Valley with some confidence.

(Source: ESPN)







Doug Lesmerises' report card for OSU-New Mexico State
October 31, 2009 Source: Cleveland Plain Dealer - "A, Ohio State's defense: What else could you want? The Buckeyes held New Mexico State to 62 total yards, the second-worst offensive day in Aggies history and the sixth-best performance by any defense in the country this year. The Aggies gained 40 rushing yards, averaging 1.3 yards per play, and 22 passing yards, averaging 1.5 yards...

B+,The decision to take Terrelle Pryor out at halftime: At first glance, it seemed too early. Pryor hadn't been particularly sharp in the first half, and as a sophomore he can always use the extra snaps. But if he had anything going wrong physically, and he said he banged his leg in the second quarter, there was no sense risking it. The coaches wanted to limit his runs in this game, calling just three, but he scrambled six times on his own, and took a few hits. "He probably had more runs in the first half than we might have designed for this game," OSU coach Jim Tressel said, "and we felt as if he'd had enough of that."

B-, Ohio State's tailbacks: Freshman Jordan Hall ran for 90 yards on 10 carries. He popped through some holes. He took it to New Mexico State. Nothing is going to change. Asked if Brandon Saine and Dan Herron are the top two backs when healthy, OSU offensive coordinator Jim Bollman said, "Yep." Asked if Hall was pushing to change that, Bollman said, "Nope."...Saine looked off his game, rushing seven times for 13 yards, though he scored his first touchdown of the year. Herron was back for his first meaningful action in a month, with his injured ankle in a brace and wrapped, and he ran for 68 yards on six carries in limited action, popping a 53-yard touchdown run in the third quarter...

C+, Ohio State quarterback Terrelle Pryor: For just the second game this season, Pryor didn't throw an interception, but he certainly tried, throwing two passes that could have been picked. He threw another back foot, up-for-grabs, end zone lob early in the game to Dane Sanzenbacher, the kind of decision that fans thought might have been eliminated since the Purdue game...And he did recognize his run lanes and run well when he took off, twice gaining 27 yards. But he wasn't crisp with his throws. It's as simple as this. What he did Saturday won't be good enough against Penn State..."




The Bottom Line
October 31, 2009 Source: Columbus Dispatch - "Offense (3 leaves): The stats speak loudly, particularly the 310 rushing yards, the 559 total yards, the five TDs. Yet the whispers persist, only slightly less spooky than "I see dead people." Terrelle Pryor coulda, shoulda been picked four times, the scoreless first quarter, the inconsistent running attack. Scary, kids. Boo.

Defense (4 leaves): These two teams could play nonstop until Thursday and the Aggies might not crack the 100-yard barrier. That said, these OSU predators have a way of turning every game into Hell Week for their prey. Two first downs and 62 yards say a lot -- that's like a baseball no-hitter, except these dudes hit.

Special teams (2 leaves): The execution on the onside kick was flawless -- and probably the only spotless performance by the specialists all day. Aaron Pettrey's two misses were from way deep, and woefully short, before his unfortunate injury. Devin Barclay's two misses ought to have been makes. But his kickoffs went far.

Coaching (3 leaves): It's tough to win 'em all in Ohio, which coaches have long known as the Land of Disenchantment. So the Vest could take a bow for racking up a rare blowout victory while dodging proverbial tomatoes tossed from a nervous fan base worried about the offense in coming weeks. Still, the tricks were swell.

Fun quotient (1 leaf): Misleading number of the day: 104,719, the alleged attendance. In truth, the place at the start looked more like a Free Fingernail Removal Clinic than a typical home Saturday. The twin Scripts helped a little, but the game was a dud, especially after halftime. What's with the missing students? Busy, or lazy?

Opponent (0 leaves): It's one thing to show up, take your whipping, grab your cash with a wink and catch the first stagecoach out of town. But to not even try to make it tough on the bully is inexcusable. The Aggies were never gonna win the game, but to not take any shots just makes it boring. No guts, no glory, no leaves.

Officiating (3 leaves): Let's start by saying SEC officiating is a joke, just to see if it draws a fine. Yesterday's 'Shoe crew stayed awake, so they get points there. And they stayed out of the way. Interference against Dane Sanzenbacher seemed ticky-tack, but TV replays offered no support to that claim..."




Ohio State: Report Card
November 1, 2009 Source: Newark Advocate - "OFFENSIVE LINE: B - Left guard Justin Boren, OSU's best lineman, was out with a foot injury, and at times it looked like it, even though the Buckeyes had 60 to 70 pounds on the Aggies' defensive ends. The Buckeyes eventually wore down their undersized opponents, gaining 310 of their 559 yards on the ground.

RUNNING GAME: A - Brandon Saine suffered a rare fumble that wasted good field position off a Ross Homan interception, but atoned with his first touchdown of the season...Despite playing only the first half, Terrelle Pryor ran for a score and had a couple of 27-yard scrambles to set up two others. Third-stringer Jordan Hall led with 90 yards on 10 carries, including a 37-yard burst to set up a field goal.

PASSING GAME: C - Same refrain: When Terrelle Pryor steps into his throws, which isn't often, good; when he aims his deliveries or locks on a receiver, bad -- sometimes, Saturday, very bad. He zipped a 19-yard scoring strike to Dane Sanzenbacher but was only 11-of-23 against one of the worst defenses in the country.

DEFENSIVE LINE: A - The front four faces more offense in practice, but to their credit, no one on this side of the ball mailed it in. The Buckeyes wasted a fumble recovery by Thaddeus Gibson, caused by Nathan Williams. Gibson admits he stole the ball at the bottom of the pile but kept fighting because he didn't hear a whistle blow.

LINEBACKERS: A - Who didn't think the Buckeyes would score a defensive touchdown in this ridiculous matchup? Sure enough, Brian Rolle did the honors with a fumble recovery in the end zone. Ross Homan had another solid outing...

DEFENSIVE BACKS: A - An easy day for the secondary. Easily the worst passing attack on display in the 'Shoe since Woody's early days. The Aggies' two-headed quarterback was 6-of-15 for 22 yards and one pick...

SPECIAL TEAMS: C - Jim Tressel had a major problem on his hands before Aaron Pettrey hobbled off with a right knee injury in the second quarter. He was 6-for-6 on field goals beyond 40 yards until Saturday, when he missed twice from 52 yards...Third-string replacement Devin Barclay missed his first attempt from 47 yards but later connected from 29...

COACHING: A - It was nice to see Jim Tressel give backup quarterback Joe Bauserman an entire half. It was some trickery by Tressel -- an onside kick and option pass -- that snapped the Buckeyes out of their early doldrums. But we can all do with a little less of Bauserman running the option. ..."




Ohio State: Report Card
November 1, 2009 Source: Tribune Chronicle - "OFFENSIVE LINE - A: It can be counted on one hand how many times quarterback Terrelle Pryor was hurried or had to avoid the sack. Also, the line gave holes that a Mack truck could drive through...

DEFENSIVE LINE - A: Poor New Mexico State quarterback Jeff Fleming. Though he wasn't sacked he was hurried all day long and the running game could only muster 40 yards, 36 in the first half. The Aggies were credited with 30 yards lost rushing.

PASSING GAME - B: Pryor looked better than past games, going 11-for-23 and 135 yards, but he made a few bad decisions that were nearly intercepted, and would have been against better teams...

RUNNING GAME - B: Thanks to the line, the rushing game was able to break out for some big runs and finished with 310 yards. However, it still didn't look like the powerful running game Ohio State is known for...

LINEBACKERS: A: The entire defense was on point today. Ross Homan had a game-high seven tackles, five solo...The longest play allowed was a 13-yard run by Fleming.

DEFENSIVE BACKS - A: It was hard for Fleming and backup quarterback Trevor Walls to even get a pass off, but when they did, the secondary was ready...

SPECIAL TEAMS - C: Starting kicker Aaron Pettrey badly missed two field goals...Devin Barclay came in and was 1-for-3...Pettrey did earn points with his perfectly placed and self-recovered onside kick. Returner Ray Small had another less than memorable day.

COACHING - A: Between the onside kick in the second quarter and the reverse from Posey to Sanzenbacher, many have to wonder why this play calling didn't come sooner in the year. Hopefully it doesn't slow down in the final three games of the season.

INTANGIBLES - C: Ohio State should have looked like an NFL team compared to the Aggies and it didn't. Though the numbers say "big win" there were too many drives that ended in failed field goals and Pryor still has some issues in making the right decisions..."





What the Aggies had to say
November 1, 2009 Source: Columbus Dispatch - "DeWayne Walker, New Mexico State head coach, On Terrelle Pryor: "We knew we had to cage him up. I went ballistic a couple of times when he got out of the pressure, but I guess it's wishful thinking to keep him contained for the entire game. They did exactly what we thought they'd do. It starts and ends with Pryor. We held in as long as we could, but he's a special player."

Ross Conner, senior linebacker, On Terrelle Pryor: "He's just a great athlete. I would say, by far, the best athlete I've played against. As a whole, Ohio State's offense is very solid."

Trevor Walls, redshirt-freshman quarterback, On playing Ohio State: "It was a dream come true. I have always been a Buckeye fan. It was enjoyable being around friends and family. There were probably 200 people from my hometown here."..."




Aggies meet expectations in loss to Buckeyes
November 1, 2009 Source: Las Cruces Sun News - "Really. What did you expect? Was it for the New Mexico State Aggies to be competitive against the Ohio State Buckeyes on Saturday? On the road? In The Horseshoe? Did you anticipate them scoring an offensive touchdown? Or kicking a field goal? Or getting three first downs? Were you bracing yourself for a Herculean effort from the defense, as it bottled up the Buckeyes' in a matchup mirroring David vs. Goliath? Did you think NMSU would have a shot at taking the lead in the fourth quarter, with the entire nation watching in stunned disbelief? If you happened to believe any of the above was plausible heading into the contest, you must have not seen the Aggies play much this year on the football field..."




| | |
| --- | --- |
| NEW MEXICO STATE vs. OHIO STATE | |


This week's challenge: Just like last week, the Buckeyes should take nothing for granted. But they also should take the opportunity on Halloween to let a lot of backups masquerade as regulars, perhaps letting No. 2 QB Joe Bauserman play for extended time. That way, Pryor and others can have fewer bruises for the stretch run at Penn State, home against Iowa and at Michigan in what still could be a November to remember.





Ohio State Buckeyes' offense seeks balance between 'I' and spread formations
October 31, 2009 Source: Cleveland Plain Dealer - "-- Told of the more than 40-point spread...Jim Tressel responded with the obvious, "We haven't got 40 points very often..." Big offense isn't his specialty. In 110 games with the Buckeyes, 89 of them wins, Tressel's teams have scored at least 40 points on 19 occasions, but reached 50 just four times, and only twice since the 2002...with Penn State and Iowa just ahead, the Buckeyes may finally be evolving into the offense they want to be, "more toward the balance we like," Tressel said this week. Quarterback Terrelle Pryor and the rest of the offense need the work in the new approach to their old look.

Starting against Illinois...and continuing through wins against Indiana and Wisconsin and a loss to Purdue, the Buckeyes shifted to almost an entirely shotgun-spread system, putting the ball in Pryor's hands, making him a bit more of a threat in the run game and doing some things they thought fit better with their personnel at tailback and on the offensive line. Then defenses started cheating toward the line of scrimmage, trying to contain the run game and forcing the Buckeyes to win by having Pryor throw the ball. Against Purdue, he couldn't do it.

Against Minnesota, Pryor threw two long touchdown passes...both off play-action fakes to the tailback, both with eight defenders crowding the line of scrimmage, both burning the lack of safety help. It was the adjustment to the adjustment, and if the Buckeyes can continue to do it against better defenses, the offense will take a new step. Tressel especially liked the second touchdown pass since it came out of the I-formation, which the Buckeyes had nearly abandoned for a month. "When you line up in two backs, the defense adds someone to the box because you've added someone to the box," Tressel said, "and that lends itself to play action."

Against Minnesota, the Buckeyes were under center almost half of the time, as opposed to the Illinois game, when they were more than 90 percent shotgun. The change is back toward what wasn't working at the beginning of the season, when the Buckeyes were about a 50-50 balance against USC and Toledo and were seeing their runs up the middle stuffed at the line of scrimmage. Against the Trojans, Ohio State tailbacks averaged 2.4 yards per carry. Against Minnesota, the tailbacks averaged 5.5 yards per carry...

This return to balance is only one game old, but the Buckeyes were forced to punt after a three-and-out just once in 13 drives against Minnesota. In their previous two games, they went three-and-out 10 times in 23 drives. For the season the Buckeyes still have turned the ball back to opposing defenses in three plays or fewer nearly one-third of the time...(Tressel) wants sustainability, which is why his biggest disappointment last week was coming away with only a missed field goal after a 19-play drive that took more than eight minutes and was Ohio State's longest of the season. Long drives finishing with points is nirvana, but of the Buckeyes' 37 scoring drives, only 16 have been 60 yards or longer...But when it matters against the Nittany Lions and Hawkeyes, when those better teams aren't making mistakes, can this offense march down the field and win a game?..."




Five Key Factors
October 30, 2009 Source: Columbus Dispatch - "1) STAY SHARP: Despite playing an overmatched opponent, this is no time for Ohio State to coast. With a trip to Penn State looming, the offense in particular needs to build on its solid second half against Minnesota. Sprinkling in some no-huddle series has been a good move and should continue, as should keeping a respectable run-pass balance. The old saying applies here: There are two types of teams — bad and improving.

2) STAY HEALTHY: Given the first key, the starters need to play a good amount, so there's no guarantee that injuries won't occur. But there's little reason for tailback Brandon Saine to play much, given the slight concussion he suffered last week. And if the margin gets to 30 points or so and it's the third quarter or later, it's time to empty the bench. The starters will leave feeling good about themselves, and it's always smart to reward the loyal reserves.

3) PROTECT PRYOR: The offensive line bounced back in a big way against Minnesota, allowing just one sack after giving up five to Purdue. The unit has been up and down all season, so this is an important week to establish some sort of consistency. Quarterback Terrelle Pryor also could use another "feel-good" week, in which he tastes some success and keeps working on his weaknesses without constant harassment.

4) DETAILS, DETAILS: For Ohio State, it's about focusing on the little things. One area could be punt coverage, as New Mexico State's Marcus Anderson is No..1 in the Western Athletic Conference in punt-return average (11.4 yards). Another area is effectively dealing with a dual-quarterback system, as the Aggies have Trevor Walls as a pocket passer and Jeff Flemming, who can run a bit. And maybe Aaron Pettrey can get some needed practice on short field-goal tries?

5) A BIG BUILDING: If New Mexico State has any chance of keeping this one close, it can't be intimidated by the surroundings. The Aggies play in front of crowds in the 20,000 range, not the 100,000-plus who will be in Ohio Stadium on Saturday. The stadium throng would be the second-largest city in the state of New Mexico. The Aggies can acquit themselves well if they adapt a "nothing to lose" mind-set and play fast and loose.





Key Matchup: New Mexico State runningback Seth Smith vs. Ohio State linebackers. Smith has three games with more than 100 yards rushing. The Aggies' only hope is for him to have a big day and keep the ball away from the Ohio State offense. Linebackers Ross Homan, Austin Spitler and Co. will get to know Smith well.

(Source: The Morning Journal)







Four Downs: Doug Lesmerises' take on what to watch when the ball is snapped
October 30, 2009 Source: Cleveland Plain Dealer - "First down-Jordan Hall, Ohio State running back: He started off as the No. 3 running back in his recruiting class, less talked about than Jaamal Berry (who hasn't played all season with a hamstring injury) and Carlos Hyde (who didn't qualify academically and enrolled in prep school). But the former high school teammate of Terrelle Pryor impressed everyone during fall camp, and established himself as Ohio State's No. 3 option at tailback, behind Dan Herron and Brandon Saine. Yet Hall didn't get any carries against Navy, USC, Wisconsin or Purdue, when the Buckeyes didn't get down to their third back. And Saine will start today after missing the second half of the Minnesota win. And Herron should see a bit of action after missing basically the last four games. So where does Hall fit in? With the injury histories of Herron and Saine, and the way this season has gone, it's not hard to imagine that the Buckeyes could wind up needing Hall to carry the ball on important drives against Penn State, Iowa or Michigan in the last three games of the year. After a nice debut against Toledo, Hall has 97 yards on 28 carries, a 3.5-yard average, in his last three games...

Second down-Seth Smith, New Mexico State running back:...Since taking over as the starter in the second game of the year, Smith has accounted for 40 percent of the offense, rushing for more than 100 yards three times in seven games and hitting 99 and 98 yards in two others. The 5-foot-8, 198-pound junior ranks 37th in the nation, averaging 88 rushing yards per game. Ohio State's leading rusher, quarterback Terrelle Pryor, ranks 92nd in the country, averaging 59 yards per game. Smith's 100-yard games came against Idaho, New Mexico and Fresno State, none of which has rushing defenses ranked higher than 67th in the country. Ohio State's run defense ranks 10th, and the Buckeyes haven't allowed a 100-yard rusher in 17 games, since USC's Joe McKnight did it in the third game of the 2008 season. That's the second-longest streak of its kind, behind only a 28-game run by Alabama...

Third down-Thaddeus Gibson, Ohio State defensive end:...with four sacks in eight games, Gibson leads the Buckeyes, though he was hoping he'd have a few more. He admits he had been a bit frustrated, though defensive coordinator Jim Heacock kept him patient. "He told me, 'Your plays will come to you, you're a good football player, and good things will happen for you,' " Gibson said. Despite the lack of a single standout sacker, the Buckeyes are tied for 16th in the nation in sacks as a team, with 23 in eight games. The leaders are Gibson, defensive end Nathan Williams with 3.5, defensive tackle Cameron Heyward with 3, and linebacker Ross Homan and defensive tackles Rob Rose and Todd Denlinger with 2 each. Overall, 17.5 sacks have come from the defensive line, four from the linebackers and three from the secondary. Last year, when the defense had 28 sacks in 13 games, only 16.5 came from the defensive line. That's just one statistic that helps prove the success the Buckeyes have had getting pressure with their front four rather than relying on the blitz. The only game in which the Buckeyes haven't sacked the quarterback at least twice? The loss to Purdue.

Fourth down-New Mexico State factoids: Ohio State is paying $850,000 for the Aggies to come into this game as more than a six-touchdown underdog. So assuming one of the greatest upsets in Ohio State football history doesn't occur, further your enjoyment and understanding of the game with these factoids about the Aggies:...New Mexico State has been part of the Western Athletic Conference for only three years, and this is the fifth conference the Aggies have been a part of. Before the WAC, they were in the Sun Belt. They've had three winning seasons in the last 30 years, the best a 7-5 record in 2002...With a 20-17 win over New Mexico this season, the Aggies can rightly claim the title of the best college football team in their state. They might be the only team in Ohio Stadium today that can do that...."




Ten Pressing Questions: NMSU at Ohio State
October 30, 2009 Source: Bucknuts.com - "1. Why is Ohio State playing New Mexico State? – Well, this game is simply a schedule filler for the Buckeyes. This is what happens when you only have eight conference games in a 12-game season. You are left trying to entice any school that will cash your check to help you fill your schedule. Do the math: There are 100,000 seats at an average price of $50. That's a $5 million gate. OSU needs seven home games each year to pay for its 36 athletic programs...

2. Can Terrelle Pryor build on his strong showing against Minnesota? – Pryor had one of his best games of his young OSU career last week as he threw for 239 yards and two scores and ran for 104 yards and a touchdown in the team's 38-7 win over Minnesota...

3. How good, really, is backup quarterback Joe Bauserman? – Bauserman is 4 of 10 passing for 49 yards for the year. If things go like you might hope, Bauserman should get a chance to show his wares. It would be great if he can play maybe a quarter-and-a-half and attempt 10 to 15 passes in this game. He needs the work so he has some experience to borrow upon if something ever happens to Pryor.

4. Will the Buckeyes get back to ground success by featuring Brandon Saine? – Saine left last week's Minnesota game with a mild concussion. He has been cleared for contact and figures to start for the Buckeyes at tailback. It would be good to get him 15 carries, if he can handle it, in this game...

5. What can DeVier Posey do for an encore? – Posey has had 17 of his 38 catches for the season in the last two games. He had two long touchdown catches from his close friend Pryor in last week's win over Minnesota. This could be Posey's first 10-catch game...

6. Will some of the young playmakers emerge on offense? – This would be a perfect time to get the aforementioned Jordan Hall involved at tailback. It would also be as good a place as any to get the ball to receivers like freshman Duron Carter (nine catches this year), sophomore Lamaar Thomas (one catch) and junior Taurian Washington (one memorable drop but not one catch). Redshirt freshman tight end Jake Stoneburner (two catches) should also be wide open for business. If he is your answer at tight end next year, you might want to try him out here.

7. How will Andrew Moses fare in his first career start at left guard? – Moses will fill in for the ailing Justin Boren at left guard. That means OSU will start its sixth different offensive line combination in nine games this year. Moses will also be the rotating offensive captain for the week. What a nice honor for a Columbus Watterson product who has more than paid his dues over the last five years.

8. Will OSU's stingy defense allow New Mexico State's spotty offense anywhere near the end zone? – As Dick Vitale might say, "This is an M-and-M'er. That's right, Mismatch City, Baby!"...Seriously, if New Mexico State ever gets inside, say, the Ohio State 40-yard line, the Aggies should consider that a moral victory...

9. What impact will the weather be? – The forecast for Columbus at noon on Saturday is 51 degrees and light rain. The showers are supposed to push out of the area by 2 p.m. OSU has already won a game against Illinois in a driving rainstorm.

10. Will Ohio State continue its momentum going into next week's pivotal game at Penn State? – The Buckeyes certainly have their work cut out for them if they want to extend their string of four straight Big Ten championships and four consecutive BCS bowl bids. To qualify for the school's first Rose Bowl bid in 13 years, the Buckeyes probably need to run the table in November with wins at No. 12 Penn State (7-1), at home over No. 7 Iowa (8-0) and finally at rival Michigan (5-3)..."


SERIES RECORD
• This will be the first meeting between Ohio State and New Mexico State in football

AGAINST THE WAC
• Ohio State is 3-0 all-time against current members of the Western Athletic Conference. The Buckeyes hold a 2-0 mark against Fresno State and a 1-0 record against San Jose State.

IN NON-CONFERENCE GAMES
• Under Jim Tressel, the Buckeyes are 24-2 at Ohio Stadium versus non-conference teams, the only loss coming to USC earlier this season and 25-22 to No. 2 Texas in 2005. The Buckeyes are 29-4 overall in regular season non-conference games since 2001.

POSEY AND SANZENBACHER
• Ohio State's top targets in 2009 have been sophomore DeVier Posey and junior Dane Sanzenbacher, with 904 yards and 10 touchdowns between them through eight games. Posey, who shows 38 receptions for 516 yards this year, has scored six times this season; Sanzenbacher, with 19 receptions for 388 yards, is averaging 20.4 yards per reception this season.

PRYOR ON THE RUN
• Sophomore Terrelle Pryor has surpassed the 1,000-yard rushing mark for his career, just the fifth Buckeye quarterback ever to rush for more than 1,000 career yards. He has totaled 1,102 yards on the ground in 21 games, and is averaging 4.6 yards per career carry. Pryor has scored 11 rushing touchdowns at Ohio State.

4th CAPTAIN & HONORARY CAPTAIN
• Andrew Moses, who will start at LG, is the 4th captain.
• Tim Anderson, a DL 2000-03 who played four seasons in the NFL, is the honorary captain.

TV: BIG TEN NETWORK
• Television: Saturday's game will be televised live on the Big Ten Network with Matt Rosen (P-by-P) and Glen Mason (analyst) in the booth and Anthony Herron on the sideline.
NEW MEXICO STATE AT A GLANCE
• The New Mexico State Aggies are 3-5 overall and 1-3 in the Western Athletic Conference (WAC) coming into Saturday's game. Its three wins have come against Prairie View A&M (21-18), New Mexico (20-17) and Utah State (20-17). They enter Saturday's game coming off a 34-3 loss at the hands of Fresno State Oct. 24.

• On offense, the Aggies average 13.2 ppg. Running back Seth Smith is the Aggies leading man on the ground, rushing for 87.9 yards per game. Quarterbacks Jeff Fleming and Trevor Walls have split time behind center this season, both completing just over 50 percent of their passes.

• Free safety Stephon Hatchett has been a consistent play maker for the Aggie defense all season. Hatchett is third on the team in tackles with 49, a tackle for a loss, an interception return for 32 yards, four pass break-ups, a fumble recovery and a forced fumble. Against LA Tech, Hatchett tallied a career-high 13 tackles. This season, Hatchett has recorded at least five tackles in five of the seven games this season. His previous high was nine tackles against Prairie View A&M.

• Junior return man Marcus Anderson leads the WAC in punt returns with an 11.4 yard average, including a season-long 56-yarder.

• Senior linebacker Ross Conner currently leads the Aggies with 70 tackles this season. He is averaging 8.8 tackles a game which ranks him third in the WAC and 50th in the nation. Against Fresno State, Conner tallied a career-high 14 tackles, including his first sack of the season. Conner now has three double-digit tackle games this season. For his career, Conner has 118 tackles, four sacks, an interception and five tackles for a loss.

HEAD COACH
• DeWayne Walker is in his first season as head coach after spending the previous three seasons as UCLA's defensive coordinator. He also was an assistant in the NFL for eight seasons before that.




Head Coach Jim Tressel met with reporters on Thursday and spoke about the upcoming game with New Mexico State. He also covered the injury report and some adjustments to the starting lineup.







Heacock raved about DT John Simon. Said he's a coaches dream, loves his work ethic, and said flat-out, "he will be a great one if he stays healthy." That's something, coming from a guy who coached Luke Fickell, Mike Vrabel, Ryan Pickett, Darrion Scott, Kenny Peterson, Vern Gholston, and Will Smith, to name a few.

Heacock said the light appears to be coming on for sophomore LB Etienne Sabino in recent weeks. He's been guilty of thinking too much and not just playing, but over the past few weeks, Heacock said he's seen much improvement. With Andrew Sweat sidelined with a knee injury, Sabino may move into the fourth LB role, or the first LB off the bench after Brian Rolle, Ross Homan and Austin Spitler.

(Source: Columbus Dispatch)







Listen: Jake Ballard, Bryant Browning, Chimdi Chekwa & Doug Worthington



Ohio State football: Aggies ... Who are these guys?
(Source: Columbus Dispatch)


Updates: Adams' progress gets detoured by knee surgery-Offensive tackle Mike Adams was making good progress before undergoing knee surgery, Ohio State tight ends coach John Peterson said yesterday...the surgery likely was arthroscopic, as Peterson said he could return before the end of this season...Peterson said Jim Cordle and Andrew Miller will play at left tackle Saturday against New Mexico State. Miller started the first three games, and Cordle was the starter last week.

Brandon Saine was cleared to play this week. "Brandon Saine will be fine and will start," Tressel said. The Buckeyes won't have Boom Herron back in full capacity this week as he continues to get over an ankle injury suffered in week four against Illinois, but Tressel said they are hoping he can take a few snaps this week to get himself mentally back in the flow before their game against the Nittany Lions. "Jaamal Berry might even get some work this week. He's back on the active full-practice roster." When asked whether he could see Berry playing this season, Tressel said: "The answer is no, if (Herron) and Brandon and Jordan and Jermil are ready. If all of a sudden we're down to one of those four, the answer is yes, even if it's game 12."

Another player who could be on the verge of making his return is nose tackle Dexter Larimore. The Buckeyes had targeted November as his return date and it looks like he could be ready to rejoin the defense against Penn State next week according to Tressel. "Dexter Larimore, I would say, we'll have to see how he does. He's going to be able to practice some this week." With Larimore out, the Buckeyes have been using a steady rotation of Todd Denlinger and John Simon at the nose tackle position, but Tressel said they were also short one other defensive tackle last week against Minnesota. "Rob Rose was a little iffy last week and we didn't need to use him but he's back at full strength. He dressed last week and we probably could have used him."

Safety Orhian Johnson also suffered a concussion, or at least had concussion-like symptoms against Minnesota, was also cleared to practice and play this week.

Offensive line: As for the offensive line, the Buckeyes continue to be a walking M.A.S.H. unit. As soon as it looks like they are getting over the hump, someone else goes down. "The two guys that will be out – seems like we have two a week – are Mike Adams and Justin Boren. Boren has an unspecified foot injury that cropped up this week, Tressel said. The junior transfer from Michigan will sit out against New Mexico State. Fifth-year senior Andrew Moses will get his first career start in Boren's place. If Saturday was a bigger game, there is a good chance No. 65 would be out there. "I don't think (he'll be out longer than this week)," Tressel said. (Andrew) Miller is back, (Jim) Cordle is back, (Mike) Brewster is fine. He's been a little bit limited, but he's back." "About the only one that isn't banged up is Bryant Browning," Tressel said. "I think J.B. (Shugarts) is a little healthier. J.B. had an ankle (sprain) for a while, but he's a little bit healthier. Andrew Miller is much healthier. Jimmy Cordle is much healthier. I think Michael Brewster is healthier than he was (he had a right foot injury)… Every team in America's got ankles and injuries like that."

Sophomore linebacker Andrew Sweat has missed action recently with a knee injury and defensive coordinator Jim Heacock said on Wednesday he wasn't sure when Sweat would be back. But Tressel answered that question on Thursday: Sweat is done for the season.


(Sources: The Ozone/Cleveland Plain Dealer/Columbus Dispatch/Bucknuts)






What to watch in the Big Ten: Week 9: Ohio State quarterback Terrelle Pryor: The Buckeyes don't have much to gain from Saturday's game against New Mexico State, which owns the nation's worst offense and will have a rough time putting up points. But it does provide Pryor another opportunity to make strides before next week's huge trip to No. 12 Penn State. Ohio State needs to decide how it wants to use Pryor the rest of the way. My plan? He runs the ball 17-22 times a game and throws deep when the opportunity presents itself.

(Source: ESPN)









2009 Totals




| | | |
| --- | --- | --- |
| Ohio State | Offense | NMSU |
| 29.2 | Pts/gm | 13.2 |
| 353.2 | Total yds/gm | 254.2 |
| 171.1 | Rush yds/gm | 150.4 |
| 38.8 | Carries/gm | 42.0 |
| 4.4 | Yds/carry | 3.6 |
| 182.1 | Pass yds/gm | 103.9 |
| 24.2 | Pass att/gm | 23.3 |
| 13.7 | Yds/completion | 8.6 |
| | Defense | |
| 13.1 | Pts/gm | 28.0 |
| 284.8 | Total yds/gm | 369.5 |
| 92.2 | Rush yds/gm | 186.6 |
| 32.7 | Carries/gm | 36.7 |
| 2.8 | Yds/carry | 5.1 |
| 192.5 | Pass yds/gm | 182.9 |
| 34.8 | Pass att/gm | 26.0 |
| 10.0 | Yds/completion | 13.5 |



Crunching the Numbers: Ohio State at Purdue
October 28, 2009 Source: BuckeyeSports.com - "The numbers aren't pretty for the Buckeyes' visitors this weekend. New Mexico State ranks at or near the bottom in several offensive categories. Check out which ones as well as plenty more information in this week's edition of Crunching the Numbers...119: New Mexico State ranks 119th of 120 NCAA Division I-A teams in scoring offense (13.3 points per game) and tackles for loss (3.4 per game). 120: The Aggies rank 120th in total offense (254.3 yards per game) and passing efficiency (84.5)..."





A Closer Look: New Mexico State Aggies
October 29, 2009 Source: Buckeye Sports - "Fans of the No. 17 Ohio State football team will get to see a new foe on Saturday when New Mexico State comes to town. The Buckeyes and Aggies have never faced on the gridiron before, but fear not; BuckeyeSports.com has all the relevant information here in this closer look. Find out more about NMSU's current team as well as history and background info...New Mexico State has played only two Big Ten teams, earning drubbings at the hands of Wisconsin (69-13) in 1962 and Iowa (59-21) in 1995. The Aggies last beat a BCS team in 1999 when Tony Samuel's squad knocked off No. 22 Arizona State by a 35-7 final in Tempe..."




2009 New Mexico State Aggies Game Preview
October 29, 2009 Source: Buckeye Planet - Analysis and more, including: "...Quarterbacks...The QB situation is a mess...Walls and Fleming have both taken turns as the starter, with each QB getting 4 starts. Fleming opened the year as the starter, Walls took over in game 4, it was back to Fleming in game 5, and since then Walls has been the starter each of the past 3 games. Both QBs are tall and play similar styles, though Fleming is a bit more adept at the run and Walls is a bit bigger and might have a bit better arm. Both have similar statistics that are not pretty, including completion percentages below 53%, at least 5 INTs with only 2 TD passes, and ratings below 90. Fleming has also taken 8 sacks thus far, with Walls taking 6, which is a total average of about a sack per 13 pass attempts or so. Fleming's best game came in the opener, when he looked decent, throwing for 230 yards on 63.6% completions. He hasn't thrown for more than 75 yards in a game since. Walls threw for 103 yards and a TD against San Diego State, but has only topped 80 yards one other game. The fact he went a ghastly 8 for 25 for 81 yards and a pick against Utah State but still kept his starting job illustrates the QB situation in a nutshell. It's probable that both will see the field Saturday, but neither has been very good, and it is doubtful either can be effective at all against the Buckeye defense...New Mexico State Offensive Preview...Defensive Preview..Special Teams Preview..."




Ohio State vs. New Mexico State
October 29, 2009 Source: CBSSports.com - "...Regardless of who's carrying the ball, Ohio State should be in decent shape against the Aggies. New Mexico State is 103rd in the nation in rush defense, allowing 185.6 yards per game - including 254.0 over the last three contests. The biggest problem for first-year coach DeWayne Walker's team, though, is on the other side of the ball. New Mexico State is 119th in the nation in scoring (13.3 points per game) and is last in total offense (254.3 yards per game). The Aggies have been outscored 79-10 in their last two games, the latest a 34-3 home loss to Fresno State last Saturday..."




Ohio State vs. New Mexico State Preview
October 29, 2009 Source: The Ozone - "Tony Gerdeman's preview of the New Mexico State game...The Aggie running game is in much better shape than the passing game, coming in as the 56th-best rushing offense in the nation, averaging 150 yards on the ground per game. The main contributor in the running game is junior running back Seth Smith. Smith has rushed for 703 yards this season, including six games of at least 89 yards. Last week against Fresno State, he rushed for 105 yards on 19 carries (though that did include a 70-yard jaunt.)..."




Gameday+
October 30, 2009 Source: Columbus Dispatch - "BuckeyeXtra.com delivers all you need to know about the Buckeyes' upcoming game. Click here for everything from the top story, play of the week: Sprint Pass, Who has the edge: YOU decide, Game Predictions & more"




Preview: #18 Ohio State vs New Mexico State
October 30, 2009 Source: Eleven Warriors - "...One reason to be optimistic is the lack of production out of the New Mexico State offense up to this point. The Aggies' offense ranks dead last in the FBS and is only putting up 13.2 per game. Facing an OSU defense is not going to help their cause very much and a third shutout of the season for the Bucks is not out of the question..."




New Mexico State (3-5) at Ohio State (6-2),
October 29, 2009 Source: College Football News - "...Why New Mexico State might win: Ohio State has a quirky way of playing down to its competition. There was the close call against Navy, the loss to Purdue...What will happen: Ohio State will go through the motions and win, but it's Ohio State. This isn't always going to go perfectly, but the Buckeyes will go on a late run to make this a blowout. CFN Prediction: Ohio State 48 … New Mexico State 10 ... "




Ohio State vs. New Mexico State
October 29, 2009 Source: Buckeye Grove - "...Ohio State will not allow NMSU to cross the 50 as long as it doesn't turn the ball over in that territory. Ohio State 48 New Mexico State 0...this is the perfect opportunity to install some new things into the offense and allow Terrelle Pryor to get some meaningful reps on some timing routes...Tressel...should be comfortable trying new things out and seeing what his team can do without having to worry about turning the ball over...this game, it shouldn't even be close. However, I don't think Ohio State covers the spread. Ohio State 45 New Mexico State 6...Look for the defensive line to dominate behind the strong play of Cameron Heyward and Thaddeus Gibson. Also it is tough to imagine the New Mexico State wide receivers really doing much to challenge the OSU defensive backs....Look for it to be a bit sloppy early on, but once it gets rolling, it isn't going to be pretty. Ohio State 48 New Mexico State 6..."




New Mexico St.-Ohio St. Preview
October 28, 2009 Source: ESPNU - "...Regardless of who's carrying the ball, Ohio State should be in decent shape against the Aggies. New Mexico State is 103rd in the nation in rush defense, allowing 185.6 yards per game -- including 254.0 over the last three contests. The biggest problem for first-year coach DeWayne Walker's team, though, is on the other side of the ball. New Mexico State is 119th in the nation in scoring (13.3 points per game) and is last in total offense (254.3 yards per game). The Aggies have been outscored 79-10 in their last two games, the latest a 34-3 home loss to Fresno State last Saturday. The Buckeyes defense, meanwhile, is seventh in scoring (13.1 ppg) and 13th in total yards (284.8) -- a mismatch that's made them 40-point favorites over the Aggies..."


Big Ten picks: Week 9: ESPN.com's Adam Rittenberg writes: "Ohio State 38, New Mexico State 3: A lot of folks are calling for a shutout, and it could happen as the nation's worst offense faces the seventh-ranked scoring defense. The Aggies somehow get a field goal but Ohio State rolls as quarterback Terrelle Pryor once again runs for 100 yards and DeVier Posey catches another touchdown from his good friend. One of Ohio State's running backs also emerges in this one."







New Mexico State Official site
New Mexico State - at Ohio State
2009 Football Guide
2009 Stats
2009 Football Roster
DeWayne Walker, Head Coach
Ass't Coaches
Source: New Mexico State Official Site





Waverly's Walls prepared to take on Buckeyes
October 31, 2009 Source: Chillicothe Gazette - "Waverly grad Trevor Walls, who grew up in the shadow of Columbus and Ohio State, hopes to change that when the Aggies play the Buckeyes in Ohio Stadium at noon today. The 6-foot-5, 220-pound redshirt freshman is listed at the top of the depth chart for NMSU, but Coach DeWayne Walker has said that the Aggies will go with whoever the hot quarterback is at the moment. Walls is 2-2 as a starter, while Jeff Fleming is 1-3. Walls has thrown for 339 yards with two touchdowns and five interceptions, hitting 51.7 percent of his passes. He's also run for two touchdowns. In a 34-3 loss to Fresno State last week, the Aggies had a rough day in the air, amassing just 45 yards passing. "We have to score touchdowns. I know defensively I thought we played well enough to win, but when we're not scoring touchdowns, it's going to be tough for us," Walker said. "I'm sure when we watch the tape we'll see that we had opportunities to score some touchdowns."..."




DeWayne Walker, Head Coach
Coaching Experience
UCLA (2006-2008)- Defensive Coordinator
Washington Redskins (2004-05)-Defensive Backs
New York Giants (2002-03)- Defensive Backs
Southern California (2001)-Defensive Backs; as associate head coach/secondary coach at USC under Pete Carroll
New England Patriots (1998-2000)-Defensive Backs; the first two (1998 and 1999) under Carroll and the third (2000) under Bill Belichick.
California (1996-1997)- Defensive Backs

"DeWayne is a great coach who has proven that at many levels. He has all of the skills to be a highly-successful head coach. He knows the landscape of the college football world really well. And he'll build his team around a great defense, setting the foundation for his program." - Pete Carroll, USC Head Coach





NO PAIN NO GAIN
October 29, 2009 Source: Albuquerque Journal - "New Mexico state is getting big bucks to play at ohio state this weekend. DeWayne Walker didn't know exactly the amount on the paycheck New Mexico State will get for going to four-time defending Big Ten champion Ohio State on Saturday. He simply had an idea of what it should be. "A million," he said.

The understood unit is dollars, but it also is the number of reasons why the 3-5 Aggies must go to the Horseshoe — even if, as whopping 44-point underdogs to the No. 17 Buckeyes, they aren't expected to win many plays, yet alone be competitive in the game. As Aggies football coach, Walker is a realist on this topic. After reciting a laundry list of improvements his team needs to make, he said, "It may not be the perfect team to really have these positive notions. But we're still trying to build and we can't worry that it's Ohio State. We have to continue to build our football team."

Ohio State (6-2) will pay NMSU $850,000 to play on Saturday, the check payable upon the game's completion. It will be the first and only foe on NMSU's 2009 schedule from a Bowl Championship Series (BCS) league. It's the third consecutive year the Aggies have scheduled one BCS foe, following Auburn in 2007 and Nebraska in 2008.

Though they were scheduling big-time programs years earlier, the Aggies began doing so in earnest in 1998. From then until 2005, they faced 17 BCS opponents, and only two of those (Oregon State in 2001, Cal in 2005) came to Las Cruces as part of a home-and-home. The rest paid big to bring the Aggies in and, theoretically, to take them out. New Mexico State went 1-16 in those games, the 35-7 win at No. 22 Arizona State in September 1999 becoming one of the most satisfying in school history that didn't involve one of the two big rivals...

The thinking was that scheduling wins would boost the team's confidence, confidence in the team from the Aggie Nation and that support, including financially, would grow as a result. New Mexico State tried it that way for four years under Hal Mumme, and the results weren't good. Not only were the Aggies 11-38, but they didn't win over the support of the community. Last year they barely evaded a scare of falling under the NCAA's threshold for minimum attendance for major-college program. So Boston, under pressure from above to spend less (a $1.5 million department cut this school year) and generate more for a $17 million or so budget, is biting the bullet on what he has termed "body bag" matchups.

Among the paydays awaiting to the Aggies in the future: A date next year at Kansas (for $700,000); at Minnesota ($800,000) and Georgia ($925,000) in 2011; at Auburn in 2012 (pay to be determined); at Minnesota ($800,000 again) and Texas ($950,000) in 2013...Then again, the Aggies are playing in a much tougher league (Western Athletic Conference) than in the 1990s and through 2004, when they were in the Big West and Sun Belt..."





Ohio native may start for New Mexico State against the Buckeyes on Saturday
October 29, 2009 Source: Cleveland Plain Dealer - "Waverly High School graduate Trevor Walls didn't get much attention from college recruiters. Despite Walls' academic success (4.0 GPA), despite leading his school to the state playoffs twice, and despite putting up big numbers as a quarterback, he only got one call from a major school. Walls may start on Saturday for New Mexico State, who visits Ohio State. "It's going to be exciting," Walls said. "I've been to a couple games there. I know what the atmosphere is like. I'm just excited for it."..."



#51 Ross Conner
POSITION: LB
HEIGHT: 5-10
WEIGHT: 213
CLASS: Sr

Senior linebacker Ross Conner currently leads the Aggies with 70 tackles this season. He is averaging 8.8 tackles a game which ranks him third in the WAC and 50th in the nation. Against Fresno State, Conner tallied a career-high 14 tackles, including his first sack of the season. Conner now has three double-digit tackle games this season. For his career, Conner has 118 tackles, four sacks, an interception and five tackles for a loss. Conner played in 12 games for the Aggies at linebacker and on special teams in 2008. On the season, Conner recorded 18 tackles and a sack. In his first career start as an Aggie at Nebraska (9/13), he recorded a season-high five tackles. Against San Jose State (10/18), Conner had three tackles. Versus Alcorn State (10/4), he tallied his first sack of his career for a loss of seven yards. In six of the 12 games he played, Conner recorded at least two tackles.



#20 Seth Smith
POSITION: RB
HEIGHT: 5-8
WEIGHT: 198
CLASS: Jr

Running back Seth Smith is the Aggies leading man on the ground, rushing for 87.9 yards per game. Smith has rushed for 703 yards this season, including six games of at least 89 yards. Last week against Fresno State, he rushed for 105 yards on 19 carries (though that did include a 70-yard jaunt.). Smith spent two seasons at the College of Sequoias as the Giants' leading rusher. In 2007, Smith rushed for 580 yards on 122 carries and 14 touchdowns, while averaging 4.8 yards a carry.






Free safety Stephon Hatchett has been a consistent play maker for the Aggie defense all season. Hatchett is third on the team in tackles with 49, a tackle for a loss, an interception return for 32 yards, four pass break-ups, a fumble recovery and a forced fumble. Against LA Tech, Hatchett tallied a career-high 13 tackles. This season, Hatchett has recorded at least five tackles in five of the seven games this season. His previous high was nine tackles against Prairie View A&M. Hatchett played in all 12 games for NM State in 2008 as both a defensive back and on special teams after lining up at wide receiver in 2007. Hatchett was the Aggies' best cover man on the punt team forcing one fumble and recovering a fumble. He tallied 19 tackles on the season, including a season-high five tackles at Utah State (11/29). He had seven games that he recorded at least two tackles.



New Mexico State (3-5) at #17 Ohio State (6-2)
| Teams | Open | VegasInsider | Scores and Odds | Sports | Sportsbook | Bet Hollywood | Over/Under |
| --- | --- | --- | --- | --- | --- | --- | --- |
| New Mexico State | +40 | +44 | +44.0 | +44 | +44 | +44 | 48.0 |
| Ohio State | -40 | -44 | -44.0 | -44 | -44 | -44 | 48.0 |


Columbus Weather Forecast