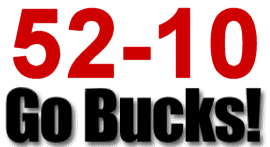 | | |
| --- | --- |
| MINNESOTA vs. OHIO STATE | |

Jermale Hines, Dane Sanzenbacher, Jim Tressel Postgame Minnesota multiple videos; select from menu



Five Things: Minnesota
November 1, 2010 Source: Eleven Warriors - "...Devier is here: Personally speaking, coming into the game DeVier Posey was probably the 3rd most frustrating player on offense behind Shugarts and Adams. Posey's resume of drops, alligator arms and penalties wiping out a big play or two had earned him a spot in my doghouse...I felt he was underachieving versus his true potential much more than anyone else on the offensive side of the ball...Posey led the team with six receptions for 115 yards and a hauled in a 38 yard TD with :24 left in the half giving OSU a 31-7 lead killing whatever bit of spirit the Gophers had left in the tank. In the decisive first half, Posey caught five of Pryor's 12 completions for 87 of his 158 passing yards...I'm mindful it was Minnesota but hopefully Posey's complete effort featuring a season high in yards and a season 2nd best for receptions coupled with those key blocks will mean good things down the road. He does have three TD in his last four games after a four game TD drought.

Boom finally gets his hundo: ...deservedly cracked the 100 yard plateau running for 114 yards on 17 first half carries. His spiritied effort behind a line that opened holes at a pretty consistent clip led to a robust 6.7 yards per carry and he's now rushed for an average of at least 4.6 ypc in each of his last four games. Even sweeter, Boom has a nose for the endzone...seems to getting better with each game, specifically showing better vision and a willingness to "leave the play" if he spots an opening elsewhere. Boom's most impressive series of the night came at potentially the most pivotal time as Minnesota found themselves trailing just 17-7 with five minutes left in the half. It was time to gain some separation and Boom answered the call accounting for all the yards on a 6 play, 62 yard TD march in which he carried five times gashing the Gopher defense for chunks of 25, 16, 6 and 5 yards before ending the drive with the 10 yard slash off left tackle...

Silver bullets suffocate Gophers: Knowing full well the secret sauce to blowing up the Gophers is to stop Adam Weber, the Bullets did exactly that, sacking him five times, picking him off once, and forcing two fumbles while holding the career 10,000+ paser to just nine completions in 20 attempts for 162 yards. After surrendering 116 yards and seven points on back to back drives to open the game, the defense yielded just 54 yards the rest of the half, holding Minnesota to 14 offensive plays...Nathan Williams continues to be my defensive MVP...Rolle, also had a big night leading the team with six stops, 2.5 TFL, a fumble recovery and 1.5 sacks. Fellow LB Andrew Sweat continued his emergence in Homan's absence assisting on five tackles. Johnny On The Spot Simon also had an athletic play scooping up a fumble forced by a Chekwa hit on Weber and raced 30 yards for the score. I definitely liked what we saw from the front 6/7 tonight.

Damned if you do, damned if you don't: Last night, looking to capitalize on Jordan Hall's nifty 70 yard punt return to the Gopher two, Tressel dialed up what most of us wanted to see during that fateful Wisky series, a Pryor rollout stretching the defense affording him the option to run or pass. Unfortunately...Pryor rolled right, saw FB Boren open in the endzone, hesitated, then inexplicably threw the ball after it was too late allowing Minnesota's Ryan Collado to step in front of the pass for a gift interception...it's obvious rollout plays such as this one down by the goal line can only involve the FB as a pass catcher if the play is executed in rhythm. With all the action rolling right, Pryor simply ran out of the real estate necessary to complete a pass to Boren and he has to know you can't double clutch that throw. At that point, he needed to tuck and run or look toward the trailing receiver - anything but attempting to hit Boren...It didn't matter in this lopsided affair but I wonder if there will be any residual going forward?,,,

Concerns?: ...I think I'm most worried about the safeties holding up. On Minnesota's first play from scrimmage, Weber used play-action and hit MarQuies Gray for 35 yards. Hines bit hard on the out portion of and out and up route allowing Gray to get almost five yards behind him. Luckily, the ball was well underthrown plus Torrence saw Hines was torched so he was able to come off his guy and keep the play from getting worse. I've got love for Hines but there's no question he's a better run stopper than a pass defender and he was burnt badly on this play...Two plays later, it was Orhian Johnson's turned to get abused...Will Johnson, Hines and Gant be able to handle their assignments and prevent the big play? Consider me a little concerned...Special teams, despite Hall's 70 yard punt return, a 34 yard KO return and a blocked punt for a TD remain a source of heartburn. Barclay missed a 21 yard chip shot and Basil's KO's routinely traveled to only the 10-ish yard line plus he shanked one out of bounds...This unit is far from out of the woods and after how the start to the Wisky game deflated the Buckeyes, you have to be concerned about what the special teams might screw up in Iowa City...."




Newsome has special night: The Buckeyes have dealt with injuries more in 2010 than possibly any other season during the Jim Tressel-era. Losses all over the defense have forced a shuffling of the hand including in the secondary and now more recently at the linebacker position. Linebacker Jonathan Newsome came to the Buckeyes in the recruiting class of 2009 and despite coming out of Cleveland (Ohio) Glenville high school was one of the less celebrated recruits with a three star ranking. But that hasn't slowed down the 6-foot-3, 219-pounder when it comes to his approach on the field. Newsome will be more remembered for the Minnesota game on his big play on special teams where he took the ball off of the foot of Gopher punter Dan Orseske and watched fellow Buckeye Zach Domicone fall on the ball for an Ohio State special teams touchdown.

Ohio State head coach Jim Tressel said after the game that Newsome had been coming along well with his special teams play and even though the block wasn't necessarily what was called that he was more than able to perform with the pressure on. We caught up with Newsome after the game to ask him about the play and his increased role with the linebacker unit.







No. 10 Ohio State's offense was firing on all cylinders against Minnesota on Saturday at TCF Bank Stadium, as its racked up 256 passing yards and 255 rushing yards en route to a 52-10 victory.

Ohio State Wins In Dominant Fashion



Coach Tressel's postgame press conference
(Source: Bucknuts.com)



On a day of big plays by Terrelle Pryor, it's interception in end zone that sticks in Jim Tressel's mind
October 31, 2010 Source: Cleveland Plain Dealer - "..."I'm still having trouble with that one," Tressel said, bringing up Pryor's one interception for a second time while answering an unrelated question. Pryor's lone turnover was one of only four passes he threw that didn't land in the arms of a Buckeye..."As coaches we think about the things we could have done better, and the [interception], you're going to lose tight games if we do something like that," Tressel said. "That interception we've got to get squared away."

Pryor said of the interception "stupid, stupid stuff like that, I've got to play a better game," but he wasn't quite as wrapped up in it as Tressel. "I don't know if it was exactly a mental error," Pryor said. "I saw him open and I had no clue [a defender was there]. Anytime in the red zone you've got to get rid of the ball very quick, and I saw [Buckeyes fullback Zach] Boren pop right away and I had some [defenders] on my legs, and I thought it'd be a nice little chest pass and all of a sudden the guy came in."...

Maybe his biggest play of the night was on the ground when the score was 7-7 in the first quarter. "That one step-up run was huge for us at the time we needed it," Tressel said. On a third-and-11 from Ohio State's 45-yard line, Pryor felt the blitz coming, immediately saw a hole on the left side of the line and took off, showing his old burst as he gained 34 yards. It was his most impressive run since a 66-yard score against Illinois four weeks ago. It was later in that Illinois game that Pryor went down with a pulled left quad. "It's a little sore, but I think I'm back," Pryor said. "I'm getting there, and as we go along, it's healing, but there's also pain."..."


Pryor rates the Minnesota game: Terrelle Pryor became the third Buckeye to surpass the 7,000 yard mark in the category of total yards. But the only record that means anything to Pryor is the one that the team holds. (Source: BuckeyeGrove.com)




It was over when...: Ohio State busted this one open by ripping off a 17-point second quarter.

Gameball goes to...: Terrelle Pryor, who rolled up 277 yards and three TDs against the hapless Gophers.

Turning point: Terrelle Pryor's 38-yard touchdown pass to DeVier Posey with 24 seconds left in the first half. It came after a 10-yard Minnesota punt and upped the OSU lead to 31-7 at the break. With Herron scoring on a 10-yard run 79 seconds earlier, it was the decisive one-two punch.

Star of the game: Ohio State running back Daniel "Boom" Herron. The junior finally joined the collegiate 100-yard rushing club, and he did it all in the first half, finishing his work by then with 114 yards -- a single-game high by a Buckeye this season on 17 carries and a touchdown.

Notable:
Ohio State linebacker Jonathan Newsome blocked a punt for a touchdown in third quarter, which was recovered by safety Zach Domicone in the end zone. It marked the first blocked punt for a TD since 2008 against Purdue and the first blocked punt overall since the Illinois game in 2008.

Chimdi Chekwa also recorded his first career sack and a caused a fumble, which was returned 30 yards for a touchdown by defensive tackle John Simon, the first touchdown of his career. It marked the first fumble return for a touchdown since safety Jermale Hines in 2008 at Michigan State.

Linebacker Brian Rolle recorded a career-high 1.5 sacks. On one he caused a fumble with Dexter Larimore and recovered himself in the third quarter.

The repercussion: With Michigan State losing at Iowa, the Buckeyes are back in a tie at the top of the Big Ten with Wisconsin (idle), the Spartans and Iowa, all with one loss. How the polls will see it remains to be seen, but considering the upsets yesterday, the blowout should make OSU upwardly mobile headed into the bye week.

Stat of the game...: 7,275. With 7,275 total yards, Pryor is the third Buckeye with 7,000 yards of offense, joining Art Schlichter and Bobby Hoying as the only Buckeyes with at least 7,000 yards of offense in their career.

Did you know: Pryor has 50 touchdown passes to tie Schlichter for fourth-most in school history.

Did you know II: Ohio State has won eight straight against Minnesota and 24 of the last 25 meetings.

Did you know III: Minnesota's interim coach Jeff Horton has lost 18 straight games as a head coach. Horton has lost two straight since taking over for Tim Brewster and lost 16 straight at UNLV from 1994-98.

Did you know IV: Ohio State racked up 326 yards of total offense in the opening half, giving the Buckeyes a grand total of 741 yards of offense in its last two first halves of play

Did you know V: Jordan Hall led the Buckeyes with 147 all-purpose yards. He had 30 rushing, 13 receiving, 70 on punt return and 34 on kick return.

Did you know VI: Ohio State has allowed 10 points or fewer five times this season.

Did you know VII: Linebacker Brian Rolle recorded a career-high 1.5 sacks. On one he caused a fumble with Dexter Larimore and recovered himself in the third quarter.

Did you know VIII: Seven different players scored a touchdown

Did you know IX: Minnesota quarterback Adam Weber had been sacked only nine times in eight games, but Ohio State took him down five times.

Jordan Hall, Buckeyes RB/KR, said it: "Everybody is going to be on me in the film room about not finishing." - a smiling Hall said referrring to not getting into the endxone on the 70 yard punt return

Worst kickoff: Ohio State's Drew Basel kicked off out of bounds late in the first quarter, after the Buckeyes took 14-7 lead. A good idea against Wisconsin and Miami, who combined for three kick return touchdowns, it wasn't so hot against the Golden Gophers. Jim Tressel is finicky about the kicking game, not that you could tell that from this year's results.

Best sack: Cornerback Chimdi Chekwa blitzed in the fourth quarter, blew up Minnesota quarterback Adam Weber, and Ohio State defensive tackle John Simon picked up the ball and trundled 30 yards for the touchdown that made the score 52-10.

Best Carl Spackler defiance: When you are as down as Minnesota, scoring at the end of a rout becomes a symbol of never-say-die competitiveness. The Gophers had scored last in six straight games before Saturday night. The problem is that the opposing teams tend to score early and often on the Minnesota defense.

Walking Wounded: Linebacker Brian Rolle injured his left ankle on Minnesota's first play. He missed the Gophers' touchdown drive but quickly returned. Cornerback Devon Torrence left the game in the first half after taking a knee to the helmet. Travis Howard replaced him; he was caught wincing and limping multiple times. Right tackle J.B. Shugarts, nursing sore feet, played three quarters before Andrew Norwell relieved him.

The view:
How the team sees it: Wow, did Mini-soda lack fizz.

How the pollsters will see it: Buckeyes are good, but not good enough to pass Wisconsin. Not yet, anyway.

How Buckeye Nation will see it: What's that smell? Roses? Maybe, just maybe.

Translating Tress:
What he said: "We really think (Herron) lifts us up."

What he meant: "Which is good, because we plan to ride him through November."

Jim Tressel, Buckeyes head coach, said it: "I think everyone's got a loss in our league, so we've got a chance." -referring to the fact the Buckeyes are back in the hunt for another Big Ten title

Jim Tressel, Buckeyes head coach, said it II: "We know November is going to be turned up a notch. If we'll go to work and get ready for November, you never know what can happen."

Rookie Hazing: Jim Tressel continued his success against first-year head coaches last night, making Jeff Horton his latest victim. Since coming to Ohio State in 2001, Tressel has faced 18 head coaches in their first season, compiling an 18-1 record. The lone loss came at the hands of Danny Hope and Purdue 26-18 in 2009.

Terrelle Pryor, Jr QB, said it: "We're not playing around. You have to show them we're coming in and taking something."

Gopher's interim head coach Jeff Horton, said it: "I don't think we had one area that we did well at all. (The Buckeyes) are the biggest reason for that."

Telling stat: Minnesota was unsuccessful on its first eight third-down chances. The Gophers didn't convert one until Weber scrambled for 19 yards on third-and-10 with less than nine minutes left in the game.

They said it:
As heard on TV: Let's get one thing straight: The ESPN crew could have talked like Tweetie-Bird and still sounded better than the cartoon figures on the Big Ten Network. That said, Craig James, Mike Patrick and Ray Bentley made me laugh. And not in a good way.

As heard on the stadium video screen: A public service announcement warning about bedbugs, with pictures, which drew the loudest crowd groan of the game.

As heard from Minnesota student section chant: "Let's play hockey."

Numbers for dummies:
3: Games that Pryor has had at least 10 consecutive completions (Eastern Michigan 16; Indiana 11; Minnesota 10)

43-7: Ohio State's record against Minnesota, making it the most lopsided series in the Big Ten

One-liner: Golden Ghoulfers scare only themselves on Halloween Eve.

Band Camp: The Ohio State University Marching Band was at the game, opting to travel to the two-year old TCF Bank Stadium. The band travels to one road game a season, but usually attends a game closer to Columbus. The University of Minnesota is 767 miles from Ohio State.

Pregame buzz: Was there any? The drama had more to do with how other Big Ten teams would do -- did anyone see the Iowa over Michigan State crush job coming? -- than whether Ohio State would take care of business in Minnesota.

Just wondering: What can the Buckeyes possibly work on after throttling Minnesota by 42 points a week after thumping Purdue by 49? Well, Pryor's decision-making near the goal line -- he threw a baaad interception that followed a fantastic punt return by Jordan Hall -- needs fine-tuning. And the pass defense was only slightly better at deflecting the long ball than the goal post uprights. Otherwise ... Tress will find something.


(Sources: ESPN/OSU Official Site/Columbus Dispatch/Bucknuts/Eleven Warriors/ToledoBlade)

Team Stat Comparison
| | | |
| --- | --- | --- |
| | Ohio St | Minnesota |
| 1st Downs | 24 | 10 |
| Total Yards | 507 | 232 |
| Passing | 244 | 162 |
| Rushing | 263 | 70 |
| Penalties | 5-52 | 3-20 |
| 3rd Down Conversions | 6-9 | 2-11 |
| 4th Down Conversions | 0-0 | 0-1 |
| Turnovers | 1 | 3 |
| Possession | 34:01 | 25:59 |




Seven Buckeyes Score TDs as No. 11 Ohio State Rolls Over Minnesota, 52-10
October 30, 2010 Source: OSU Official Site/Associated Press - "After his Buckeyes lost to Wisconsin two weeks ago, Ohio State coach Jim Tressel asked every player on his team to turn in a paper on how they planned to deal with the adversity. Terrelle Pryor and the rest of the squad have aced the assignment so far. With the field of unbeaten teams shrinking, Ohio State is piling up the style points.

With the field of unbeaten teams shrinking, Ohio State is piling up the style points. Terrelle Pryor threw for 222 yards and two touchdowns and Dan Herron rushed for 114 yards and another score in the first half to lead the 10th-ranked Buckeyes to a 52-10 victory over Minnesota on Saturday. Pryor completed 18 of 22 passes and also rushed for 55 yards and a touchdown for the Buckeyes (8-1, 4-1 Big Ten), who are trying to ram their way back into the national championship picture. "We still have a chance," coach Jim Tressel said. "That's all we can ask."

MarQueis Gray had three catches for 81 yards for Minnesota (1-8, 0-5), which has lost eight straight games and is stumbling toward the finish of another lost college football season in the Twin Cities. The Golden Gophers struggled in all areas, but nowhere more than the punting game. Dan Orseske's 10-yard punt just before halftime led to Ohio State's fourth touchdown of the half, and the Buckeyes also scored off a blocked punt and had a 70-yard punt return by Jordan Hall.

After a disappointing loss at Wisconsin two weeks ago, the Buckeyes have bounced back to outscore Purdue and Minnesota 101-10, showing they're not ready to give up on making another BCS title game appearance just yet. "We're not playing around," Pryor said. "You have to show them we're coming in and taking something."...

DeVier Posey had six catches for 115 yards and a touchdown, as Ohio State racked up 507 total yards.

The Buckeyes battered Minnesota's Adam Weber all night, sacking him five times, intercepting him once and forcing two fumbles, including one that John Simon returned 30 yards for a touchdown. Weber was 9 for 20 for 162 yards. The Gophers trailed 31-10 at halftime, and a sparsely populated student section at TCF Bank Stadium was virtually empty by midway through the third quarter. "I don't think we had one area that we did well at all," interim coach Jeff Horton said. "(The Buckeyes) are the biggest reason for that."

Playing with nothing to lose, interim coach Jeff Horton promised to be aggressive against the Buckeyes. After giving up a touchdown on the opening possession, the Gophers went right at them. Weber completed a 35-yard pass to Gray on their first play and hit Tiree Eure for 32 yards two plays later to set up DeLeon Eskridge's 7-yard score to tie the game.

The Buckeyes put together a 13-play drive for a touchdown and kicked a field goal to take a 10-point lead, then just continued to lean on the smaller, deflated Gophers for the rest of the first half to gradually take control. Herron rushed five times on a six-play drive late in the second quarter, the last a 10-yard burst around the corner for a 24-7 lead. He didn't get a carry in the second half. Orseske's shank gave Ohio State the ball at its 47 with 36 seconds to play in the first half. Pryor hit Posey for a 38-yard touchdown 12 seconds later, and it was all over.

Ohio State has a bye next week and then finishes the season with a home game against Penn State and a road trip to Iowa before the annual showdown with Michigan at the Horseshoe in the finale. "We know November is going to be turned up a notch," Tressel said. "If we'll go to work and get ready for November, you never know what can happen."..."

Scoring Summary, Team Statistics, Individual Statistics, Drive Chart, Defensive Statistics, Game Participation, Box Score, Play-by-Play



Big Ten helmet stickers: Week 9-Ohio State CB Chimdi Chekwa: The Buckeyes had plenty of offensive stars Saturday night in a 52-10 win over Minnesota, but I'm going to give some love to a defensive guy. Chekwa recorded his third interception of the season in the second quarter and also recorded a sack and a forced fumble that teammate John Simon recovered and returned for a touchdown. He shares the sticker with running back Dan Herron, quarterback Terrelle Pryor and receiver DeVier Posey. (Source: ESPN)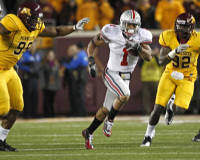 Herron reaches triple digits
October 31, 2010 Source: Columbus Dispatch - "Running back gets first 100-yard game with big first half...Daniel Herron finally burst through the 100-yard barrier, and he did it in less than a half. The Ohio State junior running back had come close to his first collegiate 100-yard rushing game the previous two weeks, only to be turned away. But last night he made it look easy, ripping off 114 yards - the most by a Buckeyes player this season - on 17 carries in the first half as part of the 52-10 win over Minnesota.

"It was a lot of fun to get one. It was a great honor to get 100 yards," Herron said. "Minnesota is a great team. Anytime you play a Big Ten team, it's going to be a fight. "The offensive line did a great job, Zach (Boren, fullback) is always doing a great job, and coach (Jim) Tressel gave me the opportunity to carry the load in the first half, and I thank him for that." Herron took part in just one play in the second half, as a blocking back for Brandon Saine on a sweep out of the shotgun that lost 3 yards..."




Jordan Hall's big returns earn top marks on Ohio State report card
October 30, 2010 Source: Cleveland Plain Dealer - "...A -- Jordan Hall's punt return (Our play of the game below): The sophomore showed why he has become the Buckeyes' go-to guy in the return game, ripping off a 70-yarder that was the longest of his career. His previous best was a 22-yarder. Hall took a 49-yard punt with good hang time that pinned him along the left sideline and quickly made something out of nothing, when a 2-yard return looked to be in order. Hall made the first tackler miss, got a block and headed back toward the middle of the field. He quickly split two more tacklers, made a cut that left another Golden Gopher diving at his feet and was off into open spaces. Senior defensive lineman Cameron Heyward made a block outside that planted another Gopher and Hall was ... not quite gone. Hall was pushed out of bounds with 7:10 left in the second quarter, which turned out to be a rather unfortunate occurrence for Ohio State when Terrelle Pryor was intercepted on the next play, as the Buckeyes' lead stayed at 17-7. See the lower grades.

A -- Ohio State left guard Justin Boren: The OSU offensive line blew open some gigantic holes for running back Dan Herron, and more often than not, they were through the left side of the line. The formula? Left tackle Mike Adams steers his man to the outside and Boren turns his man into Spam. As the Buckeyes threw the ball more this season, Boren improved as a pass blocker, but it's not difficult to remember what the senior does best.

B+ -- Minnesota receiver MarQueis Gray: The 6-foot-4, 230-pound sophomore from Indianapolis is the presumptive quarterback of the future for the Golden Gophers, except that the coach who will truly determine that future wasn't in the stadium on Saturday. Gray has looked really good at receiver, entering the game with 33 catches. On Minnesota's first play from scrimmage he made a leaping 35-yard catch over OSU safety Jermale Hines. Gray still wants to be a quarterback, and he is Adam Weber's backup. But there's also a belief that he's an NFL talent at receiver. The bottom line is that Gray wants to get under center and if the new coach doesn't put him there, he may transfer...

C -- The left upright: The grade is in the middle, because it was good for the Buckeyes, bad for the Golden Gophers, although Minnesota kicker Eric Ellestad didn't give it a chance to be very forgiving. His 35-yard try with 12:13 left in the second quarter was a line-drive knuckler that bonged off the goalpost with a some fury. The kick would have cut the Ohio State lead to 17-10. Instead, Minnesota saw the game start to slip away. Ohio State kicker Devin Barclay missed a 21-yard third-quarter field-goal attempt.

F -- Pryor's redzone throw : The junior quarterback always talks about what he sees now as a decision-maker, how much more film he studies than he did as a freshman or sophomore. Pryor had thrown 18 touchdowns vs. six interceptions coming into the game, and a lot of those picks could be explained away -- some deep passes he forced, a zone blitz he didn't read, a sneaky safety that ran a coverage he didn't expect. The throw after Hall's punt return was just a bad play. Rolling right, Pryor forced an awkward pass to the front corner of the end zone, and with not much juice on the throw, Minnesota safety Ryan Collado easily jumped in front of Boren for the interception. Against a better opponent, that kind of missed opportunity could have been a game-changer. Instead, it just delayed the inevitable..."




The Bottom Line
October 31, 2010 Source: Columbus Dispatch - "...Offense (4 leaves): Pretty much everything worked that OSU tried, which often happens when steamrollers go up against marshmallows. Daniel Herron gets a game ball for his first-ever 100-yard game, but you'd have a bruised hand if you gave a slap on the back to every Buckeye who deserved one in a 507-yard show.

Defense (3 leaves): OSU remains susceptible to deep passes, but what's a few long plays out of 50? The pass rush showed up to the tune of five sacks, and the D even got into the touchdown act when John Simon did a grab-and-go with a fumble. Injuries keep testing the depth, and the Buckeyes keep passing.

Special teams (3 leaves): Yet another mixed bag. The doinked field-goal attempt and a couple of long Minny returns were offset, at least, by Jordan Hall's electrifying punt return and Jon Newsome's blocked punt, which resulted in a Zach Domicone TD. Befitting the evening, Ben Buchanan was called on to punt only once.

Coaching (3 leaves): You don't have to be Amos Alonzo Stagg to give Minnesota that deer-in-the-headlights look, but the Vest certainly didn't shy away from turning the Gophers into road kill. So it was a good scrimmage, and now the Buckeyes get a week off before the stretch run against the rivals. Prepare well, men...

Opponent (2 leaves): Well, look at you, all dressed up like a major-college football team. How adorable. Actually, the Gophers showed they were capable of putting a scare in the Buckeyes but for some reason they didn't throw deep over the middle on every play. When the house band gets better, the place will rock.

Officiating (3 leaves): The black pants are a slick look, and here's hoping there are benefits other than a slimming look -- like warmth. Or maybe they provided calming clarity for the crew, which had a decent night. Not sure why they didn't throw a flag for interference on DeVier Posey's long TD, but he caught it anyway..." ..."




Grading the Game: Ohio State 52- Minnesota 10
November 1, 2010 Source: SB Nation Cleveland - "Offense: A: One of the most productive days for the Ohio State offense the entire season, the filleting of the Golden Gopher defense was as close to an "A+" as you can get without being one. Terrelle Pryor's one mistake, an interception in the corner of the endzone, marred the offensive performance, but the rest of his day was deadly efficient...Pryor did everything he needed to for Ohio State to take care of business...Boom Herron had a great day rushing the ball, achieving the first 100 yard game of his career...Ohio State had little trouble running or passing at will because of this domination of the line of scrimmage. DeVier Posey...Dane Sanzenbacher...accounted for the vast majority of the passing yards, although a host of other players had a handful of receptions.

Defense: A: While Ohio State did hold the Minnesota offense to 232 yards on 51 plays (4.54 yards per play), they experienced a little bit of struggle on the first Golden Gopher drive, giving up consecutive pass plays of 30 yards or more. It was Minnesota's sole touchdown, but it was enough to prevent an "A+" grade for Ohio State's defense...Brian Rolle made one of the most spectacular defensive plays I've ever seen. Blitzing Weber's strongside, Rolle hit the Gopher quarterback, caused a fumble, and then recovered the fumble himself, all in the span of three seconds...Minnesota's only touchdown of the game came on a drive where Rolle was injured, and after his return, Minnesota struggled to move the ball in any direction other than backwards.

Special Teams: A: Special Teams built on their positive performance against Purdue, and much of that is attributable to punt returner Jordan Hall...Ohio State's coverage units also did their job well on the numerous opportunities Minnesota had for returns. The only negative for special teams was kicker Devin Barclay's missed chip shot in the 3rd quarter, which may have been a product of the rough elements..."




Ohio State vs. Minnesota grade card
November 1, 2010 Source: Mansfield News Journal - "OFFENSIVE LINE -- The Buckeyes weren't exactly facing the Monsters of the Midway. UM came in ranked 100th in scoring defense, 101st in rushing defense and 118th in pass defense efficiency. Yes, OSU had a 92-yard, 13-play drive after the Gophers tied the game, but it's a little troublesome that Dan Herron couldn't get in on two cracks inside the 3 (OSU scored on a QB sneak) and Jordan Hall was stuffed on a third-and-2, forcing a field goal. -- GRADE: B plus

RUNNING GAME -- Terrelle Pryor's 30-yard, broken-field run set up OSU's second touchdown. "Boom" Heron had his first 100-yard game... It will be even more impressive if he can match that effort against someone that can actually play defense. ( Penn State? Iowa?) -- GRADE: A

PASSING GAME -- ...the Buckeyes came out dinking and dunking against one of the worst pass defenses in the country. When they finally stretched the field, the Gophers were powerless to stop...Sanzenbacher...and Posey... The Gophers came in with only three sacks, so Terrelle Pryor (18-of-22, 222) was in no danger. Saine may have lost his starting job, but he caught his fifth TD of the season... -- GRADE: A

DEFENSIVE LINE -- Cam Heyward and Nathan Williams collaborated on a sack...Williams also set up a sack by linebacker Brian Rolle. John Simon returned a fumble 22 yards for a TD on a jarring sack by Chimdi Chekwa, but here's a potential problem down the road: When QB Adam Weber had a chance to operate, he was able to pile up big yards on his completions. And running back DeLeon Eskridge averaged nearly five yards a pop until the deficit got too big for the Gophers to run the ball. -- GRADE: B

LINEBACKERS -- ...already playing without Ross Homan, got a scare in the first quarter when Brian Rolle hobbled off the field. The Gophers immediately capitalized, going over the middle for 32 yards to tight end Tiree Eure, setting up a game-tying TD. The defense tightened up for the most part after that and let the Gophers self-destruct. Rolle had a huge game, coming back to get two sacks... -- GRADE: B plus

DEFENSIVE BACKS -- ...we're not used to seeing OSU give up four completions of more than 30 yards -- three of them in the first half. Chimdi Chekwa got his third interception and also forced a fumble on a sack that was returned for a TD. The Gophers got a gift field goal when Jermale Hines was flagged for facemasking on third-and-long and Aaron Gant dropped a goal line interception. -- GRADE: B

SPECIAL TEAMS -- Minnesota seemed bent on giving the Buckeyes a run for worst special teams in the Big Ten. A shanked field goal and 11-yard punt wasn't the worst of it for UM. Jon Newsome blocked a punt for a TD. Jordan Hall returned a short opening kickoff 34 yards to set up a 46-yard TD drive. He added a 71-yard punt return in the second quarter, but getting knocked out at the 2 loomed large when Terrelle Pryor got picked off on the next play. Devin Barclay missed a 21-yard field goal and Drew Basil continues to struggle on kickoffs.... -- GRADE: B

COACHING -- Jim Tressel vs. interim coach Jeff Horton wasn't fair, especially since Tressel was holding most of the weapons...after a methodical start OSU started attacking downfield and it was 31-7 at halftime. Problem is, Iowa was even more convincing Saturday against previously-unbeaten Michigan State and gets to host the Buckeyes in three weeks. The winner of that showdown will likely get at least a share of the Big Ten title. -- GRADE: A..."




Big play on punt: Johnathan Newsome was supposed to make sure Minnesota punter Dan Oreske didn't skip out and try a rugby punt to the side when suddenly good fortune came the linebacker's way. He saw the snap skip to Oreske. "So I just kept coming, and I was able to block it," Newsome said. "It was a great feeling, something we'd been wanting to do." It got even better when Zach Domicone pulled it away from a Minnesota player in the end zone for the touchdown that pushed the Buckeyes' lead to 38-10 with 4:10 left in the third quarter.

(Source: Columbus Dispatch

)





10 Things We Learned From Gopher Extermination
October 23, 2010 Source: The Ozone - "...1. Regardless of venue, Gophers no match for Buckeyes. Indoors or out. Rain or shine. Icy or blistering. Columbus or Minneapolis. The Horseshoe or the Metrodome, or TFC Bank Stadium, or for that matter Dallas Cowboys Stadium, the "Smurf Turf" at Boise State or the middle of the Frozen Tundra. There wasn't a setting on the planet where Minnesota could have beaten Ohio State on Saturday night, at least not the Ohio State team that showed up...

2. The 2010 Buckeyes feast on lesser opponents. Maybe more than any OSU team in recent history, this Buckeye squad loves to obliterate weaker opponents...outscored their six other opponents by a combined score of 300-54. That's an average of 50-9 in those six games, but in the other three games, they have outscored their opponents just 78-68.

3. Boom can be a feature back. ...Saturday he proved he can be a feature back at Ohio State. That's something we weren't quite sure of before. He has had some good games during his career, including seven-straight games with a touchdown coming into Saturday, but never had he rushed for more than 100 yards in a game. Part of that is the fact he's only carried the ball 20+ times in a games on three occasions, but he didn't even 20 carries to top the century mark against Minnesota. In fact, he didn't even need the second half...

4. Pryor already among all-time bests. In the history of Ohio State football, there are three names with over 7,000 total yards: Art Schlichter, Bobby Hoying and now Terrelle Pryor. With his 277 total yards Saturday, Pryor passed Hoying for second place on the all-time list. He is also second all-time in total touchdowns with 69 and fourth all-time in touchdown passes with 50. He now has 20 touchdown passes this season and with eight more in the next four games, he will become the all-time career-leader in school history...

5. DeVier Posey can be a big-time playmaker. There were many ready to write Posey off as a potential No. 1 receiver after his lackluster performance at Wisconsin...Saturday, we were reminded of dangerous Posey can be when he brings his A-game. The junior out of Cincinnati caught six passes for 115 yards, including a spectacular grab in the end zone on a 38-yard touchdown just before halftime. It was Posey's third 100-yard receiving game of the season and fifth of his career...

6. Stoneburner still not healthy. One problem with that is that Stoneburner still isn't healthy enough to be a threat in the passing game. When he was healthy, the former wideout had nine catches in the first three games of the season, including a career-high five against Ohio University. He suffered a high ankle sprain the following week and has not been a factor ever since. He missed two games and has only tallied two catches in the last three games since coming back. He one grab for three yards against the Gophers and just doesn't seem to be a factor in the Ohio State scheme, which tells us that he is still not healthy enough to create the kinds of mismatches he was early in the season.

7. OSU safeties had not been tested. The Buckeyes may not have been able to use Stoneburner to stretch the field, but Minnesota was able to do it with their tight ends. Consider a week spot before the year began, Ohio State's safeties had gone relatively untested before Saturday's game. That's when the Gophers went right at them, targeting Jermale Hines and Orhian Johnson the way other teams should have earlier in the year. Adam Weber completed three passes of 30 yards or more right in front of OSU defenders, burning each of OSU's starting safeties on the opening touchdown drive. It will be interesting to see if anyone else can exploit this...

8. Rolle still a force on OSU defense. ...With Ross Homan out, Rolle has become OSU's leading tackler this season but that has as much to do with his position as his level of play. After posting a breakout season as a junior last season, Rolle has been non-existent in a number of big games this season, most notably the loss at Wisconsin. He showed up at Minnesota, however, tallying a team-high six tackles to go with 2.5 tackles for loss, 1.5 sacks, a forced fumble and fumble recovery.

9. Ohio State has special teams too. The only thing that has drawn attention to OSU's special teams this season is their horrendous play. For the first time in a while, the Buckeyes actually won the special teams battle against Minnesota. They were still far from flawless on kick coverage, and Devin Barclay somehow missed a 21-yard field goal (not even sure how that's possible), but the Buckeyes had a number of big momentum swings thanks to their special teams...

10. Not to get stopped at the two-yard line on a 70-yard punt return. As good as their special teams were, there is no excuse for getting tackled at the two-yard line. It was a big play by Hall, who weaved in and out of traffic before he found a running lane, but the Buckeyes gave the momentum right back on the next play with an interception. That's not Hall's fault, but he can't leave that up to the offense. The great ones finish those kinds of plays..."




Our Play of The Game: Jordan Hall's punt return

Jordan Hall didn't get to the end zone, but his kick and punt returns consistently gave the Buckeyes great field position throughout Saturday night's game.

Jordan Hall led the Buckeyes with 147 all-purpose yards. He had 30 rushing, 13 receiving, 70 on punt return and 34 on kick return.

The sophomore showed why he has become the Buckeyes' go-to guy in the return game, ripping off a 70-yarder that was the longest of his career. His previous best was a 22-yarder. Hall took a 49-yard punt with good hang time that pinned him along the left sideline and quickly made something out of nothing, when a 2-yard return looked to be in order. Hall made the first tackler miss, got a block and headed back toward the middle of the field. He quickly split two more tacklers, made a cut that left another Golden Gopher diving at his feet and was off into open spaces. Senior defensive lineman Cameron Heyward made a block outside that planted another Gopher and Hall was ... not quite gone. Hall was pushed out of bounds with 7:10 left in the second quarter, which turned out to be a rather unfortunate occurrence for Ohio State when Terrelle Pryor was intercepted on the next play, as the Buckeyes' lead stayed at 17-7.

(Source: Cleveland Plain Dealer

)



Gophers loss so ugly, it's scary
October 31, 2010 Source: Minneapolis Star Tribune - "...There was no masking the domination of the Buckeyes, but the Gophers looked for good things despite the drubbing...The Gophers gained more than 30 yards three times in their first six plays, offering the brief illusion of an evenly matched game..."Obviously they were the better football team on the field," understated Gophers coach Jeff Horton. "We tried, but we just couldn't stay with them."...(QB Adam Weber) probably won't miss the ugliness that the second half produced, as Ohio State flexed its impressive depth, superior athleticism and fearsome physicality. The Buckeyes blocked a punt for a touchdown, returned a fumble for another and simply wore down the Gophers, who haven't beaten Ohio State since 2000..."




Ohio State dominates Minnesota, wake me when it's over
October 31, 2010 Source: Daily Gopher - "Your Golden Gophers made things interesting for about two series. The two teams exchanged touchdowns on their opening series and after that is was all Ohio State. Wide running lanes and wide open receivers is what we were treated to during primetime on Saturday night. I'm not really sure what to say, we all saw this coming. Ohio State is top two in the Big Ten for points scored, points allowed, yards accumulated and yards allowed. We are not. Would it surprise anyone if i told you I wrote this before kickoff? For the record, I didn't. But I'm kind of at a loss over what to type. We were terrible in every facet of the game. Defensively we put up little to no resistance. Offensively we were inept following the first drive. And Special Teams were awful. On the one hand Ohio State is really, really good. A loss was expected, it was expected to not be close, but this was embarrassing. Somebody please wake me when we have a new coach so we can start looking ahead to 2011.

Want some highlites of the night? Gopher hockey won..."




MINNESOTA

vs.

OHIO STATE


What to watch today as the Ohio State Buckeyes take on the Minnesota Gophers
October 30, 2010 Source: Cleveland Plain Dealer - "No. 1. Dan Herron in the end zone: Firmly established as the Buckeyes' No. 1 back, the junior has run for 11 touchdowns this season and has reached the end zone in each of the past seven games. Given the chance against the overmatched Golden Gophers, Herron could take a step toward elite company with a big game. He's on pace for 18 scores this season, with a shot to become the fifth Buckeye to rush for 20 touchdowns in a season...Only Wisconsin's John Clay, with 13, has more rushing touchdowns in the Big Ten...One thing that has helped Herron's cause is better communication between the running backs and the offensive line. Lined up 7 yards deep in the I formation, Herron is increasingly sharing what he sees, identifying potential blitzers and relaying the information to the line through fullback Zach Boren...
No. 2. The Buckeyes getting ahead early on the road: Ohio State entered the season 15-1 on the road in Big Ten play over the previous four seasons, when no other Big Ten team was better than 9-7 on the road since 2006. "We talk a lot about the fact that conference championships are won by good play on the road," OSU coach Jim Tressel said. "We're going to make the assumption that we'll play darn good at home. But the team that wins the conference championship probably is going to be really good on the road." The Buckeyes haven't been that so far, allowing both Illinois and Wisconsin to score first in their two road games. In rough wind conditions, the Buckeyes struggled to a 24-13 win at Illinois, and they never recovered from their slow start in a 31-18 loss at Wisconsin...It hasn't been a problem for the Buckeyes in the past. And with their season hinging on winning at Iowa in three weeks in their last road game of the season, they could use a confidence builder away from home. "We haven't done that well on the road so far, and that sticks with us," senior defensive lineman Cameron Heyward said. "A lot guys are not happy with the way we played, and it's just extra motivation."
No. 3. Who are the real Golden Gophers?: This is Minnesota's second game since head coach Tim Brewster was fired, with interim coach Jeff Horton losing his first game to Penn State last week 33-21. That makes it a little more difficult to guess what Minnesota might do. "It all comes down to who's in charge," OSU safeties coach Paul Haynes said. "Does the new head coach want to do something different, does he want to do his stuff? So you don't really know what to expect, so you've got to practice a little bit more on a lot of different things." The Buckeyes aren't sure how much they'll be in their nickel defense or their base defense. The Gophers, at 1-7 with a coach who knows he's not in the mix for the full-time job, have nothing to lose. The Buckeyes already will be in unfamiliar territory, playing their first game in two-year-old TCF Bank Stadium. So Ohio State should expect the unexpected. "Where we're at right now, cut it loose," Horton said. "If you make a mistake, you know what, at least you're going as fast as you can. . . . We're not going to wait on it, we're going to attack them, so let's go."..."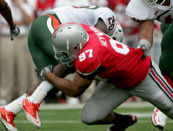 Ohio State's Cameron Heyward trying to find way to become dominant force for Buckeyes
October 30, 2010 Source: Cleveland Plain Dealer - "On his 20th snap of the game last week, after sitting out just three of Ohio State's defensive plays, Ohio State senior Cameron Heyward timed the snap count perfectly, shot past Purdue's left tackle untouched, jumped over a Boilermakers running back that dove at his feet, landed, ate up ground in three giant strides and wiped out Purdue quarterback Rob Henry with his left arm, driving him to the ground. And Henry completed the pass for a first down. That's what the first eight games of the season have been like for the Buckeyes' best defender. Active, but in the end, not as productive as hoped.

After entering the season as an All-America candidate, Heyward hasn't lived up to his own expectations, and his numbers reflect that. Though he was named one of the 12 semifinalists for the Lombardi Award this week, among the nine defensive linemen in that elite group, Heyward ranks last with 25 tackles and 1.5 sacks.

"I'm not happy," Heyward said. "I expected to make more plays and even have more production. . . . I haven't dominated a game yet. I just look forward to playing good and every chance out there trying to make the most out of it."

Heyward is definitely playing more than he did a year ago, when OSU defensive coordinator Jim Heacock estimated that Heyward played about 60 percent of the defensive snaps. The goal this year was closer to 80 to 90 percent of the snaps. Against Purdue, for instance, before the first-team defense came out late in the third quarter, Heyward was on the field for 36 of 39 plays...

"He'd definitely be the guy that you would circle on the scouting report," said OSU offensive lineman Bryant Browning, who often faces Heyward in practice, "because he's a game-changer." On Wisconsin's 19-play touchdown drive two weeks ago that gave the Badgers a 21-0 lead, Heyward was doubled-teamed six times..."




Five for Minnesota: What You Need to Know as the Buckeyes Take on the Golden Gophers
October 29, 2010 Source: SB Nation Cleveland - "1. Another Road Test. In Ohio State's previous two road games the team has struggled early, only leading Illinois 14-10 and falling behind Wisconsin 21-3 by halftime. Both of these opponents are better than the Golden Gophers, granted, but Ohio State still must put together a better showing on the road than they have so far this season. Even though the game is an 8:00 primetime event, the atmosphere should be relatively tepid with Minnesota's struggles this season. The atmosphere at TCF Bank Stadium should not affect the Buckeyes' performance as it did at Camp Randall two weekends ago.

2. Offensive Style. The Buckeye structure as a multiple offense is semi-malleable. It is not, like LSU's, a grab bag of different schemes on a given week, but it does have significant variability between formations and quarterback positioning. Against Wisconsin, Ohio State opened the game using shotgun spread formations, but it was remarkably ineffective against the Badger defense. In the second half, they adjusted by using a downhill running attack out of the Pistol formation along with more under center plays. A week later, against Purdue, Ohio State resembled the latter much more than the former. It is Along the Olentangy's opinion that the more pro-style offense fits the Buckeyes' personnel better, and it will be interesting to see if the coaches agree on Saturday.

3. Desperation in Minnesota. As previously noted, Minnesota is not good. They don't do anything especially well on offense, and their defense struggles with such basic tasks as tackling. But desperation can be a powerful motivator, and if the Golden Gophers are not at the desperation point yet, they never will be. Interim head coach, and offensive coordinator, Jeff Horton is advertising for his next employer, while the players are hoping to salvage the season with an upset over the scourge of the Big Ten, the Ohio State Buckeyes. Minnesota may lack the talent to pull off the upset, but don't be surprised if you see a number of trick plays and 4th down conversion attempts out of the rodents. They have nothing else to play for at this point.

4. Ohio State's depth. Should the game get out of hand, the Buckeyes face an interesting conundrum that is not often presented to collegiate superprograms. After losing another scholarship defensive back to injury (Corey Brown - out for season), the patchwork secondary now has little talented, experienced depth behind the starters. Only career backups (Aaron Gant, Nate Oliver) and inexperienced redshirt freshmen (Dominic Clarke, Jamie Wood) shore up the secondary at key spots. Does Ohio State, with a limited travel roster of 65, substitute freely on the road? Or do they keep the starters in longer than usual because of these limitations?

5. Michigan State-Iowa. This game may not directly affect the Buckeyes' performance against Minnesota, but it will certainly have massive implications for the Big Ten title race, and thus, the Buckeyes post-season bowl destination. If Iowa upsets the Spartans, Ohio State will then be in a three-way tie for first place in the Big Ten standings with the Spartans and Wisconsin. A Michigan State victory will greatly diminish Ohio State's chances of repeating as Big Ten champion for the 6th straight season. Of course, none of this matters if Ohio State does not take care of business in Minneapolis tomorrow evening.





Ohio State-Minnesota: Key matchups
October 29, 2010 Source: The News Herald - "1. Minnesota QB Adam Weber vs. OSU's defensive backs. The Buckeyes' injury-plagued defensive backfield will be tested by Weber, who has thrown for more than 10,000 yards in his career. He completed 26 of 49 passes for 299 yards and three touchdowns against Penn State last week and is a bonafide threat to chew up a defensive backfield that is a little thin because of injuries.

2. Minnesota running backs Duane Bennett and Jon Hoese vs. OSU linebackers Brian Rolle and Andrew Sweat. Even if the Minnesota offensive line can block OSU's defensive line, someone is going to have to account for blitzing linebackers. Rolle and Sweat caused plenty of havoc last week against Purdue, helping OSU account for nine tackles for loss and three sacks, by shooting gaps and making stops behind the line of scrimmage.

3. OSU's Dan Herron vs. Minnesota's defensive front. Herron, who believe it or not is still searching for his first career 100-yard game at OSU, has been the workhorse for the Buckeyes since Brandon Saine's running load was lightened over the past two weeks. Herron, who had 45 of his 74 yards come on the opening drive last week vs. Purdue, could get that elusive 100-yard game this week against a Minnesota rushing defense that is last in the Big Ten, giving up 200 yards per game on the ground.

4. OSU's DeVier Posey and Dane Sanzenbacher vs. Minnesota cornerbacks Troy Stoudermire and Michael Carter. As porous as Minnesota's run defense is, the Golden Gophers might have to sneak some linebackers and safeties closer to the line of scrimmage. That could/should open some golden opportunities for QB Terrelle Pryor to find Posey and Sanzenbacher for big-gainers. Minnesota has given up an average of 225 yards in the air through four league games, so the potential is there."



Five Key Factors
October 22, 2010 Source: Columbus Dispatch - "DON'T SLEEP-WALK: This would be an easy opponent to overlook, at 1-7. And Ohio State has not played well on the road. Today will be a referendum on the Buckeyes' mindset. Not only is a fast start important, but a fine finish, as well. It would send OSU into its bye week on a positive note. Also, a late letdown could lead to the score looking deceivingly close. Like it or not, OSU needs to be impressing poll voters these days.

ADAM WEBER: The Minnesota QB is a key all by himself, mainly because, barring a barrage of Ohio State turnovers, he's the only hope the Gophers have of staying competitive today. He has started 46 games and passed for more than 10,000 career yards. He has good receivers in Da'Jon McKnight and MarQueis Gray (also the backup QB), who have combined for 69 catches, 974 yards and 13 touchdowns. The injury-plagued OSU secondary has held up well, but this will be a stiff test.

KEEP HIM CLEAN: Buckeyes QB Terrelle Pryor has been sacked 10 times in the past four games. Some are understandable, such as at Wisconsin, trying to mount a comeback against a tough defense. Some are not, such as three sacks against soft Indiana. In a game OSU should win handily, every effort should be made to keep Pryor healthy for November. Options include: Passing only enough to keep Minnesota off balance, and taking out offensive tackle J.B. Shugarts if he's struggling with his sore foot.

SPREAD THE WEALTH: Similar to that last key, as RB Daniel "Boom" Herron has emerged as OSU's clear go-to back lately, he needs to be used judiciously, as well. The Gophers are awful against the run, so this is a perfect chance to save Herron some pounding and let the younger tailbacks have some fun. Jordan Hall, Jaamal Berry and Carlos Hyde may not get many opportunities next month, so this should be their day.

FINE FINISHES: In Big Ten play, Ohio State has done a good job of scoring TDs in the red zone, getting six points on 12 of its past 17 trips (70.6 percent). That's a better rate than during the pre-conference schedule (18 of 27, 66.7 percent). It will be important to keep that up today. No rain or snow is forecast for the Twin Cities, but TCF Bank Stadium reportedly can get windy, making field-goal tries potentially iffy."

On the Edge: Dispatch beat writers Ken Gordon and Tim May predict which team has the edge in this week's game. See if you agree..."

BuckeyeXtra.com delivers all you need to know about the Buckeyes' upcoming game. Click HERE for everything from the top story to player spotlights and game predictions.







Tressel Thursday (10/28/10) Press Conference

(multiple videos; select from menu) Source: 10TV WBNS Columbus



Tressel said the week's viewing of tape has upped his appreciation for what the Golden Gophers, who are only 1-7 on the year and riding a seven-game losing streak, will bring to the table. Though Minnesota fired head coach Tim Brewster after an Oct. 16 loss at Purdue, Tressel hasn't noticed the team with hanging heads on film.

"It certainly doesn't look like a team that the ball hasn't really bounced their way or they're in the middle of a coaching transition," Tressel said. "They don't seem like they've been emotionally grab-bag. They're physical, a hard-playing bunch. Just watch the Penn State game (last week, a 33-21 win for the Nittany Lions). It was a good football game. It hasn't gone their way, necessarily, but you watch them play, you wouldn't know that."

Tressel was also asked if he expected Minnesota to enter the Halloween weekend game with tricks up its sleeve. Interim head coach Jeff Horton has been adamant about bringing fun back into the equation for the squad and hasn't dissuaded ideas he'll pull out all the stops in an effort to get his team a win. "We feel as if every team does that," Tressel said. "We expect that every week. As you watch their last game, you really don't see any philosophical differences (from when Brewster was there) like, 'Oh, we're going to throw deep more,' or, 'Oh, we're going to blitz more.' " (Source & Story: BuckeyeSports.com)







Watch Dan "Boom" Herron comment on the OSU run game and the trip to Minnesota

10/27/10 Source: OSU Official Site


Herron is spark for Ohio State offense: Tailback Dan "Boom" Herron has led a rushing resurgence for the Buckeyes. With 520 yards, the junior is Ohio State's leading ground-gainer and stands second in the Big Ten with 11 rushing TDs.

"We're pretty confident right now," he said. "We're running the ball pretty good. That was the big thing that we wanted to do, to improve our running game and I think we've done a pretty good job of that so far."

Piqua (OH) High School graduate Brandon Saine, his friend and fellow TB, said Herron contributes something less tangible in addition to yards and points. "I don't know if 'emotional' is the right word, but he really loves what he's doing out there and you can see it," Saine said. "He's passionate about it. When things go wrong, it really hits him hard. Everything he does out there is heartfelt, and you can tell."

Source: Associated Press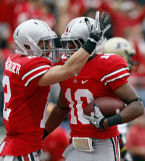 Brown showing he's quick learner; Freshman receiver picking up OSU offense
October 28, 2010 Source: Columbus Dispatch - "Freshman receiver Corey Brown had been on the Ohio State campus for only a few days in June when he was already making a name for himself. Make that a nickname: Philly. Being from Upper Darby, Pa., a Philadelphia suburb, his new teammates needed a way to differentiate between him and second-year defensive back Corey Brown of Monroeville, Pa., near Pittsburgh. So "Philly" it was, and Brown ran with it.

Heading into a game Saturday night at Minnesota, Brown is playing more and more for Ohio State. Last week against Purdue, he scored his first touchdown with a leaping grab, caught another pass and gained 18 yards on an end-around. Of course, he had been told all along that he had the goods to play as a freshman.

"Obviously the coaches will tell you that before you get here, as a recruiting thing," Brown said with a smile. "Then during summer workouts we were doing one-on-one things, and that kind of helped it. Then (preseason) camp is where (receivers coach Darrell) Hazell decided he should really give me a chance."

Hazell always seems to find at least one freshman to bring along during a season. With Ohio State's top receivers being senior Dane Sanzenbacher, junior DeVier Posey and senior Taurian Washington, there was a need for youth. But there was more to Brown's ascension than filling a need. "It does take a lot to get the coaches to trust you," said Sanzenbacher, who also played as a freshman. "It starts in the meeting room. I mean, if (Hazell) can't trust you mentally, then physically really doesn't matter...Coach Jim Tressel sensed that Brown could contribute when he gave his commitment more than a year ago. "It was like, 'Whoa, this guy's special,'" Tressel said..."





Big Ten stock report: Week 9: STOCK UP Ohio State's defensive line: Humbled the week before by Wisconsin, the Buckeyes' front four responded with authority against Purdue. Each starter recorded at least one tackle for loss, and ends Cameron Heyward and Nathan Williams both notched sacks as Ohio State held Purdue to nine first downs and 30 rush yards.







With all the defensive injuries, more weight falls upon QB's shoulders. Watch a video of Pryor's comments above.

10/27/10 Source: OSU Official Site


Tressel shows confidence in Pryor's play-calling: When is it obvious that a quarterback has his coach's trust? When the coach takes a suggestion from the quarterback after he just threw an interception. That's what occurred on the Ohio State sideline last week against Purdue. Terrelle Pryor threw a pass toward receiver Corey Brown that Brown bobbled and Boilermakers linebacker Will Lucas intercepted. Pryor then suggested a play to coach Jim Tressel.

"We saw the (linebacker) jump the route, and I said, 'You know what, Coach? He's going to do that again, so let's send Dane (Sanzenbacher) on the dig (route) right here, because there's going to be a big hole.'" That's exactly what happened two possessions later. The linebacker jumped up on Brown, there was a big open space and Pryor connected with Sanzenbacher for 56 yards, setting up a touchdown. Pryor estimated that he suggests one or two plays a game, as well as giving the coaching staff input early in the week as the game plan is being developed. He also has had freedom within a play to call certain route combinations at the line.

"I think it's pretty cool that the coaches listen," Pryor said. "That's great they trust some of the calls I make." Also, Pryor said his left quadriceps "feels good."

Source: Columbus Dispatch







MIND OF PRYOR: QB Terrelle Pryor said he thinks a lot about football. "I mean, I'm different, you know?" he said. "It's kind of like I'm old. I have a mind clock. I probably open up at 6:30 every day. My first thought is 'Get up and go watch film.' You know? Because last year, I rarely watched any film at all, or freshman year probably none at all. This year is totally different. I actually love watching it. (Due to) the fact that everything's slowing down for me, I could actually sit back and relax and just enjoy it, which is really what football is, the studying part. Just to see what I could find that could give me some clues to what the coverage is or when the blitz is coming."

He said he has come to understand what it takes to be a successful QB. "You gotta go into the game and not make stupid decisions, you know? Which, sometimes I do. I'm human," he said.

He said seeing QBs Drew Brees of the Saints or Brett Favre of the Packers throw interceptions tells him that it's a never-ending process to avoid turnovers and mistakes: "It's kind of cool that even guys at the top level, the best of the best, make some simple mistakes," he said. "I mean, it's just showing you that you can never get and be good enough. You just have to keep working at it, whatever position you're at."

Source: Associated Press







"If you look at the record, there's nothing that says we should beat Ohio State on Saturday. We just have to have a whole bunch of faith within ourselves inside the locker room. Hopefully that, along with a real good week in practice and a good game plan, will help us win it." - Minnesota defensive end D.L. Wilhite (The Gophers (1-6, 0-3 Big Ten) might have one more thing going for them: They're playing at home.)


SERIES RECORD
• The Buckeyes and Gophers are playing for the 50th time; Ohio State has a 42-7 advantage in the series, with a 22-3 mark in Columbus and a 20-4 record away from Ohio Stadium. The Buckeyes have won the last seven games in the series, including a 38-7 victory last season in Columbus.

IN NIGHT GAMES
• Ohio State is 7-3 at home and 27-14 away from home in night games (games starting 5 p.m. or later local time) since 1959 and 34-17 in night games all-time. Under Coach Jim Tressel, the Buckeyes are 16-11 in night games and 8-4 in Big Ten night games away from Ohio Stadium. Tressel's teams are 3-3 at home in night games.

FIRST AND 10
• With 6,998 total yards, Terrelle Pryor is set to become just the third Ohio State player to eclipse 7,000 yards of total offense

• Ohio State leads the Big Ten and ranks sixth in the NCAA with 40.8 points per game

DID YOU KNOW?
• Junior linebacker Andrew Sweat has been on a tear filling in for injured starting linebacker Ross Homan the past two games. Sweat has 16.0 tackles, 2.5 TFL, one interception, a forced fumble and a pass break-up in those two games after recording 28.0 tackles and 1.5 TFL in his first 21 career games combined.

• Senior kicker Devin Barclay is 24th among NCAA leaders with 1.50 field goals made per game. He tied a school record with five in the win over Miami. He is 21st in the NCAA in scoring with 9.50 points per game.

• Former Buckeye/Bear/Arena League head coach-NFL assistant coach Doug Plank is hanging out, helping out the staff as a volunteer. He is in between jobs, as they say.

• This is the Buckeyes' first trip to TCF Bank Stadium, after winning all 11 games played in the Metrodome.

THE SILVER BULLET DEFENSE
• Ohio State's defense has given up just 10 touchdowns in 2010 and has recorded 21 turnovers in eight games. They are currently third in the nation with a +1.38 turnover margin.

• The Ohio State defense is averaging 5.87 three-and-outs per contest this season. The game-by-game totals in that statistic: vs. Eastern Michigan (10); Ohio (8); Illinois (6); Marshall, Indiana (5); Miami (3); Wisconsin (1); Purdue (9). Ohio State was third in the nation in 2009 behind TCU and Alabama, averaging 5.61 three-and-outs per game.

HOMECOMING OF SORTS
• It'll be a homecoming of sorts when RBs coach Dick Tressel returns to Minnesota for Saturday night's game against the Golden Gophers. The older brother of head coach Jim Tressel was the head coach at Hamline University for 23 years before coming to Ohio State in 2001.

TV: ABC will televise the game. Mike Patrick (play-by-play) and Craig James (analyst) will have the call in the booth with Ray Bentley on the sidelines.

Radio: WBNS (97.1 FM The Fan) is the flagship station for the 73-station Ohio State radio network.Paul Keels will call the play-by-play with former Buckeye Jim Lachey in the booth and Marty Bannister on the sidelines. The game can also be heard on Sirius satellite radio 121 and XM 141.
MINNESOTA AT A GLANCE
• The Gophers enter Saturday's game 1-7 and 0-4 in the Big Ten. Minnesota is coming off a 33-21 loss to Penn State last week in Minneapolis. In that game Gophers' QB Adam Weber became the fifth Big Ten quarterback to reach 10,000 career yards. Weber also holds the Minnesota record with 69 career touchdown passes.

In the loss to Penn State, Weber tossed three touchdown passes to Da'Jon McKnight and finishing 26-of-49 for 299 yards. Running back DeLeon Eskridge rushed 26 times for 111 yards in the loss. Weber is fourth in the Big Ten with 245.1 yards passing per game while McKnight is sixth in the Big Ten with 67.8 yards per game.

THE OSU SERIES
• No other Big Ten opponent has given the Gophers more trouble than Ohio State throughout the years. The Buckeyes have won the last seven meetings by an average margin of nearly 23 points. Prior to Minnesota's win in 2000, Ohio State had run off 16 consecutive victories against the Gophers.

QUICK HITTERS
• Minnesota is 7-42 in its history vs. Ohio State, worst of any Big Ten opponent.

• Minnesota is listed as a four-touchdown underdog against the Buckeyes.

• Minnesota is tied for No. 3 in the Big Ten and tied for No. 15 in the nation in red zone scoring percentage. The Gophers come away with points 90 percent of the time (19-of-21) in the red zone.

• Minnesota is only allowing 1.13 sacks per game, ranking No. 26 in the nation.

• Despite a school record time of possession of 45:34 in the season -opener, the Gophers have slipped to No. 2 in the Big Ten in average possession time after ranking No. 1 through the first six weeks.

• Adam Weber became just the fifth Big Ten signal-caller to pass for 10,000 career yards last week.

• In three games against Ohio State, Adam Weber has thrown two touchdowns and five interceptions.

• Co-offensive coordinator Jeff Horton was named interim head coach for the remainder of the 2010 season, effective Oct. 17. Prior to coming to the Gophers, he had four seasons coaching in the NFL and has 22 years in collegiate coaching, including six years as a head coach.

• Minnesota Players Recruited By Ohio State: WR MarQueis Gray, LB Brendan Beal, DE Ra'shede Hageman. Gray was recruited as a QB but chose Minnesota as Ohio State was also recruiting Terrelle Pryor. Beal originally signed with Florida, but transferred to Minnesota. Hageman was recruited by Ohio State as a TE and signed with Minnesota.

• The Minnesota roster used to be stocked with Ohio recruits under former coach Glen Mason, who played at Ohio State. Now there are just four native Buckeyes.

• Playing on the road, at night, on the eve of Halloween, TCF Bank Stadium will be more hostile than the rest of the year.

DID YOU KNOW?
• Ohio State had new towers installed for videotaping outdoor football practices during a $5.2 million facilities renovation over the summer that are a significant upgrade to a hydraulic scissor lift that fell at Notre Dame on Wednesday, killing a student inside. Buckeyes coach Jim Tressel said that he and his staff, including director of football video Mark Quisenberry, are careful not put anyone at risk.

"Quis is very adamant in our meetings about, 'Are we going in,' 'Are we going out,' 'I'm only putting my tower up 20 feet if we go out' - those kinds of things," Tressel said. "Fortunately, with the towers now, the towers are tested for 100 mph winds, as opposed to having scissors."

Tressel is even checking the wind speed himself. "My iPod or iPad or whatever they call that thing said it was like 16-18 (mph Wednesday)," he said. "I even bring it into staff meetings now and say, 'The winds are out of the south at 15 to 25.'"

(Source: Columbus Dispatch)

Minnesota Gophers
Ohio State Buckeyes
2010 Totals
Category
Nat Rank & Per Game Avg.
Nat Rank & Per Game Avg.
Rush Offense
76 (140.6)
25 (205.4)
Pass Offense
41 (246.1)
43 (244.0)
Pass Eff.
48 (135.25)
12 (161.81)
Tot. Offense
59 (386.8)
20 (449.4)
Scor. Offense
79 (24.4)
6 (40.8)
Rush Defense
101 (194.1)
5 (85.8)
Pass Defense
60 (212.3)
5 (148.8)
Pass Eff. D
118 (162.20)
3 (94.23)
Tot. Defense
90 (406.4)
3 (234.5)
Scor. Defense
100 (31.9)
9 (14.0)
Net Punt
108 (32.9)
105 (33.0)
Punt Ret.
38 (10.0)
70 (7.2)
KO Return
73 (21.1)
9 (26.3)
TO Margin
40 (+0.38)
3 (+1.38)
Sacks
120 (0.38)
104 (1.25)
Sacks Allowed
26 (1.13)
75 (2.25)
Tack/Loss
T87 (5.1)
75 (5.5)



KEY MATCHUP: Ohio State QB Terrelle Pryor vs. Minnesota LBs Mike Rallis, Gary Tinsley and Keanon Cooper. A three-on-one matchup wouldn't seem to be fair, and it may not be -- for the Gophers. Pryor's ability to create big plays outside the pocket and pick up big chunks of yardage on the ground make him a matchup nightmare for a Minnesota defense that has struggled all season.

PLAYERS TO WATCH: Ohio State: QB Terrelle Pryor has fattened his statistics at the expense of sub-.500 teams so far this year and the Gophers are as sub-.500 as the Buckeyes will face. Pryor will likely go up top to WRs DeVier Posey and Dane Sanzenbacher, TE Jake Stoneburner and RB Brandon Saine to set the stage for the Buckeyes to run smallish TB Dan "Boom" Herron between the tackles. Minnesota: WR Da'Jon McKnight has been one of the few bright spots for the Gophers this season. He leads the team with 36 catches for 542 yards (15.1-yard average) and nine TDs, two away from the single-season school record. One of the few Gophers who can measure up physically to the Buckeyes, McKnight has six TDs in the last three games.

(Source: CBS WCCO TV






Ohio State linemen J.B. Shugarts and Mike Adams impress, but seldom at the same time
October 26, 2010 Source: Cleveland Plain Dealer - "Mike Adams and J.B. Shugarts were linked early in their careers, arriving at Ohio State as highly recruited bookend tackles who both saw their freshmen seasons ended in October of 2008 by shoulder injuries. Since then, it hasn't been easy for the friends to stay healthy, on the field and at their best at the same time...

Shugarts and his aggravating foot right foot injury are keeping the juniors from sharing as much success as they expected..."It's extremely frustrating," Shugarts said, "because I really don't get to practice as much as I would like to. So just getting ready for a game is a lot harder. It's more mental than physical, because physically I can't really do a lot just getting ready for the game on Saturday."...Shugarts said the foot hurts most when he really is leaning on it to direct defensive ends in pass protection. "But once it really starts flaring up, it's just everything," Shugarts said...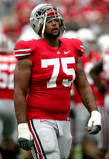 Adams didn't think it would take him this long to find his footing, "but the way things worked out are fine with me and now I'm trying to keep it rolling," he said. Adams said he arrived on campus at 6-foot-7 and 330 pounds and is now 6-8 and about 305 pounds, with offensive line coach Jim Bollman reminding him "the leaner you stay, the longer you play." While he's not quite in the class athletically of Nick Mangold and LeCharles Bentley, the two most athletic linemen Bollman said he has coached at Ohio State, Adams is showing what caught Bollman's eye during his recruitment.

"Michael Adams is a really good athlete," Bollman said. "There's no question he has raised his level. It's just keep going. All these guys have had some really good moments this season and they've all had some moments that are not so good. But I'd like to think they're all improving and heading in the right direction."

Bollman said one of the most difficult things for tall, long-limbed linemen like Adams and Shugarts is to develop the necessary strength early in their career, but for Adams and Shugarts "as they've gotten stronger, they've gotten better..."





Next game: at Minnesota
Where: TCF Bank Stadium, Minneapolis
When: 8 p.m. Saturday TV: ABC (Channel 6)
Radio: WBNS-AM/FM (1460/97.1)

No. 11 Ohio State (7-1, 3-1) at Minnesota (1-7, 0-4): This one could get ugly. Ohio State's offense has carved up weak defenses all season, and Minnesota ranks 90th nationally in yards allowed (406.4 ypg) and 100th in points allowed (31.9 ppg). Quarterback Terrelle Pryor is licking his chops. Minnesota will need a huge performance from quarterback Adam Weber to keep pace against a banged-up Buckeyes defense that rebounded last week.

Source: ESPN



IN CASE YOU MISSED IT: Minnesota, lost at home to Penn State, 33-21. Adam Weber became the fifth Big Ten quarterback to reach 10,000 career yards, throwing three touchdown passes to Da'Jon McKnight and finishing 26 for 49 for 299 yards with one costly interception. DeLeon Eskridge rushed 26 times for 111 yards for the Golden Gophers (1-7, 0-4), who played their first game following the firing of coach Tim Brewster and the takeover by interim replacement Jeff Horton.

Source: Associated Press



It hasn't mattered much where the Gophers have played when the Buckeyes have come to town. Ohio State has won the last 11 games in the Twin Cities and 17 of the last 18. The only loss over that span was a 35-31 decision in 1981. That loss before a crowd of 42,793 marked the next-to-last game at old Memorial Stadium. The Buckeyes were a perfect 11-0 at the airless, lifeless Metrodome.

Source: Associated Press



This week's challenge: Life on the road has been tough for the Buckeyes so far in 2010. There was the wind and rain leading up to the morning kickoff at Illinois, from which they still escaped with a double-digit win. Then there was the sleepover at Wisconsin when the Buckeyes got caught in their pajamas. Here comes another late start at Minnesota, and the heavy underdog Gophers are head coach-less and desperate. So what? It's no-excuses time for the Buckeyes.

What can be said about Minnesota's current plight that wasn't said by its athletic director Joel Maturi when he fired fourth-year coach Tim Brewster on Oct. 17? The Gophers are riding a seven-game losing streak, including 33-21 to Penn State on Saturday under interim coach Jeff Horton. The Gophers are ninth in the Big Ten in scoring offense (24.38) and 11th in scoring defense (31.88).

Source: Columbus Dispatch







Injury update: OSU coach Jim Tressel said today Bryant will be out at least six weeks, and Ronnie Bryant said his son is aiming to return for Ohio State's bowl game. Bryant said the bacterical infection, known as cellulitis, began in midweek before the Buckeyes played at Wisconsin, but Christian Bryant believed he could play through it. After the Wisconsin game it got much worse, which led to the surgery and more than a week in the hospital. (10/28/10: DB Christian Bryant is finally out of the hospital, after spending more than a week there and having surgery to clean out an infected foot. Tressel said earlier this week that Bryant will be out through the rest of the regular season.)

Tressel said the Buckeyes also will be without starting linebacker Ross Homan again this week against Minnesota. He sat out last week with a foot injury. Tressel said Homan is just starting to run again after only running in a pool last week. "I don't think there will be any way that he would be ready for this weekend," Tressel said. ( 10/28/10: LB Ross Homan will make the trip, even though he's not expected to play because of a foot injury.)

The news about redshirt freshman defensive back Corey Brown was as bad as Tressel expected. Brown was carted off with a left knee injury against Purdue, and Tressel said Brown is not only done for the season but will be out during spring football in April as well.

Tressel said starting right tackle J.B. Shugarts will continue to play through his right foot injury, and the Buckeyes won't plan to give him a rest this week. Tressel said Ohio State hoped on Saturday to get 25 plays out of Shugarts, but instead he was able to get through 39 snaps before he was forced to the sideline and replaced by freshman Andrew Norwell. Tressel said Shugarts played well when he was in there, though he did have poor technique on one play when Purdue defensive end Ryan Kerrigan beat him for a sack. (10/28/10: Tressel said, "J.B. Shugarts, we'll see how he works today as to how much he goes. I'm guessing it will probably be similar to last week; we'll have to see how it flows through the game.")

Foot injury shortens Shugarts' playing time: An offensive lineman with a sore foot is like a semi truck with a nail in a tire - eventually, they have to pull over. And you don't want to be stuck behind either one. So it goes for J.B. Shugarts, Ohio State's starting right tackle. Since the end of last season, he has fought an apparently chronic condition in his right foot, which causes him first to hobble, then leave games early. He describes it vaguely, as a "minor injury" and something that is "in my toe and the top part of my foot."...Tressel once referred to it as "inflammation," but other times he simply shrugs and says, "He's got bad feet." That can be a problem for running backs and quarterbacks, obviously, if they're ineffective. Shugarts has been mostly self-policing, coming out of the game when the pain is too much to bear. Last week against Purdue, he left earlier than ever - with 9:10 to go in the second quarter.

"It's tough when you have to redirect and plant on it a lot," Shugarts said. "In the run game, it's really not that bad, moving forward. It was just hard in the passing game." Rest helps the foot feel better, but it's impossible to get enough during the week to make a significant improvement. It's a particularly tough injury for a lineman to have.

"It's why they call it football - it's about your feet," former Ohio State lineman Jim Lachey said. "Anybody who's got to push somebody knows the importance of having a good base, of having your feet in the ground. You can't push people if your feet are up in the air. "It makes it kind of tough to go out there."

But Shugarts soldiers on. He said he has not considered surgery at this point. Instead, he has been working with specialists and tried out several types of shoe inserts. He'll try another version this week. And yes, he will start Saturday at Minnesota - despite the fact that Ohio State is a 25-point favorite and has a bye next week. Sitting out the Gophers' game would give Shugarts a two-week break..."

Source: Columbus Dispatch 10/29/10



Backup linebacker Dorian Bell continues to be sidelined after a concussion suffered against Indiana and is expected to miss his third straight game.

Source: Cleveland Plain Dealer

(10/2810: LB Dorian Bell has actually had two concussions this year, which is why they are being so conservative with his return.)





Big Ten Football: Ohio State will not feel for Minnesota
October 29, 2010 Source: College Sports Matchups - "...Expect Ohio State football to have no mercy on struggling Minnesota football team. With three tough games scheduled for the end of the season, Ohio State gets a final chance to load up against one of the Big Ten's bottom feeders. With Penn State, Iowa and Michigan looming, the Buckeyes can use a dose of Minnesota. No. 10 Ohio State (7-1, 3-1 Big Ten) rebounded from its tumble against Wisconsin with a 49-0 rout of Purdue last week. Now the Buckeyes play a Minnesota team (1-7, 0-4) that has lost seven consecutive games and had its coach dismissed two weeks ago. This one could get ugly, given Ohio State's plentiful offensive options...Minnesota played with more intensity last week under interim coach Jeff Horton in a 33-21 loss to Penn State...Ohio State's defense allows only 14 points per game, a number inflated by the 31 points allowed in the loss to Wisconsin. Opponents average just 2.8 yards per rush against the Buckeyes, with Brian Rolle leading the way with 41 tackles, one sack and two interceptions..."




Preview: Ohio State at Minnesota
October 29, 2010 Source: Eleven Warriors - "...Offensively, the Gophers will attempt to throw the ball against the banged-up Buckeye secondary. Senior quarterback Adam Weber (#8), once thought to be a sure-fire NFL draft selection, has struggled a bit this year, posting decent numbers due to the need to pass while behind, but not delivering the consistency most fans thought they'd get...The Gopher line does a good job of protecting Weber and the team is solid if not spectacular in the red zone, holding onto the football, and converting third downs, so the offense will provide a challenge at times for the Buckeye defense...Jim Tressel attempted to downplay it earlier in the week, but the Buckeyes have played two road games this season and haven't looked all that hot in either of them (though the Illinois game looks better with each passing week). With a big road game in Iowa City coming up, it's imperative the Bucks get some traction in hostile environments...The secondary, the MASH unit that it is, will be tested this week, but should be up to the task. Chekwa and Torrence should be able to hold McKnight and Gray in check, while Gant and Johnson showed enough last week to ease some concerns heading into Saturday's matchup...Is this the mother of all trap games? A night game in a newish stadium, with a Gopher squad playing with nothing to lose? Don't count on it. ...PREDICTION: Ohio State 41, Minnesota 10..."




Preview: Ohio State vs. Minnesota
October 27, 2010 Source: The Buckeye Battle Cry - "...Minnesota doesn't present much of a challenge on paper. They come into the game with a 1-7 record and minus a head coach. Their losses include some embarrassing ones, particularly the one they dropped at home against South Dakota. All signs point to a cake walk for the Buckeyes, but the game is at night and on the road, which could be a dangerous thing, especially if Ohio State comes out flat. When a team like Minnesota has nothing to lose and pulls out all of the stops, that can be very dangerous to a heavy favorite, particularly when the heavy favorite is on the road. For this reason, gaining momentum and keeping it will be important if the Buckeyes want to walk away with an easy victory...Ohio State was able to establish a nice mix of successful run and pass plays against Purdue, and until the Buckeyes took their foot of the pedal, they looked unstoppable (over 400 yards of offense in the first half?). Obviously it would be nice to continue to have a well balanced offensive attack that seems unstoppable. Against Minnesota, there isn't an excuse not to.Run or pass, it starts up front. If the offensive line is able to come on strong like they did at the end of last season, Ohio State will be in great shape..."




Ohio State vs. Minnesota Preview
October 29, 2010 Source: The Ozone - "...Minnesota's offense—in theory—isn't much different than Ohio State's. They will go with multiple sets, and will fluctuate back and forth from the shotgun look to the I-formation without hesitation...The Buckeyes will give multiple looks on defense simply because they won't be able to stay with a base or a nickel package until the Gophers are turned one-dimensional...Place-kicker Eric Ellestad has only made seven of his eleven field goal attempts this season, and has also missed an extra point attempt. He only has two touchbacks on his 29 kickoffs, so the Buckeyes will definitely have an opportunity or two to make a nice return...Minnesota is 118th in the nation in pass efficiency defense with a 162.2 rating, so Pryor should feel right at home. To further hinder the Gopher defense, they are last in the nation in sacks with just three, two fewer than the next worst teams (Duke, New Mexico)..."




2010 Minnesota Golden Gophers Game Preview
October 20, 2010 Source: Buckeye Planet - "...Enter yet another team on the Buckeye schedule that utilizes their TE in the passing game. Lair is 3rd on the team in receptions (29), yards (407), and TDs (2), and he has been a steady contributor throughout. He has played in 30 career games so he knows the system well, though he entered the season with one career catch...The numbers for the Gopher offense are relatively pedestrian, and stand to get worse during a brutal back end of the schedule that includes Ohio State, followed by road trips to Michigan State and Illinois and a final game with Iowa. There really aren't a lot of players, or perhaps any players, on the Gopher roster that defensive coordinators have to specifically figure out a way to stop...Defensive Line: ...Minnesota fields a bulky front, though one which is not especially quick. As a result, teams have run for nearly 200 yards a game against them. While it may be difficult to run inside the tackles, a speedy back should have relatively less difficulty getting to the edge and exploiting the speed disadvantage...With as easily as teams have moved the ball on the ground against the Gophers, it's hard to know if the slight improvement over last year's pass defense numbers represents an actual improvement or if the secondary really hasn't been tested all that much. The more teams run on the Gophers, the more likely it is that receivers find openings as the secondary moves up in run support..."




Ohio State Football: Buckeyes "Gopher" Victory Over Minnesota
October 28, 2010 Source: The Bleacher Report - "...This might be the game where RB Daniel "Boom" Herron finally cracks the 100 yard game threshold...Intangibles: Here is the area where Minnesota will have the decided edge over Ohio State. Minnesota has nothing to lose with its head coach already fired and its season over within a few weeks. Why not try anything and everything to ruin Ohio State's season? The game will not kickoff until 8pm EST, so the Minnesota fans will have plenty of time to enjoy themselves on what should be a chilly but beautiful evening in TCF Bank Stadium...Ohio State knows it needs to keep winning in order to have any chance of another Big Ten title. Minnesota may be a wounded animal, but Ohio State has too much talent on both sides of the ball. Ohio State will try to run the ball, and get into their bye week intent on getting healthy for the Penn State game in two weeks. Ohio State 42, Minnesota 14..."




Weekend Forecast: Ohio State at Minnesota
October 29, 2010 Source: The Bleacher Report - "Predictions for OhioState & other national matchups...Kevin Noon: Ohio State should be able to do whatever it wants to in this game. Minnesota will have much more of a passing game than Purdue did last week but the running game could be the same, non-existent. The Buckeyes will have to do it without several players once again but the injuries have become the norm this season and this is a week where Ohio State should be able to rest the starters in the third quarter and beyond. Ohio State needs to work on pounding the ball a little bit more going into the off week and getting ready for that final stretch of three games. I feel that Ohio State will be able to impose its will however it wants to and will call off the dogs early. Ohio State 45 Minnesota 10

Ari Wasserman: During the summer Kevin, Andy, and I got together at a coffee shop to throw around some ideas for stories. At that time, I specifically remember Andy saying he felt as if this was a game to watch out for if you're Ohio State. It is on the road, it is in a new venue, and it is Halloween weekend. While he had a point then, the firing of their head coach and seven losses in a row later, and I just can't see this being anything but a blowout. Ohio State wins big. Ohio State 48 Minnesota 10

McLachlan: The Buckeyes continue their "Taking out my Frustrations" tour with the Gophers. It is clear that it cannot get much worse for Minnesota as they have one win on the season and are constantly in the rumor mill, regarding who will be their next head coach. You really cannot ask for a better opponent this week as the Buckeyes continue to work out the kinks and get healthier for the last stretch of the season. Folks can enjoy their Halloween festivities, as this one will be over by halftime. Ohio State 52 Minnesota 7... "




Ohio State (7-1) at Minnesota (1-7)
October 27, 2010 Source: College Football News - "...Why Minnesota Might Win: The Minnesota passing game should be able to work a little bit, even though the OSU secondary is allowing a Big Ten best 149 yards per game. The Buckeye pass rush has been non-existent at times with just ten sacks on the year, and Adam Weber has to take advantage of the time. He threw for 299 yards and three touchdowns last week against Penn State and has thrown for 200 yards or more in every game since the opener except one, throwing for 194 yards against Northwestern. However, the Gophers won when he had his lowest output of the year, throwing for 150 yards against Middle Tennessee...What Will Happen: Minnesota will show up for about a quarter, and then the Gopher defense will be the Gopher defense and it'll give up several big plays. OSU will pull away in the second half including a defensive touchdown and a big kick return. CFN Prediction: Ohio State 41 … Minnesota 17..."





Minnesota Official Site

Game Notes - Ohio State
2010 Minnesota Statistics
2010 Football Roster
Jeff Horton , Interim Head Coach
Ass't Coaches
Source: Minnesota Official Site





Marcus R. Fuller's 5 keys to today's Gophers-Ohio State football game
October 30, 2010 Source: TwinCities.com - "...2. PICK PRYOR: Limiting Pryor's effectiveness through the air has been a secret to beating the Buckeyes the past three seasons. In Ohio State's five losses since 2008, Pryor has thrown one touchdown pass and five interceptions. 3. ATTACK MODE: Gophers interim coach Jeff Horton said the only way his team can compete against the Buckeyes is to attack from the outset. Thomas Hammock, the co-offensive coordinator and running backs coach, was more aggressive calling plays against Penn State, throwing the ball downfield to McKnight (three touchdown catches). The Gophers had 433 total yards in last week's 33-21 loss. 4. SPECIAL TEAMS: Ohio State gave up a 97-yard kickoff return for a touchdown to Wisconsin's David Gilreath on the first drive of the game. Gophers junior Troy Stoudermire was chasing Gilreath for the Big Ten career record for kickoff return yards, but he hasn't returned a kick in two games. Stoudermire, Minnesota's all-time leader in kick return yards, is now a starting cornerback. 5. LIMIT MISTAKES: The second quarter was costly for the Gophers last week. Weber threw the interception that led to a Penn State touchdown. But before that, the Nittany Lions had a touchdown drive after Minnesota committed three defensive penalties. Two of the penalties, for pass interference, came inside the red zone..."




Gameday: Gophers vs. No. 10 Ohio State
October 30, 2010 Source: Minneapolis Star Tribune - "...GOPHERS OFFENSE VS. OHIO STATE DEFENSE: DeLeon Eskridge ran for 111 yards against Penn State last week, but the Buckeyes have allowed only one tailback to reach triple digits in their past 30 games and lead the Big Ten (and are fifth nationally) in rushing defense...GOPHERS DEFENSE VS. OHIO STATE OFFENSE: Nothing has given the Gophers defense more trouble this year than quarterbacks who can run -- and Terrelle Pryor is better than any that they have faced...SPECIAL TEAMS: They don't punt much, so the Buckeyes aren't particularly good at it, ranking 10th in the Big Ten, and kicker Devin Barclay has no field goals longer than 42 yards...INTANGIBLES: The Gophers are playing out the string while waiting for a new coach, while the Buckeyes have motivation to put up attention-grabbing numbers like last week's 49-0 victory over Purdue. A loud, rowdy crowd might help, but TCF Bank Stadium had a huge number of no-shows last week...PREDICTION: A Gophers victory would be the upset of the year in college football, and one of the biggest in school history...If it happens, it will be because the Gophers had their best running game of the season, held the ball for long, 14-play drives and forced turnovers. Far more likely? Something like: Ohio State 52, Gophers 21..."




"The big thing is, when you play an Ohio State team, you have to be in attack mode. You've got to go right at 'em, right from the start. I think if you sit back and wait for something to happen -- sit back, hope they make a mistake - you've got no chance. Whether it's the kicking game, offense, defense, we've got to come out and try to attack them right from the very start. You've got to start throwing punches or the results won't be good." - Jeff Horton, Minnesota Interim Head Coach, on playing Ohio State.

Gopher's Head Coach Jeff Horton on Ohio State
10/26/10 Source: Minnesota Official Site

Gopher's QB Adam Weber on Ohio State
10/26/10 Source: Minnesota Official Site

Ohio State (7-1) at Minnesota (1-7) at
| | |
| --- | --- |
| | |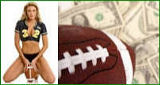 Ohio State
5-1 ATS in their last 6 games after scoring more than 40 points in their previous game.
5-1 ATS in their last 6 games as a favorite of 10.5 or greater.
14-3 ATS in their last 17 games after allowing less than 20 points in their previous game.
4-1 ATS vs. a team with a losing record.
8-2 ATS in their last 10 games following a SU win of more than 20 points.
17-5 ATS in their last 22 games as a road favorite.
13-4 ATS in their last 17 games following a ATS win.
9-3 ATS in their last 12 games after allowing less than 100 yards rushing in their previous game.
21-7 ATS in their last 28 road games.
6-2 ATS in their last 8 games on fieldturf.
9-3 ATS in their last 12 games after allowing less than 275 total yards in their previous game.
27-11 ATS in their last 38 games after allowing less than 170 yards passing in their previous game.
17-7 ATS in their last 24 games in October.
40-17 ATS in their last 57 games as a favorite.
7-3 ATS in their last 10 games after accumulating more than 280 yards passing in their previous game.
45-20 ATS in their last 65 games overall.
40-18 ATS in their last 58 games after accumulating more than 450 total yards in their previous game.
35-16 ATS in their last 51 conference games.
37-18 ATS in their last 55 games following a S.U. win.
1-4 ATS in their last 5 road games vs. a team with a losing home record.


Minnesota
4-9-3 ATS in their last 16 games as a home underdog.
2-5 ATS in their last 7 games following a S.U. loss.
2-5-1 ATS in their last 8 games as a home underdog of 10.5 or greater.
4-10-1 ATS in their last 15 home games vs. a team with a winning road record.
2-5 ATS in their last 7 games overall.
2-5 ATS in their last 7 games on fieldturf.
1-5 ATS in their last 6 home games.


OU Trends
Ohio State
7-0-2 in Buckeyes last 9 road games.
4-0-2 in Buckeyes last 6 games as a road favorite.
3-0-1 in Buckeyes last 4 games as a road favorite of 10.5 or greater.
5-1-1 in Buckeyes last 7 games after allowing less than 170 yards passing in their previous game.
12-3 in Buckeyes last 15 vs. a team with a losing record.
4-1 in Buckeyes last 5 games after accumulating more than 450 total yards in their previous game.
3-1-1 in Buckeyes last 5 games after allowing less than 20 points in their previous game.
18-6-2 in Buckeyes last 26 games following a SU win of more than 20 points.
6-2-2 in Buckeyes last 10 games in October.
6-2-1 in Buckeyes last 9 games on fieldturf.
3-1-1 in Buckeyes last 5 games following a ATS win.
6-2-1 in Buckeyes last 9 games after accumulating more than 280 yards passing in their previous game.
3-1-1 in Buckeyes last 5 conference games.
11-4-2 in Buckeyes last 17 games following a S.U. win.
5-2-1 in Buckeyes last 8 games overall.
5-2-1 in Buckeyes last 8 games as a favorite.
5-2 in Buckeyes last 7 games as a favorite of 10.5 or greater.
10-4-2 in Buckeyes last 16 games after allowing less than 275 total yards in their previous game.
7-3 in Buckeyes last 10 games after scoring more than 40 points in their previous game.


Minnesota
4-0 in Golden Gophers last 4 games on fieldturf. 18-3 in Golden Gophers last 21 games as a home underdog. 5-1 in Golden Gophers last 6 games in October. 4-1 in Golden Gophers last 5 games overall. 4-1 in Golden Gophers last 5 games following a double-digit loss at home. 4-1 in Golden Gophers last 5 games following a S.U. loss. 11-3 in Golden Gophers last 14 conference games. 21-6 in Golden Gophers last 27 games following a ATS loss. 13-4 in Golden Gophers last 17 home games vs. a team with a winning road record. 9-3 in Golden Gophers last 12 games after accumulating more than 280 yards passing in their previous game. 37-16-1 in Golden Gophers last 54 home games. 13-6 in Golden Gophers last 19 games as an underdog. 43-21-1 in Golden Gophers last 65 vs. a team with a winning record.


Head to Head
Buckeyes are 5-1 ATS in their last 6 meetings in Minnesota.
Buckeyes are 5-2 ATS in their last 7 meetings.
Favorite is 5-2 ATS in their last 7 meetings.

Last 3 Home/Away - Ohio State at Minnesota

Betting Trends for all games on Buckeyes 2010 schedule