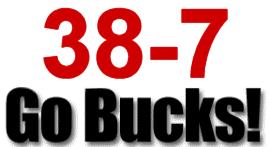 | | |
| --- | --- |
| MINNESOTA vs. OHIO STATE | |

Buckeyes Rebound Against Gophers
Big Ten Network's Katie Witham reports from Columbus following the Buckeyes 38-7 victory.



No. 18/17 Ohio State Routs Minnesota, 38-7
October 24, 2009 Source: OSU Official Site - " Terrelle Pryor threw for 239 yards, rushed for another 104 yards and accounted for three touchdowns to spark Ohio State to a 38-7 win over Minnesota on a dreary but dry - until the fourth quarter - Homecoming Saturday at Ohio Stadium. A crowd of 105,011 was on hand.

Moving forward after two subpar offensive showings, the Buckeyes totaled 509 yards of offense with DeVier Posey (eight catches for 161 yards and two touchdowns) and Jordan Hall (seven carries for 75 yards and a touchdown) providing plenty of support for Pryor. Minnesota (4-4 and 2-2 in the Big Ten Conference) managed just 286 yards against the Ohio State defense..."

Scoring Summary, Team Statistics, Individual Statistics, Drive Chart, Defensive Statistics, Game Participation, Box Score, Play-by-Play
Postgame Quotes From No. 18 Ohio State vs. Minnesota

| | | |
| --- | --- | --- |
| Bucknuts TV: Tressel After Minnesota | | Bucknuts TV: Captains Speak Out, After Minnesota |


IT WAS OVER WHEN: Did it ever begin? The Buckeyes had 38 unanswered points before Minnesota finally got on the board with 4:15 to go.

THE PLAY: Zach Domicone's recovery of Ohio State's second-half kickoff that was muffed by Minnesota's Troy Stoudermire. Three plays later, quarterback Terrelle Pryor scored.

GAMEBALL GOES TO: Tyrelle Pryor. The criticized QB redeemed himself with 3 TDs on 239 passing yards and 104 yards on the ground.

MIKE BREWSTER SAID IT: "After the Purdue game he (Pror) stepped forward and told us the blame should be put on him and that he's working to get better. We just told him that we're all behind him and that we love him and we're always here to support him."

THE STRATEGY: The Ohio State defense got after Minnesota quarterback Adam Weber and wildcat quarterback MarQueis Gray. Gray ran for 81 yards, but the Gophers (286 total yards) scored just seven points.

WHAT WENT RIGHT?: The defense got back to the attacking business. Minnesota's offense had some wrinkles, such as using MarQueis Gray as the running quarterback in what amounted to a Wild-Gopher set from time to time. But it was see the ball, get the ball for the OSU defense, especially after Minnesota's primary threat, receiver Eric Decker, limped off. End Thaddeus Gibson was the flag-bearer for the defense with his three sacks.

THE MISMATCH: Minnesota's offense vs. the Ohio State defense, once the Gophers' main threat, receiver Eric Decker, limped off the field early in the first half. A shutout was blown only by a late Gophers drive.

ZERO HEROES: Ohio State's starting defense held Minnesota scoreless. The Gophers' only touchdown came late in the fourth quarter against Ohio State's second unit.

THE REPERCUSSION: The win furthers Ohio State's run toward a fifth straight Big Ten title. But the win, and a nonconference game Saturday against New Mexico State, won't do much for national status.

THE STAT: 343. Pryor's 343 yards of total offense. He ran for 104 and the touchdown and passed for 239, completing 13 of 25 passes with the two touchdowns to Posey and one interception.

THE STAT II: 5. The number of turnovers in the game. Minnesota had four of them, two inside the Golden Gophers' own 20.

THE STAT III: 166. Ohio State receiver DeVier Posey had eight catches for 166 yards, including touchdown catches of 62 and 57 yards.

THE STAT IV: 104. With 104 yards rushing, sophomore Terrelle Pryor became the fifth Ohio State quarterback to run for more than 1,000 career yards. He began the day with 998. The four other OSU quarterbacks with more than 1,000 career rushing yards: Cornelius Greene (2,066), Rex Kern (1,714), Art Schlichter (1,303) and Troy Smith (1,168).

THE STAT V: 509. Total offensive yards by the Buckeye offense against Minnesota, its second-best offensive performance of the season behind the 522 yards gained against Toledo.

THE STAT VI: 2. The number of interceptions against Minnesota; Coleman and Spitler.

BACK IN THE SACK ATTACK: Gibson had three sacks against Minneota and now leads the team. The junior defensive end had just one sack entering the eighth game of the season, and he trailed team leader Cameron Heyward by two. "I wish I could do it every week," Gibson said. "It's just working hard in practice, then doing your assignment."

COACH TRESSEL SAID IT: "I thought we put some things together, special team unit, offensively and defensively. Everyone picked up their game and we all got a little bit better today. We really have to focus in this coming week so we can keep taking steps."

JERMIL MARTIN, FR RB, SAID IT: "It felt good to score a touchdown. It was a dream come true. It felt great to be able to help the team. I've always had that drive and motivation and it was great to go out and show it today. Terrelle told me good job and that I was finally proving myself." - On his touchdown

WHO'S HOT?: Terrelle Pryor. When a man throws for two touchdowns and more than 200 yards, and runs for more than 100 yards including a TD, that's hot, despite the late first-half interception. At least he didn't turn it over four times, as he did the previous week against Purdue. His two touchdown rainbows to DeVier Posey (eight catches overall) were game-breakers.

WHO'S NOT HOT?: Kicker Aaron Pettrey, at least from short range. It's tough to fault the Big Ten's leading scorer (8.0-point average), a man who has been good on 13 of 17 field-goal attempts. But all four misses have come from 35 yards or closer, including a 30-yarder against Minnesota (he was good on one from 44). Is it possible for a kicker to come down with the yips?

AARON PETTREY SAID IT: "I was pretty mad at myself, but I was more upset about letting the offense down." - on his missed 30-yard field goal; he's now 7-of-7 from 36 yards or more this season and 6-of-10 when closer.

COACH BREWSTER SAID IT: "Our guys were right in the middle of it (at halftime). The first play of the second half was obviously critical. It got away from us in the second half, and it's unfortunate. When you're playing on the road in the Big Ten, turnovers are a recipe for disaster. That was part of our problem today, but not all of it."

LEE CAMPBELL, MINNESOTA SR LB: "We felt like we played our tails off both halves, on offense and defense. It just didn't work out. Credit Ohio State. They played very well. They busted our coverage and made plays when needed. We need to play more sound on offense, defense and special teams and take care of the football." - On the difference between the first and second halves

DRIVE FOR FIVE: Jim Cordle started at LT because Mike Adams was out with a knee injury. That's significant because Cordle, a fifth-year senior, has started at four positions in his career. He spent 2007 as the starting center, then shifted to left guard after three games last season and started nine games there. He began this season as the starter at right tackle before suffering a foot injury. He needs only to start at right guard to complete the cycle. "Next week, 'BB' (starting right guard Bryant Browning) made a deal with me for the first play," Cordle said. "We're going to switch, so I could get all five."

THE $63 QUESTION: The crowd was so thin 15 minutes before kickoff that students could form only a Block "U" in the South Stands. When the stadium finally filled, fans mostly got their money's worth, thanks to a handful of big plays. But the Gophers are barely half a team, so why weren't tickets half-price?

NUMBERS FOR DUMMIES: 270. OSU's 270 rushing yards were a season-high.

NUMBERS FOR DUMMIES II: 9: Times that Tressel mentioned the wind after the game. The new Jym Ganahl?

NUMBERS FOR DUMMIES III: 19-2: Ohio State is 19-2 under coach Jim Tressel in games after a loss. The Buckeyes have had back-to-back losses only once in nine seasons under Tressel, a three-game skid in 2004.

NUMBERS FOR DUMMIES IV: 105,011: Game attendance

NUMBERS FOR DUMMIES V: 64: The Buckeyes are 64-19-5 in homecoming games, a winning percentage of .756.

THE VIEW: How the team sees it: A thorny road, yes, but we can smell the Rose.
How the pollsters will see it: After the first 15 teams, does it really matter?
How Buckeye Nation will see it: We never doubted Pryor for a second -- er, OK, a minute.

TRANSLATING TRESS: What he said: "Shaq's an LSU guy, but he likes us in the Big Ten, I guess." -- referring to O'Neal's comments supportive of Pryor"
What he meant: "Those SEC guys all love the Buckeyes."

BACK TO THE DRAWING BOARD: Against Minnesota, OSU averaged just 3.5 plays on its six scoring possessions (five touchdowns, one field goal). Of course, it helped that in the second half, the defense kept grabbing turnovers, and special-teamer Zach Domicone recovered the muffed kickoff that turned the tide for the Buckeyes. But a 19-play, 78-yard drive in the first quarter ended with Pettrey's missed field-goal attempt, and an eight-play drive before the break was stopped by the interception.

CATCH THAT?: The officials didn't. They penalized the Buckeyes for a push in the back during Kurt Coleman's interception return in the fourth quarter, but they missed Coleman getting tripped intentionally by the flying foot of tackle Jeff Wills.

ONE-LINER: Looking for scapegoat, Minnesota blames Northwest Airlines pilots for keeping bowl hopes up in the air.

AS HEARD IN THE PRESS BOX: Applause from a former Ohio State player, after Pryor scrambled and threw out of bounds instead of to a Minnesota defender.

AS HEARD ON TV: Thank you, Chris Spielman. Without you, the ESPN analysis would have been left to Bob Griese, who was forced to make an awkward apology for his insensitivity, if not his senility. Griese suggested during an off-topic conversation about the NASCAR points race that the reason Colombian driver Juan Pablo Montoya was not in the top five of the standings was because he was "out having a taco."

AS HEARD ON TV II: That wasn't all. Griese also commented on the "wet rain" and said Pryor has been "getting back to what he does best the last three weeks. It just hasn't worked." Huh? And after ESPN aired radio comments critical of the Ohio State offense, Griese defended the coaching staff. Apparently, he thinks Woody is doing a wonderful job.

PREGAME BUZZ: Hawkers could have made a killing by selling WWPD wristbands. What Would Pryor Do? Turns out TP wasn't the savior, but his 239 yards passing (2 TDs) and 104 yards rushing (1 TD) should get critics off his back for another week.

Tweethearts: Fans taking a beating on ESPN broadcast. OSU fans aren't supposed to care after a loss to 1-5 team? What are we -- Indiana?


(Sources: ESPN/Cleveland Plain Dealer/Columbus Dispatch/The Webmaster)



No. 17 Buckeyes happy to win, progress
October 25, 2009 Source: Associated Press - "These are small steps for the Ohio State Buckeyes. At least they're steps going forward, however. The 17th-ranked Buckeyes battered error-prone Minnesota 38-7 on Saturday. It might not have been a work of art, but coming a week after a painful 26-18 setback at Purdue the Buckeyes got exactly what they wanted. They gained some confidence, quieted some critics and kept moving forward.

First, there was good news for the much maligned offense. "We had a 500-yard performance in us and I'm happy we did well," wide receiver Dane Sanzenbacher said. Second, the defense had a strong showing. "For us to shut Minnesota down was a good lift for us after the loss last week," linebacker Brian Rolle said. Third, a lot of players got to play, which will add to the depth coming down the stretch. "It was fun to practice and play," said seldom-used Jermil Martin, who gained 75 yards on just seven carries and scored his first collegiate touchdown. "I never thought I'd be interviewed after the game. That shows that everything can be important."

Maybe the top reclamation project on this Saturday was quarterback Terrelle Pryor. He was lambasted by a growing number of critics after turning the ball over four times at Purdue..."I made a lot of mistakes last week," Pryor said. "Today helped me grow as a quarterback." Pryor hit on 13 of 25 passes for 239 yards with one interception and ran for 104 yards on 15 carries. He threw touchdown passes of 62 and 57 yards to DeVier Posey — both on major gaffes by the Minnesota secondary — and also ran for a 15-yard score. Posey had a career-best 161 yards on eight catches.

...The Buckeyes are feeling a lot better about themselves. "We got better," coach Jim Tressel said. "We need to get considerably better as we move forward, but it was a good step."..."




Offense feels right at home with a faster pace: Ohio State's offense didn't use a ton of hurry-up against Minnesota, but the coaches seemed to listen to what the players were suggesting and threw some in during the second drive of the game, which turned into the Buckeyes' longest of the season. In general, they seemed to play at a quicker tempo, which is a good thing for this young offense. And the hurry-up did its job.

"Just a little change in the tempo," Ohio State offensive coordinator Jim Bollman said. "Sometimes that's helpful. Often times, I think when you mix that up, it's kind of interesting. If you did it all the time, then people are ready to defend you that way. But if you can mix it up and do some hurry-up things and some normal-paced things, and kind of keep people off-balance, I think that can be helpful."

Source: Cleveland Plain Dealer







Game film: Pryor finds redemption, for now
October 25, 2009 Source: Associated Press - Mike Lopresti writes: "He is the quarterback, in a football cauldron named Ohio State no less. This means if he makes too many mistakes, which lead to too many defeats, he might as well be a roast in the oven, there is so much heat. "I can speak for all the quarterbacks in the country," Terrelle Pryor was saying. "It's a hard thing to take sometimes, when you hear your name and people saying you can't do this or that." He was supposed to be unstoppable by this sophomore season, and the Buckeyes with him. Not yet. So what had the week been like, since his four turnovers in the valley of despair at Purdue, and the inevitable talk show storm in Columbus? "I got humbled to the ground."

Things went much better Saturday against Minnesota, and we can only assume LeBron James— also possibly Shaquille O'Neal— were watching. James has become crisis counselor to Pryor, passing along wisdom on what is like to be so young, and have so much expected. Shaq, James' new teammate, has sent support..."Maybe I was swerving over a little bit to the cocky side," he said. "It was good to have resources to get me down to earth." Resources? James? "There's no other role model I'd rather have," he said. Others understood a Buckeye under siege when they saw one. Ohio State Heisman winner Troy Smith had some helpful words Saturday morning. Pryor's teammates lined up behind him like he was the drum major leading Script Ohio. "I could see in their eyes they wanted to play for me," Pryor said, "because I was taking the criticism."..

Coach Jim Tressel didn't mind the heavyweight help from the Cleveland Cavaliers, either. "These guys that are in that celebrity status know when things don't go right," said Tressel, "the celebrity status isn't that much fun."

What's all this have to do with Iowa? The moment of truth for the unbeaten Hawkeyes, 8-0 for the first time in history, may well be Nov. 14 at Ohio State. A shaky Pryor would make the trip infinitely more manageable. So what could be between Iowa and an unbeaten regular season? The healing powers of LeBron James..."







Bucknuts TV: Gibson After Minnesota



Gibson Named Big Ten Co-Defensive Player Of Week: Ohio State junior defensive end Thaddeus Gibson was honored as the Big Ten conference co-defensive player of the week for his outstanding performance in the 38-7 win over Minnesota Saturday at Ohio Stadium. Gibson recorded a career-high three sacks (for -13 yards) in the victory, just one shy of the OSU single-game record and the fifth-best effort in Buckeye history. The native of Euclid, Ohio, also recovered a Gopher fumble and had six tackles in the contest.

(Source: ESPN)





Source: Columbus Dispatch



10 Things We Learned From a Rebound Victory Over Minnesota
October 25, 2009 Source: The Ozone - "10. How much Eric Decker means to the Gopher offense...

9. 9. Jim Tressel might be on to something...

8. Something has to be done about the short kicking game. Aaron Pettrey's struggles in the short kicking game have been a running joke this season, primarily because he is still perfect on kicks over 40 yards...

7. The Buckeyes have another freshman tailback. After watching Jermil Martin run the football today, the only question is 'What took so long?'...

6. They will have some great depth in the backfield if and when they get guys healthy...

5. The OSU corners are still a major question mark. Earlier this year I mentioned that we still didn't know enough about the Ohio State cornerbacks because of the defensive line's ability to pressure the quarterback. Well, we have learned a little bit more about them the last two weeks with Purdue and Minnesota going to the quick passing game to help negate the pass rush. Both the Boilermakers and Gophers went right after the OSU corners with the short passing game, and it's hard to argue with their success. While Chimdi Chekwa seems to have stood up to the test, both Devon Torrence and Andre Amos looked far too soft in coverage as the Gophers were able to complete 15 passes of 19 yards or less.

4. Thad Gibson is a bad man when he gets rolling...

3. The offensive line took a step in the right direction...

2. DeVier Posey is a future star. I stress the word future because in no way am I ready to call DeVier Posey a star just yet...

1. When given time, Pryor can make things happen. We have to be careful not to make wholesale observations about Pryor after any one game (good or bad), but he definitely looked like a different player Saturday than what we saw a week ago. He made smarter decision, showed better mechanics and ran with determination this week, three things he did not do against Wisconsin or Purdue. Let's not mistake the Gophers for the Hawkeyes or Nittany Lions. Pryor will need to continue getting better if he is going to beat those teams in November, but 363 yards of offense is not bad for a quarterback who supposedly needs to move to wide receiver to make an impact. He talked about being more relaxed during the week, and with a little time he was able to show that on the field..."




Five Things: Minnesota
October 26, 2009 Source: Eleven Warriors - "Tempered Enthusiasm: I know you don't want to hear it but I personally can't get too excited – yet – about what we saw from the Buckeyes on Saturday because Minnesota really is that bad...

Terrelle Takes A Step Forward Though he still had a few of his customary frustrating plays, Pryor did show improved throwing mechanics and dropped in a couple very nice throws. I hesitate just a bit on my excitement over some of the lasers he unleashed because it appeared most often the primary read was open and we already know Pryor can make a strong throw if the primary is open and the play keeps its rhythm...

ISO: One Durable Running Back: Before you get upset, this is not about questioning toughness...At this point, I'm wondering if it's just bad luck? Already without Boom Herron, who's building a reputation as an oft-injured running back, the Buckeyes are now once again wondering if they can count on Brandon Saine to stay healthy. After starting slow with 7 carries for 14 yards, Zoom's next 4 carries went for 31 yards...I think we're all excited about what Jordan Hall has shown but if you aren't concerned about the potential lack of a 100% healthy Saine and Herron for Penn State then you are either way too high on Jordan Hall or else you are just way too high on the hippie lettuce...Back to the Minny game, how 'bout Jermil Martin? The big boy from Glenville did his best "poor-man's-Byars" impersonation sporting #41 while rumbling to daylight in a 7 carry, 75 yard, 1 TD performance...

Defense Bounces Back Behind D-Line: Minnesota's offense is a straight up fiasco especially without Decker but it was nice to see the Silver Bullets up front reestablish themselves as the badasses they are. Thaddeus Maximus was in beast mode all day... fellow bookend Nathan Williams added 4 tackles and a sack. On the inside, Worthington stuffed the middle with 5 stops and John Simon added a TFL and forced a fumble with a nifty spin move in pass rush...

Corso and Griese Going Senile Together: Wow. What a day for ESPN talent. Most of you caught Bob Griese's priceless "he's out getting a taco"...In between his comment and apology, Bob struggled at times to put together coherence sentences as Spielman, as usual, controlled the broadcast...Lee Corso also gave us another fine example of his decline as a competent GameDay face when he used the phrase "shot their wad" referring to Arkansas' game effort against Florida last week prompting Herbie to exclaim, "Can you say that on TV?!" as Fowler looked on in horrified delight..."




What we learned in the Big Ten: Week 8: League title race likely down to three: The Big Ten race could have gotten pretty wild had Michigan State and Michigan pulled off upsets on Saturday. But Iowa's win and dominant performances by both Penn State and Ohio State decrease the likelihood that a team with two losses in league play can win the championship. Iowa remains in the driver's seat, though Ohio State can claim its fifth consecutive Big Ten title by winning out. Penn State needs to win out and hope Iowa loses twice in the final four weeks. The two decisive games likely come Nov. 7 (Ohio State at Penn State) and Nov. 14 (Iowa at Ohio State).

(Source: ESPN)



Big Ten helmet stickers: Week 8: Ohio State QB Terrelle Pryor and WR DeVier Posey: The two close friends starred for Ohio State in a much needed blowout win. Pryor and Posey hooked up eight times for 161 yards and two touchdowns. Pryor added 104 rush yards and a touchdown on 15 carries as he overcame a rough week with a big second half against Minnesota.

Ohio State DE Thaddeus Gibson: Minnesota quarterbacks Adam Weber and MarQueis Gray might have nightmares about Gibson after the Buckeyes junior recorded a career high three sacks and a fumble recovery in Saturday's win at Ohio Stadium. Gibson ranked second on the team with six tackles.

(Source: ESPN)








Injuries add up at tailback
October 24, 2009 Source: Minnesota Official Site - "Freshmen Hall, Martin get playing time after Saine knocked out of game. Saine sustained a concussion in the first half. If he must sit out Saturday's non-conference game against New Mexico State, that would mean the Buckeyes would be without their top two backs. Dan Herron is still recuperating from an undisclosed injury that has sidelined him the past two games.

...Jermil Martin ended the Buckeyes' 38-7 win over the Golden Gophers as the primary backup to freshman Jordan Hall, who moved up to No. 1 when starter Brandon Saine left in the second quarter. The Buckeyes had been without Daniel Herron, who was the starter at the beginning of the season, for two straight games. Herron suffered a high ankle sprain in the fourth game against Illinois and aggravated it in the sixth, a win over Wisconsin. Ohio State appears to be in critical condition at running back, with four games remaining.

"It has hurt us not having (Herron, and) we obviously weren't excited about the prospects of playing the second half or whatever without Brandon," coach Jim Tressel said. "Jordan stepped up, which we think Jordan has done well since he's been here, and Jermil did a heck of a job. "Right now if we had a game, it would be Jordan, Jermil and probably (walk-ons) K.C. Christian and Joe Gantz. But you never have enough guys that can tote the ball."..."








In the 4th quarter, with the ball at the Minnesota 39, freshman RB Jermil Martin runs over left guard, shedding multiple Gopher tacklers along the way-which was Keith Byersesque, enroute to a 39 yard touchdown.

Martin's TD scamper was selected as the 'play of the game' because the Buckeyes, with the injuries to Boom Herron and Brandon Saine, are now very thin at running back. Along with Jordan Hall, another frehsman, Martin may have to be counted on down the stretch to provide a 'punch' in the rushing attack. His outstanding performance against Minnesota showed that he carry carry the 'rock' if called upon.

We agree with Brandon Castel's assessment, which he wrote for The Ozone: "After watching Jermil Martin run the football today, the only question is What took so long?."

Jermil's TD was the first of his career. He had a total of 75 yards on 7 carries for a 10.7 average. Before today's game Martin had only one carry for the season.




Thumbs up, Jermil Martin: Martin provided Ohio State's offense with another rushing threat against Minnesota, rushing for 75 yards and a touchdown on seven carries. The fullback-tailback hybrid showcased his strength in breaking several tackles on a 39-yard scoring run.

(Source: ESPN)







Depth crucial to OSU run game
October 24, 2009 Source: Toldeo Blade - "The Buckeyes are finding out the real meaning of "depth chart" as they adjust on the fly to deal with mounting injuries at running back. Ohio State played the second half of yesterday's 38-7 win over Minnesota with two first-year players working at tailback after a possible concussion sidelined junior Brandon Saine.

Saine had been carrying the bulk of the load after an injury to sophomore Dan "Boom" Herron that has forced Herron to miss most of the past three games. Herron, who had been the starter for the first four games of the season, has been battling an ankle sprain. When Saine took a hard shot in the second quarter against the Golden Gophers, true freshman Jordan Hall filled in and scored on an 11-yard touchdown run in the third quarter that allowed the Buckeyes to take a 21-0 lead. Redshirt freshman Jermil Martin played in the fourth quarter, and broke free for a 39-yard touchdown run...

OSU coach Jim Tressel said the Buckeyes need three or four running backs ready to go at all times. "You never have enough tailbacks, because tailbacks take a pounding unlike any other position," Tressel said. "There's multiple people hitting them, running full speed, and they've got to protect the ball while they're getting splattered." With Herron still on the questionable list, Saine likely to miss some time if the injury he suffered is determined to be a concussion, and highly touted freshman Jaamal Berry expected to redshirt after missing more than half of the season with a lingering hamstring injury, Tressel is down to Hall, Martin, and then K.C. Christian and Joe Gantz...

"Obviously we weren't excited about the prospects of playing the second half or whatever without Brandon," Tressel said. "But Jordan stepped up, which we think Jordan has done well since he's been here, and Jermil did a heck of a job."..."




Buckeye Back Talk: Grade the Buckeyes: What grade do you give the Ohio State football team's performance against Minnesota? 16% A, 66% B, 17% C, 1% D

(Source: Cleveland Plain Dealer Online Poll)







Doug Lesmerises' report card for OSU-Minnesota
October 25, 2009 Source: Cleveland Plain Dealer - "A: Ohio State DE Thaddeus Gibson...

B: Ohio State's left tackles...Former starter Mike Adams, who struggled last week, was out of action with an apparent knee injury, and offensive line coach Jim Bollman said there's a chance that Adams could missed extended time. That's why the Buckeyes really needed former starters Jim Cordle and Andy Miller back and close to full-strength...

C: Ohio State's running back depth No offense to freshmen Jordan Hall and Jermil Martin, who each scored their first career touchdowns and combined to rush for 113 yards on 17 carries. But that's not a duo the Buckeyes would like to rely on for their run game...




The Bottom Line
October 18, 2009 Source: Columbus Dispatch - "Offense (1 leaf): Rumor has it the playbook includes something called "3 and Out." The Buckeyes ran it on seven of their 15 possessions -- not counting "drives" of 0, 1 and 2 plays. The panic attack in the third quarter was unbecoming of a (formerly) top-10 team. A leaf for showing fight in the fourth.

Defense (2 leaves): The marauders couldn't save the day again. When not compromised by the offense, they were neutered by Purdue quarterback Joey Elliott's three-step drops and quick releases. They sacked him once in 58 pass-run situations, hurried him rarely and surrendered 17 points in the second half.

Special teams (1 leaf): Although it wasn't the most important play in this football game, Small's fumbled punt didn't help. Neither did Lamaar Thomas' muff of a kickoff after Purdue went up 23-7 or Purdue's kickoff return to near midfield after OSU cut its deficit to 23-10. Not a special day in any way.

Coaching (1 leaf): Can't fault the bosses for five turnovers. Can fault them for an offense that looks lost, and one that lost its composure in the third quarter as the deficit mounted. Focus and discipline are lacking when passes are thrown up for grabs and false starts begin drives in reverse.

Opponent (3 leaves): With one exception, Purdue avoided turnovers in the second half, something it had not done in previous games, and bagged its first win over a top-10 Ohio State team since 1984. It was the first time this season the Boilermakers won the turnover margin.

Officiating (4 leaves):A quick whistle on an apparent Purdue fumble late in the first quarter is the only quibble with a crew that largely stayed out of the way while the Buckeyes did themselves in. The call let the Boilers prolong a drive that ultimately produced a field goal..."




Ohio State: Report Card
October 258, 2009 Source: Newark Advocate - "OFFENSIVE LINE: A...RUNNING GAME: A: Admitting Brandon Saine didn't get enough touches against Purdue, coach Jim Tressel did a better job putting the ball in his tailback's hands. He had 11 carries for 45 yards before he left with a possible concussion. Saine replacement Jordan Hall burst through a huge hole for an 11-yard score and Hall's backup, Jermil Martin, had a 39-yard touchdown...PASSING GAME: B...DEFENSIVE LINE: A...LINEBACKERS: A: Austin Spitler didn't play much in OSU's nickel deployment, but he did have one of the Buckeyes' two interceptions. Brian Rolle was relatively quiet (for him), making four tackles. Ross Homan had a team-leading eight stops. Until driving 78 yards on seven plays against the backups at the end of the game, Minnesota's longest drive was 37 yards.,,DEFENSIVE BACKS: A...SPECIAL TEAMS: C...COACHING: C It wasn't a great test, but the defense appears ready for November. Nobody really doubted it. But there's still no reason for the offensive staff to be giving itself back pats. Not when it was 7-0 at halftime. Not when 21 points were the result of a busted coverage and drives of 31 and 22 yards. But just about anything would have been an improvement over last week..."




Herbstreit rips Pryor a new one
October 24, 2009 Source: College Football Talk - "Former Ohio State quarterback and current ESPN college football analyst Kirk Herbstreit currently resides in Columbus and even has a regular radio gig in the heart of Buckeye Nation. After his scorched-earth diatribe against the Buckeyes's current starting quarterback on College GameDay this morning, a change of address -- or the witness protection program -- may be in the offing for Herbie...

After fellow analyst Desmond Howard got the discussion started by saying he believed Pryor and the Buckeyes would get things back on track, Herbstreit hit the "FIRE!" button and launched his verbal assault.

"It remains to be seen if I think they can get it back on track," Herbstreit said in a grouping of words that turned out to be the kindest, gentlest thing he had to say. "I think there are bigger issues here than just Terrelle Pryor had a bad game against Purdue.

"The thing that I see, is, Terrelle Pryor came in with all the attention and all the hype and all of the athletic ability, and you don't see him progressing to become a complete 'quarterback'. Knowing down and distance, knowing about the play clock, knowing what hash you're on. Being able to read defenses, being able to just grow and develop as a quarterback..."





Losing Decker to a foot injury adds to Gophers' pain
October 24, 2009 Source: St. Paul Pioneer Press - "The last time the University of Minnesota football team had to play without Eric Decker, it lost five straight games to end the 2008 season. Bad news for the Gophers: Decker is hurt again. The Big Ten's leading receiver left Saturday's 38-7 loss at Ohio State in the first quarter with a left foot sprain. After being taken to the locker room in the first half, he put on a protective boot and didn't return. "It's a tough loss; he gives our team inspiration," said Gophers coach Tim Brewster, who didn't know if Decker would miss this week's game against Michigan State. "He's a good football player, but you know what, next man up."..."




Turnovers Sting Gophers In 38-7 Loss At Ohio State
October 24, 2009 Source: Minnesota Official Site - "Minnesota was unable to overcome four turnovers this afternoon in a 38-7 loss to Ohio State this afternoon in Columbus, Ohio. The loss drops Minnesota to 4-4 (2-3 Big Ten) entering a Halloween night battle with Michigan State next Saturday. Ohio State improves to 6-2 (4-1 Big Ten).

The Gophers were undone by three second half turnovers that were converted into 21 Buckeye points. Terrelle Pryor threw two touchdowns to DeVier Posey and ran for another to lead the Buckeyes. The Gophers were forced to play without star wide receiver Eric Decker for the final three quarters after he aggravated an ankle injury late in the first quarter. Decker had three catches early in the first quarter..."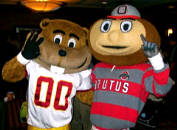 Up next: Minnesota (4-3, 2-2), which ran into a snowbank at Penn State on Saturday, losing 20-0. That means the Gophers are 4-24 vs. ranked opponents since the start of the 2000 season. But Ohio State had won 16 straight Big Ten road games before the loss at Purdue. Minnesota, which beat Purdue 35-20 the week before, will enter with a passing combo of Adam Weber to Eric Decker that is as tough to stop as any in the Big Ten.

This week's challenge: Since winning its first two this season, Minnesota has lost every other game. The Gophers lost on Saturday, so Ohio State has no reason to take anything for granted, especially with an inconsistent offense that comes to play only about once every four series.

Key Matchup: Ohio State offense vs. Minnesota defense. The Buckeyes and Pryor have been erratic all season — scoring on a five-play, 80-yard drive in less than a minute, then going two quarters without a first down. Golden Gophers giving up 23 points a game, so more than 105,000 sets of eyes will be on whether an offense that turned it over five times last week can stop shooting itself in the foot. (Below: Gophers sorry mascot mocked PSU player prayer)



Will Buckeyes bounce back?
October 24, 2009 Source: Columbus Dispatch - "First big upset in five years makes winning out to take Big Ten title a more daunting challenge...When Ohio State was upset by Purdue last week, the rest of the season suddenly became much more intriguing, starting with a game today in Ohio Stadium against Minnesota. The Buckeyes can still play in the Rose Bowl if they win the rest of their games. They play conference leader Iowa and Penn State, and they would win the tiebreaker of better overall record over Michigan State, which isn't on their schedule. But considering how badly the Buckeyes played last week, including five turnovers, winning out is looking less likely. If OSU can lose to 1-5 Purdue, it can certainly lose to 4-3 Minnesota.

"The destiny is in our hands," senior defensive tackle Todd Denlinger said. "The Big Ten is still within reach. It's just a matter of us seniors kind of relaying that message to the rest of the team and going from there. "Every team I've been on has gathered around each other and built upon a loss."

...But now the questions must be asked: Is attitude enough? Is Ohio State's shattered offense capable of picking up the pieces in a week? Last week, the offensive line played poorly, allowing quick pressure on quarterback Terrelle Pryor. He was sacked five times and turned the ball over four times, on two fumbles and two interceptions. The Buckeyes are 91st in the nation in total offense and 101st in passing offense.

This week, Pryor said the loss might have been the best thing to happen to the Buckeyes and to him. He said he feels more relaxed and unburdened, and he spoke of fighting back and salvaging the season. "We owe our seniors a lot, and we're going to fight for them," Pryor said. "The national championship is gone, but the Big Ten (title) is here. We can't put our heads down." Is this a turning point in Ohio State's season, or just talk? The proof will come on the field today..."



Bob Hunter commentary: Don't sweat the analysis; games will reveal truth
October 24, 2009 Source: Columbus Dispatch - "The other day I happened upon two Ohio State football beat writers in a campus parking lot arguing over whether Terrelle Pryor had changed as much as he says he has. ...So how have the players responded to that distressing loss to the Boilermakers? Has the new Pryor, now worry-free, put two subpar games in the past? Will the offensive line block this time? "Unfortunately, the only way you can really evaluate that," Tressel said, "is how well you do on the subsequent Saturday." In other words, fortune-telling is for fools.




Five Key Factors
October 23, 2009 Source: Columbus Dispatch - "1) PRESSURE COOKER: It's the old standby: affect the quarterback. But it's highlighted this week because Ohio State's Terrelle Pryor has been making such poor decisions under duress lately. Minnesota should take a page from Wisconsin and Purdue, not necessarily by blitzing all the time, but by using stunts and twists to confuse what looks like an easily confused OSU offensive front. The sack total isn't as important as forcing Pryor to make a quick decision.

2) RUN AGAIN: In the past two weeks, OSU's rushing yards per game has slipped from 188 to 157. Last week, tailback Brandon Saine had 36 yards on his first four carries, then got the ball only three more times. To relieve the pressure on Pryor, it's imperative to establish an effective running game. Minnesota is vulnerable, too, ranking 87th nationally in run defense. Wisconsin racked up 295 yards against the Gophers a few weeks ago.

3) DOUBLE DECKER: Unlike Purdue, which featured a multitude of receivers spread across the field, Minnesota is almost a one-man show: Eric Decker. Of the Gophers' 25 plays of 20 yards or longer, Decker has 16 of them. This makes it much easier to figure out a coverage scheme. The Buckeyes have capable cornerbacks in Chimdi Chekwa and Devon Torrence. Assign one of them -- plus a safety or linebacker -- to shadow Decker all game long.

4) FIRST THINGS FIRST: One reason Ohio State fell behind last week was its ineptitude in starting drives. Midway through the second quarter, the Buckeyes led 7-6. But they started their next six possessions horribly, with false starts, fumbled pitches and runs that lost yardage. By that time, they trailed 23-7. The offense is struggling enough as it is, so OSU must find a way to at least start its possessions with a positive play. Even a simple 4-yard run would suffice.

5) SOLID START: Like pressuring the quarterback, this is another frequent key. For the Buckeyes, though, it's critical this week. The loss to Purdue, and how poorly Pryor played, has the town in an ugly mood. A quick three-and-out or early turnover could draw some boos. And the Buckeyes need more than just a fast start, too; they need to jump on top and keep jumping to settle their nerves -- and the fans' stomachs.

On the edge: See if you agree with our experts: Dispatch beat writers Ken Gordon and Tim May predict which team has the edge in this week's game. See if you agree. "When the Buckeyes Run...When the Buckeyes Pass: Minnesota is only average in pass defense, ranking sixth in the Big Ten in pass-defense efficiency, allowing a 61.8 percent completion rate and nabbing just five interceptions. But OSU has had its problems because of poor pass protection and Pryor's questionable decisions. The Buckeyes are 101st nationally in passing offense. DeVier Posey (30 catches) clearly is the top target...When the Gophers Run...When the Gophers Pass...On Special Teams...Intangibles, other factors





NO PRESSURE: All year long, Ohio State's D-line had made a name for itself by harassing quarterbacks. Then, against Purdue, pfft. Nothing. Joey Elliott used quick passes to keep the line on its heels, but even when the routes were longer and more time-consuming he was able to buy time by rolling out. By and large, the Buckeyes put very little heat on him. Rest assured they're trying to change that before playing Minnesota and QB Adam Weber. "It was a great offense, very capable," DL Doug Worthington said. "They made some big plays and we didn't. We watched the film a couple of times to try to make sure that doesn't happen again. ... It was just one of those games."

(Source: Associated Press)







Ohio State's offensive struggles aren't a shock, but here are a few suggestions
October 24, 2009 Source: Cleveland Plain Dealer - "Ohio State's offense is all anyone has talked about this week. I've practically forgotten about the defense or the next opponent. So to summarize that - Ohio State's defense wasn't great last week either, and Minnesota is average, did beat Purdue, but might be worse than its 4-3 record. Back to the offense: The offensive line played poorly last week, especially in the first half... The other thing that can help a struggling line, especially one fearing the blitz, is getting the running game going...

The more I watched the Purdue game, the fewer problems I had with the playcalling. First, the failures of the offensive line limited what could work. Second, there were some nice playcalls that were just blown...Three ideas though. One, less option. I think 12 called runs for Pryor, which is what he had last week, is about right...Two, and this isn't new, more intermediate passes. This is almost a plea on behalf of the fans. But passes over the middle to receivers and the tight end seem to work when they're tried, and they aren't tried nearly enough...Three, move the pocket more with Pryor when he throws. The guy's footwork is inconsistent at best. But when he's on the move he sometimes looks much more loose, and his footwork isn't as much of a concern...

In the end, these players have to get better, which is obviously a coaching issue as much as anything else. But when the coaching staff doesn't trust the offensive players, that limits what they can do even more, and as a result they look even more conservative..."



Players on Ohio State's offense eager to pick up the pace
October 24, 2009 Source: Cleveland Plain Dealer - "Ohio State's offensive players want to feel like they're on the attack. When they get in their hurry-up offense, they feel that way. In the last two games against Wisconsin and Purdue, while the offense stagnated at other times, it clicked when the clock or the score forced the Buckeyes to huddle less and push it more..."It was weird how that worked out," OSU junior receiver Dane Sanzenbacher said. "When there was that tempo and everybody was trying to get the ball down the field is when we were able to move it. So I think it would be helpful to do that. I feel once you start at that tempo, you feel like you're catching the defense off-guard, and once you get up and get in that rhythm, it just feels to me like you can move the ball."...

So there's a tactical point to it, especially for an offense that uses multiple formations and has a dual-threat quarterback. As all the Buckeyes look to the sideline for their next play instead of fully huddling, a defense has a lot to quickly prepare for. But the mental edge may be more important to an Ohio State team coming off a loss and with five sophomores in the offense..."



Bucknuts TV: Posey On Pryor, Offense
In this interview, Posey talks about the state of the offense, his good friend quarterback Terrelle Pryor, his own play at receiver and much more.

(Source: Bucknuts)




Tressel: Berry On Verge Of Redshirt, Pryor Chatter, More
October 22, 2009 Source: Bucknuts - "At his Thursday press conference, Ohio State head coach discussed Terrelle Pryor and the criticism from Pryor's former high school coach about the Buckeyes' offense. Tressel also talked about the running back situation, the woes of the banged-up offensive line and much more...A very basic question – but one that is on everyone's mind – was posed to Tressel on Thursday: What do the Buckeyes need to do offensively to get things going?

"Outside of the obvious?" Tressel asked. "I would say let's have less of the short series. Now, let's have those quick scoring drives, but let's not have short drives that are ended by three-and-out or a turnover. The one obvious that we always talk about is if we can end each drive with a kick, that's what I'd like to see our offense do. If we end every drive with a kick, that, to me, is where you'd like to get. Success on early downs is critical. When you have something good happen on an early down, it fuels that confidence and all of a sudden and your tempo is up. I think that's human nature. They (the players) like it and we (the coaches) like it."...

Ohio State's depth chart at running back against the Golden Gophers will be: "Brandon, Jordan (Hall) and Jermil Martin" according to Tressel. And yes, that means freshman tailback Jaamal Berry is still out with a pulled hamstring. And more and more, it's looking like Berry will never carry the ball as a "true" freshman for the Buckeyes. "Jaamal Berry is still out – he has not practiced this week," Tressel said. "This might be a developmental redshirt year. Every week we get closer to it. I sound like Yogi Berra."...

Offensive line banged up, underperforming: "I wish I could tell you, due to the health of the offensive line, exactly how it's going to flow (against Minnesota)," Tressel said. "Even at this moment, I would probably be misrepresenting it. I will need to see a little bit (of Thursday's practice). Tressel talked about which of the offensive linemen are nursing injuries. "(Sophomore center Mike) Brewster is not 100 percent. (Senior jack-of-all-trades Jim) Cordle is not 100 percent. Miller, we'll see if he's 100 percent. (sophomore left tackle Mike) Adams is not 100 percent. (Sophomore right tackle J.B.) Shugarts, I think is healthy. (Freshman right tackle) Marcus Hall is healthy. (Junior right guard) Bryant Browning is healthy. (Junior left guard Justin) Boren is not 100 percent. What percent they are? I would probably need to be asked after (Thursday)."..."


SERIES RECORD
• The Buckeyes and Gophers are playing for the 49th time; Ohio State has a 41-7 advantage in the series, with a 21-3 mark in Columbus. The Buckeyes have won the last six games in the series.
• Last meeting: 34-21 OSU victory last season in Columbus.
• Ohio State's record in Homecoming games is 63-19-5; 2009 will be the 88th Homecoming celebrated at Ohio State.

BOUNCING BACK
• During the Jim Tressel era at Ohio State, in the games following the Buckeyes' 20 losses, OSU has an 18-2 record. Twelve of those games were at Ohio Stadium, where the Buckeyes under Tressel are 11-1 in the game following a loss. Only once during the Tressel era has Ohio State recorded back-to-back losses, a three-game stretch with losses at Northwestern, to Wisconsin and at Iowa in October, 2004.

FORCING TURNOVERS
• The Buckeyes have forced 17 opponent turnovers through the first seven games, an average of 2.4 per contest. Ohio State has forced 12 interceptions and recovered five opponent fumbles; the Buckeyes also scored a defensive two-point PAT on a Brian Rolle pass interception and runback versus Navy.

OFFENSE
• Ohio State is 51-0 when scoring 30 points or more since 2001.

THE SILVER BULLETS
• Ranked ninth nationally in rushing defense, the Buckeyes are giving up just 87.9 yards per game on the ground this season, allowing just 2.7 yards per rush. OSU's opponents have scored only five rushing touchdowns in seven games.

BIG TEN RANKINGS (Conference games only)
• Rank Category
1...Rushing Defense (74.5)
1...Sacks (13)
2...Scoring Defense (13.2)
2...Total Defense (281.8)
2...Opponent 3rd Down Conversions % (34.3)
2...Red Zone Defense (66.7)
3...Pass Efficiency Defense (98.6)

• The Ohio State defense is averaging 5.1 three-and-outs per contest this season. The Buckeyes forced both Toledo and Indiana to go three-and-out seven times. OSU recorded five three-and-outs against both Southern Cal and Illinois, and four against Navy, Purdue and Wisconsin. Ohio State has 36 total three-and-outs for the 2009 campaign.

BUCKEYE OFFENSE
• Terrelle Pryor needs two yards on the ground to become the fifth Ohio State quarterback to rush for 1,000 career yards.

4th CAPTAIN & HONORARY CAPTAIN
• Aaron Pettrey will be the 4th Captain for Minnesota
•

ROSE BOWL CHAMPIONS
• 1949 & 1954 Rose Bowl champion teams to celebrate anniversaries at halftime vs. Minnesota Saturday

1954 NATIONAL CHAMPIONS REUNION
• Members of Ohio State's 1954 national championship squad will hold their 55th anniversary reunion around the Minnesota game.

TV: ESPN
• Dave Pasch - Play-by-play, Chris Spielman - Analyst, Bob Griese - Analyst
MINNESOTA AT A GLANCE
• The Gophers are coming off a 20-0 loss to Penn State Saturday in State College. They are 4-3 overall and 2-2 in the Big Ten after posting wins at Northwestern (35-24) and Purdue (35-20) with losses to Wisconsin (31-28) at home and the Nittany Lions. They are 2-1 in non-conference games with wins at Syracuse (23-30 ot) and Air Force (20-13) and a loss at home to California (35-21).

NOTHIN' BUT NET
• Through the first seven games of the 2009 season, Minnesota's net punting average (punt yardageminus return yards/touchbacks) ranks No. 6 in the nation. The Gophers' net punting average is 40.76 yards per punt. The Gophers have punted 34 times with eight punts of 50-plus yards, 12 fair catches and 10 punts downed inside the 20-yard line. Opponents are averaging just 3.5 yards per return against the Minnesota punt coverage team and have only returned 13 of the 34 Gopher punts.

QUICK HITTERS
• Adam Weber is the only QB on the Minnesota roster who has ever completed a collegiate pass. Freshman MarQueis Gray is the No. 2 QB. He attempted his first pass two weeks ago vs. Purdue. Gray scored his first collegiate touchdown vs. Cal on a 7-yard pass from Eric Decker.
• Minnesota ranks No. 6 in the nation in punt return average, going for 19.0 yards per return. However, the Gophers have only returned three punts in seven games this season
• Minnesota ranks 17th in the nation in kickoff returns, averaging almost 26 yards per kick return.
• Minnesota had its lowest offensive output of the season last week, tallying just 138 yards vs. Penn State. That's the lowest offensive output since putting up 134 vs. Iowa in the 2008 regular-season finale.
• Despite being 87th in rushing defense, 77th in passing defense and 92nd in total defense, the Gophers have found a way to allow just 23.3 points per game to rank No. 60 in scoring defense.
• Minnesota has come from behind in all four of its victories this season.

• Senior wide receiver and Biletnikoff candidate Eric Decker leads the Big Ten and ranks 10th nationally with 104.4 yards receiving per game. He has 47 catches for 731 yards and five touchdowns on the season and averages a league-best 15.6 yards per catch.

• Junior quarterback Adam Weber averages 189.3 yards through the air.

• Defensively, seniors Lee Campbell (77) and Nate Triplett (70) rank first and second in the Big Ten in tackles, respectively.

HEAD COACH
• The Gophers are led by head coach Tim Brewster who is 12-20 and 5-15 in his third season in Minneapolis. Last season he led Minnesota to a 7-6 record and a trip to the Insight Bowl where they lost to Kansas. Brewster came to Minnesota after spending the previous five years as an assistant coach in the National Football League, including the 2005 and 2006 seasons as the tight ends coach of the Denver Broncos.



Big Ten Teleconference-October 20, 2009- Source: Big Ten Network




| | |
| --- | --- |
| | Players Preview Saturday's Game with the Gophers: |
DeVier Posey - Austin Spitler - Bryant Browning - Doug Worthington



No. 18/17 Ohio State vs. Minnesota Game Notes
OSU 2009 Roster
OSU 2009 Pronunciation Guide
2009 Coaching Staff

OSU State Depth Chart
as of October 18, 2009


Updates: Tressel said that running back Daniel Herron, the starter in the first four games, is questionable again this week. He suffered a high ankle sprain against Illinois and has played just briefly since then, against Wisconsin two weeks ago. He did not make the trip to Purdue. After starting the first four games of the season, Herron has seen just two carries in the last three weeks. He practiced in a limited role this week but don't expect to see him out there Saturday.

Defensive tackle Dexter Larimore, who suffered a knee sprain three weeks ago at Indiana, is out. The Buckeyes are still using November as the timetable for Larimore's return.

Backup linebacker and special-teams standout Andrew Sweat suffered a slight knee sprain at Purdue, and Tressel said his status wasn't clear.

Of Ohio State's top eight offensive linemen, Tressel mentioned five that were dealing with some sort of injury: tackles Andy Miller, Jim Cordle and Mike Adams, guard Justin Boren and center Mike Brewster. Guard Bryant Browning and tackles J.B. Shugarts and Marcus Hall are healthy. Miller, who lost 18 pounds and missed the past three games with the flu, is nearly back to his playing weight and had one of his best practices of the season Wednesday, Tressel said. He should get back in the mix at left tackle. "Andrew has practiced a little bit and I hope he can contribute. This will be an important week of practice to see if he can get some weight back on and get some strength back and so forth," Tressel said.

...Cordle looked to be in over his head on his one series at left tackle against the Boilermakers. "Jimmy Cordle, we tried to get him into the game Saturday and he just isn't quite ready. It's one thing being able to be able to go through a practice tempo and it's another thing to be able to do it on a Saturday."

(Source: Cleveland Plain Dealer/Columbus Dispatch/The Ozone)

2009 Totals




| | | |
| --- | --- | --- |
| Ohio State | Offense | Minnesota |
| 28.0 | Pts/gm | 23.1 |
| 331.0 | Total yds/gm | 293.7 |
| 157.0 | Rush yds/gm | 103.4 |
| 37.2 | Carries/gm | 29.8 |
| 4.2 | Yds/carry | 3.5 |
| 174.0 | Pass yds/gm | 190.3 |
| 24.0 | Pass att/gm | 27.5 |
| 13.1 | Yds/completion | 12.4 |
| | Defense | |
| 14.0 | Pts/gm | 23.3 |
| 284.6 | Total yds/gm | 393.0 |
| 87.9 | Rush yds/gm | 164.7 |
| 33.1 | Carries/gm | 42.1 |
| 2.7 | Yds/carry | 3.9 |
| 196.7 | Pass yds/gm | 228.3 |
| 35.7 | Pass att/gm | 32.1 |
| 9.9 | Yds/completion | 11.5 |

BIG TEN CONFERENCE

KICKOFF RETURNS          G   Ret  Yds   TD   Avg
------------------------------------------------
1. Ohio State..........  7    23  597    1  26.0
2. Minnesota...........  7    29  747    0  25.8

PUNT RETURNS             G   Ret  Yds   TD   Avg
------------------------------------------------
1. Minnesota...........  7     3   57    0  19.0
10.Ohio State..........  7    19   78    0   4.1


2009 Big Ten Conference Team & Individual Statistics Through games of October 17, 2009



Crunching the Numbers: Ohio State at Purdue
October 15, 2009 Source: BuckeyeSports.com - "Some of the best and worst offensive and defensive units in the Big Ten get together this weekend when Ohio State plays host to Minnesota. Details about that, the series history, an impending milestone for Terrelle Pryor and more are included in this week's look at the numbers...10th: Ohio State is 10th in the Big Ten - next-to-last - in total offense (331 yards per game). Minnesota is 11th...11: Ohio State is 11th - last - in the Big Ten in passing offense (174 yards per game). Minnesota is 11th in rushing offense (103.4 yards per game)..."




Last Time Out...
October 20, 2009 Source: BuckeyeSports.com - "The Ohio State football team returns to the friendly confines of Ohio Stadium this weekend to face Minnesota. The return of Chris "Beanie" Wells highlighted the last time the Golden Gophers and Buckeyes squared off. Relive Ohio State's 34-21 victory in this edition of "Last Time Out..."




DJ Gallo's Varsity Tailgate, Week 8:

Player of the Week: Terrelle Pryor, QB, Ohio State:
Some Ohio State fans are demanding that Terrelle Pryor be benched. This from a fan base which in recent years has sat through Todd Boeckman, Justin Zwick and Craig Krenzel. Has Pryor been noticeably worse than those guys? Really? Wow. I need to make a point to start watching more Buckeyes football. Pryor's play must be something to behold.

Stone Cold Lock of the Week:
We will find out that LeBron James' advice to Terrelle Pryor was: "Hey, this football thing obviously isn't working out. We could use an athletic swingman on the Cavs. You can start next week. Consider it."

(Source: ESPN)








Ohio State vs. Minnesota Preview
October 22, 2009 Source: The Ozone - "Tony Gerdeman's preview of the Minnesota game ...The true passing threat is quarterback Adam Weber. This is Weber's third season as Minnesota's starting quarterback and he seems to be regressing. He currently possesses the worst quarterback rating of his career (115.32) and has only thrown six touchdowns to nine interceptions on the season. Weber was only 5-9 for 74 yards with two interceptions against Purdue, and yet the Gophers still found a way to win 35-20...The Gophers have the 88th-ranked passing offense in the country, and if not for receiver Eric Decker, they would probably be dead last. Decker's 104 receiving yards per game leads the Big Ten and his 47 receptions are fourth-best in the conference..."





Preview: #20 Ohio State vs Minnesota
October 23, 2009 Source: Eleven Warriors - "...The Minnesota defense is the weakness of the team, a trait that can be attributed to thin depth. The Gophers have been outscored 163-162 by opponents this year, despite their winning record and are giving up an average of 23.3 points per game. They've given up 164.7 yards per game on the ground and 228.3 yards through the air, numbers that should help the Buckeye offense get back on track as they try to find their identity in game eight of the 2009 campaign..."




2009 Minnesota Golden Gophers Game Preview
October 22, 2009 Source: Buckeye Planet - Analysis and more, including: "...Overall Special Teams Analysis: Minnesota has a dangerous return man in Stoudermire, and while tOSU's coverage has been solid overall, there's been somewhat of a dropoff recently. With stuggling offenses, field position becomes more important, and containing Stoudermire will probably be the most important aspect of tOSU's special teams play on Saturday...Minnesota has played very well on special teams this year to date. They have scored a TD on a blocked FG and won the battle for field position in practically every game so far. The only unit not among the leaders in the nation is the kickoff return defense, which at #61 is still in the middle of the pack. The Buckeyes must reverse their recent downturn in special teams play in addition to getting the punt return unit going....Minnesota Offensive Preview...Defensive Preview..Special Teams Preview..."




Previewin': Minnesota
October 23, 2009 Source: Our Honor Defend - "...We all know of Ohio State's troubles with the ball in their hands. Without exaggeration, it's a type of offense that may actually result in more turnovers than first downs, all things equal. At 91st nationally in total offense, the Buckeye offense may end this season as one of mankind's most awful crimes if things do not improve. Fact is: Minnesota is actually worse (114th)...Minnesota's secondary is a little undersized, but they still get somewhat active. Traye Simmons and Marcus Sherels are the corners. This defense has only 5 interceptions so far this season..."




Minnesota (4-3) at Ohio State (5-2)
October 22, 2009 Source: College Football News - "...Why Minnesota might win: Terelle Pryor. With RB Dan Herron hurting with an ankle injury, Pryor has been forced to carry more of the offensive workload and he has struggled. He wasn't miserable against Purdue, but he threw two bad interceptions and is getting the blame for the loss. Minnesota has the linebackers to keep Pryor from scrambling too much...What will happen: After a week of having to answer questions about Pryor and if he's being used right, and with Jim Tressel and his coaching methods being questioned after just one loss, the team is going to come out … steady? Most teams would try to make a statement by trying to roar on both sides of the ball, but this is Ohio State and the formula works. Don't screw up on offense, win the special teams battle, and take the win. CFN Prediction: Ohio State 30 … Minnesota 13..."




Minnesota-Ohio St. Preview
October 21, 2009 Source: ESPNU - "...Ohio State hasn't lost consecutive conference games in a season since three straight defeats from Oct. 2-16, 2004...Defenses, meanwhile, are loading up against the run. Ohio State has averaged 81.5 yards rushing the past two weeks, and its 157.0-yard average for the season would be its lowest since 2004...Offensively, Minnesota's biggest concern will be re-establishing Eric Decker. The all-conference receiver was averaging 127.8 yards through the Gophers' first five games but has been held to 46.0 per game the past two weeks. He caught one pass against Penn State..."


Big Ten picks: Week 8: ESPN.com's Adam Rittenberg writes: "Ohio State 24, Minnesota 7: Terrelle Pryor seemed more relaxed when he addressed reporters Wednesday night, and I think he'll actually be loose when he takes the field Saturday. Pryor won't light up a good Gophers defense, but he'll make more plays and fewer mistakes than he did a week ago. The sophomore records two touchdowns (1 rush, 1 pass), and Ohio State's defense shuts down a Gophers offense that can't seem to find much consistency."





A Closer Look: Minnesota Golden Gophers
October 22, 2009 Source: Buckeye Sports - "No. 18 Ohio State finds itself needing to rebound this week. The Minnesota Golden Gophers, on the other hand, will try to extend the Buckeyes' losing streak to two when they come into Ohio Stadium for a Saturday matchup. Find out more about the 4-3 Golden Gophers and wideout Eric Decker in this closer look at Minnesota...Five Fast Facts: 1. Minnesota has come from behind in all four of its victories this season, and the Golden Gophers are 3-2 when trailing after the third quarter this year. They are also 4-1 when allowing less than 28 points and 4-1 when committing less than three turnovers. 2. The Golden Gopher special teams are solid in all phases...5. Minnesota passed 10 times during an Oct. 10 win against Purdue, the fewest passes for the team since it threw nine exactly seven years prior during an Oct. 10, 2002, win against Northwestern by a 45-42 score..."




2009 Week 8 Picks: Minnesota vs Ohio State
October 21, 2009 Source: Sporting News -

Jim
Gilstrap

Matt
Hayes

Steve
Greenberg

Brian
McLaughlin

Dave
Curtis

Derek
Samson

34-0

24-14

30-10

28-14

14-9

17-14





Minnesota Official site
Minnesota Game Notes - at Ohio State
2009 Minnesota Media Guide
2009 Stats
2009 Football Roster
Tim Brewster, Head Coach
Ass't Coaches
Source: Minnesota Official Site








100 Yards with Howard: Eric Decker



Gameday: Gophers at No. 18 Ohio State
October 24, 2009 Source: Minnesapolis Star Tribune - "GOPHERS OFFENSE VS. OHIO STATE DEFENSE...OHIO STATE OFFENSE VS. GOPHERS DEFENSE...SPECIAL TEAMS...INTANGIBLES...PREDICTION: Once again the defense plays well enough to keep the Gophers in the game, but the offense can't put up enough points to win it. Ohio State 21, Gophers 6..."




Gophers' defense looking to keep the heat on Ohio State's Pryor
October 22, 2009 Source: Twin Cities.com - "Eric Small became eager watching video of Purdue sacking Ohio State's Terrelle Pryor five times last week. Eager to get his shot at the sophomore quarterback Saturday, after the Gophers' sack leader was shut out in the past three games..."Our defensive line getting a good pass rush, and our defensive backs and linebackers getting good coverage is definitely going to be critical," linebacker Nate Triplett said. "The less time (Pryor) has to throw and the better our coverage is, the more mistakes he's going to make."..."




Minnesota apologizes for mascot mocking praying PSU player
October 22, 2009 Source: SI.com - "The University of Minnesota is apologizing after its Goldy Gopher mascot poked fun at a Penn State football player who was praying before last week's game. A video made before Saturday's game at State College shows Penn State defensive end Jerome Hayes kneeling in prayer in the end zone. Goldy Gopher kneels in front of Hayes, according to the video posted on YouTube. When Hayes stands up, so does Goldy. The mascot tries to make some contact, but Hayes ignores him and trots back to the bench..."




Gophers' bruising LB fits in well in Big Ten
October 22, 2009 Source: Columbus Dispatch - "...(Lee) Campbell, a state champion wrestler in high school who aspired to play in the Big Ten because of its reputation for bruising, bloody football, is the second-leading tackler in the conference going into Minnesota's game Saturday at Ohio State. He plays middle linebacker and is "a Butkus kind of guy," fellow linebacker Simoni Lawrence told the Star Tribune in Minneapolis. "He's just a football player," coach Tim Brewster said. "He's not the most gifted, not the most talented, but he plays with tremendous heart and loves the game of football. He has a nose for the ball."

Brewster saw that when he moved Campbell to the middle before last season. Campbell, 6 feet 3 and 246 pounds, was a reserve linebacker as a freshman for Brewster's predecessor, Glen Mason. In Brewster's first season, with a different defensive coordinator looking for a speed pass rusher off the edge, Campbell was moved to defensive end, started all 12 games but had just one sack..."



Minnesota Players Discuss This Week's Game at Ohio State Game



Buckeyes suddenly find they have little room for error
October 22, 2009 Source: Minneapolis Star Tribune - "...Buckeyes players and coaches this week gave Purdue a lot of credit as a team that's come close to big victories all season and finally got one. While there's merit to that perspective, it does little to explain the ongoing problems that have plagued Ohio State this season. After salvaging the Big Ten's reputation as a powerhouse league in recent years by appearing in three of the past seven national title games and winning it all in 2003, the Buckeyes might have fallen. Saturday's defeat probably crushed Ohio State's national title hopes and made its pursuit of the Rose Bowl almost as difficult. They certainly don't control their own fate.

Entering Saturday's Homecoming game against Minnesota, the Buckeyes (5-2, 3-1 Big Ten) know they can't afford any mistakes. "We think there's no room for error now," junior linebacker Brian Rolle said. "We've still got five games left. Not focusing on the Rose Bowl, [but] I don't think anybody's thinking we're out of it."...

Ohio State: The good and the bad
The bad:
• Pryor has thrown almost as many interceptions (eight) as touchdown passes (10).
• OSU is 10th in the Big Ten in total offense with 331.0 yards a game, ahead of only Minnesota (293.7).
• OSU is 11th in the Big Ten in passing offense, averaging only 174.0 yards a game..."




Tim Brewster Press Conference Transcript
October 20, 2009 Source: Minnesota Official Site - "...Q. Do you think Ohio State is a more vulnerable team going into this week after the way Purdue exploited some of their weaknesses or are they tougher?

COACH BREWSTER: A lot of people have asked me that same question. Ohio State is Ohio State. I think once you establish who you are as a football team, and what I mean by that is, you're going to play hard every week, you're going to get their best shot every week, and I don't think that there's going to be extended motivation because of the loss last week against Purdue..."




Big Ten Teleconference-October 20, 2009- Source: Big Ten Network






Gophers Meet the Media
October 20, 2009 Source: Minnesota Official Site - "...So after their experience at Penn State last week, is there anything to be gleaned that will help the Gophers this weekend when they travel to Columbus, Ohio for a matchup with Ohio State at Ohio Stadium? Minnesota head coach Tim Brewster said opposing team and the environment will be very similar this weekend.

"This week we face a very similar type of opponent," Brewster said. "Ohio State, I think, is very similar to Penn State, particularly on the defensive side of the ball. They're an outstanding defensive football team. They present a lot of the same issues, a lot of the same challenges. They've got a good collection of athletes as what we're going to see this season."

"Football is a game of attitude," quarterback Adam Weber said. "Purdue did a great job of spreading them out and capitalizing on opportunities. It has been shown in the Big Ten that any team can come through and get a big win. Watching the Purdue tape (against Ohio State), there are some things that we would like to do. But it will be a different game. Ohio State will be at home and they will have a different attitude."

A number of key players for the Gophers will be heading for a bit of a Homecoming Saturday, as well. Senior punter Blake Haudan, junior offensive lineman D.J. Burris, junior defensive back Ryan Collado and junior offensive lineman Dom Alford all hail from the State of Ohio. That can make it tough to get tickets for everyone who wants to come see you play..."



#8 Adam Weber
POSITION: QB
HEIGHT: 6-3
WEIGHT: 221
CLASS: Jr

Gopher quarterback Adam Weber continues to re-write the Minnesota record book. In Week 2, he set the Minnesota record for career completions (his total is now 619). He also set the Gopher career record for passing attempts this season (his total is now 1,049). Weber set single-season records for passing yards (2,985), completions (258), attempts (449), touchdown passes (24) and total offensive yardage (3,512) in 2007. Weber's 74 yards passing last week vs. Purdue were a career-low. He followed that with a 101-yard effort at Penn State. The 175 yards in two weeks is the lowest consecutive-week output in his career. Weber threw 19 interceptions in his first season as a starter in 2007. He significantly improved that total in 2008, throwing just eight picks. He has nine this season.



#7 Eric Decker
POSITION: WR
HEIGHT: 6-3
WEIGHT: 220
CLASS: Sr

Three weeks ago, Decker became Minnesota's career receiving yardage recordholder and tied the school record for career 100-yard games. Earlier this season, he set a new record for career receptions and for consecutive 100-yard receiving games. For two straight seasons, Decker set the Minnesota single-season record for receptions. Eric Decker now has 3,092 yards receiving in his Gopher career. He surpassed Ron Johnson's previous record of 2,989 yards on his final reception vs. Wisconsin earlier this year. His 104.4 yards and 6.7 receptions per game rank No. 10 and No. 24 in the nation, respectively. Decker has hauled in at least one reception in 33 consecutive games, ranking No. 7 in the nation. He has four 100-yard receiving games in seven outings during the 2009 season. Decker's heart lies with football

(Source: Columbus Dispatch)





#30 Lee Campbell
POSITION: LB
HEIGHT: 6-3
WEIGHT: 246
CLASS: Sr

Campbell has led the Gophers in tackling in four of their seven games this season, including last week at Penn State. The Pennsylvania native (he moved to Florida when he was 5 years old) recorded a game-high 13 tackles and picked up a team-best 1.5 stops behind the line of scrimmage in front of numerous family and friends vs. the Nittany Lions. Campbell leads the team with 8.0 tackles for loss. He also has 3 pass break-ups. He and Sr. LB Nate Triplett are Nos. 2 and 3, respectively in total tackles in the Big Ten. Campbell averages 11.0 per game and Triplett averages 10.0. Campbell (45, No. 6) and Triplett (44, No. 9) are both in the top 10 nationally in solo tackles.



Minnesota (4-3) at #17 Ohio State (5-2)
| Teams | Open | VegasInsider | Scores and Odds | Sports | Sportsbook | Bet Hollywood | Over/Under |
| --- | --- | --- | --- | --- | --- | --- | --- |
| Minnesota | +18 | +18 | +17.5 | +18 | +18 | +18 | +18 |
| Ohio State | -18 | -18 | -17.5 | -18 | -18 | -18 | +18 |


Columbus Weather Forecast