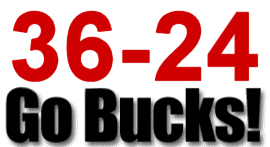 MIAMI

vs.

OHIO STATE





Ohio State vs Miami 2010 Highlight Video Source: lexco44

2010 Ohio State Vs Miami 2010 Football Highlights Source:
MlbIndian




Instant analysis: Ohio State-Miami
September 11, 2010 Source: ESPN - "...How the game was won: Ohio State rode an extremely opportunistic defense and an offense that avoided major mistakes to pull away from Miami after falling behind 10-3. The Buckeyes picked off Jacory Harris four times and converted for 20 points. Ohio State's Terrelle Pryor didn't have his best game throwing the ball, but he ran the ball extremely tough and made enough big throws. Aside from two major special teams gaffes, Ohio State played a solid game overall. The defense allowed yards but made play after play in its own end of the field.

Turning point: ...After reaching the Ohio State 9-yard line, Harris threw a pass right to Ohio State defensive lineman Cameron Heyward, who rumbled 80 yards the other way. Pryor scored moments later and Ohio State led 33-17 instead of possibly being up by just two points.

What it means: Ohio State remains very much a part of the national title discussion and doesn't face a ranked opponent until Oct. 16, when it visits Wisconsin...

Player of the game: Buckeyes senior cornerback Chimdi Chekwa recorded two interceptions...

Stat of the game: Miami's first two touchdowns came on an 88-yard Lamar Miller kickoff return and a 79-yard Travis Benjamin punt return. It marked the first time in team history that Ohio State has allowed a punt return touchdown and a kickoff return touchdown in the same game...."




Five Things: Miami
September 13, 2010 Source: Eleven Warriors - "Saturday's tilt with Miami in the Horseshoe brought about the result many of us were hoping for, even if the script didn't exactly follow what we had anticipated. In the end, you can't help but be satisfied with a solid win over a very a talented Hurricane squad. If you're keeping score at home, Ohio State now has wins over four top 15 teams -- with just one of the games being what you'd consider close -- in their last six outings.

Bend, Don't Break, Then Counterpunch: The prevent zone the team went with in the second half was frustrating from the perspective of the fan, but Jim Tressel was playing with Jim Tressel's money and it's his prerogative to bet however he sees fit...The highlight, of course, was the rumbling, stumbling -- wait, he actually showed some moves for a big guy -- 80 yard interception return by Cameron Heyward at the start of the third quarter. Trailing 26-17, Miami marched 70 yards on the opening series of the second half before running into a 3rd-and-goal from the OSU nine yard line....Chekwa's two second quarter interceptions (just six minutes apart), were equally huge and for one game, at least, he appears to have inherited Kurt Coleman's ball magnetism powers...

Is "Not So Special Teams" Too Easy?: If this team doesn't address their kick coverage issues soon, it will come back to haunt the Buckeyes. They will be in a dogfight with Wisconsin or Iowa, or some other team playing OSU closer than expected and they will be handing out field position like it's free. The coverage problems first popped up against Iowa last season, and then continued in the Rose Bowl against Oregon. Saturday, Miami had the burners to make the Buckeyes pay. I realize OSU doesn't have a dedicated special teams coach and that's probably not an option with Tressel insisting several coaches contribute, but perhaps he might consider putting more starters in to cover in big games. While some starters do play on the units (Rolle and Homan to name two), we're also getting a heavy dose of second and third-teamers, and even walk-ons (Ebner). There's an injury risk there, sure, but it might be a tradeoff worth making.

Despite Red Zone Blues, Offense Had Its Moments: Much like concerns with the coverage game, the lack of finishing move fatalities in the red zone is a cause for concern...settling for five field goals inside the Cane's 15 -- four inside the 10 -- is a tough pill to swallow. Pryor just missed on a couple of plays, one being to Stoneburner on 3rd-and-goal from the four with just over a minute to play in the first half, and the other being a slant to Philly Brown later on that might have converted, so it's not completely broken, but you have to wonder if a guy like Tyrone Williams can help out here. It looks like the staff wants to redshirt him, but if these problems persist, don't be surprised to see his name called..."




CFN Analysis: Ohio State Picks Off Miami
September 11, 2010 Source: CollegeFootballNews.com - "Pete Fiutak: For everyone who keeps trying to wish and hope Miami to become good again by simply saying Miami is good again, there's one major element missing from the juggernauts of the past. Toughness... Ohio State did what it had to do taking advantage of Jacory Harris interception after Jacory Harris interception to get ahead and stay there, and it showed that it belongs in the top two, but it's a disappointment to see that Miami wasn't ready for primetime even with all of its great players and prospects...

Richard Cirminiello:...Miami wasn't supposed to win in Columbus, but it certainly could have had it not been for turnovers. The Hurricanes moved the ball relatively well and got two enormous special teams returns for touchdowns from Lamar Miller and Travis Benjamin. On any other weekend, those are the ingredients of an upset win. On this Saturday, though, Harris was picked off four times and his counterpart on the other side, Terrelle Pryor, didn't turn the ball over once. In an otherwise complex game, it's really as simple as that comparison...

Matt Zemek: ...The game-changing interceptions Harris did throw? He was responsible for those. Had it not been for Miami's kick-returning prowess, this game would have been a runaway by halftime. Yet, when gifted with a paltry nine-point deficit at halftime, Harris couldn't pick himself off the deck and play one solid half of football. He was Ohio State's best friend on a day when Terrelle Pryor remained inconsistent and showed little indication of becoming a Heisman-worthy one-man juggernaut... "






Jim Tressel Speaks to the Media Postgame Miami

Source: OSU Official Site



Coach Tressel Postgame Press Conference Transcript (OSU vs. Miami)
September 11, 2010 Source: OSU Official Site



Players Speak to the Media Postgame Miami
Source: OSU Official Site


Source: Columbus Dispatch



VOTE: Columbus Dispatch Online Poll: What grade do you give the Ohio State football team in its victory over Miami?: (Current results) 1% A+ , 22% A, 67% B, 10% C






10 Things We Learned from Beating The "U"
September 12, 2010 Source: The Ozone - "1. Pryor has that eye of the tiger look about him....He wasn't at his best Saturday, or anywhere near the level he played at in Pasadena, but Pryor was not going to let his team lose. He made one of the best passes of his OSU career on the 62-yard bomb to DeVier Posey and ran the ball with purpose and determination. He made a few questionable throws in the first half and had a few balls hit the Turf well short of their target, but he has yet to turn the ball over in his 80 plays this season. He has a long way to go yet this year, and a lot could change, but at the moment he seems to have that look about him.

2. Something is seriously wrong with Ohio State's coverage schemes. It's time to stop blaming the players and starting looking at what they are being coached to do...If those guys aren't good enough to make plays, then this team has bigger issues to worry about. But the fact is, they are good enough. All of them have been special teams standouts in their careers, which means something is wrong with the scheme...

3. Setting the record for most field goals is not always a good thing. Give credit to kicker Devin Barclay, one special teamer who actually did his job Saturday. The senior tied a school record with five field goals...Ohio State fans would have much rather had five touchdowns instead of field goals, especially considering all five makes came from inside the 30 yard line. That means OSU's red zone offense simply wasn't getting the job done against Miami's defense...

4. Buckeyes not afraid to go with the hot hand. After game one against Marshall, some were ready to hype tailback Brandon Saine as a potential Heisman Candidate. That candidacy lasted all of one week...as they relied on Boom Herron to do most of the running. Herron wasn't spectacular either, but he did go for 66 yards and a touchdown on 14 carries. He also had a 47-yard reception on a shovel pass from Pryor.

5. Saine really does have great hands....Despite the fact he wasn't running the ball well, Saine made a fabulous catch over the top of linebacker Sean Spence for an 18-yard touchdown. It was a clutch play at a critical point in the game, and the catch was so good that the referees felt the need to review it. It held up and the Buckeyes tied the game at 10 on their way to a 17-0 run.

6. Hall and Berry are game-changers...Both a punt returner and kick returner, Hall had four returns Saturday for 81 yards, including a 47-yard return that he almost took to the house. Berry had two returns for 87 yards, including a 45-yarder that might have gone the distance if he wasn't tripped up by teammate Nate Oliver. Although neither back found the end zone against Miami, both showed the speed and moves to be dynamic return men.

7. Corner is a feast or famine position. It's amazing how good a player like Chimdi Chekwa can look one minute and how bad he can look the very next. Only at cornerback could a guy who made two interceptions look as bad as Chekwa did on a couple of coverage mishaps. He had a pass break-up in the end zone, but once again he wouldn't know that if the ball hadn't hit him in the back...

8. Tyler Moeller seems to be everywhere...He didn't have a two-interception game like Chekwa or a blocked field goal like Devon Torrence, or even a sack like Dexter Larimore or John Simon. But it's hard to watch a play and not see No. 26 around the ball...

9. There's some serious talent on the defense, and not just on the field...The truth is, however, there might be more talent on the sideline. The defense wasn't lights out Saturday (they allowed 352 yards of offense) but once again Jim Heacock and his staff dialed up a great game plan...it's getting to the point where the names change but not the production of the defense. For that, credit goes to Heacock, Luke Fickell, Taver Johnson and Paul Haynes. They prepare their players as well as any defensive coaching staff in the country.

10. Much smaller rotation on this year's defense. The Hurricanes held the ball for nearly 12 minutes in the third quarter as they finally started to move the ball on Ohio State's defense. From the stands, it might have looked like Randy Shannon simply made the right adjustments, but it's more than possible that OSU's defense was just tired..."





It was over when...: Cameron Heyward returned an interception 80 yards, setting up a Buckeyes touchdown.

Gameball goes to...: Terrelle Pryor, who passed for 233 yards, rushed for 113 yards and scored twice.

What went right?: The defensive pressure. Harris had some success passing, but he never looked comfortable, as four interceptions attest. He once threw to a receiver who clearly was blocking; Chimdi Chekwa easily grabbed one of his two picks on the way to being named the national defensive player of the week. And Harris never saw 6-foot-5, 285-pound Cameron Heyward, who dropped off into coverage then turned in the play of the game, an 80-yard interception return.

Back to the drawing board: Call this double emphasis, but it's kick coverage again, because Tressel is the first to say such intermittent ineptness can't be tolerated. Even in the Rose Bowl, kick returns were Oregon's main weapon. Marshall had a big kickoff return. And against Miami, the two returns made a close game out of what otherwise would have been a blowout.

One-liner: Miami could not complain about phantom pass interference calls this time, because clearly Ohio State interfered with Jacory Harris passes all game long.

The view:
How the team sees it: So much for Miami's paying us back. At Ohio State, we believe in paying it forward.
How the pollsters will see it: A big, if bizarre, win.
How Buckeye Nation will see it: Please, Miami, no more crying over late flags.

Translating Tress:
What he said: "Part of passing is deciding when not to pass."
What he meant: "Not passing is the part of passing I have decided I like the best."

What's hot?: Terrelle Pryor's Heisman Trophy campaign. Including the Rose Bowl win over Oregon, he's thrown for at least 200 yards in each of his past three games. He was the first to admit he missed some plays Saturday against Miami's frenetic defense. He was erratic with his passing (12 of 27). But he augmented that with a game-high 113 yards rushing. In the head-to-head duel with Miami's Jacory Harris, Pryor was the one left standing.

What's not hot?: Duh. And what's maddening for the Buckeyes about Miami's kickoff return and punt return for touchdowns was they went right up the gut. On paper, it's a simple fix: Coverage men need to fight to stay in their lanes, and on the punt, at least, don't overrun the ball. It's likely the message will be delivered more emphatically on the practice field this week.

Brian Rolle On the meaning of this win...: "It means something extra. They are a great team and the win gives us a great boost. We'll take away the win and grow and learn from it and move on to next week."

Randy Shannon On quarterback Jacory Harris' interceptions...: "On two of them I know the receiver ran the wrong route. But still if they run the wrong route, throw it out of bounds. He did some things today that weren't usually Jacory - when the pocket broke down he'd start to run instead of trying to force a throw."

Randy Shannon Reaction to Terrelle Pryor's performance...: "He's a great player and people expect good performances from great players. He did what he needed to do and they came away with the victory. After the game, I told him to keep it going and stay undefeated. He's a great quarterback. I'm sure he's going to lead his team to where they want to be."

Catch that?: Daniel Herron reasserted himself as the co-chairman of the running back committee along with Brandon Saine. Herron is running with more purpose, and though Pryor turned out to be the primary ground threat against Miami, Herron's occasional rips kept the Miami defense honest.

Numbers for dummies 1: 15: Minutes that Heyward needed to recover from his interception return, according to Tress.

Numbers for dummies 2: 2: Columbus police officers who high-fived each other after Heyward's return.

They said it:
As heard on TV: Brad Nessler and Todd Blackledge gave ESPN a professional 1-2 punch, which doesn't make for easy Scarlet & Gray Matter mockery. Blackledge brought interesting inside information, as when he reported that Miami practiced its special teams at full speed this week. The one complaint: Why does every announcer feel the need to compare every college quarterback with Tim Tebow? Enough already.

As heard from stadium police officer: "No speeding ticket there," as 288-pound lineman Cameron Heyward lumbered 80 yards on an interception return.

As heard from C deck: "Everybody on their feet for a standing ovation," after OSU's kickoff team "held" Miami to a 12-yard return to open the second half.

Dinged up: Safety C.J. Barnett. He was having a coming-out party in his second collegiate start before he went out with a knee sprain. Whether he'll need surgery will be determined this week, but he's expected to be out indefinitely. Orhian Johnson, who lost a competition for the starting job to Barnett in the preseason, is the likely replacement in the starting lineup.

Just wondering: The Buckeyes have a specific coach for quarterbacks, safeties and running backs, but not for special teams? Odd, considering Jim Tressel puts so much emphasis on special teams play. Tress prefers to have all coaches help out on ST's but perhaps the left hand doesn't know what the right hand is doing?

Pregame buzz: Besides wondering if LeBron would show (He didn't), there was a question of whether Miami would show up with enough attitude -- because of the 2003 national championship game loss -- to intimidate the Buckeyes into making mental mistakes. Answer: The Hurricanes, with blown receiver routes and dropped passes, lost their focus even more than Ohio State. Apparently carrying a chip on your shoulder for eight years is too big of a burden for The U.

Stat of the game... 1991... : Miami hasn't defeated an AP top-2 team since Nov. 16, 1991.


(Sources: ESPN//Columbus Dispatch)




Quarterback Terrelle Pryor talks about using the '09 Purdue game as inspiration, Cie Grant as the honorary captain, what a big non-conference win means for the team and a lot more!

Pryor Reflects On Big Win
September 11, 2010 Source: The Ozone - "...In the past, Pryor has struggled to keep his emotions in check before big games, but the junior quarterback says that's no longer the case now that he is in his third year under center for the Buckeyes. "Today was the most calm that I ever was," Pryor said after the big win over the Hurricanes. "I was sitting there making jokes in front of (Jim) Tressel and (Nic Siciliano) and talking to all the fans on the team walk-over. I was just so comfortable."

Even Pryor's teammates said they could sense a different level of calmness about him on the field and in the huddle this season, possibly stemming from his successful performance against Oregon in the Rose Bowl. "He seemed calm and cool and that's part of being a relaxed, poised quarterback," Pryor's top wideout and close friend DeVier Posey said. "Concentration and consistency, and I feel like he had those two elements."..."




Doug Lesmerises' report card for win over Miami Hurricanes
September 11, 2010 Source: Cleveland Plain Dealer - "

Ohio State's top four defensive linemen: A-...

Ohio State right tackle J.B. Shugarts: B+ It was a worry entering the preseason for Jim Tressel, so he must have loved it when OSU freshman Dorian Bell knocked the ball loose on the opening kickoff, forcing a fumble that was recovered by Nate Oliver.

OSU return man Jaamal Berry: B The redshirt freshman running back answered Miami's 88-yard kickoff return in the first quarter, which gave the Hurricanes a 7-3 lead, with a 42-yard return of his own. And he looked like he might break that before he cut inside and went down, maybe tripped up by blocker Nate Oliver...

Ohio State coverage units: F It was shocking to see a Jim Tressel team give up both an 88-yard kickoff return for a touchdown by Lamar Miller in the first quarter, putting Miami up 7-3, and a 79-yard punt return for a touchdown by Travis Benjamin in the second quarter to cut Ohio State's lead to 20-17. Eventually, the Buckeyes resorted to short pooch kicks that landed around the 25-yardline, a tough pill to swallow but a way to at least eliminate the possibility of a return for another score. The coverage units were a problem coming in, and they're a bigger problem now. "You don't give up two long returns like that and usually survive," Tressel said..."




The Bottom Line
September 12, 2010 Source: Columbus Dispatch - "...Offense (3 leaves): That 414 number under total yards looks handsome, but a couple of other stats (Terrelle Pryor's 44.4 completion percentage and Brandon Saine's 0.6-yard average) take a little shine off the bottom line. The most important number, though, was the smallest. As in zero turnovers committed. Huge.

Defense (4 leaves):The sight of Cameron Heyward lugging a ball for 80 yards will be a lasting -- and long-lasting -- memory, but his pick and the three others swung the outcome of the game, directly leading to 20 OSU points. The 'Canes collected some yards in the second half, but the 'D' hung tough when it had to.

Special teams (2 leaves): One for you, Devin Barclay, for five FGs that you know coulda shoulda been six. And one for you to share, Jaamal Berry and Jordan Hall, for your gutsy returns. Devon Torrence, good job blocking a field goal. As for the rest of you: See you on failblog.org. Really, should Ohio State be a pooch-kick team? Awful

Coaching (3 leaves): There are, what, a couple of dozen men on the payroll with whistles and/or power to direct players or some aspect of quality control. So who's in charge of the specialists? Other than that, it's all copasetic. Tress could be accused of playing the clock a little early, but at least he had a lead to play with.

Opponent (3 leaves): Jacory Harris sure can make some nice throws -- as well as some miserable jobs. Receiver Travis Benjamin did him no favors on two of the picks. The 'Canes are a BCS bowl contender...

Officiating (3 leaves): Two replay reviews -- Saine's TD catch and a key third-down spot challenged by Miami -- and both were correctly upheld. Fans howled for holding on Heyward once and didn't get it, so they howled later when Nathan Williams was choked and got it. Chekwa's face-guarding: legal in college..."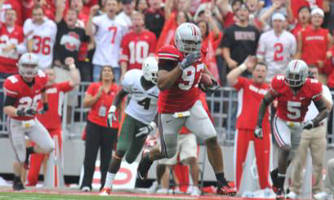 With the Hurricanes threatening to score in the 3rd quarter, Cameron Heyward picks off a Jacory Harris pass at the Buckeyes 5 yard line and returned it 80 yards to the Miami 15.

He had every intention of taking it to the house. Unfortunately, reality caught up with Cameron Heyward. The 6-foot-5, 288-pound defensive end...expected to be a first-round pick in the 2011 NFL draft, has a new-found respect for running backs. "I was thinking, 'I'd better hold on to this ball or I'd get chewed out,' " he said. "I started getting cramps toward the end. I'm fine now...You don't realize how long the field is until you start running..." (Source: The News Herald)





Bob Hunter commentary: Heyward's pick huge, in several ways September 12, 2010 Source: Columbus Dispatch





Heyward's rumble an instant classic September 12, 2010 Source: Lancaster Eagle Gazette - "With momentum slipping away from his football team, Jim Tressel finally admitted to looking back at the 2002 national championship game...It was the third quarter of Saturday's colossal matchup in the 'Shoe, and Ohio State's coach saw his life -- or was that another Miami kick returner? -- flash before his eyes. OSU defensive end Cameron Heyward had just picked off a pass at the 'Canes 5-yard line and was high-tailing it back the other way with the ball. OK, lumbering might be a more accurate description. "I kept thinking that someone was going to catch up to him and strip the ball a la (Maurice) Clarett and Sean Taylor because (Heyward) was swinging it out there," Tressel said. "Oh, man, I was petrified."..."





No. 2/2 Buckeyes Down No. 12/12 Miami, 36-24
September 11, 2010 Source: OSU Official Site - "Now the fans will have something else to talk about. Saturday in front of 105,545 fans in Ohio Stadium, No. 2 Ohio State rolled to a 36-24 win over No. 12 Miami. Ohio State is 2-0 on the young season. Miami drops to 1-1.

There was no controversial call to be rehashed … no late-game heroics needed … no what-if plays. On an overcast Columbus afternoon with some spotty rain showers, Ohio State rebounded from an early 10-3 deficit and received a terrific defensive effort that was most opportunistic with four interceptions that led to 16 points.

"Today we saw two teams that played awfully hard against one another," Ohio State head coach Jim Tressel said. "It was a battle with good speed, hitting and intensity going on. When you create four takeaways you're going to have a chance, and when you have zero giveaways, you're going to have a real good chance.

"It's going to be fun to watch both these teams' rest of the season play. We are going to go back to work tomorrow and study what we have to do better and get after it."

Offensively, the Buckeyes got 233 passing yards and 113 rushing yards from Terrelle Pryor and a school-record tying five field goals from kicker Devin Barclay. Touchdowns were scored by Brandon Saine (18-yard pass from Pryor), Dan "Boom" Herron (4-yard run) and Pryor (13-yard run). DeVier Posey caught four passes for 105 yards.

Barclay's fifth field goal of the game tied him in the record books with Josh Huston (2005 vs. Texas), Mike Nugent (2004 vs. N.C. State) and Bob Atha (1981 vs. Indiana), and extended the lead to 36-17. In the game, Devon Torrence had a career-high tying eight tackles, a pass break-up and a blocked field goal attempt on Miami's second possession of the second half to lead the Buckeye defense. Chimdi Chekwa had two interceptions, two pass break-ups and six tackles. Ross Homan had a team-high 10 tackles and defensive linemen Cameron Heyward and Nathan Williams each recorded interceptions.

Heyward's interception and 80-yard return was huge. It came on Miami's first possession of the second half and the Hurricanes were driving, having reached the Ohio State 9. He dropped back into coverage over the middle, made the pick and followed his blockers all the way to the Miami 15. Pryor scored two plays later to give the Buckeyes a 33-17 lead and the 'Canes were unable to recover.

On the drive following Pryor's score, Miami drove down to the Buckeyes' 22-yard line, but could not convert on third-and-long. The next play, Torrence blocked the 39-yard field goal attempt by senior placekicker Matt Bosher with five minutes remaining to go in the third.

Herron caught a 47-yard pass from Pryor on the second play following the blocked field goal. The long play would then set up a 24-yard field goal from Barclay at 1:29 to put his name in the record books. The Hurricanes would make the score 36-24 after a 9-yard touchdown catch by junior tight end Chase Ford to begin the final quarter, but it was the last time they would see the endzone as the Buckeye defense stood strong in the final minutes.

Ohio State led 26-17 at halftime, converting three first-half interceptions into nine points and that helped offset two Miami return touchdowns.

Pryor threw for 178 first-half yards and one score and the Buckeyes outgained the Hurricanes, 260 yards to 106 yards.

Ohio State recorded the first big play of the game and it was made by its defense. C.J. Barnett broke up a third down Jacory Harris pass and the deflected ball was grabbed by Williams and returned 33 yards to the UM 10. Barclay's 24-yard field goal gave the home team a 3-0 lead 9 minutes into the first quarter.

Miami responded with its own big play. Lamar Miller returned the ensuing kickoff 88 yards to give the Hurricanes a 7-3 lead. One series later Miami drove into Ohio State territory before Bosher connected on a 51-yard field goal to extend the 'Canes' lead to 10-3.

Pryor hit Posey with a 62-yard pass play on the Buckeyes' next play from scrimmage, giving the team a first down at the UM 18. The very next play Pryor rifled a bullet to Saine in the right corner of the end zone for a touchdown and a 10-all tie after Barclay's extra point.

Ohio State regained the lead on its next possession; a 41-yard field goal by Barclay capped a 10-play, 36-yard drive.

Chekwa, one of nine Buckeyes, including three starters, from the state of Florida, intercepted Harris on the next play from scrimmage and returned the ball a short distance to the Miami 19. Two plays later Herron scored from the 4 to give Ohio State a 20-10 lead off 17-consecutive points.

That run ended with just over 3 minutes to go in the half as lightning struck again against the Ohio State special teams. This time, Travis Benjamin returned a punt 79 yards for a touchdown – the third return score against Ohio State this year – that cut the lead to 20-17.

Barclay's third field goal of the half – a 21-yarder – pushed the lead to 23-17 at the half. Chekwa's second interception and 15-yard return on the 'Canes' next play set Ohio State up with a first down on the UM 27 with 49 seconds left in the half..."

Scoring Summary, Team Statistics, Individual Statistics, Drive Chart, Defensive Statistics, Game Participation, Box Score, Play-by-Play
Postgame Quotes From No. 2 Ohio State vs. Miami



BERRY'S BIG RETURNS: Two former All-Dade players suited up for the Buckeyes on Saturday. But it was redshirt freshman running back Jaamal Berry, a former first-team All-Dade running back at Miami Palmetto, who had the biggest day. Berry had two long kickoff returns against the Canes. He returned the first one 42 yards to the Buckeyes' 49-yard line after the Canes took a 7-3 lead in the first half. Had Berry not tripped over himself trying to cut back up field, he might have returned it for a touchdown. The second return, a 45-yarder to the Buckeyes' 47-yard line, came in the fourth quarter after UM scored to make it 36-24.

"It felt real good,'' Berry said. "I haven't been out there in a while. I had a nagging injury last year, but it feels great to be on the field again. I have vision. I'm fast and I'm quick so I can put that all together and utilize my talent on the field.''

Source: Miami Herald






Terrelle Pryor key to Ohio State title hunt
September 11, 2010 Source: ESPN - "Terrelle Pryor's talent sparks expectation. His performances ignite arguments. But if his steady progress continues, don't be surprised if Ohio State is in Glendale, Ariz., on Jan. 10, writes ESPN.com's Pat Forde...

Terrelle Pryor is not the most talked-about quarterback in college football. He's not even the most talked-about quarterback in the Big Ten Conference, not after Michigan's Denard Robinson went Vince Young Plus Tax on Notre Dame Saturday.

But Pryor reigns as the most argued-about quarterback in America. That much is inarguable.

Here's my take on Terrelle: He was plenty good enough Saturday. And in the course of 25 career starts, he's gotten better. Significantly better. Steady progress defies the sweeping judgments we tend to want to make after every game, or sometimes after every throw. Steady progress is kind of boring. But steady progress is working for Pryor and his team.

"He's made great steps every year," said Buckeyes receiver Dane Sanzenbacher. "Freshman year, he was thrown into the spotlight and handled it well. Sophomore year, he was more comfortable and did even more. Through two games this year, he's gotten better. It's been step after step."..."




Ohio State building takeaway tradition
September 11, 2010 Source: ESPN - "...Ohio State's defense continued its opportunistic play with four interceptions against Jacory Harris...The takeaway parade helped No. 2 Ohio State to a 36-24 victory over the 12th-ranked Hurricanes, keeping the march to the national title game very much alive. The four-pack of picks led to 20 Ohio State points, as the Buckeyes improved to plus-7 in turnover margin for the season, a number that might lead the nation after Week 2. "The coaches do a good job of telling us that when the ball is in the air," linebacker Brian Rolle said, "it's just as much ours as it is theirs."..."



Big Ten helmet stickers: Week 2
September 11, 2010 Source: ESPN - "...Ohio State CB Chimdi Chekwa: Jacory Harris will have nightmares about Chekwa after the senior cornerback recorded two interceptions in Saturday's 36-24 victory at Ohio Stadium. Chekwa, who had only one pick all of last season, added six tackles, including one for loss..."






Grading the Hurricanes vs. Ohio State
September 12, 2010 Source: Palm Beach Post - "...OFFENSE:...D; DEFENSE:...C minus; SPECIAL TEAMS...B; COACHING...C..."




Once again, Canes collapse at the most crucial moments
September 12, 2010 Source: Miami Herald - " It's infuriating, is what it is. To have the opportunities but constantly watch them slip away. To see the potential but not reach it. To watch a team implode more often than it executes in crucial spots. To know something is missing, but never being able to truly put your finger on what it is. To fix one leak but find another. It's all infuriating, and it happens a bit too often when the Hurricanes play high-quality opponents. It certainly happened Saturday against No. 2 Ohio State...

What you watched was a team that seemed to get trounced by a more complete, more together, more experienced Ohio State team, and the only reason the score was as close as 36-24 was because of two spectacular returns. The Hurricanes scored one offensive touchdown while the Buckeyes had three touchdown drives that required only two plays. But if you listen to Shannon speak, you could easily be convinced that the score could've been a lot closer. Or that the Hurricanes should've even won the game. ..."




Miami Hurricanes head home bruised and battered
September 12, 2010 Source: Miami Herald - "The Hurricanes are going home from the Horseshoe with more than just broken hearts. Two veteran defensive linemen who are in the Canes' rotation went home on crutches. Junior defensive end Marcus Robinson, who has had four sacks in each of the past two seasons, had to be helped off the field late in the fourth quarter. After the game, teammates carried Robinson to the locker room. His right ankle was wrapped in ice. Sophomore defensive end Curtis Porter injured his right knee with 2:33 to play in the second quarter and was carted off the field..."




MIAMI

vs.

OHIO STATE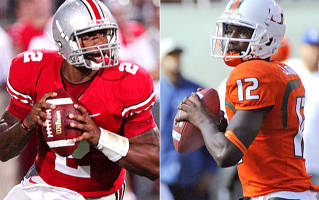 Which quarterback -- Ohio State's Terrelle Pryor (left) or Miami's Jacory Harris -- will deliver a signature victory?



No. 2 Ohio State Buckeyes vs. No. 12 Miami Hurricanes: What to watch
September 11, 2010 Source: Cleveland Plain Dealer - "OSU's defensive backs when the ball is in the air: There's a spot on the field where Miami's offense may have edge today -- about 100 inches above the turf at Ohio Stadium...The Buckeyes can't afford to be looking up and watching Hankerson come down with too many catches.

OSU quarterback Terrelle Pryor's first series: How will Miami defend him? Pressure him extra? Spy him with a linebacker? Will Pryor be calm and collected or hyped-up?...Pryor said earlier this week he might go back and rewatch Ohio State's loss to Purdue last year as motivation, "just to notice that feeling of losing," Pryor said. "I don't want to feel that." How ready will he be, and how ready are the Hurricanes for him?

OSU's offensive line on field goals and extra points: OSU coach Jim Tressel said that when Marshall's Johnny Jones blocked a field-goal attempt last week..."We just didn't block the guy," Tressel said. "We let him come through and get his hand up." So there's no adjustment to the blocking scheme, according to Tressel. Just in case, watch the first few OSU kicks a little more closely than usual.

Former OSU recruit Seantrel Henderson:...The freshman is now the third-string right tackle, wearing No. 77, but he received a decent number of snaps last week while the No. 2 tackle, Jermaine Johnson, was out with an injury...

The hang time on Miami's punts: Tressel said Matt Bosher, who is both the Hurricanes' kicker and punter, has extraordinary hang time on his punts, in the range of 4.8 seconds..."



With such a good defense, if Ohio State's offense can score three touchdowns, Buckeyes have great chance to defeat the Miami Hurricanes
September 11, 2010 Source: Cleveland Plain Dealer - "Against No. 12 Miami today at Ohio Stadium, the defense for No. 2 Ohio State will be dealing with a Hurricanes offense that should be balanced nearly 50-50 between pass and run, employing a fullback and not spreading it out on all downs...Ignore the names. Ignore the positions. Last season was the year when the OSU defense publicly adapted a no-name persona. What Ohio State has the chance to do today is remind fans that in this era of OSU success, the defense has been the constant...:





Five Key Factors
September 10, 2010 Source: Columbus Dispatch - "DEFEND VERTICALLY: ...The Hurricanes bring a conventional, balanced offense that will test the secondary. The questions about how well the Buckeyes will do in pass coverage - particularly at safety - are still valid...

PRESSURE 'J12': Jacory Harris ("J12") is no Terrelle Pryor. Harris sometimes scrambles to avoid pressure, but he does not gain big chunks of yards on the ground, preferring to buy time to wing it downfield. Like most quarterbacks, when under duress he will make mistakes... Miami is replacing three starters off last year's offensive line, so opportunity could be there. The return of defensive end Nathan Williams (knee sprain) should help OSU.

PRYOR ON EDGE: Ohio State handled Marshall without much rushing help from Pryor...The Buckeyes probably won't have that luxury this week. Pryor is most dangerous on rollouts, where he has a run-pass option, or on read-option plays, which OSU also did not do last week...Pryor should not be reluctant to take off running...

USE TIME WISELY: The most recent blueprint for beating Miami comes from Wisconsin in last year's Champs Sports Bowl. The Badgers used a solid running game and accurate, controlled passing to amass more than 39 minutes of possession time. The Hurricanes like to strike quickly...This is not an argument for a conservative Ohio State offense...

FEEL SPECIAL: There are legitimate special-teams concerns for Ohio State after last week. The Buckeyes gave up a blocked field goal, an extra-point attempt was partially blocked, and Marshall had a 63-yard kickoff return. The Hurricanes are solid all around in this area, with a stellar punter-kicker (Matt Bosher) and good return men. A repeat of last week's special teams performance could be damaging for the Buckeyes..."




Ohio State vs. Miami: Key matchups
September 10, 2010 Source: The NewsHerald - "1. QB Terrelle Pryor vs. Miami's linebackers...The showdown between Pryor and the 'Canes' linebackers is huge whether he is trying to evade them on the run or outmaneuver them in the passing game...

2. Michael Adams and J.B. Shugarts vs. DE Allen Bailey: The 6-foot-4, 285-pound Bailey was a first team All-ACC performer last year with 34 tackles, 11 tackles for loss and seven sacks while bouncing between defensive end and defensive tackle. ...

3. OSU's cornerbacks vs. Miami's receivers: Starters Chimdi Chekwa and Devon Torrence are going to have their hands full with Miami's Leonard Hankerson (45 catches, 801 yards, six TDs last year), Travis Benjamin (29, 501, 4) and LaRon Byrd (33, 460, 1)...

4. OSU's defensive line vs. Miami QB Jacory Harris: If Harris has time to stand back in the pocket all day and pick apart the pass protection, the Buckeyes are in trouble. OSU's front four of Cameron Heyward, Solomon Thomas, Dexter Larimore and John Simon did not get a sack last week against Marshall..."


Coach Tressel Thursday Update Sept 9, 2010
Source: OSU Official Site



5 Things to Watch for When the Buckeyes Take on Miami
September 9, 2010 Source: SB Nation - "...1. Safety Play. Because of Marshall's inability to block the Buckeye defensive line, the new starters at safety were not tested vertically in the opening game of the season. Senior Jermale Hines has played plenty at the "Star" position, which holds responsibilities similar to a nickelback in Ohio State's defense, but he has not had many game reps as a true safety. Sophomore C.J. Barnett has not seen many game reps, period...

2. Miami's offensive gameplan. Against Florida A & M, Miami debuted a new no-huddle offense that was not seen last season. Is it gamesmanship, as I believe, or is it the base offense that Miami offensive coordinator Mark Whipple is implementing this season?...Do they force the Buckeyes into an up-tempo game?

3. Miami's retooled offensive line versus the experienced Buckeye defensive line. Even today, it is not clear what combination Miami will use on the offensive line on Saturday...shifting their starting guards last season to both tackle positions, while introducing relatively inexperienced players to the interior...it's a move that worked well in the season opener, albeit against an FCS team.

4. Early Emotions. This Miami team has had this game on their minds for a long time, and it will be interesting to see how they handle those emotions in an atmosphere like the Horseshoe....On the other sideline, how will the Buckeyes handle the atmosphere? As the team more experienced in big games, it would appear that this would be old hat for the Buckeyes...

5. Schematically, keep an eye on how the Buckeyes defend the Miami offense. It can be difficult to see what a team is doing on television, but try to keep an eye on where the safeties are playing, when you can. If the Buckeyes are predominantly keeping two safeties in the deep middle of the field, it most likely means they are unthreatened by the Miami running game and can afford to keep their safeties deep to protect against the vertical passing game. If the Buckeyes can get away with stopping the Miami rushing attack without committing the safeties to run support, it will be a good sign for Buckeye fans..."




Miami Hurricanes Vs. Ohio State Buckeyes Key Matchups
September 9, 2010 Source: Bleacher Report - "No one has forgotten the 2003 Fiesta Bowl, especially Canes fans. The defending National Champion Miami Hurricanes were huge favorites over the Ohio State Buckeyes. Most of the country expected the Canes to take care of business and win their sixth National Title...

In a weekend that is filled with marque games:... the game everyone is talking about is the #2 Buckeyes vs. the #12 Canes. Let's take a look at the matchups: Quarterbacks...Running Back...Wide Receiver & Tight End...Offensive Line...Defensive Line...Linebacker...Secondary...Special Teams...Coach..."




Hurricanes vs. Buckeyes: It all comes down the quarterbacks
September 9, 2010 Source: Sporting News - "...As in most games pairing ranked teams, quarterback play figures to help determine Saturday's winner. But the position will attract extra attention in this one because of the evolution both players have made, and the potential they possess to lead their teams to championships.

Pryor and Harris entered college in 2008 as two of the most touted young quarterbacks in the country. National recruiting site Rivals.com rated Pryor as the nation's top recruit; Harris was labeled the seventh-best pro-style quarterback. And although both have excelled at times, highlighted by Pryor's 2010 Rose Bowl victory against Oregon, both have struggled in important spots.

In a teleconference Wednesday evening, Pryor said his rough games helped him relate to Harris' struggles down the stretch last season. We talked about forcing some throws," he said. "Maybe we tried to do too many things ourselves and not let our play go out and decide the game." These are better times, though. Both quarterbacks shined in their team's easy-win openers, and similar performances will be needed to bring another victory. Saturday's outcome will steer public perception into October. The winning team's quarterback will rank as a Heisman Trophy favorite, and his squad will be discussed as a sure-fire national title contender..."


Pryor feels good on eve of the big game
Source: BuckeyeGrove.com



Defense wants to turn up pressure
September 9, 2010 Source: Columbus Dispatch - "Miami quarterback Harris was sacked 35 times last season... Those "32" decals Ohio State players are wearing this season aren't just for show. They mean something to the Buckeyes. The decals honor former OSU and NFL standout defensive back Jack Tatum, who died of a heart attack July27. A legendary hard hitter, "The Assassin" used to address the Buckeyes before every Michigan game.

"He always said, 'Hit them in the mouth,'" defensive tackle Dexter Larimore said. "That was kind of his deal." That's the goal for the defense Saturday when No.2 Ohio State plays No.12 University of Miami in Ohio Stadium. Larimore said they hope to deliver Tatum's message in person to the Hurricanes, and in particular to quarterback Jacory Harris. "If you can hit them in the mouth defensively, it's going to be a rough day for them," Larimore said. "I don't know too many athletes that like to get hit in the mouth."...

Where Marshall employed a spread offense and a quick-passing scheme, Miami is expected to come in with a more conventional, balanced approach. "They're tough. They're fast. They don't do a million different things," Ohio State coach Jim Tressel said. "The good teams usually don't. They play good, hard, fundamental football."...No secondary, though, can hold up forever if the quarterback has time. And that's why Ohio State hopes it can get to Harris..."


| | |
| --- | --- |
| | "It's kind of scary but I think me and Bolls are thinking alike right now." |
- C Mike Brewster has been tutored by OL coach Jim Bollman for the last three years and now catches himself mirroring the same thoughts as his mentor.



WR DeVier Posey & LB RossHoman Preview Saturday's Game with No. 12 Hurricanes




Offensive Line and Linebackers Key vs Miami
September 8, 2010 Source: Eleven Warriors - "When thinking back to the Miami run that began in the mid-1980s and flourished through the early part of this decade, defense was the foundation of success. Drill down even further and one would find the defensive line as the engine of the machine that demoralized teams and wrecked the gameplans of opposing offenses, no matter how well conceived.

In recent years, pressure and production from the line been a critical missing element. Last season saw the Hurricanes notch only 24 sacks with a meager nine of those coming in the last six games. To rectify the problem, coach Randy Shannon hired Rick Petri from Kentucky where he had spent the last five years. It was a homecoming of sorts as Petri guided the Canes defensive line during some of the most prolific years and was responsible for the development of great players like Warren Sapp and Kenard Lang. And, so far, it seems like old times for the coach. In their first game against Florida A&M, Miami racked up 8 sacks with a shade under four of them coming from defensive end, Olivier Vernon.

The reason, according to Vernon: Coach Petri...

When watching video of Miami both this year and last, I see a team who will use speed and power to get pressure but also confusion. The confusion part comes by way of running twists, where a lineman will rotate behind and around one of this teammates and work through a different gap than the one he lined over. The technique isn't new but it sometimes can be particularly difficult for the offensive line to handle because, even if the line cognitively recongnizes what's happening, they may get caught up in the wash of players, allowing a defender to rush free.

There are four clips that illustrate this technique all with varying degrees of success. Two of the clips come from Miami's game against Wake Forest last year while the other two are from this past weekend's games..."



ESPN Showdown in The Shoe:
Todd McShay and Trevor Matich talk about the matchup between Jacory Harris and Terrelle Pryor



Once Again, Pressure Will Be Key When Bucks Face Canes
September 8, 2010 Source: The Ozone - "In January 2003 pressure on the quarterback went a long way toward determining the outcome of the game. Brandon Castel says that is likely to be the case in 2010 as well...As Ken Dorsey dropped back to pass on the final play of the 2003 BCS National Championship game, Cie Grant torpedoed on a blitz off the right side...

Eight years later, the Buckeyes have a similar plan in mind for stopping current Miami quarterback Jacory Harris. "If you don't get after him, he's gonna sit back there and just pick you apart," OSU defensive tackle Dexter Larimore said. "If you watch the Florida A&M game, he was back there just unbelievably on the mark, hitting all of those wide receivers. So if we're not getting after him, it's going to be a long day for our secondary." Harris, a junior out of Miami, completed 12 of his 15 pass attempts in the opener (all in the first half) for 210 yards and three touchdowns. He threw 24 touchdowns as a sophomore last season, but also led the ACC with 17 interceptions..."


C Mike Brewster on upcoming game with Miami Saturday
Source: OSU Official Site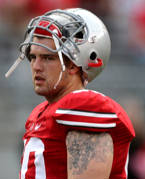 Ohio State Buckeyes' Mike Brewster confident offensive line can handle Miami's defensive line
September 8, 2010 Source: Cleveland Plain Dealer - "...Mike made a good call. That's Ohio State junior center Mike Brewster, and he made a lot of good calls. In fact, after playing about 45 snaps in the Buckeyes' opener, Brewster said line coach Jim Bollman disagreed with only one decision he made on blocking assignments, a duty that falls to the OSU center, and even Brewster realized that mistake as soon as it happened.

For the first time in his career, Brewster was graded with a "winning performance" by his coaches, who examine every detail in their postgame evaluations. It's not a level that's easy to reach -- quarterback Terrelle Pryor is still searching for the first "winning performance" of his career. It's Brewster's self-assuredness and consistency in the middle of the line, and his faith in the four linemen joining him, that will be tested against Miami's quick and dangerous defensive line on Saturday when the No. 2 Buckeyes host No. 12 Miami...The most important matchup Saturday may be between Ohio State's offensive line and Miami's defensive line. Here are the players involved:.."


DB Chimdi Chekwa on upcoming game with Miami Saturday
Source: OSU Official Site



Michael Brewster and Chimdi Chekwa were asked about trash-talking Miami players, the '03 championship game, the importance of this week's game for both teams and more.





Tressel on Miami: 'The challenge is great'
September 7, 2010 Source: Columbus Dispatch - "..."I know our folks are looking forward to this opportunity just like you are," OSU football coach Jim Tressel said today at his weekly media. But he wasn't talking about the rematch aspects of the game. When asked for memories of that momentous night in Tempe, Ariz., where the Buckeyes -- buoyed by a controversial penalty in overtime -- pulled the surprise, Tressel danced through most of his answers while advancing back to the game at hand. As far as he was concerned what happened almost eight years ago has little to do with what might happen Saturday.

"The challenge is great," Tressel said. "Miami is an excellent football team." At least that part is similar. After the gradual denoument following the loss to OSU, which eventually cost then-Miami coach Larry Coker his job at the end of the 2006 season, the Hurricanes have rebuilt under the guidance of coach Randy Shannon.

Whether they are all the way back remains to be seen (they blasted outmanned Florida A&M 45-0 on Thursday night at the same time OSU was doing the same to Marshall 45-7). Saturday's game will be more of an indicator. But Tressel said that watching tape of the current 'Canes is more relevant to him than reminiscing about a past victory. "They're tough, they're fast, they don't do a million different things," Tressel said. "The good teams usually don't."..."



Ohio State quarterback Terrelle Pryor talks about facing Miami and Jacory Harris this week.



Miami is a 'home' game for some Buckeyes
September 6, 2010 Source: Columbus Dispatch - "Brian Rolle hadn't been with the Buckeyes for long when he looked at Ohio State's upcoming schedules. His heart jumped. In his senior season, the linebacker from Immokalee, Fla., saw, he would get to face his hometown team.

"I was like, 'We play Miami?'?" Rolle said. "It was amazing that it was my favorite school growing up — I didn't get a scholarship offer (from the Hurricanes) and I ended up at Ohio State and we eventually play them. "So it's extra special for me to be playing them. I look forward to it."

Rolle is one of nine Buckeyes from Florida, and one of six from south Florida. He's the only south Florida native expected to start for OSU when it faces Miami on Saturday — the others are backups: running backs Jaamal Berry and Carlos Hyde, cornerback Travis Howard, receiver James Louis and linebacker Etienne Sabino...

Rolle is not afraid to admit that he still likes the Hurricanes. "I grew up in Fort Myers, I was born in Miami," he said. "That's never going to leave me, but I'm a Buckeye now, and I don't like them (this) week. They're the competition." ..."




Jacory Harris Vs. Terrelle Pryor: Who is the Better Quarterback?
September 6, 2010 Source: Bleacher Report - "...Let's break down both quarterbacks and let the fans of each debate state the reasons why their guy is superior, or why they are even. This game is going to come down to which guy can control the other team's defense, so it is probably the single biggest factor in determining the outcome of the game.

Terrelle Pryor is the fastest player on the Ohio State football team, and he is not a bad weapon to have running your offense. Pryor runs a 4.33 40-yard dash and is 6'6", 240 lbs. He is a formidable opponent to deal with. Looking through all of Pryor's game stats over the last two seasons, what stands out the most is his completion percentage in 2009. It ranged from a low of 38.5 percent to a high of 82.4 percent, with many games hovering in the 40 to 50 percent area. That is a large range that shows why people knock Pryor, but at the same time why they see potential for him to do big things.

Pryor is safe with the ball, does not turn it over much, and was very efficient managing the offense last season. Pryor's biggest asset is his ability to run with the football...

Jacory Harris is listed at 200 lbs., but he is probably closer to 190 pounds when he steps on a scale. He is not physically imposing like his counterpart on Saturday, and this leads some to question his durability as a player. Looking at Harris' statistics from 2009, his completion percentage ranged from 36 to 80 percent with an average sitting in the 50 to 60 percent range.

The eye popping stat with Harris is his 17 interceptions. He led the nation in that category, but Harris had four 300-yard passing games while Pryor had none. Harris does not run with the ball, nor does he have any inclination to run with it...Harris is a passer, and will string out a play to the last minute in an attempt to make that last-minute throw downfield.

Based on the statistics you could say Harris is a better quarterback, but..."