| | |
| --- | --- |
| | The (red) story links, or the 'read more' graphic, will open new (pop-up) windows to the source of the article, audio or video, so you can read/hear/see the rest. If your browser is set to block pop-ups, please set it to always allow them from our site. You will not get any annoying advertising pop-ups, of any kind, generated by this site...ever. |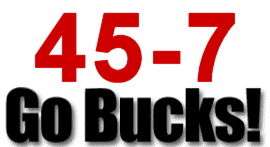 MARSHALL

vs.

OHIO STATE
2010 Ohio State Vs Marshall Football
A 14 min condensed highlight version of the entire Marshall game
Source: MlbIndian

Ohio State Marshall Highlights
Source: OSU Official Site





Ohio State QB Terrelle Pryor on his best play Thursday and the showdown with Miami: Video
September 3, 2010 Source: Cleveland Plain Dealer - "What did Ohio State quarterback Terrelle Pryor think his best play was Thursday night in the Buckeyes' 45-7 win over Marshall? A 7-yard pass to backup fullback Adam Homan.

"I was dropping back and I scanned the field through about four checks," Pryor said after the win, "and I looked to see if it was open and I threw it all the way across the field to a checkdown. I think that was my best play."...

On the team's progress...On a rematch of the national title game from the 2002 season...More on Miami...On the offense against Marshall...On the left knee brace he wears after getting that knee scoped in the offseason...On a showdown of Heisman candidates with Miami QB Jacory Harris..."





Ohio State: Week One Post-Marshall Wrap Up and What We Learned
September 4, 2010 Source: Bleacher Report - "After watching the Buckeyes dominate Marshall, there are six things that should now be evident beyond a shadow of a doubt.

Number One: Entering the season, special teams play was, and still is, the glaring weakness and No. 1 concern on this team...

Number Two: No surprise here—The Buckeye defense is very, very good...

Number Three: The running back pecking order is set at the very top, but the number two slot could be up for grabs...

Number Four: Terrelle Pryor silenced his critics that still believed he was not a legitimate passing quarterback. He picked up right where he left off in the 2010 Rose Bowl, hitting 17 of 25 passing for 247 yards and three touchdowns...

Number Five: Dane Sanzenbacher caught three balls for 113 yards and a touchdown. His play often brings back fond memories of former Buckeye Anthony Gonzalez...

Number Six: Next Saturday, the Ohio State Buckeyes and the Miami Hurricanes will meet for the first time since their controversial 2003 Fiesta Bowl battle that saw the Buckeyes outlast the Hurricanes 31-24 in double overtime to win the BCS championship. Both teams opened the season in similar fashion with easy wins as Ohio State defeated Marshall 45-7, while Miami shutout FCS-foe Florida A&M, 45-0. Quarterbacks Terrelle Pryor and Jacory Harris had comparable individual first-game stats. Both teams also have good backs, good o-lines, and good defenses..."





10 Things We Learned from Easy Win over Marshall
September 3, 2010 Source: The Ozone - "1. Pryor looks like a different guy. I've been saying it all fall, but Terrelle Pryor showed the rest of the world that he is a different player than the one who took the field in the season-opener against Navy last year. Fans got their first glimpse of it in the Rose Bowl, but even then people had to wonder whether what they were seeing was a mirage..."He's been like that all camp, all spring, since the Rose Bowl and I wouldn't expect anything different," Posey said...

2. Still major concerns on special teams. If you only watched the opening kickoff Thursday, you probably think Ohio State had a tremendous day on special teams. Dorian Bell and Tyler Moeller ran down the field and forced a fumble on the first play of the game, and the Buckeyes went up 7-0 when Pryor connected with Posey in the end zone four plays later. Perfect, right? Sure, except that's not the end of the story. Before the day was over, the Buckeyes would have a blocked field goal returned for a touchdown and a 63-yard kick return by Andre Booker. After the game Tressel said those are the plays that stick in a coach's mind.

3. Brandon Saine is the fastest Buckeye with the ball in his hands...A former track champion in Ohio, Saine may not have the shiftiness of a Jordan Hall or the initial burst of a Jaamal Berry, but when he hits a hole and comes out the other side, it's off to the races. Marshall isn't in the same realm as OSU when it comes to athletes, but Saine blew by the Herd defenders like he was Forrest Gump.

4. Brian Rolle might object. If there is one guy I would like to see in a foot race with Saine down the sideline it's Brian Rolle. For the second-straight year, the Florida native scored on a long interception return in the season opener, this time it went for a touchdown...

5. Defensive staff drew up the right scheme...The Buckeyes talked all week about not knowing exactly what Marshall was going to do offensively, and yet somehow Heacock dialed up the perfect game plan to combat their attack...The Herd attempted to use Purdue's game plan from a year ago to keep Ohio State's pass rush off balance with quick passes and screens. Only Heacock was ready for it and went with a steady balance of four-man rushes all night with seven guys dropping into coverage. The result was 199 yards of total offense for Marshall, including just 44 on the ground.

6. Tyler Moeller is a key player on defense...He led the team with 7 tackles, 2 TFL, 1 sack and a forced fumble in his first game back, imagine what he might do in game five or game 10.

7. Sweat and Barnett are solidified starters. When Etienne Sabino and Orhian Johnson lost their starting jobs to Andrew Sweat and C.J. Barnett late in fall camp, there were questions about how much time they would split. The answer was easy: none...

8. It all starts up front...Make no mistake about it, it was the guys up front on both sides of the ball who allowed the rest of the team to have the kind of success it did. The play of the front four defensively allowed Heacock to drop more guys into coverage, but it was the offensive line that particularly dominated the game...

9. Buckeyes still looking for a No. 3 receiver. The Buckeyes may have gone with senior Taurian Washington as their third receiver against Marshall, but that hardly means the position is settled...Schwartz stepped up and showed good hands on his three catches and anyone who has followed the off-season knows Tressel is high on Philly Brown. Washington will be the first receiver off the bench against Miami, but don't be surprised to see Schwartz or Brown get more playing time.

10. The Buckeyes have some secondary weapons...tight end Jake Stoneburner stepped up to show he can be a force in the passing game. Obviously Saine is a primary weapon as well, but youngsters Jordan Hall and Jaamal Berry proved they will have a role on this team...Even though the game was over, Berry was running through tackles and showing off his speed to the tune of 80 yards on seven carries..."


Jim Tressel Speaks to the Media Postgame Marshall
Source: OSU Official Site

Buckeye Players Speak to the Media Postgame Marshall
Source: OSU Official Site


It was over when... : Ohio State forced a Marshall fumble on the opening kickoff. The Buckeyes started strong and rolled.

Star of the game: Brandon Saine gave Terrelle Pryor a run for his money, but the Ohio State quarterback just kept on making big pass plays. Picking up where he left off in the Rose Bowl win over Oregon, Pryor was 17-of-25 passing for 247 yards and three touchdowns.

Gameball goes to... : Ohio State's offense. The balanced Buckeyes rushed for 280 yards and passed for 249 yards.

Turning point: Pryor's 65-yard TD pass to Dane Sanzenbacher at 1:22 of the first quarter. Marshall had cut the lead to 14-7 with a momentum-grabbing 61-yard TD return by Ahmed Shakoor of a blocked field-goal try. Pryor and Sanzenbacher grabbed it right back with a pass right down the middle.

Best deja vu: If Brian Rolle played every game like it was a home opener, the Ohio State linebacker's interception total would be astonishing.

Translating Tress:
What he said: "I thought Terrelle did some real good things, but it's going to be a more difficult world next week."
What he meant: "A world that, unlike tonight, an actual football team inhabits."

Stat of the game...: 3, 0. The Buckeyes forced the Herd into three turnovers and did not commit any of their own.

The view:
How the team sees it: Nice to pick up right where we left off.
How the pollsters will see it: No. 2 looks about right. Or maybe No. 1A.
How Buckeye Nation will see it: Expectations met. Now, let's exceed them against Miami.

Numbers for dummies 1: 4: Ohio State coaches who spent at least 10 seasons leading the Buckeyes: John W. Wilce, Woody Hayes, John Cooper and Tressel.

Numbers for dummies 2: 17-1: The Buckeyes' record when Pryor throws at least one TD pass.

Best 1-2-3 punch: If one good runner is difficult to stop, then Ohio State might have a pretty good idea to have a 1-2-3 rushing attack. Running backs Brandon Saine and Dan Herron combined with Pryor to rush for 164 yards on 24 carries. Saine led the way with 103 yards on nine carries.

Repercussion: The Buckeyes won't fall from No.2 in the polls after this one. Pryor and company clicked on offense, and the defense had nothing to do with the only Marshall touchdown. Brian Rolle got even, in fact, with his 30-yard interception return for a TD. This win was thorough.

Home Openers: Ohio State has not lost a home opener since 1978 -- Woody Hayes' last season in Columbus.

Pregame buzz: All eyes that weren't already on next week's Miami game were on junior quarterback Terrelle Pryor to see if his coming-out party at the Rose Bowl would continue to turn heads. Quick answer: yes.

They said it: As heard from OSU facilities worker: "They should have brought (Matthew) McConaughey with them." The actor starred in We Are Marshall.

Just wondering: LeBron James is making it well known through his Twitter account -- @KingJames -- that he fancies himself a huge #Buckeyes fan. "I thinking bout going down to the Horseshoe next Sat for that battle. O-State will prevail for sure. Will be exciting! Good luck tonight Bucks," James tweeted. Given James' love for tOSU, or at least for tOSU football, will Ohioans who turned against him for turning his back on Cleveland change their minds and embrace the Miami-transplanted Buckeye?


(Sources: ESPN/Cleveland Plain Dealer/Columbus Dispatch)




No. 2 Ohio State Rolls Past Marshall, 45-7
September 2, 2010 Source: OSU Official Site - "No. 2 Ohio State looked terrific offensively and stubborn defensively in rolling to a season-opening win over the Marshall Thundering Herd, 45-7, Thursday in front of 105,040 fans on a delightful evening at Ohio Stadium.

Playing in the 10th night game in stadium history and kicking off the 121st season of Ohio State football, the Buckeyes were solid from the opening play of the game - a forced fumble on the opening kickoff - until well into the third quarter when the home team was comfortably ahead.

Quarterback Terrelle Pryor led a balanced offensive attack with 247 yards passing and three touchdowns. Brandon Saine looked powerful and elusive with 103 rushing yards, including 45- and 40-yard runs, and two touchdowns. Receivers Dane Sanzenbacher and DeVier Posey combined for seven catches for 154 yards and three touchdowns. Third-year sophomore tight end Jake Stoneburner had a career night, catching three passes for a game-high 41 yards, while fifth-year senior wide receiver Grant Swartz connected three times for 20 yards.

Defensively the Buckeyes forced three turnovers and limited Marshall, in its first game of the Doc Holliday coaching era, to 199 offensive yards. Marshall's only score came on a blocked field goal attempt in the first quarter that Ahmed Shakoor returned for a touchdown.

"We came off a hard training camp and it was good that we got a number of guys in," head coach Jim Tressel said. "I thought our kids played hard. It was good to see guys back in there like Tyler Moeller and becoming better football players. We have a tremendous challenge next weekend, and if we can learn after what we did today and have a good week of practice, next week should be fun."

In the second half, the Buckeyes continued their first-half momentum, going 80 yards in nine plays in under five minutes to post a 42-7 lead to begin the third quarter. The drive finished with Posey's second touchdown catch of the night off an 11-yard pass from Pryor. Junior running back Dan Herron helped set up the Buckeyes' six score, running 34 yards on four carries with also a nine-yard catch. He finished with seven carries for 44 yards...

Then with less than four minutes to go in the half, Saine scored again, this time from 45 yards out, to increase the lead to 28-7. Linebacker Brian Rolle returned a Brian Anderson interception 30 yards for a touchdown for the fifth touchdown of the half and the fourth by a Buckeye captain. Saine and Sanzenbacher are also team captains. Ohio State has tied a team record with six captains this season...

The Buckeyes return to action against No. 13 Miami at 3:40 p.m. Sept. 11 in Ohio State. The game will be televised nationally on ESPN..."

Scoring Summary, Team Statistics, Individual Statistics, Drive Chart, Defensive Statistics, Game Participation, Box Score, Play-by-Play
Postgame Quotes From No. 2 Ohio State vs. Marshall


Source: Columbus Dispatch



Doug Lesmerises' report card for OSU-Marshall
September 2, 2010 Source: Cleveland Plain Dealer - "...C -- Special teams It was a worry entering the preseason for Jim Tressel, so he must have loved it when OSU freshman Dorian Bell knocked the ball loose on the opening kickoff, forcing a fumble that was recovered by Nate Oliver.

But there were too many other problems. The extra-point try after Ohio State's first touchdown was tipped, but Devin Barclay's kick still fluttered through the uprights. The Thundering Herd returned one kickoff for 63 yards. And, of course, Marshall's only points came on a 61-yard return of a blocked 53-yard Drew Basil field goal attempt.

Ohio State has two extra days to prepare for Miami on Sept. 11. That's plenty of time to work extra on blocking during those kicks..."



The Bottom Line
September 2, 2010 Source: Columbus Dispatch - "...Defense (4 leaves) It's not a shutout on the board, of course, but that crooked seven came against the special teams and not big D. Game ball to Tyler Moeller, who returned to action with a team-high seven tackles, two for losses, a forced fumble -- and some attitude. The offense gets the ink, but this could be a nasty bunch -- good nasty. ..."




In this Fox Sports game highlight video on YouTube, Terrelle Pryor connects with Dane Sanzenbacher for a 65 yard TD with a minute twenty-two left in the 2nd quarter, which boosted the Buckeyes advantage to 21-7. A minute earlier, Marshall had just narrowed the Buckeyes lead to 14-7 on a blocked FG attempt by Drew Basil that was returned for a TD.



MARSHALL

vs.

OHIO STATE


Final Walk-through: Marshall
September 1, 2010 Source: The Ozone - "The hay is in the barn and the Buckeyes are ready for the season-opener. Check out Brandon Castel's Final Walkthrough, a last minute, position by position look (with injury reports) at the Buckeyes heading into the game...

Quarterback: What to Expect...Running Back: What to Expect...Wide Receiver & Tight End: What to Expect...Offensive Line: What to Expect...Defensive Line: What to Expect...Linebackers: What to Expect...Secondary: What to Expect...Special Teams: What to Expect ..."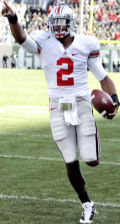 Teammates, coaches marvel at Pryor's growth
September 2, 2010 Source: Associated Press - "They say he finally is becoming a complete QB, not just an athlete...

Ohio State's secret weapon isn't much of a secret. After two years of tutoring, coaxing, learning and waiting, Terrelle Pryor is no longer just a gifted athlete but a genuine quarterback.

It's almost too much for assistant head coach and wide receivers coach Darrell Hazell. His voice drops to a conspiratorial whisper as he says, "You've just seen the beginning of greatness, I think. I believe that. He's so much better right now. He looks like a true quarterback. He gets back in his drops now, sees the field so much better now than he did last year — so much better."

Regardless of the departures and arrivals that make up a typical year for a college team, Ohio State's coaches think the biggest difference in the second-ranked Buckeyes this year is Pryor's comprehension of the position.

"The fun part of what we do is that every guy that comes in at 17 or 18, it's dramatic how we see them change," OSU head coach Jim Tressel said. "Terrelle is no different. He just happened to be walking around with a spotlight on him the whole time. I think his change has been as significant as anyone else's." The first test comes tonight, Sept. 2, when the junior leads Ohio State up against Marshall at Ohio Stadium...."


.

Four things Doug Lesmerises thinks about Ohio State-Marshall
September 2, 2010 Source: Cleveland Plain Dealer - "With kickoff fast approaching, some top questions on my mind:

1. One of the players I'm most curious to watch is OSU sophomore return man Jordan Hall, who is the No. 1 guy on both kick and punt returns. This is a great way to get Hall, part of a crowded backfield, into the game...

2. The other player to watch for Ohio State is nickel back Tyler Moeller, who will be playing in his first game since 2008 after sitting out all last season with a head injury. "I feel like I'm more excited than anybody else," linebacker Brian Rolle said. "He and I are like brothers."...

3. The Buckeyes should throw to their running backs more, with Jim Tressel saying senior Brandon Saine is as good a receiver as any running back in the country. Saine caught 17 passes a year ago, and the over-under for Marshall is three. If Saine is that good, the Buckeyes need to flaunt that more.

4. There's no reason to expect that starting defensive end Nathan Williams and his injured left knee won't be ready for the Miami game next week, but even when he returns, Solomon Thomas will play a role for Ohio State's defensive line this season..."




Inside The Vest: How Jim Tressel will approach today's game with Marshall
September 2, 2010 Source: Cleveland Plain Dealer - "Marshall enters tonight's season opener as a bit of an unknown, which should prove a good test for the Buckeyes with Miami looming..."




10 Things To Watch in Week 1 Against Marshall
August 31, 2010 Source: Bleacher Report - "It's finally here. The 2010 season of college football is finally here after months of fevered anticipation...here are ten things to watch for in the Buckeyes' home opener for the 2010 season...

1. The Beginning of Terrelle Pryor's Heisman Campaign...
2. New Starters in All Levels of the Defense...
3. Ohio State Might Incorporate the Tight End in the Passing Game...
4. Will Jim Tressel Let the Horses Loose on Offense?...
5. The Long-Awaited Debut of Jaamal Berry—Maybe...
6. Expect Freshmen To Be Contributors Right Away...
7. Changes to the Special Teams Philosophy...
8. Facing the Unknown: Doc Holliday and His New Coaching Staff...
9. Mike Adams Tries to Lock Down the Left Tackle Spot...
10. Dealing With the Ohio/Navy Factor..."




Updates: Starting DE Nathan Williams Out, who hurt his left knee on Aug. 14, will miss Thursday's game, but Tressel expects him to return for the Miami game on Sept. 11. Starting CB Chimdi Chekwa has been battling a hamstring injury but practiced Monday and will be ready for Thursday.





Tressel Updates Chekwa, Personnel August 30, 2010 Source: The Ozone - "...Tressel declared that Chekwa will be ready to start the game against the Thundering Herd despite a lingering hamstring injury that kept him on the sideline at the end of fall camp. "Chekwa practiced yesterday more than I thought he would," Tressel said on his radio call-in show...Safety Battle Heating Up, Offensive Line Updates, Last Kicks..."




Marshall a mystery on offense August 30, 2010 Source: Columbus Dispatch - "The Ohio State defense has been trying hard to focus on season-opening opponent Marshall. The No.2 Buckeyes don't feel they've been distracted, even if there is the looming national showdown with No.13 Miami on Sept.11. The challenge is that they're preparing for a Marshall offense that's largely unknown...

The Buckeyes might as well watch the movie We Are Marshall for all the good last year's video of the Thundering Herd can do for them. Since then, Marshall has brought in a new coach in Doc Holliday, and he's put together a band of assistants, led by offensive coordinator Bill Legg, who have Marshall ties but have spent most of their coaching life outside of Huntington, W.Va...

So the Buckeyes no doubt have watched video of Purdue's offense when Legg was there in the mid-2000s as co-offensive coordinator under "basketball on grass" coach Joe Tiller. They've checked out the diverse attack that included some wildcat plays that Legg orchestrated the past two years as offensive coordinator at Florida International...

Holliday was an assistant at Florda in the mid-2000s, when the Gators spread the field offensively, winning a national championship in 2006 with two quarterbacks - Chris Leak and Tim Tebow. OSU fans remember, of course, the way the Gators handled OSU in the national championship game...

With an offensive line beset by injuries, the reports out of Huntington haven't always been glowing about the offense, either. So what should be the OSU defense's focus? "We just have to be ready for anything," defensive end Cameron Heyward said. "Marshall is coming in with the mentality that they're going to upset us. They're not going to sit back and just let us win. So it's going to be a fun game. I'm looking forward to it."..."




Coach Tressel Weekly Press Conference Transcript August 30, 2010 Source: OSU Official Site





Odds and ends: Sophomore running back Jordan Hall will return kickoffs along with freshman running back Jaamal Berry and will return punts ahead of Devon Torrence and Corey "Philly"

Brown. Source: Columbus Dispatch






Honorary Captain
• Former CB Antonio Smith is the honorary captain for the Marshall game.

FIRST AND 10
• Thursday kicks off the 121st season of football at Ohio State
• Jim Tressel is 18-5-1 all-time in season openers and 9-0 at Ohio State
• Jim Tressel has won 14 straight season openers and 18 of his last 20 overall
• The Buckeyes will be going for their sixth consecutive Big Ten championship in 2010
• Ohio State has 34 Big Ten championships all time, trailing only Michigan with 42
• Ohio State is 52-5 at Ohio Stadium since the start of the 2002 season
• Ohio State is one of only three FBS teams to record at least 10 wins in each of the past five seasons (Virginia Tech, Texas)
• Ohio State has played in 8 BCS bowls, the most all-time ahead of USC and Oklahoma (7)
• Ohio State has won 54 consecutive regular-season non-conference home games against teams not ranked in the AP Top 25
• Ohio State has had 55 consecutive crowds of more than 100,000 at Ohio Stadium

DID YOU KNOW?
• Ohio State has not lost a home opener in 32 years - Sept. 16, 1978 to be exact when No. 6 Ohio State suffered a 19-0 loss to No. 5 Penn State in Woody Hayes' final season as head coach.
• Ohio State has an all-time opening day record of 104-12-4. The Buckeyes' last opening day loss away from Columbus was to Miami in the 1999 Kickoff Classic in East Rutherford, N.J.
• All-time, the Buckeyes are 108-8-4 in home openers since 1890. The largest opening day crowd at Ohio Stadium was 105,092 in the 2009 opener vs. Navy.
• Thursday's opener will be the first time the Buckeyes play a home game on a non-Saturday since beating Wyoming, 24-10, Aug. 28, 1997, in a Thursday night season opener -- the season following the 1997 Rose Bowl victory under John Cooper.

DID YOU ALSO KNOW?
• Junior quarterback Terrelle Pryor is the first Big Ten quarterback to return the season after winning Rose Bowl MVP since Ohio State's Joe Germaine in 1997. The last Big Ten player to return the season after winning Rose Bowl MVP was Wisconsin's Ron Dayne in 1999. Dayne went on to the win the Heisman Trophy in 1999.

IN NIGHT GAMES
Ohio State is 6-3 at home (27-13 away from home) in night games (games starting 5 p.m. or later local time) since 1959 and 33-16 in night games all-time. Under Coach Jim Tressel, the Buckeyes are 15-10 in night games and 8-3 in Big Ten night games away from Ohio Stadium. Tressel's teams are 2-3 at home in night games.

SERIES HISTORY
Ohio State and Marshall have met just once before on Sept. 11, 2004, with the Buckeyes prevailing, 24-21, on a last-second field goal.

NOTING THE BUCKEYES
• Last season Ohio State became the first FBS team to beat five teams that finished with at least 10 wins: Iowa (11-2), Penn State (11-2), Wisconsin (10-3), Oregon (10-3) and Navy (10-4).
• Under Jim Tressel, the Buckeyes are 25-2 at Ohio Stadium versus non-conference teams, the only loss coming to No. 3 USC, 18-15, in 2009 and 25-22 to No. 2 Texas in 2005. The Buckeyes are 30-4 overall in regular season non-conference games since 2001.
• Ohio State has won at least a share of the Big Ten title in each of the last five seasons. That is tied with Michigan from 1988-92 for the second-longest run of consecutive titles. Ohio State holds the record with six straight championships from 1972-77.
• Ohio State has recorded 34 Big Ten championships all-time. The only football program with more is Michigan with 42.
• Ohio State has won three outright Big Ten titles in the last four years. That is more than the rest of the Big Ten in the last decade. The only other Big Ten teams to win the conference title outright since 2000 were Illinois in 2001 and Michigan in 2003. The only time the Buckeyes shared the conference title was when they went 7-1 to tie Penn State in 2008.
• OSU has recorded at least 10 wins in each of the last five seasons. The Buckeyes have a chance to become the first team in Big Ten history to record six straight 10-win seasons. The only other Big Ten team to have this long of a run of double-digit victories was Michigan from 1901-05.
• OSU is one of only three FBS teams to record at least 10 wins in each of the past five seasons. The other two are Virginia Tech and Texas.
• Ohio State has made 84 consecutive appearances in the AP Top 25 poll. The only longer active streak among FBS teams is Texas at 158. Florida is third with 81 and Alabama and Penn State are tied for fourth with 33.
• Ohio State finished fifth in the final AP poll of the 2009 season. The Buckeyes have finished in the Top 10 in that poll in each of the five seasons since 2005.
• Ohio State has finished in the top 10 of the final AP poll in seven of the eight seasons since 2002. The only time the Buckeyes finished outside of the top 10 in this span was 2004, when Ohio State ended up ranked 20th.
• Ohio State is the only FBS team to have finished in the top 10 in the final AP poll in each of the last five seasons.
• Ohio State has finished in the top 10 in the final AP poll in each of the last five seasons. That has only happened once previously in OSU football history. The Buckeyes were in the top 10 of the final poll in each season from 1972-76.
• Ohio State has appeared in a BCS bowl in seven of the last eight seasons – all under Jim Tressel.
• The Buckeyes appeared in a BCS bowl for the eighth time overall last season. That is the most all-time, leading USC and Oklahoma (7).
• Ohio State has been to a BCS bowl in each of the last five seasons. It is the longest active streak among FBS teams. The only team with a longer run of BCS bowls was the seven straight made by USC from 2002-08.
• Ohio State is 5-3 all-time in BCS bowls. That is tied with Florida (5-1) for the second-most all-time BCS bowl wins. The only team with more BCS bowl wins is USC (6-1).
• Ohio State enjoyed one of the most successful decades in Big Ten history during the 2000s. The Buckeyes went 102-25 (.803) in the 10 seasons from 2000 through 2009. That was the most wins by any Big Ten team in any decade all-time. The 102 wins tied USC for the fourth-most wins by an FBS team in that span -- Boise State (112-17), Texas (110-19) and Oklahoma (110-24).
• Ohio State has appeared in a January bowl game in each of the last five seasons. The only other FBS team to play in that month in each season in this span is Florida.
• Ohio State has appeared in eight BCS bowls. That is as many as Michigan (4), Penn State (2) and Wisconsin (2) combined.
• Ohio State is 85-6 when it has allowed fewer than 24 points in the nine seasons under Tressel.





Game Data: Marshall at OSU
August 30, 2010 Source: BuckeyeSports.com - "We look at the pertinent info, depth charts and have predictions for Thursday's OSU-Marshall opener..."




Last Time Out: Marshall
August 30, 2010 Source: BuckeyeSports.com - "The 2010 season is set to begin on Thursday when Marshall invades Ohio Stadium for only the second time. Take a look back at Ohio State's 2004 matchup with the Thundering Herd in this edition of "Last Time Out..."






Ohio State vs. Marshall Preview
September 1, 2010 Source: The Ozone - "Tony Gerdeman's preview of the Marshall game ...Head Coach Doc Holliday has spent the last five years split between Florida (2005-2007) and West Virginia (2008-2009), so it wouldn't be unusual to expect some semblance of those two types of offense at times. However, reports have this offense more pass-oriented, which would jibe with their depth chart which features four wide receivers (or a tight end), and just a single running back...

The talk for the last month or so is that Ohio State may actually become more of a passing team this year, and we should see initial evidence of that early and often on Thursday night. Quarterback Terrelle Pryor apparently has the confidence of Jim Tressel, and since Tressel is the one calling the plays, it stands to reason that we'll see that confidence put on display. Expect to see many of the same quick pass plays that we saw in the Rose Bowl..."




2010 College Football Predictions: Ohio State vs. Miami
August 28, 2010 Source: The Bleacher Report - "...In comparing these two teams, there are several important factors to look at when deciding who will win the game. These include who will do better in the arena that has been chosen for the game, offensive talent, defensive talent, the strength of each team's starting quarterback and coaching ability...

The Hurricanes will definitely have to bring their "A" game to Ohio Stadium that Saturday if they want any hope of penetrating the Buckeye defense. With their offense, Miami has the ability to cause some trouble for the Buckeye defense, but not enough to really give them an advantage to score enough points against Ohio State to win the game. The Miami defense could cause the Ohio State offense a little bit of trouble...

With this knowledge and his winning record of six Big Ten Championships, three trips to a National Championship game and one National Championship title, the Buckeyes are in good hands, and having the better coach will give them the final advantage they need over Miami to win the game..."




2010 College Football Ohio State vs. Marshall Preview
August 31, 2010 Source: CBSSports.com - "Ohio State is determined to ignore the national championship hype surrounding its team. The fact that the person calling for focus is Terrelle Pryor is evidence of just how dangerous these matured Buckeyes could be. In his third year as starting quarterback, Pryor and second-ranked Ohio State open the 2010 season Thursday night at home against Marshall..."





Marshall Official site
Marshall Depth Chart
2010 Football Roster
Doc Holliday, Head Coach
Ass't Coaches
Source: Marshall Official Site





"It's obviously going to be a big game. It will be a great stage for us and get us a lot of exposure. The Horseshoe, it's a place that everybody knows if they know anything about college football. It has a lot of history."
- Marshall QB Brian Anderson on Thursday's 7:30 p.m. opener at Ohio Stadium




Snyder the assistant talks about OSU-Marshall game September 1, 2010 Source: Charlestown Daily Mail - "This was supposed to be a reverse homecoming of sorts. The Ohio State assistant coach-turned-Marshall head coach returning to the Shoe to face his mentor, whose hair matches the color of the logo on his trademark scarlet sweater vest. Then the other shoe dropped. Mark Snyder, a former defensive coordinator for Jim Tressel and the Buckeyes, resigned with strong encouragement in December after five consecutive non-winning regular seasons at Marshall, a football program not accustomed to non-winning seasons..."




10 Things You Need To Know About Marshall August 31, 2010 Source: Bleacher Report - "Not too many programs have a history as diverse as Marshall's. Herd fans can recite tales equal parts tragedy and triumph. They can also offer memories of some truly outstanding players such as Chad Pennington, Randy Moss, Byron Leftwich, and Ahmad Bradshaw. This slideshow is more of a trip down memory lane than a preview of Thursday's game, but it's a stroll worth taking. An educated college football fan knows plenty about the Thundering Herd, but the average fan may not..."




Marshall's Carpenter looking forward to facing No. 2 Ohio State August 31, 2010 Source: Daily Mail - "He's watched more Ohio State football games from the stands than he can count. But Georgie Carpenter expects his next trip to Ohio Stadium to be his most memorable...

"Some of the nerves are starting to kick in," Carpenter said. "After seeing so many games from the stands, I finally get to be on the field playing against them. I'm anxious to get out there and get going."

Carpenter, who is listed as the No. 2 weakside linebacker on Marshall's depth chart, watched his brother, Bobby, play four years as a Buckeye. When it was announced in 2009 that Marshall would be traveling to Columbus this season, Georgie was excited.

"There weren't mixed feelings," he said. "I thought it was going to be so cool going back home and playing in that stadium and being part of that atmosphere."..."




Transcript of Coach Doc Holliday's Press Conference August 27, 2010 Source: Marshall Official Site - "At this time next week we will have a better idea of where our team is...I read the other day that Ohio State has won 32 straight home openers. They are well coached, they have great players at every position and it is going to be a great challenge for us...

Questions: What differences are there in the backfield between Herron and Saine?
There is not a lot of difference. When you look at Ohio State, I think there are eight difference polls out and they are either No. 1 or No. 2 in every poll and a lot of people have them picked the win the National Championship. So with that being said, they have great players at every position. Jim Tressel and that staff are great. I had a chance to work with Darrell Hazell who is their assistant coach, so they will be prepared and well invested. It will be a great challenge because they have great players at every position..."




Lee Smith is quotable and other news August 30, 2010 Source: Daily Mail - "Sr TE:...Quote 1 on the team's intensity: "We are fiiiiiirrrrrreeeeed up, man. Let me tell you. We are ready to go. Nobody has to worry about that."

Quote 2 on Ohio State being talented at every position: "We need to get back to the Marshall football where people are saying there's not many holes in their offense and defense. We want to put Marshall football back on the map."

Quote 3 on crossing paths with the aforementioned Heyward, a defensive end for the Buckeyes: "He's a football player and I'm a football player. He puts his pants on just like we do. The fact is you've got to honor him and respect him, but he's got to honor and respect us too. Just because he's a good player doesn't mean we aren't going to come off the line and hit him in the mouth." ..."


Marshall (0-0) at #2 Ohio State (0-0)