| | |
| --- | --- |
| IOWA vs. OHIO STATE | |
Ohio State Iowa Game Highlights
Source: BigTen Network 11/20/10




Five Things: Iowa
November 22, 2010 Source: Eleven Warriors - "...The Drive:...

Self-inflicted wounds don't prove fatal:...

The Rise of The Bullets: Though they surrendered just three points in the first half, the Bullets didn't overwhelm Stanzi as he hit 13/17 for 103 yards and a 19 yard TD strike to Marvin McNutt. The second half was a different story as the line got more pressure, the blitz was more effective and the secondary stayed closer to the Iowa receivers reducing Stanzi to 7/14 for 92 yards in the final 30 minutes...The spectacular finishing act helped the Buckeyes hold Iowa to 276 total yards on the day including second half numbers of just 121 yards allowed and six first downs. Rolle led the way with 10 stops (3 TFL) while Hines (8), Sweat (7) and Homan (7) also filled the box score.

Boom and Dane continue to do work:...Herron also put himself in position to make a run at 1,000 yards needing 107 on the ground against Michigan to crack a G. Also of note, his yards per carry stands at 5.3 this season against 3.9 in 2009 and 4.9 in 2008. Great stuff from one of the most under appreciated Buckeyes in recent memory.Dane also turned in a clutch performance eclipsing the 100 yard barrier for the third time this season with 102 yards on six grabs. For the year, Dane stands at 818 yards receiving on 49 catches with nine TDs putting him 13 receptions and 248 yards ahead of his full 2009 campaign...

Peaceful, Uneasy feeling: Where to start with Terrelle Pryor? I should first say that I am thankful he's in Columbus because I like winning above all else and he's pretty damn good at it; 29-4 as a starter to be exact...First, he takes issue with the haters tweeting,.."Heard Kirk herbstreit was dogging us...He's my guy, the QB of my favorite team, trying to live up to the unimaginable expectations and pressure as a result of being such a high profile HS player but I've also come to grips with the fact that both on and off the field, he'll always be susceptible to doing something completely bone-headed, no matter what he's done to that point to almost convince me otherwise..."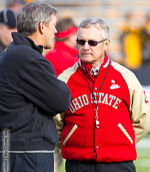 Inside the Vest: "Jim Tressel kicked a field goal instead of going for it, and it worked out. His team went for it on fourth-and-10 and it worked out. His team was down at halftime and came out sharp and scored on the first drive of the third quarter. That worked out.

The 20-17 win at Iowa was a tough road victory that kept the Buckeyes on track for Big Ten history, with a chance to tie the all-time record of six straight Big Ten titles if they win next week and at the worst share the crown with Michigan State and Wisconsin.

Then Tressel said the kind of thing that shows exactly why a lot of Ohio State fans like him so much. "I'm proud of these kids," Tressel said. "I wish they had time to enjoy it, but they don't, because we have the biggest game of all coming up. So we've got to get ready for that one."

On to Michigan. Tressel was asked an obvious question of whether it's better to enter Michigan week off a win. "There's not much better than going into next week, regardless," Tressel said. "However it is, we'll be ready."

Source: Cleveland Plain Dealer 11/21/10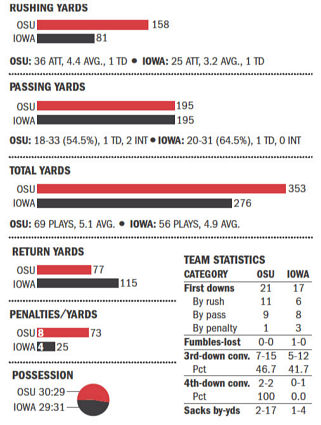 Complete stats
Below
Source: Columbus Dispatch



10 Things We Learned In Iowa City
November 20, 2010 Source: The Ozone - "...1. Pryor has a hero mentality. For three quarters, Terrelle Pryor was a mediocre football player. He was 12-of-20 passing for 132 yards with a touchdown and a pick. He also had 52 yards rushing on eight carries, but there just wasn't anything special about him and as a result, the Buckeyes had only 10 points after three quarters. Then the fourth-quarter rolled around and Pryor seemed to come alive. He completed six of his 13 passes for 63 yards and ran for another 26 yards on seven carries. He led the Buckeyes on two long scoring drives, including a 12-play 76-yard touchdown drive to win the game. Despite what looked like an outburst on the sideline in the first half, his teammates raved about his positive attitude and ability to stay calm. He threw some good balls that were dropped, including the long one to DeVier Posey, but it was his 14-yard scramble on fourth-and-10 that broke Iowa's back.

2. Ohio State has no offensive identity. Despite their success in the fourth quarter, the Ohio State offense was a disjointed mess for most of the game. The so-called "favorite" gameplan of Pryor's turned into a jumble of different strategies jammed into one. They wanted to pass more and run Pryor more a week after winning a game on the legs of tailback Boom Herron. They tried desperately to be creative, but it's hard to all of a sudden be good at everything...One week they are a passing team and the next a rushing team. They use the pass to set up the run to set up the pass to set up the run. It gets a little goofy sometimes, and honestly they are fortunate to come away with a 10-1 season after 11 games. They had three games with three points in the first half and won two of them. That's borderline absurd, especially considering those wins came against Penn State and Iowa.

3. No sense of urgency with this team...We saw it against Miami when they were anxious to show the world how good they could be with a win over the Hurricanes, but after that they have completely relaxed. These guys seem to think they are talented enough to just show up and win games. The scary thing is, they probably are, if they actually showed up. Instead, they were MIA on both sides of the ball in the first half against Iowa, particularly on offense, and for the second straight week it took a big second half to pull off the win...

4. Tressel desperate to believe in Pryor. There's a reason Pryor was so highly sought after coming out of high school. He is a physical freak with a desire to be great and (we think) a work ethic to match. He doesn't want to let people down and it seems like Tressel doesn't want to let him down. The OSU staff promised they would turn him into an NFL quarterback, and likely a college star, in Columbus and Tressel seems desperate to believe that is still possible...Right from the start it was obvious they wanted to run the offense through Pryor, who has yet to prove he can take over a big game from start to finish in the Big Ten.

5. Offensive line was the difference...their offensive line wore down the Iowa defensive front and took control of the game in the second half. Mike Adams in particular did an excellent job neutralizing star defensive end Adrian Clayborn, but it was a collective effort up front. They gave Pryor plenty of time to pass and while the holes weren't nearly as wide as they were against Penn State, they still allowed the Buckeyes to average 4.4 yards per carry against the fifth-ranked run defense in the country.

6. Dane Sanzenbacher must be part of the gameplan...Clearly, Tressel and his staff realized that it wasn't a good idea to forget about their best pass-catcher the way they did against Penn State...He had four catches for 73 yards in the first half against Iowa and finished with six for 102. His leaping catch over the head of an Iowa linebacker in the fourth quarter was the second-biggest play of the game behind the fourth-down scramble.

7. DeVier Posey needs to get focused. It's impossible to question the competitiveness of a guy like Posey, but wherever his head is at right now, he needs to get back to thinking about this team, this season and this last game against Michigan. He had two catches for 32 yards against Iowa, but dropped a pair of balls, including a 50-yard touchdown bomb...He dropped what could have been the game-winning touchdown and would have been the biggest goat of the season if Pryor and Sanzenbacher hadn't picked him up.

8. Philly Brown is still a freshman. The only guy who had a tougher day catching the ball than Posey was freshman Corey "Philly" Brown. Maybe he got caught up in making his first career start (Buckeyes were in three-wide) but Brown had a day to forget. He dropped three passes, including a bomb from Pryor in the first half. He took a hard hit to the helmet, but clearly lost the ball before contact...

9. Brian Rolle came to play. One of the often-most criticized players on the team, Brian Rolle was flat out balling against Iowa. Considered a speed guy who only suits their defense when playing against the spread, Rolle played big in Iowa City. He led the team with 10 tackles, including three stops in the backfield. He was used as a blitzer and always seemed to be around the ball...

10. Devin Barclay has a clutch leg. Who knew Barclay had a 48-yard field goal in him? With a career-high of 42 yards coming into the game, many OSU fans were holding their breath when Tressel sent him out there to kick from 48 yards with his team down 17-10 in the fourth quarter. Barclay blasted one through the uprights with the kind of boom we haven't seen from him on the long field goal tries. It wasn't as big as his kick in overtime against Iowa last season, but it ultimately led to victory over the Hawkeyes for the second year in a row..."




CFN Analysis: Ohio State 20 ... Iowa 17
November 21, 2010 Source: Columbus Dispatch - "Terrelle Pryor might not be the superstar of superstars yet, and he hasn't quite lived up to expectations, but now he's a game away from being a three-time Big Ten champion quarterback. While the Buckeyes came up with a big win, the loss makes Iowa's season a total disappointment. The CFN writers give their take on OSU's big win over Iowa to set up a huge final Big Ten weekend.

By Pete Fiutak: Could Terrelle Pryor step up his game and become Cam Newton next year? Maybe. Could he be the type of veteran leader who wills his team to wins while carrying the Buckeyes to a national title? Possibly. Has he lived up to the hype to become the type of transcendent superstar he was supposed to be when he was among the top quarterback recruits of the last decade? Not even close. Is he about to lead his team to a third straight Big Ten title? Yup...

By Matt Zemek: It's impossible to put into words the kaleidoscope of emotions – volatile upheavals of human longing – that were unleashed by the final few minutes of this consequential collision in Kinnick Stadium. DeVier Posey – unintentionally, but still verily – sold Terrelle Pryor short last season, so how ironic was it that the Ohio State receiver was the one who tried out a pair of goat horns late in this Buckeye-Hawkeye battle in Iowa City? How doubly ironic was it that Pryor bailed out his loose-lipped but well-meaning teammate? Ah, but that's trivial stuff compared to the full impact of Ohio State's gut-check win on the road.

When Posey dropped a 50-yard touchdown pass all alone in the right corner of the end zone, the play brought up a 4th-and-10 situation. Jim Tressel – the coach who said he had to let loose a little bit in order to win this game – faced a situation that challenged his conservative instincts. With just over four minutes left and still in possession of three timeouts, Tressel could have punted in order to leverage field position. When one realizes how emotionally debilitating the Posey drop was – certainly on an immediate level – Tressel had added reason to pause and say, "Hey, let's overcome this and bounce back on the next drive. We have 10 yards to go, not three. Let's punt and regroup."

Yet, the same Tressel who kicked a field goal at the 1 in this game (before a delay-of-game penalty brought the ball to the 6), and who similarly opted to kick a field goal on 4th-and-10 when trailing by seven earlier in the fourth quarter, rolled the dice this time. His faith in his offense – and in Terrelle Pryor – was rewarded..."


Buckeyes Not Fazed By Early Deficit
| | |
| --- | --- |
| Ohio State has trailed or been tied early in six games this season but has come back for the win in five of them. | |
Ohio State Slow Starts This Season
| | Trailed/Tied | Final |
| --- | --- | --- |
| vs. Miami (FL) | 10-3 | W, 36-24 |
| at Illinois | 10-7 | W, 24-13 |
| at Wisconsin | 21-0 | L, 31-18 |
| at Minnesota | 7-7 | W, 52-10 |
| vs. Penn St | 14-3 | W, 38-14 |
| vs. Iowa | 17-10 | W, 20-17 |





It was over when...: The Ohio State defense stopped Iowa's Marvin McNutt two yards short of a first down with 1:10 left on the clock.

Gameball goes to...: Terrelle Pryor. The quarterback led the Buckeyes' rally and had a key 14-yard run on fourth down in the winning drive.

Star Of The Game: Ohio State quarterback Terrelle Pryor. He certainly had some down moments, but he was on point on the Buckeyes' winning drive, even on what would have been a TD pass to DeVier Posey that was dropped. Pryor finished 18 of 33 passing, with one touchdown and two interceptions. He also rushed for a game-leading 78 yards on 15 carries.

Six & Counting: Ohio State becomes the first team in Big Ten history to win at least 10 games in six consecutive seasons.

Repercussion: The Buckeyes stay in the hunt for at least a share of a record-tying sixth straight Big Ten title to match the ones they won from 1972-77. It wasn't the lopsided win needed to leapfrog Wisconsin in the polls or the Bowl Championship Series standings, but it's likely the Buckeyes will play in a BCS game for a sixth straight year if they take care of business for a seventh straight year in The Game.

Best play of the season: Pryor's 14-yard run, skittering hither and thither, on fourth-and-10 from midfield in the final four minutes. (See our Play of the Game)

The Turning Point: No doubt it was the 14-yard scramble by Pryor on fourth-and-10 from the 50 on the game-winning drive, coming the play after the Posey drop. With new life, Pryor even got into suggesting plays he proposed the 24-yard pass to Dane Sanzenbacher, who leaped turning backward to make the catch and give OSU a first down at the 2.

Jim Tressel, Buckeyes head coach, said it: "I was afraid he was messing around and was not going to get the first down." - on Pryor's 4th down run, as Pryor probed and feinted behind the blockers who were picking off Hawkeyes on the run.

Terrelle Pryor, Jr QB, said it: "I knew I had it when I dived." - on his 4th down run

Kirk Ferentz, Hawkeyes head coach, said it: "I don't know how many guys in the conference or in the country could have made that play. So credit goes to them. He converted and it was just a great effort on his part." - on Pryor's 4th and 10 run

Brian Rolle, Sr LB, said it: "It was more subtle this week." - on the halftime speech by Coach Jim Tressel

Jim Tressel, Buckeyes head coach, said it: "We had no choice" - on his decision to go for it on 4th and 10 late in the 4th quarter. He said he gave no thought to pinning the Hawkeyes back with a punt, playing defense, and then getting the ball back for one more shot.

Career Long: Devin Barclay kicked a career-long 48-yard an key field goal in the fourth quarter. "I knew that it was an important three points for us. I just wanted to put a good hit on it. I had a little breeze at my back and I let the rest take care of itself."

Worst failure to flag: Pryor's 50-yard pass to Corey Brown in the final two minutes of the first half fell incomplete due to the untimely intrusion of Prater's hand into the bars of Brown's facemask. No interference, no face mask, nothing.

Telling stat: After allowing only 223 yards and 12 first downs in the first three quarters, Iowa allowed 130 yards and nine first downs in the final 15 minutes.

Stat of the game: 12-1. The Buckeyes continued their mastery of the Hawkeyes, winning for the 12th time in the past 13 games.

Stat of the game II: 10. Dan Herron has now scored at least one touchdown in 10 consecutive games.

Stat of the game III: 2 & 7. The Buckeyes recorded 2.0 sacks and 7.0 TFL in the game.

Stat of the game IV: 6 & 102. Dane Sanzenbacher hauled in six passes for 102 yards, including a 24-yarder at the Iowa 2-yard line two plays before Herron's winning touchdown run.

Stat of the game V: 151 & 81. Ohio State outrushed Iowa 158-81, and both teams had 195 yards passing.

The view:
How the team sees it: Just call us the Butt-guys, as in the doubters can kiss our fannies.
How the pollsters will see it: Impressive. Ohio State showed a spine with Rose Bowl still on the line.
How Buckeye Nation will see it: We repent -- a little -- of our Pryor convictions.

Translating Tress:
What he said: "We scored 20," when sideline reporter asked what was difference in the game.
What he meant: "Lloyd Carr was right. Dumb question."

Mike Adams, Jr OT, said it: "Obviously, he's going to be a first-round (NFL) draft pick, so coming into it you had to have your head right. It was a hard-fought battle the whole way through." -Of the matchup with Adrian Clayborn

Michael Brewster, Jr C, said it: "I didn't notice him (Clayborn) making too many plays. We're all proud of Mike. Whoever has to go against him every week, that's a challenge. Mike played his butt off. I'm sure everything wasn't perfect, but he did a great job." - Clayborn had seven tackles, usually downfield chasing plays, but he had no sacks and was rarely a thorn in Pryor's side in the pocket.

Brian Rolle, Sr LB, said it: "There was a lot of emotion out there. It was a battle. It was a 60-minute game. That just talks about our guys' characters. We fought for 60 minutes." - Rolle, who celebrated his 22nd birthday on Saturday, said: "It feels great to win on your birthday. I didn't want guys to know (beforehand). I didn't want to get heckled about it."

Terrelle Pryor, Jr QB, said it: "They looked into my eyes, and I looked into theirs and we were like, 'Let's go do it.' They knew I was going to lead them back. I do not want to be denied. I hate losing."

Jim Tressel, Buckeyes head coach, said it: "I wish they could enjoy this, but now we have the biggest of them all." - JT lamented the fact that his team would have few moments to savor the victory, since the annual showdown with rival Michigan was less than a week away.

Reid Fragel, Fr TE, said it: "I didn't really expect it to be anywhere in particular. But it's always good to get the first one. Hopefully, there will be more." - on his first touchdown catch for Ohio State. The 6-foot-8 tight end did it in an unorthodox way. Instead of reaching over a smaller player, Fragel had to pluck a low throw from Pryor on a 5-yard pass to cap a 77-yard drive to open the second half.

TP Sets Record: Terrelle Pryor set a school-record with his 20th game with at least 200 yards of total offense

They said it:
As heard on TV: Matt Millen just moved to the top of the mute button list. When the ABC announcer wasn't delivering groaners -- "Boren Identity" -- he was singing the Backstreet Boys. As for his ability to evaluate talent, two words: Detroit Lions.

As heard in the press box: "I think the pilot waved at me." -- a reporter, as jets buzzed the stadium at press-box level in the flyover

As heard from Iowa coach Kirk Ferentz: "For lack of a better term, academic indigestion." -- explaining why running back Adam Robinson did not start

Numbers for dummies:
10: Yards onto the field that Tress ran to twice protest penalties.
26-1: Buckeyes' record when Pryor throws a touchdown pass
0: Big Ten Coach of the Year awards for Tressel, who is 7-1 vs. Ferentz, who has won the award three times
56: The Buckeyes won 20-17 by holding an opponent to 20 or fewer points for the 59th time since the start of the 2005 season. Ohio State is 56-3 in those games.
2: Times this year OSU has been shut out in the first quarter — Saturday and Oct. 16 at Wisconsin.

Best Terry Porter impersonation: Back judge Jack Lyman, five seconds after an incomplete pass by Ricky Stanzi to Paul Chaney, threw a flag for interference on OSU's Chimdi Chekwa. Like back judge Porter's call in the second overtime of the national championship game, which helped OSU beat Miami in 2003, it was both a late and correct call. Chekwa yanked the receiver down by his left arm.

Official is injured: On one of the first plays of the game, a sideline official working the chains was taken out when Stanzi was hit while along the sidelines. Reports were the official broke his leg. He was wheeled from the field on a cart and did not return.

T-shirt worn by an Iowa fan Saturday: "Stanzi is the Manzi"

Just wondering:: Is Tress turning into Woody? First, the salty halftime speech last week against Penn State. Then arguing with the zebras in Iowa City and getting lippy with reporters in the postgame press conference. If he shoves a photographer, tears up a yard marker, exchanges his vest for a white short-sleeved shirt and goes for two against Michigan next week we'll know something is up.

Pregame buzz: The Hawkeyes, led by long-haired Ricky Stanzi, who says "God bless America" more often than he says "Hut, hut, hike," worried Ohio State fans who were well aware of the Buckeyes' slow starts on the road. In the end, Ohio State needed a miracle, and Stanzi was left to admit that God blesses the Buckeyes.

Worth the trip?: You can put no price tag on gulp to glee. Or as Tress might say, "(Bleep) yes."

One-liner: Heyward planted Ricky "The Hippie" Stanzi like a flower child.

Comeback Kids: Ohio State has trailed or been tied early in six games this season but has come back for the win in five of them



(Sources: Cleveland Plain Dealer/ESPN/OSU Official Site/Columbus Dispatch/BuckeyeSports.com/Toledo Blade/The News Herald)



Big moment, crucial catch; Sanzenbacher sets up winning score, just barely
November 21, 2010 Source: Columbus Dispatch - "Dane Sanzenbacher will testify that there is nothing like having a clear mind when a big catch is needed. And that's what the Ohio State receiver took into his moment in the spotlight yesterday in Kinnick Stadium. Maybe a shot at a sixth straight Big Ten championship was hanging in the balance, but Sanzenbacher smiled when asked whether anything like that was going through his mind as he leaped to catch a 24-yard pass from Terrelle Pryor that put Ohio State in position for the winning touchdown in a 20-17 victory over Iowa.

"It's at a point where obviously we know it's a big point in the game, and from my perspective, if that ball is in the air close to me in that situation, I've got to go up and get it," Sanzenbacher said. "If the coaches trusted me enough to call the play, if (Pryor) trusted me enough to throw it up there, I've got to go try to do something."

Sanzenbacher landed with his left foot just inside the sideline, and it took a review by officials to confirm that Ohio State had earned a first down at the Iowa 2-yard line. Two plays later, running back Daniel Herron finished the 12-play, 76-yard drive with a 1-yard plunge behind fullback Zach Boren and the left side of the offensive line with 1:47 to play..."




Big Ten helmet stickers: Week 12 : Ohio State DE Cameron Heyward, DT John Simon and LB Brian Rolle: Although quarterback Terrelle Pryor came up big in the clutch, he wouldn't have had the chance if not for a stifling defensive performance. These three combined for six tackles for loss, two sacks, a pass breakup and a quarterback hurry as Ohio State survived a scare in Iowa City, winning 20-17. Ohio State held Iowa to 81 rush yards. Source & Story Link: ESPN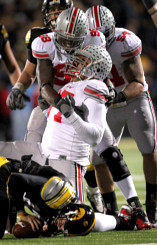 No. 9 Ohio State rallies for 20-17 win at No. 20 Iowa
November 20, 2010 Source: OSU Official Site/Associated Press - "IOWA CITY, Iowa - Fourth down, 10 yards and most likely the season was on the line for Ohio State.

The Buckeyes put the ball in Terrelle Pryor's hands, and he used his legs to help them escape from Iowa with their Rose Bowl hopes intact for another week. Dan Herron rushed for a 1-yard touchdown with 1:47 left and Ohio State (No. 9 BCS, No. 8 AP) rallied to beat Iowa (No. 20 BCS, No. 21 AP) 20-17 Saturday. Terrelle Pryor threw for 195 yards and a touchdown for the Buckeyes (10-1, 6-1 Big Ten), including a crucial 14-yard run on fourth down to keep the game-winning drive alive. The win kept Ohio State tied with Wisconsin and Michigan State atop the Big Ten standings heading into next week's showdown with rival Michigan in the Horseshoe. It also preserved the Buckeyes chances for at least a share of the Big Ten title for a record-tying sixth year in a row.

"I was going to run the whole time," Pryor said. "I found running room, had some good blocking. I just cut it up and went and got the first."

Iowa (7-4, 4-3) went ahead 17-10 early in the fourth quarter on freshman Marcus Coker's 1-yard TD run. But Devin Barclay's 48-yard field goal brought the Buckeyes within 17-13, and Pryor engineered a 76-yard drive despite DeVier Posey's drop of a sure TD pass. Ricky Stanzi had 195 yards passing and a touchdown for the Hawkeyes, who've let up a go-ahead winning touchdown in the fourth quarter of each of their defeats.

The game went to the fourth quarter tied at 10. The Buckeyes blinked first -- then rallied behind Pryor for its 12th win in 13 tries over the disappointing Hawkeyes. Pryor threw an errant ball over the middle that was tipped, picked off by Shaun Prater and returned to the Ohio State 27-yard line. Coker, in for a struggling Adam Robinson, followed a 26-yard run with a 1-yard plunge to put the Hawkeyes ahead 17-10 with 11:53 left. Barclay pulled Ohio State within 17-13 with a 48-yarder with 7:38 left, and the Buckeyes forced the Hawkeyes into a quick three-and-out.

That's when Pryor redeemed himself. Posey, who had blown past the coverage, had the ball slip right through his hands with 4:02 left to set up 4th-and-10. It could have been a crushing play for the Buckeyes, but Ohio State coach Jim Tressel took Pryor aside and got him focused after Posey's frustrating drop.

Pryor scrambled 14 yards to pick up a first down the Buckeyes had to have, and five plays later Herron was in the end zone. "Yeah, I was mad. But, I mean, we had a 4th-and-10 to get to or we were going to lose another game. I hate losing with a passion," Pryor said. Pryor proved it, finding Dane Sanzenbacher for 24 yards to the Iowa 2 with 2:49 left, and Herron's touchdown put the Buckeyes ahead for good. Pryor finished with 78 yards rushing on 15 carries and survived two interceptions.

"It was huge and gave us that momentum," Tressel said of Pryor's critical fourth-down conversion. "I was afraid he was messing around and wasn't going to get the first, but he made it."

Stanzi's fourth-down pass to Marvin McNutt was stopped just two yards shy of the first down on Iowa's futile final drive....Robinson finished with just 27 yards -- and worse yet, he could miss next week's regular-season finale at Minnesota after getting drilled in the fourth quarter. "My guess is he won't play next week, but that's preliminary," Ferentz said.

Ohio State started the second half by driving 77 yards on 12 plays, and Pryor's 5-yard TD pass to Reid Fragel gave them their first lead, 10-7. Ohio State had Iowa stopped on the next drive, but Jermale Hines got flagged for drilling McNutt after a 3rd-down incompletion. Michael Meyer's 31-yard field goal tied it at 10 with 3:26 left in the third quarter.

This matchup had long been circled as the biggest of the year in the Big Ten. The Buckeyes and Hawkeyes were picked 1-2 in the league's preseason poll, and Ohio State's 27-24 OT win in Columbus last year had many wondering what might happen when Iowa got Ohio State at home with a healthy Stanzi. But the Hawkeyes spoiled a lot of the fun by dropping three games by a total of 12 points -- including a fourth-quarter meltdown in a 21-17 loss at Northwestern last week -- and it was more of the same on Saturday. "Losing games is frustrating, and losing close games is frustrating," Ferentz said. "We didn't make enough plays to get it done in the fourth quarter."

Iowa opened the scoring late in the first quarter on Stanzi's 19-yard TD pass to McNutt. Ohio State answered by driving to Iowa's 1-yard line, but the Buckeyes had to settle for Devin Barclay's 18-yard field goal.

Pryor, who'd been flirting with danger the entire first half, floated a long ball toward the end zone that was picked off one-handed by Iowa's Micah Hyde just before halftime.

It was Posey who let Pryor down late in the fourth quarter. But Pryor responded on the next play and carried the Buckeyes to the win. "We felt like it was going to be a four-quarter heavyweight bout. Iowa's never going to stop fighting," Tressel said. "Our guys never stop."..."

Scoring Summary, Team Stats, Individual Stats, Drive Chart, Defensive Stats, Game Participation, Box Score, Play-by-Play
Ohio State at Iowa Postgame Notes



This week play of the game from Saturday's Ohio State Iowa tilt: Buckeyes QB Terrelle Pryor converts critical 4th down play on game-winning drive as Ohio State becomes first team in Big Ten history to win 10 games six straight seasons...Fourth down, 10 yards and most likely the season was on the line for Ohio State.

"DeVier Posey lay on the Kinnick Stadium turf, having dropped maybe the surest potential touchdown pass he ever had.

Just above him stood Brutus Buckeye. The mascot threw his hands up in resignation and shook his oversized head. It was fourth down with 4:02 to go, and Ohio State trailed Iowa by four. Brutus didn't even extend a hand to help Posey up.

Good thing for the Buckeyes that they had more resilience.

On the next play, quarterback Terrelle Pryor ran 14 yards to convert the fourth-and-10. Three plays later, Dane Sanzenbacher made a leaping 24-yard catch to the 2-yard line. And two plays after that, Daniel Herron bulled into the end zone for the touchdown that enabled Ohio State to win 20-17.

OSU had reached the 50 when Pryor spotted Posey streaking down the left sideline, several steps behind the Iowa defense. The ball was perfectly placed, but somehow slipped through his arms.

"That one got away from me," Posey said. "I think I might have relaxed too much. A play like that humbles you, but I got picked up on the next play."

Pryor scrambled to the right, then back left, finding a lane and getting to the 36.

"He always surprises us," tight end Reig Fragel said. "Never count him out of a play."..." Source & Story Link: Columbus Dispatch





Bob Hunter commentary: It was a brilliant run by Pryor: "It was one of those gloomy times when fourth-and-10 seemed like fourth-and-forever. Ohio State's championship season had just slipped through DeVier Posey's hands in the end zone. Terrelle Pryor had just jerked his helmet off and appeared seconds from doing his best impersonation of a hydrogen bomb..." Source & Story Link: Columbus Dispatch






When the game was on the line, Ohio State's Terrelle Pryor took matters onto his own feet: The Cleveland Plain Dealer's Bill Livingston wrote: "On fourth-and-10 at midfield, the ball would go to the quarterback, and it would stay there. There was no place else in the world Terrelle Pryor wanted it.

"I was going to run all the way," said Pryor, who made the play of Ohio State season's in a comeback 20-17 victory over Iowa Saturday.

Run on fourth-and-10? This is a play with an order of difficulty that should rank between the rock and the hard place, or the devil and the deep blue sea, or slim and none. Surely, someone needed to rethink this in a timeout.

There was no stoppage, however, no matter how grave was the situation. Ohio State had to have a touchdown, down four points. Iowa had been so sharp with the ball all game, so OSU coach Jim Tressel gave no thought in the last four minutes to pinning the Hawkeyes back with a punt, playing defense, and then getting the ball back for one more shot. "We had no choice," Tressel said. This was the last shot. And Pryor was through passing the ammunition.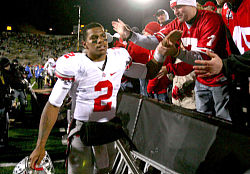 The Buckeyes decided to see if the Hawkeyes, whose defense was strung out all over the field by the five wide receivers OSU used on the play, could stop Pryor when he got enough room to let his startling natural ability flourish. "You want to get him a lot of options," said Tressel. "We had five wide outs, plus another option to run."

It is all the options a quarterback can have. Ohio State was in the hurry-up offense, as it is called. Some of the receivers had gone long on the previous play, when DeVier Posey had hastened after a perfectly thrown deep ball from Pryor and dropped it in the end zone. "I was [ticked]. I was mad," said Pryor. "DeVier almost never drops a pass."

Back to the line raced the Buckeye receivers, running on empty, looking for any gas they had left. A linebacker-sized quarterback with startling speed, Pryor had been waiting a long time for a moment to seize, trying too hard many times for the play fans would remember him by. Now his time had come. The clock said 4:02 was left when fourth-and-10 began. When the play ended, Pryor no longer had a clean sheet when it came to difference-making plays in big games this year.

Pryor first stepped up in the pocket, saw he had nothing, hitched in his throwing motion, and then rolled to his right. Iowa linebacker James Morris, the "spy" assigned to keep an eye on Pryor all game, followed, like his shadow. "Then, Terrelle saw the same crease to the left that I did," said Tressel. Pryor swung back the other way, Morris was lost in the traffic in the secondary now, and Pryor was unlimbering his legs, breaking free, and his linemen were catching the electric charge he had put into the game. "That was crazy," said left tackle Mike Adams. "When you see TP on the loose, man, you just run downfield and try to get a block. You never know what that guy is going to do with that speed."

Pryor can be dangerous in those anarchical moments when he can just plays. No worrying about throwing mechanics, or all the short, hard, daisy-cutters he whipped at his rangy tight ends' feet. No dwelling on the two interceptions he threw, no trying to prove he can pass well enough to please NFL scouts. His long strides compensate for what appears to be his lack of urgency.

"I was afraid he was messing around and was not going to get the first down," Tressel said, as Pryor probed and feinted behind the blockers who were picking off Hawkeyes on the run.

"I knew I had it when I dived," said Pryor, who had it by plenty, on a 14-yard gain.

On the second play after the run, a play Pryor called, he lobbed the ball deep along the sideline to Dane Sanzenbacher, and Tressel likened Sanzenbacher's leaping catch to Anthony Gonzalez flight to the ball on a steel-gray afternoon in another comeback win in Ann Arbor five years ago. That is one of the great catches in Ohio State history.

The ball now was at the Iowa 2, and the Hawkeyes were done two plays later when Boom Herron rammed into the end zone. "I told them to look in my eyes," Pryor said. "I might not be the best quarterback, and I might not have the best stats. But they know I can definitely lead them." Pryor is not really a modest player, although that comment makes him out to be. When it was all on the line here, though, he had little to be modest about."

Source: Cleveland Plain Dealer 11/21/10


Fast-paced offense down the stretch helps Buckeyes triumph: OSU report card
November 21, 2010 Source: Cleveland Plain Dealer - "A -- Ohio State's hurry-up offense: The Buckeyes thought they saw the Iowa defense, especially the defensive line, tiring in the fourth quarter at Northwestern last week. So on its final game-winning drive Saturday, Ohio State went hurry-up and no-huddle and thought Iowa tired again on the 12-play, 76-yard march...Mike Adams said...When they got tired, we put the pedal down and came out on top." It also helped when the Buckeyes were forced into a fourth-and-10 on that drive and didn't even have time to huddle after DeVier Posey dropped a potential touchdown catch 50 yards from the line of scrimmage. Terrelle Pryor scrambled for the first down to keep the drive alive. "We hate it when we do it in practice, but we do practice the hurry-up," receiver Dane Sanzenbacher said. "It's situations like this where it kind of pays off for us. We didn't even get back to the huddle and we had to get the ball and get lined up and at that point, it's relying on your athletes and TP made a play for us."

B -- Ohio State's game plan: During the week, Terrelle Pryor called it his favorite game plan at Ohio State. Clearly, the idea was to get the ball in Pryor's hands more, roll him out, run more zone read plays and do less handing off to Dan Herron in the I formation. "We put in a few new wrinkles to put the ball in TP's hands a little more running the ball," Adams said. "He was feeling good, so why not give the guy the ball?" Pryor was feeling so good, in fact, that he wore a different left knee brace than he had been wearing because "I wanted to move fast today," Pryor said. Did it work? Well, not so much in the first half. Putting the game in Pryor's hands more made sense, but the Buckeyes only managed seven points. But when the Buckeyes needed points in the second half, they still often kept the field spread. If the point was to get Pryor move involved, he was more involved. And in the end, he won the game. "I still liked the game plan. I think we stuck with it a little bit," Pryor said. "We didn't get to hit a lot of things. We got some positive and negative out of the deal, and I think we can carry it on. I still loved it."...

C -- Ohio State's penalties: The Buckeyes were flagged eight times for 73 yards, among them right tackle J.B. Shugarts getting hit for two false starts, cornerback Chimdi Chekwa getting a late flag on a pass interference and safety Jermale Hines taking a 15-yard personal foul penalty. On third-and-6 in the third quarter, Hines closed on Iowa receiver Marvin McNutt and didn't even see the pass as the ball bounced off Hines' chest. Hines hit McNutt and it appeared their helmets hit each other as Hines pushed him, and the flag was thrown. A lot of Ohio State fans, not to mention a demonstrative Jim Tressel, didn't like some of the calls, but the Iowa fans also didn't like Hines' hit on running back Adam Robinson on a screen later in the game. "Supposedly it was a hit to the head," Tressel said. "I don't know if it was or it wasn't. I had to pretend to be upset." "I thought it was a bad call," Hines said, "but it really doesn't dictate how I'm going to play football. I'm going to play the way I've been playing. That's how I play and I'm not going to stop. They tell me all the time to play the ball because they're calling more penalties, but I'm a physical type of guy and I'm going to continue to play the game." ..."




The Bottom Line
November 20, 2010 Source: Columbus Dispatch - "...Offense (3 leaves): The Buckeyes' 2010 photo album will contain prettier pictures -- interceptions and dropped passes being the football equivalents of red eyes and rabbit ears. Exhibit A, of course, was Terrelle Pryor, who atoned for a few horrendous throws with some beauties and hard-charging legs, especially on fourth down.

Defense (3 leaves): Thumbs down: The chilly weather didn't stop Chimdi Chekwa from feeling toasty, such was the bull's-eye he wore in Iowa's passing game. Thumbs up: When the game was on the line, the line came up big for OSU, John Simon and Cameron Heyward recording key sacks on the final two drives.

Special teams (4 leaves): Flashy it wasn't; the one special-teams heart flutter was when Jordan Hall nearly broke a kickoff return. But solid can be perfect in tight games. Devin Barclay's two FGs included a career-long 48-yarder, Ben Buchanan punted three 40-yarders, and the return defense gave little ground. Bravo.

Coaching (4 leaves): There's no "I" in team and no "quit" in Buckeyes -- unless you're a horrific speller. Up, down, whatever -- OSU kept an even keel and left with the booty. The Vest, meanwhile, showed some spunk. Unhappy with a few calls and noncalls, he gnawed on the refs like they were his chew toy...Opponent (3 leaves): With its fourth loss (third in the league), Iowa officially won the title as Big Ten Underachiever of the Year. The Hawkeyes will be

awarded their medals, made of lead, at a hotel in Tampa or Jacksonville in late December. It may be a good idea to stay out of the pool, fellas. You don't want to sink further.

Officiating (1 leaf): Bad day Q&A. Q: Did Chekwa interfere? A: Yes, but why did the back judge pull a Terry Porter before throwing the flag? Q: Was that personal foul on Jermale Hines the weakest call this year? A: Yup -- it's tackle football, not two-hand touch. Q: Was Hines early to pop Adam Robinson? A: Seemed to be..."





Coach Kirk Ferentz Postgame Press Conference Transcript
November 20, 2010 Source: Iowa Official Site - "Q. Does that 4th and 10 almost epitomize how things have gone for you this season?
COACH FERENTZ: I can think of a couple of plays, actually, yeah. Probably one from several games. All three of our most recent losses, yeah, I probably could do that. I don't know how many guys in the conference or in the country could have made that play. So credit goes to them. He converted and it was just a great effort on his part.

Q. It almost seems that with some of these losses it's a could-have, should-have, would-have for the season at this point?
COACH FERENTZ: You know, I'm not real big on that game, I guess. Especially since the guys played hard and competed. I don't know that they could have played any harder. Our guys couldn't have. We didn't do some things well enough to win. They played hard and competed, and that's all you can ask against a very good team. We'll just go back and correct a couple things that are not good enough right now and try to get over the top against a team like Ohio State. We'll do what we can and keep pushing forward.

Q. The play that Robinson got hit on, it looked like it could have been interference or a hit to the head. What did they say to you was the explanation on that?
COACH FERENTZ: I don't think anybody could see it. That is what I heard. Nobody said it wasn't that, but they said they couldn't see it. It's tight out there. It's just football sometimes. Both teams are really hitting hard. And we thought the defender might have gotten a little bit ahead of the ball, but those things happen...

Q. Can you talk about your quarterback in the last possession?
COACH FERENTZ: If you can bend your ears back and go, and they have a group that can do it. We have a lot of respect for those guys coming in, and it's a tough situation. So credit goes to them. They're a very athletic group in the back end, including those linebackers. Both those guys are tremendous football players, the guys that were in on that situation. They're a tough group..."




Five plays that changed the game
November 20, 2010 Source: Davenport Quad City Times - "Fourth-and-forever: A dropped pass in the end zone by the Buckeyes' DeVier Posey left Ohio State with a 4th-and-10 situation at midfield with around 4 minutes left in the fourth quarter. The Buckeyes sent five receivers out but after three straight incomplete passes, quarterback Terrelle Pryor opted to put the game in his hands. He rushed for 14 yards and a first down.

One foot down: Two snaps before Dan Herron scored the Buckeyes' game-winning touchdown, Dane Sanzenbacher got one foot down before falling out of bounds for a 24-yard completion that moved the ball to the Iowa 2-yard line. Coach Jim Tressel said Pryor called the play himself.

Paper or plastic?: Iowa's chances on its final drive of the game took a major hit when quarterback Ricky Stanzi was dropped for an 11-yard loss on a 3rd-and-10 play from the Hawkeye 36-yard line by the Buckeyes' Cameron Heyward. The sack was just the second of the day by OSU and both came late in the fourth quarter. John Simon dropped Stanzi for a 6-yard loss to open a three-and-out on Iowa's next-to-last possession.

Third quarter stall: After Ohio State drove 77 yards to open the second half, taking a 10-7 lead on Reid Fragel's 5-yard touchdown catch, the Hawkeyes moved 65 yards themselves but had to settle for a field goal after Stanzi threw back-to-back incomplete passes after getting a 1st-and-10 on the OSU 12-yard line.

Return to sender: The Buckeyes gained 77 return yards Saturday, but 33 came on one kickoff effort by Jordan Hall in the fourth quarter. His return set up an 11-play, 30-yard drive that ended with a 48-yard field goal by Devin Barclay that pulled Ohio State within a 17-13 score with 7:38 remaining..."




Hawkeyes report card
November 20, 2010 Source: Davenport Quad City Times - "Offense: C-: There were some heroics, such as freshman Marcus Coker, who rushed for 70 yards and scored his first career touchdown. Marvin McNutt caught seven passes for 92 yards. But for the most part, the Hawkeyes didn't do enough to win the game - just 276 yards and 17 points. When they got the ball back in the final minutes, they failed to even get a first down.

Defense: C: The Hawkeyes did a good job of containing the Ohio State running backs who did so much damage against them a year ago, and they also had two interceptions against Terrelle Pryor. But they let Pryor get away for 14 yards on a crucial fourth-and-10 play in the fourth quarter and gave up another late go-ahead touchdown.

Special teams: C: Nothing too special here, but also nothing too terrible. Mike Meyer missed a 40-yard field goal, Ryan Donahue had a 26-yard punt and the Hawkeyes gave up a 33-yard kickoff return in the fourth quarter that set up an Ohio State field goal.

Coaching: C+: There was no shortage of fire in the Hawkeyes this time. They were motivated from the beginning. And there were a few new wrinkles that gave Ohio State problems. In a goal-line situation in the first quarter, Iowa put a defense on the field that included several extra linebackers and only two defensive backs..."




Drawing board: Iowa plays sound, fundamental defense, but the Hawkeyes will spend a lot of time studying how they allowed Pryor to run for a first down on the critical fourth-and-10 play. Pryor hadn't exactly been accurate most of the day. Iowa should have made the Buckeyes convert such a play with his arms rather than his feet. When Pryor broke left after not spotting a receiver immediately, he had plenty of room to run. In that situation, that was inexcusable. Also, the Hawkeyes' kicking game let them down. Mike Meyer missed a 40-yard field goal and squibbed a kickoff out of bounds after making a 31-yard field goal. The Hawkeyes' kick coverage unit also left much to be desired.

Question mark: Why not ride Coker some more? The freshman gained 43 yards in seven carries while Adam Robinson served his one-quarter suspension for "academic indigestion." Then Robinson entered. Robinson's a solid back, but it might have behooved the Hawkeyes to give Coker some more carries. Robinson carried the load until Coker returned early in the fourth quarter. On his first carry, he ran 26 yards to the OSU 1 and then scored on the next play. Coker finished with 70 yards in nine carries. Robinson had the same number of carries but gained only 27 yards.

Source: Columbus Dispatch 11/21/10







Ricky Stanzi laments loss in final home game (with video)
November 20, 2010 Source: The News Herald - "On Wednesday, Ricky Stanzi said for his final game at Kinnick Stadium to be the memory he and his teammates would like it to be, Iowa would have to defeat Ohio State. After Stanzi and the Hawkeyes lost to Ohio State, 20-17, on Saturday, suffice it to say Senior Day won't be as happy of a memory as he would have liked. The fifth-year senior from Lake Catholic completed 20 of 31 passes for 195 yards and a touchdown. But Stanzi's career record as a starter at Iowa fell to 25-8 with the loss to the Buckeyes. "It's not the most favorable way to go out," Stanzi said. "Obviously, you want to win. We just fell short today and didn't do enough to win."..."




IOWA

vs.

OHIO STATE
Bucks Walk Through at Iowa

The Buckeyes are on the ground in Iowa City and had a chance to walk through Kinnick Stadium and take in all the sights including the famed pink locker rooms that have become legend back to the days of Hayden Fry...We caught up with the team for a final update after the walkthrough as both teams are ready to kick at 3:30 pm (EST) in one of the biggest games of the weekend on a national perspective and maybe the biggest game in the Big Ten with the Buckeyes still controlling their own destiny for at least a share of the conference crown.

Source: BuckeyeGrove.com



What to watch for today as the Ohio State Buckeyes take on Iowa
November 20, 2010 Source: Cleveland Plain Dealer - "1. What Dorian Bell brings to OSU's kickoff coverage: For the first time in a month, Ohio State linebacker and special-teamer Dorian Bell was back in a football game last Saturday...The redshirt freshman is typically at the point of the Buckeyes' coverage, but Bell missed three games in the middle of the season, sitting out after suffering his second concussion of the year against Indiana. The toughest part of his time away was watching when Wisconsin opened its win over the Buckeyes with a kickoff return for a touchdown. "I wanted to come back hard, and I wanted to play hard especially after that Wisconsin game and that first kickoff return happened," Bell said. "I just wanted to come back stronger and better and more focused and learn exactly what they're doing so I can make tackles." The first kickoff last week was driven for a touchback by Drew Basil, but Bell was still double-teamed and came up a little angry after the Nittany Lions continued to block him after the play was finished. Bell did get his tackle on the third kickoff of the game, when he took down Penn State's Chaz Powell at the 16-yard line after a return of just 12 yards...Overall, Tressel thought the entire kickoff unit had a pretty good day, including Basil, who was named Ohio State's special teams player of the week. Tressel said the Buckeyes want four seconds of hang time on kicks, and Basil averaged 4.12 seconds. Overall, Penn State averaged 18.5 yards per return, with the only problem one 26-yard return that came out to the 28-yard line. "We let one slide out of there a little bit," Tressel said, "but all of them last year against Iowa were pretty good except one."...Ohio State's coverage problems this season really started against Iowa last year, when Derrell Johnson-Koulianos took a kick back 99 yards for a touchdown in the fourth quarter to cut Ohio State's lead to 24-17. Eight minutes later, Iowa tied the game to force overtime. Johnson-Koulianos is back this year, ranked No. 19 in the nation as a return man and second in the Big Ten. He's averaging 27.5 yards per return, yet still is looking for his first touchdown this season. If he gets it today, watch out.

2. Iowa's injuries at linebacker: If Terrelle Pryor or Dan Herron is running free for Ohio State in the second level of the Iowa defense, you'll know why. Starting linebacker Jeff Tarpinian is out for today after aggravating a shoulder injury against Northwestern last week. He joins starting middle linebacker Tyler Nielsen and second-string linebacker Bruce Davis, who were already out for the season. Ohio State offensive coordinator Jim Bollman said no players at this point of the season are inexperienced, but he has taken note of the Iowa injuries at linebacker. The Hawkeyes will need a lot out of freshman James Morris, who made a career-high 13 tackles against Northwestern last week.

3. Ohio State stopping the run: Iowa running back Adam Robinson had one of his worst games last season against the Buckeyes, averaging only 3.7 yards per carry while rushing 20 times for 74 yards in Ohio State's overtime win. In his nine games this season, Robinson has topped 100 yards six times. He's fourth in the Big Ten and 19th in the nation, averaging 102 yards per game...the Buckeyes still are tied for the lead nationally in allowing only eight 100-yard rushers in the past six years. And their run defense is fifth in the country, allowing only 869 yards in 10 games. That's 1 more yard than Iowa, ranked fourth, has allowed this year..."




Watch Coach Tressel's final thoughts before the Buckeyes take on the Hawkeyes Saturday afternoon.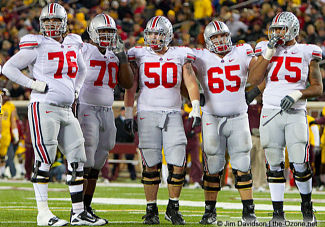 Ohio State Buckeyes offensive line faces huge challenge in Iowa front four
November 20, 2010 Source: Cleveland Plain Dealer - "...It's the Ohio State five against the Iowa four, the Buckeyes' offensive line, which seems to be peaking, tasked with controlling the best defensive line in the Big Ten and maybe the country. "There's a lot of pressure on them to give everybody else a chance to do what they can do," Ohio State offensive coordinator and offensive line coach Jim Bollman said of his line.

...The two Ohio State linemen to focus on are junior left tackle Mike Adams and junior center Brewster. Clayborn, ranked No. 14 on ESPN analyst Mel Kiper's latest list of draft prospects, almost always lines up at the right defensive end, so he'll be Adams' primary responsibility...The Buckeyes managed last year against the same Iowa personnel, as they ran for 229 yards and used short passes, with Terrelle Pryor completing 14 of 17 throws for 93 yards. It sounds like the Buckeyes may open up the offense more this week, moving the pocket, perhaps working a no-huddle offense and running some zone-read plays to create less of a grudge match up front.

...Ohio State has to win the battles early, too. Bollman said Iowa aligns itself differently than most defensive fronts, going more head-on to the offensive linemen. And then they get away. "They don't get blocked very often," Bollman said. "They play really good with their hands and shed you and get rid of you. They're really experienced and really old and really strong."

..."Iowa is the real deal," OSU left guard Justin Boren said. "People say they have the best defensive line in the country. As an offensive line, we're looking forward to that. You want to go against the best and see how you match up."..."

How they match up

Iowa's DL vs. OSU's OL:




Iowa DL


DE: Adrian Clayborn, Sr., 6-4, 285
27 tackles, 3.5 sacks, 5.5 tackles for loss
DT: Karl Klug, 6-4, Sr., 270
32 tackles, 2.5 sacks, 5 tackles for loss
DT: Mike Daniels, Jr., 6-1, 275
20 tackles, 1 sack, 3.5 tackles for loss
DE: Christian Ballard, Sr., 6-5, 297
25 tackles, 1 sack, 2 tackles for loss



Ohio State OL


LT: Mike Adams, Jr., 6-8, 300
LG: Justin Boren, Sr., 6-3, 320
C: Mike Brewster, Jr., 6-5, 293
RG: Bryant Browning, Sr., 6-4, 313
RT: J.B. Shugarts, Jr., 6-7, 297



Five Key Factors
November 19, 2010 Source: Columbus Dispatch - "No passing fancy: Ohio State is No.1 in the Big Ten in pass defense and Iowa is No.2. The Buckeyes have allowed just six passing touchdowns and picked off 17 passes, and Iowa has allowed 10 TDs and picked off 15. Hawkeyes QB Ricky Stanzi missed this game last year, so expect him to be extra-eager. Meanwhile, OSU QB Terrelle Pryor is looking to rebound from a poor game. Neither team needs a 300-yard game - just efficiency.

Get a push: Iowa's defensive line is highly regarded, and the numbers look good: The Hawkeyes are No.1 in the Big Ten against the run. But DE Adrian Clayborn hasn't had the expected production (31/2 sacks), and the Hawkeyes gave up two costly late drives last week at Northwestern. Will they wear down again? Can they hold up to a resurgent Ohio State offensive line, which appears to be rounding into form and is coming off a 314-yard rushing day?

Stay close: In each of its three road games, Ohio State has given up a score on its opponents' first possession. The Buckeyes rallied twice, the exception being at Wisconsin when they fell behind 21-3. OSU clearly doesn't panic at the first sign of adversity, but those second and third shots can be fatal. So the key is to counterpunch quickly and not let it get out of hand.

No turnovers: That might sound a bit unrealistic, but both teams are careful with the ball, so even one slip-up could make a huge difference. Ohio State has committed 12 turnovers, which is good, but Iowa has turned the ball over just seven times, tied for the fewest in the nation. Partly because of that, of the 113 possessions that Hawkeyes' opponents have had, just four have started in Iowa territory. Whoever wins this game will have to take it - it won't be given away.

Incentive: Two weeks ago, this game was circled on everyone's calendars. Now, for OSU, it's a tough test, sure, but it doesn't carry any extra meaning or any instant championships, like last year. For Iowa, after high preseason hopes, it's hard to believe that possibly being Big Ten spoilers is a motivating factor. Which team will be most driven?..."



On the Edge: Dispatch beat writers Ken Gordon and Tim May predict which team has the edge in this week's game. See if you agree..."





Ohio State at Iowa: Key matchups
November 19, 2010 Source: The News Herald - "1. Iowa defensive end Adrian Clayborn vs. OSU offensive tackles J.B. Shugarts and Mike Adams — Clayborn might be the best defensive end in the nation. His 42 tackles, seven tackles for loss and 31/2 sacks only tell part of the story. His presence makes the rest of the defense better. Clayborn usually lines up at right end, which would match him up with OSU left tackle Adams, but moving him around to throw the Buckeyes off-guard is not out of the question.

2. OSU running back Daniel Herron vs. Iowa's front seven — Herron ran for 190 yards and two touchdowns last weekend against Penn State and is 176 yards from reaching the 1,000-yard mark for the season. The Hawkeyes haven't given up 100 yards to a running back yet this year. The only player to run for more than 100 yards on Iowa this season is Michigan quarterback Denard Robinson. Even if OSU quarterback Terrrelle Pryor has a big game running the ball Saturday, an effective Herron is important.

3. Iowa quarterback Ricky Stanzi vs. OSU cornerbacks Chimdi Chekwa and Devon Torrence — The difference in Ohio State's win over Penn State last week was a pair of interceptions for touchdowns in the second half. Stanzi, a Lake Catholic product, has been amazingly efficient throwing this year, passing for 2,482 yards and 22 touchdowns with only four interceptions. If Stanzi manages the game well and doesn't throw interceptions, the Hawkeyes' chances of winning grow exponentially.

4. Ohio State and Iowa vs. the mental game — Iowa's biggest mental challenge this week is ramping it back up after a crushing 21-17 loss to Northwestern last week that took them out of the Big Ten title picture. The Buckeyes have had a penchant for slow starts in their big games this year. The Hawkeyes can't afford to start how they finished against Northwestern, when they gave up two long scoring drives in the fourth quarter, and the Buckeyes can't afford another slow start. Just ask Michigan State of the dangers of doing that against Iowa..."




Five questions to ask about Ohio State – Iowa
November 18, 2010 Source: The OSU Lantern - "Can Terrelle Pryor avoid a third straight game with an egregious interception? No. 2's numbers aren't bad in the last two games: 26 of 35 for 361 yards with four passing touchdowns and two interceptions. But two weeks ago at Minnesota, he was picked off near the goal line, and against Penn State his interception was the result of a poor throwing decision. Although Pryor said after the game that he "played terrible," coach Jim Tressel said that's not necessarily the case...Interceptions could prove costly against Iowa, which has 15 interceptions this season. Cornerback Brett Greenwood leads the conference with four picks.

Is there any stopping Dan 'Boom' Herron? Herron is on quite a run, so to speak. He's coming off back-to-back 100-yard games, including a career-high 190 yards last week against Penn State. Herron now stands third in the Big Ten with 105 yards rushing per game. Furthermore, he has scored at least one touchdown in nine consecutive games and the Buckeyes are 17-3 when Herron has a rushing touchdown. Expect OSU to hand off to "Boom" early and often against a Hawkeye defense that is first in the conference in rushing defense and second in both scoring and total defense. Iowa has allowed only one 100-yard rusher this season.

Will the real Iowa offense please stand up? The Hawkeye offense averages more than 400 yards of offense and 30 points per game. Senior quarterback Ricky Stanzi, who hails from Tressel's hometown of Mentor, Ohio, has thrown for nearly 2,500 yards, tossing 22 touchdowns and just four interceptions. Stanzi, who did not play against OSU last year because of an injury, has put up big numbers the last two weeks (560 yards, three touchdowns). However, the Iowa offense has sputtered as whole, recording only 35 points in the last two weeks against Indiana and Northwestern...

Can the OSU offensive line handle Adrian Clayborn? Iowa has a man among boys along its defensive line in Clayborn, a 6-foot-4-inch, 285-pound pass-rusher who was born to sack quarterbacks. A projected first-round pick in the April draft, Clayborn, much like OSU defensive end Cam Heyward, has dealt with constant double teams this season and thus has not repeated his 2009 numbers..."They're very, very powerful and very consistent," Tressel said. "In games where you might have a 7-yard run, against them it's three."

Are Iowa and OSU fans in store for another classic game? Last season in the de facto Big Ten Championship game, Iowa, led by redshirt freshman quarterback James Vandenberg, overcame a 24-10 deficit with just more than 11 minutes left in the fourth quarter to force overtime. However, OSU came out on top thanks to Devin Barclay's game-winning 39-yard field goal, which sent OSU to its first Rose Bowl in 13 years. The last time OSU visited Iowa was in 2006, when top-ranked OSU thumped Iowa 38-17 with quarterback Troy Smith's four touchdown passes and running back Antonio Pittman's 117 rushing yards..."


Tressel Thursday Update
Source: OSU Official Site 11/18/10



Thursday Tressel Talk: Gregarious Gameplans
November 19, 2010 Source: The Ozone - "Ohio State coach Jim Tressel wasn't seeking out the approval of his quarterback when he put together this week's gameplan against Iowa, but it certainly doesn't hurt to have the players onboard. "It means everything when your guys are excited about what they're about ready to go step up and go against their opponent with," Tressel said Thursday during his weekly end-of-the-week press conference...

"The gameplan we have in this week, it's one of my favorites since I've been here," Pryor said Wednesday after practice. It didn't take long for Pryor's adulation of this week's gameplan to reach the ears of the head coach. "(Quarterback) coach (Nic Siciliano) mentioned that this morning," Tressel said. "I said 'well, we're trying to get better.' It took however many games he's been here, 40." There's a little bit of that dry humor from Tressel, but this time it went a long way. In their two most important Big Ten games of the season (Wisconsin and Penn State), the Buckeyes have had only three points going into the locker room at halftime...

Ohio State's offensive coordinator wasn't about to clear things up for anyone when he was asked what Pryor might be thinking. "I'm not going to tell you guys the gameplan. I'm not going to tell you anything about the gameplan. I'm not going to tell you if it's any more pass or any less, anything about the gameplan," Jim Bollman said. "But I'm glad he's fired up about it."...

The Buckeyes may try some hurry-up offense of their own this week in an effort to wear down Adrian Clayborn and a staunch Iowa defensive line. "I think what we have to do is get them tired and keep going after them," Pryor said. "We've got to keep the ball on the offensive side and just make some long drives and get them tired." Of course nothing tires out a defense like a successful running game..."




Slow starts against Big Ten foes vexing Ohio State Buckeyes
November 19, 2010 Source: Cleveland Plain Dealer - "The story last Saturday was what happened at halftime against Penn State. Coach Jim Tressel got mad, the Buckeyes got better. The subplot was why an Ohio State team filled with seniors and veteran juniors chasing a record-tying sixth Big Ten title -- rested from a bye week and at home against a rival -- needed to be rattled back to life. Examine what Tressel said this week about that first half and wonder if it's what you'd expect to hear about a title-contending team this late in the year.

"I was disappointed that we weren't playing like we were capable of playing. We've all been in games where you've played as well as you could and you lost and that happens, or you played as well as you could but you made those two mistakes and, therefore, you lost," Tressel said. "I didn't think we were playing anywhere near we were capable of playing."

Though the roster includes 515 games of starting experience, including 14 Buckeyes who have started at least 20 games, that's the Ohio State team going to Iowa this week. You can't be sure how the Buckeyes will react to this road test, either emotionally or strategically. "I've never known what we were going to get anywhere," Tressel explained while saying he believes this team is no more difficult to get a handle on than any other. "So often what happens early affects it."...

"We know we have to start fast this week or we're going to have problems," center Mike Brewster said. "Sometimes you've really got to fight back and get momentum on your side, and you know how big momentum is. We had momentum back on our side [against Penn State] and things worked out well, but we know this week we can't really do that." That has happened in the only three real tests they've had in the Big Ten, as the Buckeyes trailed, 10-7, late in the second quarter at Illinois, were down, 21-3, at the half at Wisconsin and fell behind, 14-3, to Penn State, prompting the speech..."


Statistically Speaking

Ohio State

Value (Rank)

Value (Rank)

Iowa


Advantage

Rushing Offense (ypg)

222.0 (13)

86.8 (5)

Rushing Defense (ypg)

Push

Passing Offense (ypg)

233.5 (50)

220.2 (70)

Passing Defense (ypg)

Push

Pass Efficiency

165.4 (4)

114.1 (21)

Pass Efficiency Defense

Push


Total Offense (ypg)

455.5 (17)

307.0 (16)

Total Defense (ypg)

Push

Scoring Offense (ppg)

41.6 (6)

15.0 (7)

Scoring Defense (ppg)

Push


Rushing Defense (ypg)

86.5 (4)

153.2 (60)

Rushing Offense (ypg)

Ohio State+


Passing Defense (ypg)

151.1 (6)

252.7 (35)

Passing Offense (ypg)

Ohio State

Pass Efficiency Defense

94.8 (3)

165.4 (5)

Pass Efficiency Offense

Push

Total Defense (ypg)

237.6 (2)

405.9 (46)

Total Offense (ypg)

Ohio State+


Scoring Defense (ppg)

13.6 (5)

30.8 (43)

Scoring Offense (ppg)

Ohio State+

Turnover margin

+1.4 (2)

+1.2 (5)

Turnover margin

Push

Penalty Yards/game

41.1 (17)

42.1 (18)

Penalty Yards/game

Push

Sacks (/game)

1.50 (90)

1.70 (44)

Sacks Allowed (/game)

Iowa

Sacks Allowed (/game)

1.90 (59)

1.70 (78)

Sacks (/game)

Push

3rd Down Conv. (%)

44.3 (37)

36.2 (27)

3rd Down Conv. Def (%)

Push

3rd Down Conv. Def (%)

28.6 (4)

46.0 (25)

3rd Down Conv. (%)

Push


Redzone Offense (%)

88.9 (17)

70.0 (10)

Redzone Defense (%)

Push

Redzone Defense (%)

71.4 (14)

87.2 (28)

Redzone Offense (%)

Push

Legend
Difference <25 in National Rank = Push
Difference >25 in National Rank = Ohio State
Difference >50 in National Rank = Ohio State+
Difference >75 in National Rank = Ohio State++
Differences >100 in National Rank = Ohio State+++
Source:
Men of the Scarlet and Gray

Pryor On Iowa
Source: OSU Official Site 11/18/10



Pryor loves the game plan for Iowa
November 18, 2010 Source: Associated Press - "Asked after Wednesday's practice if he would like to throw the ball more he said, "I think it depends on the way we have to carry on, the way the game's flowing. That's why coach (Jim Tressel) is so good at the things he does. Some people think that the way he loves offense is kind of slow tempo. The game plan we have in this week is one of my favorites since I've been here, actually. I really like it." Better than the one for the Rose Bowl, Terrelle?

"Yeah," he said...

"(An assistant) mentioned that this morning. I said, 'Well, we're trying to get better,' " Tressel said with a smile. "It took however many games he's been here, 40? But you know Terrelle, he just tells you how he's feeling. And he feels good about the game plan. Now we need to execute it well because the guys we've been practicing against aren't quite as good as the guys we're going to try to execute that game plan against."..."




Terrelle Pryor's comments aren't close to vest
November 19, 2010 Source: The News Herald - "10. Do you think Ohio State coach Jim Tressel pulled a muscle in his face or shoulders from cringing so hard when quarterback Terrelle Pryor said on Wednesday that the game plan for this weekend's game at Iowa was his favorite? Such a statement is anything but close to the vest, or in Tressel's case sweater vest. Pryor has had a few moments when he said things he probably wasn't supposed to, such as a few weeks back when he said his team would defeat Wisconsin nine out of 10 times — days after the Badgers defeated the Buckeyes...9. How big was Pryor's comment in regard to tipping the Buckeyes' hand? We'll find out Saturday at 3:30 p.m. It might be nothing at all. But after Pryor had what he called a "horrible" game last week against Penn State, in which he ran nine times for 49 yards and completed 8 of 13 passes for 139 yards, judging from his words, this weekend's game plan calls on him to do more...6. Which leads us to Pryor's comment about loving this week's game plan. The comments lends itself to the belief the Buckeyes might get a little more creative this weekend against the Hawkeyes. That doesn't necessarily mean gadget plays are in the script, though they might be, but rather more plays that call for Pryor to run more than the nine times he did last week and throw the ball more than the 13 times he did against Penn State. If you're going to win big games, the ball has to be in the hands of your best player...1. Which brings us to prediction time. Ohio State gets more creative on offense, Iowa's defense makes adjustments, Stanzi plays well but doesn't have the number of weapons Pryor has. Ohio State 24, Iowa 20..."




What to watch in the Big Ten: Week 12: 2. Buckeyes go streaking: Ohio State's run of five consecutive Big Ten titles (outright or shared) is one of the most impressive streaks in college sports. To keep it going, the Buckeyes in all likelihood need to win Saturday at No. 20 Iowa, which eviscerated Michigan State in its last game at Kinnick Stadium. Ohio State hasn't showed its typical road dominance this season, falling at Wisconsin and struggling to beat Illinois. Iowa gave Ohio State all it could handle last year in Columbus, and this time the Hawkeyes will have starting quarterback Ricky Stanzi on the field.

6. Stanzi on Senior Day: By most measures, Ricky Stanzi has been a significantly better quarterback this season than he was in 2009. Except in one category: wins and losses. Stanzi's fourth-quarter mojo has deserted him in three games, overshadowing his otherwise spectacular stats. He'll look to recapture the magic on Senior Day as one of Iowa's most decorated classes plays its final game at Kinnick Stadium. Stanzi has significantly trimmed his interceptions total, throwing just four picks in 272 pass attempts. But he faces an Ohio State defense that leads the nation with 17 interceptions this season.

Source: ESPN






SERIES RECORD
• This will be the 63rd meeting between Iowa and Ohio State in a series that began in 1922. The Buckeyes have a 45-14-3 lead thus far and are 28-8-1 in all games played in Columbus and 17-6-2 in games played in Iowa City. Ohio State has won 11 of the last 12 games dating back to 1992. Ohio State has fared well at Kinnick Stadium, winning six of its last seven contests

FIRST AND 10
• QB Terrelle Pryor ranks second in the Big Ten and fifth nationally in pass efficiency (166.4)

• The Buckeyes rank among the NCAA Top 6 in eight statistical categories overall

• Daniel "Boom" Herron has scored at least one touchdown in nine consecutive games and has recorded back-to-back 100-yard games.

• QB Terrelle Pryor needs 78 yards rushing to reach 2,000 for his career

• QBs Terrelle Pryor and Ricky Stanzi have 44 TD passes between them this season -- they are tied for the Big Ten lead with 22 apiece

THE SILVER BULLETS
• Ohio State leads the Big Ten and ranks second in the NCAA in total defense (238.0 ypg) while also leading the league and ranking sixth overall in scoring (41.6 ppg)

• Ohio State's defense has given up just 13 touchdowns in 2010 and has recorded 25 turnovers in 10 games.

• The Ohio State defense is averaging 6.0 three-andouts per contest this season, second best among FBS teams behind TCU (6.09).

• Buckeyes run defense is fifth in the country, allowing only 869 yards in 10 games. That's 1 more yard than Iowa, ranked fourth, has allowed this year

KEY MATCHUP
• Iowa's defensive line vs. Ohio State's run game. The Hawkeyes' front four is among the nation's best, while the Buckeyes average 222 yards per game on the ground. Ohio State ran well in its win over Iowa a year ago, so the Hawkeyes will need to lean on its defensive line to keep the Buckeyes from springing big holes for Dan Herron and QB Terrelle Pryor.

AGAINST RANKED TEAMS
• Under Coach Jim Tressel, the Buckeyes are 38-14 overall and 13-7 on the road against ranked teams. Ohio State is 132-105-12 all-time when facing a ranked opponent, and 41-42-7 on the road against ranked teams.

IN ROAD FINALES
• Ohio State is 67-47-6 all-time in final road games of the regular season. Under Coach Jim Tressel, the Buckeyes are 7-2 in those games.

DID YOU KNOW?
• Ohio State is 94-6 when it has allowed fewer than 24 points in the 10 seasons under Tressel.

• Ohio State is the only team that ranks in the Top 10 of both the current USA Today/Coaches' poll and also the APR rankings. Only four teams rank in the Top 25 of both: Ohio State (7 polls/9 APR); Boise State (3/12 APR); TCU (4/21 APR); and Wisconsin (5/21 APR).

HONORARY CAPTAIN
• Kirk Barton, former Ohio State offensive lineman and one of the most quotable players ever
IOWA AT A GLANCE
• The Hawkeyes (7-3, 4-2) enter Saturday's game with a No. 20 BCS ranking after falling in the final minutes at Northwestern last Saturday

• Iowa has been best at home, outscoring opponents 208-54.

• The Hawkeyes have 13 Ohioans on their roster

• Saturday's game is the home finale for Iowa's Seniors, who will be introduced Saturday during pre-game ceremonies.

• Iowa Vs. Ranked Opponents: Ohio State is the sixth ranked team Iowa will face this season. The Buckeyes are the third Iowa opponent to be ranked in the top 10. Iowa lost to No. 10 Wisconsin (31-30) and defeated No. 5 Michigan State (37-6), both in Kinnick Stadium. With the 37-6 win over fi fth-ranked Michigan State (10/30/10), Iowa has recorded a victory over a top-five ranked team in each of the last three seasons.

• Iowa features one of the top defenses in the conference, leading the Big Ten in rushing defense (86.8 ypg) and ranking second in scoring defense (15.0 ppg), total defense (307.0 ypg), TO margin (+1.20) and pass efficiency defense (114.1 ypg)

• Soph RB Adam Robinson led Iowa's ground game with 22 attempts for 108 yards at Northwestern. He is currently fourth in the Big Ten with 101.6 yards per game and 10 touchdowns

•The defense is led by defensive end Adrian Clayborn, who is one of 12 semifinal candidates for the 2010 Rotary Lombardi Award

DID YOU KNOW?
• Senior quarterback Ricky Stanzi is tied for the Big Ten lead with 22 TD passes and ranks first in overall pass efficiency (167.2). He has passed for 2,482 yards and has a 66.4 completion percentage.

• As a starter, Stanzi is 25-7 to rank second all-time among Iowa QBs in career victories.

• Iowa is just 1-3 in the four games in which Stanzi has thrown at least 30 passes this season

THE 4TH QUARTER
• All three of Iowa's losses have included poor 4th quarter play. Against Arizona, a poor 4th quarter derailed the comeback effort ; against Wisconsin, poor 4th quarter play allowed Wisconsin to scrape by with a one point victory; against Northwestern, poor 4th quarter play cost them a ten point lead and, ultimately, a victory.

• Head Coach Kirk Ferentz is in his 12th season in Iowa City with a record of 88-57 and 100-78 overall.

TV: ABC will televise the game with Sean McDonough and Matt Millen in the press box and Quint Kessenich on the sidelines.

Radio: WBNS (97.1 FM The Fan) is the flagship station for the 73-station Ohio State radio network. Paul Keels will call the play-by play with former Buckeye Jim Lachey in the booth and Marty Bannister on the sidelines. The game can also be heard on Sirius satellite radio 125 and XM 102 and on Compass National Radio.




Posey Poised for Challenge in Iowa City

Source: OSU Official Site 11/17/10



Posey Sets Sights on Leaving a Legacy, has big goals at Ohio State
November 17, 2010 Source: The Ozone - "..."Ohio State wide receiver DeVier Posey had big goals when he got to Ohio State just over two years ago. He, quarterback Terrelle Pryor and a number of their 2008 classmates set the bar at an almost unattainable level when they signed on to be Buckeyes. Anything short of a national championship followed by success at the next level was going to be viewed as a disappointment. If that chase for a title isn't enough to bring Posey back for his senior year, the chance to be remembered among the all-time greats might be. "That's definitely one of my goals and definitely on my agenda to come back," Posey said Tuesday. "Me and Terrelle always sit down and talk about creating a legacy here."

Posey...would have long ways to go to catch David Boston for career touchdown catches (34) or Michael Jenkins for career receiving yards (2,898). The junior wideout currently ranks 10th on the school's all-time receptions list (114), 11th on the career touchdown list (14) and 16th in receiving yardage (1,609). With another season under his belt, Posey could move into the top five in all three categories at Ohio State, something that certainly appeals to his aspirations for Buckeye immortality. "Being able to live in Columbus forever, not physically, but be able to, when people see a No. 2 jersey, they think about Terrelle, and a No. 8 jersey, they think about me," Posey said. "I don't know how to create that, but we probably need a senior season."

Posey has come a long way in his three years at Ohio State. But there is something about being a senior, or at least a fourth-year guy, that seems to change a player's perspective and focus level..."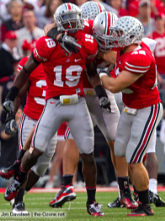 Johnson feeling more comfortable at safety
November 18, 2010 Source: Columbus Dispatch - "It was just an assisted tackle in the box score, but for a converted quarterback who once had Heisman dreams, it was a big deal.

Last week against Penn State, on fourth-and-1 late in the first half, Ohio State safety Jermale Hines was desperately clutching a handful of running back Silas Redd's jersey. Fellow safety Orhian Johnson rushed up and delivered the knockout blow, stopping Redd for no gain. It might have been the turning point for Ohio State, which came back from a 14-3 deficit to win 38-14. Johnson finished with a career-high five solo tackles and tied his career high with eight stops overall.

"Orhian is coming along very well - his tackling is much better from when he first started," Hines said. "He wasn't tackling that well." That's a problem for a safety. Defensive backs who aren't good enough to consistently play man-to-man coverage get turned into safeties. As recently as Oct. 30 at Minnesota, Johnson was struggling in coverage, hesitant and slow to get over and provide help at times. At the least, then, safeties are expected to hit.

"The bye week was good for him," safeties coach Paul Haynes said. "I challenged him during that bye week that he's got to continue to get better. People who have come out to practice, they have noticed him, because he's doing the little things right - planting and driving, doing those things to get himself better, so he's on the right track." Johnson was a quarterback and defensive back at Boca Ciega High School in St. Petersburg, Fla. He said he was the type of quarterback who "was going for the big play every down. I was trying to score or run it in." As he fielded scholarship offers, some schools enticed him with the promise of staying at quarterback rather than safety, which is where Ohio State projected him..."




Buckeyes unperturbed by Iowa's pink locker room
November 18, 2010 Source: Associated Press - "Much has been made of the pink-painted walls in the visiting locker rooms at Iowa's Kinnick Stadium. Former Iowa coach Hayden Fry first tried the color scheme, supported by those color experts who said it softened opposing players and made them more docile. Years ago, Ohio State coach Earle Bruce used to bring along blue wallpaper that he would have attached to the walls to cover up the pink.

"They used to do that in the old days," Ohio State coach Jim Tressel said. "They've renovated their stadium and the locker rooms are nice, but they are a different shade and that's one of the old tradition things. The last time we were there (in 2006), I didn't notice it as a problem. Now, maybe two times ago (an Ohio State loss in 2004) that was the problem, but I'd like to think that won't be a problem."...

Ohio State K Devin Barclay was asked what his reaction was to the color scheme. "I have a pink shirt," he deadpanned. LB Ross Homan discounted any impact on the pink locker room. "You get used to it. There's no psychological effect whatsoever," said the only current Buckeye player who made the trip in 2006. "It definitely didn't make me feel soft, or nicer. It has no effect on us."..."


Quarterback Terrelle Pryor is energized in what he sees in OSU's game plan for Iowa




On tap: Here come the Hawkeyes, who have become past tense, as in Io-was.

Next game: at Iowa (Kinnick Stadium, Iowa City)
When: 3:30 p.m. Saturday 11/20/10
TV: ABC
Radio: WBNS-AM/FM (1460/97.1)

Up next: Iowa (7-3, 4-2) will be coming off its fifth loss to Northwestern in six years. The Hawkeyes are hard to figure: On one hand, quarterback Ricky Stanzi is fourth in the nation in passing efficiency. Yet they all but lost to Indiana the week before losing to Northwestern, and the defense doesn't appear as good as advertised, giving up a last-minute winning drive to the Wildcats. Still, with a backup quarterback, Iowa took Ohio State to overtime last year before losing in the game that determined the Big Ten title.

This week's challenge: The Buckeyes can't afford a third 20-minute late start like they had at Wisconsin and against Penn State. Iowa is coming off a disheartening loss, but it returns home to the place it embarrassed previously unbeaten Michigan State several weeks ago. This is the third of three circled games on the OSU schedule. An unprecedented sixth straight piece of a Big Ten title is on the line.





WHAT'S AT STAKE: Not as much as everyone thought there would be — at least not for Iowa. Ohio State can clinch at least a share of the Big Ten title with wins over the Hawkeyes and Michigan. Iowa is virtually out of the league title chase, but beating the Buckeyes on Senior Day would rank among the program's memorable wins.

Source: Associated Press





Ohio State Buckeyes
Iowa Hawkeyes

2010 Totals

Offense:
41.6 ................................ Pts/gm .............................. 30.8
455.5 ..........................Total yds/gm ........................ 405.9
222.0 ......................... Rush yds/gm ........................ 153.2
42.1 .............................Carries/gm ........................... 36.0
5.3 ................................ Yds/carry .............................. 4.3
233.5 ..........................Pass yds/gm ........................ 252.7
26.4 ............................ Pass att/gm .......................... 28.3
13.1 ......................... Yds/completion ....................... 13.7
Defense allows:
13.6 ................................ Pts/gm .............................. 15.0
238.0 ..........................Total yds/gm ........................ 307.0
86.9 ........................... Rush yds/gm .......................... 86.8
30.7 .............................Carries/gm ........................... 29.6
2.8 ................................ Yds/carry .............................. 2.9
151.1 ..........................Pass yds/gm ........................ 220.2
27.4 ............................ Pass att/gm .......................... 36.2
10.3 ......................... Yds/completion ......................... 9.8





Devin Barclay would get a kick out of breaking Hawkeyes hearts once again
November 16, 2010 Source: Cleveland Plain Dealer - "..."As far as I know, I might be one of the most hated people there, and that's fine with me," Barclay said. A year ago, in the second game of his career, Barclay kicked the 39-yard game-winning field goal in overtime to beat the Hawkeyes, 27-24, in Ohio Stadium. Saturday, the Hawkeyes will be looking for revenge as the Buckeyes make their first trip to Kinnick Stadium since 2006.

Among the Buckeyes, only fifth-year senior linebacker Ross Homan has experienced an Iowa road game, and with the Hawkeyes coming off a loss to Northwestern last week, Kinnick may be extra energized. "I'm sure they want payback," OSU fullback Zach Boren said. "We were in that situation against Purdue and everyone was saying we'll come back and get a win this year because of what happened last year."

Seen as a Big Ten contender and dark-horse national title pick before the season, Iowa enters the game with three losses, including two in the conference. The Hawkeyes lost at Arizona by seven, to Wisconsin by a point and at Northwestern by four. Beating the Buckeyes is the best way to ease the frustrations for what fans thought could have been a special season. "I know those guys don't have amnesia, they remember the last time we went against them," receiver DeVier Posey said. "They remember the Barclay kick and they probably felt like we slipped away with an easy one, slipped away with a win because [quarterback] Ricky Stanzi got hurt the week before we played them..."




Ohio State vs. Iowa Preview CBSSports.com



Game of the Week: Buckeyes look to keep Big Ten title hopes alive
November 18, 2010 Source: Sports Illustrated - "...1. Playing it close to the Vest: Ohio State's Jim Tressel, who has inspired at least one Buckeyes fan to don the trademark sweater vest during games, tends to play things conservatively on the road. Tressel will want to minimize mistakes on offense, and that will mean trying to establish the run against a banged-up Iowa defense that is thin at linebacker. Bruce Davis and Jeff Tarpinian are gone, forcing freshman James Morris into fulltime duty in the middle. Iowa's led defensive line, led by Adrian Clayborn, is stout, but Ohio State will still try to pound away with tailbacks Dan Herron and Brandon Saine until the Hawkeyes prove they can stop the run. Ohio State quarterback Terrelle Pryor becomes a more dangerous runner and passer when the running game is clicking. If Iowa wants Ohio State to start feeling the pressure in what will be a loud Kinnick Stadium, it'll need to shut down the run early and force the Buckeyes to open up the offense a bit...

The Pick: Iowa's defense has plenty of talent and puts up strong numbers, but it has failed in crucial fourth-quarter situations in losses to Arizona, Wisconsin and Northwestern. All three games ended with the opponent scoring the game-winning touchdown in the final four minutes. With a quarterback who can improvise like Pryor, protecting a late lead will be a concern in this game as well. Ohio State shook off a poor first half against Penn State for a blowout win last week and has looked as good as any team in the nation for stretches this season. Iowa's best chance is to get Ohio State in an early hole like Wisconsin did, but the Buckeyes have too much to play for to let that happen. OHIO STATE 27, IOWA 17..."




GAME OF THE WEEK: Ohio State (9-1) at Iowa (7-3)
November 18, 2010 Source: College Football News - "...Why Ohio State Might Win: All of a sudden, the Iowa offense has simply stopped scoring. The passing game is working, with Ricky Stanzi throwing for 290 yards against Indiana and 270 against Northwestern, and the running game hasn't been miserable, even though it was held in check by the Wildcats, but the yards haven translated into points. After scoring without a problem against Michigan, Wisconsin, and Michigan State, to suddenly start to sputter against the Hoosiers (who just got tagged for 83 by Wisconsin) and the Wildcats is a major problem. Ohio State's defensive front is dominating, allowing three rushing touchdowns to Wisconsin and just four to everyone else, while the two first half touchdown passes the secondary allowed at Penn State last week were the lone scores allowed through the air in Big Ten play. The Buckeyes haven't allowed more than 162 passing yards since late September when Eastern Michigan bombed away against the backups in a 73-20 loss. In other words, this isn't going to be the week when the Iowa offense suddenly finds itself. Ohio State is fourth in the nation in third down defense, but …

Why Iowa Might Win: … Iowa only allows teams to convert 36% of their third down chances. The Ohio State offense is just begging to get stuffed. Yeah, rolling up passing yards against Purdue and Minnesota is cute, and the running game was dominant against a mediocre Penn State defensive front, but the Buckeye attack has been inconsistent, with no passing attack one week against Illinois, and blowing up against Indiana the next, and the jury is still out on whether or not Terrelle Pryor can complete a downfield pass when under consistent pressure from a great defensive front. The Iowa line has been disappointing considering all the talent, and it doesn't come up with a ton of sacks, but it generates plenty of hurries. Northwestern's Dan Persa was able to thrive under the constant pressure and kept his eyes down the field to make things happen, but that's not necessarily Pryor's strong suit. He's great on the move, but he's not a passer on third downs of any appreciable distance. What To Watch Out For: It's NFL scouting time. It's a big year for defensive linemen with Clemson's Da'Quan Bowers, Alabama's Marcell Dareus, Auburn's Nick Fairley, North Carolina's Robert Quinn, and Oregon State's Stephen Paea all considered among the top 20 prospects, but Iowa's Adrian Clayborn and Ohio State's Cameron Heyward are near-locks to go in the first round. However, each needs to show a bit more. Clayborn hasn't been a disappointment, but considering he came into the season as a sure-thing top five overall talent, he hasn't delivered. The pass rushing production has been way down, he has been a half-step off way too many times, and he hasn't been nearly as active against the run as he was last season. However, he's still a top talent who can get back among the top picks in a big hurry with a strong finish. Meanwhile, Ohio State's Cameron Heyward is being seen as a possible great value pick late in the first round. He more than held his own against Wisconsin's Gabe Carimi, possibly the top offensive tackle in the draft, and he has been great at getting into the backfield as the team's leader in tackles for loss. The spotlight will be on both of them.

What Will Happen: The Ohio State defense will keep Iowa's offense under wraps. It's not like the Buckeye attack is going to explode, Pryor will have a rough day, but the Iowa running game will do next to nothing and Stanzi, who didn't play in last year's classic, won't be able to pick up the slack for a full sixty minutes. The Hawkeye receiving corps will have its moment, just not enough of them.
CFN Prediction: Ohio State 26 … Iowa 21 … Line: Ohio State -3..."




Preview: #9 Ohio State at #20 Iowa
November 19, 2010 Source: Eleven Warriors - "...Opponent...armed with with one of the better receiver corps in the Big Ten. Johnson-Koulianos (#15) and Richard McNutt (#7) each enter averaging a bit over four receptions per game and are neck and neck in yards with 673 and 660, respectively. DJK is more of the deep threat, while McNutt's size (6-4/215) presents a matchup problem for just about any secondary without monster corners. Senior tight end Allen Reisner (#82), a Mackey Award semifinalist, also has great size to go along with great hands and will be a frequent target of Stanzi, as will flanker Colin Sandeman (#22)...When you take into account the fact that Iowa doesn't turn the ball over (they lead the nation with just 7 turnovers surrendered), has the conference's best punter, it's top kick return man and the three-time Big Ten Coach of the Year patrolling its sidelines and there just aren't a lot of weaknesses to exploit. Ferentz will have his team prepared and the Buckeyes will likely end up in a fight for only the third time this season...Ultimately, this is a well-rested Buckeye team that probably has enough talent to steal a close one in front of the anticipated blackout. It certainly won't be easy...Ohio State 26, Iowa 20..."


ESPN's Adam Rittenberg looks at the keys to Ohio State-Iowa
Source: ESPN 11/17/10



Gameday+
September 10, 2009 Source: Columbus Dispatch - "BuckeyeXtra.com delivers all you need to know about the Buckeyes upcoming game. Click here for everything from the top story, play of the week: Cover Story: His aim is true A behavioral disorder as a child. Dreams of a soccer career dashed by age 22. Undeterred, Devin Barclay reinvented himself as a college student and place-kicker in football, and life is looking up, and good; Play of the Week: Double Cross Stunt, Game Predictions, staff picks & Tom Brokaw, former NBC anchor & Iowa Student; Meet a Buckeye: Zach Boren and more..."




Ohio State vs. Iowa Preview
November 19, 2010 Source: The Ozone - "...Despite leading the conference in passing efficiency, too much passing for the Hawkeyes would seem to indicate a bad thing. Iowa is just 1-3 in the four games in which Stanzi has thrown at least 30 passes this season. The lone win came against Indiana and required a dropped touchdown by the Hoosiers in the final moments...A pass rush would do wonders for the off-and-on Buckeye pass defense, but it will likely take some blitzing to make it happen...Northwestern and Indiana have had recent success with quick passes against the Hawkeyes, and truth be told, most teams in the Big Ten have had success throwing the ball against Iowa. In conference play, the Hawkeyes are allowing 259 yards passing per game. Pryor has had issues with the short-passing attack in the past, so it remains to be seen what the Buckeyes have in store for Iowa. The two areas for Pryor to avoid will be anywhere occupied by safeties Tyler Sash and Brent Greenwood. In the past, Greenwood would have been a welcome target, but those days are gone..."




Ohio State Football: Iowa Hawkeyes to Prey on Buckeyes
November 17, 2010 Source: The Bleacher Report - "...Iowa's Offense versus Ohio State's Defense: Kirk Ferentz has developed a strong reputation for quality offensive lines during his tenure at Iowa, leading to traditionally balanced play through both the run and the pass. Iowa RB Adam Robinson averages slightly over 100 yards per game, while QB Ricky Stanzi is leading the conference in pass efficiency. With strong wideouts in both Johnson-Koulianos and Marvin McNutt, Ohio State will need to play its best game defensively this season. If Iowa is able to establish its running game, Ohio State is in big trouble, as Iowa will be able to effectively control the clock, as well as leave the Ohio State secondary susceptible to play-action passing. Ohio State's rush defense ranks right behind Iowa statistically (see below). Put it another way—if Ohio State comes out flat and uninspired, as they did last week versus Penn State, they will lose this game easily. Edge: Iowa

Ohio State's Offense versus Iowa's Defense: This is going to be the battle to watch, as Ohio State ranks second in total offense in the conference at slightly over 450 yards per game, while Iowa ranks second in total defense, allowing 307 yards per game...Edge: Even. Pryor's athleticism will help to minimize or negate Iowa's strong defense, and should keep Ohio State in the game..."




2010 Iowa Hawkeyes Game Preview
November 18, 2010 Source: Buckeye Planet - "...Head-to-Head: Iowa versus Ohio State QBs...Edge: Ohio State...Head-to-Head: Iowa versus Ohio State RBs...Edge: Ohio State...Head-to-Head: Iowa versus Ohio State WRs...Even...Head-to-Head: Head-to-Head: Iowa versus Ohio State TEs...Edge: Iowa...Head-to-Head: Iowa versus Ohio State D-Line: If Iowa had a more consistent two-deep, the A- would be an A+ as the starting four are a very talented and consistent group. Three of the four starting linemen have earned All-Big Ten honors in some manner, but the depth behind them represents a significant drop in production. While the D-Line is strong against the run and generates great pressure on QBs even if the sack numbers aren't quite as eye popping as you'd like, they have a tendency to wear down as games go long. The Buckeyes are similar along their front, but have more consistent depth and do not have the 4th quarter problems Iowa has had. Both teams can generate pressure with just their front four, though Ohio State seems more likely to run zone blitzes than do the Hawkeyes. Likewise, the Buckeyes front has generated more turnovers. As a result, the Buckeyes might earn a slight edge here. However, we'll call this one even in as much as the Buckeyes are on the road this week and the match-up is otherwise a dead heat...Edge: Even..."






Iowa Official Site
2010 Iowa Statistics
2010 Football Roster
Iowa Depth Chart
Iowa Ohio State Game Notes
Kirk Ferentz, Head Coach
Ass't Coaches
Source: Iowa Official Site





Five things to watch in today's Iowa game
November 19, 2010 Source: Davenport Quad City Times - "Trying to hang in there: Ohio State is trying to stay in a tie for first place (with Wisconsin and Michigan State) in the Big Ten while Iowa is just trying to retain some small glimmer of hope for a share of the league title. Win or lose, the Hawkeyes likely are headed for one of three second-tier New Year's Day bowl games in Florida.

Trying to start fast: Although it is 9-1, Ohio State occasionally has had a history of falling behind early in games, especially on the road. Miami (Fla.) and Illinois had modest leads on the Buckeyes. Wisconsin opened a 21-0 lead on them. Last week Penn State bolted to a 14-3 advantage. The Buckeyes rallied to win all those games except Wisconsin.

Trying to hold a lead: Iowa's three losses have been marked by late-game letdowns by the defense. Arizona, Wisconsin and Northwestern all drove for game-winning touchdowns on their final possessions. The opponents are 11 for 14 on third-down conversions in the fourth quarter of those three defeats.

Trying to go out on a high note: Today will be the final Kinnick Stadium appearance for 26 seniors on the Iowa roster. It's a distinguished class. A dozen seniors will be in the starting lineup today, and eight of them have started more than 30 games in their careers. Included are such stars as Ricky Stanzi, Derrell Johnson-Koulianos, Adrian Clayborn, Brett Greenwood, Jeremiha Hunter, Christian Ballard, Karl Klug, Julian Vandervelde, Allen Reisner, Brett Morse and Ryan Donahue.

Trying to bust out: The game features two players regarded among the elite defensive ends in the country this season although neither of them leads his team in sacks. Both Iowa's Adrian Clayborn and Ohio State's Cameron Heyward have been subjected to a season of double-teams and chip blocks, and that doesn't figure to change today..."




MARQUEE MATCHUP: Iowa receivers Derrell Johnson-Koulianos and Marvin McNutt vs. Ohio State receivers Dane Sanzenbacher and Devier Posey: It's hard to imagine two more balanced or evenly matched wideout tandems anywhere in the country. Sanzenbacher and Posey are tied for sixth in the Big Ten with 43 receptions apiece, and they have combined for 1,380 yards and 14 touchdowns. Johnson-Koulianos and McNutt, left, are tied for ninth in the league with 41 catches apiece, and they have 1,333 yards and 15 touchdowns between them. The two groups even parallel each other in their dynamics. McNutt and Posey are large, physical juniors, while Johnson-Koulianos and Sanzenbacher are seniors who rely more on speed and precise route-running.

Source: Davenport Quad City Times





Hawkeyes Ready for Senior Day, Ohio State

Source: KCRG







Opponent spotlight: Adrian Clayborn, DE
November 19, 2010 Source: Columbus Dispatch - "Adrian Clayborn's numbers are down compared with a season ago, when the Iowa defensive end was a terror in the Big Ten. But as Ohio State coach Jim Tressel pointed out this week as he prepared his team for today's game against the Hawkeyes, there is a good reason for Clayborn's fall-off. In short, Clayborn brought a lot of attention to himself in his 111/2-sack tour de force a year ago. Offenses often have made it a tougher alley to walk this season.

"Whenever you turn on the tape, there are two people (blocking him), there's one chipping him, there's another - whoever the uncovered lineman is, he is going and helping on him," Tressel said. Though Clayborn has just 31/2 sacks through 10 games this season, Tressel is still paying attention to him. "It's not like you make your game plan and you say, 'We're not worried about 94,'" Tressel said. "He still is one of the best defensive linemen in the country, like Cam (Heyward of OSU) and J.J. Watt (of Wisconsin). We've got some good ones in this league."

Another league - as in the National Football League - is what comes to mind when OSU center Michael Brewster sizes up Clayborn, who is 6 feet 4 and 285 pounds. Clayborn usually lines up over the left tackle, though occasionally the Hawkeyes will move him around, much like OSU does with Heyward, looking for a mismatch or trying to alter the blocking scheme of the offensive line. "The two biggest things are, he's one of those guys who looks like he already has an NFL-ready body," Brewster said. "He's a pretty big guy who moves real well. "And then, he is very powerful. You don't come across that many guys (in college) who have the look and also the power."





A senior star at Iowa, Lake Catholic's Ricky Stanzi finally getting his shot at Ohio State
November 17, 2010 Source: Cleveland Plain Dealer - "He's an Ohio kid but an Iowa quarterback, and Ricky Stanzi's hello to the Ohio State Buckeyes will also be his goodbye to Iowa Hawkeyes fans. After a 25-7 career record in 32 career starts, the Mentor native's first game against Ohio State will come on Senior Day on Saturday at Kinnick Stadium. He's clearly Iowa's guy, third on the Hawkeyes' list of career touchdown passes and third in the nation in passer rating.

"You can tell he's their leader," OSU safeties coach Paul Haynes said. "They go as he goes."

Ten games into the season, he's also the guy who may really put the Ohio State secondary to the test. The Buckeyes are tied for first in the nation with 17 interceptions, but they have shown that quarterbacks can hit them down the field at times. With 22 touchdowns and just four interceptions this season, Stanzi could be the quarterback on the OSU schedule with the greatest ability to pick at Ohio State's passing defense for four quarters..."




Stats don't tell Clayborn's story
November 18, 2010 Source: Columbus Dispatch - "Judging strictly by the numbers, this season has been a disappointing one for Iowa defensive end Adrian Clayborn. Ah, but that's the danger of judging a player, particularly a defensive lineman, by statistics. A year ago, Clayborn was a scourge on the field, and it was reflected on the stat sheet. He had 70 tackles as a junior. Twenty were for loss, including 11 sacks. He was particularly dominating during a signature performance against Penn State when he blocked a punt and returned it for a pivotal touchdown. This year, such moments have been rare. Entering a game Saturday against Ohio State, Clayborn has only 3 sacks, seven tackles for loss and 42 tackles.

But those who've watched Clayborn more closely than merely gazing at a stat line believe he's as imposing as ever. "I think that's fair to say," Iowa coach Kirk Ferentz said. "That's what happens to good linemen. I'm not sure that typically stats tell the whole story about linemen. "I read that someone here thought Adrian had a subpar game (against Northwestern last week). I looked at the tape and thought he played excellent. If you do evaluation off stats, you probably get a different story than what the film might say."

Certainly, Ohio State will be paying extra attention to Clayborn, as other teams have. "There's no question," Buckeyes coach Jim Tressel said. "When you're watching the film, there's one guy blocking him and somebody else helping a significant part of the time, or a running back getting a little chip (block) on him before going out (on a pass route). He's a game-changer. He's doing just fine." What makes Clayborn so difficult to block is his combination of effort, speed and strength..."




Two Ranked Teams Meet Saturday in Kinnick Stadium; Coach Kirk Ferentz comments on Saturday's home finale
November 16, 2010 Source: Iowa Official Site - "...Q. You have a history of after tough losses bouncing back with solid performances. Last year against Ohio State, Michigan State this year. Do you alter your approach that week? COACH FERENTZ: We put a 10 0 win up after the Ohio State game last year. I know what you mean, yeah.

Q. You think of Ohio State as kind of a grind it out type of team. Do they have a type of offense that you want to keep them off the field? COACH FERENTZ: We want to keep everybody's offense off the field. That was part of the problem last week. That's always a good thing. But it's going to be tough because they've got a couple different personalities. They were wide open in the Rose Bowl, have that capability. But they also can run the ball right at you and make it tough to stop you. They were one of the few teams last year that did that to us. Not many teams did that to us. They took that ball and jammed it right down or throats last year that second half. We better strap it up and be ready. A tough outfit we're playing.

Q. How do you prepare for Pryor and all the other weapons they have? COACH FERENTZ: It's hard. They traditionally have had that. They have good players at every position. I'm impressed with their offensive line. They've grown. They were good last year, but they continue to grow. No. 75 is their only new starter. And he may be the best guy they have. I don't mean any disrespect to the other guys. Everybody is focused on the other guys. 75 wants to transfer, I'll take him. I'm not tampering. Can't do that in our conference. But he's really quite a player. They've got good linemen, an excellent tight end, good receivers like always. Terrelle Pryor is a very dangerous player. They have about four backs that are outstanding, two that they've been running hard. They're really, really talented..."




No. 21 Iowa savors rare underdog role
November 16, 2010 Source: Omaha World Herald - "...This week, it's the Hawkeyes against the world. "I think this week has been different," running back Adam Robinson said. "We haven't had that back-against-the-wall type of mentality because everyone has picked us to win most of our games. I think going back to that this week is going to help us a lot. "I remember we were the underdog a lot of times last year and we really took that mentality to heart. We came out on top a lot of those times. I think getting back to that mentality is going to help us."

Against Ohio State this week, the Hawkeyes are a three-point underdog. In the wake of last week's 21-17 loss at Northwestern, the Wildcats' third straight win over Iowa, Ohio State might be the best thing for the Hawkeyes. If Iowa's players don't snap out of their funk, the Buckeyes are capable of making it a long, painful afternoon. "If we don't flush it today, it won't be good," defensive tackle Karl Klug said before Tuesday's practice.

Remember this week's theme: the Hawkeyes against the world. "And, when we do win, it's because, 'Boy, they don't take those chances and blitz, they bend but they don't break,' " Ferentz continued. "I've read all these stories, could've written them back in July, for the good scenario or the bad scenario. "I'm sure you guys do the same thing. You keep them in your pocket and just tweak them a little. That's how it works. We all know that. Who's zooming who? That's the way it is."

The unhappy fans, news media and Facebook bombs can't touch the team, the Hawkeyes said. Ohio State is a different story, football being football. The Buckeyes are hitting on all cylinders coming into Kinnick Stadium. Their biggest problem might be the fact that they haven't been pushed in the fourth quarter since losing at Wisconsin on Oct. 16..."