| | |
| --- | --- |
| | The (red) story links, or the 'read more' graphic, will open new (pop-up) windows to the source of the article, audio or video, so you can read/hear/see the rest. If your browser is set to block pop-ups, please set it to always allow them from our site. You will not get any annoying advertising pop-ups, of any kind, generated by this site...ever. |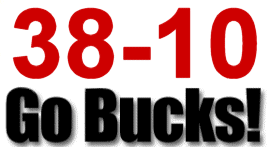 | | |
| --- | --- |
| INDIANA vs. OHIO STATE | |
OHIO STATE INDIANA GAME HIGHLIGHTS
10/9/10 Source: OSU Official Site





Five Things: Indiana
October 11, 2010 Source: Eleven Warriors - "An evolved gameplan: Though both Tressel and Brandon Saine indicated it wasn't totally by design, Saine recorded zero carries yesterday while hauling in four catches for 84 yards including a 60 yard TD off a well executed wheel route on 1st and 10 putting the Buckeyes in front 21-0 early in the 2nd quarter. Tress and Saine can play coy but I think it's safe to assume that while maybe the intent wasn't to keep Saine from toting the rock at all, there was definitely an emphasis placed on getting him the ball in space, via the pass, to take advantage of Saine's straight line speed...Considering the spotty success of the run game coupled with the freak at the QB spot supposedly nursing a quad, it was also pleasing to see the Buckeye gameplan rely on Pryor's continued evolution as a passer in the pocket instead of sending running backs into giant piles of bodies at the line of scrimmage either due to a lack of push or the backs not finding the hole...The pass heavy effort has me very curious as to how the plan might adapt on the road against a much better team in Madison this Saturday night.

So much for Indiana's vaunted aerial attack: I wasn't at all worried about Indiana putting up a ton of points Saturday...thinking maybe OSU would play off the receivers a bit more. Instead, the Buckeyes played much more press coverage than I figured and they completely locked down Doss. Somewhat shockingly, Doss was held to one catch for 12 yards and two rushes for -1 yard. That is some impressive defense.,,In the secondary, Chimdi Chekwa turned in a solid performance with seven tackles and a pass break up while Jermale Hines added five stops. Orhian Johnson even got into the act with three tackles and a pass break up while Devon Torrence was active with a gift INT, a TFL and a pass break up. Nice work from the secondary as they imposed their will on Indiana's supposedly top flight group of receivers. The D-line must also get some credit here as they punished a banged up Hoosier front limiting the seconds needed to cover receivers.

Pryor's career day: I freely admit it. I didn't see Terrelle's career day coming. It wasn't a question of what he's capable of against a team like Indiana, but whether or not Tressel would let TP drop back 30 times despite the Vest's insistence all week that Pryor was healthy and wouldn't be limited by injury or the game plan...I thought this was the week Tressel would make sure TP was fully healed and try to give the rushing attack a boost of confidence in prep for the physical matchup expected in Madison but with the Badgers sporting the nation's 54th best pass defense statistically (22nd rushing defense), Tressel may have plans to once again air it out. The Vest apparently asked Pryor to eliminate his scrambles while logically refusing to call TP's number on the ground even once in 46 snaps. The result was a clinic against an overmatched defense in which Pryor found eight different receivers in a first half that saw him complete 19/24 for 280 yards and three scores as the Bucks built a 31-0 lead...

On the rushing attack...: ...I wonder if the inconsistency up front has compromised the RB's faith in them contributing to missed holes and/or what appears to be suspect vision. This offense is currently lacking both an elite line and an elite running back so they'll have to find a way to make do. With Tressel keeping Indiana's horrid defense off balance throwing on 1st down 17 times in 23 opportunities with Pryor still in the game, the rushing attack still struggled recording 71 yards on 13 carries, a solid 5.46 per carry, however that number shrinks to 32 yards on 12 carries, or 2.67 per, when you subtract Boom's 39 yard TD run...And are you prepared to say Boom's lack of vision on 11 of those carries (Hall had 1 for 3 yards) was the chief difference between a terrible or successful rushing effort? I don't pretend to be an o-line expert and I only rewatched the game once so I'm curious to see if anyone takes a deeper dive into the cause/effect surrounding this questionable piece of the offense against Indiana.

Spielman's flowin' prose: As usual, Chris Spielman saved ESPN's broadcast making up for Bob Griese's craptacular commentary ("Terrelle Pryor couldn't have made that throw three years ago") with some money soundbytes on a myriad of topics. Following ESPN stroking their 3D coverage including a look inside the booth to see the announcers sporting 3D glasses, Spielman offered up an emphatic, "It's like robots are taking over the world, man!", causing my side to split just a tad. Just before the half, ESPN ran a spot about bethedean.com, a site in which you can build your own college, prompting Dave Pasch to surmise Spielman would create a campus with zero academic buildings instead featuring nothing but football facilities. Unfazed, Spielman wryly responded, "I think that's a little unfair, David. I really do...I would have the best weight room in the country, I know that. I'd have a stadium that sat 500,000 and fill it every week." Comedy gold. In the 2nd half, after explaining the difference between a three technique versus a five, Pasch asked, did you learn this in Jim Tressel's coaching class? Spielman's loving response? "I learned this out of the crib, my friend." Finally, after Storm Klein was questionably penalized for "targeting the head", Spielman chimed in with the best solution to eliminate such calls, "let's put flags on everybody and call it a day." Good stuff. And to be clear, Spielman is far from a one trick pony in the booth. His old school one liners are classic but the guy is steadily becoming one of the best in the business..."


Jim Tressel's Postgame Press Conference
10/9/10 Source: OSU Official Site
Jim Tressel Postgame Press Conference Transcript From Ohio State vs. Indiana




10 Things We Learned from the Win over Indiana
October 9, 2010 Source: The Ozone - "...1.It has been 10 glorious years for Ohio State fans. It hasn't always been pretty, and there have been plenty of bumps along the road, but how can any Ohio State fan ask for more than what they have gotten in the last decade under Jim Tressel. In 10 years, Tressel has delivered one BCS National Title, two other title game appearances, five BCS bowl wins, eight wins over Michigan and six Big Ten championships...and now Tressel has become the fastest coach in school history to 100 wins, topping John Cooper and Woody Hayes.

2. Buckeyes can win games with Pryor throwing the ball. ...what better way to get No. 100 than a complete aerial assault of Indiana? Though Pryor has been putting up good numbers through the air all season, few people wanted to find out of Ohio State could continue to win games on the strength of his passing arm...No one is going to compare Indiana to Wisconsin, but Pryor is proving week after week that the 2010 Buckeyes can win games passing the ball. At some point they are going to need that rushing attack that carried them last November, but there are few teams on their schedule that Pryor cannot beat with his arm. 3. Pryor is more hurt than they are letting on. A big reason he did so much damage with his arm Saturday was the fact he couldn't do much with his legs. Regardless of what Tressel or any of the OSU coaches want to say, the quad strain is clearly going to limit Pryor's ability to make plays with his feet. He admitted as much after the game Saturday, but he didn't need to. After back-to-back 100-yard rushing games, Pryor didn't have a single yard against the Hoosiers. In fact, he ended up 19 in the hole after sacks.

4. Pryor can be a great quarterback without his legs. ...The days of calling him a wide receiver playing out of position are over. That's not to say he isn't going to have an off day passing the ball, or that he's all of a sudden he is Ryan Mallett. But he really isn't Mallett. He simply isn't making the kind of mistakes he made last season...as long as he continues to take care of the football, Tressel will continue to let him air it out.

5. Brandon Saine really is a receiver. ...Saine got 84 yards against Indiana and not one of them came on the ground. His 60-yard touchdown catch did come out a wheel-route out of the backfield, but it's clear at his point that his biggest contributions to the team going forward will be as a pass-catcher.

6. Coaching staff is finally ready to give Jordan Hall the ball. ...the Buckeyes needed new life in their running game and Hall appeared to be just the ticket. With Saine split wide most of the day, Hall became the No. 2 tailback behind Boom Herron. He only carried the ball one time for three yards, and only caught one pass out of the backfield for four more yards, but it was big deal that Tressel and his staff have decided to make Hall a part of the game plan offensively.

7. One-dimensional offenses are no match for OSU defense. Defensively, the Buckeyes executed another perfect game plan against Indiana. ...Ohio State collapsed the pocket on Ben Chappell all afternoon, forcing him to get rid of the ball quickly or throw on the run. He didn't do either well, and with no running game to keep OSU's front four off balance, it was over before it started.

8. OSU defense is one of the best. Comparing Ohio State's defense to Michigan's based on the way they played against Indiana would be like comparing the United States military power to that of Italy...completely shutting down Indiana's passing attack the way they did Saturday shows what this defense is capable of when it comes to play...

9. Christian Bryant ready for his starting role. ...the young defensive back has fared quite well in his first two outings. He isn't making the plays Moeller did, but he isn't giving them up either. He won't play much, if any, against Wisconsin next week, but he gives them a new dimension of coverage in the slot when they do go to nickel defense.

10. There is some depth on the offensive line. Outside of an injury to Pryor, it seemed like the worst thing that could happen to Ohio State this season was an injury on the offensive line. The decision to redshirt Marcus Hall—if you want to call it a decision—left the Buckeyes six-deep on the offensive line with experience. They had been healthy all season, but right tackle J.B. Shugarts had to come out of the game Saturday with a lingering foot injury that has been bothering him for some time. The injury shouldn't keep Shugarts out next week, and he really wasn't playing all that well against Indiana before the injury. The thing we learned is that Andrew Norwell can step in and hold his own. The true freshman played most of the game at right tackle and did a nice job. With Hall out, Norwell's growth is huge for this team..."


Captains' Postgame Press Conference
10/9/10 Source: OSU Official Site




It was over when...: Indiana left its offense, its sole weapon to give Ohio State some trouble, at home.

Star of the Game: Terrelle Pryor. While Buckeye Nation was concerned about his left leg, injured the week before at Illinois, the Indiana defense should have been worried about his passing arm. Pryor threw for a career-high 334 yards, completing 24 of 30 passes, including three for touchdowns and no interception. Almost all of that came in the first half.

Stat of the game...: 100. Jim Tressel won his 100th game as the head coach at Ohio State.

Repercussion: With top-ranked Alabama's shocking loss at South Carolina, the No. 2 Buckeyes likely are headed to No. 1. But you never know about poll voters. Will they think OSU is better than Oregon and Boise State? Stay tuned.

Numbers for dummies: 18: Estimated height, in inches, of the trophy/award/statue/giant wedding cake topper in the shape of "100" that athletic director Gene Smith presented to Tressel. Can you say "Brushstrokes in Flight?"

100: No, not Tressel wins at OSU but the percentage of healthiness he put on Pryor on Thursday. Yesterday, the QB said he was still hobbled. Hmmm.

One-liner: Unlike Chilean miners, IU football fans face many more months of dark despair.

Terrelle Pryor, QB, said it.: "Indiana didn't know I couldn't run, probably."

Ben Chappell, IU QB, said it.: "They disguise their coverage really well. They're fast, physical and they get up the field with the rush. All that causes some havoc. Ohio State is a great team and we just didn't play well enough. We can't make excuses as a team. We weren't able to throw the ball well."

Turning Point: Devon Torrence's interception at 7:31 of the first quarter. With OSU already up 7-0, Torrence's 25-yard return set up Pryor's first TD pass, a 22-yarder to Dane Sanzenbacher. It also sent the message that it was going to be a long day for Hoosiers quarterback Ben Chappell, who was 16 of 26 for a mere 106 yards with two interceptions.

4th in the Nation?: After passing for 480 yards last week against Michigan, Indiana QB Ben Chappell was harassed all day, completing 16 of 26 for 106 yards with two interceptions. Indiana came in averaging 40 points and almost 350 passing yards a game.

M go Blow: Only against Indiana could a Michigan game break out. The Hoosiers were so bad that fans focused their comments on the Wolverines' suspect defense -- it allowed 35 points to Indiana last week -- instead of the Hoosiers' suspect everything. "The general consensus up here is that Michigan's defense couldn't handle any high school offense around here," a stadium usher said.

Christian Bryant, DB, said it.: "I really wasn't nervous at all. I tried to tell myself to be calm, and talking to the older guys before the game gave me a lot of confidence." -On his nerves before the game

Andrew Norwell, OT, said it.: "It felt great to be out there with those guys. I tried my best and I think I had a pretty good game overall. More importantly, we got the victory." -On playing with the first team; true freshman offensive lineman, who replace J.B. Shugarts, because of an injury.

Bill Lynch, IU Head Coach, said it.: "We played a great team out there today and we knew that coming in. Through all our study this season, we knew this team was special and they've got a bright future ahead of them. They totally dominated us in the first half in every way. I give them a lot of credit. By halftime, they were in total control." -On playing Ohio State

The view:
How the team sees it: Now we know why Indiana quarterback Ben Chappell's last name is not spelled Chapel. That guy didn't have a prayer.
How the pollsters will see it: Buckeyes look unbeatable in 3-D. But how much of it was Indiana's no "D"?
How Buckeye Nation will see it: Wham, slam, thank you 'Bama. We're No. 1.

Translating Tress:
What he said: "This is a place that if they let you stay long enough, you should win 100."
What he meant: "Of course, they also think you should win by 100."

They said it:
As heard on TV: What did we do to deserve this? Last week, the Big Ten Network buffoons. This week, Bob Griese. But at least former Buckeyes linebacker Chris Spielman balanced the ESPN broadcast with actual analysis, instead of Griese explaining that "Three years ago (Pryor) couldn't have made that throw." Uh, Bob, maybe because Pryor was still in high school then. Even more than his insights, Spiels excels at being non-politically correct. His best line came in response to OSU's being penalized for high hits: "Let's put flags on everybody and call it a day."

Pregame buzz: This was the week the running game would kick into gear. Instead, it got kicked to the curb. The Buckeyes offense remains a pass-first work in progress. As for the fear of Indiana's passing attack possibly denting the OSU defense? Nary a scratch.

The $70 question: The Buckeyes had it made in the shade from the opening kick, but fans sitting on the east side of the stadium sweated it out until the third quarter, when the sun finally dropped. By then, the blowout had turned to boredom.


(Sources: ESPN/OSU Official Site/Columbus Dispatch/Cleveland Plain Dealer)







Buckeyes Roll Over Indiana for Tressel's 100th Win at Ohio State
October 9, 2010 Source: OSU Official Site - "COLUMBUS, Ohio – Terrelle Pryor threw for a career high 334 yards, including 280 yards in the first half alone, to spark No. 2 Ohio State to its 12th consecutive win, 38-10, over Indiana Saturday in Ohio Stadium. The win, the 100th at Ohio State for 10th-year head coach Jim Tressel, improved the Buckeyes' marks to 6-0 overall and 2-0 in the Big Ten. Indiana drops to 3-2 and 0-2, respectively.

Pryor hit Dane Sanzenbacher (22 yards), Brandon Saine (60 yards) and DeVier Posey (17 yards) for first half touchdowns to put the home team in control with a 31-0 halftime lead.

In the second half, Pryor completed five-of-six passes that was capped off by an eight-yard touchdown run by Dan "Boom" Herron to complete his career afternoon.

Tressel is the third-fastest coach in Big Ten history to win 100 games. He accomplished the feat in 121 games. Fielding Yost and Bo Schembechler each won 100 in 119 games.

"We prepared well this week and you could tell they were focused," Tressel said. "We came out from the get go and they were disciplined with their execution and took control of the game off the first scoring drive.

"It's exciting every time you win. We've had a lot of awfully good players here with a coaching staff that has been outstanding. A lot of those 100 wins were at home. We have great fans and this is a place where if they let you stay long enough, you should be able to win 100."

Ohio State's defense was dominant against an Indiana offense that came into the game with the nation's fourth-best passing attack at nearly 350 yards per game. Behind interceptions from Devon Torrence and Brian Rolle, the defense limited Indiana to 41 passing yards and 210 total yards for the game.

Ohio State took control of the game early. As quick as one could say "completion Pryor" three times and then "'Boom' for 39 yards," the Buckeyes had the Indiana Hoosiers in a 7-0 hole.

Torrence picked off Ben Chappell on Indiana's second series, setting the Buckeyes up on the IU 33. Three plays later Pryor fired a 22-yard strike to Sanzenbacher over the middle for a 14-0 lead. The turnover was just the third for IU all season.

Early in the second quarter Pryor and Saine hooked up on a 60-yard pass play to extend the lead to 21-0 and put the Hoosiers in a difficult situation.

Chappell was intercepted again with 9:22 to go in the half. Ross Homan tipped a pass about seven yards deep in the right flats, tipped it again and finally a third time with his foot as he was falling and Rolle picked the ball out of the air just inches off the turf to set Ohio State up, again, in excellent field position. Five plays later, Pryor had his third touchdown pass of the half to a third different receiver: 17 yards to Posey for a 28-0 lead.

Devin Barclay's 31-yard field goal with 46 seconds showing on the clock closed out the first half scoring.

Following Herron's touchdown run to begin the second half, Indiana got on the scoreboard during its second drive with a 36-yard field goal by Mitch Ewald at 4:50 to make it, 38-3.

In the fourth quarter, Indiana backup quarterback Dusty Kiel was put into the game and helped lead a 10-play 51-yard drive ending with a one-yard touchdown run by Antonio Banks to finalize the score, 38-10.

Buckeye defensive back Dominic Clarke recorded his first-career interception in the final seconds of the game after a pass to the endzone by Hoosier quarterback Edward Wright-Baker..."

Scoring Summary, Team Statistics, Individual Statistics, Drive Chart, Defensive Statistics, Game Participation, Box Score, Play-by-Play
Postgame Quotes From No. 2 Ohio State vs. Indiana



BCS path has cleared nicely for the Buckeyes: Ohio State report card
September 25, 2010 Source: Cleveland Plain Dealer - "...A -- Ohio State's national title game hopes: The loss by No. 1 Alabama removed any slim chance that the Buckeyes could be left out of the national championship game with an undefeated record...Oregon beat 1-5 Washington State, 43-23, which wasn't the kind of win that should jump Oregon over the Buckeyes. Also, Illinois' sound beating of Penn State made the Buckeyes' tough win at Illinois last week look a little better. While several Buckeyes actually wrote messages on Twitter after Alabama's loss that they did not want to be ranked No. 1, tight end Jake Stonebuner and receiver DeVier Posey seemed to embrace the likelihood. "Well. We're ready for it!! This [is] what we came here for," wrote Stoneburner.

B+ -- Ohio State's protection of Terrelle Pryor: The Ohio State coaches didn't want Indiana to know if Terrelle Pryor was hindered by his strained left quad, so they played up his recovery this week. "Indiana didn't know I couldn't run, probably," Pryor said. Though the OSU offensive line wasn't perfect -- Pryor did get bent backwards a bit on one of the three sacks he took -- the protection was enough to get Pryor through the game without making his injury worse.

B -- Ohio State backup right tackle Andrew Norwell: The true freshman replaced starter J.B. Shugarts in the second quarter and held his own after Shugarts came out after halftime limping and wearing warmup pants and no pads...It seems like Norwell shouldn't have to be a long-term answer. OSU coach Jim Tressel said Shugarts has been battling a foot problem for three years that flared up this week in practice, so the coaches decided to take him out early...Tressel said. "We have a lot of confidence in Andrew Norwell."

D -- The Indiana Hoosiers: Indiana came in with the No. 4 passing offense in the country and seemed to some like a team that could give the Buckeyes some problems. It never happened. The Hoosiers...did themselves no favors by trying to run the ball too much, despite top running back Darius Willis sitting out the game with an injury...On 26 first-down plays, Indiana gained more than three yards on just six snaps. Indiana tried to run on 19 of those plays, gaining 49 total yards -- 28 on two plays. So the other 17 first-down runs by Indiana gained 21 yards, just over one yard per play. The Hoosiers dug themselves a hole on almost every series..."




The Bottom Line
October 9, 2010 Source: Columbus Dispatch - "...Offense (4 leaves): Sure, everyone figured the Hoosiers for paper tigers, but who would have guessed Terrelle Pryor would shred them the way he did? His 334 passing yards accounted for the bulk of OSU's 478 total, but the question remains: Was that really Pryor, or Joe Willie Namath? They moved about the same.

Defense (4 leaves): Nothing short of a pile of presents on Christmas morning makes an Ohio State defender's eyes light up like a team wedded to a horizontal passing offense and a token running game...The Hoosiers barely had room to move against OSU's starters.

Special teams (4 leaves): ...Ben Buchanan punted only three times, but the emphasis was on cannon: 49 yards, then 53, then 48. Even better was the kick coverage, which rendered dangerous specialist Tandon Doss mostly moot...

Coaching (4 leaves): Sorry about the lack of a cheesy plastic trophy, Tress, but printed leaves will have to do. Still, four is a pretty good score to celebrate OSU win number five-score. It was weird not seeing Pryor run for maybe the first game ever...

Opponent (2 leaves): The pregame word on IU was that its O was for real, but it's pretty obvious now that those stats were built on the back of three nobodies and a leaky Michigan defense...

Officiating (2 leaves): First there was the breach of etiquette by referee Todd Geerlings -- testing his microphone during Script Ohio. Shame. Worse were the borderline personal-foul calls -- hard hits (or, in Aaron Gant's case, no hit) deemed head-hunting and/or late. Err on safety's side, sure, but let 'em play football..."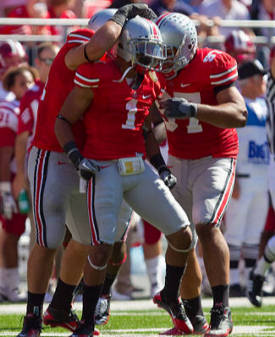 Our Play of The Game was Devon torrence's 1st quarter interception. We selected this because we felt it was the turning point in the game.

How it went down: It was 2nd and 9 for the Hoosiers on their own 33; 7:31 remained in the 1st quarter and Indiana trailed the Buckeyes 7-0. Ben Cahppell's deep pass was intercepted by Devon Torrence at the Buckeyes 42 and he returned it 25 yards to the IU 33.

This set up Pryor's first TD pass, a 22-yarder to Dane Sanzenbacher. It also sent the message that it was going to be a long day for Hoosiers quarterback Ben Chappell, who was 16 of 26 for a mere 106 yards with two interceptions.

J.B. Shugarts left the game in the 1st quarter and did not return. Tressel said it is a lingering foot injury and he should be fine for Wisconsin. Andrew Norwell, the true freshman, replace J.B. and did well.




Ohio State 38, Indiana 10: Hoosiers are no match for Buckeyes.
October 10, 2010 Source: Crimson Quarry - "Indiana, a week after a powerful offensive performance in a close loss to Michigan, barely managed to cross midfield in the first half during a brutal, 38-10 loss to Ohio State that could have been much more lopsided. Certainly, we knew what to expect from the defense. OSU quarterback Terrelle Pryor is a solid but not elite passer, but the IU secondary made him look like Peyton Manning..."




INDIANA

vs.

OHIO STATE


What to watch for today as the Ohio State Buckeyes host the Indiana Hoosiers
October 9, 2010 Source: Cleveland Plain Dealer - "1. QB Terrelle Pryor's strained left quad: Jim Tressel said the "pop" that the Ohio State quarterback heard when he went down against Illinois last week was from his left knee brace...There are three levels of quad strains that describe the severity of the injury. The Buckeyes didn't say how bad Pryor's was, though the fact that he returned last week, even though he was limited, was a good sign. Still, these injuries don't always magically disappear...As always, there's a difference between practice and games, so it needs to be seen how Pryor holds up when he accelerates for the first time, or if there's any effect when he pushes off his plant leg to fire a pass. Watch if Indiana defends Ohio State any differently, whether a linebacker hangs around to keep an eye on Pryor or if the Hoosiers aren't quite as worried about his running... Then, watch for the rope-a-dope. Maybe Ohio State wants Indiana to slack off on defending Pryor as a runner and then have him take off. "It's a lot more dangerous if you plan that he's going to stay in the pocket and then he doesn't," OSU defensive tackle Dexter Larimore said. "That's the worst thing that can ever happen -- you're going against a mobile quarterback and you didn't think he was a mobile quarterback. . . . If you come in and think he'll stay in the pocket and he's running all over the place, that's a million times harder."

2. Is Ohio State's offensive line angry?: After the Eastern Michigan win, OSU center Mike Brewster said the offensive linemen had been grading out so well, the coaches had to raise the standard for what it meant to have a winning performance. Then last week against Illinois, the line was so off that fullback Zach Boren was named the Buckeyes' offensive lineman of the week...The offensive linemen were upset with how they played last week. Will they play like they want to make up for it?

3. Indiana's pistol: It's not new to the Buckeyes, with the Hoosiers using the pistol formation last season when Ohio State beat Indiana, 33-14. The shortened shotgun, with a running back lining up behind quarterback Ben Chappell, was borrowed from Nevada. You'll remember Ohio State experimenting with it briefly with Beanie Wells in 2008. The Hoosiers don't run that well out of it, ranking last in the Big Ten at 107 yards per game and second to last at 3.6 yards per carry. There's another formation to watch -- receiver Tandon Doss taking a direct snap as the quarterback in a wildcat formation.

4. Denard Robinson: We know the Michigan quarterback isn't in this game, but keep the TV on to watch Michigan State-Michigan on WEWS Channel 5 at 3:30 p.m. Jim Tressel will be rooting for his good friend, MSU coach Mark Dantonio. But for Ohio State's strength of schedule, a Michigan win actually would help more, since the Buckeyes play the Wolverines later in the season but don't play the Spartans. Studying Indiana's defense, Tressel watched film of the Hoosiers' loss to Michigan last week and caught his first glance of Robinson this season. "If he gets a sliver, he's gone," Tressel said. "He's a good player, and he can change the field real fast." It's never too early in the season to keep an eye on Michigan. ..."




Five Things to Watch For: Hoosiers Edition
October 9, 2010 Source: The Bleacher Report - "...1) Watch for how the Buckeye defense handles the Pistol Offense...watch to see how the Buckeye defense handles all the different looks IU throws at them...The issue is how the Buckeyes account for Ben Chappell and the intermediate passing game. Along the Olentangy does a great job breaking down Indiana's version of the pistol, and as they highlight, Chappell is great at finding the holes in defenses...2) Watch to see how the running backs perform...keep an eye on the running backs tomorrow and how well they follow their blockers, namely Zach Boren. Also watch to see how Tressel will divvy up the carries between Saine, Herron, and hopefully Hall/Berry. The boys from Bloomington are giving up more than 200 yards a game, and there is no excuse why the Buckeye rushing attack shouldn't get back on track. 3) Watch Christian Bryant...This one pretty much goes without saying, as all eyes in Ohio Stadium will be on No. 2 tomorrow. And no, I'm not just talking about Terrelle Pryor. The transition from Moeller to Bryant has been well documented this week...4) Watch the time of possession for both teams...5) Watch Terrelle Pryor and his health..."




Five Key Factors
October 8, 2010 Source: Columbus Dispatch - "DROP SEVEN: If ever there was a game in which Ohio State can play the pass first, it's this one. QB Ben Chappell is completing 71.6 percent of his throws, and loves the short, quick passing game. RB Darius Willis is a glorified afterthought...OSU should rely on its stellar defensive line to get pressure, drop the linebackers and flood the underneath zones. This also will help avoid unnecessary exposure of freshman nickel back Christian Bryant.

WATCH DOSS: Indiana WR Tandon Doss is a multi-purpose threat. In three games, he is averaging nearly eight catches and more than 100 yards receiving, has carried the ball nine times, and is the team's leading returner, both on kickoffs (31.2-yard average) and punts (11.0)...Doss is the guy the Buckeyes need to remain aware of in all phases.

DIVERSIFY: Against the Hoosiers, the rush yards should be there for the taking...the temptation is to run it 60 times and get the day over with... It could be a good day to work on things, such as the outside running game, downfield passes to Brandon Saine, and maybe even another glimpse of the Wildcat, this time featuring Jordan Hall?

POUND TO FINISH: Regardless of what we just wrote, assuming Ohio State owns a multi-touchdown lead at some point...the Buckeyes' offensive line needs to rebuild its confidence that was bruised at Illinois...there's nothing wrong with lining up and ramming it straight at an overmatched Indiana front. And since Hall and Jaamal Berry aren't getting to run with the starters, might as well keep them happy with plenty of mop-up action.

PULL PRYOR: So far this season, when OSU has a big lead, Pryor has played deeper into games than expected...Today is not that day. Even if Pryor appears relatively healthy, every play he is out there is another chance for his strained quadriceps to be aggravated. Joe Bauserman and Kenny Guiton need the work..."



On the Edge: Dispatch beat writers Ken Gordon and Tim May predict which team has the edge in this week's game. See if you agree..."





Five Things to Watch for When the Buckeyes Play Indiana
October 8, 2010 Source: SBNation Cleveland - "...1. The quad of Terrelle Pryor. Perhaps no singular body part has been scrutinized more in Ohio over the past week than the quadriceps of junior quarterback Terrelle Pryor. After injuring it early in the third quarter last weekend against Illinois, Pryor missed three offensive series and played gingerly on it for the rest of the game. The official news from Ohio State was nebulous early in the week, but recent reports have indicated that he will play without restriction this Saturday. What that means, exactly, is still unclear, but you do not need a doctor to know that Ohio State's offensive fortunes are inextricably tied to Terrelle Pryor's good health.

2. Will Jordan Hall ball? Or, more aptly, will he get the ball? Brandon Saine has struggled the past two games, and Dan "Boom" Herron lacks the burst to break long runs. Jim Tressel has made positive statements about Jordan Hall's ability, even as recently as this week, so it would not be surprising to see the true sophomore become a larger part of the Ohio State offense...

3. Indiana's Pass Attack. ...all you need to know is this: Ohio State's secondary has been ravaged by injuries, and the latest one to Tyler Moeller leaves them with true freshman Christian Bryant starting at the integral "Star" position. He will be on the field often against Indiana, which has the 4th ranked passing offense in the country.

4. Coach Jim Tressel's 100th victory. Sitting at 99-21 in his career at Ohio State, with a win...Tressel will be the third quickest coach to reach 100 wins at a Big Ten school, and the quickest ever at Ohio State.

5. And a little self-indulgent history. Ohio State is 66-9-4 against Indiana all time, with Indiana's last victory coming in 1988...it is satisfying to revel in the historical dominance of our Midwestern brethren to the west..."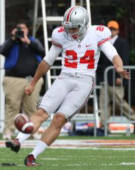 Freshman Basil's kickoffs better now that he's started to relax
October 8, 2010 Source: Columbus Dispatch - "There were a few times in the first three games this season when Basil, a freshman from Chillicothe, probably wanted to scream that...The inconsistency helped explain why the much-sought symbiosis between kickoff and kickoff coverage wasn't working that well for the Buckeyes, who gave up a kickoff return for a touchdown in the win over Miami...

There were a few times in the first three games this season when Basil, a freshman from Chillicothe, probably wanted to scream that, or "Chili dip!" The inconsistency helped explain why the much-sought symbiosis between kickoff and kickoff coverage wasn't working that well for the Buckeyes, who gave up a kickoff return for a touchdown in the win over Miami...The past three games showed that he's finding his groove. They included 12 kickoffs against Eastern Michigan, when he averaged 66 yards per swing, and performing in the wind tunnel at Illinois last week when, among other things, he let sail a kick that landed 9 yards deep in the end zone.

The kickoff-coverage team has settled down, too, giving up an average of only 18.8 yards on the 21 returns faced the past three games. Another challenge comes Saturday against Indiana. The Hoosiers averaged 31.6 yards on kick returns in their loss to OSU last year, and IU's Tandon Doss is 12th in the nation this year, averaging 31.2 yards. Consistency on the depth and direction of the kick helps the coverage team immensely, Tressel said, and he challenged Basil to step up to it..."




Buchanan pleased: Forget for a moment that Ohio State is ranked 117th nationally in net punting. Much of that can be blamed on allowing a 79-yard return against the University of Miami. Otherwise, sophomore Ben Buchanan of Westerville Central is ranked 69th with an average kick of 39.4 yards. Of his 19 punts, three have gone for 50 yards or longer, and he has placed seven inside the 20-yard line. "I've really been excited," he said. "I feel like this being my first year starting, I feel I've been able to do a good job for the cards I've been dealt, having an opportunity to deal with some wind, (and) having a lot of our chances just being pooch-punting situations."

Source: Columbus Dispatch 10/0810







Ohio State-Indiana: Key matchups
October 8, 2010 Source: The News Herald - "1. OSU quarterback Terrelle Pryor vs. Indiana's front seven. Does Pryor have a thigh injury or not? Will he be less mobile? Those are the questions...

2. Indiana's tall receivers vs. OSU's shorter defensive backs. The Hoosiers' starting receivers are 6-5 Damarlo Belcher, 6-3 Tandon Doss and 6-3 Terrance Turner. Ohio State's corners are 6-1 Devon Torrence and 6-0 Chimdi Chekwa, and its tallest defensive back is safety Ohrian Johnson (6-2). It will be interesting to see if the height difference will be an issue.

3. OSU's Dan Herron and Brandon Saine vs. Indiana defensive tackles Adam Replogle and Mick Mentzer. Herron and Saine haven't exactly run wild this season...Indiana just might be what the doctor ordered. The Hoosiers have surrendered 828 yards rushing in four games, an average of 207 per tilt.

4. Ohio State vs. the schedule. Some might consider this a trap game. The Hoosiers historically haven't been a big thorn in the Buckeyes' side...With a road game at nationally ranked Wisconsin next week, will the Buckeyes be focused more on this week or next week?..."


Tressel Thursday Update: Head coach Jim Tressel says Terrelle Pryor is "ready to Rock 'n' Roll" Saturday against the Hoosiers. Pryor has been a hot topic of conversation this week after he left the Illinois game briefly after sustaining a leg injury. Tressel also touched on the talent the Hoosiers possess, the status of other key players and gave his thoughts on going after his 100th win at Ohio State.

10/7/10 Source: OSU Official Site



John Kampf's First-and-10: Pryor's ready, says Tressel
October 8, 2010 Source: The News Herald - "10. The big questions on everyone's mind going into Saturday's game was whether Terrelle Pryor will play, how effective he will be and how has his strained quad has progressed since injuring it a week ago at Illinois. At Thursday's news conference, Coach Jim Tressel said Pryor is 100 percent and the pop he heard was his knee brace, not his leg, and Pryor will not be limited on Saturday.

9. Is anyone buying that? Remember, Pryor said last week "It was the worst pain I had in a while," and "There was no way I could do anything but hand the ball off and maybe get a couple passes," after he went down with what was called a strained quad. Such pain doesn't crop up when a knee brace pops. Either OSU's training staff misdiagnosed this or there's cloak-and-dagger going on here.

8. Has anyone seen DeVier Posey lately? Last week against Illinois, he had three catches for 19 yards. The week previous against Eastern Michigan, he had two catches for 34 yards. Granted, Dane Sanzenbacher...has been great in those two games, but Posey has disappeared of late...

7. This is the perfect time for the Ohio State coaching staff to give a few meaningful carries to sophomore Jordan Hall. By meaningful, I mean while the game is still a game and not in mop-up duty...this is when someone can be introduced more into the game plan with less risk than, say, next week at Wisconsin.

6. Saine (80 yards on 35 carries over the past four games) is a valuable weapon when he springs a big play — he just hasn't done it since Sept. 2. Tressel can rave all he wants the senior captain's ability...but when the most significant thing No. 3 has done over the past month is go out to midfield for the pregame coin toss, something needs to be addressed.

5. For those who dislike "Tresselball," this might not be a good weekend to tune in to the Buckeyes...if Pryor is less than 100 percent and with a big game looming next week at Wisconsin, I'm guessing the Ohio State offense is going to be rather vanilla and a premium is going to be put on playing field position and playing good, solid defense...

4. Well, except on defense. With fifth-year senior Ben Chappell running the offense and throwing to a group of six receivers who are all taller than 6-foot-1, Indiana has the ability to spread the field and turn this into a track meet. Tressel brought up a good point earlier this week, too, when he said that while Indiana doesn't run the ball a whole lot, it can do so very effectively if a defense devotes too much attention to the pass.

3. The loss of senior Tyler Moeller to a torn chest muscle is going to sting Ohio State big time. Not only was he a good cover man, but he was a terror coming off the corner and unloading on ball carriers and quarterbacks setting up to pass. He was a linebacker playing as a defensive back...Moeller's swagger and tenacity can't be replaced easily.

2. Ohio State is going to have to be ready to take the best Indiana has. The Hoosiers are averaging almost 40 points per game and feel they can score on anybody. They're 3-1 and probably come into this game with more confidence than they've come in to an Ohio State game in some time...

1. Prediction: The Buckeyes enter the game as 22-point favorites. Indiana's offense is better than people think. Ohio State 34, Indiana 13..."




Five questions to ask about Ohio State – Indiana
October 6, 2010 Source: The Lantern - "Will Terrelle Pryor's injury return the offense to 'Tresselball?'...As Pryor heals, expect Tressel to tone down the zone-reads and bootlegs and install more short passes and traditional hand-offs to the running backs. Even if Pryor is completely healthy come Saturday, presume OSU will dial back the offense a tad.

Is it time for another Jeannette, Pa., native to shine?...Jordan Hall's numbers aren't mind-blowing (72 yards on 13 carries), but Pryor's high school teammate has shown shiftiness and ability to burst through the hole and has some calling for him to see more playing time...

Can Christian Bryant fill Tyler Moeller's shoes?...The former Cleveland-Glenville star played every offensive-skill position in high school in addition to being an All-Ohio defender while playing both cornerback and safety. That versatility, in addition to his football savvy, has ignited his rise up the depth chart.

Will the high-powered Hoosier attack exploit the banged-up Buckeye secondary? In last Saturday's loss to Michigan, Indiana senior quarterback Ben Chappell set school records with 45 completions, 64 attempts and 480 passing yards. He's posted eight straight multi-touchdown games and leads the Big Ten with 342.5 passing yards per game...Although the OSU defense ranks No. 1 in the Big Ten in pass defense, allowing about 161 yards per game, aside from Miami, it hasn't faced as diverse a passing attack as it will see Saturday against IU. OSU has also lost two of its normal starters, Moeller and C.J. Barnett, to season-ending injuries.

Will the Buckeyes be caught looking ahead to their Oct. 16 showdown in Camp Randall against Wisconsin? OSU's first big road test was supposed to come next Saturday against Wisconsin, but instead it came last Saturday against the Illini. Tressel said that game was a bit of a reality check for some players. "I think the fact that we played a Big Ten game and our guys see the difference between the non-conference and the Big Ten was great for us," Tressel said. "We didn't play our best and our guys would like to get to the point where we play our best, so I think they'll be ready to go."..."


Seniors Dane Sanzenbacher, Bryant Browning, Ross Homan and Cameron Heyward recently met with members of the local media and OhioStateBuckeyes.com to talk about this Saturday's game with Indiana at Ohio Stadium

10/6/10 Source: OSU Official Site



Buckeyes focus on helping Pryor; Herron says others must do more
October 7, 2010 Source: Toledo Blade - "..."Terrelle's a great athlete and a great player, but we all have to do more," Herron said after the 24-13 win. "Everybody knows we can't expect him to carry the load, and we don't want him to." The season reaches its halfway point this Saturday when Ohio State hosts Indiana. After five games, Pryor leads the Buckeyes in rushing with 373 yards on his 54 carries - a 6.9 yards per carry average. Pryor has completed 80 of his 123 passes (65 percent) for 1,014 yards and 12 touchdowns...

With Pryor nursing that thigh injury, the Buckeyes turned to Herron down the stretch against Illinois, and he had 89 yards rushing in the second half. He carried the ball seven straight times on Ohio State's final scoring drive, putting the game away with his six-yard touchdown run with under two minutes to play.

Tressel cited Herron's success while the OSU coach fielded questions about the Ohio State offense being too dependent on Pryor. "We did that (scored) without having too much quarterback run, which everyone said are we doing too much of that quarterback runs stuff," Tressel said. "Well, we did some of it early, but I was proud of the way our tailback game came on." Sanzenbacher said he fully expects Indiana to try and pressure Pryor early and test his running ability, following the thigh injury.."




Midweek Practice Report: Schwartz Taken to Hospital
October 7, 2010 Source: The Ozone - "Ohio State wide receiver Grant Schwartz is moving around and talking after taking a fall during practice Wednesday, a university spokesperson confirmed...His father, former Buckeye Brian Schwartz (1976-79), has since informed channel 10 TV that Grant has been released from the hospital...

Stoneburner Closing in on Return: "Jake is still nursing a high ankle sprain. He's getting better every day, but to sit here today and say that he's going to be a green light, I don't know that yet," said John Peterson, who coaches the tight ends and offensive tackles. "He's day-to-day still." The Dublin Coffman native took part in a portion of the team workouts Wednesday, but the ankle has yet to pass the test of being under physical duress the way it would be in a live football game...

Pryor Practicing: Peterson wouldn't go into any detail on how Terrelle Pryor looked during Wednesday's practice except to confirm that Ohio State's quarterback was back on the field for the second day in a row. "Yeah absolutely," Peterson said...his teammates haven't noticed a huge difference in their quarterback this week..."He looked good. I don't think it's something that he's going to let bother him too much," senior wideout Dane Sanzenbacher said. "Obviously it's something that he's going to get treated for and get as well as he can, but I didn't notice too much of a difference."

Bryant Settling in at Star: Now that the Buckeyes have learned they will be without Moeller the rest of the year, they are still planning to stick with the youngster out of Glenville. "Christian's been working with the ones and the twos," safeties coach Paul Haynes said. "Nate Oliver's also been working at the star a little bit and Jermale (Hines) has kind of been spelling him a little bit."..."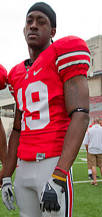 Recruited by Indiana, OSU safety Orhian Johnson hopes to put a hurt on the Hoosiers
October 6, 2010 Source: Cleveland Plain Dealer - "Two of Orhian Johnson's best options in recruiting were playing safety at Ohio State or quarterback at Indiana...Johnson will make his fourth career start Saturday as part of a secondary that has grown even younger with freshman Christian Bryant stepping in for senior Tyler Moeller, who is out for the season after tearing a pectoral muscle at Illinois last week. Johnson entered the starting lineup after sophomore C.J. Barnett was lost for the season after injuring his knee against Miami...

As (Christian) Bryant and Johnson continue to find their way, they'll have to rely on their natural skills, and Johnson has plenty of those. "He can jump out of the gym and run fast and do everything," OSU senior cornerback Chimdi Chekwa said. "So we have high expectations for him." "He's a crazy athlete," senior Jermale Hines said. "He's probably the most athletic on the team besides Terrelle."

At 6-foot-2 and 205 pounds, Johnson isn't as big as 6-6, 235-pound Terrelle Pryor, but he might be the closest thing to Pryor the Buckeyes have on the roster. Indiana saw Johnson as a dual-threat quarterback, and Johnson said he could do it all under center, though he was a sucker for the big play.

"I definitely feel like I've come a long way from my freshman year in knowing the defense and knowing where I need to be," says former high-school quarterback and now college safety Orhian Johnson. "But I feel as if I still have more room for improvement."

Johnson said the Hoosiers showed him a lot of love and he seriously thought about going to Indiana, but he considered his future teammates more important than his position. Johnson said he committed to the Buckeyes on National Signing Day in 2008 because of the friendships he'd established with fellow recruits Etienne Sabino, Travis Howard, Mike Brewster, DeVier Posey and Jake Stoneburner..."





Indiana (3-1), which hasn't yet mastered the regimen of defense but is putting up the points on offense. The Hoosiers simply couldn't outscore Denard Robinson and Michigan on Saturday, losing a heartbreaker 42-35. IU QB Ben Chappell is fifth in the nation in total offense (336.2-yard average), all of it passing. His three favorite receivers are averaging more than six catches per game, led by Damario Belcher (7.75). But also keep in mind the three IU wins were over Towson, Western Kentucky and Akron.

This week's challenge: Develop a running game that doesn't rely on lightning sprints from Pryor. It also was apparent at Illinois that backup quarterback Joe Bauserman needs more time in real-game situations; he likely still can't believe he made the decision to throw that pass that was intercepted in the third quarter. Now it gets tough for the Buckeyes, with Oregon closing in, because until somebody blinks, winning big will be the expectation, and remember, the Harris poll voters will be starting with a clean slate.

Source: Columbus Dispatch



Indiana (3-1, 0-1 Big Ten) at No. 2 Ohio State (5-0, 1-0): It'll be strength vs. strength as Indiana brings the Big Ten's top pass offense against the league's top pass defense in Ohio State, which begins life without safety/linebacker Tyler Moeller. Chappell and his receivers provide a very good test for the Buckeyes defense, while Ohio State's running backs should gain some confidence against an Indiana D that can't stop the run.

Indiana QB Ben Chappell: Chappell set school records with 45 completions, 64 attempts, 480 pass yards and 475 yards of total offense against Michigan. He became just the second Indiana player to eclipse 400 pass yards in a game and tied for the third most completions in Big Ten history. Chappell set a team record with his sixth career 300-yard passing performance and tossed three touchdowns to extend his streak of games with multiple touchdown passes to eight.

Source: ESPN



Chappell nearly strong-arms IU to huge

Source: ESPN



Frustrated Hoosiers looking toward No. 2 Buckeyes

Source: Associated Press






SERIES RECORD
• Ohio State leads the all-time series with Indiana 66-12-5 and has a 23-2-1 edge when the two teams play in Indiana. The two teams did not play in 2007 or 2008 due to the Big Ten schedule rotation. The Buckeyes have won 15 straight from the Hoosiers since a 41-7 loss in 1988.

FIRST AND 10
• Ohio State is riding an 11-game win streak dating to last season, the third-longest among FBS teams behind Alabama (19) and Boise State (18)

• Jim Tressel is going for his 100th win at Ohio State Saturday against the Hoosiers

• Terrelle Pryor has five career games with 300 yards total offense. The Ohio State record is six.

DID YOU KNOW?
• With a win Saturday, head coach Jim Tressel would become the third-fastest coach to win 100 games at a Big Ten school (121 games) and the fastest at Ohio State. Michigan's Fielding Yost and Bo Schembechler each recorded their 100th win in their 119th game.

PLAYER NOTES:
• With 104 yards rushing in the win at Illinois, Pryor (1,783 career rushing yards) has surpassed Rex Kern (1,714) for second place among Ohio State quarterbacks.

• With 6,203 yards of total offense in his career, Pryor has moved passed Archie Griffin (5,589) for eighth place on Ohio State's all-time list.

NOTING THE BUCKEYES
• Through five games, Ohio State ranks first in the Big Ten in scoring offense (44.2), pass efficiency defense (99.38), pass defense (161.8) and turnover margin (+1.8); second in total defense (240.4), total offense (463.4), scoring defense (14.2) and rushing defense (80.6); and third in the league in rushing offense (234.8) and kickoff returns (26.75).

THE SILVER BULLETS
• Among Big Ten teams, Ohio State ranks first in the conference in pass defense (161.8 ypg), turnover margin (+1.80) and fewest first downs allowed (12.0 per game). They rank second in scoring defense (14.2 ppg), rushing defense (80.6 ypg), total defense (242.4 ypg) and lowest 3rd down conversion percentage (19-of-66, .288).

• Ohio State has held 56 opponents to 21 points or fewer since the start of the 2005 season. That mark is tied with TCU for the most among FBS teams. Virginia Tech third (53).

• The Ohio State defense is averaging 6.4 three and-outs per contest this season. The game-bygame totals in that statistic: vs. Eastern Michigan (10); Ohio (8); Illinois (6); Marshall (5); Miami (3). Ohio State was third in the nation in 2009 behind TCU and Alabama, averaging 5.61 three and-outs per game.

HONORARY CAPTAIN: Brian Hartline, former Buckeye great and current Miami Dolphns WR
INDIANA AT A GLANCE
• The Hoosiers are 3-1 and 0-1 in the Big Ten after dropping their first game of the season last Saturday to Michigan in a shootout, 42-35.

• Intriguing matchup: OSU's defense is ranked No. 2 overall in the Big Ten and No. 1 against the pass. Indiana's offense is No. 4 overall and No. 1 in the Big Ten in passing.

• In the loss to Michigan, fifth-year senior quarterback Ben Chappell set school records with 45 completions, 64 attempts and 480 passing yards to go with three touchdowns. Chappell tied for the third most completions in Big Ten history and had the 11th-most attempts in conference history. Chappell posted his eighth straight multi-touchdown game and his third straight game with at least three scores.

• Tandon Doss finished with career highs of 221 yards (tied for the most nationally) and 15 catches (second most nationally). The yardage is the fourth-best total and the 15 grabs are the second most in IU history. The 15 receptions are also tied for 10th in a single game in Big Ten history. Doss finished the game with 363 all-purpose yards (second nationally), adding 21 rushing yards, 111 on kick returns and 10 on punt returns to his 221 receiving. The total is the third best in school history.

• Statistically, Chappell leads the Big Ten with 342.5 passing yards per game while Doss leads the conference with 107.7 receiving yards and 211.0 all-purpose yards per contest while ranking second in receptions per game (7.6) and kick return average (31.2).

• Indiana is the only team in the country with three receivers in the top 25 in receptions per game and is one of two programs (Hawaii) with two receivers in the top 12 in receiving yards per game.

• Third down importance: One statistic Lynch emphasizes is third-down conversions. Last year, IU was last in the Big Ten in third-down conversions (39 percent). This season, the Hoosiers lead the Big Ten (54.7).

• Ohio Connection: Seventeen Hoosiers hail from the state of Ohio

• Head coach Bill Lynch is in his fourth season in Bloomington with a 17-24 mark and a 98-91-3 record overall as a head coach. Lynch took the Hoosiers to the Insight Bowl in

TV: ESPN will televise the game with Dave Pasch (play-by-play), Bob Griese and Chris Spielman (analysts) in the booth. The game will also be televised on ESPN3D with Dave Lamont, Tim Brown and Ray Bentley. Radio: WBNS

Radio: WBNS AM-FM (1460; 97.1)
Announcers: Paul Keels (play-by-play), Jim Lachey (analysis), Marty Bannister (sideline). The game can also be heard on Sirius satellite radio 127 and XM 102.


Injury update (10/8/10): High ankle sprain will keep Jake Stoneburner on sideline; will miss his second consecutive game, sitting out Saturday against Indiana..."I just don't think he'll be ready to go," OSU coach Jim Tressel said Thursday.

Source: Cleveland Plain Dealer



Ohio State senior backup receiver Grant Schwartz was taken to the Ohio State Medical Center after going down during practice on Wednesday. He had movement in his extremities when he was taken to the hospital, and Schwartz's father told Channel 10 in Columbus that his son was released from the hospital and was fine. ... Quarterbacks coach Nick Siciliano said Pryor was full-go in practice again on Wednesday and looked fine after straining his thigh against Illinois. ... Tight end Stoneburner practiced some on Wednesday, according to tight ends coach John Peterson, but his status for Saturday with a high ankle sprain has still not been determined. He missed last week's game.

Source: Cleveland Plain Dealer (10/6/10)



Ohio State Head Coach Jim Tressel said today (10/6/10) that quarterback Terrelle Pryor "will be fine" and will play against Indiana on Saturday. According to Tressel, "He gets closer to 100 percent every day, and still makes good decisions and can make big plays with his arm even if his legs aren't there."

Source: The Ozone



As expected, safety Tyler Moeller will have to undergo surgery to repair a torn pectoral muscle and will miss the rest of this season, two team sources said today. Moeller suffered the injury on Saturday at Illinois and had an MRI on Sunday, but the results weren't known until today. Moeller will have surgery sometime this week.

With the Buckeyes in their nickel defense, Moeller attacked the line of scrimmage and reached out with his left arm to tackle Illinois running back Mikel Leshoure. As Leshoure ran by him, Moeller's left arm got wrapped around Leshoure's waist and Moeller spun to the ground. He immediately jumped up and jogged off the field shaking his left arm.

Source: Columbus Dispatch 10/04/10






Ohio State looking to energize the non-Pryor portion of the Buckeyes' running game
October 6, 2010 Source: Cleveland Plain Dealer - "...The Buckeyes got a taste of life without Pryor on Saturday, though, and Sanzenbacher knows that if Pryor isn't himself against Indiana in three days, the Hoosiers' defense will adjust to defend an offense where the quarterback is less of a threat. "It'd be dumb not to if you thought you could exploit something like that," Sanzenbacher said. That would put more pressure on the rest of Ohio State's running game, and after Saturday, it's reasonable to question if the Buckeyes could handle that. The Ohio State running backs gained 109 yards on 31 carries, a 3.5-yard average...

The first half against Illinois was a low point, as Herron and Saine combined for just 15 yards on seven carries. "Had that occurred the entire game, I'm sure that concern would be deeper," Tressel said. "Yeah, we couldn't have won that ball game had we not started running the ball better, especially the nature of that game. That was an old-fashioned Big Ten slugfest."

So what might happen Saturday?

1. The Buckeyes could go back to Saine and Herron sharing the carries...

2. The Buckeyes lean on Herron as a No. 1 back, giving him more of Saine's carries. It would look a lot more like the second half...

3. The Buckeyes could add No. 3 tailback Jordan Hall into the mix. Tressel has been praising him all season, and he's done well as a kick and punt returner. He has 72 yards on 13 carries this season, but he hasn't yet been used in a meaningful spot in a game that was in doubt...

Online Poll: What would be the best way for Ohio State to utilize its tailbacks?..."


Ohio State Buckeyes
Indiana Hoosiers

2010 Totals

 Offense:
44.2 ................................ Pts/gm .......................... 39.8
463.4 ..........................Total yds/gm ........................ 455.0
234.8 ......................... Rush yds/gm ........................ 106.8
42.8 .............................Carries/gm ........................... 30.0
5.5 ................................ Yds/carry ......................... 3.6
228.6 ..........................Pass yds/gm ........................ 348.2
28.4 ............................ Pass att/gm .......................... 42.3
12.4 ......................... Yds/completion ....................... 11.8
Defense allows:
14.2 ................................ Pts/gm .......................... 25.0
242.4 ..........................Total yds/gm ........................ 397.2
80.6 ........................... Rush yds/gm ........................ 207.0
29.0 .............................Carries/gm ........................... 32.8
2.8 ................................ Yds/carry .......................... 6.3
161.8 ..........................Pass yds/gm ........................ 190.2
28.4 ............................ Pass att/gm .......................... 24.8
10.6 ......................... Yds/completion ....................... 13.8



Last Time Out: Indiana
October 5, 2010 Source: BuckeyeSports.com - "The Ohio State football team returns home to face Ben Chappell and Indiana this weekend. Take a look back at the 2009 matchup between the Buckeyes and Hoosiers in this edition of "Last Time Out..."..."




Ohio State notes: OSU wants to control clock against Indiana
October 8, 2010 Source: The News Herald - "If Ohio State is going to defeat Indiana this weekend, it cannot let the Hoosiers do what they did last weekend..."

Ultimate compliment: Heyward had the highest of compliments to Tressel earlier this week. Heyward was asked about what makes Tressel such a successful coach on the recruiting front and why he is perceived as being popular with parents of recruits. Tressel is going for his 100th career win at Ohio State this weekend. "I think he's honest," Heyward said. "There's a lot of coaches out there who are used car salesmen, just trying to sell a product. With Tress, he really cares about his kids. He's going to look out for you the best way possible and get the most out of his players."..."





Preview: Indiana at #3 Ohio State
October 8, 2010 Source: Eleven Warriors - "Opponent: Bill Lynch loves to run the ball, especially out of the pistol formation. Unfortunately, he has a smart 5th-year senior who also happens to be amazingly accurate, so he'll have to live with Ben Chappell (#4) rewriting the Indiana record book. Thanks in part to a big day against the Wolverines last Saturday...Chappell is currently 3rd in the nation in both completions (29.0) and yards per game (342.5). While Jacory Harris has more of a cannon and maybe, maybe a tad more touch, Chappell, the scholar athlete, will make nowhere near the amount of boneheaded mistakes Harris tends to make. He throws a lot of passes and has seen just about everything a defense might bring, so he'll be solid with audibles and will make good decisions with his progressions. His numbers for the year, a 71.6% completion percentage with 12 touchdowns to go along with just one interception, reflect that, even though he's yet to face a great defense...Indiana...freakishly overloaded...at wide receiver. All three...measure at least 6-3/200 and they occupy the top three spots on the conference reception leaderboard...Indiana's offensive line took a hit Thursday night when the unit's only senior, starting right tackle James Brewer (#73), was ruled out for the Ohio State game because of an ankle injury. Junior Justin Pagan might slide over from right guard, but after that things get murky...Buckeye Breakdown:...Freshman Christian Bryant is now in line to earn a baptism by fire of sorts as he steps into the star spot...this weekend will be a great test for the Ohio State kickoff team. If they can contain Doss all afternoon, I'll put more stock in the improvements the unit has shown the last two weeks...PREDICTION: Ohio State 37, Indiana 17..."





Indiana vs. Ohio State Preview
October 7, 2010 Source: The Ozone - "...When Indiana Has The Ball: The Buckeyes will play nickel most of the game, meaning they'll be relying on 5'9" freshman nickelback Christian Bryant to pair up with each of these physical mismatches at some point during the game...The Hoosiers may try to manufacture matchups with him, but he came to Ohio State as a lockdown cornerback, and he'll be looking to make as many plays as the Hoosiers will let him...Cornerbacks Devon Torrence and Chimdi Chekwa are both looking forward to this game. Neither player has been tested much this season, but that will change in a big way on Saturday. The Hoosiers have three physical receivers, and the Ohio State corners will have to be just as physical, yet avoid costly penalties. It's doubtful that they can do both for the entire game...When Ohio State Has The Ball: ...Though the Buckeyes should be able to run the ball, if Pryor's passing isn't effected by his quad, they really shouldn't need to. Indiana's secondary has been depleted with the loss of starting cornerback Richard Council—and they weren't really very good even when they had him..."




2010 Indiana Hoosiers Game Preview
October 7, 2010 Source: Buckeye Planet - "...Indiana Offensive Preview...Wide Receivers: This is a high end group that is veteran, deep and very dangerous. They all have good size and speed and can create matchup problems if coverage is rolled to a particular player or side of the field...The top player off the bench is Duwyce Wilson (#81), a young burner who gets the nod in the frequent 4 receiver formations that the Hoosiers use...Tight Ends: ...Dedmond is a highly effective blocker who figures sparingly into the passing game. He plays in specific situations and has made 14 career starts, so he has the experience to know what his role is and plays it very well. The revelation has been the backup, freshman Ted Bolser (#83). He has 10 receptions for 155 yards and 4 TDs thus far this season...Offensive Line...The Hoosier line lacks big name superstars, but they allowed only 16 sacks last year and are on pace to allow only 12 this season. The run blocking could be classified as fair, but the pass blocking has been superb, and that is the primary role of the line...Predictions..."




Indiana (3-1) at Ohio State (5-0)
October 5, 2010 Source: College Football News - "...Why Indiana Might Win: The Buckeyes have yet to face anyone who can throw the forward pass. Miami's passing game is nice, but it's hardly efficient and it makes as many mistakes as big plays. Indiana has nothing to lose on the road and will start bombing, and pressing, and pushing the ball down the field on a regular basis with the nation's fourth-ranked passing attack. Generating consistent pressure on the quarterback has been a problem so far for the Buckeyes, and the IU offensive line has been terrific at keeping QB Ben Chappell clean. Unlike last week against Illinois, OSU might have to open it up a little bit to keep up the pace and/or to stay comfortably ahead. Indiana has the skill to come back if there's a lull, so the Buckeyes can't sit back and coast on any lead...

What To Watch Out For: Pryor might be the team's leading rusher, but he's not Denard Robinson and he's not going to rip through the Indiana defense like the Michigan star did last week. With a dinged up leg, he has to be more of a pocket passer and use this winnable game to do more down the field, because if he can't do it this week, he's not going to be able to against Wisconsin next week. On the other side, Indiana has to get Chappell going early, and he has to come up with a better game than he did last year...in the 33-14 loss. He has thrown for 342 yards or more in each of the last three games and went off on Michigan for 480 yards...he's on fire and he has to be the best player on the field to give the Hoosiers a shot...

What Will Happen: Ohio State won't be pretty, but it'll pound away with the running game while the defense will keep Chappell under wraps. IU will throw for 300 yards, but it'll also give away the ball four times getting bit by the turnover margin for the first time all year. Three Buckeye runners will tear off 75 yards or more. CFN Prediction: Ohio State 38 … Indiana 16 ..."




Indiana-Ohio St. Preview
October 5, 2010 Source: ESPN - "...Pryor is Ohio State's leading rusher with 373 yards and is averaging 6.9 yards per carry, spearheading a ground game that's amassing 234.4 yards per game with the help of junior Dan Herron, who has five touchdowns...The Hoosiers are ranked fourth nationally with 348.3 yards per game through the air, but they also managed to keep the ball for nearly 42 minutes against Michigan. Despite such a productive passing game, Tressel isn't discounting Indiana's willingness to run the ball, which it's done less than all but six teams in the country with 120 attempts..."




Preview: Ohio State vs. Indiana
October 6, 2010 Source: The Buckeye Battle Cry - "...Ohio State's offense vs. Indiana's defense: The biggest question mark for the Buckeyes heading into this week's contest is the offense...It would be nice to see the Buckeyes establish a little consistency on the ground against the Hoosiers. Unfortunately, no matter how well Ohio State does rushing the ball, it is doubtful that any lingering concerns will be erased given the quality of Indiana's defense...Ohio State's defense vs. Indiana's offense...Indiana's trio of receivers are tall (each 6'3? or taller) and will present a formidable challenge for the Buckeye secondary that has struggled at times, most notably against Eastern Michigan two weeks ago. The key for Ohio State will be pressure from the front seven to help out the DBs, who may still be going through some growing pains (particularly new starters like Ohrian Johnson and Christian Bryant). If Chappell doesn't have time in the pocket, his ability to attack down field will be limited, which is the DBs best friend...If Ohio State's offense holds up its end of the bargain, there is no reason why Tressel's 100th win at Ohio State shouldn't be a blowout..."




Ohio State vs. Indiana Preview
October 5, 2010 Source: CBSSports.com - "...Even if Pryor isn't 100 percent, Jim Tressel's team likely won't have too much trouble against Indiana. A leaky Hoosiers defense has been particularly vulnerable on the ground, a weakness Pryor and the second-ranked Buckeyes look to exploit as they seek a 16th consecutive win in the series Saturday in Columbus...Indiana may have more success throwing with Tyler Moeller out. The safety, who leads Ohio State with 4 1/2 tackles for loss and two forced fumbles, tore a pectoral muscle in the first quarter in Champaign and will undergo season-ending surgery. Freshman Christian Bryant will likely start in Moeller's place..."




Ohio State-Indiana: Game Preview, History Lesson, and Prediction
October 6, 2010 Source: The Bleacher Report - "...Running back Darius Willis is averaging 4.3 yards per carry, and on the year has rushed for 278 yards with four rushing touchdowns. He has also caught 11 balls for 102 yards and one receiving touchdown. In 2009, the Buckeyes held Willis to 23 yards on 11 carries and he did not score... ...Jaamal Berry has made the most of his limited opportunities. Unfortunately, he did not see any time at running back in the Illinois game last Saturday. Why you might ask? Who knows, but Tressel needs to play the kid when it counts...Indiana has lost 11 straight Big Ten road games...Offensively, IU has a handful of talented players and they too will have some success moving the ball and scoring points against a younger, less experienced Buckeye defense that has had to shift or replace a couple of key starters due to injury...Final Score Prediction Ohio State 48 Indiana 23..."




OSU-Indiana scouting report
October 7, 2010 Source: Warren Tribue Chroncle - "...QUARTERBACKS...EDGE - Buckeyes...RUNNING BACKS...EDGE - Buckeyes...DEFENSIVE BACKS EDGE - Even...SPECIALISTS: INDIANA - Junior Chris Hagerup's 37.1-yard punting average is the lowest in the Big Ten, but he dropped three punts inside Michigan's 20 last week. Redshirt freshman Mitch Ewald has handled the placekicking the last three weeks with sophomore Nick Freeland out with an injury. Junior Tandon Doss is a dangerous return man, and you know how the Buckeyes have struggled in kick coverage. OHIO STATE - The Buckeyes are 117th in the nation in net punting, averaging just 28.8 yards. They're also not taking punts back very far, ranking 87th nationally with a 6.71-yard average per return. Devin Barclay has made 10 of 11 field-goal attempts. EDGE - Even. PREDICTION OHIO STATE 35, INDIANA 13 - Sure, Chappell's numbers are impressive and the Hoosiers are averaging 39.8 points. But they've played Towson, Western Kentucky, Akron and Michigan. There is not even a mediocre defense in the bunch. Look for Chappell to get pressured a lot, sacked a few times and hit after he throws quite a bit more. At least a couple of those throws will be picked off and the Buckeyes will win easily, even if Pryor isn't 100 percent and Moeller is a spectator..."




BSB Opponent Preview: Indiana
October 8, 2010 Source: Buckeye Sports - "...Defensive Personnel Report: Indiana has made a switch from a 4-3 to a 3-4 defense, and it should look familiar to Ohio State fans. Lynch told BSB this summer...the setup is inspired by OSU's scheme in which the Buckeyes have a hybrid player who can either rush the quarterback or drop back into passing lanes like a linebacker. However, Indiana has not been impressive on the defensive end so far, placing ninth in the Big Ten in both yards (397.3) and points (25.0) allowed per game...The hybrid position, similar to OSU's Leo...is known as the "drop end," and the starter is junior Darius Johnson, who has 16 tackles in three games. His backup, Kevin Bush, is an Iraqi war veteran who walked on at Indiana last season following his tour of duty. Bush has three tackles with a blocked punt...The most important Hoosier in the middle is Larry Black Jr., a freshman All-American last year according to the Sporting News. The Cincinnati Wyoming product had 7½ tackles for loss last year but has only one this year among his five tackles..."




Indiana-Ohio St. Preview
October 5, 2010 Source: Big Ten Network - "...A leaky Hoosiers defense has been particularly vulnerable on the ground, a weakness Pryor and the second-ranked Buckeyes look to exploit as they seek a 16th consecutive win in the series Saturday in Columbus. Ohio State (5-0, 1-0) cruised through its non-conference slate with four victories by an average of five touchdowns but had to sweat for 60 minutes last Saturday at Illinois. Of particular concern was Pryor's left quadriceps, which he strained on a drive early in the third quarter. After missing the next two series while his team nursed a 14-10 lead, the junior returned to lead a pair of scoring drives in the fourth - mostly handing the ball off - as the Buckeyes held off the Illini 24-13. "The worst thing was when I came back and the guys thought I was alright and they were saying, 'Come on Terrelle, lead us,'" Pryor said. "There was no way I could do anything but hand the ball off and maybe get a couple passes." Tressel said Tuesday that he thinks Pryor will be fine to face the Hoosiers (3-1, 0-1)..."





Indiana Official Site

Indiana Ohio State Game Notes
2010 Indiana Statistics
2010 Football Roster
Bill Lynch, Head Coach
Ass't Coaches
Source: Indiana Official Site






Electric IU offense to be tested by Buckeyes
October 7, 2010 Source: IU Daily Student - "...That line, which has allowed only four sacks this season, will have what may be its toughest test of the year Saturday. The Buckeyes (5-0, 1-0) feature a 4-3 defense that has been touted as one of the best in college football. The unit's ability to disrupt the quarterback is one reason why the team is ranked No. 2 in the country. "They're so fundamentally sound," said IU tackles and tight ends coach Kyle Conner. "They're always where they're supposed to be in their scheme. They're never out of their gap, and they play hard every single play to the whistle."..."




IU's wide receiver lineup is one of nation's best
October 7, 2010 Source: IU Daily Student - "The debate ends here (or maybe this is where it begins): IU has the best group of wide receivers and tight ends in the Big Ten. Not only that, the Hoosiers have one of the top units in the nation. On a good day, they are top 10. On a bad day, they are top 20. ..."



IU wide receivers best group in America?: Source: HeraldTimesOnline.com





Indiana's passing game to challenge Ohio State defense
October 7, 2010 Source: Ft. Wayne News Sentinal - "..."Ohio State has a great defense and it will be a challenge for us," quarterback Ben Chappell said. "I'm sure they'll be ready to stop our passing game and anxious to stop our offense. Hopefully they are looking at it as a challenge, too." IU averages 348.2 yards a game through the air, mostly behind Chappell's accurate arm (he's completing 71.6 percent of his passes). Ohio State allows 161.8 passing yards. Opposing quarterbacks complete 53.5 percent of their passes against them..."




Hoosiers' QB IQ gets another test
October 6, 2010 Source: The Journal Gazette - "Denard Robinson is to Allen Iverson what Terrelle Pryor is to Shaquille O'Neal. Pencils down. This isn't the SAT. But Pryor will be the latest test for Indiana's defense Saturday when the Hoosiers travel to Columbus to meet the No. 2 Buckeyes...Lynch also pointed to the different offensive schemes. "Michigan is a true spread scheme that stretches you tremendously and that is why you get caught with one-on-one situations where a missed tackle or a guy out of position creates big plays," Lynch said. "It's such a well-conceived offense. "… Ohio State is a mixture. They run spread, but they also run traditional football where they can play power football with you, but they have great flexibility within the offense because of Pryor and his ability to run and his ability to scramble. They have very good receivers and good backs so that is probably the biggest different rather than the individuals, the teams are different, although both are very effective."..."


Illinois (3-1) at Ohio State (5-0)
| | |
| --- | --- |
| | |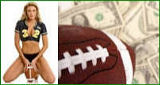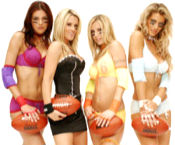 Recent Trends:

Indiana Hoosiers Predictions and Trends
When playing in October are 2-8
When playing on turf are 5-5
After being outgained are 2-8
When playing within the conference are 1-9
Over is 8-2-2 in IND last 12 games as an underdog
Over is 6-2 in IND last 8 road games

Ohio State Week 6 Odds Trends
When playing in October are 8-2
When playing on turf are 10-0
After outgaining opponent are 10-0
When playing within the conference are 9-1

Week 6 Trending Predictions
The total has gone OVER in 6 of Indiana's last 8 games on the road
Indiana is 4-9 SU in its last 13 games
Indiana is 2-13 SU in its last 15 games on the road
Indiana is 0-5 ATS in its last 5 games when playing Ohio State
Ohio State is 5-0 SU in its last 5 games
Ohio State is 5-0 SU in its last 5 games at home
The total has gone OVER in 5 of Ohio State's last 5 games at home
Ohio State is 5-0 SU in its last 5 games when playing Indiana
Ohio State is9-2 ATS vs. a team with a winning record
Under is 6-2-1 in OHIST last 9 conference games
Road team is 7-2 ATS in their last 9 meetings



Betting Trends for all games on Buckeyes 2010 schedule