| | |
| --- | --- |
| | The (red) story links, or the 'read more' graphic, will open new (pop-up) windows to the source of the article, audio or video, so you can read/hear/see the rest. If your browser is set to block pop-ups, please set it to always allow them from our site. You will not get any annoying advertising pop-ups, of any kind, generated by this site...ever. |

ILLINOIS

vs.

OHIO STATE







Head Coach Jim Tressel addressed the media following the Buckeyes' 24-13 victory over Illinois.





Five Things: Illinois
October 4, 2010 Source: Eleven Warriors - "Dan "Effective plod" Herron: After a 1st half in which he ran for six yards on four carries, I don't think many fans expected Dan Herron to help key 4th quarter drives that helped the Buckeyes remain unbeaten in a windy slugfest on the road in Champaign...it wasn't a record breaking day but Ohio State needed every bit of Boom's 95 yards on 23 carries (4.1) and considering the defense stacked the box for virtually all of those yards with Pryor either out or a physical sorta-factor, it was a much needed effort helping OSU remain unbeaten. Looking at the stats, Boom milked the clock carrying the ball on 12 of OSU's 19 plays in the 4th quarter keeping a defense that had the game well in hand, fresh to feast on the Illini offense.

Typical Tresselball - defense allows it to thrive: Speaking of the defense, they were obviously most responsible for the win despite suffering a probable season ending injury to Tyler Moeller. Facing an offense with a decent tailback but a not so decent QB, the Bullets stymied the Illini attack for much of the game, specifically the 2nd half, holding Zook's boys to 121 total yards on four 1st downs. The Illini possessed the ball six times in the final 30 minutes with the drives unfolding as such:...Nathan Williams was an absolute beast recording nine stops, 2 TFL, 1.5 sacks and a pass breakup...Brian Rolle also had what I'd call a bounce back game after repeatedly getting sucked up on play action a week ago, he led the way with a season high 10 tackles and a pass breakup while nearly coming up with an INT on the Illini's final possession. Fellow LB Ross Homan, who had the same problems as Rolle last week, responded with seven tackles, 1.5 TFL, and a sack. Christian Bryant came in for the injured Moeller and showed a nose for the ball recording five solo tackles...

The Pryor effect: I realize it's obvious just how much Terrelle Pryor means to this offense but how tough was it to watch them not knowing if Pryor would return? Though he wasn't having his greatest game up to the injury, he was still 6/12 passing for 48 yards with 2 TD and a terrible INT to go along with a huge field-flipping rushing effort of 10 carries for 102 yards. Plus, if Posey wasn't playing as if he was on the take (easy, I still love him) dropping two balls, one with an apparent case of alligator arms over the middle, Pryor's passing numbers would've been more like 8/12 for 80 yards to that point...Pryor's ability to answer adversity has been on display all year and while not as sexy an example as some of his other exploits, his ability to focus through the injury helped put points on the board giving the defense a seven point cushion that certainly seemed (and was) good enough to secure the W...

The Backup Plan: I heard and read comments on the various topics that came about with how the offense performed with Pryor injured. Most of that obviously centered on the QB position and how Tressel has handled "the backup plan" this season coupled with the usual digs about inconsistency from the hogs and the lack of a true gamebreaking running back. The noise in the aftermath of Bauserman's performance focused on (1) Tressel not getting the backup QB's in early enough in the three lopsided games and (2) Guiton not getting enough reps in general, and definitely not enough reps in which he was called upon to pass...The first argument noted is a little hard for me to buy into for one major reason. I don't mean to be harsh but Bauserman is nothing but an extremely rusty QB who isn't good enough to start for Ohio State to begin with...The second argument is by far more meaningful for a cluster of reasons...Bottom line, this team obviously goes nowhere significant without Pryor for an extended period no matter who Tressel sticks under center but if it's ever a one or two game scenario...

Discipline, anyone?: ...Ron Zook should be thankful that the university is rolling pennies to pay the bills and Saturday's display likely did nothing to improve his standing within the school despite the closer than expected final score. Stupid penalties absolutely crushed the Illini cause. They racked up nine, good for 74 yards in total, though six in particular stood out..."





10 Things We Learned From a Turbulent Victory at Illinois
October 3, 2010 Source: The Ozone - "1.Terrelle Pryor is not Superman. It might be hard to believe, considering some of the things Pryor has accomplished during his time at Ohio State, but Pryor does not have superpowers. He was flying around like a speeding bullet Saturday in the first half against Illinois, but watching him fall to the turf with a strained quad, we were reminded of his mortality. He looked so invincible streaking past defenders on his long runs that it was hard to watch as he was helped off the field and into the locker room. Pryor said that when he returned, his teammates were waiting for him to lead them the way he has for the last two years, but he was a shell of his old self. He couldn't scramble because of the injury, but just as importantly, he couldn't really throw the ball either because it hurt to drop back or plant on his left leg.

2. Buckeyes could be in trouble. Strained quads are not the most insignificant of injuries. If not given the proper rest and treatment, it could continue to hamper Pryor for the remained of the 2010 season. These injuries are especially tricky because they can flair back up at any moment, even after the player starts to feel good again. Like Tressel has often said, that can be a dangerous moment because a player feels good enough to open it back up again, but as soon as he does that, the quad could restrain, starting the process all over again.

3. Pryor's progress will be tested. That means Pryor will likely be relegated to a pocket passer for the foreseeable future. That might not hurt them next week against Indiana...but they have a huge trip to Wisconsin coming in two weeks...their defensive line is going to bring the heat on Pryor. He probably won't be able to escape it the way he has in the past, which means that Pryor's progress as a passer will be put to the test...

4. Offensive line was not prepared for this game. ...the offensive line will also be put to the test while Pryor is limited by the injury. He won't have the same type of escapability, which means the pass protection has to be better. Just as importantly, the run blocking must improve as well...

5. Posey could use another year of seasoning. ...Wideout DeVier Posey struggled mightily in the Big Ten opener. He dropped a pair of passes, missed a downfield block and picked up a critical 15-yard penalty on a chop block. It was the drops, however, that really hurt the Buckeyes—in particular the deep in route...

6. Buckeyes can't count on Saine in the running game. Brandon Saine is a good football player and a fine individual, but it appears the days of thinking of him as a weapon in the running game are over...The Buckeyes continue to give him carries, but I'm really not sure why. Tressel continues to say that it's because he can take it 60 yards to the house at any moment...He has good hands and can definitely contribute in the passing game, but Saine has very few moves and simply hasn't shown the toughness running inside that he did last November.

7. Tressel doesn't want to rock the boat. Saine doesn't seem to be the same player when he is nicked up, but for some reason no one on the staff can bring themselves to see it. Since rushing for 103 yards on nine carries in the opener, Saine is averaging just 2.4 yards per carry. It is clear to everyone outside the coaching staff that Boom Herron should be the starter and Jordan Hall should be the No. 2 back, but it seems like Tressel is hesitant to rock the boat...

8. Ohio State still capable of winning games with defense. Even if the quad injury does limit Pryor's ability to be a Heisman Trophy candidate, the Buckeyes are capable of winning games. They need their running game to find itself, but the key, as always, will be the defense...There are still question marks with this defense, especially on the back end, but they are one of the best units in the country and should give the Buckeyes a chance to win every game they play the rest of the season...

9. Bryant has star potential. One reason they played so well Saturday was the play of freshman Christian Bryant. When Tyler Moeller went down with an injury in the first period, it was Bryant who stepped in and played the star position. He looked nervous early—and what true freshman wouldn't be—but settled into the position with the help of senior Jermale Hines, who did an excellent job getting him lined up...

10. The Buckeyes will miss Moeller. There have been multiple reports that Moeller might be out for the season with a torn muscle. If that's the case, he should be able to get an extra year for all the medical hardships he has endured over the last two season, but the Buckeyes are going to miss him the rest of 2010. Moeller was second on the team in tackles coming into the Illinois game, and regardless of how well Bryant plays, there's no way he can duplicate what Moeller brought to the position. One of the fastest players on the defense, Moeller was also one of the hardest hitters...Bryant will give them an upgrade in coverage, which was actually important against Illinois, but there will be a lot more switching between Bryant and Andrew Sweat than there was when Moeller was healthy..."


Ohio State survives IIllini scare, 24-13: When Terrelle Pryor sprinted out of the locker room late in the third quarter, the sound that came from several thousand red-shirted Buckeye fans was pure relief. Pryor was back and the game, surely, was in hand. Good thing they didn't realize how bad Pryor's left quadriceps felt. The Heisman Trophy candidate returned from a leg injury that briefly knocked him from the game, then led No. 2 Ohio State on two drives that sealed a come-from-behind, 24-13 win over Illinois on Saturday. "The worst thing was when I came back and the guys thought I was all right and they were saying, 'Come on Terrelle, lead us,'" Pryor said. "There was no way I could do anything but hand the ball off and maybe get a couple passes."

Pryor was helped by the pounding of tailback Dan Herron and a Buckeye defense that held Illinois to 251 total yards and, after the first quarter, a pair of field goals.

The star Ohio State quarterback said that after the game that he isn't sure how bad the injury is, but he expects to play next week against Indiana. Coach Jim Tressel said he also didn't know yet how serious his junior quarterback was hurt. "I was in full stride and all of a sudden I felt and heard something pop and I was like 'What's going on?'" Pryor said. "It was probably the worst pain I had in a while."..."




Buckeyes receive reality check, escape with win on first road trip
October 2, 2010 Source: ESPN - "Ohio State withstood a couple of scares -- the biggest being a leg injury to quarterback Terrelle Pryor that temporarily knocked him out of the game -- to kick off its quest of a sixth straight Big Ten title with a 24-13 victory over Illinois in the conference opener today in windy Memorial Stadium.

Pryor returned midway through the third quarter. Though he wasn't the same man who ripped off a couple of long runs in the first half, he still directed a 14-play, 59-yard drive that included the transition to the fourth quarter, capped by a 32-yard field goal by Devin Barclay with 8:27 to play. That gave the Buckeyes (5-0, 0-1) a 17-10 lead.

Illinois (2-2, 0-1) came right back with a 67-yard drive to the OSU 13, where a third-down pass from redshirt-freshman quarterback Nathan Scheelhaase sailed over the head of everyone in the end zone. Derek Dimke then hit a 30-yard field goal into the wind to cut the OSU lead to 17-13 with 4:36 left.

Then, several self-inflicted wounds by Illinois -- a 15-yard unnecessary roughness penalty at the end of Jordan Hall's ensuing kickoff return; an offside call on a third-and-one run by Daniel "Boom" Herron on which he appeared to be stopped short; and a facemask call on a tackle of Herron later -- helped seal the win for the Buckeyes. Herron caped the drive with a 6-yard touchdown run through left end with 1:49 to play...

...of immediate concern for Buckeye Nation is the condition of Pryor's left leg. He suffered a minor injury to his knee late last season and underwent arthroscopic surgery in the off-season. He has been wearing a brace ever since. Pryor suffered the injury today while running by himself toward the sideline on a keeper early in the second half. After going to the locker room for treatment, he jogged back to the sideline to the cheers of the considerable number of OSU fans on hand in the crowd of 62,870. Pryor had thrown two touchdown passes in the first half and had already amassed more than 100 yards rushing for the second straight game when he went down...

Pryor made one big mistake in the first half, an interception he threw that Illinois turned into a field goal to take the lead with 1:50 left in the second quarter. But Pryor atoned quickly after the kickoff. That is, after Jaamal Berry retuned that kick 31 yards, with five more being tacked on because Illinois lined up with just three on one side of the kicker, a no-no. The Buckeyes had the ball at their 43, but not for long. Pryor kept around right end, accelerated at the corner and zoomed up the sideline for 35 yards, to the Illinois 22. Four plays later he hit a wide-open Dane Sanzenbacher in the left corner of the end zone with an 11-yard touchdown pass, giving OSU a 14-10 lead at the break.

It was the second time the Buckeyes had to rally in the first half. Illinois moved 55 yards in nine plays to take a 7-0 lead at 8:29 of the first quarter. The big play was a throwback pass to Scheelhaase from receiver Jarred Fayson that gained 23 yards to the OSU 8. Scheelhaase had thrown a lateral to a backpedaling Fayson in the right flat to start the play.

Noteworthy was the fact OSU's valuable "Star" defensive back Tyler Moeller left the field in the midst of that drive due to an apparent left-shoulder injury. He was taken to the locker room, then returned to the sideline but without his shoulder pads and helmet. Freshman Christian Bryant took his place in the nickel defense.

Meanwhile, Pryor and the OSU offense took matters into their own hands. On the first play from scrimmage after the Illinois TD, Pryor kept around right end and zipped up the right sideline, cutting back inside finally at the end of a 66-yard run to the Illinois 8. It was his longest run to date as a collegian. Three plays later, Pryor -- with plenty of time to look over the defense, a rarity in the first half -- passed 8 yards to running back Brandon Saine for the tying touchdown at 6:17 of the first quarter...


Boxscore & Stats
Source: ESPN
Scoring Summary, Team Statistics, Individual Statistics, Drive Chart, Defensive Statistics, Game Participation, Box Score, Play-by-Play
Postgame Notes From No. 2/2 Ohio State at Illinois
Source: OSU Official Site





Poll: What grade do you give the Buckeyes in its game against Illinois? What grade do you give the Ohio State football team: 1% A, 17% B , 59% C, 23% D (current results...vote online Source: Columbus Dispatch





Ohio State/Illinois report card
October 3, 2010 Source: Lncaster Eagle Gazette - "OFFENSIVE LINE, D Led by linebacker Martez Wilson, the Illini got good pressure on Terrelle Pryor. A sack by Wilson took the Buckeyes out of field goal range in the second quarter...Except for a couple of long runs by Pryor, the running game again struggled, and some of that is on the push up front. But predictable play calling in the second half didn't help.

RUNNING GAME, C: The Buckeyes have become good at immediately answering an opposing score, and it happened again as 66- and 35-yard runs by Pryor set up scoring passes that answered a touchdown and field goal by the Illini...Dan "Boom" Herron got his first start of the season at tailback and made the key conversion on fourth-and-1 at the Illini 19 in the fourth quarter...

PASSING GAME, C: Pryor and his wide receivers were never really on the same page...

DEFENSIVE LINE, B: Finally. Cam Heyward got his first sack of the season, collaborating with fellow end Nathan Williams. Only a holding call kept Heyward from getting a second...Except for a late 25-yard run, Mikel Leshoure was held in check (80 yards on 19 carries).

LINEBACKERS, B: Brian Rolle got in a couple of nice shots on Nathan Scheelhaase, and there was better quarterback pressure than the first four weeks...

DEFENSIVE BACKS, B: Florida transfer Jarred Fayson gave the Buckeyes fits, and the pass defense would have looked worse if not for a handful of dropped balls...after piling up 12 takeaways the first three games, the defense has only come up with one in each of the last two games...freshman Christian Bryant stepped in at nickel back and made a couple of nice plays. The good news is Scheelhaase only averaged five yards on his 22 pass attempts.

SPECIAL TEAMS, C: OSU entered the game last in the FBS in net punting, and Ben Buchanan didn't help the average with two short punts in the first quarter. The first set up a touchdown. The Buckeyes downed one punt near the goal line, but they had to rekick because of an illegal formation. Then they failed to cover the rekick before it bounced into the end zone for a touchback...

COACHING, D: ...it was Jim Tressel who hamstrung the offense after Pryor returned by keeping his quarterback and the attack under wraps. If you're hesitant to throw the ball and expose your quarterback to hits, why not mix in a reverse or halfback option pass or safe wheel route pass to Saine to try and spark the offense and keep the Illini defense off balance?..."




The Bottom Line
October 2, 2010 Source: Columbus Dispatch - "...Offense (2 leaves): Before he was injured, Terrelle Pryor was guilty of a bad pick, a couple of bad sacks -- and two breathtakingly fluid long runs to set up TDs. Without him, OSU had about as much horsepower as a Segway. When he returned, Daniel Herron did the heavy lifting, but that plan has a dubious future.

Defense (3 leaves): All of the final-statistic signs are pretty good ones -- 251 yards allowed, 11 first downs, etc. -- but it also seemed like the meat-eaters allowed the Illini to hang around long enough to jangle the nerves. Losing Tyler Moeller could have been a big blow, but Christian Bryant proved a fine fill-in.

Special teams (3 leaves): The wind that charges across the Land of Lincoln can make for some butterflies in the belly for the kicking crew, especially newbies experiencing the tempests for the first time. Consider it a test passed. Ben Buchanan's into-the-breeze punts didn't travel far, but his net averages will please the bosses.

Coaching (2 leaves): Survive to live another day, sure, especially when your best player is lame. But Tress didn't even wait until the fourth quarter to start milking the clock like it was a plump cow. In the end, it felt like a game in which the play-calling ran the gamut from A to B. Let's hope it's not a sign of passivity to come...

Opponent (2 leaves): The Illini's talent doesn't have a whole lot of Juice these days, but Ron Zook's bunch plays with heart..Penalties and drops often mean a coach must seek employment elsewhere...

Officiating (2 leaves): File this crew's work under the Case of the Curious Spotters. Twice it seemed like they marked Herron shorter than he deserved and then they gave him the extra inches on a key fourth down... And when was the last time defensive holding was called on a PAT?..."




The report card for the Ohio State Buckeyes' effort at Illinois
October 2, 2010 Source: Cleveland Plain Dealer - "Jim Tressel going for it on fourth-and-1: A It's an A only because it worked. With about 11 minutes left in the game, the Buckeyes went for it on fourth-and-1 from the 19-yard line, passing up a shot at a 36-yard field goal while holding a 14-10 lead. "We were only up by four," Tressel said. "So it really didn't make it a two-score game if you kick a field goal. It just made it if they score once, it's overtime. So I was thinking let's take a couple of more minutes off the clock, plus I had confidence we could get a yard, and we did."...

Ohio State running back Dan Herron: B+ His average of 4.1 yards per carry certainly wasn't great, but with the Illinois defense knowing Ohio State was going to run late in the game, he did enough to help the Buckeyes grind out the win, taking care of the ball and bouncing some nice runs outside in the final minutes...

Illinois quarterback Nathan Scheelhaase: B- In his fourth career start, the redshirt freshman landed a few shots against the OSU defense but couldn't put together consistent drives. Still, he gave the Buckeyes some things to think about and showed he could be a problem for Big Ten defenses in the future..."I think he'll be a great player," OSU linebacker Brian Rolle said. "I didn't think he could run like [former Illinois quarterback] Juice Williams, but after today I thought he did. He's a little taller than Juice, and he's a good athletic kid."

The spot on Ohio State's fourth-down try: C There certainly was a question whether Herron really got there on that fourth-down try, and Illinois coach Ron Zook challenged the spot of the ball. The review upheld the original spot. "I just thought it was a time I should challenge because it was a critical down," Zook said. "I hate to give up a timeout, but I just thought it was important."..."I don't think that was a first down," Illinois linebacker Martez Wilson said. "I think we definitely stopped him, but it was a tough judgment. ... I felt like that was a very critical play because it was a play where we could have been off the field. You give them a little momentum, and it was just a momentum thing."..."




Pryor exits game briefly with strain
October 2, 2010 Source: ESPN - "Ohio State quarterback Terrelle Pryor was briefly knocked out of the No. 2 Buckeyes' game again Illinois but returned after missing parts of three series. Pryor injured his left leg while scrambling in the third quarter Saturday. He appeared to fall without serious contact and was helped from the field by Buckeye staff, but walked on his own to the locker room. He ran back onto the sideline a few minutes later. The team said Pryor had a mild left quadriceps strain. Pryor was replaced by junior Joe Bauserman with Ohio State leading 14-10. He promptly threw an interception to Illinois safety Trulon Henry, though the Buckeyes' defense stopped the Illini. Ohio State's Heisman Trophy candidate was having another stellar game when he left, even though the Illini were within striking distance. Pryor had 102 yards rushing on 10 carries, and had thrown a pair of touchdown passes before he was hobbled by the injury."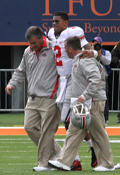 Ohio State beats Illinois after QB Terrelle Pryor injures thigh
October 2, 2010 Source: Cleveland Plain Dealer - "The Buckeyes also breathed a sigh of relief after some momentary panic when quarterback Terrelle Pryor went down during an option run in the third quarter when he said he felt something pop in his left leg.

"I was in full stride and I thought I was going to the house," Pryor said after the win. "I was in full stride and all of sudden I was like, 'What's going on?' I was in full stride and I stumbled and I just let the ball go. It was probably the worst pain I had in a while."

Pryor stayed down on the sidelines and then was helped off the field, his arms around two Ohio State trainers, though he was walking under his own power. He then went to the locker room, his limp lessening as he reached the tunnel under the stands. Pryor said he was diagnosed with a strained quad in his left leg.

That news was better for Ohio State fans than anything that had to do with the left knee he had arthroscopic surgery on this offseason. Pryor said trainers wrapped his leg tightly and he was able to jog back onto the field, missing seven offensive plays, including one interception by backup quarterback Joe Bauserman.

But Pryor didn't return as the same player he was before the injury. His 66- and 35-yard runs had set up Ohio State's first two touchdowns. But after the quad injury, Pryor said he could not run.

"The worst thing was when I came back and the guys thought I was all right," Pryor said. "They were saying, 'Come on, Terrelle, lead us,' and it was hard because I knew I couldn't do anything about it. There was no way I could do anything about it other than hand the ball off and maybe throw a couple passes. It kind of hurt a little bit dropping back."

So Pryor didn't do much more than hand off. After he returned, he handed off 26 times, was 3 of 4 passing for 28 yards and gained 2 yards on a sneak. And that was enough. He finished 9 of 16 passing for 76 yards, with two touchdowns, to Brandon Saine and Dane Sanzenbacher in the first half, and one interception. He ran for 104 yards on 11 carries....


Jim Tressel on Terrelle Pryor
Terrelle Pryor and Jim Tressel as today's 24-13 victory over Illinois ends. Instead of staying with his teammates, Pryor heads right to the locker room with his strained left thigh
Terrelle Pryor leaves field

The already-depleted Ohio State secondary took another hit early in the game when senior Tyler Moeller, who plays the star or fifth defensive back position, left the field with an injury. Moeller did not return to the game, and was in sweats for the second half. Ohio State coach Jim Tressel said Moeller's injury was muscle-related, but did not elaborate. A number of sources are now reporting that Tyler Moeller will miss the rest of the season with an injury, reported to be a torn pectoral, that he suffered against Illinois; more at Bucknuts

Terrelle Pryor said he was diagnosed with a strained quad in his left leg. It's going to be interesting how much Pryor will practice this week going into the Indiana game.




It was over when...: The Buckeyes took a 24-13 lead on a Dan Herron TD run with 1:49 to play in the game.

Gameball goes to...: Terrelle Pryor, who returned from an injury to lead the game-clinching drive.

The Repercussion: The Buckeyes might have come up with the offense and the defense when they needed it for the Big Ten-opening win, but poll voters and critics are going to see a team that was teetering headed into the fourth quarter against an 18-point underdog. In this age, winning big means almost as much as winning, so all will be watching for a big bounce back by the Buckeyes this week against Indiana.

Star Of The Game: RB Boom Herron. QB Terrelle Pryor out-rushed him in total yards 104-95, but with Pryor hurting (pulled quad muscle) when the Buckeyes needed tough yards on clock-eating drives in the fourth quarter, they turned exclusively to Herron. His average was just 4.1 yards on his 23 totes, but his six-yard touchdown rip through left end with 1:49 to play ensured Illinois was done.

Turning Point: Pryor's jogging return from the locker room midway through the third quarter after he'd limped off earlier in the half. With backup Joe Bauserman, the OSU offense -- headed into the stiff north wind languished and Illini fans' hopes rose. But Pryor's return was cheered lustily by the strong contingent of OSU fans, and his trot back into the lineup moments later drew a louder response. Because don't forget, his two long runs in the first half followed by his two TD passes had given OSU enough points in the first place.

One-liner: OSU football must really be a religion, because people were praying like crazy for Pryor to be OK.

Stat of the game: 76. With 76 yards, Ohio State has not passed for 100 yards against Illinois since 2007.

Stat of the game II: After totaling 95 yards of offense in the first quarter, the Illini managed just 156 yards the rest of the game as they converted only 2-of-13 chances on third down.

Translating Tress: What he said: "We've been playing (this) series since 1902 ..."
What he meant: "They didn't try to pass then, so why should we now?"

Mike Brewster, C, said it.: "They came out and played their butts off and outplayed us up front on the line. We're just happy to come out with a win." -On Terrelle Pryor's six touchdowns

Justin Boren, LG, said it.: "We didn't do very well at anything today. As an offensive line we need to improve on everything. We have a lot of work to do this week in practice before we play Indiana."

The view:
How the team sees it: Guess we're not in the MAC anymore.
How the pollsters will see it: One slow-healing thigh strain from dropping like a rock.
How Buckeye Nation will see it: It wasn't pretty. It wasn't good. Does this mean we're only pretty good?

Offensive Notes: Ohio State was 4-of-4 in the red zone Saturday (3 TDs, 1 FG). They are now 29-of-31 (.935) this season in the red zone (21 TD, 8 FG).

Terrelle Pryor (1,783 career yards rushing) passed Rex Kern (1,714) for second place among Ohio State quarterbacks.

"Boom" Herron rushed for a season-high 95 yards on 23 carries. His career high was 97 set last year vs. Iowa.

The Buckeyes were held under 300 yards of offense (290) for the first time since their loss at Purdue last season. Ohio State came into yesterday's game averaging 506.8 yards of offense and 49.2 points per game.

Toughest question: It might revolve around running back Brandon Saine, who seemed to regress as a runner, carrying the ball eight times for 14 yards...his hesitation seemed to reach new heights against the Illini, particularly on a second-and-10 run in the fourth quarter. Saine seemed to have some lanes to run, but bounced outside and then hesitated, allowing the defense to swarm him for no gain. Many fans have been calling for more of either of the backup tailbacks, Jordan Hall and Jaamal Berry. If Tressel can't get Saine straightened out, he might start thinking that way as well. Or least start thinking about even more of Herron.

Defensive Notes: Senior linebacker Brian Rolle recorded a season-high 10 tackles to lead the Buckeyes

Freshman defensive back Christian Bryant saw the first extended playing time of his career. He took over at the star position when Tyler Moeller left the game in the first half and finished with five solo tackles.

Best defensive effort: Ohio State middle linebacker Brian Rolle had a game-high 10 tackles, while defensive end Nathan Williams had nine tackles, including 1.5 sacks. The Buckeyes entered the game with only five sacks in four games, which ranked them 91st in the nation, but they got to Illinois quarterback Nathan Scheelhaase three times.

Streak InTact: It has been 28 games since the Buckeye defense allowed a 100-yard individual rushing performance; Ohio State has allowed just seven 100-yard rushers since 2005, the fewest among FBS teams

Streak Broken: Illinois running back Mikel Leshoure was held to 80 rushing yards on 19 carries, snapping his streak of four straight 100-yard games.

Numbers for dummies: 23: The difference in rushing yards between Pryor (92) and the rest of the team (115) at halftime.

Numbers for dummies II: 600: Seconds of fear Ohio State fans experienced while Pryor spent his 10 minutes being looked at by trainers in the locker room.

Special Teams Notes: Punter Ben Buchanan had a career-long 56-yard punt in the second quarter, pinning Illinois inside the 10.

Ron Zook, Illinois HC, said it.: "I told my football team I'm proud of them. We fought hard. There were some things that happened during the course of the game that they had to overcome and they hung in there. They never questioned whether they could play or not. ... I think they realize now we can go in the Big Ten and be a pretty good football team."

Telling stat: Nine penalties cost Illinois what chance it had at an upset. The penalties, for 74 yards, created an 11-point swing in the score with three of them - costing itself three and giving Ohio State eight. "You can't have those things when you play a good football team," Zook said.

The number: 7:52. Minutes Ohio State chewed off the clock on its 14-play, 59-yard drive for a field goal that gave the Buckeyes a 17-10 lead.

Best use of the facemask: Illinois drew three facemask penalties, all to Herron. It is something of Herron's trademark. He gained 95 yards with his legs and 37 in penalties with his face. He must be in double figures for such violations in his career.

Thank you Justin: Cornerback Justin Green lined up offsides, giving the Buckeyes a first down, and Herron scored the clinching touchdown four plays later after the Illini stopped Daniel Herron short of a first down on third-and-1 with less than three minutes to play. (You may remember Green originally committed to play for the Buckeyes and then switched to Illinois; read how Justin figured into our play of the game.)

Worst penalty: Illinois was flagged nine times but the worst was defensive back Justin Green's offsides penalty in the last four minutes, when Ohio State's Dan Herron was stopped on a third-and-1 run and Ohio State would otherwise have faced fourth-and-1 at the Illinois' 44 while leading, 17-13. The first down turned out the lights on the Illini.

Worst penalty, Part II: Illinois' Martez Wilson blocked Ohio State's first extra-point try of the game, which would have maintained a 7-6 Illinois lead in the first quarter. But the Illini's Corey Liuget was called for defensive holding on the play, and Devin Barclay converted his next attempt to tie the game at 7.

Worst penalty, Part III: Ohio State punter Ben Buchanan pinned Illinois at the 2-yard line with a 36-yard punt in the second quarter, but the play was nullified because Ohio State lined up in an illegal formation on the punt. After the 5-yard penalty, Buchanan punted into the end zone for a touchback, which cost the Buckeyes 18 yards in field position.

Just wondering: How good are the Buckeyes with a 75 percent Pryor? It is impossible to know how the quarterback's thigh strain will affect him, but former OSU cornerback Dustin Fox, who has experienced a similar injury, warns that the quad muscle is a notoriously nasty healer. Maybe TP's backups should have played more often during those nonconference blowouts?

Worth the trip?: The Buckeyes should have stitched "John Deere" to the front of their jerseys, because watching this offense was like watching combines harvest corn and soybeans during the drive to Illinois. Ohio State looked as flat as the Illinois landscape in this Big Ten opener.

They said it:
As heard on TV: Microphones should be outlawed in the presence of Big Ten Network boothmates Eric Collins and Chris Martin. Let's get right to the carnage:
"Pryor runs with his eyes." That has to hurt. "The great receivers can snatch the ball out of the air." As opposed to ...? My favorite was the shocking news that Ohio State is the only bowl subdivision school where the coach, offensive coordinator and defensive coordinator share the same first name. Astounding.

The worst gaffe was failure to mention that Ohio State safety Tyler Moeller had suffered an arm injury. What was sideline reporter Charissa Thompson doing down there? Finding other assistant coaches named Jim?


(Sources: ESPN/The Ozone/OSU Official Site/Columbus Dispatch/Cleveland Plain Dealer/Toledo Blade/Chicago Tribune)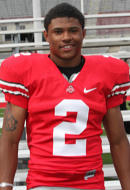 'I think I stepped up pretty good,' Moeller's replacement says
October 2, 2010 Source: Columbus Dispatch - "When Ohio State nickel back Tyler Moeller went out with what's thought to be a torn chest muscle in the first quarter today against Illinois, freshman Christian Bryant was prepared.

"It was great, just hearing my number being called," Bryant said. "I was ready for my name to be called the whole game. Tyler just happened to go down, and I had to step up."

As for how Bryant performed, coaches will review the game and grade his performance, but after the defense delivered several key stops in the second half of a 24-13 win, he offered a preliminary take. "I had to step in and do the job the coaches were telling me to do, and I think I stepped up pretty good," Bryant said..."I had to grow up," said Bryant, who tied for fifth on the Buckeyes with five tackles. "(Safety) Orhian Johnson was telling me throughout, 'You're a grown man now,' so I had to step up. I had to leave a little kid game. I had to grow to be a man."..."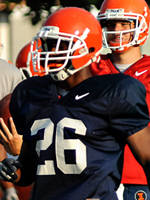 This is the first time that we have ever chosen to honor a play by a Buckeyes opponent as the play of the game. Why? Read on...

Here's what happened:

The score is 17-13. Ohio State takes over at their own 47. 4:36 remains in the 4th quarter.

On 3rd and 1 at the Illini 44 Boom Herron rushes over left guard for no gain.

Now it's 4th down. Too far for a FG attempt. Tressel punts and Illinois takes over trailing by only 4 with plenty of time left on the clock.

However, that doesn't happen. Why? There's a flag on the play. Illini CB Justin Green is called for offsides. The Buckeyes get 5 yards and a fresh set of downs at the Illini 39.

Four plays later Herron scores, and with the Barclay PAT, the Bucks lead is 24-13.

Game over.

Ironically, Green, whose older brother Marcus played DL for Ohio State, originally committed to play for the Buckeyes only to later decommit from Ohio State in favor of Ron Zook and the Fighting Illini.

It seems he wanted to be a RB and the Buckeyes were upfront about wanting him as a CB. Zook told him he could be a RB, which he was for a very short time. He then made a quick transition to CB...imagine that.

Thank you, Justin. Maybe it's karma...


Illinois Highlights







Postgame Quotes - #2 Ohio State 24, Illinois 13
October 2, 2010 Source: Illinois Official Site - "ILLINOIS Head Coach Ron Zook: "I just told my football team that I am proud of them. Any time you play the number two team in the nation, you have to play the way we played. Obviously, there are some things we have to clean up, but if we get those things cleaned up we have a chance to be a pretty good football team. We fought hard. There were some things that happened during the course of the game that we had to overcome and they hung in there. They never questioned whether they could play or not. For the most part I was proud of them but there are some things we have to get cleaned up."...

...Quarterback Nathan Scheelhaase: On Ohio State's performance..."We knew they were going to be a tough team all week. We've been watching them, and they played a good game. You have to give them a lot of credit, but obviously there were still plays that I feel like we left on the field."..."




Two big plays by Terrelle Pryor doom Illini
October 2, 2010 Source: St. Louis Today - "...The Ohio State quarterback threw for a season-low 76 yards, was sacked three times and, in the midst of one run around left end, he stumbled and crumpled to the ground, putting a fright into thousands of Buckeyes fans among the sellout crowd. But he mustered enough in No. 2 Ohio State's 24-13 win over the Illini to avoid the first big upset of the college season. Most critical were two runs that accounted for 101 of his 104 rushing yards and set up first-half touchdowns, allowing the Buckeyes (5-0, 1-0 in the Big Ten) to remain smack in the middle of the national championship discussion. Meanwhile, Illinois (2-2, 0-1) could only chalk it up as another frustrating step in the rebuilding process..."




Illini defense impressive against second-ranked Ohio State
October 2, 2010 Source: Daily Herald - "Ohio State showed up averaging 49.3 points and 506.8 yards per game. Illinois' swarming defense sliced those numbers in half at windswept Memorial Stadium, yet still couldn't come away with a win in Saturday's Big Ten opener at Memorial Stadium. The rabid Illini sacked Terrelle Pryor three times, intercepted 2 passes for the first time in 13 months and held the Buckeyes to 291 yards the visitors' lowest total during their 11-game winning streak. But because Ohio State rang up 10 crucial points in the final 8:27 to clinch the 24-13 victory, Illinois defensive coordinator Vic Koenning stood against a wall outside the locker room with his shoulders slumped. "We just got close and couldn't finish it," Koenning said. "I just feel like, in my heart, that's two games this year that if we'd played just absolutely lights-out the whole game on defense ... we kind of let this one get away and against Missouri."..."




ILLINOIS

vs.

OHIO STATE



Pressure is on OSU Defensive Line to Produce Pressure
October 2, 2010 Source: The Ozone - "Defensive linemen are supposed to be the guys who bring the pressure. This week the pressure is on the OSU defensive line to do just that...Lead by their deep and talented defensive line, the Buckeyes were among the best in the country in sacks and tackles for loss last season. After four games, however, the 2010 OSU defense has not been nearly as effective at creating pressure, at least statistically...After recording 31 sacks and 78.5 tackles for loss last season, the Buckeyes have just five sacks through the first four games of this season. That number tied with Michigan for eighth best in the Big Ten, and their 18 tackles for loss are two back of the Wolverines during the first third of the regular season...the 2010 defense has yet to get a sack from any of its defensive ends. That's a problem when Heacock relies so heavily on getting pressure from the front four without having to bring extra guys on the blitz.

Even though their sack numbers are down this season, the Buckeyes are forcing opposing quarterbacks into bad decisions. They are fifth in the country (13) at creating turnovers, including seven interceptions. Much of that has come from quarterbacks trying to get rid of the ball in order to avoid the pressure. "We take pride in being able to affect quarterbacks and being able to attack quarterbacks," Larimore said. They will have another chance to do that today when they face an Illinois offensive line that finished 10th in the Big Ten with 31 sacks allowed last season and a freshman quarterback in Nathan Scheelhaase who has thrown three picks in his first three starts ..."




Five Key Factors
October 1, 2010 Source: Columbus Dispatch - "KEEP THROWING: While some in the Ohio State fan base fret about the lack of a consistent between-the-tackles run attack, the bottom line is OSU's offense is humming doing what it's doing _ putting the ball in Terrelle Pryor's hands and giving him a variety of receivers to choose from. This may be the best short-passing game in recent memory, so why stop now? Illinois is mediocre in pass defense, and has yet to record an interception.

GO BIG EARLY: Remember what we just said about the short passing game? Forget that for a second _ do what's necessary to take a quick lead. Take a shot deep. It's always important to take the crowd out of it on the road, but an early deficit might also take the Illini out of it, as well. They have struggled for two years, and whatever confidence they built up from beating two directional Illinois schools could easily crumble.

HOLD THE LINE: This Illinois team has dedicated itself to the run, and is finding success. The Illini are running nearly 70 percent of the time, and rank 18th in the nation behind tailback Mikel LeShoure and quarterback Nathan Scheelhaase. It's always a key for the OSU defense, but this is easily the best running attack the Buckeyes have faced this season...

EYE DISCIPLINE: When Illinois does throw, it's a good bet it might be off play-action, particularly if the Illini watched video of the Buckeyes getting burned by Eastern Michigan three or four times last week...Defensive coaches talk about the importance of "eye discipline," meaning read before you react.

SHORTEN THE FIELD: The Buckeyes have had one special teams performance that was free of glaring mistakes. Now do it again. Illinois has a solid punter in Anthony Santella, but OSU's returners (on punts and kickoffs) have been getting close to popping a big one. A special-teams breakdown could be a huge momentum boost for Illinois, and fire up the crowd. Also, Buckeyes kicker Devin Barclay might have to contend with a sometimes-tricky Memorial Stadium breeze..."



On the Edge: Dispatch beat writers Ken Gordon and Tim May predict which team has the edge in this week's game. See if you agree..."





Ten Pressing Questions: OSU at Illinois
October 1, 2010 Source: Bucknuts.com - "...1. Can Terrelle Pryor continue his string of torrid play for the Buckeyes? – Pryor has been a man possessed so far this season with four 200-yard passing games and two 100-yard rushing games. This will be a step up in class as the Buckeyes move into conference play against Illinois, which has improved defensively since last season.

2. Can the Buckeyes get Boom Herron and Brandon Saine going in the run game? – ...OSU fans have been clamoring to see Jaamal Berry and Jordan Hall. Berry has moved past Saine into third place on the rushing list with 177 yards on just 15 carries (11.8 average). Hall threw and caught touchdown passes last week.

3. Which OSU receivers will emerge against Illinois? – We keep wondering when someone other than DeVier Posey or Dane Sanzenbacher will finally stand up and be counted. Sanzenbacher had four touchdowns among his nine catches last week. But Sanzenbacher reportedly injured a finger in practice on Thursday...

4. How will the Buckeyes cope with the loss of tight end Jake Stoneburner? – ...Reid Fragel will step in as the starter.

5. How will the offensive line play against Illinois' front seven? – ...The line has allowed seven sacks in four games. With linebacker Martez Wilson healthy again, the Illini have been respectable defensively so far this season.

6. How will the OSU defensive line play and will the Buckeyes be able to get after redshirt freshman quarterback Nathan Scheelhaase? – The OSU line must play assignment football against Scheelhaase who pilots Illinois' zone read/option attack...Missouri pressured Scheelhaase into a fumble and three interceptions in the Tigers' 23-13 win in the season opener...

7. Can Ohio State stop the run and contain Illinois running back Mikel Leshoure? – Leshoure has had four straight 100-yard games, including 181 yards in Illinois' last game against Northern Illinois. Something has to give, though, because it has been 27 games since the Buckeye defense allowed a 100-yard individual rushing performance;...streak is second-longest in the nation, trailing only Alabama (32 games)....

8. What impact will special teams have on this game? – OSU shored up some of its special teams issues with the win over Eastern Michigan. But Illinois boasts a strong punter and kicker...

9. Can the Buckeyes continue their mastery in Champaign? – Ohio State has won its last seven trips to Champaign dating to a 1991 loss (10-7)...

10. Is Ohio State a Big Ten championship-caliber team? – To win a Big Ten title, you have to go on the road and beat the teams you should beat. OSU has won five straight Big Ten titles and posted a conference road record of 18-2 in that stretch (dating to 2005). Meanwhile, Illinois has lost 18 of its last 28 games overall...This is a game Ohio State needs to win and should win...




Illini rush into tough test against Ohio State: Zook hopes his team can run, but Buckeyes stingy vs. ground game
October 2, 2010 Source: Chicago Sun Times - "So what would you like to see from your running game, Ron Zook, when Illinois tries to upset No. 2 Ohio State today? ''I'd like to see about 450 yards,'' said the Illinois coach, painfully aware that the Buckeyes have given up only 284 rushing yards in their first four games combined...''They're going to pack the box, just like everyone we play,'' Zook said. ''The running game, when I was with the Pittsburgh Steelers, sometimes it was the third or fourth quarter before it got on track. But you can't get away from it too soon. You have to have confidence that you're going to be able to make some things happen down the road.''...

The differences between this Illinois team and the '07 team are myriad. That team had a sophomore quarterback, Juice Williams, who had nearly two years of experience. It also had relentless veteran safeties and two of the best linebackers, J Leman and Brit Miller, Illinois has seen since Simeon Rice and Kevin Hardy left town. And the timing was right. The game came late in the year, when the unbeaten Buckeyes were under pressure to finish what they started. In an even bigger difference, that Ohio State team was quarterbacked by Todd Boeckman, who was the polar opposite of this year's QB, Heisman candidate Terrelle Pryor...

Illinois intends to go into the game eager to see what it can do. ''They put on pads just like we do,'' receiver A.J. Jenkins said. ''You still have to buckle up your chinstrap and play on Saturday.'' But Jenkins has an idea about what an Illinois win would mean. ''We'd have the Big Ten looking at us like, 'Man, what's going on?''' he said. ''If we came out with a win, it would probably bring back a lot of noise.''..."




What to watch when Ohio State plays at Illinois
October 1, 2010 Source: Cleveland Plain Dealer - "1. Ohio State's offensive distribution: Receiver DeVier Posey didn't need a sit-down with Ohio State quarterback Terrelle Pryor after he caught just two passes last week, while OSU receiver Dane Sanzenbacher grabbed a career-high nine passes, four of them touchdowns..."When I look at our offense, I always say pick your poison," Posey said. "You've got Brandon Saine, Boom Herron, Jordan Hall and Jaamal Berry, and you got to see flashes of him last week. That kid can definitely do something with the ball in his hands. Then you have Dane, you have Jake Stoneburner, you have me and Taurian Washington and Chris Fields and Grant Schwartz, and I haven't even mentioned No. 2's name. So it's really amazing the options we have this year."..."When you have so many different guys, you have to figure out who you're going to try to stop," OSU receivers coach Darrell Hazell said. "Last week, they doubled DeVier quite a bit, and Dane wound up catching all those balls." But tight end Stoneburner is out this week...Reid Fragel isn't as much of a threat in the passing game, so that will change the way Illinois defends everyone...Posey said there are more offensive options than in either of his two previous seasons. With a man down, it won't quite be the same.

2. Punter vs. Punter: ...While OSU coach Jim Tressel saw improvement in the kickoff coverage a week ago, he didn't like what he saw on the Buckeyes' only punt of the game, a 39-yarder from Ben Buchanan that Eastern Michigan returned 27 yards through several missed tackles. While Illinois, with punter Anthony Santella, ranks fourth in the nation in net punting at 43.3 yards, Ohio State ranks dead last, 120 out of 120, with an average net punt of 26 yards. So take note of the field position shifts if the teams start trading punts at any point. That's an edge of 17 yards per punt for the Illini, so if Illinois can put together a couple decent defensive series, they could gain a big advantage.

3. The almost-Buckeye: Justin Green gave an oral commitment to Ohio State before deciding to sign with Illinois in 2009, in part because he wanted to play running back and the Buckeyes saw him as a defensive back. Now, Green is starting at cornerback for the Illini after volunteering to switch positions before this season after several injuries in the defensive backfield. "It's sort of not fair, is it?" Tressel said. "He's supposed to be playing corner for us. He's a great kid. What are you going to do? You make decisions and handle the adversity and deal with what comes your way, and that's obviously what he's doing, and he's got great speed out there. He's got all the things that you would love to have in a corner." Check out Green's play and see how he'd fit onto the OSU roster at cornerback, probably in the mix with No. 3 corner Travis Howard and younger corners Corey Brown and Dominic Clarke. ..."




Can Illini pull off another shocker against the Ohio State Buckeyes?: It's an Ohio State team on a national championship track against an Illinois team with a stud running back and a quarterback with questionable passing skills. The Buckeyes vs. the Fighting Illini in 2010 bears at least a passing resemblance to the matchup three years ago, the high point of coach Ron Zook's tenure at Illinois.

10/1/10 Source: Cleveland Plain Dealer







John Kampf's first-and-10: Tressel better be right about his running backs
October 1, 2010 Source: The News Herald - "10. Ohio State coach Jim Tressel almost went out of his way to say how pleased he is with his tailbacks. When asked this week if he felt as good as he has in a while with the situation at tailback, Tressel's eyes lit up and he said, "Oh, gosh, much more." He might be in the minority in that belief.

9. Through four games, starting tailbacks...Dan Herron and Brandon Saine have run for on 361 yards 78 carries, an average of 4.6 yards per carry. If you take away the 45-yard touchdown run Saine had in the season opener against Marshall, their average drops to 4.1 yards.

8. Saine, a senior, is not producing as he should. Minus his nine-carry, 103-yard game against Marshall, the two starters have rushed for 259 yards on 69 attempts (3.8). Besides his big game against the Thundering Herd, Saine has produced 66 yards on 27 carries, not much more than 2 yards a tote.

7. Do the Buckeyes have a problem running the ball? It sure seems that way. Though most of his runs aren't by design and have occurred when running lanes open up during pass plays, quarterback Terrelle Pryor leads the team with 269 yards rushing — more than Saine and Herron combined if you take away Saine's one good game. And let's be honest, running the ball against Marshall, Ohio and Eastern Michigan should be relatively easy.

6. Here we are at the start of the Big Ten season and the Buckeyes don't know if they can effectively run the ball — well, besides their quarterback. There is probably some credence to the thought that defenses are loading the box in an attempt to stop the run and make Pryor beat them with his arm. But the fact that Ohio State hasn't been able to run the ball as it could or should early this season is a concern that is going to keep growing until there's a breakthrough.

5. Don't get too excited about the possibility of Jordan Hall (5.5 yards per rush) or Jaamal Berry (11.8 per rush) snagging a lot of carries or rising on the depth chart. Neither carried the ball against Miami...

4. Look for Ohio State to have a lot of success on Saturday against Illinois' defense...

3. Rest assured, the Buckeyes are going to throw the ball better than last year — and even the last two years combined. The Buckeyes threw for only 49 yards two years ago against Illinois...Even if Pryor has his worst game of the season, there's a good chance he is going to surpass the 131 yards OSU has thrown for the last two years combined against the Illini.

2. Ohio State's defense must crank it up a notch. Giving up 20 points to Eastern Michigan is bad enough, but giving up a pair of long, sustained drives of more than 70 yards is inexcusable...Tressel raved about Illinois redshirt freshman quarterback Nathan Scheelhaase, but look for the Buckeyes to throw a lot of coverages and blitzes at him to try to force mistakes.

1. Prediction: Ohio State enters the game as a 171/2-point favorite. This is the first road trip of the season, but the Buckeyes are an experienced group and will play like it. The offense will click and Scheelhaase will make some freshman mistakes. Ohio State 34, Illinois 13. .."





No. 2 Ohio State (4-0) at Illinois (2-1): The Buckeyes hit the road for the first time this season and face an Illinois team that will be healthier following a bye week. Two improved units clash as Pryor and the nation's No. 8 offense go up against an Illinois defense that has made strides under new coordinator Vic Koenning.

Source: ESPN



Up next: Illinois (2-1), which had a bye Saturday headed toward the Big Ten opener. Whether this Illinois team is improved over last year remains to be seen, since its two wins were over Southern Illinois and Northern Illinois after a season-opening loss to Missouri. Freshman quarterback Nathan Scheelhaase will run or throw, and he has the nation's seventh-leading rusher Mike LeShoure (132.67-yard avg.) at his side. Oh, and the Illini are fourth in the nation in net punting (43.27-yard average).

This week's challenge: The Buckeyes not only will make their first trip of the season, but the kickoff will be at 11 a.m. in Champaign (noon in Columbus). That means a wakeup call before sunrise. The past three trips to Illinois have not been cakewalks for OSU, which needed overtime to win there in the national championship 2002 season; and escaped 17-10 in 2006 and 30-20 two years ago. Again, potholes in the Big Ten's cobblestone road can do in a team that's starts looking ahead.

Source: Columbus Dispatch





Pryor Looks Ahead to Meeting with Illini
9/30/10 Source: OSU Official Site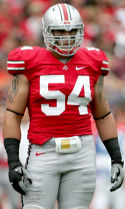 Ohio State says sack the quarterback, and Buckeyes hope Simon will follow
September 30, 2010 Source: Cleveland Plain Dealer - "John Simon can't escape his weight room reputation. Ohio State football coach Jim Tressel told the story of walking up the steps of Simon's Youngstown home on a recruiting visit, entering the front door and "there's a weight room. Not a TV set or a couch. There's a weight room. So I love those home visits."

Asked about Simon's intensity about the game, OSU co-defensive coordinator Luke Fickell said: "We always say, 'How important is the game to you?' As you simplify your life, you can become really good at the things you do. When 30 things are important to you, it's a little harder to get good at those 30 things. John probably has three or four. I'm not saying what they are, but football is one of them, and the weight room is one of them, too."...

Don Bucci has been around Cardinal Mooney football in Youngstown since 1961. He was the school's legendary head coach from 1966 to '99 and now serves as the school's athletic director..."Strengthwise, John is probably one of the top five that have played at Mooney," Bucci said Thursday. "But what separates him from all the other kids that we've had at Mooney that have become strong is his flexibility. He's got all that strength because he's a weight room nut, but he maintained that agility."...

OSU defensive coordinator and defensive line coach Jim Heacock said teams have been focusing on All-America candidate Cameron Heyward, who is sackless so far after leading the team with 6.5 last season. "They're chipping him a little bit and sliding to him a little bit," Heacock said. "That's why we need guys on the other side to do a great job making sure they're getting pressure." That obviously includes the 6-2, 270-pound Simon, a sophomore who assumes most of the same duties Heyward does, serving as a defensive tackle in some formations and a defensive end in others. He has one sack and several other hits on the quarterback that came just as the ball was released...

...the Buckeyes need him, for his strength and his athleticism. The Buckeyes have been a fraction late on some pressures, but those around him believe that if anyone can find a way to get there, it's Simon. "He's like a quiet assassin," Homan said. "He's out for blood every play." Fickell said: "If you would ask for one trait of a defensive lineman that you would want, you'd say a guy who never quits. When you talk about him, outside of all his abilities, you can say he's a guy who's never going to quit."..."



DeVier Posey Gearing Up for Big Ten Opener
9/28/10 Source: OSU Official Site
John Simon Gearing Up for Big Ten Opener
9/28/10 Source: OSU Official Site



Ohio State vs. Illinois: Key matchups
October 1, 2010 Source: The News Herald - "1. OSU defensive ends Cameron Heyward and Nate Williams vs. Illinois tackles Jeff Allen and Ryan Palmer: The Buckeyes don't have a sack this season from their defensive ends...Getting upfield pressure is nice, but cashing in with a few sacks would take some pressure off the defensive backfield.

2. OSU corners Chimdi Chekwa and Devon Torrence against Illinois' receivers: The Buckeyes gave up 208 passing yards last week...getting some lockdown performances from their senior cornerbacks would go a long way toward shutting down the Illini's offense.

3. OSU running backs Dan Herron and Brandon Saine vs. Illinois linebacker Martez Wilson: Wilson (6-foot-4, 250 pounds) is a load at middle linebacker and has a nose for contact, making 25 tackles through three games. Saine and Herron...are still trying to establish a go-to running game for the Buckeyes...

4. OSU quarterback Terrelle Pryor vs. Illinois' defense: The Illini are giving up 333 yards and 16 points per game, but they haven't seen a player close to Pryor in games vs. Missouri, Southern Illinois and Northern Illinois. Pryor didn't have a great game last year in the deluge in Columbus, so look for him to establish himself early and often against an Illini defense that is being trumpeted as resurgent, but might still be lacking..."





Peace Pipe Aside, Hostility Endures Between Former Rivals
September 28, 2010 Source: The Ozone - "It might not be Michigan, but there is plenty of history and bad blood between the Illini and Buckeyes...There was a day when Ohio State vs. Michigan was not the biggest thing in college football. In fact, it wasn't even the biggest thing in Columbus. Before the Buckeyes and Wolverines began their year-end rivalry in 1935—and more than three decades before the "Ten-Year War" between Woody Hayes and Bo Schembechler—the most anticipated game of Ohio State's season was Illinois. Having first met in 1902, only two years after the start of the Michigan series, Ohio State and Illinois began one of the longest-standing rivalries in college football. From 1914 to 2002, the Buckeyes and Fighting Illini played in 89 consecutive seasons, including 15 consecutive years (1918-1933) as the regular-season finale.

"There was a point in time where it was our longest running rivalry," Ohio State Head Coach Jim Tressel said. Michigan took over as the regular-season finale six years later, and one of the all-time great sports rivalries was born, but hostility still lingers between these two long-time rivals from the Midwest.

"That's definitely still there. Those guys come out running their mouth, but that's just how they play," OSU wideout DeVier Posey said as the Buckeyes prepare to open Big Ten play against the Illini. "We'll have to match that intensity."...

They used to smoke a peace pipe at halftime during the trophy presentation, but the rivalry has been anything but diplomatic in recent years...In 2001, the Fighting Illini beat OSU 34-22 in Columbus during Tressel's first season, but the real stinger came in 2007 when they knocked off an undefeated and No. 1-ranked Buckeye team 28-21 in Ohio Stadium. "More than anything, I think the veterans will remind them of the 2007 game," Posey said of the loss that ended OSU's 28-game regular season win streak. "Guys like Dane (Sanzenbacher), Taurian (Washington) and Grant (Schwartz) in our room, they were here for that. They understand how that felt to lose that game. We'll have to remind our younger guys how important this game is."

The two teams nearly came to blows after the '07 game, with the Illini players hooting and hollering on their way up the ramp; stopping only to taunt Ohio State fans on their way to the locker room. "More than anything, it's not about a fight, it's about matching intensity. When guys are coming out that intense so early in the morning, you have to match it or you're going to get whooped on all day," Posey said. "That's something we don't want to happens, so we'll have wake up and be focused and understand that's just what type of team they are."..."





Two improved units meet in Champaign
September 28, 2010 Source: ESPN - "There's a natural hesitation to draw definitive conclusions before Big Ten play, but it's safe to assume two things about Saturday's matchup at Illinois' Memorial Stadium. 1. Ohio State's offense is better 2. Illinois' defense is better This isn't exactly out-on-a-limb stuff.

In 2009, Ohio State finished a pedestrian 68th nationally in total offense (369 ypg) and 49th in scoring (29 ppg)...Illinois' defense was even worse, finishing 91st nationally in yards allowed (403.3 ypg), 96th in points allowed (30.2 ppg) and 100th against the pass (248.8 ypg allowed)...

Ohio State brings the nation's No. 8 offense to Champaign, a unit that comes off of a 72-point performance against Eastern Michigan, its highest points total since 1950...Illinois seems more equipped to meet the challenge than it was a year ago, when it fell 30-0 to Ohio State. The Illini have allowed just 48 points in their first three games after surrendering 49 and 53 in their final two contests last season.

"I really like the quickness," Ohio State coach Jim Tressel said. "They've always been a big, strong team. There's a couple of those guys you can see have trimmed down, and that's given them that quickness. Their pursuit is extraordinary, they fly around. They have tough kids, they play extremely hard...

...Illinois' defense...has five players ranked among the Big Ten's top 15 in tackles average. Linebackers Ian Thomas and Martez Wilson both have been sound, and defensive backs Travon Bellamy, Tavon Wilson and Justin Green are making plays..."This will be the test," Zook said, "that we'll know exactly where we are defensively."..."



SERIES RECORD
• Ohio State and Illinois will be meeting for the 97th time since the series was inaugurated in 1902. Ohio State leads the series 62-30-4 and has a 33-12 advantage in Champaign. Illinois won five in a row between 1988 and 1992. Ohio State has won five of the last six meetings, but Illinois was a 28-21 winner over No. 1 Ohio State in 2007 in Columbus. Illinois has not defeated OSU in Champaign since 1991.

FIRST AND 10
• Coach Jim Tressel (233 wins) is the second-winningest active FBS coach behind Penn State's Joe Paterno (397)
• OSU is 25-27 (.926) in the red zone this season

DID YOU KNOW?
• Ohio State is opening Big Ten play on the road for the first time since the 2004 season.
• The Buckeyes are 61-32-5 all-time in Big Ten road openers, 6-3 under Tressel.

PLAYER NOTES:
• Terrelle Pryor, who scored touchdowns rushing and receiving and also threw four touchdown passes in No. 2 Ohio State's 73-20 win over Eastern Michigan Saturday, is the Big Ten Conference offensive player of the week.
• Ohio State is 15-1 in the games in which Pryor has rushed for at least 50 yards, and 8-0 against Big Ten opponents.

• Dane Sanzenbacher tied a Buckeye record with four touchdown receptions (31, 9, 7, 8 yards) against Eastern Michigan, sharing that mark with Terry Glenn (vs. Pitt, 1995) and Bob Grimes (vs. Washington State, 1952).

NOTING THE BUCKEYES
• Through four games, Ohio State ranks first in the Big Ten in scoring offense (49.25), pass efficiency defense (100.02) and turnover margin (+2.5); second in total defense (240.25), total offense (506.75) and rushing defense (71.00); and third in the league in rushing offense (240.25), passing offense (266.50) and kickoff returns.

ILLIBUCK TROPHY
• Illibuck is a wooden replica of a turtle presented to the winner of the Ohio State-Illinois football game. The tradition began with a live turtle in 1925. Illibuck is the second oldest trophy exchanged in the Big Ten, behind the Little Brown Jug between Minnesota and Michigan. Ohio State leads the "Illibuck" series with a 58-23-2 mark.


ILLINOIS AT A GLANCE
• Illinois has fared as well against Buckeyes as nearly any Big Ten team recently, posting a 9-11 record against OSU dating back to 1988. Only Michigan has more victories over Ohio State during the span, posting an 11-10-1 record vs. the Buckeyes.

• Illinois has held Ohio State to less than 100 yards passing in each of the last two meetings.

• Senior punter Anthony Santella leads the Big Ten and is second nationally in punting with a 48.9 average. As a team, the Illini lead the conference and rank fourth nationally in net punting at 43.27 yards.

• Doak Walker Award candidate Mikel Leshoure is averaging 132.7 rushing yards per game this season, which puts him seventh in the nation and the second in the Big Ten. Overall, the Illinois rushing offense is ranked 18th nationally at 229.0 ypg.

• The Illinois defense has racked up 23 tackles for loss in the first three games (7.7 per game), which is second in the Big Ten and ranks 20th nationally.

• Illinois' defense has been stout so far, holding opponents to just 16.0 points per game and 102.3 rushing yards per game, totals that rank 27th and 25th in the nation, respectively.

• Illinois has 12 players on its roster from the state of Ohio

• Head coach Ron Zook is in his sixth season in Champaign with a record of 25-41 and his ninth overall (46-54) as a head coach. Prior to Illinois Zook spent three seasons at Florida from 2002-04 where he went 23-14. Zook was the defensive backs coach on the Ohio State coaching staff from 1988-90 under John Cooper. The Illini were 3-0 vs. Ohio State during that time, including two wins in Columbus.

TV: BigTen Network
The Big Ten Network will televise the game with Eric Collins and Chris Martin in the booth and Charissa Thompson on the sidelines.

Radio: WBNS AM-FM (1460; 97.1)
Announcers: Paul Keels (play-by-play), Jim Lachey (analysis), Marty Bannister (sideline)

Ohio State Buckeyes
Illinois Fighting Illini

2010 Totals

OOffense:
49.2 ................................ Pts/gm .......................... 25.3
506.8 ..........................Total yds/gm ........................ 359.0
240.2 ......................... Rush yds/gm ........................ 229.0
43.0 .............................Carries/gm ........................... 44.3
5.6 ................................ Yds/carry .......................... 5.2
266.5 ..........................Pass yds/gm ........................ 130.0
31.0 ............................ Pass att/gm .......................... 20.3
13.0 ......................... Yds/completion ....................... 12.2
Defense allows:
14.5 ................................ Pts/gm .......................... 16.0
240.2 ..........................Total yds/gm ........................ 333.0
71.0 ........................... Rush yds/gm ........................ 102.3
27.3 .............................Carries/gm ........................... 30.3
2.6 ................................ Yds/carry .......................... 3.4
169.2 ..........................Pass yds/gm ........................ 230.7
29.8 ............................ Pass att/gm .......................... 37.0
10.7 ......................... Yds/completion ......................... 9.2



Last Time Out: Illinois
September 28, 2010 Source: BuckeyeSports.com - "Ohio State looks to start its quest for a sixth straight Big Ten title off with a win at Illinois this weekend. Take a look back at the 2009 matchup between the Buckeyes and Fighting Illini in this edition of "Last Time Out..."..."




Game Data: Ohio State vs. Illinois
September 29, 2010 Source: Bucknuts.com - "Pertinent data, depth charts and predictions as No. 2 Ohio State visits Illinois for Big Ten opener..."



Injury update 9/30: Assistant head coach Darrell Hazell said after practice that tight end Jake Stoneburner did not work with the team. Stoneburner suffered a high ankle sprain against Eastern Michigan and he has been tweeting that he expects to be able to play at Illinois. Hazell said a further determination could be made today.

Co-defensive coordinator Luke Fickell said backup cornerback Travis Howard and backup linebacker Dorian Bell did practice. "We hope they're going to be full throttle for Saturday," Fickell said.




Tressel said Mike Adams is fine. This started last night, when Terrelle Pryor said Adams' shoulder "separated" then he changed it to "slipped out" on the play in which Adams was beaten badly and Pryor took a scary-looking hit to the knee.

Source: Columbus Dispatch



The status of tight end Jake Stoneburner, who injured his ankle against Eastern Michigan, is up in the air for Illinois on Saturday. "I'm expecting that we'll know a lot more Wednesday or Thursday," Tressel said. "He claims he'll be fine. Sometimes when you roll those ankles, you can either get back quickly or not, and so we'll just have to see how he works." Reid Fragel would start if Stoneburner can't go.

Tressel said No. 3 cornerback Travis Howard and backup linebacker Dorian Bell, who were out last Saturday with injuries, would return. That helps the special teams, and Howard's absence was noticed when starting cornerback Chimdi Chekwa left Saturday's game with back spasms and the Buckeyes went to No. 4 corner Corey Brown. Chekwa should also be fine for Saturday.

Source: Cleveland Plain Dealer



DB Nate Oliver is dealing with a hamstring injury and is also questionable.




Five Things: Ohio State at Illinois
October 2, 2010 Source: SB Nation Cleveland - "1. The first road game. The Buckeyes are 2-1 in their first road games over the past three years...Obviously, the opponent is less difficult this weekend, but how a group of 18, 19, 20, and 21 year olds react to their first road experience of the year is still never predictable...2. Where in the world is Brandon Saine?...3. The Zooker...Ohio State fans need only look back to 2007 to recognize the baffling way in which Ron Zook works, earning victories where his teams seem highly outmatched, and generally frustrating anyone who has any vested interested in anything remotely impacted by The Zooker...4. Illinois' Pistol Formation...Look for a heavy dose of it this weekend as the Illini attempt to compensate for the athletic difference between the two teams. Young quarterback Nathan Scheelhaase resembles Nevada quarterback Colin Kaepernick- the maestro of Chris Ault's Nevada Pistol offense- and the option game is a way for an offense to bridge the athletic gap between themselves and a defense...5. Terrelle Pryor. Of course, no preview would be complete with a mention of the progress of Terrelle Pryor. Going into the Illinois game last season, he was struggling to complete even 50% of his passes. This year, he is completing 66.4% of his passes and he is only 61 yards away from reaching 1,000 passing yards on the season. How long did it take him to reach 1,000 last year? Week 7, against Purdue..."




Preview: #2 Ohio State at Illinois
October 1, 2010 Source: Eleven Warriors - "If the University of Illinois had any money, Ron Zook likely would have been bought out following last year's disastrous 3-9 season...New offensive coordinator Paul Petrino left his brother Bobby and Arkansas in an attempt to make his own name and the early positive results, while not revolutionary, are evident, perhaps best illustrated by the team's perfect red zone efficiency this season: six touchdowns and three field goals on nine visits...Redshirt freshman Nathan Scheelhaase (#2), a highly touted recruit out of the Kansas City area two years ago is getting his legs under him as he begins Big Ten play with just 12 quarters of FBS football under his belt...The Illini defense, under first-year DC Vic Koenning (formerly the DC at Kansas State), is holding opponents to just 66.7% in the red zone, good enough for third in the Big Ten. That metric, along with many others is up over the first three games of the '09 campaign and indicate a group that will be a little more formidable than the one that rolled over in Columbus last year...It will be strength on strength as Leshoure and the power Illini running game goes head-to-head with the best front seven they will face all season...PREDICTION: Ohio State 33, Illinois 13..."




Ohio State (4-0) at Illinois (2-1)
September 30, 2010 Source: College Football News - "...Why Illinois Might Win: Special teams and a bend-but-don't-break defense. The Illinois D has been surprisingly fantastic in the red zone this year allowing just four touchdowns in ten opponents' trips. If field position becomes a factor, the Illini have a huge advantage in the punt return game with its special teams allowing just four yards per return and OSU dead last in the nation in punting averaging just 26 yards per shot. The Buckeye coverage teams have been mediocre, there have been too many breakdowns, and this is still a work in progress. Alright, so the Illinois return game is miserable, but the punting game is fourth in the nation and Derek Dimke hasn't missed a field goal attempt in two years going 9-for-9...

What Will Happen: Illinois will come up with a great early drive to create a buzz, and then reality will set in. OSU will score on four straight first half possessions to open it up, and the Illini will turn the ball over four times trying to bomb its way back in the game. CFN Prediction: Ohio State 38 … Illinois 16..."





Ohio State vs. Ohio Preview
September 28, 2010 Source: CBSSports.com - "...Under first-year defensive coordinator Vic Koenning, Illinois (2-1) has given up 16.0 points per game after allowing an average of 30.2 last season. Junior running back Mikel Leshoure has thrived in new offensive coordinator's Paul Petrino's system by topping 100 yards in each game - including a season-best 180 against Northern Illinois - and is seventh in rushing in the FBS (132.7 ypg)...Illinois, though, has lost seven in a row at home to Ohio State since its last win in 1991. The Illini have also dropped seven straight to ranked opponents since beating the Buckeyes, including last season's 30-0 defeat in Columbus...The Buckeyes rushed for 236 yards in that game and had 305 on the ground in their 30-20 victory at Illinois in 2008. Pryor ran for 110 yards and a touchdown in that win, and was one of three players with at least 50 yards in last season's matchup...In this game, the Illini could be without starting guard Hugh Thornton, who was arrested this weekend following a fight at a bar. The 19-year-old sophomore from Oberlin, Ohio, was not charged in the fight but admitted to using someone's else ID to get inside..."




Preview: Ohio State vs. Illinois
September 29, 2010 Source: The Buckeye Battle Cry - "...Ohio State's defense vs. Illinois' offense...Minus a decent game against I-AA Southern Illinois, Schellhaase has only completed 17 of 39 passes for 151 yards with 1 touchdown and 3 interceptions in two games. It will be a good week for the Buckeyes to iron out any lingering issues in the secondary (if there are any) and gain some confidence against a struggling quarterback. To their credit, Illinois has been effective running the ball for the most part, but without an effective passing attack to keep the Silver Bullets honest, the yards will be few and hard to come by for Zook and company. Stopping the Illinois offense will be a nice test for the Ohio State defense, especially the defensive line...Ohio State's offense vs. Illinois' defense...It will be interesting to see if Illinois continues the trend of recent opponents and tries to "Purdue" Ohio State. This (if you haven't heard me explain it before) involves loading the box and constantly blitzing on defense with the hope that Pryor makes mistakes and turns the ball over. Given that it is the first road game of the year for Pryor, I imagine that is exactly what Illinois will try to do..."




2010 Illinois Fighting Illini Game Preview
September 30, 2010 Source: Buckeye Planet - "Illinois Offensive Preview...Quarterbacks Nathan Scheelhaase (6-3, 195, FR, Rockhurst HS, Kansas City, MO)...Eddie McGee, has been converted to a receiver. So enter Scheelhaase, who also is a dual threat type of QB who can make plays in the passing game and in the running game. On the ground, he appears to be a consistent threat with decent speed and good toughness. In the passing game, he is still erratic and prone to making questionable decisions. His first start against Missouri was a disaster, completing only 9 of 23 for 81 yards with a TD and 3 INTs, though he did have 76 yards on the ground on 16 carries...Expect the Buckeyes to try and contain the pocket and force Scheelhaase to try and beat them with his arm, something he has not been particularly effective doing against FBS competition so far...Overall Offensive Analysis:..This offense is built for running the football, and the Illini have been doing that very well thus far. However as good as they have been running it, they have been equally poor throwing it, and one-dimensional offenses will have a hard time holding up in conference play in 2010...If the Illini can run the ball effectively, they can move the ball, control the clock, and stay in the game. But everything depends on that though, because they don't have many other options to compete with an elite team...Predictions..."




Ohio State-Illinois: Week 5 Preview, History Lesson, and Prediction
September 29, 2010 Source: The Bleacher Report - "...Statistically, A.J. Jenkins is the only wide receiver worth mentioning. He has 12 receptions for 190 yards and two touchdowns. Every other Illini wideout has less than 50 yards receiving...Running back Mikel Leshoure is the best player the Illini have. Contrarily, their passing game poses very little threat, although QB Sheelhasse has had some success running the ball, but, he hasn't faced a defense like OSU's either. All that being said, let's keep this short and get to the key points. Stop the run—force Illinois to pass—create turnovers—win the game. The end...Final Score Ohio State 45 Illinois 20..."




Ohio State vs. Illinois Preview
September 30, 2010 Source: The Ozone - "...When Illinois Has The Ball: Since Ron Zook came to the Illini, his teams have averaged 197.9 yards rushing per game, which leads the conference over that span. This week would ideally be no different for Zook and his Illinois offense. And why should they expect it to? After all, the Illini have averaged 185.3 yards rushing per game against the Buckeyes over their last three meetings...Ohio State brings in the fifth-ranked rush defense in the nation, allowing just 71 yards rushing per game. LeShoure will surely pose the stiffest test for the Buckeyes' defense this season. He has rushed for over 100 yards in four consecutive games. A fifth would be an Illinois record...When Ohio State Has The Ball...Illinois brings in a secondary that is still trying to figure itself out. Starting cornerback Justin Green was moved from running back prior to the season and has started all three games for the Illini so far and is fourth on the team with 19 tackles. He has tremendous speed, but with veterans like Posey and Sanzenbacher, Green is about to go to wide receiver school on Saturday..."




Ohio State-Illinois preview
September 30, 2010 Source: Associated Press - "...KEY MATCHUP: Terrelle Pryor vs. Illinois' defense. Pryor has been more patient as a junior, waiting for passing opportunities rather than tucking and running at the first hint of pressure. He's thrown for more than 200 yards every game this season and has 10 passing touchdowns. That'll test a patchwork Illinois secondary. Suppo Sanni is out for the season, while starting CB Terry Hawthorne has yet to play with a leg injury and will miss this game, too..."




BSB Opponent Preview: Illinois
October 1, 2010 Source: Buckeye Sports - "The new-look Illinois Fighting Illini serve as No. 2 Ohio State's first Big Ten opponent of the 2010 season when they host the Buckeyes on Saturday afternoon. Find out about the team's new quarterback, coordinators and a standout running back in this preview, which also includes depth charts, game results and more...For years, Illinois has talked of its depth out wide, but much of the damage this year has been done by two players in senior Jarred Fayson and junior A.J. Jenkins. The latter is leading the team in every receiving category with 12 catches for 190 yards and two touchdowns after considering a transfer closer to his hometown of Jacksonville, Fla., this offseason. A Florida transfer, the 6-0, 215-pound Fayson has eight catches for 46 yards. Described as a team leader, McGee has only two catches for 28 yards and missed the NIU game on Sept. 18 with a sprained ankle. He is expected back for the Ohio State contest. Junior Fred Sykes (6-0, 190) is the only other wideout with multiple catches, having hauled in two passes for 22 yards. Also providing depth are senior Chris James (6-0, 195), true freshman speedster Darius Millines (5-11, 180) and sophomore Jack Ramsey (5-11, 200), who has been moved back to wideout after switching over to defensive back during camp because of injuries at that position. A rash of injuries have hit the tight end spot, but the Fighting Illini might have projected starter Zach Becker (6-3, 250) back for the OSU game after the junior missed the first three games with a stress fracture in his foot. Junior Russell Ellington, a converted linebacker who made 42 tackles last year, has also missed time while recovering from a shoulder injury..."





Illinois Official site

Illinois Ohio State Game Notes
2010 Illinois Statistics
2010 Football Roster
Ron Zook, Head Coach
Ass't Coaches
Source: Illinois Official Site





Illinois' Buchanan, Thornton will play: Illinois will have two recently arrested players on the field for Saturday's home showdown against No. 2 Ohio State. Offensive lineman Hugh Thornton and defensive end Michael Buchanan both will play, although they won't start, a team spokesman tells the Chicago Tribune. After starting the season opener against Missouri, Buchanan missed the last two games after a DUI arrest on Sept. 5. Thornton, who suffered a scary neck injury against Northern Illinois but was released from the hospital the same day, was arrested last weekend following an incident at a Champaign bar.

Source: ESPN







Five things that need to happen for the Illini to beat Ohio State
September 30, 2010 Source: Hail to the Orange - "...1. Mikel LeShoure has a career day running the football...2. Nathan Scheelhaase stretches the field...3. The Illini finally get some turnovers...4. Don't let Pryor beat you with his legs arm .... minimize what Pryor can do: If the defensive line can both successfully contain Pryor from the outside and pressure him up the middle (Liuget, I am looking your way) they might be able to disrupt Terl enough to keep him from making the explosive runs he is known for. On the other hand, if a lineman can break through for a sack, he can't beat you with his arms or his legs...5. Special teams magic. Along the lines of the interceptions, a punt return for a TD, kickoff return for a TD, or blocked punt would have a huge effect on the outcome of this game. Scoring at all without having to face the OSU defense is a major advantage..."




Illini look to contain Pryor, upset No. 2 Buckeyes
September 30, 2010 Source: DailyIllini.com - "...Likely the biggest challenge for the Illini is the one they will face this weekend, as No. 2 Ohio State will make the trip to Champaign. The Buckeyes are led by junior quarterback Terrelle Pryor, who Illinois head coach Ron Zook called "arguably the best player in the country." While Pryor's ability to play quarterback has been questioned in the past, the former Rivals.com No. 1 recruit has played so well this season that many consider him a Heisman Trophy candidate. That evolution can be attributed to a different mindset, Zook said.

"The biggest (difference) I would say is the way he's throwing the football. He's throwing the football 20 percent more," Zook said. "Terrelle has enough confidence in his ability, he's going to sit back. He can throw deep, he can throw short, he can throw touch, he can stick it in there, and I think they're allowing him to do that."

When we get ready to play Ohio State, we're not just getting ready to play Terrelle Pryor," linebacker Nate Bussey said. "We're getting ready to play their running backs, their offensive line, their receivers. They always have good players, not just one," Bussey added. Despite facing one of the best offenses in the country, Bussey thinks the best strategy for containing the Buckeyes' multitude of weapons is just to keep it simple and focus on one at a time. "Our defensive scheme, our philosophy this week, is to tackle the ball carrier," Bussey said. "Whoever that may be is who Illinois is going to tackle."..."







Ron Zook Weekly Press Conference Transcript
September 28, 2010 Source: Illinois Official Site - "...On (QB) Nathan Scheelhaase's Development: Jeff George called me and he and I were talking. Here's a guy that I have ultimate respect for. I tried to recruit him when I was at the University of Tennessee when he was coming out of high school, I coached him in the National Football League, I've seen him out here throwing - the guy can still play. Jeff and I talked about that (Scheelhaase) because, once again you can't buy experience, and it's something that you have to go through. You look at Terrelle Pryor, you look at him now compared to as a freshman, he is a completely different player. He had the same abilities and athleticism and so forth 2 years ago, but this year he's different and Nathan will be as well...

Have you talked to the team about the 2007 victory over Ohio State? I don't think it pertains to this game. That's a memory that the guys that were there will always remember and cherish. It's going to take a great effort. It's going to take a great effort from everybody for 60 minutes. I think that if there's any one thing it does prove, it's that they can win this football game. If you go back, in 2006 we played them fairly tough. Even last year, even though the score was 30-0, going into the fourth quarter we couldn't get anything going on offense. And that was a little bit to their credit, their defense, which is obviously a great defense again this year. We didn't get the things done on offense that we needed to get done..."




Can Mikel Leshoure conquer Ohio State?
September 26, 2010 Source: StarCourier.com - "Hidden on a program that's not been in a bowl game since the Rose Bowl after the 2007 season, Illinois junior running back Mikel Leshoure is piling up the rushing yards in virtual anonymity. That would change if he could extend his streak and end one by the Ohio State defense when Illinois (2-1) hosts No. 2 Ohio State (4-0) in the Big Ten Conference opener Saturday...With 180 yards rushing against Northern Illinois, Leshoure has 100 yards or more in his last four games, becoming the first Illini runner to accomplish the feat since 1997. In the last nine games, Leshoure has 969 yards. Meanwhile, Ohio State hasn't allowed a 100-yard rusher in 27 games, a span that dates to 105 yards by USC's Joe McKnight in early 2008 and ranks second only to Alabama's streak of 35 games. Putting up a big number "would put me on a more national level,'' Leshoure said. "Just to do something against a reanked team, it opens more eyes and makes more people believe. It's the national exposure. It's hard for people to see me and see what I'm doing without having to follow Illinois football. "It would be big for me.'' The Ohio State defense knows a little bit about playing in the shadows, despite being ranked second in the Big Ten and fifth nationally in rushing defense (71 yards per game allowed). The Buckeyes are second in the Big Ten in total defense (240.2)..."


Coach Ron Zook Post Practice 9/27
Source: Illinois Official Site



Illini offense has work cut out
September 26, 2010 Source: Daily Herald - "When Ohio State arrives at Illinois on Saturday morning, the Buckeyes will bring more than the No. 2 national ranking and premier Heisman Trophy candidate Terrelle Pryor. Jim Tressel's defense owns a streak of 27 games without allowing an individual to rush for 100 yards. That doesn't jibe with Illinois bruiser Mikel Leshoure, the nation's No. 7 rusher (132.7 ypg) who's looking to set the school's post-World War II record by posting a fifth straight 100-yard effort. Considering Ohio State's streak has a longer life, the Illini are going to need to figure out another way to move the ball if they intend to shock the world in this Big Ten opener. Illinois' passing game ranks with the worst in the league, which makes it the last thing the Buckeyes expect to affect them. "If we can make them defend the pass, then they're not going to stop the run," said Illinois offensive coordinator Paul Petrino.

Illinois redshirt freshman quarterback Nathan Scheelhaase completed just 31 passes in the first three games, but Petrino blanches when asked how Scheelhaase must improve. "It's not all Nathan," Petrino said. "It's the whole offense. We've all got to get better and improve on it. That's what I told them all (last week): 'If you look at it right now, we're one of the better teams running the ball in the country. But we're nowhere near where we need to be throwing the ball - and that's all of you. When it's a pass play in practice, every single guy in here has to get better so we execute better."..."


Ohio State (4-0) at Illinois (2-1)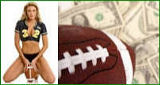 Recent Trends:

Ohio State: OHIST are 9-1 ATS vs. a team with a winning record.
OHIST are 21-5 ATS in their last 26 road games.
Under is 5-2-1 in OHIST last 8 conference games.

Illinois: ILL are 2-8 ATS in their last 10 home games.
ILL are 3-7 ATS in their last 10 conference games.
ILL are 3-7 ATS vs. a team with a winning record.
Betting Trends
for all games on Buckeyes 2010 schedule