No landline required!

The Winners Manual
by Jim Tressel

What It Means
To Be A Buckeye
by Jim Tressel

The Rivalry
Now available on DVD!



| | |
| --- | --- |
| | The (red) story links, or the 'read more' graphic, will open new (pop-up) windows to the source of the article, audio or video, so you can read/hear/see the rest. If your browser is set to block pop-ups, please set it to always allow them from our site. You will not get any annoying advertising pop-ups, of any kind, generated by this site...ever. |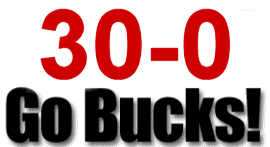 | | |
| --- | --- |
| ILLINOIS vs. OHIO STATE | |

Two years ago, Illinois frustrated top-ranked Ohio State in a stunning upset at Ohio Stadium. The Buckeyes' defense never gave Juice Williams and the Illini a chance to even start dreaming of another victory in their return to the Horseshoe. Watch the game highlights.








Ohio State defensive tackle Todd Denlinger said: "It feels great to shut them out. Illinois has a high-powered offense, and we knew we had to take the game out of Juice's hands. He's a great player and he killed us in 2007."


Buckeye Defense Posts Back-to-Back Shutouts for First Time since 1996 with 30-0 Win over Illinois
September 26, 2009 Source: OSU Official Site - "Ohio State defeated Illinois, 30-0, Saturday to retain the Illibuck Trophy for another year as tailbacks Dan Herron and Brandon Saine combined to rush for 156 yards and the Ohio State defense forced three interceptions and limited the Illini to just 170 yards in marking the team's second-consecutive shutout. It was the first time the team had back-to-back shutouts since 1996.

"When your defense can throw another shutout, it makes it a heck of a lot more fun," Jim Tressel, Ohio State head coach, said. "We talked all week about playing fast, especially on offense and defense, coming out and getting after it and also playing very focused. There was talk all week long about how bad the weather was going to be and all this and that and we continually talked about the fact we've got to be focused regardless of conditions, delays, lightning, six-hour game, whatever. We had to stay in it and I thought our kids really did a good job focusing. The run game was called upon when those conditions got horrible and I thought they delivered. In the second half we got to throw a little bit, but our defense was playing so well. I thought our kids came out of the gate in the Big Ten the way you should."

Illinois, 1-2 on the year, had won three of last four games in this series in Columbus, including a stunning 28-21 win over No. 1 ranked Ohio State in 2007. But on a gray, muggy day, Ohio State controlled the action despite just 82 passing yards. The team rushed for 236 yards to notch its third win of the season against just one defeat.

Saine rushed for 81 yards, two shy of his career best, and Herron rushed for 75 yards and two touchdowns. Both totals represented season highs. Terrelle Pryor added 59 rushing yards on a day where he threw just 13 times and completed eight for 82 yards and a late touchdown to Dane Sanzenbacher, who had 36 yards on three catches on the day.

Juice Williams, who had led Illinois to 815 yards of offense in the past two games vs. Ohio State, managed just 77 passing yards and 18 yards rushing against a stout Ohio State defense that was led by Kurt Coleman with nine tackles, Brian Rolle with eight and Thaddeus Gibson and Doug Worthington with a career-high seven each. Rolle had an interception, along with Jermale Hines (the first of his career) and Lawrence Wilson (his first since Sept. 6, 2008 vs. Ohio). As a group, the defense had eight tackles for a total loss of 41 yards... ..."

Scoring Summary, Team Statistics, Individual Statistics, Drive Chart, Defensive Statistics, Game Participation, Play-by-Play
Postgame Notes From No. 13 Ohio State vs. Illinois
Postgame Quotes From No. 13 Ohio State vs. Illinois






Bucknuts TV: Tressel After Illinois Win



Postgame Press Conference Transcript (No. 13 Ohio State vs. Illinois) Source: OSU Official Site



Sweet Victory Dance: Some wins are better than others. For the OSU football team, the win over the Illini was an important one for a lot of reasons, but mostly because of the loss in 2007. The Buckeyes were elated after the game. "I've never seen the locker room so excited after a game," said defensive lineman Todd Denlinger.

The post-game celebration included a locker room jump around that included none other that Jim Tressel. "Coach Tressel got fired up after the win today. He was pretty excited. He was down there dancing. I thought he had a lot of fun today," said OSU quarterback Terrelle Pryor. Pryor elected not to elaborate on Tressel's dancing skills.


IT WAS OVER WHEN: Illinois couldn't move the offense farther than the Ohio State 29 in the first two quarters.

THE PLAYS: 1) With Illinois threatening to score, LB Brian Rolle's first-quarter interception at the OSU15 and 39-yard return, which stopped the Illinois' drive, changed momentum and led to Ohio State's first points, a field goal. 2) In the 3rd quarter, Lawrence Wilson jumps up and tips Juice Williams's pass into the air and then intercepts it at the OSU 36.

GAMEBALL GOES TO: Ohio State's defense. For the second straight game, the Buckeyes' D has shut out its opponents.

THE STARS: The offensive line of Mike Adams, Justin Boren, Michael Brewster, Bryant Browning, J.B. Shugarts -- and don't forget tight end Jake Ballard. On a day for mudders, the maligned group went four-wheel drive on the Illinois defense.

THE STAT: 0: Saturday marked the first time the Buckeyes did not allow a sack since Nov. 15, 2008 at Illinois.

THE STAT II: 82. Ohio State's success came on the ground. The Buckeyes recorded just 82 passing yards, seven in the first half. (Illinois had only 88 yds passing)

THE STAT III: OSU 59 plays, 5.4.avg; Illinois 63 plays, 2.7 avg

THE STAT IV: 2: That's two straight shutouts by the Ohio State defense. That hadn't happened since 1996.

THE STAT V: 7: Jr Thaddeus Gibson tied a career high with 2.0 tackles for loss. He finished with a career-high seven tackles.

THE STAT VI: 6: Senior kicker Aaron Pettrey connected on a 50-yard field goal in the first quarter, his sixth field goal of 50 yards or more in his career and his second of the season. He tied his career high with three field goals against Illinois.

AUSTIN SPITLER, SR LB SAID IT: On Brian Rolle's interception "It was huge for us. It was a definite momentum changer. We were able to get the ball middle of the field and take away a big opportunity from them."

THE MISMATCH: Ballard vs. whomever he cracked in the hole from time to time on that new wrinkle of a running play probably best called the Wham.

NUMBERS FOR DUMMIES: 5 - Sacks by Ohio State's defense.

NUMBERS FOR DUMMIES II: 12:25 - Time remaining in third quarter when Ohio State completed its first pass

NUMBERS FOR DUMMIES III: 1996 - Last time the Buckeyes defense had back-to-back shutouts (Minnesota 45-0; Illinois 48-0)

NUMBERS FOR DUMMIES IV: 500 - Coaching wins for the Tressel family; Jim (221), his father, Lee (155) and brother Dick (124)

NUMBERS FOR DUMMIES V: 51 - Consecutive crowds of 100,000 or more fans at Ohio Stadium, including 105,216 on Saturday.

COACH ZOOK SAID IT: On Ohio State's defense: "We were able to move the ball throughout the day. They weren't letting Juice Williams run the ball, but they weren't the whole reason we played lie we did today."

ILLINOIS' JOSH BRENT, JR. DT, SAID IT: On the shutout: "You remember this feeling in your heart. You never want to feel it again. We were definitely focused. I give credit where credit is due. Ohio State flat out beat us."

ONE-LINER: Two passes in the first half? Woody would have hated this modern offense.

BEST SOUVENIR: Business was brisk at the Ohio Stadium stands selling plastic red ponchos for $5 a pop.

As heard from a stadium usher: "And they paid money for those seats." -- in reference to waterlogged fans

As heard from a waterlogged fan: "I weigh about 40 pounds more than I did."

THE VIEW: How the team sees it: With a defense like ours, Richard Pryor could be our quarterback.
How the pollsters will see it: The Big Ten is a Big Ton of Blah. Nice shutout, though.
How Buckeye Nation will see it: Still too many field goals, but three points might win us some games.

TRANSLATING TRESS: What he said: "I don't know any more than you do."
What he meant: "But I'm not miserable like you are."

PREGAME BUZZ: Illinois had won three of the past four in Columbus, so recent history was on the side of the Illini. And that's exactly what the orange and blue quickly became against the Buckeyes: history.

JUST WONDERING: How long before Lawrence Wilson auditions for Dancing With the Stars?

FIGHTING MD: Notice those patches on the shoulders of the coaches' jackets? The lime green football in a square heralded an initiative by the American Football Coaches Association called "Coach to Cure MD." Coaches at all levels wore the patches to raise awareness and research funding for Duchenne Muscular Dystrophy, the most prolific genetic killer diagnosed in childhood.

WORKING THE BUGS OUT: The new closed-captioning on scoreboards is a nice touch, but at one point this message appeared: "Tackle by Austin Spitler, Doug Worthington and Gentleman Mail." A correction quickly followed: "Jermale Hines."


(Sources: ESPN/Columbus Dispatch/OSU Official Site/Cleveland Plain Dealer/IlliniHQ.com/The Webmaster)


Source: Columbus Dispatch


Bucknuts TV: Captains After Illinois


Buckeyes rout Illini, but Pryor is still stalling
September 27, 2009 Source: Sporting News - "...Maybe Tressel has grown to understand what so many see but won't say: A season and a third into his college career, Pryor shows his flaws as much as his flash. He's still figuring out the basics of playing quarterback at this level, still struggling to gain his coaches' trust as a pocket passer. Mostly, he's inconsistent, maybe the worst sin a Jim Tressel-coached player can commit.

Look at the macro. Through his first 14 quarters this season, he had completed 42 passes, good for three per period. And his four touchdown passes were offset by four interceptions, including one that gave USC a layup touchdown in the Trojans' 18-15 victory here two weeks ago. Those don't sound much like championship numbers.

Some of this is Pryor's fault -- he needs to do more with his chances, however limited. And some has nothing to do with Pryor -- he entered college knowing he'd be measured in Heismans and championships, expectations few college football players face. He won't meet that standard through athleticism and development alone..."



The Buckeyes held down Illinois without starting linebacker Ross Homan for the final three quarters. Rewatching the game, you can see he was obviously staggered after banging helmets with teammates Kurt Coleman while making a tackle on Illinois' second offensive play. He played the rest of the first quarter, but was replaced by Austin Spitler in nickel situations and sophomore Andrew Sweat in the base defense over the final three quarters. Homan's injury is as-yet undisclosed.

According to OSU defensive coordinator Jim Heacock, Sweat performed very well in his call to action."It was critical today," said Heacock of Sweat's performance. "Andrew has really come on probably the last two weeks. He's young and probably hasn't played much but the last two weeks he's really come on and is getting some confidence and making some plays. He was really critical on a couple of the sacks because he did a great job of re-routing the receiver. He did a good job."

(Source: Cleveland Plain Dealer/The Ozone)



Offensive line, new plays lead to victory
September 27, 2009 Source: Columbus Dispatch - "Linemen, backs say misdirection part of success...the offensive line, especially center Mike Brewster and left guard Justin Boren, were pushing away at the Illini defensive interior while quarterback Terrelle Pryor and running backs Daniel Herron and Brandon Saine worked behind them on misdirection plays. "I felt they opened it up a lot bigger, and gave us a lot more running lanes today," said Herron, who rushed for 75 yards on 14 carries and scored two touchdowns. "I think the misdirection just helped open things up," Brewster said. "I really liked all the play calls." Boren said the success came "against what I think is a really talented and good defensive front. We knew if we could block them, we had a dang good chance of winning the football game..."

And now a peek at life on the offensive line: After the Buckeyes called a screen to tight end Jake Ballard on the final drive, left guard Justin Boren, according to center Mike Brewster, gave the play away as he got into his stance. "We got up to the line and Boren said 'Is this 76 screen or not a screen?'" Brewster said. "I said 'Yeah, it's a screen, but I think the D lineman knows that now.'" Illinois must have believed the Buckeyes were employing psychological warfare. "Maybe the D lineman thought we were lying to him," Brewster said, "because we still got like maybe eight yards on it."

(Source: Cleveland Plain Dealer)



Rainy Conditions Dictate Mega-Adjustments by OSU Coaching Staff
September 27, 2009 Source: The Ozone - "A big part of game-day coaching is the ability to make adjustments, particularly when things unfold unexpectedly..."We had a huge game plan for today. We were going to throw the ball a lot," said Buckeye quarterback Terrelle Pryor. "That was our game plan because their corners play some kind of cover-two that leaves open a lot of sideline passes and we were going to attack that a lot, attack the flat routes, attack the corner routes and stuff like that. We didn't get a chance to because of the rain."...The decision to attack the Illini on the ground meant that the Buckeye offensive line would have to contend with the toughest part of the Illinois defense, their defensive line..."




This week we have two plays of the game. See both in the game highlights video above.

1) In the 1st quarter, photo top left, Buckeyes' LB Brian Rolle interecepts a Juice Williams' pass at the OSU 15 and then returns it 39 yards to the Illinois 46.

Coach Tressel commented after the game: "That was a huge momentum change. They came in and made a couple first downs, made a couple good plays. (The interception) set the tone for (Illinois) that it was going to be difficult to score on us."

The Columbus Dispatch had Rolle's pick was all in the eyes: "Ohio State linebacker Brian Rolle didn't pounce yesterday until he saw the whites of Juice Williams' eyes...The pick, the second of Rolle's career, deflated an Illini offense that enjoyed some early momentum by driving into Ohio State territory...Rolle...said it happened because he never took his eyes off Williams, Illinois' quarterback. "I just happened to be in a pass coverage, in my drop, where I'm playing the eyes like coach (Luke) Fickell tells me all the time," Rolle said. "I happened to be in the right place at the right time." On a rainy day that was only getting rainier, it was the jolt the defense needed, end Thaddeus Gibson said..."

The Plain Dealer's Bill Livingston wrote, Brian Rolle's September of making plays continues with key theft for OSU against Illinois, "Brian Rolle has replaced James Laurinatis, a three-time All-American, at middle linebacker. On the same day that Andy Katzenmoyer, who was responsible for seismic collisions at linebacker for Ohio State in the 1990s, was inducted into OSU's Athletic Hall of Fame, it is fitting that the defensive scheme now favors Rolle's speed and aggressiveness. Laurinaitis, by contrast, was a read and react linebacker. Rolle has already had a bigger impact in game-turning plays than Laurinaitis did in his career..."

2) In the 3rd quarter, DT Lawrence Wilson, shown in the next two photos, made an incredible play when he first jumped high to bat a Juice Williams pass into the air and then had the presence to turn and intercept the tipped ball on the Buckeyes' 36 yard line and return it four yards to the OSU 40. Wilson's interception thwarted another Illinois potential scoring drive which had begun on the Illini 24.

"I saw him kind of rolling out so I retraced my steps. I saw him passing and I got my hands up and tipped it. I grabbed it and started running and got tackled. It was a fun play," Wilson said. What was even more fun for OSU fans who saw the play was Wilson's jubilant celebration as he came off the field. It looked like two years of frustration were released in that moment. Wilson said, "I was just excited. I'm an emotional guy, I'm extremely emotional, and I was glad we got off the field. They were driving on us. I just wanted to make a play for my teammates. When I sat on the bench I thought to myself 'What did I just do?' I was in shock over what I did. My teammates were giving me a hard time the rest of the game about it. It was fun. I was excited to be out there."

Bob Hunter, in the Columbus Dispatch, in Wilson deserves memorable moment, "...Juice Williams rolled right and threw a pass that was tipped by hard-luck defensive end Lawrence Wilson. The ball seemed to hang in the air, much like the dark clouds that have stalked Wilson..."When I tipped it, I heard the crowd yelling," Wilson said. "And I ended up looking up, and I saw the ball and I'm like, ' Wow, an interception.' " "Wow" is right. Wilson made it only 4 yards before he was hit and reached the sideline. He was flailing his arms so much that some of his teammates were afraid to congratulate him..."

"He's got to be exhausted after that celebration. He could go to bed right now and sleep for two days." OSU coach Jim Tressel, on Lawrence Wilson's celebration following a third-quarter interception.

Wilson has had a tough two years. Slated to be a starter, he missed almost the entirety of both the 2007 and 2008 seasons after suffering a broken leg in the 2007 opener and then because of a serious knee injury requiring surgery in 2008.

The Chicago Tribune Chronicle today (9/27/09) featured Wilson is this article: Impact player: OSU's Wilson back after two lost years - "Ohio State's Lawrence Wilson was supposed to be the next Vernon Gholston, a dominant pass-rushing defensive end with NFL-caliber size and quickness..."

Illinois head coach Ron Zook after the game: "Everybody's written us off, and that's fine. I would, too, if I were in your shoes. We're better than we're playing. For whatever reason, we're not playing a 60-minute game, we're not playing a consistent game. We do a lot of good things, and then we shoot ourselves in the foot."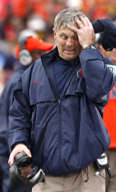 Pouring it on: Defense shows Illini who's boss
September 27, 2009 Source: Columbus Dispatch - "Under cover of a steady rain, Ohio State exacted revenge against an Illinois team that humiliated OSU in its last trip to Columbus two years ago and, before kickoff yesterday, tried to stake claim to the Buckeyes' midfield logo..."To me, it was a matter of respect. We wanted to come out and hit them in the mouth."

Ohio State did it with a vicious, bruising defense, which recorded its second consecutive shutout, the first time it had done that since 1996. The Buckeyes limited Illini quarterback Juice Williams to 77 passing yards, sacking him four times. Illinois had 170 total yards of offense. It was the first time Illinois had been shut out since a 33-0 loss to Rutgers on Sept. 9, 2006.

"Our game plan was to keep hitting them and hitting them until they fell," said safety Jermale Hines, who had one of Ohio State's three interceptions.

Illinois (1-2, 0-1) had some early success, moving the ball into Ohio State territory on its first three drives. But the first foray was thwarted when linebacker Brian Rolle stepped in front of a Williams throw down the middle and returned it 39 yards, setting up a field goal and a 3-0 lead. "That was a huge momentum change," coach Jim Tressel said. "They came in and made a couple first downs, made a couple good plays. (The interception) set the tone for (Illinois) that it was going to be difficult to score on us."

The defense continued to tee off on Williams. Lawrence Wilson tipped a pass and intercepted it, then Andrew Sweat and Doug Worthington had back-to-back sacks to end the third quarter.

Afterward, there was no dancing on logos, but there was frolicking in the Ohio State locker room. Even Tressel got in on the act. "He was pretty excited. He was down there dancing," Pryor said. "He was spinning around and doing all kinds of stuff, and we were dancing with him."..."


Buckeye defense stealing Pryor's thunder
September 27, 2009 Source: Mansfield News Journal - "...If Ohio State can win Nov. 7 at Penn State, where they've won in two of their last three visits under Tressel, the conference title could be decided one week later between the Buckeyes and Hawkeyes in Columbus. Both defenses excelled Saturday in soupy conditions at the expense of last year's All-Big Ten first- and second-team quarterbacks. Iowa picked off Penn State's Daryll Clark twice and OSU bottled up Juice Williams, limiting last year's total offense leader to 77 yards passing and 18 yards rushing, while picking him off twice and replacement Eddie McGee once...But we're getting ahead of ourselves. Once he stopped dancing, Tressel talked in cautious tones about next week's trip to Indiana, which has mostly been scout team-fodder for the Buckeyes. The Hoosiers got Tressel's attention Saturday by hanging 33 points on unbeaten Michigan in Ann Arbor.

"If you don't have focus, you might slip up," Tressel said, "but our guys love a challenge and they know the next one is a night game on the road, (with our) hotel an hour and a half from the game. I think our guys are anxious."

Co-captain Kurt Coleman had a different description for OSU's defense."We're loose," the senior strong safety said. "I don't know if you can tell, but we've just joking around most of the time, flying around. We rely on each other to do a good job. If we each take care of our jobs, good things will happen."..."




10 Things We Learned from the Shutout of Illinois
September 27, 2009 Source: The Ozone - "10. Illinois can talk the talk, just don't ask them to walk the walk...

9. This was likely the last trip to Columbus for Ron Zook...Illinois could be staring at a 1-3 start unless they can upset Penn State next weekend. Patience has to be wearing thin in Champaign and if things don't change quickly, Zook won't be around when they return to Columbus in 2011.

8. Juice Williams was a one-hit wonder...(he) is simply not the dynamic playmaker he is made out to be. His offensive line was not good today, but neither was Juice...

7. Something different is going on with the play-calling. Whether it was Jim Tressel or Darrell Hazell calling the majority of the plays Saturday, it's obvious something has changed with Ohio State's playcalling since the loss to USC...

6. Lawrence Wilson still has gas in the tank...for the first time in a long time, he looked like Lawrence Wilson out there today and not just on the interception. While that was certainly the highlight of the day for him, he made a number of nice plays out there and could boost an already stellar defensive front.

5. Aaron Pettrey and Jon Thoma help Tressel sleep peacefully. The Buckeyes lost both their kicker and punter in the off-season, yet haven't missed a beat at either position this season...

4. Adams and Shugarts will solidify the future of the offensive line...Certainly this doesn't put an end to the question for OSU up front, but it was a good sign on a day where Mike Adams and J.B. Shugarts started as the two bookends on the offensive line.

3. OSU defensive line can do it against Big Ten offensive lines too...This group goes eight or nine deep without a drop-off and they have made life easy on Ohio State's inexperienced secondary so far this season.

2. Brian Rolle just makes plays...Not only is he fast, but he's smart too and always seems to find himself in the right place at the right time. He also gives the Buckeyes something they haven't had in years past: a linebacker who can beat anyone to the sideline.

1. Ohio State's running back committee has a leader, and it's not Jordan Hall...That distinction belongs to none other than Brandon Saine. Take nothing away from Herron, who has five rushing touchdowns in four games, but watching Saine carry the ball today only confirmed the notion that he is the most complete back on Ohio State's roster..."




Online Poll: What grade do you give the Ohio State football team's performance vs. Illinois?: 14% A, 43% A-, 38% B, 5% C

Source: Columbus Dispatch



The Bottom Line
September 27, 2009 Source: Columbus Dispatch - "Offense (3 leaves) Balance, schmalance. Who needs a passing game when the run is that effective? ...

Defense (5 leaves) Simple math: Zero points allowed equals five leaves. Impressive: Illinois started in or drove into Ohio State territory six times, yet never ran a play closer than the 29. More impressive: Juice Williams, he of the four TD tosses in '07, had one completion longer than 10 yards and averaged 3.1 yards per throw.

Special teams (3 leaves)...Aaron Pettrey's two long field goals in the first half kept the vibe going when misses could have been emotional downers.Opponent (2 leaves) The Ron Zook "supporters" certainly aren't going to be calling 1-800-FLOWERS after that performance. Maybe 1-800-GOTJUNK...

Coaching (4 leaves) Bows all around for the defensive brass -- those dogs are playing like they're denied food all week. Gold stars, too, for the offensive adjustments; forgoing the I formation must have felt all wrong, but it sure looked nice. As for the TD in the final 90 seconds: Bravo. Hammer down. Over and out.

Officiating (3 leaves) What's the deal? Is this "Be Kind to Zebras Week" again? No, it just seems like the striped shirts are avoiding troubling mistakes -- so far. ..."



Handing out the grades for OSU-Illinois:
September 27, 2009 Source: Cleveland Plain Dealer - "A: Ohio State defensive coordinator Jim Heacock: ...Heacock has taken some heat in recent years when the defense hasn't played its best, so he deserves credit now for a team that has given up one real touchdown drive in the last three games..."I don't need feathers in my cap," Heacock said when asked if the consecutive shutouts represented a milestone for him...

A: The release of punter Jon Thoma: That means release as in release from his household prison. The senior was back with the Buckeyes, averaging 38.3 yards on three punts in Saturday's win in the rain...

D: Terrelle Pryor throwing across his body: It was a strange day for Pryor, who didn't threw just two passes in the first half and didn't complete his first pass until three minutes into the second half. Directing the running attack was his primary job...Yet Pryor continues to work on his risk-reward balance. After throwing four interceptions in his first three games, he didn't throw one Saturday, but he nearly had one picked as he rolled to his right and then tried to throw back to his left near the goal line, with an Illini defender in position for the interception. He's done that before this season, floating in the red zone and trying too hard to make a play on a pass...

F: Illinois' interceptions: Starting quarterback Juice Williams threw two, to Brian Rolle and Lawrence Wilson, and backup Eddie McGee threw another to Jermale Hines at the end of the game...




PREGAME FESTIVITIES: All week, Ohio State's players said they weren't playing for revenge. But, at the same time, it's clear that they never forgot what happened two years ago against Illinois. The Illini held the ball for more than 8 minutes at the finish to preserve a 28-21 lead to stun the top-ranked and unbeaten Buckeyes, 28-21. Then the Illini celebrated at midfield, an act that many Buckeyes saw as disrespect. They felt that the Illini were stomping on the Block O logo.

Saturday, before Ohio State could even go through warmups, Illnois was ready to throw down. As the Buckeyes took the field for pregame, the Illini stormed to the 50-yard line trying to provoke the Buckeyes. No fighting ensued and teams were quickly ushered back to their halves of the field.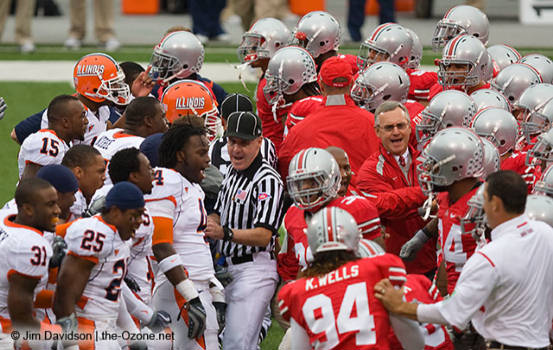 Paper Tigers
September 27, 2009 Source: The Ozone - "There was a pregame incident which involved the Illini interjecting themselves into OSU's huddle at the 50-yard line and then trying to stomp on the Block-O at midfield. That bit of pregame bravado backfired on the Illini as it fired up the Buckeyes and the Illini were not able to backup their pregame intimidation. No wonder, because the OSU coaching staff had made sure all week that the Buckeyes remembered Illinois' last stomping of the Block-O.

"I watched it on TV," said OSU center Mike Brewster who was not on the OSU squad in 2007. "They played it in the locker room all week. I probably know every play in that game and the end of it and everything that happened. I wasn't even here but I just felt the emotions run through me." When the Illini came out to midfield before the game, those emotions got tapped.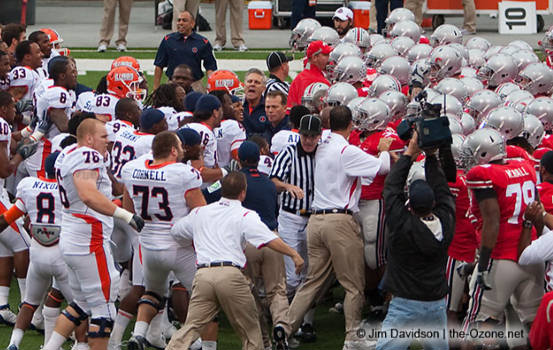 "We were going to protect it. That's our Block-O. No one can disrespect us, that's for sure. I'm glad we went out there and took care of business," said Brewster.

Brewster also felt that the Block-O incident had something to do with Jim Tressel's decision to tack on a late touchdown to the final score, and Brewster was glad of that decision. Brewster said: "We all remember what happened in '07, stomping on the Block O. I didn't want them to get away with a field goal on that last drive. I wanted us to put it in and send a message that this is our house and we're going to protect this house and you're not going to come in here and disrespect us. I was happy when coach made that call. I thought we played well today. They played hard but I think maybe we out-schemed them a little bit."




Fan Comments: "It is called discipline. What in God's green earth would give these losers the right to try and taunt Ohio State, on their own field, prior to the game."

Source: Champaign News-Gazette








Zook 'responsible' for loss as the Illini offense, defense struggles
September 28, 2009 Source: Daily Illini - "...In the loss, nearly every facet of the Illini's game plan struggled, including a defense that allowed 236 rushing yards. "We have to go back to the drawing board and find out what's going on," co-defensive coordinator Dan Disch said of the Illini defense...Since upsetting the then-No. 1 Buckeyes with a 28-21 win at Ohio Stadium in 2007, the Illini have gone 7-10, including eight losses by 10 or more points..."


| | |
| --- | --- |
| | "It was a nightmare. It was like one of those dreams when you can't wake up." Illinois QB Juice Williams |



No contest: Buckeyes crush impotent Illini 30-0
September 27, 2009 Source: Chicago Sun Times - "Illini fall flat at scene of big 2007 victory; Zook insists team 'much better than this'...In Hollywood terms, the Illini have gone from ''Lethal Weapon'' to ''The Gang That Couldn't Shoot Straight,'' and they have done it faster than a speeding bullet. What's the deal? ''That's a good question, a question we need to answer,'' said quarterback Juice Williams, who has no touchdowns in three games after throwing for 22 last season. ''It's like a nightmare you can't wake up from. But it's happening, and we have to do something about it.''..."




Zook on Sunday: Mum's the word
September 27, 2009 Source: Champaign News-Gazette - "Ron Zook didn't announce position changes during his Sunday teleconference. And Zook said he doesn't plan to make any announcements. "Obviously, we're going to continue to evaluate this thing," Zook said. "If those are some things that we feel like we need to do, then that's what we're going to do. I can assure you of that. I'm not going to sit here status quo. "I'm not going to discuss any changes with any position right now. I don't think you make hasty decisions. If you do make a decision with a position, you go with it." Illinois quarterback Juice Williams struggled in Saturday's 30-0 loss to Ohio State, throwing two interceptions and completing 13 of 25 passes for 77 yards. It was the first time the Illini had been shut out with Williams as the starting quarterback. "It's not all Juice," Zook said..."




Upon Further Review: Illinois was as miserable as the weather
September 27, 2009 Source: Champaign News-Gazette - "The Illini showed a lot of fight during pregame warmups, but not much once the ball was kicked. Illinois and Ohio State players engaged in a shouting match with a little bit of shoving at midfield before being separated and retreating to their respective sides of the Ohio Stadium turf. Perhaps that energy should have been bottled up and saved for when it counted...

If Ohio State wanted to, it could have gone the entire game without throwing a single pass and still won 30-0. So why were the Buckeyes throwing the ball on fourth down leading 23-0 late in the fourth quarter? I agree with not kicking a field goal, too much can go wrong. But run the ball and score. That's OK. If you don't score, Illinois has to cover 96 yards in less than 90 seconds to get on the board. There was no hidden agenda behind his move, Ohio State coach Jim Tressel said. "That was the decision we made and, no, I don't think it was to send any message because we don't – the next teams we play are different teams and a whole different set of circumstances."..."








Top 10 things to watch: 6. Can Ohio State stop Illinois' spread offense?
September 26, 2009 Source: ESPN - "The Buckeyes bounced back from a disappointing 18-15 loss to USC by blasting Toledo 38-0 last week. Quarterback Terrelle Pryor had his most complete performance against the Rockets, running for 110 yards and one touchdown and passing for a career-high 262 yards and three scores.

The Buckeyes should be more confident entering Saturday's Big Ten opener against Illinois (ABC, 3:30 p.m. ET). Ohio State's defense might be tested by the Illini, which stunned then-No. 1 OSU 28-21 in its last trip to the Horseshoe in 2007. Quarterback Juice Williams should be back from a strained quadriceps, but the Illini will have to run the ball well against a stingy Buckeye defense. ..."




Four Downs: Doug Lemerises' take on what to watch when the ball is snapped
September 25, 2009 Source: Cleveland Plain Dealer - "First down: Sirod Williams, Illinois defensive tackle: ...Williams is one of 14 Ohio players on the Illinois roster. He's also part of an experienced Illinois front, with three seniors and a junior, that needs to both pressure and contain Ohio State quarterback Terrelle Pryor...

Second down Chimdi Chekwa, Ohio State cornerback: ...With speed enough to land him on Ohio State's 400-meter relay team, Chekwa easily ran with Toledo receivers whenever he was tested last week. But the Toledo receivers aren't close to Illinois receivers Arrelious Benn (second in the Big Ten with 1,055 receiving yards last season) and Jarred Fayson (89 receiving yards in two games after transferring from Florida). Benn, in particular, is threat to turn any short pass into a major gain....

Third down, J.B. Shugarts, Ohio State right tackle:..When he didn't jump ( three false start penalties against Toledo), Shugarts, as expected for any lineman in his first start, was beaten on some other plays. The test now is how much he improves in his second career start, as the Buckeyes are expected to again play seven offensive lineman...

Fourth down, Juice Williams, Illinois quarterback:...Williams gets fourth down because fourth down secured the Illini's win in Columbus two years ago. Williams helped persuade Ron Zook to go for it on fourth-and-1 from the Illinois 33-yard line...The main difference from 2007 is the perception of the Illinois passing game. The Buckeyes now know Williams can throw..."




Defense grows dangerous
September 26, 2009 Source: Columbus Dispatch - "It might be time to start focusing on who this Ohio State defense has rather than who it's missing. The star players of 2006, 2007 and 2008 -- James Laurinaitis, Marcus Freeman, Malcolm Jenkins -- are gone. Those players were on the defensive unit that gave up 260 yards rushing and four touchdown passes to Illinois in a 2007 loss. Those players helped give up 214 yards rushing to the Illini last season, although the Buckeyes won.

When Illinois (1-1) visits Ohio Stadium today, it will face a defense that is playing with rare energy and passion.Forget the numbers. Ohio State (2-1) actually is ranked lower defensively than in recent years -- 24th nationally in scoring defense and 31st in total defense...

But just watch them play. See how relentlessly the defensive line pressures the quarterback. Observe the linebackers pursuing. Watch the cornerbacks turn and run with receivers stride for stride. Most important, watch them celebrate together. There's something intangible about this defense.

"We're really playing as a unit; we don't have any big names this year," defensive lineman Doug Worthington said. "We're a no-name team, but we're a hungry defense. When you have a front four with a hunger, that's eager and wants to play, and then you have guys who can cover, it gives you energy. "It feels fun. Football is fun, and you can feel the energy."...

They will have a challenge today, as numerous coaches and players have said they think Illinois has as good a group of offensive skill players as they have seen. But the Buckeye defenders also like their chances, not because of any scheme or breakdown of the X's and O's, but because of their fire. They're feeling it.

"They've got some confidence," OSU defensive co-coordinator Luke Fickell said. "They're running around; they're having some fun. And that's the key. That's what we've got to remember about this game -- it's about having fun."..."


This week is the first game in which sophomore QB Terrelle Pryor can watch himself on film against an opponent from last year. Throwing the ball this week might be advised. The Illini defense is ranked 119th in the nation (second to last) in pass defense, allowing an astounding 339.5 yards passing in their two games so far. And this isn't just from their blowout loss to Missouri, because Illinois State actually threw for more yards than Missouri did.

(Source: Cleveland Plain Dealer & The Ozone)


Illini focus on containing Ohio State's quarterback
September 26, 2009 Source: St. Louis Post Dispatch - "To create the most accurate duplication of Ohio State quarterback Terrelle Pryor for scouting purposes, Ron Zook said he would need to do a little lab work along the lines of Dr. Frankenstein..."The thing about Terrelle is that he's a hard guy to simulate,'' Zook said. "He runs really fast and he's really strong and he's big. It's hard to prepare for a guy like that because you don't want to beat your guys up by trying."...

Illinois tends to have trouble with big, mobile quarterbacks, and last year's meeting with Ohio State was an example. Pryor passed for only 49 yards, but he rushed for 110 and a touchdown. "He's like a freak athlete,'' Illinois defensive end Clay Nurse said. "You look at him and he looks almost like he's built. You just don't see those attributes in one person. He's getting better throwing the ball, and believe it or not he's getting better at running the ball. The way he eats up green is ridiculous."..."



Pryor takes aim at decades-old standards for rushing by QB
September 25, 2009 Source: Lima News - " It's only three games into the season, but Terrelle Pryor is Ohio State's leading rusher. The last time a player at least nominally designated a quarterback led Ohio State in rushing for the season was when Les Horvath did it in 1944. Pryor's 631 yards rushing last season, which ranked second on the team behind Chris Wells, was the most by an OSU quarterback since Cornelius Greene ran for 842 yards in 1974.

Would Ohio State coach Jim Tressel be satisfied if his quarterback was his leading rusher at the end of the season? "How many yards will it be?," the OSU coach asked. When a figure of around 1,000 yards was thrown out, he said, "Close to 1,000 yards and he's our leading rusher? I'd need a little more total offense than that." Part of the reason Pryor is the leading rusher with 176 yards is the absence of a dominant running back. Dan Herron has gained 158 yards and Brandon Saine has 100 yards rushing..."




Austin Spitler and Chimdi Chekwa talk about the upcoming game against the Illini.
Source: CoachTressel.com



The experts for the Illinois game this week were Wide Receivers Coach Darrell Hazell for the offense and Linebackers Coach Luke Fickell for the defense. Each coach was interesting enough to get their own video! If you like the finer details of football, you'll want to watch these:




Ohio State assistant gets bigger role in offense
September 25, 2009 Source: Canton Repository - "The keys to the Ohio State offense are always in Jim Tressel's pocket. That doesn't mean he doesn't hand them over for a test drive every now and again. Buckeyes wide receivers coach Darrell Hazell called some of the plays during Saturday's win over Toledo, and Tressel said that isn't contrary to most games.

But last week it was as evident as ever with Hazell front and center and Tressel standing about 30 yards away. Tressel, at first, played coy with reporters Thursday afternoon. He joked about the offense-by-committee approach. "'ve always said it's a committee decision, and I'm part of the committee," Tressel said. "But the ones that work, those are always my ideas, and the ones that didn't weren't. That's not true. "When things work, we're all part of the wonderment, and when things don't work, we're all part of the disappointment."

Whether Ohio State's offense was more aggressive against Toledo or whether the Rockets defense is awful is a key question. Toledo's defense is ranked 116th out of the 120 FBS schools. The Buckeyes offense will be better tested against Illinois on Saturday at Ohio Stadium, though the Fighting Illini are ranked 102nd in total defense. Tressel has always called most of the plays — or held veto rights on suggestions. His conservative offensive strategy came under attack after the Sept. 12 loss to Southern Cal.

"I've got an easy job," Tressel said. "(I ask) what do you guys want?" What Ohio State wanted last week was a lot of Terrelle Pryor. The Buckeyes made sure the 6-foot-6, 235-pound quarterback was heavily involved. He threw for 262 yards and led the team in rushing. How goes Pryor is how goes the offense..." thought he played a little more relaxed," Tressel said. " think getting that momentum helps. You hit a home run (a 76-yard TD pass to Dane Sanzenbacher on the third play) right off the bat, and the next few at-bats, you have a little confidence about you. I don't think it was perfect."..."




Bucknuts TV: Posey On UC, Illinois

VS. ILLINOIS
• When Illinois and Ohio State meet for the 96th time on Saturday, a series Ohio State leads 61-30-4, rest assured that the Illini will have the Buckeyes' full attention. Recent stats make the matchup a tossup: In the past 24 meetings, Ohio State leads just 13-11. Coach Tressel is 4-2 against the Illini.
• Ohio State has won four of the last five meetings, but Illinois was a 28-21 winner in the last game in Columbus (2007) and has won three of the last four matchups at Ohio Stadium.
• Last meeting: 2008 - Ohio State, 30-20

BIG TEN OPENERS
• Since joining the Big Ten Conference in 1913, Ohio State is 69-23-4 in conference openers
• Tressel In Big Ten Openers (7-1)

HONORARY CAPTAIN
• Former OSU Head Coach Earle Bruce will be the honorary captain for the illinois game.

4th CAPTAIN
• Dane Sanzenbacher will be the fourth captain for the Illinois game

JIM TRESSEL
• This will be his 300th game as a head coach -- 194 at Youngstown State and now 106 at OSU.
• Ohio State Head Coach since 2001
• Career Record: 220-77-2, 24th season
• At Ohio State: 85-20, 9th season
• Tressel vs. the Big Ten: 52-12
• Tressel vs. Michigan: 7-1

TOTAL OFFENSE
• Quarterback Terrelle Pryor leads the Big Ten in total offense at 263.0 yards per game
• His 372 yards of total offense against Toledo marked a career high and was the fifth best total offense game in OSU history.

OFFENSE
• Sophomore tailback Dan "Boom" Herron has scored at least one touchdown in seven consecutive games dating to last season.
BEST HOME WINNING % - LAST 6 YEARS
• 4. Ohio State 38-4 .905

BEST WINNING % AWAY FROM HOME
• 6. .714 25-10 Ohio State

FBS WINNING PERCENTAGE SINCE 1950
• 2. Ohio State .755 488W 153L 15T .656%

ILLINOIS AT A GLANCE
• Illinois is 1-1 after opening the season with a 37-9 loss to Missouri before rebounding the next week to post a 45-17 win over Illinois State in Champaign. The Illini had a bye week Saturday.
• The Illinois offense enters the game ranked 2nd in the Big Ten and 13th in the nation in rushing, averaging 247.0 per game. The Buckeyes have only allowed an average of 105.7 yards per game to date.
• Illinois has faced a ranked OSU team 36 times since 1942; the Buckeyes have won 25 times. Illinois has a 3-12 record against ranked teams under Ron Zook.

• Illinois coach Ron Zook was an Ohio State assistant from 1988-90, under John Cooper. He is in his 5th year and his record is 19-31. Saturday will be the third consecutive week where Ohio State's opposing head coach was a former Ohio State assistant.

ILLIBUCK TROPHY


Illibuck is a wooden replica of a turtle presented to the winner of the Ohio State-Illinois football game. The tradition began with a live turtle in 1925. Illibuck is the second oldest trophy exchanged in the Big Ten, behind the Little Brown Jug between Minnesota and Michigan. The trophy is a replica of the real turtle that was the prize until 1927, when it died due to the wear and tear of traveling.
OSU Notes in PDF
OSU 2009 Roster
OSU 2009 Pronunciation Guide

OSU State Depth Chart
as of September 20, 2009 Source: OSU Official Site


Buckeyes Healthy Heading Into Big Ten: Zach Domicone , a redshirt freshman safety, and Jaamal Berry, a true freshman running back, were probably a week away from returning from their respective injuries but could be ready as soon as this week. For Berry, a four-star recruit from Miami Palmetto, that might mean a decision on whether or not a redshirt is in order...Jon Thoma, who missed the (Toledo) game with the flu but was able to return to the team at the start of this week...OT Jim Cordle had his injured ankle scoped, and the damage was not as severe as feared. Tressel said he will be out at least two more games, but it doesn't sound like a long-term thing...Aaron Gant is a guy we haven't had all year and probably won't have for a while.

(Source: BuckeyeSports.com, Cleveland Plain Dealer, The Ozone)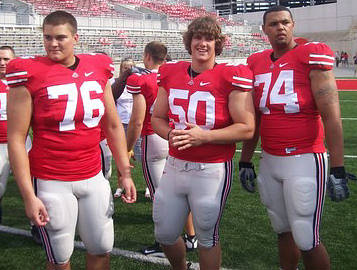 Three young linemen step into big roles
September 24, 2009 Source: Columbus Dispatch - "Block O, the student version, makes its first appearance of the season Saturday when Ohio State plays host to Illinois. The other Block O, the touted trio of blue-chip offensive linemen the Buckeyes signed in 2008, made its first extended on-field appearance last week against Toledo. "It's the beginning of something that's going to last for the next couple of years," said the trio's central figure, center Michael Brewster. "We've got to get better, but we're going to work hard at it."...

Shugarts said he is eager to live up to the billing as a member of Block O. In fact, he said, that goes for the team. "I think this team is going to play with a chip on our shoulder all the way through the Big Ten, just because of all the criticism we get, how people don't believe in us," Shugarts said. "I think we're going to bring it as hard as we can every game playing nasty, playing fierce."..."




Unpredictable Illinois brings a talented roster (as always) to Columbus to face Buckeyes
September 23, 2009 Source: Cleveland Plain Dealer - "..."I think most of the time, they're going to outmatch their opponents physically," Big Ten Network analyst Gerry DiNardo said of the Buckeyes. "They will not necessarily do that this week." That, simply put, is why Illinois has dogged Ohio State the last several years, with the Illini winning in 2007 and losing by seven points in 2006 and 10 last season. In the last three years, Ohio State has played seven conference games within a 10-point margin, going 5-2. Three games have been against Illinois, and no other opponent has pushed the Buckeyes more than once.

"I felt going into the Big Ten year that Illinois probably had as good a personnel as anyone in the league," Tressel said, "[with] the explosive ability they have over on the offensive side [and] the uniqueness they have over on the defense."...

...Rather than spending extra time on Ohio State quarterback Terrelle Pryor last week, the Illini worked on themselves, correcting their mistakes, reviewing fundamentals and, most of all, making sure they took care of their assignments...."

CLOSE CALLS

In the previous three seasons, seven of Ohio State's 24 Big Ten games were decided by 10 points or fewer. Three were against Illinois, a team that has played the Buckeyes more closely than any other team in recent years.

2006
Ohio State 17, Illinois 10
Ohio State 42, Michigan 39

2007
Ohio State 24, Michigan State 17
Illinois 28, Ohio State 21

2008
Ohio State 20, Wisconsin 17
Penn State 13, Ohio State 6
Ohio State 30, Illinois 20



Big Ten spotlight: Ohio State's Austin Spitler
September 25, 2009 Source: ESPN - "The (defense) unit faces a tough test Saturday against Illinois, which has its full complement of weapons back and comes off a bye week. Senior linebacker Austin Spitler checked in to discuss the Buckeyes' progress and the challenges ahead...What's your take on Illinois so far? They lost Arrelious Benn for their first game, didn't have Juice [Williams] for their second game. Are they hard to scout because they haven't been together yet?

AS: We have a lot of film on them. These guys on their offense have been around for a long time now, so we've played them in the past couple years and we understand they have a lot of talent. They've ran the ball on us the past couple years, so we want to try and make them one-dimensional. We have a huge test this week because of all the athletes they do have on that offense..."




Good not great: Illinois' Williams was masterful vs. OSU in 2007, but he hasn't won consistently
September 23, 2009 Source: Columbus Dispatch - "...Certainly, Williams has been through enough ups and downs as Illinois' quarterback to cause gray hair for both Illini fans and opponents. On Saturday, he returns to the scene of his most-prominent triumph. In 2007, he led unranked Illinois to a stunning 28-21 victory over No. 1 Ohio State by throwing for four touchdowns and running out the clock with several carries for first downs in an eight-minute drive...Along with Michigan State, Illinois has become the Big Ten's biggest enigma, and Williams is a microcosm of that...Illini players and coaches have been candid about the chemistry issues that contributed to last year's disappointment. Although Williams is not vocal by nature, he has embraced the leadership requirements of his position...

Despite the ugly loss to Missouri ( 37-9), the Illini remain optimistic they can be a force in the Big Ten. If they do, Williams will be the leader. "I'm not trying to compare him to Troy Smith at all," Illinois coach Ron Zook said, "but I remember the difference between Troy as a junior and Troy as a senior was immeasurable. I'm hoping he takes the same kind of strides."..."




Illini try to plug leaky defense to face Buckeyes
September 22, 2009 Source: Columbus Dispatch - "Two games into the season, an Illinois defense that ranked 56th of 119 teams nationally last year ranks 102 of 120. It is yielding more yards passing per game, on average, than all but one team. But tackle Josh Brent said he does not think his teammates' confidence, or lack of it, will be at issue as they prepare for their Big Ten opener on Saturday at Ohio State. "You're not going to win every battle," Brent said yesterday. "What you need to do is take what you can from the battles that you lose and learn from them and go into the next one using that experience to not fail again."..."






Herron still trying to gain traction
September 25, 2009 Source: Columbus Dispatch - "...Coming into the season, Herron was assumed to be the next Ohio State featured back. He was thrust into significant action in 2008 as a redshirt freshman and responded well. The coaching staff also hoped Brandon Saine was back after an injury-riddled 2008 to back up Herron and serve as an effective receiver. Three weeks into the season, though, the running backs picture has yet to settle. Herron has had most of the carries (50) but has struggled at times. He is averaging 3.2 yards a carry, with three carries of 10 yards or longer. No season rushing leader for Ohio State has averaged less than 4.0 since Rick Galbos in 1971 (3.8)..."



2009 Totals




| | | |
| --- | --- | --- |
| Ohio State | Offense | Illinois |
| 28.0 | Pts/gm | 27.0 |
| 383.3 | Total yds/gm | 436.5 |
| 162.7 | Rush yds/gm | 247.0 |
| 38.0 | Carries/gm | 40.5 |
| 4.3 | Yds/carry | 6.1 |
| 220.7 | Pass yds/gm | 189.5 |
| 27.7 | Pass att/gm | 27.0 |
| 14.4 | Yds/completion | 10.8 |
| | Defense | |
| 15.0 | Pts/gm | 27.0 |
| 288.3 | Total yds/gm | 420.0 |
| 105.7 | Rush yds/gm | 80.5 |
| 32.3 | Carries/gm | 28.5 |
| 3.3 | Yds/carry | 2.8 |
| 182.7 | Pass yds/gm | 339.5 |
| 30.0 | Pass att/gm | 43.5 |
| 11.9 | Yds/completion | 11.9 |

STATISTICAL LEADERS
(2009 averages listed)
RUSHING LEADERS (YPG)

ILL
OSU
Ford
68.5
Pryor
58.7
Dufrene
61.0
Herron
52.7

PASSING LEADERS (YPG)

ILL
OSU
McGee
100.0
Pryor
204.3
J. Williams
89.5
Bauserman
24.5

RECEPTION LEADERS (YPG)

ILL
OSU
Fayson
44.5
Sanzenbacher
80.3
Leshoure
41.0
Posey
47.0

INTERCEPTION LEADERS (total)

ILL
OSU
Ellington
1
Homan/Sweat
1
Pilcher
1
Coleman
1

POINTS SCORED (PPG)

ILL
OSU
McGee
6.0
Pettrey
8.7
Eller
6.0
Herron
6.0
Five with
3.0
Sanzenbacher
6.0

ALL-PURPOSE YARDS (YPG)

ILL
OSU
Pollard
94.0
Sanzenbacher
87.3
Ford
81.5
Saine
75.3

TACKLES LEADERS (TPG)

ILL
OSU
I. Thomas
8.5
Rolle
8.3
Edwards
7.5
Coleman
6.7
T. Wilson
6.5
Homan
6.7

TACKLES FOR LOSS (total)

ILL
OSU
Brent
3.0
Heyward
3.0
Liuget
2.5
Wilson/Gibson
2.0



Crunching the Numbers: Illinois at Ohio State
September 23, 2009 Source: BuckeyeSports.com - "With one of Ohio State's most-played rivalries on tap, there are plenty of numbers to examine. This time we look at natives of each state on each roster, all-time records and big days for total offense in anticipation of the Fighting Illini's visit to Columbus..."




Last Time Out...
September 16, 2009 Source: BuckeyeSports.com - "Ohio State begins Big Ten play this weekend when Illinois invades Ohio Stadium. Take a look back at the 2008 battle for the Illibuck trophy in this edition of "Last Time Out..."




Illinois hopes The Shoe fits again
September 23, 2009 Source: ESPN - "Arrelious Benn has a selfish reason for wanting Illinois to win another game at Ohio Stadium. When the Illini shocked the top-ranked Buckeyes in 2007, draining the final 8:09 off the clock, Benn was on the sideline, concussed after absorbing a hit. "Man, I couldn't tell you what was going on," the Illini star wide receiver recalled this week. "I had no clue. I was knocked out, I was a bit woozy. But I looked at old clips and saw Juice [Williams] told [Ron] Zook to go for it on fourth down." Williams' plea to Zook led to one of the greatest wins in team history, as the Illini beat Ohio State 28-21 and went on to the Rose Bowl. The Ohio State win was the pinnacle for both Williams, who threw four touchdown passes in the game, and Zook, who overcame struggles in his first two years at Illinois to lead the program back to a BCS bowl..."




Flashback: Ohio State vs. Illinois, 1993
September 21, 2009 Source: Eleven Warriors - "...OSU approached their road game against the Illini with considerable confidence. Surely this would be the year they broke the losing streak. They had already laid a 63-28 road whipping on the Pitt Panthers and had vanquished the visiting Washington Huskies 21-12 in a nationally televised night game. They also spanked Rice 34-7 and crushed Northwestern 51-3. ..."






Game Data: Illinois vs. Ohio State
September 22, 2009 Source: Bucknuts - "We have the pertinent info, depth charts and a prediction as Ohio State prepares to host Illinois Saturday...When Ohio State Has The Ball: The Buckeyes came out of their shell, at least to a degree, with the showing against Toledo. OSU came out strong and scored touchdowns the first three times it had the ball. The biggest thing OSU will try and do is establish the run, something it has struggled with in the first three games. The Buckeyes have averaged a modest 162.7 yards per game thus far...

When Illinois Has The Ball: We saw two years ago how tough the Illinois offense can be if Juice Williams is in complete command. He led the Illini up and down the field and they chewed up valuable clock time in pulling off that 28-21 upset of the top-ranked Buckeyes. If anything, there are more playmakers on the Illinois team now than there were two years ago. Williams has a fine stable of running backs to work with and the receiving corps – led by Arrelious Benn and Jarred Fayson – is pretty strong..."




Illinois (1-1) at Ohio State (2-1)
September 24, 2008 Source: College Football News - "Why Illinois might win: The pass rush should get to Terrelle Pryor. The Illini defense has been miserable over the first two games, especially against the pass, but Ohio State isn't going to start winging it around unless Pryor has time. While he has improved as a passer, he's not going to be allowed to take too many chances, if any, and Illinois will force him out of the pocket time and again. The aggressive Illinois defensive front will dare Pryor to take off running with the goal to make the OSU offense one-dimensional...Why Ohio State might win: The defense is coming off a gem. Actually, it's coming off of two straight excellent performances holding USC under wraps until Matt Barkley's final drive...On the other side of the ball, yeah, Illinois will bring the pressure, but if it doesn't get to Pryor it's uh-oh time. Illinois got torched by Missouri's Blaine Gabbert and was ripped up by Illinois State's Matt Brown two weeks ago...CFN Prediction: Ohio State 27 … Illinois 16..."




2009 Fighting Illini Game Preview
September 24 Source: Buckeye Planet - Analysis and more, including: ...The Illini have won 3 of the last 4 contests in Columbus (and 7 of 10), including the 2007 shocker; but tOSU has won seven consecutive games in Champaign...This team is deep and talented at the WR position, but the play is sometimes inconsistent. (Arrelious) Benn is clearly the biggest weapon, garnering 1st team All-Big Ten honors last year and looking absolutely dominant at times. He has started 26 games, catching 67 passes for 1055 yards and 3 scores last season after gaining 676 yards as a freshman. He seems to bounce between monster games and games where he seems to disappear somewhat, and this season he is off to a very slow start, with only 1 catch in 2 games...Illinois Offensive Preview...Defensive Preview..Special Teams Preview..."




Ohio State vs. Illinois Preview
September 24, 2009 Source: The Ozone - "Tony Gerdeman's preview of the Illinois game ...Illinois' chances of success will likely mirror the day that quarterback Juice Williams is having on Saturday. If he is playing well, then the Illini could be in this game for all four quarters. If he is not, then his defense is going to have a rough time keeping Illinois in this one...When Ohio State Has The Ball... throwing the ball might be advised. The Illini defense is ranked 119th in the nation (second to last) in pass defense, allowing an astounding 339.5 yards passing in their two games so far. And this isn't just from their blowout loss to Missouri, because Illinois State actually threw for more yards than Missouri did..."




A Closer Look: Toledo Rockets
September 24, 2009 Source: Buckeye Sports - "Big Ten play commences for No. 13 Ohio State on Saturday in Ohio Stadium with what might be one of the toughest games of the conference slate. Despite early struggles, Illinois will bring a talented team to Columbus. History is also on the side of the Fighting Illini, who have won three of four in the Horseshoe...The Illini have faced Ohio State six times after an off weekend, going 4-2. This is just the second season in UI history in which the team has two open weeks, joining 1989..."




Preview: #14 Ohio State vs Illinois
September 18, 2009 Source: Eleven Warriors - "...This year, Illinois was thought to be a sleeper team by some to win the Big Ten, and while they still have a chance to get a conference title, their early season loss to Missouri leaves many skeptical of how much this team can accomplish in 2009...The Illini defense is not blitz-crazy like Toledo was, but they disguise their schemes well and run a very different look than the majority of teams in the conference. They like to take advantage of their athleticism and speed and when they do rush extra defenders..."




Gameday+
September 25, 2009 Source: Columbus Dispatch - "BuckeyeXtra.com delivers all you need to know about the Buckeyes' upcoming game. Click here for everything from the top story and key factors to player spotlights and game predictions...Game Predictions, including one from Dick Butkus & more"




The Road to Pasadena - Who Has the Most At Stake in Week 1?
September 25, 2009 Source: The Rivalry, Esq - "No. 4: Illinois at No. 11 Ohio State Favorite: Ohio State (14 point spread) Chance of Upset: 20%...The Illini have won 7 of the past 10 in Columbus, including 3 of the past 4. Yes, you read that right. Who needs it the most? Illinois. Lose here and you're likely staring down the barrel of a 1-4 start. Do that, and even Detroit will feel far away. The Illini will win if... they use Juice's mobility when the pocket collapses to connect with lateral targets in space. As USC will tell you there's no pass blocking against the Buckeye front 7. If Illinois can edge out to an early lead, they'll put psychological pressure on Terrelle Pryor. Get him to panic, and the rest is history. The Buckeyes will win if... they use their shiny new 3-4 defense to disguise pressure, and the defensive line can get to Juice without having to blitz. Terrelle Pryor also needs to continue to use his legs -- as he did last week -- to cover for broken pass plays. Run Pryor, Run!






Illinois Official site
Illini-Buckeye Notes
2009 Stats
2009 Football Roster
Ron Zook, Head Coach
Ass't Coaches
Source: Illinois Official Site


Past is the past: Illinois coach Ron Zook is aware about his team's victory over Ohio State in 2007 in Columbus. But please don't remind him about it. Zook says in The Chicago Sun Times:

''I don't look back at that game,'' he said. ''People try to bring that up, but that's history. This is a different ballgame. What happened then happened then. Our guys remember it, but that game is not going to have anything to do with this week. I don't think now is the time to go back and reflect on that, because I don't think it has anything to do with this week.'




Zook Holds Weekly Media Luncheon
September 22, 2009 Source: Illinois Official Site - "Zook Transcript...On Ohio State's defense: "Obviously their defensive ends are bulldogs. They run around, they make plays. I think probably the biggest difference between this year's defense and last year's defense is that there may be some names you don't recognize. But I think in terms of what they do and how they play, I think they are second in the league in defense. They are pretty good. Two of the captains are on the defensive side, so there is a lot of leadership over there."...On preparing for Terrelle Pryor: "The thing about Terrelle is that he's a hard guy to simulate. First of all he runs really fast and he's really strong and he's big. Nathan Scheelhaase is the guy that provides that a little bit. It's really hard to prepare for a guy like (Pryor) because you don't want to beat your guys up by trying. He'd probably take an offensive lineman if you really wanted to get the guy to the ground. Then you'd try to put him in Justin Green's body speed-wise. You're not going to go stop him. What we have to do is understand that he's going to get hits and we have to contain the best that we can and give up as few big plays as we can."..."




It's time for an Illini power trip
September 23, 2009 Source: Champaign News Gazette - "...Going back 24 games, Illinois has won 11 and lost 13 vs. Ohio State, while winning 11 and losing 13 to Northwestern. Identical! Your brain will ache if you try to figure it out...Following are the UI's lucky seven (in Columbus)..."




Dream come trueIllinois linebacker Ellington ready to take big stage at Ohio State
September 23, 2009 Source: ESPN - "Illinois sophomore linebacker Russell Ellington can remember watching plenty of televised Ohio State games at the Horseshoe while growing up in suburban Chicago. It's not that he was a Buckeyes fan; it was just the game that always seemed to be on. "I had no choice," said Ellington, who preferred to watch Big Ten football over other conferences. Taking in all those games as a kid, Ellington did marvel at the size of the stadium and its atmosphere. He dreamed of someday playing in it himself. On Saturday, Ellington will be given that opportunity. Not only will he step foot into the Horseshoe, but with the recent season-ending surgery of Martez Wilson, Ellington has been promoted to a starting linebacker role on Saturday..."




Ron Zook: Not exactly a fan favorite
September 24, 2009 Source: Columbus Dispatch - "Illinois coach has been lightning rod for criticism Miserable" fans?...Ron Zook, too, is acquainted with them. The Illinois coach, whose team plays its Big Ten opener Saturday at Ohio State, has a different, less offensive description of them than the one Jim Tressel used last week in the wake of another unpopular loss to a top-10 team. Zook, dating to his days as head pinata at Florida, refers to them as "noise in the system."..."




Illinois looking to replicate history Saturday at Ohio State
September 23, 2009 Source: Chicago Tribune - "Tight end Michael Hoomanawanui remembers clearly who spoke first in the huddle on a cool night in Columbus. Ohio, on Nov. 10, 2007, when the Ohio Stadium scoreboard showed 6 minutes, 53 seconds remaining in the fourth quarter and Illinois holding a 28-21 lead facing fourth down. Quarterback Juice Williams said, "Let's go for it." "He was the first one to say it and everyone believed it and we went out and executed," Hoomanawanui recalled this week. Every Illinois fan remembers the rest..."




Why the Illini must put a stop to Tressel's reign of terror
September 21, 2009 Source: Hail to the Orange - "...when I think of what has happened to the Big Ten in the era of Jim Tressel's unprecedented dominance and post season disappointment, I am reminded from a quote from The Dark Knight "This town deserves a better class of criminal, and I'm going to give it to them." If the Big Ten is going to be dominated by a bloated, talent laden, year in year out conference champion, we need someone better than Jim Tressel. This league, if you will, deserves a better class of coaching...My point, ladies and gentlemen, is that having already lost, in an entirely new form of embarrassment, to USC. The Buckeyes must not be allowed to even share in another conference title this year..."






Williams needs only 171 yards of total offense against the Buckeyes to become his school's all-time leader in that category. He needs 1,290 more to become only the sixth player in Big Ten history to amass 10,000 or more total yards in a career. Topped the 6,000-yard mark this year with 6,405 career passing yards, which ranks fifth on the Illinois all-time list ... Ranks 14th on the Illinois all-time rushing list with 2,050 yards and is the first non-running back in school history to top the 2,000 yard career rushing mark ... Ranks third on the Illinois career total offense list with 8,455 yards ... Has rushed for over 100 yards six times in his career ... Has registered 475 pass completions and 909 pass attempts both rank fifth on the all-time list ... Has thrown 44 career touchdown passes, third on the Illinois list ... Has recorded 494 career carries, which ranks seventh in the Illinois record books ... Is the career Illinois record holder for rushing yards by a quarterback with 2,050 ... Has a three-year passing efficiency rating of 119.3, which is seventh-best in school history.






Ranks eighth on the Illinois career receptions list with 121 ... His 1,731 career receiving yards ranks seventh in the Illinois record book ... His five career 100-yard receiving games are seventh in school history. Earned first-team All- Big Ten honors by the media and second-team honors by the coaches in 2008.



#95 Doug Pilcher
POSITION: DL
HEIGHT: 6-5
WEIGHT: 265
CLASS: Sr.

Played in all 12 games, starting in five at defensive end ... Finished the year with a tackle at Northwestern ... Had two tackles against Western Michigan ... Recorded three tackles at Wisconsin, with career highs in TFLs (2.0) and QB sacks (1.5) ... Had a QB sack against Indiana ... Tallied four tackles - two solos - against Minnesota ... Recorded two solo tackles, both TFLs, at Michigan ... Had one tackle each at Penn State and against Louisiana-Lafayette ... Recorded a QB hurry against Eastern Illinois ... Had a career-high five tackles with a careerhigh three solos and recorded a TFL versus Missouri ... Earned Academic All-Big Ten honors. in 2008.



Illinois (1-1) at #11 Ohio State (2-1)


Columbus Weather Forecast