| | |
| --- | --- |
| | The (red) story links, or the 'read more' graphic, will open new (pop-up) windows to the source of the article, audio or video, so you can read/hear/see the rest. If your browser is set to block pop-ups, please set it to always allow them from our site. You will not get any annoying advertising pop-ups, of any kind, generated by this site...ever. |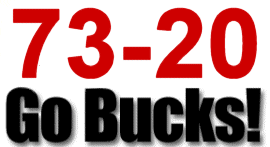 EASTERN MICHIGAN

vs.

OHIO STATE




Highlights of Ohio State vs EMU on Sept 25th, 2010
Source: OSU Official Site




Five Things: Eastern Michigan
September 27, 2010 Source: Eleven Warriors - "The Heartbeat: Another ho-hum performance, I'd say. Sure, it was Eastern Michigan - possibly the worst defensive team I've ever seen - but to see Terrelle Pryor once again come out blazing is just the latest reminder this isn't your average Ohio State offense. Realizing that the line won't be able to push around the top defensive lines in the country and that he's got what appears to be a fully mature Pryor at the controls, Jim Tressel seems compelled to repeatedly attack defenses with his best weapon, without mercy...Again, not forgetting the opponent, this was still a day for Heisman voters and opposing teams to take notice. Not that there was ever a question that this is Pryor's team, but what keeps impressing me is how eagerly and aggressively he is putting his arms around his team. He's doing it on the field by standing in the pocket and delivering a perfectly thrown 31 yard post to Dane for a TD as a defender goes for his ankles and by stiff arming a defensive tackle to the turf on another scramble following a scan of his progressions...

Holes in the pass defense: It's hard to be unhappy when your team wins 73-20 however the aftermath from Saturday has triggered some questions about the Silver Bullets, particulary the pass defense. The birth of the discussion came as EMU took possession for the fifth time, trailing 24-0 nearing the end of the first quarter. Starting from his own 27 yard line, QB Alex Gillett engineered a nine play, 75 yard TD drive connecting on 5/5 passes against a sieve-like defense...Tip your hat to Gillett. He looked pretty good (13/22, 200yds, 2 TD) and was willing to stand in the pocket and take some shots. Unfortunately for OSU, those shots came just after the throw in many cases. Part of me wants to believe the lack of sacks (2) came as the result of quick passing while part of me is only slightly concerned that the Buckeyes don't consistently generate a heavy pass rush without the aid of a blitz.

Evil Tressel behind statistical hilarity?: I'm still stunned that Jim Tressel willingly scored 73 points. Pryor and the other first teamers played nearly a full three quarters capping the day with third team tailback Hall tossing a TD pass to Pryor putting the Buckeyes up 52-20... I'll say it wasn't ET, instead it was Gentleman Jim not wanting to remove his starting QB after a lackluster three and out on the previous drive with OSU up just 45-20 midway through the 3rd quarter. The abbreviated and/or no-huddle offense could've also been misconstrued as Evil Tressel wanting to blow up the scoreboard but I loved his postgame commentary as to why he employed the strategy: "Yeah, we thought it would be good to come in and go quick tempo. We felt we probably had more depth than they, and we thought if we could come out and really make them play fast, frequent, that it would give us an advantage. Plus I think it helps you, sometimes you're in a nonconference game and everyone's talking about maybe the challenge isn't as great as some challenges. If you're out there and you're just going, you don't have time to think about anything other than execution." Maybe I'm overthinking it but that is a helluva coaching move. The team knows they are gonna stomp out a terrible team so as one more way to keep them focused, Tressel goes with a hurry up look to keep the offense on their executional toes...

Great Dane:...After grabbing 36 balls for 570 yards and six TD a year ago, Dane is on pace to demolish those numbers. Through four games, Sanzenbacher is OSU's leading receiver with 20 receptions, 316 yards and 5 TD, good for 79 yards receiving per game and a 15.8 average per catch...

Dirty Hit? Nope. Just Dirty protection: I first thought EMU defensive end Brad Ohrman's diving hit into the lower left leg of Pryor just as he connected wth Sanzenbacher for a 31 yard TD to make it 14-0 was dirty. It wasn't. Watching the replay, the problem was that Mike Adams got abused by Ohrman as he went with a basic upfield rush before cutting back inside... I've been reading it from tons of respected sources lately but I've yet to reserve a seat on the Adams-has-turned-the-corner bandwagon..."






Jim Tressel Speaks to the Media Postgame EMU

Source: OSU Official Site



Postgame Press Conference Transcript From Ohio State vs. Eastern Michigan
September 25, 2010 Source: OSU Official Site






10 Things We Learned From Tressel's Highest-Scoring Game
September 26, 2010 Source: The Ozone - "1. 73 is a lot of points. Rarely has Tressel been accused of running up the score. In fact, his Ohio State teams had only topped the 50-point mark four times in over nine seasons before their 73-point outburst Saturday. They scored 15 more points than any other Tressel-coached OSU team, and became just the third OSU team in the last 60 years to score more than 70 points...

2. Tressel wants this team to feel good. There are some years when it seems like Tressel is intentionally trying to hold his team back from busting the flood gates. He doesn't seem to go for the jugular against lesser opponents because he seemingly doesn't want his team to think too highly of itself. This is not one of those seasons...

3. Terrelle Pryor is going to re-write the record books...With his four touchdown passes Saturday, he moved past Greg Frey (37) for fifth place on the all-time list with 40. He needs 18 more to break Bobby Hoying's all-time school record. He could break that this season, and by next year he could set the mark so high that no one will touch it for another 50-100 years. More impressively, he passed Joe Germaine and Pete Johnson (56) for fourth on the all-time touchdowns list with 58...His 3,089 career rushing yards rank seventh in school history, ahead of guys like Carlos Snow, Michael Wiley and Raymont Harris...

4. The OSU defense is not invincible...Ohio State's defense had been nearly perfect in the first three weeks. When they weren't turning teams over, they were forcing three-and-outs or even scoring points of their own. It looked like this OSU defense might go down as one of the best in school history, but Saturday definitely poked holes in the armor...

5. Secondary is a major concern. If there's one area of the defense that draws special attention after this game it has to be the secondary...Redshirt freshman Corey Brown looks like he has a bright future, but he and Dominic Clarke got picked on a little bit today while Chekwa was out; enough so that they put Chekwa back in the game in the fourth quarter. Making matters worse, Orhian Johnson seemed lost on a few plays and didn't rotate to help over the top the way C.J. Barnett had been doing before he went down with a knee injury. Chekwa's health has to be a major concern right now...

6. Dane Sanzenbacher is underappreciated. There will be some surprised people around the country tonight when they watch highlights of the Ohio State game and hear that a guy named Dane Sanzenbacher caught four touchdown passes. He wasn't highly thought of coming out of high school, but you can bet he is highly thought of around the Woody Hayes Athletic Center. "I think that guy might be the most impressive guy on the team, in my mind," center Michael Brewster said...

7. The word is out on Berry and Hall...If the Buckeyes want to stick with the horses they road in on (Saine and Herron), that's fine because both of them bring something to the table, but they better find a way to get Hall and Berry some action as well. They are both big plays waiting to happen, and they don't need perfect blocking to get it done...

8. Stoneburner or no Stoneburner, tight end is part of the offense. Would you believe that three tight ends caught passes Saturday and not one of them was named Jake Stoneburner?..his backups caught four passes for 36 yards. Although he is 6-foot-8, Red Fragel is not nearly the same kind of weapon that Stoneburner is, but it's clear that Pryor feels comfortable throwing the ball to the tight ends, something he did very little of before the Rose Bowl.

9. Special teams not fixed. Anyone who thought what they saw out there Saturday meant the special teams worries were a thing of the past should re-watch the game as soon as they finish reading this column. Just because the Buckeyes did not have a kick blocked or allow a big return touchdown doesn't mean they have things under control. They might be headed in the right direction, but there were a few times where Eastern Michigan had a lane...

10. Basil does have the leg. Yes, Brian Rolle blocked an extra point, but the best thing to happen for OSU on special teams this week was kick offs. Basil still had a few ducks that were caught around the 10 yard line, but he also had three touchbacks. Right now, the freshman is inconsistent, and that is probably how it's going to be for a bulk of the season. The good news, however, is that we know now that Basil has the leg to boot the ball to the back of the end zone..."


Captain's Postgame Press Conference EMU
Source: OSU Official Site


Complete stats
HERE
Source: Columbus Dispatch



Big Ten helmet stickers: Week 4: QB Terrelle Pryor: Pryor did what great players are supposed to do against weak competition and kept himself very much in the Heisman Trophy race. The junior went 20-for-24 passing for 244 yards and four touchdowns against Eastern Michigan. He added 104 rush yards and a touchdown on seven carries and caught a 20-yard touchdown pass. Pryor can share part of the sticker with receiver Dane Sanzenbacher, who caught all four of those touchdown strikes and had 108 receiving yards.

Source: ESPN





Terrelle Pryor following the Eastern Michigan game

Source: Eleven Warriors








Ohio State vs. Eastern Michigan Postgame Analysis—Five Things We Learned
September 25, 2010 Source: Bleacher Report - "5. This year's team does not prescribe to the sweater vest mentality: Whatever happened to winning games with special teams, field position, and a solid defense? Don't get me wrong, these will always be staples of a Jim Tressel coached team, but this year's version apparently has the evil twin "leather vest" running the show...

4. Terrelle vaulted himself right at the forefront of the Heisman race: Though Pryor has done nothing thus far in the season to take him out of the Heisman race, he has not done enough in the eyes of many to set himself apart.

3. There is new trouble in the secondary: ...I am sure that the coaches and players would tell you that the defense gave up way too many plays in the air. Giving up over 200 yards and a couple of scores against a rival in conference would have been one thing, but to do so against the not as skilled bottom feeder of the MAC is a little concerning...

2. Special teams had a much improved day: For the first time this season, the special teams unit excelled. The coverage on the kicking game was much improved, and Devin Barclay continues to shine putting the pigskin through the goal posts. Not to be a pessimist again, but there is a little bit of everyone that wants to see this type of performance against better competition before the belief that the dam has been plugged is believed.

1. Ohio State is not just deep, but very deep: Championships can often be derailed by an injury or two at a couple of key positions. It is almost unavoidable to go through a season without a couple of bumps and bruises somewhere along the way, and only those teams that can fill in the gaps can go on without feeling the loss. After seeing Ohio State's reserves in three of the four games this year, it is becoming even more evident that the players behind the starters are more than capable. The depth is amazing across the board but especially on the defensive line and skill positions..."



Receiver takes his big day in stride; Sanzenbacher ties OSU record with 4 TD receptions
September 26, 2010 Source: Columbus Dispatch - "...caught four touchdown passes yesterday in Ohio State's 73-20 win over Eastern Michigan. It matched the receiver grand slam first set by Bob Grimes against Washington State in 1952 and matched by Terry Glenn against Pittsburgh in 1995. Yet Sanzenbacher seemed pretty blase about the whole thing. "Well, I'm not mad, if that's what you're asking," Sanzenbacher said. Finally, he admitted that four touchdown catches are "pretty unbelievable." "I didn't plan to do that," he said. "You don't go out and say, 'OK, I'm going to go out and try to tie Terry Glenn's record today.' But sometimes you're blessed and you get lucky."

Sanzenbacher, a senior captain from Toledo, was Terrelle Pryor's favorite target on a day that the quarterback attempted 26 passes, completing 20. Sanzenbacher caught nine for 108 yards, tying a career high for receptions he set Jan. 1 in the Rose Bowl against Oregon. His previous best for touchdown catches had been two, which he did last season against Toledo and New Mexico State. The scores came on passes of 31, 9, 7 and 8 yards, the last at 12:34 of the third quarter as Ohio State stretched its lead to 45-14...

"Dane caught four?" coach Jim Tressel said when asked about it after the game. "Hmm Dane's good."

More than that, Pryor said, Sanzenbacher is reliable. "He's a slick little sneaky guy," Pryor said. "He's sharp at route-running. He reminds me a lot of (former Ohio State receivers) Brian Hartline and Anthony Gonzalez."..."He runs very pure and perfect routes," Pryor said. "Me and him and most of the guys are on the same page, but I really have a connection with Dane because I understand his routes and how he's running it. And I understand DeVier (Posey, the other starting receiver) as well..."

Source: Lorain Mornng Journal



OSU inconsistent on defense
September 26, 2010 Source: Columbus Dispatch - "Buckeyes are stung by surrendering 20 points to Eagles...When every defensive player from Ohio State gathered for a huddle a few yards onto the field in the third quarter yesterday, it was a call to arms. Eastern Michigan, loser of 15 straight, had not only scored 20 points, but its defense had just stopped the Ohio State offense for the first time. Even though the Buckeyes were leading 45-20, the point was made that the scoring for the Eagles had to stop.

"We didn't play Buckeye football in the first quarter or the second quarter," linebacker Brian Rolle said. "We had to let all the guys know we had to step it up, just do our job." And they shut out the Eagles from there in a 73-20 win in Ohio Stadium. After the Buckeyes had flirted with shutouts in two games this season, the Eagles' three scoring drives must have been difficult for them to watch. Quarterback Alex Gillett wasn't afraid to challenge the Ohio State defensive backs over the middle.

"We expect our guys to make those plays," defensive coordinator Jim Heacock said. "Really, for three weeks, we've been making the plays. We've been getting the picks and the knockdowns. You have to give them credit; I'm not saying you can't do that. I thought Gillett did a nice job, and the receivers went up and got it...

"We gave up way too many plays today," defensive back Tyler Moeller said. "The entire defense has to improve. I have to improve. I gave up two missed turnovers and they scored on both those series. We have to go into that film room tomorrow and get better."..."




Ohio State Gets Record Setting Day Over EMU: What It All Means: Ohio State is trying to make a statement week after week. These aren't the meek Buckeyes of past years; the coaching staff is trying to make sure this team dominates week in and week out, even if the opponent is Eastern Michigan. Terrelle Pryor and the passing game got rolling against the overmatched Eagles, and that's vital with Big Ten play coming up and everyone loading up to stop the run. This isn't a perfect team quite yet, the special teams could still use some work, but it's playing extremely well. It had its tune ups, and while Illinois shouldn't be a test, they'll provide an upgrade in competition to prepare for the Wisconsin showdown.

Source: CollegeFootballNews.com






Dinged up: It was a long line going into Saturday, and tight end Jake Stoneburner joined it with a high ankle sprain. Chekwa left for an extended period in the game, but he returned to play later in the day. Whether Stoneburner and backups Travis Howard (cornerback), Dorian Bell (linebacker), Nate Oliver (safety) and Josh Kerr (offensive line) can return this week remains to be seen. Safety C.J. Barnett (knee) is out probably for the rest of the regular season, while freshman linebacker Scott McVey had his right arm in a sling on Saturday. Freshman QB Taylor Graham had arthroscopic knee surgery a little while ago. (Source: Columbus Dispatch)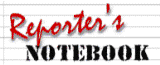 Ohio State notebook:
September 26, 2010 Source: Columbus Dispatch - "Hall, Berry impress: ...There are plenty of people who would like to see more playing time for Ohio State tailbacks Jordan Hall and Jaamal Berry. Hall is one of them. "I like the sound of that," Hall said. "But Coach (Jim Tressel) has got to do what's best for the team, and Boom (Daniel Herron) and (Brandon) Saine are doing a really good job." Hall and Berry did just fine in Ohio State's 73-20 blowout of Eastern Michigan, combining for 137 yards and three touchdowns. Included in that were a 67-yard TD run by Berry, a 17-yard TD catch by Hall, and Hall's 20-yard scoring toss to quarterback Terrelle Pryor, his former high school teammate in Jeannette, Pa...

Gladly stepping in: When tight end Jake Stoneburner suffered a rolled ankle and left the game early in the first quarter, sophomore Reid Fragel was thrust into full-time duty for the first time. "That's what I wanted going into the season, that taste of a full game," Fragel said. "It was nice to play a full game, my first time since high school. My adrenaline was going and I loved every minute of it. It's unfortunate Jake went down, but I'm ready to go." He even got two catches for 22 yards, his first this season...It wasn't known whether Stoneburner's sprain will keep him out this week at Illinois.

Guiton's big mistake:...After Guiton, a redshirt freshman, scampered in from 15 yards, he broke one of Tressel's cardinal rules and did not hand the ball to the referee. "Kenny lost his mind, dropped the ball on the end zone floor," Tressel said. "It was obviously an excitable moment."...

Was it worth it?: Eastern Michigan was paid $850,000 for playing the game. Afterward, coach Ron English was asked whether it was worth further damaging the psyche of a team that lost its 16th consecutive game..."The reality of it is, if you continue to schedule a number of these games (the Eagles played Michigan last season), then the kids don't believe they can win. That's what has happened to others I know who have taken over programs like this," he said. "I think our administrators understand that, so I think you'll see our schedule lightening up a little bit and we'll play more like teams."..."





It was over when: The schedule came out. Eastern Michigan is now 0-15 under coach Ron English.

One-liner: Eastern Michigan won the coin toss and elected to go home.

Gameball goes to: Terrelle Pryor, who accounted for 348 total yards and six touchdowns in the rout.

Stat of the game: 1982. Ohio State has not lost a nonconference home game to an unranked team since 1982.

Fast Fact: Ohio State's 73 points most by Buckeyes in 60 years

Fast Fact II: Sanzenbacher's four touchdown catches tied the school record. (1995 Terry Glenn Pittsburgh & 1952 Bob Grimes Washington St.)

Fast Fact III: Sanzenbacher and Pryor also tied the Ohio State mark for touchdown connections by a quarterback and receiver in a game. In addition, Pryor matched another school mark by having a hand in six scores.

Sarcasm of the day: The game apparently was such a ratings hit for ABC that the network is ready to launch its much-anticipated sequel: So You Think You Can Club a Baby Seal

The view:
How the team sees it: Always good when we score as many touchdowns as fingers and toes.

How the pollsters will see it: 73 points? Does Thad Matta coach this team?

How Buckeye Nation will see it: Marshall ... Miami ... Ohio ... Eastern Michigan. Can we keep playing teams in green and white?

Translating Tress:
What he said: "(The Big Ten) is more heavyweight bout than it is a style show."

What he meant: "Michigan better put away the Lady Gaga and get ready to rumble."

Terrelle Pryor, Jr QB said it: "I never had a day when I caught one, ran for one and threw one" -who was told by Tressel that if he dropped the pass from Hall "to just keep running through the tunnel."

Dane Sanzenbacher, Sr WR, said it: "Today he got into a rhythm and had the offense going. When he's on his game, he's tough to stop." -On Terrelle Pryor's six touchdowns

Mike Brewster, Jr C, said it:"I was nervous for a second. But he was all right. We know we need to keep hits off Terrelle, but he's a pretty big and strong guy, so he forgives us sometimes." - On the hit Pryor took on his left knee after his first touchdown pass

Kenny Guiton, Fr QB, said it: "It felt great, I felt like I would get a shot, I wanted to take full advantage and I did." -On getting on the field and scoring a touchdown

Numbers for dummies:
2004: The last time before yesterday that an Ohio State player scored touchdowns three different ways. (Ted Ginn Jr., rushing, receiving and punt return against Michigan State)

5: Times under Jim Tressel the Buckeyes have scored 50 points or more

29-2: Tressel's record at the Horseshoe vs. nonconference teams

They said it:
As heard on TV: The ESPN trio of Carter Blackburn, Mike Bellotti and Brock Huard made you feel smart, as in, "I could do better than these Bozos." When they weren't calling Ohio Stadium "The Big House," they were calling Heisman candidates "specimens" and referencing players' "big rear ends." And their expert analysis included the observation that it is windier on the field than in the press box.

As heard from OSU fan exiting restroom: "What do you mean we had to punt?"

The $70 question: No price can be put on watching history be made. Not just Sanzenbacher's four TD passes or Pryor passing for, running for and catching a touchdown, but the second-most points (93) ever scored in Ohio Stadium, behind the 104 put up by Ohio State and Iowa in 83-21 Buckeyes win in 1950.

Just wondering: What has gotten into Tress? The Vest suddenly is calling plays like an overcaffeinated driver who gets cut off in traffic. Pass instead of run? A running back (Jordan Hall) throwing to the quarterback (Pryor)? Through four games, the Buckeyes' 197 points are the third most in school history, behind 1917 and 1996 with 209 each.

EMU HC Ron English, said it: "Every dog has his day. I've had my days. I'm taking mine right now, and I'm sure there'll be a day when I'm giving mine again. Whether it be here or somewhere else. But I promise you I'll be back giving my butt-whuppin's out, too."

Pregame buzz: The big question was not whether the Buckeyes would win, but whether Brutus would avoid another YouTube video gone viral. Turns out the mascot stayed on his feet. No truth to the rumor the Eastern Michigan Eagle mascot spent game anchored to flag pole.


(Sources: ESPN/OSU Official Site/Columbus Dispatch/Cleveland Plain Dealer)




Buckeyes Score Most Points Since 1950 in 73-20 Win Over Eastern Michigan
September 25, 2010 Source: OSU Official Site - "COLUMBUS, Ohio – Another tremendous offensive effort, sparked by the passing, running and receiving of Terrelle Pryor and the record-tying receiving day of Dane Sanzenbacher, carried No. 2 Ohio State to a fourth-consecutive convincing win, 73-20, over Eastern Michigan Saturday at Ohio Stadium.

The Buckeyes are now 4-0 this season and have won 10 consecutive games over the last two seasons. Eastern Michigan dropped its 16th-consecutive game and fourth this season.

Pryor, a native of Jeannette Pa., completed 20-of-26 passes for 224 yards and four touchdowns on the day and he rushed for another 104 yards. The effort was his fourth career game of at least 200 passing yards and 100 rushing yards and his 328 yards of total offense for the game leaves him one short of the school record of six such games, set by Joe Germaine between 1996-98.

Sanzenbacher tied the school record held by Terry Glenn (vs. Pitt in 1995) and Bob Grimes (Washington State in 1952) with four receiving touchdowns. His huge day topped out with nine receptions for 108 yards. Pryor's four touchdown passes to Sanzenbacher marked just the second time in school history a quarterback and receiver combined for four touchdowns passes in a game.

Pryor was responsible for six touchdowns in the game – four passing, one rushing and one receiving – to tie the Ohio State record first set by Tony Curcillo against Iowa in 1951. The last player to score three different ways was Ted Ginn, Jr., against Michigan State in 2004 (rushing, receiving and punt return).

"I thought our guys came out ready to go and were focused in to get better," Jim Tressel, head coach, said. "When you get a lead so quick sometimes you can relax just a little. Eastern Michigan did a nice job. They hit a couple of misdirection passes and longer passes that were well designed that our defense wasn't used to, but a lot of guys got to play and our guys are excited to begin Big Ten play."

Pryor was not the only Jeannette standout today. Jordan Hall, Jeannette Class of 2009, threw a touchdown pass (to Pryor) and caught a TD pass from Joe Bauserman to give the eastern Pennsylvania school credit for eight touchdowns on the day. The touchdown pass by Bauserman was his first in the Scarlet and Gray.

Ohio State's defense had given up just two touchdowns all season, but Eastern Michigan, relying solely on its passing game, found a way to score three times off 75, 73 and 80-yard drives. Quarterback Alex Gillett threw for 200 yards, while the rushing game netted just 40 yards.

The stars of this game were shining early. Pryor raced 53 yards for a touchdown on the third play from scrimmage and followed it with a 31-yard touchdown strike to Sanzenbacher on the sixth play to propel the Buckeyes to a quick 14-0 lead.

Devin Barclay made it 17-0 on a 42-yard field goal. He is now 9-of-10 on field goals in 2010 and hit 10-of-10 extra points on the night, tying Vic Janowicz against Iowa in 1950.

Dan Herron gave the Buckeyes a 24-0 lead at the end of the first quarter on a seven-yard touchdown run. He rushed for 55 yards on 12 carries. In the second quarter, Sanzenbacher caught his second touchdown pass off a nine-yard reception on the sideline at 7:44 from Pryor to make the score, 31-7.

Sanzenbacher's third score gave the Buckeyes' 38 points heading into halftime following a seven-yard pass from Pryor through the middle of the Eagle defense at 4:18.

In the third quarter, the Buckeyes began the second half with a nine-play, 57-yard drive in under three minutes that was topped off by Sanzenbacher's fourth touchdown from Pryor, which tied the school record.

Following the Buckeye drive, the Eagles scored their third touchdown after Gillett completed a 32-yard pass to Donald Scott to make it 45-20 at 9:11. Senior linebacker Brian Rolle blocked the attempted extra point.

Ohio State hit the 50-point mark for the first time in 2010 when Hall threw a 20-yard touchdown pass to Pryor, his high school teammate, at 2:57 left in the third quarter, making it 52-20 in favor of the Buckeyes.

With the 32-point lead heading into the fourth quarter, the Buckeyes received contributions from several new sources.

Hall caught his first career touchdown reception at the beginning of the final period on a 17-yard pass from Bauserman at 13:44, expanding the lead to 39 points and giving the Buckeyes the most points in the Tressel era with 59.

Running back Jaamal Berry scored his first career touchdown as a Buckeye in the fourth quarter, showing his speed on a 67-yard touchdown run down the sideline to close out a five-play, 94-yard scoring run to stretch the score to 66-20 with 8:39 to play.

Quarterback Kenny Guiton, the third Buckeye QB to take a snap in the game, also earned his first collegiate touchdown in the Scarlet and Gray on a 15-yard run up the middle with 3:26 left in the game to finalize the score at 73-20..."

Scoring Summary, Team Statistics, Individual Statistics, Drive Chart, Defensive Statistics, Game Participation, Box Score, Play-by-Play
Postgame Quotes From No. 2 Ohio State vs. Eastern Michigan



Ohio State Report Card: It's good to be lucky (and healthy) in a runaway victory
September 25, 2010 Source: Cleveland Plain Dealer - "

A -- Terrelle Pryor's luck: On Pryor's first touchdown pass, a 31-yarder over the middle to Dane Sanzenbacher, Eastern Michigan defensive lineman Brad Ohrman got late penetration and dove and hit Pryor in the left knee just after he released the ball. In the first half Pryor took three hard shots after releasing the ball. But this one was the kind of hit a quarterback fears most. Pryor wears a brace on his left knee after having arthroscopic surgery in the off-season. He got up from the Ohrman hit, none the worst for wear...

B -- Kicker Drew Basil: The true freshman knew he wasn't getting the job done on kickoffs...He got a major workout as the Buckeyes kicked off 12 times against Eastern Michigan. With a minor adjustment in his steps during the week, he did his job much better. Basil said his goal is to at least kick the ball inside the 5. He did that eight of 12 times, including three touchbacks. The four kickoffs outside the 5 landed at the 6, 7, 9 and 13...

C -- Ohio State's injuries: The Buckeyes entered the game with the depth in their secondary depleted...it didn't help things when starting cornerback Chimdi Chekwa was forced out for much of the game with back spasms, though he eventually did return. Tight end Jake Stoneburner did not return after hurting his ankle in the first half. But Jim Tressel said Stoneburner just rolled it and isn't expected to miss next week...

D -- Kenny Guiton's end zone celebration:...Third-string quarterback Kenny Guiton scored his first career points on a 15-yard TD run but drew a post-game admonishment from Tressel for dropping the ball in the end zone instead of handing it to the official. Tressel said Guiton "lost his mind." "I've already been told by plenty of coaches," Guiton said after the game. "I told them it was my first time, so please excuse me."..."




Online Poll: What grade do you give the Ohio State football team in its game vs. Eastern Michigan?: So far...6% A+, 28% A, 42% A- , 21% B & 3% C

Source: Columbus Dispatch







The Bottom Line
September 25, 2010 Source: Columbus Dispatch - "...Offense (5 leaves): Generous, perhaps, considering the competition might have been more stout against 11 citizens picked randomly from the Flint phone book. But it's a benchmark day when the quarterback accounts for six touchdowns and the final yardage numbers resemble a bowling series score. Flex those pecs.

Defense (3 leaves): Now that it's fall, cooler weather is coming. So, too, is an onslaught of passes from OSU opponents. Injuries have thinned the herd in the secondary, and the newbies were at times exposed by a MAC weakling...

Special teams (4 leaves): ...Practice hasn't made perfect, but things were better. The kickoff-coverage unit had 12 opportunities and didn't give up a return longer than 25 yards. OSU returns remain positive; how soon before someone pops one?

Coaching (4 leaves): ...The Buckeyes took the same hard-line approach with their three gimmes as they did with the tough-out 'Canes. The Big Ten is a different animal, yes, but Tress is five-time defending lion tamer.

Opponent (2 leaves): It's not easy being green, which explains why there were more college students in phone booths in the 1950s than there were Eastern fans on hand. So the Eagles' skid is at 16 and counting, but they annoyed enough that the crowd sang about not giving a damn for the whole state of Michigan.

Officiating (3 leaves): Replay reviews were needed twice, overturning a backward-pass call by Terrelle Pryor that saved the Buckeyes 2 yards and upholding EMU's first TD, though it remained tough to see how the runner got the ball across the plane before he was down..."




Ohio State: Eastern Michigan report card
September 26, 2010 Source: Newark Advocate - "OFFENSIVE LINE: It all starts up front, and the Buckeyes achieved their highest scoring output in the Tressel Era without benefit of a defensive touchdown, so give it up to the "big uglies." The Buckeyes totaled 645 yards -- 342 rushing and 303 passing -- and didn't give up a sack, which helped OSU score six times through the air. GRADE: A

RUNNING GAME: Terrelle Pryor had his second "200-100" game of the season, rushing for a team-high 104 yards on seven carries, including a career-long 53-yard broken-field scoring jaunt and a 20-yard run in which he hurdled a defender. Jaamal Berry made the most of his limited action, ripping off a 67-yard touchdown run in the fourth quarter. Inexplicably...GRADE: A

PASSING GAME: The "Jeannette Connection" of Jordan Hall to Terrelle Pryor for a 20-yard touchdown stole some of Dane Sanzenbacher's thunder. He had a career day, catching four touchdown passes from Pryor, only the second time OSU batterymates have combined for four scores. Hall also had an 18-yard scoring grab to complement his razzle-dazzle scoring pass. Pryor tried to force a couple of passes to Posey against double coverage, but settled down and went 20-of-26 for 224 yards...GRADE: A

DEFENSIVE LINE: John Simon recovered a fumble when backup quarterback Devontae Payne simply dropped the ball carrying out a play fake. True freshman tackle Johnathan Hankins had his first sack and end Nathan Williams had a team-high six tackles, but the pass rush must be better...GRADE: C

LINEBACKERS: A pretty non-descript performance from this bunch. Maybe that's why the defense huddled up on the field after Eastern Michigan's third touchdown. "We were just flying around and really not thinking about tackling," Brian Rolle said...GRADE: C

DEFENSIVE BACKS: The secondary had the worst day of all, allowing five completions of more than 20 yards. Quarterback Alex Gillett threw for 200 yards and two touchdowns, victimizing backup cornerbacks Corey Brown and Dominic Clarke on the touchdowns. But it wasn't a great day for the starters either...GRADE: D

SPECIAL TEAMS: ...the embattled kick coverage units were better, but kicker Drew Basil and punter Ben Buchanan made three of the tackles, so there's still plenty of work to do. Basil got better depth on his kickoffs, including three touchbacks...Berry totaled 86 yards on three kickoff returns, again begging the question: Why isn't this kid getting more of a look on offense? GRADE: B

COACHING: The most exciting play of the day was the halfback option scoring pass from Hall to Pryor. But I had a problem with it for two reasons: One, already ahead 45-20, it makes it look like you're rubbing Eastern Michigan's nose in it; and two, why not save this element of surprise for when you're struggling on the road and might really need it?...GRADE: B..."








This week two plays were selected as plays of the game:

1) Jaamal Berry's 67 yard TD run in the 4th quarter; yes the EMU Eagles' players do look spent trying to catch the speedy RB.

Explosive: It's a shame redshirt freshman Jaamal Berry doesn't get more opportunities. He scorched Miami with a couple of long kick returns two weeks ago. On Saturday, he bounced a simple zone play outside and sprinted 67 yards down the near sideline for a touchdown. Berry also had 86 yards on kickoff returns, and 160 yards in the all-purpose category on just 7 touches.

Source: Mansfield News Journal



Jamaal Berry's first score worth the wait: ...Taking the handoff from OSU's 33 yard line, the redshirt freshman was gone in the blink of an eye. Sixty-seven yards later, the former Under Armour All-American had his first collegiate touchdown. "I've been waiting for that," Berry said with a broad smile. "I just know I was going to make sure nobody was going to catch me. I saw the end zone and was like 'I'm not going to stop running until I get there.'" Even though he is stuck on the depth chart behind senior Brandon Saine, junior Dan Herron and sophomore Jordan Hall, Berry has found a way to add a spark to the Buckeyes. In Saturday's blowout win over Eastern Michigan, the 5-foot-10, 200-pounder ran for 74 yards on four carries and returned three kickoffs for 86 yards. He nearly added a kickoff return for a touchdown, but was tripped up after a 32-yard return. "I guess you could call it (a breakout game)," Berry said. "I still should have gotten that kickoff return. I'm just executing what I can do. When I'm in there, I'm just going to make the best of it."

Source: Lorain Morning Journal



2) The 4th quarter TD pass from Jordan Hall to Terrelle Pryor, who were teammates in high school in PA. "I never had a day when I caught one, ran for one and threw one" -who was told by Tressel that if he dropped the pass from Hall "to just keep running through the tunnel."

Ohio State practiced the play all week and in their hotel room Saturday morning, Terrelle Pryor and Jordan Hall went over the possibilities again. "You can't overthrow this," Pryor told his former teammate at Jeannette High School in Pennsylvania. "I was like, 'I got you man,'" Hall said. "And it worked out." So with a 25-point lead late in the third quarter against a team on a 15-game losing streak, tailback Hall took a toss from quarterback Pryor, then stopped and threw a 20-yard touchdown to his old friend, the trick play putting a final stamp on the greatest offensive day of Jim Tressel's 10 seasons at Ohio State.

Source: Cleveland Plain Dealer


















Football Falls to No. 2 Ranked Ohio State, 73-20
September 25, 2010 Source: Eastern Michigan Official Site - "The Eastern Michigan University football team saw its season record dip to 0-4 with a 73-20 loss to the No. 2 ranked Ohio State University Buckeyes here Saturday, Sept. 25, afternoon in Ohio Stadium. The Eagles fell behind early, trailing 24-0 after the first quarter and could never catch up in the non-conference loss. ...Three EMU receivers turned in outstanding efforts as sophomore wide receiver Kinsman Thomas (Bennettsville, S.C.-Marlboro County) caught three passes for 65 yards and one touchdown, senior tight end Ben Thayer (Kalamazoo, Mich.-Hackett Catholic Central) followed with five receptions for 75 yards and freshman wide receiver Donald Scott (Apopka, Fla.-Apopka) had three grabs for 56 yards and one touchdown reception...The Eagles would come back at that point to turn in an impressive 75-yard, nine-play drive to break the shutout on a two-yard touchdown run by Priest with newcomer Sean Graham (Commerce Township-Orchard Lake St. Mary's) adding the PAT kick to make it 24-7 with remaining in the second quarter. Thayer had two big catches during that drive, one for 14 yards and another for 20..."




EASTERN MICHIGAN

vs.

OHIO STATE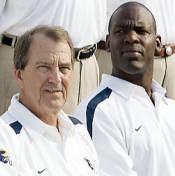 Jim Tressel should have revenge on his mind today, of course. Though Ohio State and Eastern Michigan have never played, Tressel has a long, unsuccessful history against the Eagles. He was 1-4 against Eastern Michigan while head coach at Youngstown State and was actually 0-4 before winning, 24-14, in 1990. "In 1986, we were up, 14-3, with four minutes to go and they threw the same route like seven times and we kept covering the tight end, and they kept hitting the dig; and they beat us, 17-14, at the buzzer," Tressel said. "Then, they ran a fake punt in '89 and beat us."

If Tressel needs to give the Buckeyes another edge, he can always pretend it's a Michigan game. Second-year EMU coach Ron English is off to an 0-15 start, but he knows Ohio State. English was Michigan's secondary coach for three seasons, then the Wolverines' defensive coordinator in 2006 and 2007, when they ranked in the top 25 in the nation both years in fewest points and fewest yards allowed. Michigan hasn't ranked in the top 65 in either category since then.
(Source: Columbus Dispatch)



"We always say football's a game of pressure. The first part of the pressure is, do I know what the other guys are trying to do to me? When you don't know what they're trying to do to you, immediately they have got the pressure component on their side."

- Jim Tressel





Ten Pressing Questions: EMU at Ohio State
September 25, 2010 Source: Bucknuts.com - "...1. Can Terrelle Pryor better his mark of 16 straight completions from last week? – Pryor shattered OSU's record for consecutive completions last week against Ohio. It is unrealistic to expect him to set a new record this week. But it's not unrealistic to expect him to be efficient against the hapless Eagles.

2. Can the Buckeyes get the running game with the tailbacks in gear against EMU? – There have been some issues with the veteran tailbacks, Brandon Saine and Boom Herron, getting meaningful yards between the tackles. If they can't do it against EMU – which is ranked 117th nationally in rushing defense at 253.0 yards per game – it will never happen.

3. Which OSU receivers will emerge against EMU? – We know all about DeVier Posey, Dane Sanzenbacher and tight end Jake Stoneburner. It's time for wide receivers three, four and five to step up. Taurian Washington joined the party last week with two catches in the red zone.

4. How will backup quarterbacks Joe Bauserman and Kenny Guiton fare if they get into the game? – It will be interesting to see if Bauserman and the second-team offense play the fourth series again today. Hopefully, the Buckeyes can get a comfortable lead and get each of these guys somewhere between five and 10 throws. If it doesn't happen today, it will never happen (barring an injury to Pryor, of course).

5. Can the OSU defensive line exert pressure on the EMU quarterbacks? – Would you believe Ohio State only has three quarterback sacks in three games? Nickel back Tyler Moeller and defensive tackles Dexter Larimore and John Simon each have one. That means none of the defensive tackles – Cam Heyward, Nathan Williams and Solomon Thomas have handled most of the work – have broken through yet. EMU goes with a platoon of Alex Gillett and Devontae Payne at quarterback. Both are athletic and can move around in the pocket.

6. What young players will emerge? – It was good to see linebacker Storm Klein get in and make some plays last week. Jordan Hall and Jaamal Berry are champing at the bit at tailback. Let's see what young guy makes his first real big play today.

7. Can Ohio State continue to feast on turnovers and takeaways? – The Buckeyes are No. 1 nationally in turnover margin at plus-3.33 per game. OSU has had 12 takeaways (seven interceptions, five fumbles) to two turnovers (two Pryor interceptions).

8. Can the Buckeyes clean up some problem areas in special teams? – We joked that Ohio State has completed the "Special Teams Slam" by having a punt and field goal blocked and a kick and punt returned for touchdowns so far this year.

9. Will the Buckeyes take Eastern Michigan seriously? – Ohio State is a six-touchdown favorite to bury Eastern Michigan, which has not won a game since Nov. 28, 2008. Would you believe that EMU's last win was against Central Michigan (56-52) and since that win the Eagles have lost not once but twice to CMU, giving up 56 and 52 points in the two losses. EMU has lost 15 straight games and 24 of its last 26. This may be the worst opponent in the 2,000-year history of Ohio Stadium.

10. Is Ohio State ready for Big Ten play? – This is a biggie. OSU opens Big Ten play next Saturday at Illinois, which has today off and 14 full days to prepare for the Buckeyes. OSU needs a strong performance to stamp itself Big Ten ready. We should know the answer to this one by 7 p.m. ...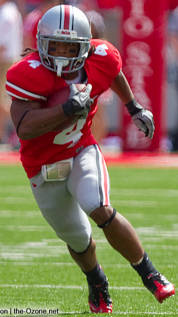 Ohio State Buckeyes backup runners should get some carries today: What to Watch
September 25, 2010 Source: Cleveland Plain Dealer - "

1. Backup running backs: More Jaamal Berry! Ohio State's No. 4 running back, in the pecking order clearly explained by the coaches, continues to be one of the most asked about Buckeyes, with many fans wanting the freshman to get more carries...This isn't to criticize Jordan Hall, the No. 3 back, or Berry, both of whom have shown good moves and a nice burst during practices, scrimmages and at the ends of blowouts. And it's not to say that either Saine or Herron are on the level of former OSU stars Beanie Wells or Maurice Clarett. Saine is a good-sized back with great speed in the open field and when he has a clear hole. But he doesn't break a lot of tackles or grind out tough yards. Herron runs hard and has shown better, but not great, vision this season. But he isn't a big breakaway threat...There's more to being a running back than a little wiggle, and it's clear right now the coaches trust their veterans most when it comes to taking care of the ball and taking care of the quarterback by blocking for Terrelle Pryor on pass plays. The best way for Ohio State to get knocked out of the national title race is for someone to whiff on a block and have Pryor get injured on a hit he doesn't see coming. Hall and Berry could get extra carries today in a blowout, but remember to judge them in context. Try to watch what Hall and Berry do in protection whenever the Buckeyes pass the ball...There isn't enough evidence to suggest a need for a change, but seeing more of Hall and Berry today would be intriguing. Just don't get too caught up in it.

2. Ohio State's punt formation: Last season, the Buckeyes began using the punt formation in which the players on the line spread several steps apart from each other rather than bunch in a typical offensive line. No one noticed much until last week, when Ohio blocked a punt. Three OSU players -- defensive linemen Adam Bellamy and Garrett Goebel and linebacker Jordan Whiting -- are left to defend the punter, and they were overwhelmed when five Ohio players shot through the line and went for the block. Coach Jim Tressel said this week the scheme, adopted by many teams, allows the Buckeyes to get downfield quicker to cover the punts. However, you can understand how it might be more vulnerable to blocks. He said the players hadn't seen that type of pressure, designed that way, in practice, so they didn't deal with it properly. Take note today, because the Buckeyes won't be changing what they do...

3. Tressel's tough luck with Eastern Michigan: In a broadcast that will have plenty of time to fill, this certainly will be pointed out: Tressel's career record against the Eagles is 1-4. All the games were played when Tressel was the head coach at Youngstown State, and he was actually 0-4 before winning, 24-14, in 1990...

4. Ron English's knowledge of the Buckeyes: The second-year coach of Eastern Michigan hasn't won a game yet...But he knows Ohio State. English was Michigan's secondary coach for three seasons, then the Wolverines' defensive coordinator in 2006 and 2007, when they ranked in the top 25 in the nation both years in fewest points and fewest yards allowed. Michigan hasn't ranked in the top 65 in either category since..."




Running game still warming up
September 25, 2010 Source: Columbus Dispatch - "When Brandon Saine was nailed for a 1-yard loss last Saturday, the Ohio Stadium crowd grew restless. When he barely made it back to the line of scrimmage on the next play, one could almost hear the muttering. Never mind that Ohio State was leading Ohio University 34-0 at the time, late in the first half. Never mind that quarterback Terrelle Pryor was in the midst of 16 straight completions and about to record his third straight 200-yard passing day. For Buckeyes fans, the soul of the program is the team's ability to line up and pound an opponent into submission, with a tailback slashing through sizable holes opened by a dominant offensive line. More often than not, that has not happened this season. Saine had a 100-yard day in the opener but is averaging just 52.7 yards rushing per game. Daniel Herron is averaging 45.7...

Overall, nobody at Ohio State seems too concerned about the early struggles. "I'm not unhappy," running backs coach Dick Tressel said. Coach Jim Tressel said, "I think (the running game) is going to be fine." Is this a case of whistling past the graveyard? After all, against Ohio, tailbacks gained 3 yards or less on 13 of their 21 carries through three quarters (not including two short touchdown runs)...

Pryor is on track for one of the most prolific passing seasons in school history - more than 3,000 yards and 26 touchdowns at his current rate. The result is that the offense is racking up more yards (460.7 per game) and points (41.3) than in any of Tressel's previous nine seasons...

"I feel our passing game is what's really been clicking right now, so why go away from it?" (TE Jake) Stoneburner said...




Rob Oller commentary: Pryor is big part of running game
September 25, 2010 Source: Columbus Dispatch - "...Pryor leads the team at 55 yards per game, and the Buckeyes rank a respectable 25th nationally at 206 yards per game. There is no Eddie George, Maurice Clarett or Beanie to ooh and ahh over, but the collective of Pryor, Herron and Saine is better than average...That explains why running backs coach Dick Tressel said that although he is not happy with the running game, he also is not unhappy. Some of the components might need work, but the overall product is operating smoothly enough for now. Jim Tressel said this week that Pryor running 10 to 15 times a game is optimum...Those who play against Pryor have no problem seeing him as a legitimate piece of the Buckeyes' running game..."




Ohio State Buckeyes must play well to earn a winning grade against heavy underdog Eastern Michigan
September 24, 2010 Source: Cleveland Plain Dealer - "It's a 50-year-old formula that Jim Tressel adopted from his father, Lee, a coach and mathematician who created it during his career at Baldwin-Wallace. It's the formula that says an MVP outing in the Rose Bowl for Terrelle Pryor or a record-breaking 16 straight completions against Ohio isn't quite enough, not at least by this measure. It's the formula, that on a day like today when the Buckeyes are six-touchdown favorites against Eastern Michigan, will let the players know on Sunday, despite what the scoreboard says, whether they were good enough...




Five Key Factors
September 17, 2010 Source: Columbus Dispatch - "SHOW UP: Seriously, the Buckeyes could win this game by 20 while dressed as Brutus...So far, this OSU team has been focused. This week will provide the sternest test yet of mental strength. At least last week was an in-state opponent which tested them in 2008...

KEEP HIM CLEAN: Terrelle Pryor, that is. Eastern Michigan apparently likes to blitz...it's not a week in which Pryor needs to take a lot of shots. If the rush seems effective, screens and draws may be the antidote. And it's hard to imagine a circumstance in which Pryor should play past the first series of the second half.

RUN, BABY, RUN: ...this is a good week to get the Buckeyes' tailbacks back in rhythm. Neither Brandon Saine nor Dan Herron has had more than 14 carries or 66 yards since the opener. Twenty carries may be a reach, as the backups should get plenty of time...

SPECIAL ATTENTION: Special teams are going to remain a key until they're fixed, and the Buckeyes keep springing leaks in new places. This week, Ohio State needs to find effective replacements for several injured players who help on coverage...And the punt team? May we kindly recommend blocking someone, and more firmly than an elbow in the ribs as the guy rushes past.

SPREAD SNAPS: ...One of the few hiccups in a smooth opening stretch for OSU has been losing a player or two each week to injury. This is a game where inexperienced players can get valuable time that may pay off later. The secondary has been the hardest hit, so look for reps out of Dominic Clarke, Corey Brown and Christian Bryant, to name a few. ..."



On the Edge: Dispatch beat writers Ken Gordon and Tim May predict which team has the edge in this week's game. See if you agree..."







Jim Tressel updated media Thursday on Ohio State's week of practice leading up to the game Saturday vs. EMU 9/23/10

Source: OSU Official Site



TRESSEL PRAISES LARIMORE: Defensive tackle is not a glamorous position, but Ohio State coach Jim Tressel says the Buckeyes' defense wouldn't be what it is without Dexter Larimore doing the heavy lifting on the interior of the defensive line. "If you're solid in the middle, you're making them spend two guys on you. If people can move your middle and push it backwards into your linebackers' laps, it hard to have good linebackers," Tressel said.

Source: Lima News







Eastern Michigan at Ohio State: Key matchups
September 24, 2010 Source: The News Herald - "1. Eastern Michigan's Jabar Westerman and Brandon Slater vs. OSU's Justin Boren, Mike Brewster and Bryant Browning: The interior line of the Eagles vs. the interior line of the Buckeyes. Eastern Michigan through three games is allowing 253 yards rushing per game and 5.5 yards per carry. The Buckeyes want to better establish their running game, so this could be an ugly matchup — one EMU needs to shore up.

2. EMU quarterback Alex Gillett vs. OSU defensive ends Cameron Heyward and Nate Williams: The Eagles' starting QB is 34-for-59 for 350 yards and four touchdowns through three games, but also has thrown three interceptions...

3. Ohio State's kick and punt coverage vs. Eastern Michigan's returners: ...If Eastern Michigan, led by Corey Welch's 21.5-yard average on kickoff returns, has success returning punts and kicks against the Buckeyes, who have been harping on kick and punt coverage, that's a bad sign.

4. Ohio State vs. itself: Eastern Michigan is 0-3 this year and was winless last year. Ohio State's biggest opponent Saturday will be itself...The mental part of this game — playing crisp and with a purpose, not just going through the motions — is the chief concern..."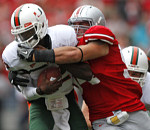 Ohio State spotlight: John Simon
September 24, 2010 Source: Columbus Dispatch - "Cameron Heyward might be stealing the spotlight on the Ohio State defensive line with a spectacular play or two each week, but Eastern Michigan likely won't need a searchlight today to locate OSU's John Simon either. Whether it's practice or a game, OSU running backs coach Dick Tressel said, Simon's tenacity always seems to propel him into the midst of the action.

"He's relentless. He's painful for us," Tressel said of those practice sessions. "All summer (in preseason camp), if my guys have headaches, it's usually from running into Simon or Cam...Simon has given the Buckeyes a gap-jumping punch up front usually on the other end from Heyward that the offensive lines of Marshall, Miami and Ohio U. all had difficulty plugging. He's been pushing the pile, so to speak. Though his numbers aren't alarming...he's made his presence felt by opening tackle lanes for Rolle, Homan and their ilk.

One way he's doing it is, like Heyward, Simon might line up over the guard on one play and outside the tackle on another. "You can't have a scheme, like 'Let's take care of this guy with these two people because he's over there,' because he may not be there," Tressel said. "But I think that's secondary to the energy he brings to the defense."..."




5 Downs: What To Watch For When The Buckeyes Face Eastern Michigan
September 23, 2010 Source: SB Nation Cleveland - "1. Special Teams Coverage: ...Last week's punt block was a combination of an overload punt blitz by the Bobcats, miscommunication by the blockers who allowed a man to come through free, and poor punt delivery by Ben Buchanon. This week, the opponent is so inept in all phases of the game that responsibility will be entirely on the Buckeyes if something should go wrong.

2. Andrew Sweat: The young starting strongside linebacker missed last week with a minor injury sustained against Miami, but appears to be healthy enough to play against Eastern Michigan on Saturday. Sweat's continued development is important to the rest of the season, as the Buckeyes will begin playing offenses that use more heavy personnel groupings, and are dedicated to the running game. This will require Ohio State to stick with their base personnel on defense, which will necessitate a strong presence from Andrew Sweat. EMU is a good opponent for Sweat to gain valuable reps at game speed against; if he screws up, the margin for error is much higher than it will be in later games.

3. Turnover Margin: Ohio State is currently ranked number one in the nation in turnover margin...While turnovers can be unpredictable and volatile, there should be no excuse for Ohio State to fall behind in the margin this week. Eastern Michigan is 112th in the country in turnover margin this season...if the Buckeyes turn the ball over this weekend, it's entirely their fault.

4. Big Play Day: The Eastern Michigan defense is 94th in the country in total defense and 117th in rushing defense. And they haven't played a team with the overall talent of Ohio State. Look for the Buckeye offense to have a big day on Saturday...

5. Brutus's Status: A week after a brutal and unprovoked attack by Rufus Bobcat, Brutus makes his return this weekend. Jim Tressel had him has probable in his weekly press conference, but will he be able to perform like he did pre-mugging? Psychologically, the damage is likely permanent, and it's doubtful that we'll ever truly see the real Brutus again. And beware, Brutus, another opponent awaits- and this one can fly! ..."




With a maturing air game, a balanced Ohio State offense has come to pass (so far) in 2010...
September 23, 2010 Source: Cleveland Plain Dealer - "The Ohio State offense is finding more and more success passing the ball, at least in part because opposing defenses remain convinced the Buckeyes plan to feature the run..."





FINDING A BALANCE
For only the third time in Jim Tressel's 10 seasons, less than 60 percent of Ohio State's offense is comprised of running the ball, at least through three games. The Buckeyes are handing the ball to their running backs less than they ever have.

Box shows OSU offense's yearly percentage of runs, followed by percentage of running back carries:



2001: 65.7 percent, 52.9 percent
2002: 69.2 percent, 53.0 percent
2003: 61.4 percent, 40.1 percent
2004: 58.7 percent, 39.8 percent
2005: 62.6 percent, 42.0 percent
2006: 58.5 percent, 47.8 percent
2007: 62.7 percent, 52.1 percent
2008: 66.9 percent, 45.1 percent
2009: 64.1 percent, 42.0 percent
2010: 59.0 percent, 38.3 percent
— Doug Lesmerises, Cleveland Plain Dealer



Most teams like to have a balance between running plays and passing plays. In addition, Ohio State tries to limit the number of times quarterback Terrelle Pryor carries the ball. Coach Jim Tressel said he has a number in mind. "Well, we would like five, six times, seven times a game for him to end up running when we call a pass," he said. "Then if we have five to six designed quarterback runs in the game, now we're at a dozen. That's where I'd kind of like to be. Things evolve, things change. I think he had 20 against Miami, somewhere in there, and probably around 10 in the other games, I'm guessing. But we want them somewhere in that 10 to 15 range."

Source: Associated Press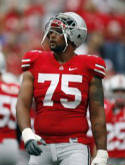 Adams getting past mental block
September 23, 2010 Source: Columbus Dispatch - "The play clock is ticking down, and Ohio State left tackle Mike Adams is on full alert. Center Mike Brewster has called out a protection scheme, but now linebackers and safeties are moving up to blitz - or are they just faking? Now quarterback Terrelle Pryor is barking out a change to a "hot" route, and Brewster shouts a corresponding switch in the protection. The ball will be snapped in moments. What's Adams thinking? "You're looking at guys, trying to read some keys before the snap," Adams said. "Then when the ball is snapped and you're pass blocking, you've got to be aware of who's around you - what guys you're supposed to block, what guys the running backs are supposed to block...

Given all that required quick thinking, it's amazing that quarterbacks don't get sacked more often. And it helps explain why Adams has taken longer than expected to win a starting spot. Coming out of Dublin Coffman with sky-high potential, Adams struggled in his first two seasons. He was in and out of the lineup, partly because of injuries and a two-game suspension, but also, admittedly, because he didn't fully know what he was doing. "A lot of it was the mental part of the game, really just knowing where to be on every play," Adams said. "I had trouble with it. It's something that some guys take awhile to get used to, and some guys pick it up quick."

Fortunately for Adams and the Buckeyes, he appears to have picked it up. A preseason competition for the starting job turned into no contest, in part because Andrew Miller's elbow began giving him problems, but also because Adams had stepped up his game...This week, Adams won the team's lineman of the week award for the first time. He earned it by grading out 85 percent effective in the victory over Ohio University...The coaching staff's attitude could best be described as cautiously optimistic..."






Jake Stoneburner Recaps Ohio, Previews Eastern Michigan

Source: OSU Official Site



Stoneburner catches flak after catching passes: "Before Jake Stoneburner had a chance to brag to former Ohio State teammate and fellow tight end Jake Ballard about his big game last week, Ballard fired a pre-emptive strike by cell phone. "He was like, 'What's up, Touchdown Boy? You think you're all sweet now?' and stuff like that," Stoneburner said.

Ballard is on the New York Giants' practice squad after signing as a free agent when he went undrafted. If he had had a few more catches at Ohio State, though, who knows? Through three games, Stoneburner has nine, including five Saturday against Ohio University and his first touchdown of the season. "I don't think (Ballard) is jealous, because he's in the NFL. I should be jealous of him," Stoneburner said. "He probably wishes he'd caught a little bit more, but like I said, he's in the NFL, so he can't really complain too much."..."

Source: Columbus Dispatch



NOW HE'S CONVINCED: Jake Stoneburner's conversion to a tight end from wide receiver left him a little uncertain at first. But he's getting more comfortable with the move and has become an important part of the passing game.

"When I first moved there, I was kind of excited but felt a little bit like I was out of position. I've put on muscle and have been able to block well. Now I feel like I'm truly a tight end. I wasn't sure how I'd do at blocking defensive ends in the Big Ten. But I put on weight, got stronger and it wasn't as bad as I expected," he said. Stoneburner has caught nine passes for 110 yards and a touchdown this season.

Source: Lima News








Moeller going for six?: While defensive back Tyler Moeller has to treat this as possibly his senior season, the fifth-year player thinks he'll have a good case if he applies to the NCAA for a sixth season of eligibility because of hardship. Moeller sat out last season after he suffered a head injury when he was punched in a restaurant in Largo, Fla. The attacker, Ralph Gray Decker, pleaded guilty to felony battery in June.

"Now after everything has come out, and after the trial and my name is cleared, everyone is saying I should probably get it (the sixth year), and I don't see why I shouldn't get it," Moeller said. But he can't apply until this season is over, which leaves him with a mental conundrum. "It is tough getting that mindset: 'Hey, this is my last year, but it may not be my last year,'" Moeller said. "It's tough doing the senior things and it may not be my senior year. It would be nice if I could know now, but I understand why I can't."

Source: Columbus Dispatch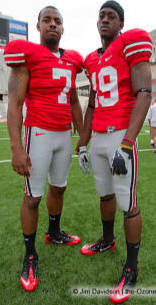 OSU's Johnson happy to be hitting QBs
September 23, 2010 Source: SI.com - "It doesn't take a lot of reshuffling of the past to picture Orhian Johnson running Indiana's offense. Instead, he's become a quarterback of No. 2 Ohio State's defense - where he torments opposing signal-callers. Johnson - his first name is pronounced OR-ee-an - was offered a scholarship to call the signals for the Hoosiers when he came out of Boca Ciega High School in St. Petersburg, Fla., three years ago. He was tempted to sign his name on the dotted line. Quarterbacks, of course, are the Ferraris of college football. Defensive backs are Jeeps. Quarterbacks win the awards, they get the headlines, they become household names. And all of that appealed to Johnson.

"My goals, of course, I hopefully would have (won) the Heisman and all those other good things,'' he said with a laugh. But at the same time, Ohio State was also offering a full ride to play any number of positions as a generic "athlete'' recruit. Since he had played several spots through the years, and since he had grown close to several of the Buckeyes' other recruits, he elected to cast his lot in Columbus. "Indiana definitely showed me a lot of love with them having a couple of guys from my school go there and recruiting a couple of other guys from my school,'' he said. "I thought about it a lot but I was a lot closer with the recruiting class at Ohio State.'' So far, that decision to become a defensive back has been a good one.

In two games so far for the Buckeyes, he's been a solid performer with five tackles and a forced fumble out of his strong safety spot. "Orhian's a really good player,'' free safety Jermale Hines said. "Athletic. Smarts. He's got the physical tools.'' Several of the Buckeyes say that Johnson might be the best athlete on the squad - and that includes 6-foot-6, 235-pound physical freak Terrelle Pryor, who happens to be the Buckeyes' quarterback. Johnson, who is 6-2 and 205, doesn't shy away from such comparisons. "Ahhh, man. It's close, man,'' he said with a grin. "I mean, Terrelle's got me a little bit on the height and a little bit on the weight. But I take that as a compliment being compared to that. As long as I'm getting mentioned in the top two, then I'm cool with it.''..."





"Any team can beat us on any day. Ohio University proved that in '08 — they gave us a great game. We need to play our game every week and not let go of the throttle."

-OSU senior defensive back Tyler Moeller, on the next Buckeyes' opponent, Eastern Michigan





Up next: Eastern Michigan, which hasn't won a game since President Barack Obama took office. The losing streak moved to 15 when Central Michigan trounced the Eagles 52-14 on Saturday, and it includes an 0-12 season last year. If EMU has an advantage, it's in net punting, where it's sixth nationally (43.77-yard average), compared with OSU at 117th (27.08). And OSU coach Jim Tressel always says the most important play in football is the punt, so

This week's challenge: For the Buckeyes, it's to repeat what they did last week, which was take nothing for granted. Even if EMU is not very good on either side of the ball (87th in total offense, 94th in total defense), it still plans to show up, which means it is guaranteed a fighting chance.

25 words or fewer: After thumping some Bobcats, schedule says EMU is next. Dictionary says EMU is a flightless bird. Record says EMU is winless since 2008.

(Source: Columbus Dispatch)







So you thought the 43-7 thrashing of Ohio was lopsided? Wait until this week. Several numbers orbiting the Eastern Michigan football program's 0-3 start hardly point to a spirited contest with the Buckeyes at 3:30 p.m. on Saturday at the Horseshoe. In losses to Army (31-27), Miami (Ohio) (28-21) and Central Michigan (52-14), the Eagles have surrendered 1,242 yards, 111 points and an average of 6.3 yards per opposing play. Also, they've turned the ball over eight times. One thing's for certain: When Jim Tressel holds his weekly news conference on Tuesday, he'll lavish praise on Eastern's punting. The Eagles are averaging almost 44 yards in that area.

(Source: AP)







Buckeyes concentrate on another big underdog
September 20, 2010 Source: Associated Press - "...for the second week in a row No. 2 Ohio State must focus on a heavy underdog that is just hoping to avoid getting squashed. ''I've been there where you have some games sandwiched around some, quote unquote, bigger games,'' said Eastern Michigan head coach Ron English, winless in his 15 games at the school after assistant-coaching stints at Michigan, Louisville and Arizona State. ''With the staff they have, coach (Jim) Tressel and his coaches have been doing this a long time. They've got a really good football team. They're going to be ready to play.''...''We have to remember it's still football. We only have a certain number of games to play so we have to keep focused each game and not look ahead,'' running back Brandon Saine said after the easy 43-7 victory over the in-state Bobcats last week. ''We play our game out there and stay with our game plan so we dont slip up.'' Defensive end Cameron Heyward echoed that sentiment. ''We have so much experience we couldn't let down because we're only guaranteed 12 games,'' he said...It's not as if the Buckeyes don't have a lot of areas in which to improve, despite three relatively comfy margins of victory..."



Jim Tressel said today (9/21/10) at his weekly press luncheon: The Buckeyes emerged from their 43-7 victory over Ohio U. in fairly good shape health-wise. The one major exception was the dislocated elbow that junior cornerback Donnie Evege suffered. He might be out for the season. "We'll lose Donnie Evege for a significant-amount of weeks," Tressel said. The coach also gave updates on the rest of the walking wounded. "Travis Howard, he'll be out a week or two or so," Tressel said. "Dorian Bell, maybe a week. He and Travis will be the quickest back. "We'll have Andrew Sweat back. "Carlos Hyde is now pretty healthy. And so, (Tuesday at practice) we'll be able to see just where he might be able to help us out. "Corey Linsley should be back. Corey probably could have played last week, but we felt it was at that danger moment where he was feeling really good and he had practiced during what we call our 'thud.' It's not full; it's not getting all the torque. We just felt it would be smart (to hold Linsley out) and Scott Sika does a good job, so we were very comfortable if Scott needed to go. But yeah, Corey should be ready to go."

Source: Bucknuts.com



Any rumors floating around out there that RB Brandon Saine is hurt and will sit out this week are untrue. Saine suffered a turf burn on his knee during practice on Wednesday, from sliding on the OSU practice field, which could mean more carries for Dan Herron. But Tressel said he is 100 percent good to go for Saturday.

On the RB front, Carlos Hyde has recovered from an ankle injury suffered in the opener, but not enough to get him carries this week -- too much risk of re-injury. He's working on special teams, though.

Digging into the depth: With backup cornerbacks Travis Howard and Donnie Evege out Saturday because of injuries suffered against Ohio, defensive backs coach Paul Haynes said the Buckeyes have dipped into the depth pool this week. "We've got Dominic Clarke and Corey Brown, those guys are stepping up for us," Haynes said. "And (freshman) Bradley Roby is a young guy who can maybe go in there also for us."

Source: Columbus Dispatch



Hagan update: One player who hasn't even practiced this season is true freshman safety Chad Hagan out of Canonsburg, Pa. "Yeah, Chad had surgery during camp," Tressel said. "I don't think he's even stepped foot on the field yet. He had surgery right at the beginning of camp." The coach was asked if Hagan's ailment has anything to do with the irregular heartbeat that doctors detected while he was in high school. "No," Tressel said. "Are you asking about the heart and all that? No."

Source: Bucknuts.com



Defensive injuries will test OSU's depth, as well as struggling special teams
September 22, 2010 Source: Cleveland Plain Dealer - "Ohio State's No. 3 cornerback, Travis Howard, is expected to miss at least this week's game with Easter Michigan...That means redshirt freshman Corey Brown slides in as the top backup at corner and Dominic Clarke would be the next man in. But defense isn't where he may be missed the most. Howard was also a member of the problematic kick coverage unit, as was backup linebacker Dorian Bell, another player Tressel said would be out this week with an injury. Bell caused a fumble on a kickoff against Marshall in the opener and was typically the first man down the field and was the Buckeye who drew the block-in-the-back penalty that nullified Ohio's kickoff return for a touchdown on Saturday...Special teamer Donnie Evege is expected to miss several weeks with an elbow injury as well, Tressel said. But linebacker Andrew Sweat and running back Carlos Hyde are expected back from injuries this week and should rejoin some of the special team units..."



SERIES HISTORY
• This will be the first-ever meeting between Ohio State and Eastern Michigan

FIRST AND 10
• Kicker Devin Barclay leads the nation in field goals with 2.67 made per game
• Ohio State leads the nation in turnover margin (+3.33), forcing 12 and committing just two through three games
• Saturday marked the fi rst time since the 1988 season opener that the Buckeyes went an entire game without a penalty

DID YOU KNOW?
• Ohio State has allowed only 94 touchdowns (39 rushing and 55 passing) since the start of 2005 (67 games; 57-10 record), an average of only 1.4 touchdowns allowed per game by the Buckeyes over that time.
• Through three games, Ohio State ranks first in the Big Ten in total defense (236.3), second in scoring (41.3 ppg), total offense (460.7), pass defense (156.3) and scoring defense (12.7) and third in passing offense (254.3), rushing defense (80.0) and KO returns (27.0).
• As a team, OSU ranks 113th in the nation in punt return yardage defense by allowing 26.25 yards per return and 102nd in kick return yardage defense with an average of 24.47 yards allowed.
• With 5,695 yards of total offense in his career, Pryor moved passed Archie Griffin (5,589) for eighth place on Ohio State's all-time list.
• Current Ohio State director of athletics Gene Smith was part of the EMU athletics administration from 1983-93, the last eight as the athletics director.

TWO STREAKS
• Ohio State has never lost to a Mid-American Conference team and Eastern Michigan is 0-26 against current Big Ten teams.

Honorary Captain
• Butch Reynolds
THE BROADCASTS
Television: ABC (ESPN mirror) will televise the game with Carter Blackburn (play-by-play), Mike Bellotti (analyst) and Brock Huard (analyst) in the booth.
Radio: WBNS (97.1 FM The Fan) Paul Keels (play-by-play), Jim Lachey (analyst), Marty Bannister on the sidelines. The game can also be heard live on Sirius satellite radio 127 and XM 102.

ABOUT THE EAGLES
• Head coach Ron English is in his second season with the Eagles. English arrived in Ypsilanti after serving as the defensive coordinator at the University of Louisville in 2008. He spent the previous five years at the University of Michigan and was a defensive coordinator under Lloyd Carr. He is 0-15 with the Eagles.
• Saturday's game at Ohio State marks the first time EMU has faced an opponent ranked in the top 25 since Oct. 25, 2008, when it dropped a 38-16 decision at home against No. 20/22 Ball State.
• Eastern Michigan is 0-3 on the season and 0-2 in the Mid-American Conference
• Defensively, senior linebacker Neal Howey leads the MAC in tackles with 34 (11.3 pg). Senior linebacker Tim Fort is fifth in the conference with 29 (9.7).
• The EMU football roster has 42 players from the state of Michigan, 16 from Ohio, eight from Florida, six from Illinois, five from California, four from Canada, three each from Indiana and Virginia, two from the states of New York, Georgia, Maryland and Texas and one apiece from Nebraska, Kentucky, South Carolina and Washington D.C. and one player all the way from Australia.



Game Data: Eastern Michigan at OSU
September 22, 2010 Source: Bucknuts.com - "We have the pertinent info, TV coverage map, depth charts, picks and more for EMU-OSU..."


2010 Totals
Offense:
41.3 ................................ Pts/gm .......................... 20.7
460.7 ..........................Total yds/gm ........................ 332.0
206.3 ......................... Rush yds/gm ........................ 142.3
43.7 .............................Carries/gm ........................... 38.3
4.7 ................................ Yds/carry .......................... 3.7
254.3 ..........................Pass yds/gm ........................ 189.7
30.3 ............................ Pass att/gm .......................... 29.0
13.6 ......................... Yds/completion ....................... 11.6
Defense allows:
12.7 ................................ Pts/gm .......................... 37.0
236.3 ..........................Total yds/gm ........................ 414.0
80.0 ........................... Rush yds/gm ........................ 253.0
26.7 .............................Carries/gm ........................... 46.0
3.0 ................................ Yds/carry ......................... 5.5
156.3 ..........................Pass yds/gm ........................ 161.0
30.3 ............................ Pass att/gm .......................... 19.7
9.6 ........................... Yds/completion ....................... 13.4




BSB Preview: The Eastern Michigan Game
September 24, 2010 Source: Buckeye Sports - "...The Eagles have not posted a winning season since Rick Rasnick directed the team to a 6-5 record in 1995, and the Eagles are 41-122 (.252 winning percentage) since then. The team's only bowl contest was a 30-27 win against San Jose State in the California Bowl to conclude the 1987 season, a year in which Jim Harkema's squad won 10 games and captured the Mid-American Conference title for the only time in program history...Eastern Michigan Players To Watch: RB Dwayne Priest: A second-year starter, Priest teamed with quarterback Alex Gillett in the opener against Army to give the Eagles a pair of 100-yard rushers for the first time since 2005. He also rushed for 127 yards a season ago as the Eagles nearly upset Northwestern, so the senior won't be intimidated by facing a Big Ten defense. E Ben Thayer: Projected as an All-MAC candidate before the year by prognosticator Phil Steele, Thayer leads the Eagles with 10 catches and has a touchdown grab. A year ago, the senior was consistent, grabbing passes in each of the first 11 games, and he was named the team's top scholar-athlete...Eastern Michigan has committed eight turnovers – four interceptions and four lost fumbles – this far, a bad combination considering the Eagles are trekking to play the team with the best turnover margin in the country in Ohio State...Find out more on the Eagles, including depth charts, stats, notes and more, in BSB's preview of the visiting team..."




Dispatch sports writers Ken Gordon and Tim May take a look at Eastern Michigan





Preview: Eastern Michigan at #2 Ohio State
September 24, 2010 Source: Eleven Warriors - "...Buckeye Breakdown: While the Eagles are bad enough to turn a barrage of Terrelle Pryor arm punts into a 40+ point loss, it's important for Ohio State to execute and not play down to the level of their competition. There are only so many football Saturdays each year and teams that want to be great do not waste any of them. Much of the talk this week has centered on the lack of a running game in Columbus, with the Tressel calling designed runs at the lowest rate of his tenure at Ohio State and Pryor, once again, leading the team in rushing. Brandon Saine suffered what's being called a "turf burn" at practice earlier in the week, but is said to be 100% for Saturday. If he does play, he'll be looking to bounce from a rough couple of weeks that saw him pickup 55 yards on 24 attempts against Miami and Ohio. Boom Herron, the team's third-leading rusher, struggled himself last week, picking up just 27 yards on 9 attempts.

If the Buckeyes can execute early and take control of the game before halftime, we might get to see a healthy dose of both Jordan Hall and Jaamal Berry (currently averaging 5.1 and 9.4 yards per carry, respectively). I suppose in a perfect world, they'd each get ten or more totes because establishing some type of threat back there could be the difference between merely playing for crystal and actually taking it home. Taurian Washington stepped up last weekend, catching both balls thrown his way, but Corey (Philly) Brown appears to still have the edge to capture the third wideout spot given that Washington didn't even see the field against the Hurricanes two weeks ago. Like, the rushing situation, getting a dependable third wide receiver would be a luxury, but not a necessity with the emergence of Jake Stoneburner at tight end...PREDICTION: Ohio State 50, Eastern Michigan 0..."




Ohio State vs. Eastern Michigan Preview
September 24, 2010 Source: The Ozone - "Tony Gerdeman's preview of the Ohio game ...When Eastern Michigan Has The Ball: ...will run various offensive formations, but won't really do any of them well. They have been effective at times this season running the zone read with quarterback Alex Gillett, who has rushed for 172 yards. Gillett isn't the most athletic guy, but he gets upfield quickly and gets as much as he can before the play comes to an abrupt stop. The Buckeyes saw the zone read last week, so don't expect any surprise success from the Eagle offense...When Ohio State Has The Ball: Running back Brandon Saine, who has struggled significantly the last two weeks, suffered a turf burn in practice, so he probably won't play as much as he has recently. This could mean that the Buckeyes will be able to see what running backs Jordan Hall and Jaamal Berry can do with more opportunities with the front line offense. But it will definitely mean more Boom Herron, who also wasn't too hot last week against Ohio. The Ohio State offensive line has some things to prove on the ground this week, and they'll get a chance to do it against a defense that is giving up 253 yards rushing per game...Ohio State 52 – Eastern Michigan 0..."




Preview: Ohio State vs. Eastern Michigan
September 22, 2010 Source: The Buckeye Battle Cry - "...Ohio State's offense vs. Eastern Michigan's defense It was a neck and neck race to see who had the worst defense in the state of Michigan last week. In the end, Eastern Michigan inched out a victory by giving up 523 total yards to Central Michigan...Ohio State should be able to do whatever they want offensively this week, providing them with a nice opportunity to practice whatever needs to be practiced...Ohio State's defense vs. Eastern Michigan's offense: Anything less than total domination with interceptions and fumble recoveries galore would be a big disappointment...Special Teams: The kick coverage units seemed to make improvements last week against OU. There were still some shaky moments, though, so they aren't off the list of things Ohio State fans are worried about yet..."




2010 Eastern Michigan Eagles Game Preview
September 23, 2010 Source: Buckeye Planet - "Eagles Offensive Preview...The Eagles have been bad on offense, but certainly not historically bad, as they currently rank 87th in total offense at 332 YPG. They rank 90th in throwing the ball (194.3 YPG) and slightly better running the ball (142.3 YPG, 71st). They have only taken 3 sacks and thrown 4 INTs in 3 games, which are not horrible totals by any means. Their 20.7 points per game however ranks only T92 and really has cost them, as they have dropped a couple of close, winnable games early in the schedule (Army, Miami OH) before being blown out last week...This is not the worst offense the Buckeyes will see but they have not been able to score enough points to compete with lower division teams thus far ... however there's no way to sugarcoat this, it will be nearly impossible for them to compete with the Buckeyes on Saturday...Eagles Defensive Preview...Eastern Michigan's defense is among the worst that Ohio State will see in 2010. The Buckeyes should have little trouble doing what they want when they have the football and most of that will be on the ground in all likelihood...Predictions..."




Eastern Michigan (0-3) at Ohio State (3-0)
September 23, 2010 Source: College Football News - "...What To Watch Out For: … Pryor has to show he can make things happen on third downs. OSU can afford to take some chances and make some mistakes in this game in order to get some live work in to make the passing game better. When Pryor is on the move, he's one of college football's most dangerous playmakers and best all-around quarterbacks. When it's 3rd-and-7 and he has to drop back and complete a pass, the system breaks down. Ohio State is converting a mere 34% of its third down chances; an inexcusable number for a team with this talent. Pryor can't move the chains in any sort of a conventional way, but he and the offense must use this free space of a game to push it a bit on the midrange throws. The deep ball will always be there, but Pryor needs to prove that he can consistently connect when he has to drop back and fire in rhythm.

What Will Happen: Eastern Michigan might come up with a few scores, but this won't be a game. OSU will go through the motions, and then the Eagle mistakes will come and the run will be on. The Buckeyes will run wild in a nice, easy layup...CFN Prediction: Ohio State 49 … Eastern Michigan 6... "




Ohio State-Eastern Michigan: Week 4 Preview, History Lesson, and Prediction
September 24, 2010 Source: The Bleacher Report - "...Summary and Prediction: What is there to summarize? The Buckeyes should win and win big without so much as breaking a sweat. This game really should be about sitting the starters after halftime and getting to see what some of the young guys can do in the second half as conference play is set to begin next weekend. It will be good to know which of them can be counted on if needed down the stretch. This is yet another one of those games where no matter how bad Coach Tressel tries to not run up the score, scoring at least 40-50 points is inevitable. After just falling short late in the game last week, it would be a little surprising if the "D" doesn't finally pitch their first shutout of the year in this one. Of course, that is once again assuming the special teams units don't blow it this week. Final Score Ohio State 55 Eastern Michigan 0..."




Eastern Michigan-Ohio State Capsule
September 23, 2010 Source: Sports Illustrated - "...Line: Ohio State by 44...WHAT'S AT STAKE Not much, judging from the line...KEY MATCHUP: Ohio State vs. itself. The Buckeyes have been Keystone Kops on kick coverage so far, allowing one punt and two kickoffs (one disallowed by a penalty) to be returned for touchdowns. In addition, they've had a punt and a field goal blocked. Much of the problem has been missed assignments. Priority one will be tightening things up and throttling the Eagles early..."





Eastern Michigan Official site

Eagles Buckeyes Game Notes
2010 Season Stats
2010 Football Roster
Ron English , Head Coach
Ass't Coaches
Source: Eastern Michigan Official Site





"He's come a long way. He looks like a great quarterback. He's got some poise. I like his footwork. ... Certainly he can run the ball. We played Vince Young in the Rose Bowl — I always say before he was Vince Young, because that was kind of his coming-out party. And Terrelle looks like him but bigger than Vince was at the time."

- Eastern Michigan coach Ron English, on Ohio State QB Terrelle Pryor





From the other side: Teams compile won-loss records, but real joy -- and pain -- is felt by individual players. Bob Baptist of the Columbus Dispatch talked to Ryan Downard, a defensive back from Lima, Ohio, who plays for Eastern Michigan. The fifth-year senior has been part of exactly six wins in his college career. The hardest part, Downard said, is seeing improvement in practice and on video but not on the ledger. "We're close. We just haven't gotten over that hump," Downard said. "We've had two games this year already that were very winnable games for us," losses by four points to Army and seven points at Miami University in which Eastern Michigan led in the second half of each. "We're just in that transition process, and it's hard turning a program around. Only certain guys are meant to be in that position. A lot of guys couldn't handle it."

Source: Cleveland Plain Dealer







Football to Take on No. 2 Ohio State Saturday
September 20, 2010 Source: Eastern Michigan Official Site - "...EMU HAS HAD TRESSEL'S NUMBER: Eastern Michigan had successful battles with Jim Tressel-coached teams at Youngstown State, with the then-Hurons holding a 4-1 record against the Penguins between 1986 and 1990. The four setbacks account for five percent of Tressel's 78 career losses in 25 years as a head coach. Eastern won the Sept. 6, 1986 match-up in Youngstown by a slim 18-17 margin before following it up with a 35-20 victory Sept. 5, 1987 at Rynearson Stadium en route to the school's lone Mid-American Conference Championship. The Green and White then posted a 17-12 victory, Sept. 10, 1988, and added a 14-3 decision Sept. 9, 1989. Tressel's lone victory occurred in the series finale, when YSU won 24-14, Sept. 22, 1990..."




Eastern Michigan: QB Payne could be hidden gem for Eagles
September 22, 2010 Source: Columbus Dispatch - "In recruiting football players who can transform Eastern Michigan into a winner, coach Ron English would seem to have a lot working against him. Eastern has lost 15 consecutive games and has not finished with a winning record in more than a decade. English faces a lot of competition from more-successful Mid-American Conference programs in the areas he recruits. And nearby Detroit, in the current economy, is not a dream destination for someone looking for a job after graduation.

"But this has been my experience in recruiting, particularly at this level," English said. "I think the more patient you are, the better off you are, because I think players are going to become available. I do think if we evaluate and take the right guys, we'll be fine." Proof of that, English hopes, will be redshirt freshman quarterback Devontae Payne of Cleveland. "We think he's going to be a good football player here," English said. Payne, second on the Eastern Michigan depth chart behind sophomore Alex Gillett, looks every bit the specimen Ohio State quarterback Terrelle Pryor is. Payne is 6 feet 61/2 inches and weighs 231 pounds..."


Eastern Michigan (0-3) at #2 Ohio State (3-0)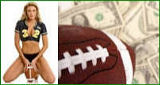 Current streak:
Eastern Michigan has lost 3 straight games.
Ohio State has won 3 straight games.

Team records:
Eastern Michigan: 0-3 SU, 2-1 ATS
Ohio State: 3-0 SU, 3-0 ATS

Eastern Michigan most recently:
When playing in September are 0-10
When playing on turf are 0-10
After being outgained are 0-10
When playing outside the conference are 1-9

Ohio State most recently:
When playing in September are 8-2
When playing on turf are 10-0
After outgaining opponent are 10-0
When playing outside the conference are 8-2

A few trends to consider:
The total has gone OVER in 5 of Eastern Michigan's last 7 games on the road
Eastern Michigan is 0-5 SU in its last 5 games
Eastern Michigan is 0-5 SU in its last 5 games on the road
Ohio State is 5-0 SU in its last 5 games
Ohio State is 5-0 SU in its last 5 games at home
Betting Trends
for all games on Buckeyes 2010 schedule