"I love football. I think it is the most wonderful game in the world and I despise to lose. I've hated to lose ever since I was a kid and threw away the mallets when I lost at croquet."

Woody Hayes
"How did Woody feel about Michigan? Let me illustrate with one story. One time we were at the Quarterback Club and the team was being introduced and a freshman had on a blue tie. Woody took one look at that blue tie, and he walked over and whipped it off that freshman. The audience went wild. We learned quickly that tradition dictated we wear ties of scarlet and gray..."

Randy Gradishar, from the book "What It Means to Be a Buckeye" by Jim Tressel and Jeff Snook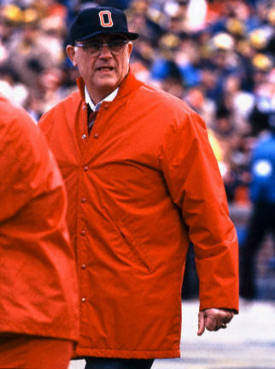 "I think a lot of his outbursts were calculated. He knew exactly what he was doing. I think it was during summer camp before my sophomore or junior year, some writer from Sports Illustrated or someplace talked Woody into letting him do a story about the program. And he didn't like to talk to the press; he didn't even want us talking to the press. He didn't trust them, but this guy convinced Woody that the story was going to be all positive, just positive things about the program. Woody agreed, but when the article came out, it was completely negative. The guy hadn't done his homework. He hadn't checked all of his sources. He didn't look beneath the surface. He just went with all the sensational stuff he had heard.
"Woody was just devastated by that. It broke his heart.
The day the article came out, we were in the dining hall, on the bottom floor. Woody called a meeting for the dining hall on the top floor, and he was getting everything set up there. He was up by the podium, and he was getting managers to bring him one of those trays of glasses. He said it very calmly, very matter-of-factly, 'Oh, and bring one of those trays of glasses over here and put it on the table. Yeah, that's it, one of those trays full of glasses. Just bring it over here and put it down.'
"He started the meeting, and he read from this article to us, and he came to some part he didn't like. He reached over, grabbed one of those glasses, and smashed it against the wall. He went through the whole article like that. Every time he came to something that made him mad, he threw another glass against the wall. The whole article, and it was long. Eighteen glasses later, he was finished.
"It was all calculated to get to us, just like cutting the strings on his hat or cutting the seams on his shirt. He'd get mad and grab his hat and tear it to pieces, and we'd wonder how this old guy could be so strong.
Well, he took a razor blade and cut the seams first so he could rip it apart. Or he'd take an old pair of glasses or an old watch and throw it down and stomp on it. He was a master at that kind of thing. He knew just what he was doing."



Tim Fox, from the book "Woody's Boys" by Alan Natali
"One of the best Woody stories that I heard was a few years ago at our 25th reunion of our 1975 team. Former assistant George Hill told us that after beating Michigan that year, Woody was given an armful of roses as he entered the arrival gate, signifying our upcoming trip to the Rose Bowl. When he left the airport, the first place he went was to Riverside Hospital. He took all those roses and passed them out to patients who did not have any visitors that day. I guess it was his way of paying forward. He always said you could never pay back, yet you could always pay forward by helping someone in need. I'm sure those roses uplifted the dampened spirits of the people who received them."

Lou Pietrini, from the book "What It Means to Be a Buckeye"
"We'll coast and PUSH this (expletive) car to the Ohio line before I give this state a nickel of my money!"

Woody Hayes, who as legend has it, made this quote to an assistant during a trip to Michigan when the car was in danger of running out of gas and the assistant wanted to stop and fill up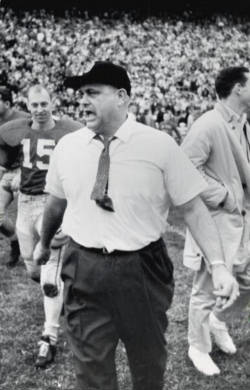 "Before my senior season, Woody had suffered a heart attack and there were all kinds of rumors about whether he would return. Many of us were outside the building before our first meeting of the season, and we were discussing whether Woody would last the season...

"Well, Woody called us all inside for this first meeting. There were about 120 players in there, including freshmen who never knew Woody aside from being recruited by him. The meeting started in typical fashion. He was talking about past accomplishments, and he was complaining that Sports Illustrated ranked us number one, ad then he started talking about Michigan. 'They'll be ready for us at the end of the year,' he told us.

"At this point, we were a little bored because we had all heard this talk before.

"All of a sudden, Woody raised his voice. He said something like he knew he was going to have a heart attack. 'I was gonna have it on Tuesday, but I postponed it until Thursday so I could hire a new backfield coach on Wednesday,' he said. 'I know a bunch of you think that I won't make the season. You think I'll probably have another heart attack and die. Well, (expletive) my heart, (expletive) my heart.

"Then he beat on his chest in front of everyone to get the point across. Then he spoke the words I'll never forget:

"'I'd rather die a winner than live being a loser, because when you are a loser, you die a little bit each day... Now let's get dressed and start practicing to win a national championship!'

"I was ready to run through the wall."

Bruce Elia, from the book "What It Means to Be a Buckeye"
"We had to fight like hell to get carpet in the locker room. You ever seen the old locker room up there? It's just a square room, lockers all the way around it, a bench in front of the lockers in a square. Woody designed it, and that's just the way it was, and they had a vinyl floor in there.

"We said, 'Coach, everybody's gettin' their locker rooms carpeted.'

"Woody says, 'Everybody but us. Carpet the visitors' locker room. We'll make 'em soft.'"

Champ Henson, from the book "Woody's Boys" by Alan Natali
"Football represents and embodies everything that's great about this country, because the United States of America is built on winners, not losers or people who didn't bother to play."

Woody Hayes
"Years later, I had been carrying this large picture of (Woody) around in my trunk and wanted to get him to sign it. His secretary called me when he was in town, and I stopped in to his office over there at the ROTC building. He was going somewhere on campus to make a speech, and he asked me to go with him. We came back, and he signed this photo, and I finally got to express my feelings to him. I told him how much I cared about him, respected him, and how much he and Ohio State meant to me.

"The next day, my wife called me and asked, 'What did you say to Woody Hayes yesterday?' I said, 'Why?'

"'Well, he died today,' she told me. I couldn't believe it. I was crushed. I believe I was the last player to ever see Woody Hayes alive."

Tom Cousineau, from the book "What It Means to Be a Buckeye"
"I remember one of his first temper episodes came when Bill Wilks got Woody upset during a practice. Well, Woody told him, 'Take this football and stick it up your ass.' Bill left the field and never came back, but he did go on to become a great basketball player."

Robert 'Rock' Joslin, from the book "What It Means to Be a Buckeye"
"One time he was in the shopping center in Upper Arlington, and this man came up to him and told him how much he and his wife loved the Buckeyes and how he just wanted to shake his hand. 'Well, where is your wife?' Woody asked him. The man told him she was dying of cancer at Riverside Hospital. That evening, that man went to see his wife, and Woody was already sitting by her bedside. There are hundreds of stories like that. Woody used to just walk the halls at all of the hospitals and drop in to cheer people up -- people he didn't know."

Rex Kern, from the book "What It Means to Be a Buckeye"
"Everyone who played for coach Hayes has some good stories, and one of mine is the funniest moment I remember. It was prior to a homecoming game. Coach Hayes called the second-team defense to go against the first-team offense. Well, all the defensive starters went to the visitors' sideline and sat down on these folding chairs that were set up. Man, why did we do that?

"I didn't even notice coach Hayes leave the middle of the field. I just saw players falling over chairs and beating feet toward the open end of the stadium.

There was coach Hayes running down the sideline, kicking over chairs, screaming 'Get up! Get up! This ain't no (expletive) country club!'

Then he saw Al Washington still seated, and he picked up a chair and began chasing Al with it. Al's eyes nearly popped out of his head as he jumped up and took off running. Coach Hayes started throwing all the chairs into the stands, repeatedly screaming, 'This is not a country club!'

We were falling all over ourselves with laughter. Later, I often wondered how he didn't suffer a heart attack."

Vince Skillings "What It Means to Be a Buckeye"
"Being cold, like being determined to win, is just a state of mind."

Woody Hayes, known for wearing short sleeves on a freezing day
"When he had his first heart attack during my NFL career, I went to Riverside Hospital to see him. The doctor told me, "Jim, just stay 45 seconds and don't let him talk.

"I walked in there; the room was real cold and he was on all those monitors.

"'Coach, I don't want you to say anything. I am here to tell you how much I love you,' I told him. 'I want you to know how much those kids need you to be ready for them, so you do what the doctors tell you to do.'

"As I walked out, he snapped, 'Jim, when's training camp?' I told him it started in two weeks. 'Damn it,' he said, 'are you in shape?'"

Jim Otis, from the book "What It Means to Be a Buckeye"
"One time we were having a bad practice, fumbling and jumping offside, and not hitting the holes, and he stopped practice and told us, 'I know what the problem is -- you're not getting enough blood into your heads. Everybody, stand on your head!'

So, here we are as a team, doing handstands. We were stopping traffic on Olentangy River Road. People were stopping their cars to watch this. And God forbid if you laughed. If you did it, you did it quietly."

Dick Wakefield, from the book "What It Means to Be a Buckeye"
"When I was a senior in high school, Woody came to a couple of my games and he would ask my dad, "Is he coming to Ohio State?" Dad was good friends with Bo Schembechler, too, and one time he called Dad up and wanted to have lunch at the Jai Lai. So Dad brought me along. I think Dad wanted to time it perfectly, so we would be there when Woody was there.

Sure enough, we were sitting there, and Woody walked in. He came right over to our table and said, "God******, he's going to Ohio State!

"And I did."

Craig Cassady, son of Buckeye running back Hopalong Cassady, from the book "What It Means to Be a Buckeye"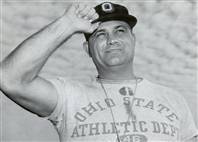 "About 10 minutes before the Michigan State game at East Lansing, we had all gathered in the back of the locker room after our pregame warm-up. Coach Hayes had a great memory, and he hadn't forgotten what happened in 1965, the last time OSU had visited Spartan Stadium. Michigan State had whipped the Buckeyes 32-7. During that game, their fans constantly bombarded the field with streamers of unfolding rolls of toilet paper every time Michigan State did something good.

"In his pregame speech, Woody all of a sudden jutted out his jaw and shouted, 'Do you know what today is? It's Operation Constipation! They're not going to be throwing that damn toilet paper at us this time. We are going to show them where to shove it!

"We won 21-7 and it was the beginning of our own roll. We on the next three games to finish the season, and it was the start of what later became a school-record 22-game winning streak that spanned three seasons."

Dirk Worden, from the book "What It Means to Be a Buckeye"
"Son, at Ohio State we run straight for the goal line."

An agitated Woody Hayes to freshman Jack Tatum, after Tatum returned a punt 60 yards for a touchdown in practice by zigzagging all over the field.
"In one game at Minnesota, during my sophomore year, we were behind at halftime. Woody gave his speech in the locker room and ended with him saying: 'Let's go out there and win this game!' He started to go out, but the door was locked. So Woody broke this glass box with a fire axe in it. He got that axe and started beating this door down with it before they stopped him.

We came back to win 14-12."

Vic Koegel, from the book "What It Means to Be a Buckeye"
"Yeah, he would punch us in the stomach, but it didn't hurt us. We would just laugh about it. You know that coaches couldn't do that today, because all the players' parents would be suing them. Hey, if he didn't punch you, he didn't want to make you better and he didn't care about you.

"I skipped class one day, and one of the professors called him. The next day, Woody woke me up and went to class with me -- all day. Can you imagine the kids' reactions to see Woody Hayes walking in and sitting down in their classroom? I told him that I would never miss another class. Coaches today wouldn't do that for you."

Ken Fritz, from the book "What It Means to Be a Buckeye"
"Woody hated long hair, he hated mustaches, he hated beards, but he wouldn't tell you you couldn't do it. He would just harp on you, harp on you, with the idea that eventually you wouldn't do it.

That never worked on me. I had a big old Afro and a mustache that looked like a basketball game, with five hairs on each side. It was horrible. I remember him pulling me off into the hallway one time. He said, 'Your hair looks like hell. The hair's bad enough, but why in the world do you have that mustache?'

"I said, 'I don't know, Coach.'

"'I just can't imagine why anyone would want to cultivate something around their mouth that grows naturally around their a******.'

"But he never told me to cut it."

Tim Fox, from the book "Woody's Boys" by Alan Natali
"When I came here 11 years ago, I was determined that you don't cheat the kid who plays football for you. You see those two buildings?" (St. John Arena and French Field House) "They cost $5.5 million to build. Where did the money come from? From these kids on the football team. They earned it. Football is a $2 million business at Ohio State -- which means that the 22 boys on the starting team bring in almost $100,000 apiece in gate receipts each year. Think of that. And what do they get in return? Well, we're not going to cheat and give them a slice of melon or anything else illegal, you can bet on that. What they get is $1,300 a year in room, board, tuition, and books -- the opportunity to get an education. And I'm going to see that they get that education. We certainly owe them that."

Woody Hayes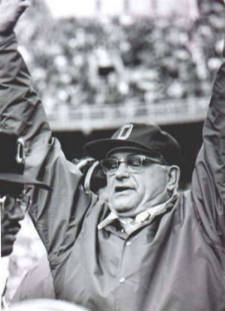 "We were at Michigan, away, in '75. We're sittin' there at the lunch room in the hotel, and it's so quiet you couldn't hear anything. You couldn't even hear the forks clickin'. It was just dead silence... your stomach's up in your throat. You're playin' Michigan. Everyone's nervous -- national TV, Big Ten championship. All of a sudden, Woody hits his glass with his fork. Any time he hits his glass, you sit up.

"'Maitre d', maitre d',' he's yellin' at the top of his lungs.

"I said to someone sittin' next to me, 'What's he doin'?'

"He goes, 'I want all of the cooks out of the back to come out here and serve my men, and I want these co-eds who were planted here by Bo to go in the back.' And, I mean, these girls who were waitin' on us were beautiful. Then he said, 'Men, Bo infiltrated our lunchroom today. He put these girls here to get your mind off the game, but I caught it. I just want to let you know the kind of guy you're playin' against tomorrow.'

"I was laughin' so hard at him -- inside, because you can't laugh outside. He was serious. You should've seen the freshmen and the sophomores who didn't know about him. Next thing you know, there's chatter. Guys're talkin'. He took the pressure off. He got everybody pissed, and we beat the (expletive) out of 'em, 21-14. You believe that? That's what he did. He sensed the tenseness. Then from then on, everybody was talkin': 'That (expletive). He sent those girls in here to take our mind off the game.' He turned the whole lunch around, and we went out there and kicked (expletive) the next day. Tactical warfare. That was him. He was the captain of the ship. That's vintage Woody."



Tom Skladany, excerpted from the book "Woody's Boys" by Alan Natali
"It was getting late, high time to depart, and as I got up to leave, Hayes picked himself up from his chair and bellied up to me. He extended that enormous hand, grabbed the tip of my tie and flipped it up in the air.

" 'Now the next time you come to see me," he chortled, quite warmly, "you better not wear that tie.'

"I looked down at the tie, puzzled. "What's wrong with it?"

" 'The colors!' Woody Hayes bellowed, pointing to the blue and yellow stripes. 'Those are the (expletive) colors of Michigan!' "

Excerpt from "Woody Hayes Makes War" by Robert Vare of Esquire magazine
"I remember after we beat Michigan 20-9 during my junior year, we were in the locker room and John Bozick, our equipment manager, interrupted Woody and said, 'Woody, the president is on the phone for you.'

"'Which president?' Woody asked him.

"When he was told it was President Nixon, he said, 'Tell him he's going to have to wait -- I am talking to my team right now.'"

Bill Conley, from the book "What It Means to Be a Buckeye"
"When we are stopped, we don't go to another play. We change the blocking angles in the line until the play works. Maybe that is why we don't look very spectacular early in the game. But we look pretty spectacular sometimes in the fourth quarter."

Woody Hayes
"Blame is safer than praise. And that's what I tell the boys all the time -- that this niceness from people complimenting you can be what kills you. It can be deceiving. Yes sir, Emerson was hitting the ball square when he said, 'As soon as honeyed words of praise are spoken for me I feel as one who lies unprotected before his enemies.' "

Woody Hayes