It only feels as if Ohio State football began in 1951, when pointed glasses suddenly became fashionable and yard line markers and Clemson linemen became endangered.
Truth is, Ohio State played football for 50 years — and even won a national championship — before Wayne Woodrow Hayes was hired away from Miami to revive a program that at the time was best known for burying its coaches.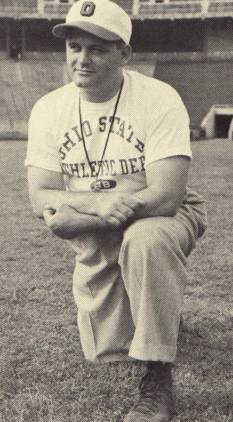 Hayes won four national championships and produced three Heismans during his 28 years. His temper was as short as his heart was large. He was a Lieutenant Commander in World War II and a history buff who demanded his players show compassion to "pay it forward," all while angering university officials with his childish sideline behavior and his legendary tantrums.

He was as complex as he was successful, leaving behind a legacy as stark in contrast as his personality traits. Throughout Ohio, he is revered for his graciousness and his charity work. The football facility is named in his honor, as is the street outside Ohio Stadium.

Throughout the rest of the country, though, he is reviled for his temper and for punching Clemson's Charlie Bauman in the 1978 Gator Bowl.

"The truth is, his legacy is always going to start with the fact he slugged Charlie Bauman," said Bruce Hooley, a Columbus sports talk show host who spent 18 years as a beat writer covering the Buckeyes. "I don't think Ohio State fans think of that within the first five things when they think of Woody. They think of the Super Sophomores, Hop Cassady, 'The 10-Year War' with Bo and the recruiting of Art Schlichter. You could talk to an Ohio State fan for five minutes before they ever got to the Gator Bowl. "If you talk to someone outside of Ohio, the first thing they mention is the Gator Bowl."

Jack Park can second that. An Ohio State historian, Park travels the country speaking to various clubs and organizations. Without fail, college football fans will approach and ask if he knew Hayes. Then they follow up with how they watched on television as he punched that kid in the bowl game.

"His image outside of Ohio is probably not what it really was," Park said, "and I don't think Woody really cared."

After Hayes' death, Park got to know Mrs. Woody Hayes — the former Anne Gross — much better than he ever knew the legend. She even attended some of the functions at which Park spoke.

During one dinner, a fan asked Park about Hayes' hatred of the pass, to which Park explained Woody's philosophy — how three things can happen when you pass (completion, incompletion, interception), and two of them are bad.
When Park finished, Mrs. Hayes interjected: "Really there's a fourth that can happen — you can get fired."
"It just tore down the house," Park said. "That's the kind of person she was."
Anne Hayes was every bit the firecracker as her husband. She never cowered to him, no matter his fiery temper. After they married, Hayes prepared for his first college game as a head coach at Denison in 1946. His first opponent was Ohio Wesleyan, which happened to be Miss Anne Gross' alma mater. Prior to the game, Park said she met up with old college friends — and proceeded to sit on the Ohio Wesleyan side and root for her old school as it pummeled her husband, 39-0. It was Hayes' worst defeat in 33 years as a collegiate head coach.
"That really irritated him," Park said.
Had a player behaved that way, Hayes might have kicked him off the team for insubordination.
Hayes spent three seasons at Denison before moving on to Miami. He was finishing his second season at Miami, his first on the Division I level, when Wes Fesler resigned from Ohio State in 1950.
Of the candidates to replace him, Hayes was ranked below Paul Brown and Don Faurot.
Brown previously coached the Buckeyes to their first national championship in 1942, but angered school officials when he didn't return following his stint in the Navy.
Brown was inducted into the Navy as a lieutenant, junior grade, following a miserable 1943 season at Ohio State. The Buckeyes went 3-6 in his final season and was whipped by Michigan, 45-7.
He was then brought in to coach the football team at Great Lakes Naval Training Base outside Chicago.
Following his two years with the Navy, it was assumed Brown would return to Ohio State. But as George Cantor wrote in his "Paul Brown" biography, "The experience of 1943 had left a sour tast in his mouth. While he intended to return to Ohio State after the war, he also decided to remain open to other opportunities."
One of those "other opportunities" was taking over the new All-America Football Conference, devised at the time to rival the National Football League. Brown was offered $17,500 a year, more than any football coach at any level was being paid and almost 2 times what he would be making at Ohio State, according to the biography.
Brown couldn't refuse. He joined the Browns, in 1946, then really incited OSU officials by signing away some of his former players — including Lou Groza — who still had eligibility remaining.
The fact he left Ohio State once, then plucked away some of its best players, soured school officials — particularly Athletic Director Dick Larkins, according to Park — on bringing Brown back. He was never offered the job.
Faurot, though, was offered the job and accepted. As Park wrote in his "Ohio State Football Encyclopedia," the legendary Missouri coach met with Ohio State's selection committee in Columbus on Saturday, Feb. 10, 1951. He agreed in principle to become the next coach of the Buckeyes and a press conference was being assembled when Faurot called two days later. He had changed his mind.
"Apparently people at Missouri told him it was the graveyard of coaches," Park said, referring to Ohio State's run of coaches through the 1940s. Carroll Widdoes lasted two seasons after Brown, Paul Bixler left after one season and Wes Fesler lasted just four. That type of instability must have caused Faurot to change his mind.
Park has also heard his wife didn't want to move, so he remained at Missouri, where he went 22-36-2 over his final six seasons with the Tigers. He retired after 19 seasons at Missouri, amassing 101 victories, and today Missouri's home field is named after him.
Hayes, meanwhile, won a national championship in his fourth season, recruited the only two-time Heisman Trophy winner in history in Archie Griffin and enjoyed an unprecedented era of success.
Along with the four national championships Ohio State did win, the Buckeyes probably should have won national championships in 1969, '70, '73 and '75 as well. Those four titles would have placed him on an elite level that perhaps only John Wooden has reached on the collegiate level.
Instead, the Bucks were stunned by Michigan in 1969, ending the team's 22-game winning streak and beginning the 10-year war.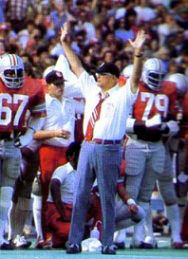 The 1970 team went unbeaten until losing to Stanford in the Rose Bowl, the tie against Michigan in 1973 cost Ohio State another perfect season, and the '75 team lost to UCLA in the Rose Bowl after hammering the Bruins during the regular season, 41-20.

The Hayes most fans never saw, though, was the history buff who idolized Gen. George Patton so much, he narrated a series on the military legend that aired on Columbus television.

"He loved to explain the Battle of Midway," Park said, referring to a critical turning point in World War II that came six months after the attack on Pearl Harbor. "Had we not broken the Japanese code and won the Battle of Midway, there would have been fighting on our soil."

Hayes' stories are endless, as is the love for him within state boundaries. He delivered the commencement speech at Ohio State in 1986, pleading with the graduates to pay it forward as Jim Lachey had done. Lachey had recently given a six-figure donation back to the university shortly after beginning his NFL career, something that tickled Hayes.
He never made more than $35,000, and was never interested in money. After his death, Anne cleaned out his desk and found countless checks given to him for various speaking engagements. Woody never cashed them. At times, he would sign over his checks for speaking engagements to former players who were having financial difficulty.
Shortly before his coaching career ended, Hayes was asked why he never worried about money.
"I'm afraid money will spoil me," he said. "If I'm worried about how my investments are coming or my stock, or if I have to go out and make speeches here and there, next thing you know, I won't be coaching well. I get real hammy. I don't want to do that. I want to stay in coaching until I feel honestly that I can't do the best job I can do. When I can't do that, I've got to get out."
In late December, 1978, one punch made that decision for him. But it has done little to tarnish his legacy within the state he loved.
Source: The Morning Journal, November 3, 2008
By Jason Lloyd, Journal Sportswriter
Click Here To E-Mail Jason Lloyd
Article Link: The real 'Woody' that too few knew